The perfect summer afternoon low carb treat! Easy keto chocolate ice cream bars are creamy and chocolatey delicious. Dip them in sugar-free chocolate and sprinkle with nuts to make them extra-special.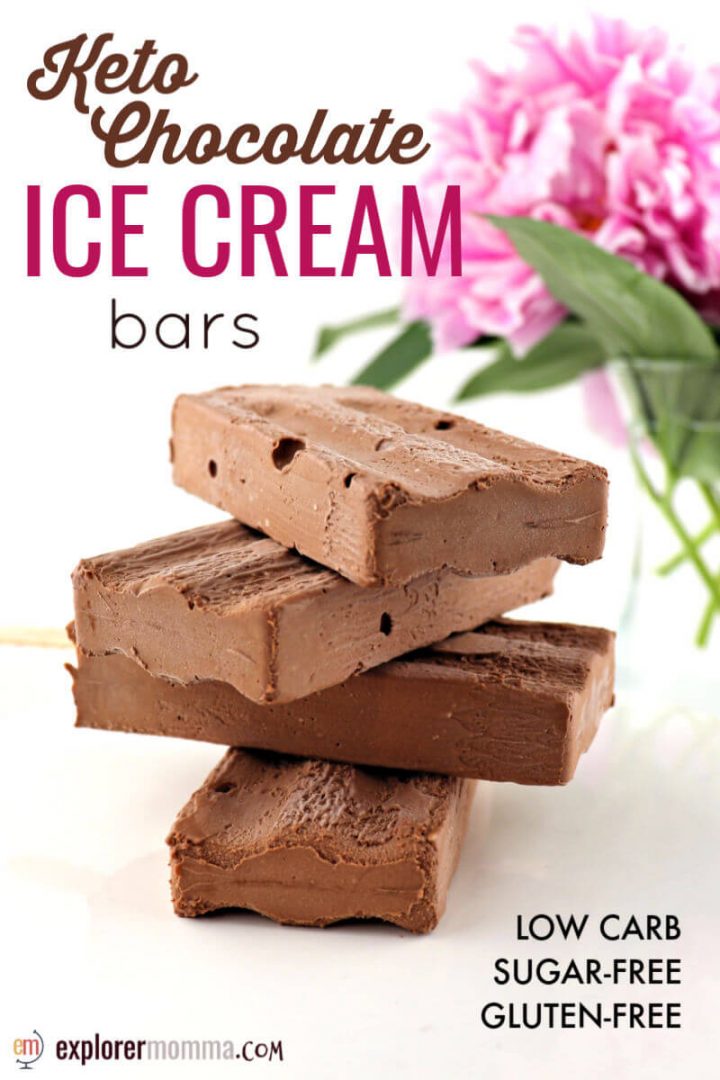 This post may include Amazon links. As an Amazon Associate, I earn from qualifying purchases.
Scroll down to the bottom of the page for the recipe card with ingredient amounts and printable recipe to make it NOW or PIN it here for later!
Do you have childhood memories with chocolate ice cream bars or fudgesicles? I admit I adore chocolate ice cream, and this keto chocolate ice cream bars recipe is perfect to portion it out. They're great for summer afternoon snacks or to enjoy with the kids.
Well, let's get to it. What do you need for this recipe?
🍽 Equipment needed for low carb ice cream bars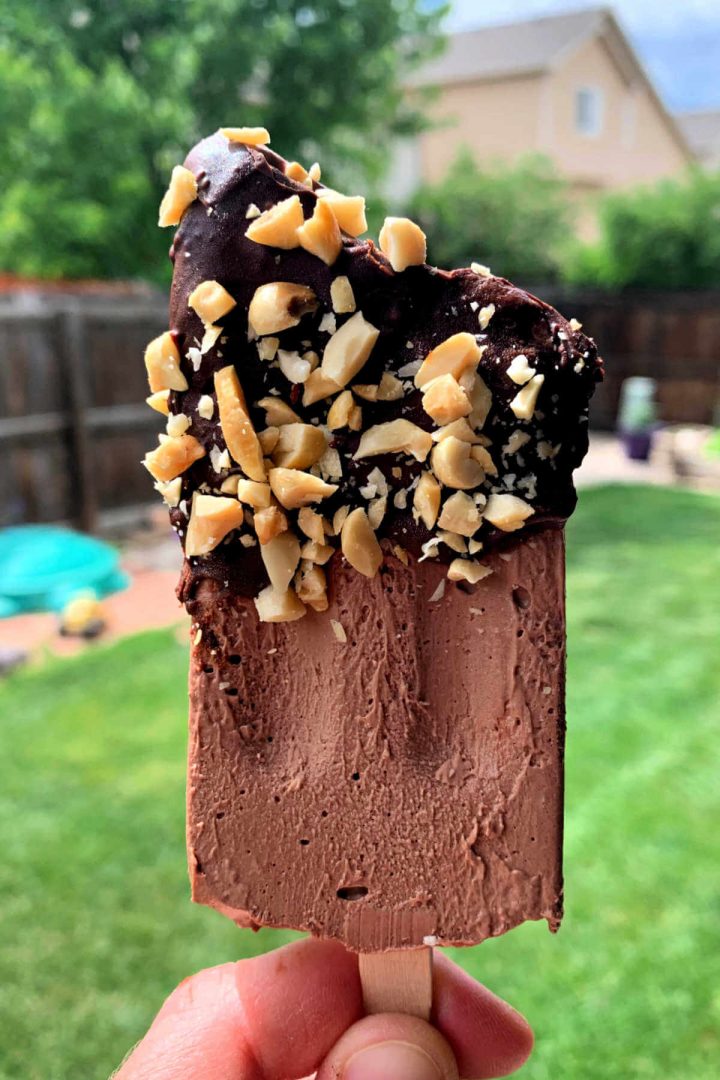 🥘 Ingredients in keto chocolate ice cream bars
cream cheese
heavy whipping cream
unsweetened almond milk
vanilla extract
cocoa powder
salt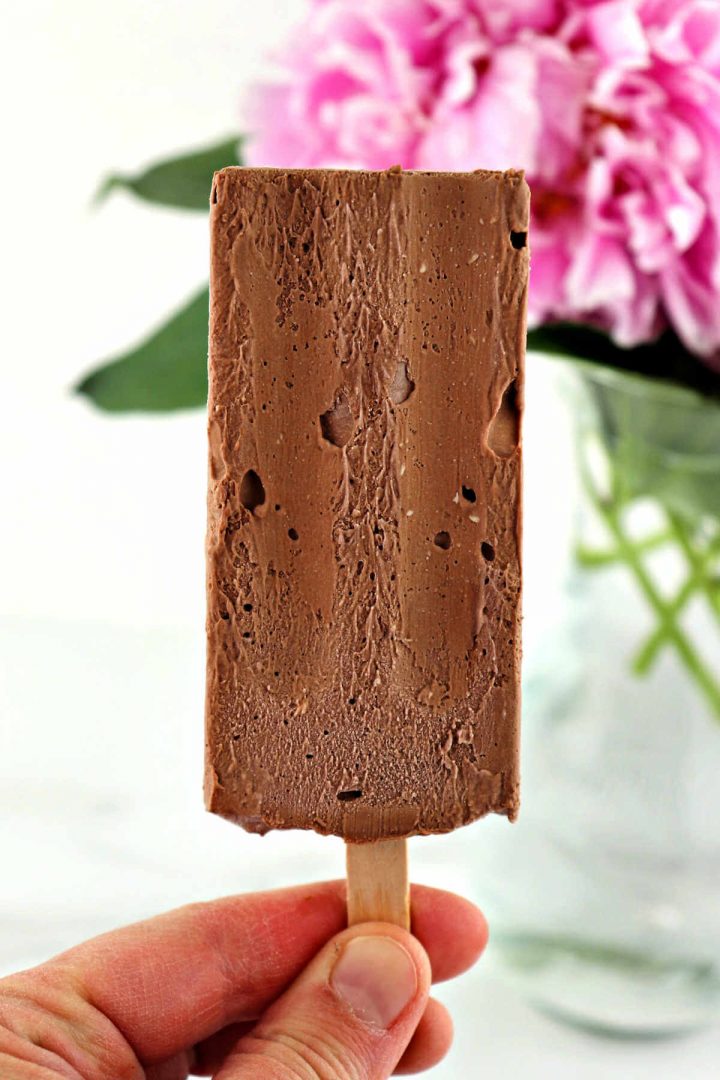 The ingredients for keto chocolate ice cream bars are simple and easy. You probably have most of them on hand already. They have to be good!
I love making my own desserts and recipes because I have issues with control. When I make my own I know exactly what's going in my dessert.
As far as ingredients go, buy as fresh as you can. Also, I like to buy organic if it's available. Not all ingredients are created equal! Be picky and read labels.
Personally, I know I've accidentally assumed something was okay and gotten home to find it filled with sugar. For a fact I know I've done that with heavy cream or ground pork. Save yourself a headache and a lot of trouble and read labels.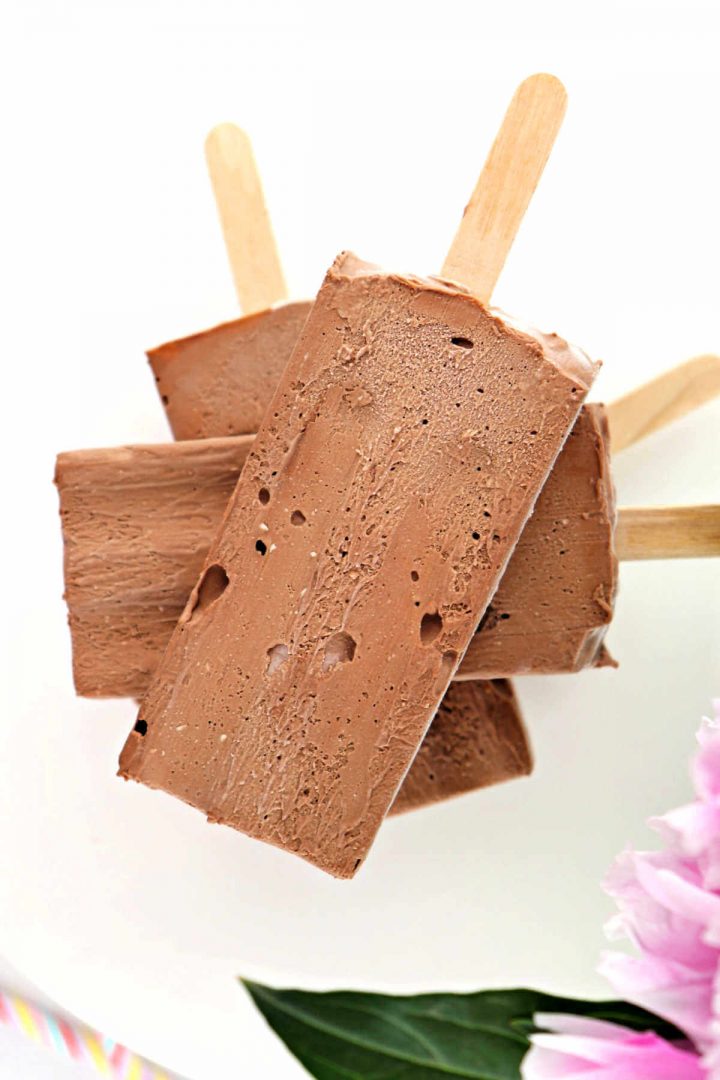 🔪 Instructions to make keto ice cream bars
First of all, just let me say this is one of the easiest recipes you can make.
Go ahead and get out all the ingredients and kitchen gadgets you'll need.
Then measure all the ingredients into a large bowl or high-speed blender. Personally, I like to use a blender for this job as it makes it easy to blend up the ice cream mixture.
Also, then it's already in a pitcher. This means that with the aid of a spatula the mixture can go right into the popsicle molds.
Whichever method you choose, blend or mix until everything's completely combined. There should not be any lumps. Then use a spatula to guide the mixture into the popsicle molds evenly.
💭 Top tip
The top tip for keto chocolate ice cream bars is about filling the popsicle molds. I use these popsicle molds from Amazon. They're great, and I really like the fact they're metal.
Really you can use any popsicle molds. Just be aware the sizes vary by set.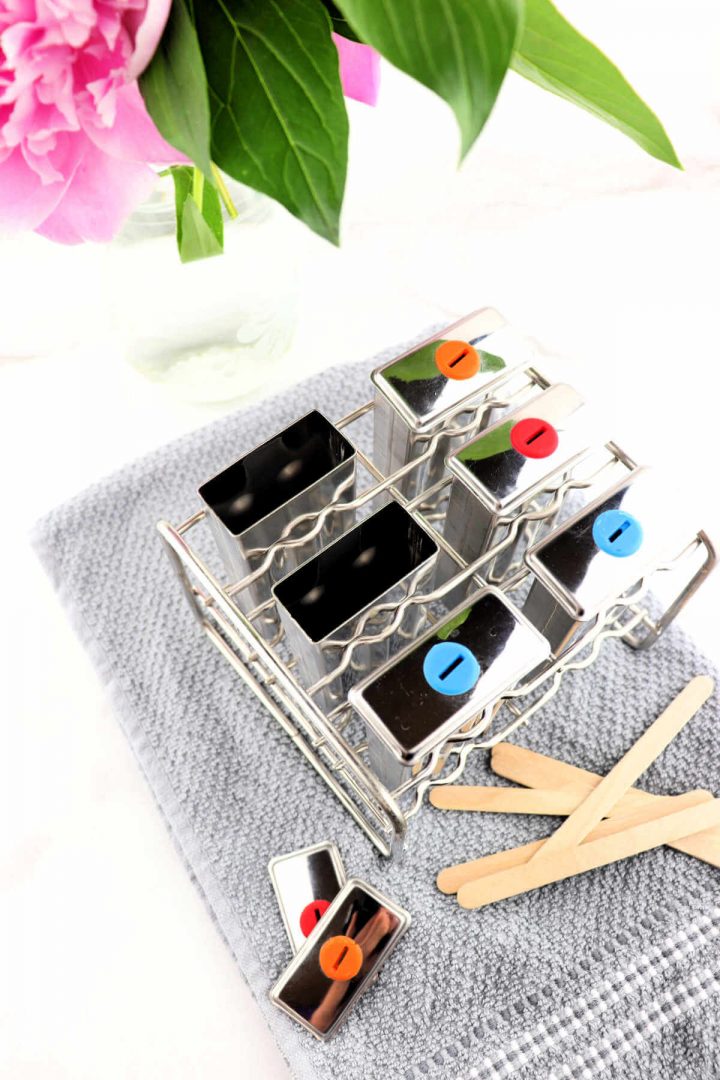 This is just about the most difficult part of the recipe, but with this tip they can be filled and ready to put in the freezer in no time.
So here it is.
When you fill the molds, fill them as much as you can to the top of the mold. Then, instead of trying to stuff the mixture down farther into the mold, bang the entire rack of popsicle molds on the table.
The force of this action will move the mixture to the bottom and fill in any gaps. Continue to hit the molds on the table until no more air bubbles surface.
After that, continue to fill the molds until full. Then top them and place a popsicle stick in the center. Now they're ready to freeze!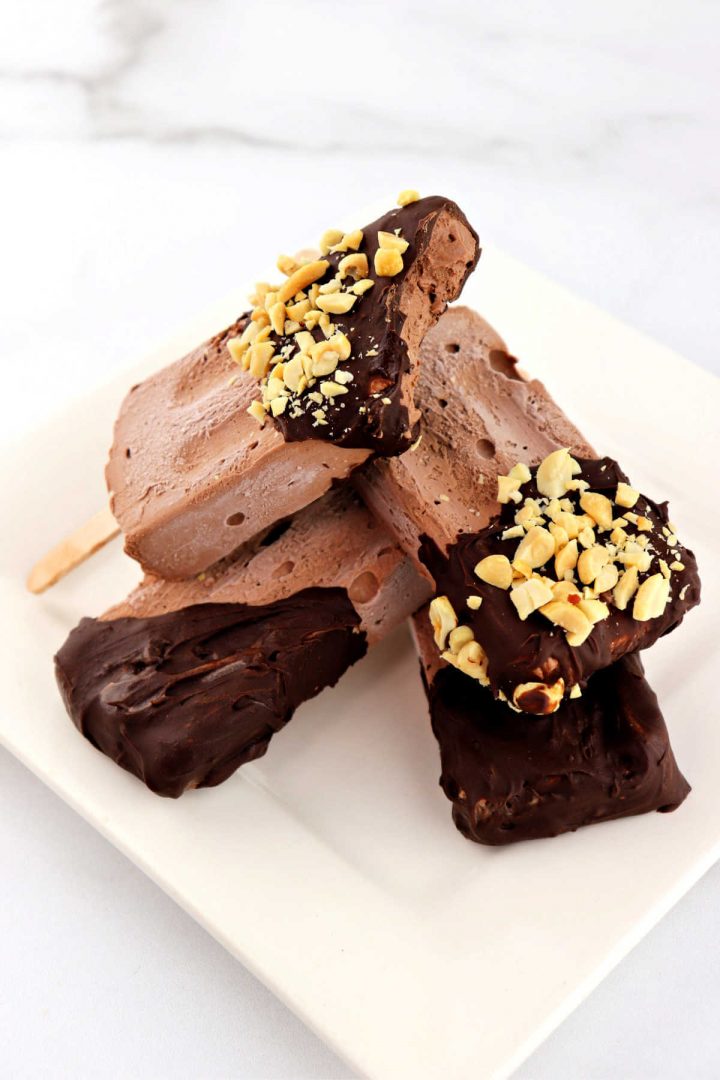 🧊 How to freeze
Once the keto chocolate ice cream mixture is in the popsicle molds, it's time to freeze.
Place the ice cream pops in the freezer for at least three hours so they freeze through. Although usually, I leave them overnight to freeze.
When you're ready to eat an ice cream bar, there are a couple of tricks to getting them out of the mold.
The quickest way is to run hot water over the outside of the mold for a few seconds. This melts the area near the mold and allows the ice cream bar to slide out.
Also, you can set the ice cream bar out on a plate for 10-15 minutes before attempting to unmold. This is a good method especially when the sweetener used is erythritol (Swerve or other).
Certain sweeteners, such as erythritol, tend to freeze hard and require some time to warm up slightly to eating temperature. That way the ice cream bar becomes creamy and more like traditional ice cream.
🍫 Variations
This recipe is easy to vary to make different flavors. Also, the choice of sweetener will change the texture of the keto chocolate ice cream bars.
Keto sweeteners
First of all, as I mentioned before, different sweeteners can change the ice cream bar dramatically. For example, if you use erythritol, as I most often do, the ice cream freezes block hard. This is why when you buy keto ice creams from the store, they often suggest setting them out of the freezer for fifteen minutes. Then they will soften enough to scoop out and make more of a creamy ice cream.
The same goes for these ice cream bars. Erythritol will need time to soften, while another sweetener such as allulose behaves more as traditional sugar. These two are what I use most often for ice cream, although I have used Bocha Sweet and Lakanto Monk Fruit.
Ice cream bar flavors
Secondly, one can vary the flavor of the keto ice cream bars. Simply omit the cocoa powder and add in strawberries or blueberries. The vanilla extract can be exchanged for almond, lemon, strawberry, or another good extract flavor you can find.
Also, I'll let you in on a little secret. I play with this recipe a lot trying different combinations. Sometimes I use more cream cheese in place of part of the heavy cream. It does really well frozen and tastes amazing.
However, the more cream cheese you use, the thicker the mixture. It just makes it a bit more difficult to get in the molds.
Ice cream bar coating
Also, it's fun to dip the popsicles in melted sugar-free chocolate or white chocolate.
I find it easiest to melt the chopped chocolate in the microwave for 30 seconds at a time and stir. Once it's melted dip or spread it on the end of the ice cream bar. Sprinkle with nuts or other topping and set it on a baking sheet to freeze and set.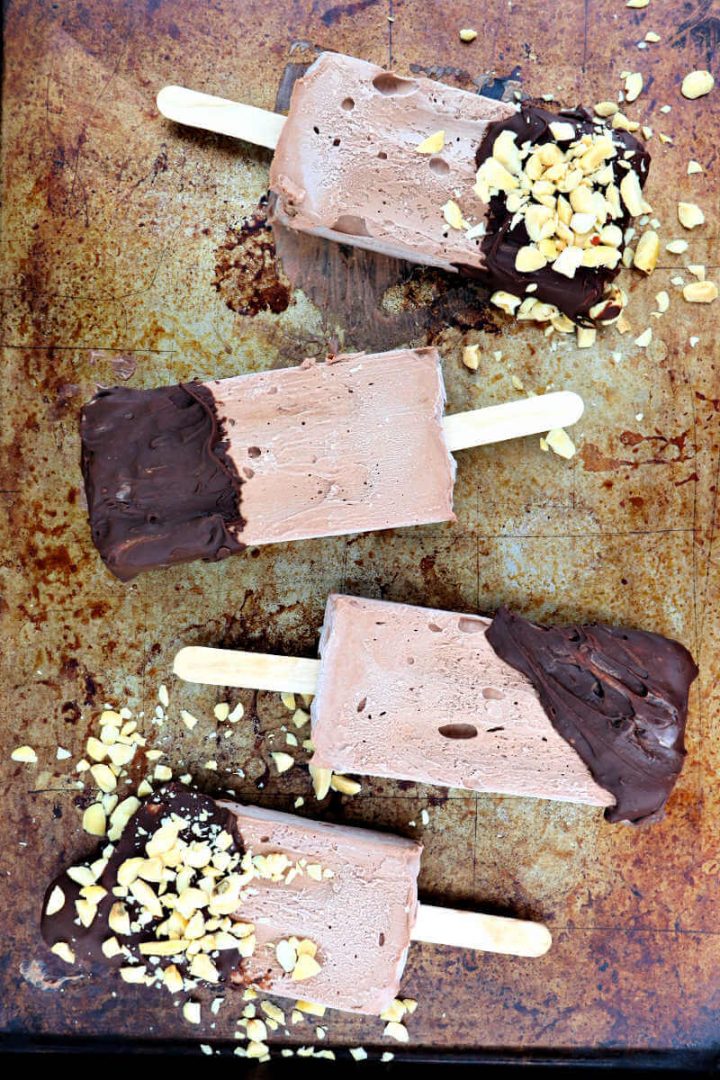 🥣 How to store it
The easiest way to store the keto chocolate ice cream bars is in the freezer in the molds. Then you simply unmold one at a time when you want one.
However, if you cover them in chocolate and nuts, there are a couple more steps to take. After they're dipped in the chocolate and nuts, set the ice cream bars on a small baking pan and place it in the freezer.
Once the chocolate is hard or set, place them in individual airtight zipper bags to store in the freezer. They will last up to about a month in the freezer.
Pin the recipe here: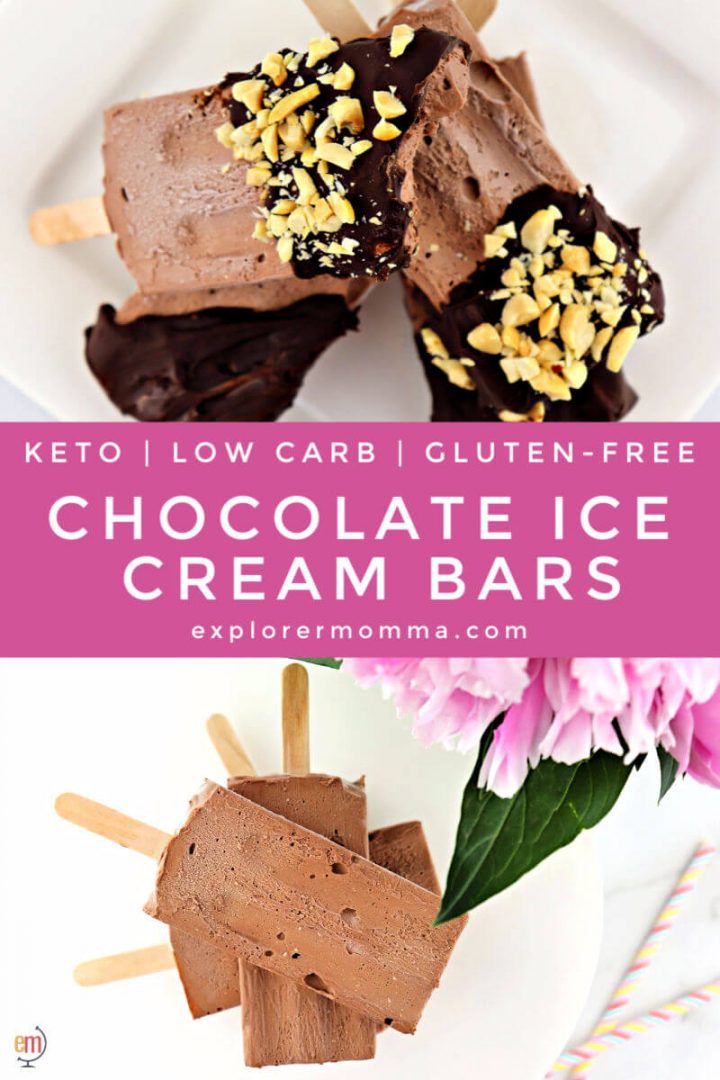 Tag me in your recipe pics on Instagram @explorermomma.
If you LOVE this recipe please consider giving it a five-star rating in the review area below!
📋 Related recipes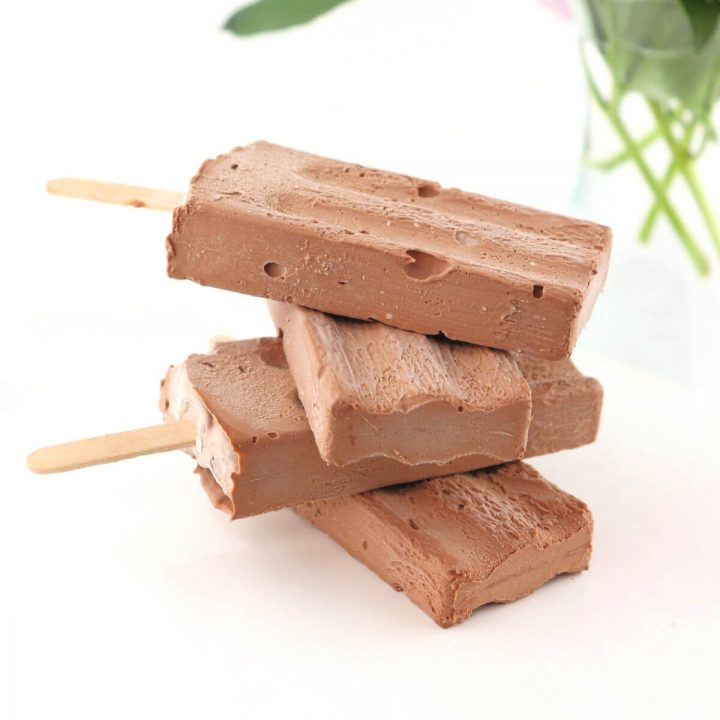 Keto Chocolate Ice Cream Bars
Total Time:
3 hours
5 minutes
Delicious keto chocolate ice cream bars are the perfect frozen low carb treat for summer days.
Ingredients
3/4 cup heavy cream
2 oz cream cheese
1/4 cup unsweetened almond milk
2 tsp vanilla extract
1/3 cup powdered sweetener
1/4 cup cocoa powder
1/8 tsp salt
Instructions
Place all the ingredients in a blender.
Blend on high for 30-40 seconds or until everything is evenly combined.
Pour evenly into 6 popsicle molds. Freeze for at least 3 hours.
Unmold and serve.
Nutrition Information:
Yield:

6
Amount Per Serving:
Calories:

148
Total Fat:

16g
Carbohydrates:

2g
Net Carbohydrates:

1g
Fiber:

1g
Protein:

2g
*Nutrition Facts per MyFitnessPal.com. For most accurate facts, calculate your own with the exact ingredients you use in the recipe.
Nutrition Disclaimer
Please be aware I am not a medical specialist or nutritional professional. On this blog, I share recipes and what works for me. Please do not take anything on this blog as medical advice and always consult with your doctor before starting any diet or exercise program.
I use MyFitnessPal.com to calculate nutrition facts as a courtesy to my readers, and I remove erythritol from the final carb count and net carb count because does not affect my own blood glucose levels.
This is as accurate as possible, but it's best to independently calculate nutritional information on your own with the specific ingredients you use. I expressly disclaim any and all liability of any kind with respect to any act or omission wholly or in part in reliance on anything contained in this website.