Rich, creamy, a slice of keto chocolate pie heaven! Low carb chocolate pie. You would never know it's gluten-free, sugar-free, and low carb! Go on. You deserve it!
Chocolate. Chocolat. შოკოლადი. Seacláid. Schokolade. шоколад.
This post contains affiliate links, which means I receive a small percentage if you make a purchase after clicking on my links.
There are a lot of things I'm willing to give up. I can give up sugar, gluten, donuts, hard candies, etc. However, if there's one thing I really don't think I could give up for good it would be CHOCOLATE!
Dark chocolate is my favorite, and for years some of my favorite recipes are those like English toffee, fudge, and chocolate cream pie. Then when I changed my eating habits and went keto, at first I thought these were all going to be prohibited.
Now, however, I've learned to make some of these indulgent chocolate treats low carb and gluten-free.
Keto Chocolate Pie For Health
We've all heard and been encouraged in the studies that show us how good it is for us, right!? I really need that little piece of chocolate every night. It's for my health! That's what I tell myself at least, and why not?
Does that mean I eat these desserts all the time and for every meal? No, of course not. However, chocolate can be enjoyed in many ways on a low carb or keto diet so don't feel guilty and enjoy your food!
Happiness. Simple as a glass of chocolate or tortuous as the heart. Bitter. Sweet. Alive.

– Joanne Harris
In a hurry?
While I think you'll love my super helpful tips and fun stories, I also realize we are sometimes pressed for time and just need a good recipe!
Scroll down to the bottom for the printable recipe or PIN it here for later!
The history of chocolate
Did you know the first peoples to utilize cacao seeds were the Aztecs? Yes! The Aztecs used the cacao seed native to southern Mexico in fermented drinks. Originally, it was used only bitter in drinks, sometimes with spices or corn puree to strengthen the drinker.
Later in the sixteenth century, the Europeans added sugar to it making it an aphrodisiac. Now it has become a household staple!
🍽 Equipment
To make low carb chocolate pie you'll need:
medium-sized bowl
large saucepan
stirring spoon
knife
hand mixer to whip the cream for the topping
💭 Top tips
I absolutely LOVE chocolate, as you can probably tell! The main goals to accomplish with this low carb chocolate pie are to completely combine the ingredients in the filling while not scrambling the eggs, and creating an even crust shell as a vehicle for enjoying said filling.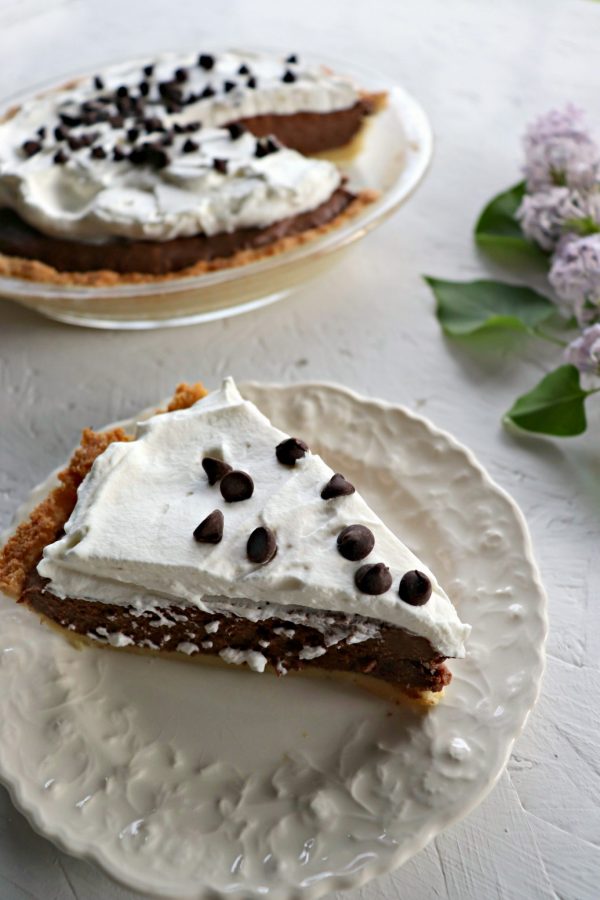 How to make a low carb chocolate pie crust
This is the most awesome versatile low carb gluten-free pie crust. Truly, you can use it for most any sweet or even savory (just leave out the sweetener!) pie. First, all you have to do is take a medium-sized bowl and measure out the ingredients. Second, whisk together the almond flour, salt, and sweetener. Third, pour in the melted butter and stir to combine completely.
Now comes the tricky bit if there is one. Dump the mixture into the empty pie plate. Next, use your hands or the flat bottom of a glass or measuring cup to press the mixture firmly to evenly cover the entire pie plate. I like to use my flat-bottomed measuring cup because it's out already, and you can easily create a flat crust bottom.
Prick the crust bottom with a fork and bake in a 325-degree (Fahrenheit) oven for about 20 minutes, or until the edges start to brown.
There is nothing better than a friend unless it is a friend with chocolate.

– Linda Grayson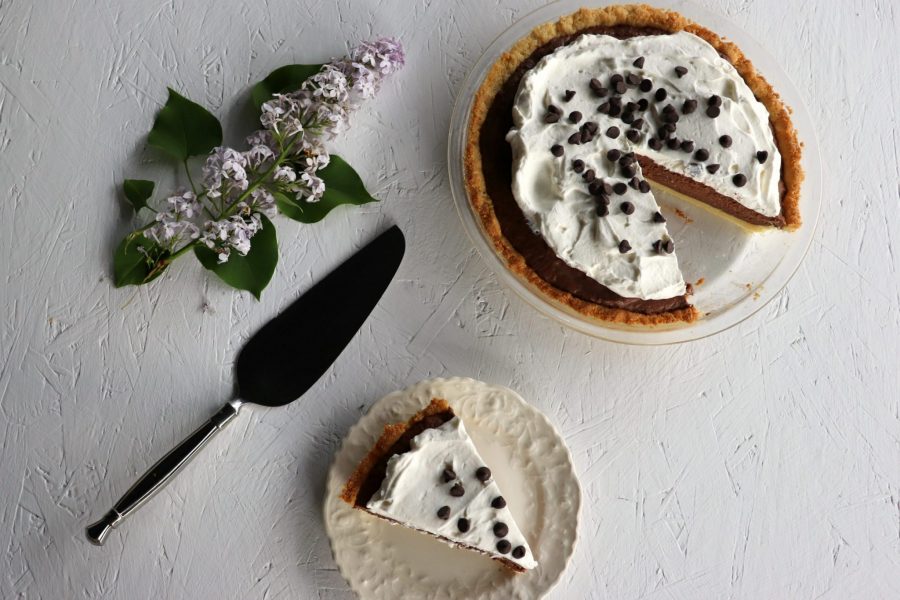 How to create the keto chocolate custard filling
Now is the fun part because it involves chocolate! First, find a large saucepan and in it whisk together the cream, egg yolks, and cocoa powder. Continue to whisk it on a medium heat until the mixture thickens.
This will take from 5 to 8 minutes. Next, take the saucepan off the heat and stir in the chocolate you just melted in the microwave or in a double boiler. It's important that they're about the same temperature to combine completely!
Then, add in the butter pieces, vanilla, and cut in the cream cheese. Again, it's important to completely whisk in these ingredients so they're completely mixed together without any lumps.
Here's a baker tip! I find it's easiest to do this when your ingredients are at room temperature or just slightly warmer.
Now what?
Next, quickly whisk in the xanthan gum and sweetener. As far as sweetener goes, I like to use Swerve Confectioner's, but you can also use monk fruit or other equivalent sweeteners of your choice.
For this recipe, I like to use 1/2 a cup of sweetener, but my husband doesn't think that's enough so I generally add 3/4 of a cup for him. Add yours to taste.
Now pour the filling into the pie shell and smooth it out evenly. Place the low carb chocolate pie in the refrigerator overnight for best results or for at least 3 to 4 hours. Then, when you're about ready to serve, pour half a cup of heavy cream in a bowl.
Use a hand mixer on a medium to high setting to whip up the cream with one tablespoon of sweetener. When the cream has slightly stiffened and makes peaks, spoon the cream on top of the pie. Last but not least, sprinkle with sugar-free chocolate chips (I use Lily's Dark Chocolate Chips).
All you need is love. But a little chocolate now and then doesn't hurt.
And voila! A decadent low carb chocolate pie to be proud of! Let me tell you a little secret – it won't last long!!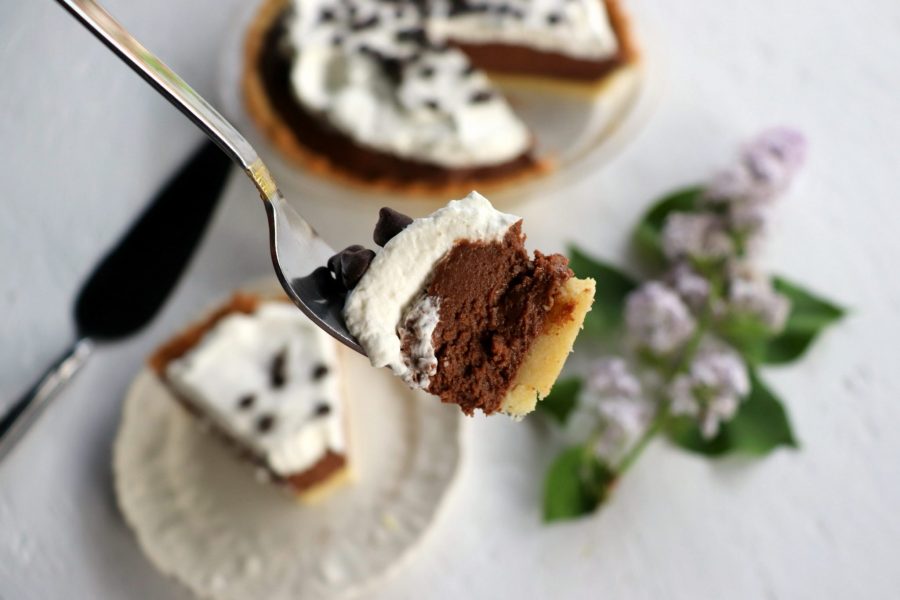 🧁 My favorite Keto Desserts: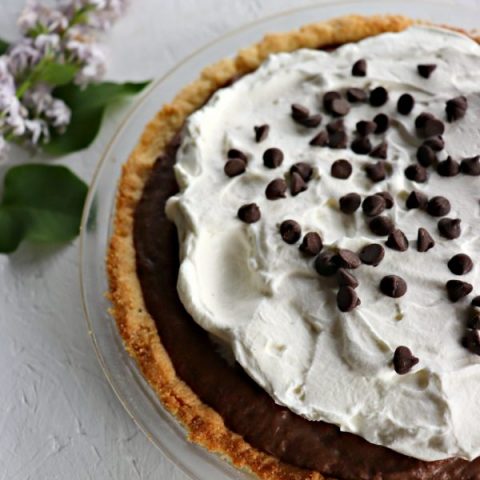 Low Carb Chocolate Pie
Total Time:
3 hours
18 minutes
Rich, creamy, a slice of keto chocolate heaven! Low carb chocolate pie. You would never know it's gluten-free, sugar-free, and low carb!
Ingredients
Pie Crust
1 ¾ cups finely ground almond flour
¼ cup sweetener (such as monk fruit or Swerve), powdered
¼ tsp salt
⅓ cup butter, melted
Pie Filling
1 cup heavy cream
4 egg yolks
2 tbsp cocoa powder
2 oz unsweetened chocolate, chopped
¼ tsp xanthan gum
¾ cup sweetener (such as monk fruit or Swerve), powdered
8 oz cream cheese, room temperature
¼ cup butter, chopped
1 tsp vanilla extract
½ cup heavy cream
¼ cup sugar-free chocolate chips
Instructions
Pie Crust
Mix together the almond flour, sweetener, and salt in a medium-sized bowl.
Add the melted butter and mix completely until crumbly.
Press evenly into a pie plate. You can use a glass or flat measuring cup to press the bottom down evenly or just use your hands.
Bake at 325 degrees for about 20 minutes, or until the edges start to brown.
Pie Filling
In a large saucepan whisk together the cream, egg yolks, and cocoa powder until the mixture thickens, about 5-8 minutes. Keep whisking so you don't end up with scrambled eggs.
Remove from the heat and stir in the melted chocolate.
Add in the pieces of butter and vanilla and stir until the butter melts and all is combined.
Cut in all the cream cheese (cut it in pieces as you add it in one bit/piece at a time). Whisk it in until there are no lumps. It's easiest to do this if the cream cheese is room temperature or a little warm.
Whisk in the xanthan gum and then the sweetener. Depending on your sweetness preference add between ½ to ¾ cups.
Pour the mixture into the pie shell and put it in the refrigerator overnight to set (or at least 3-4 hours).
Whip up the cream with one tablespoon powdered sweetener and once stiff, spread it on top of the pie.
Sprinkle the chocolate chips on top, cut into portions, and enjoy!
Notes
Nutrition Facts
Servings 12.0 Amount Per Serving Calories 336 Total Fat 33 g Saturated Fat 18 g Monounsaturated Fat 9 g Polyunsaturated Fat 2 gTrans Fat 0 g Cholesterol 146 mg Sodium 136 mg Potassium 118 mg Total Carbohydrate 5 g Dietary Fiber 3 g Sugars 2 g Protein 6 g Net Carbohydrate 2 g
Nutrition Information:
Yield:

12
Amount Per Serving:
Calories:

336
Unsaturated Fat:

0g
*Nutrition Facts per MyFitnessPal.com. For the most accurate facts, calculate your own with the exact ingredients you use in the recipe. **Sugar-free chocolate chips are not calculated in the nutrition facts as they vary greatly.
📋 More keto recipes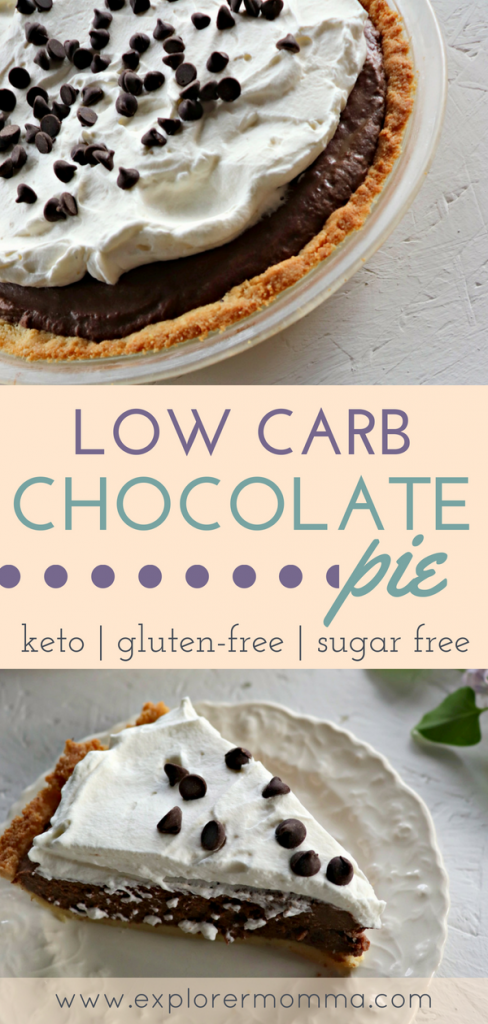 Nutrition Disclaimer
Please be aware I am not a medical specialist or nutritional professional. On this blog, I share recipes and what works for me. Please do not take anything on this blog as medical advice and always consult with your doctor before starting any diet or exercise program.
I use MyFitnessPal.com to calculate nutrition facts as a courtesy to my readers, and I remove erythritol from the final carb count and net carb count because does not affect my own blood glucose levels. This is as accurate as possible, but it's best to independently calculate nutritional information on your own with the specific ingredients you use. I expressly disclaim any and all liability of any kind with respect to any act or omission wholly or in part in reliance on anything contained in this website.