Keto butter spritz cookies are the perfect low carb Christmas recipe. This is a kid-friendly and super-easy holiday recipe the whole family will love! Buttery with a hint of vanilla and almond, you can't get enough of them.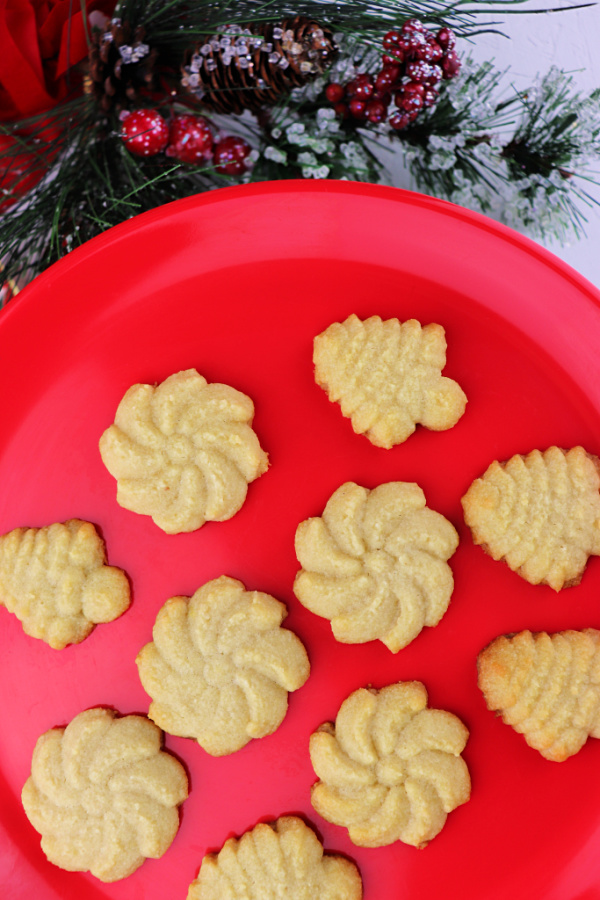 This post may include Amazon or other affiliate links. As an Amazon Associate, I earn from qualifying purchases.
Keto Christmas Cookies
We're on cookie number two in the 12 Days of Keto Christmas Cookies! Yes, these are truly a classic. Keto butter spritz cookies are those cookies you always remember loving from your childhood and sneaking every time you ran by the plate at Grandma's house!
Well, anyway, that's my memory of them, and they're so simple and classic they're amazing for anyone.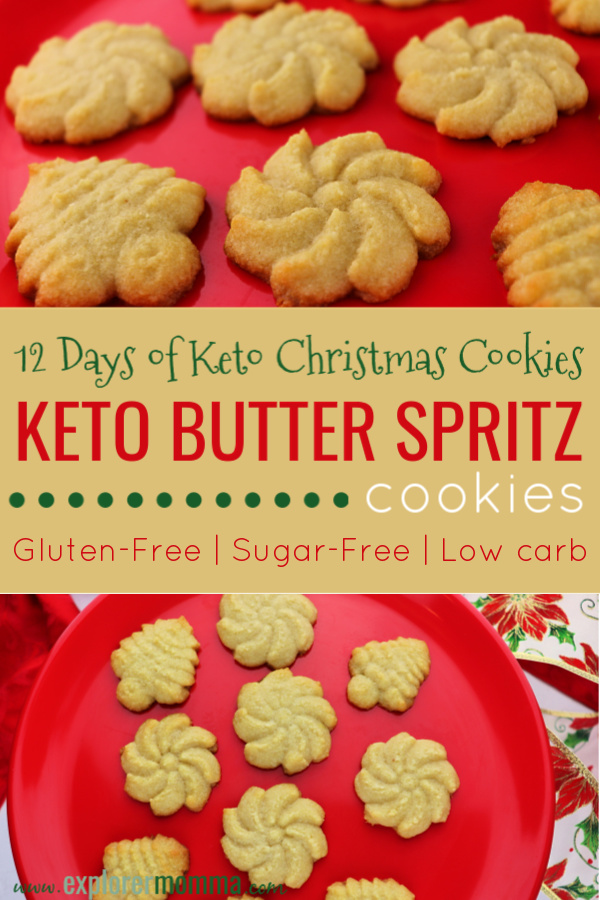 In a hurry?
Scroll down to the bottom for the printable recipe or PIN it here for later!
Christmas cookie family traditions
Does your family always have butter spritz cookies for Christmas? We got a cookie press (click here to see an example) several years ago, and my daughter was fascinated with all the different shapes you could make.
When Christmas came around she quickly enlisted her uncle to make butter spritz cookies, and they've been making them for Christmas, Easter, and sometimes Halloween and other holidays too ever since.
The hiccup came up when suddenly my girl was told by her doctor she could not eat gluten anymore and the glorious tree cookies were out! Indeed, something had to be done! I'd already been eating a keto plan and knew we had to recreate that all important recipe for my girl.
Thus, the keto butter spritz cookie was born! What's become a yearly tradition can now continue with a gluten-free, low carb, keto option.
Fun Family Christmas Traditions: Advent Calendars
There are so many awesome family traditions you can establish at Christmas for family bonding time with as little or a lot of effort as you like. Family carol singing, baking, and today's fun family tradition – advent calendars!
Advent calendars are a great way to celebrate the season and to stop little George from waking you up at 5 am every day of December and asking if it's Christmas yet. They are a perfect countdown to Christmas so even the smallest child can see how many more sleeps there are until the big day!
There are all sorts of calendars to choose from, but we like one to remind us every day for the reason of the season. Ours is a nativity scene with pockets for every day. Every day the kids can take the item out of the day's pocket to place above in the nativity. The pieces simply velcro on and include the main characters like Mary, Joseph, an angel, the shepherds, the wise men, the animals, the bright star in the sky, and of course the baby Jesus.
This year we are also including a scripture reading found in the pocket for each day to prepare us for Christmas! It's the perfect way to help kids focus on joy, kindness, and the miracle of Jesus' birth, and not just all the presents!
"GIMME DA COOKIES!"

– Cookie Monster
🍽 Equipment
To make these keto butter spritz cookies you'll need:
a large bowl

a hand or standing mixer (I prefer the standing mixer for these but either will work)

a spatula

cookie baking pans

parchment paper or silicone baking mats

a cookie press
💭 Top tips
for the perfect keto butter spritz cookies
Almond flour already has it's own oil, far more than any there might be in regular white flour, and therefore you have to use more flour and less butter in this recipe.
For the best spritzing or pressing out of the cookies, the dough should be slightly cooler than room temperature. If the dough gets too cool they won't press out properly, but if it's too warm or too buttery the cookies don't keep their shape.
To solve this problem I like to chill the dough for about 5 minutes then take out what I need to fill the press before returning the rest of the dough to the fridge. Then when you need the other half of the dough it hasn't melted on you. Depending on where you live or how warm you keep your house this may or may not be a problem.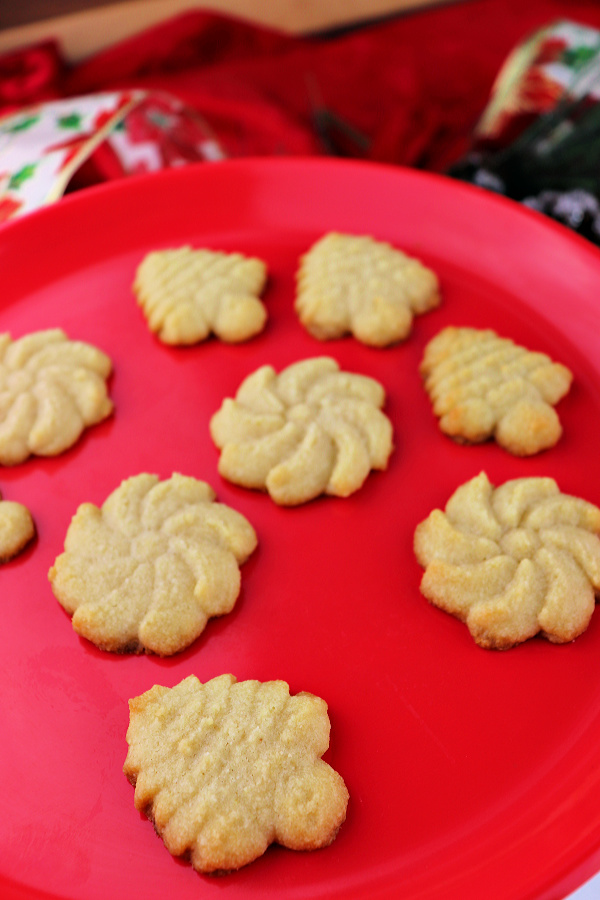 Christmas for me is all about spending time with my family. I cherish any chance we have to spend all day together making gingerbread houses, baking cookies, or sitting around and watching movies.
🔪 Instructions
How to make easy keto spritz cookies
First of all, preheat the oven to 350 degrees Fahrenheit and prepare two baking pans with silicone liners or parchment paper.
Second, in a large bowl with a hand-held mixer or my preferred standing mixer, cream together the butter, sweetener, egg, vanilla and almond extracts, and egg.
Next to add in the dry ingredients! Measure and dump the almond flour then baking powder into the wet ingredients and mix them all up together to form a dough.
Then you can chill the dough for 5-10 minutes if your house is on the warmer side or directly spoon the dough mixture into the cookie press.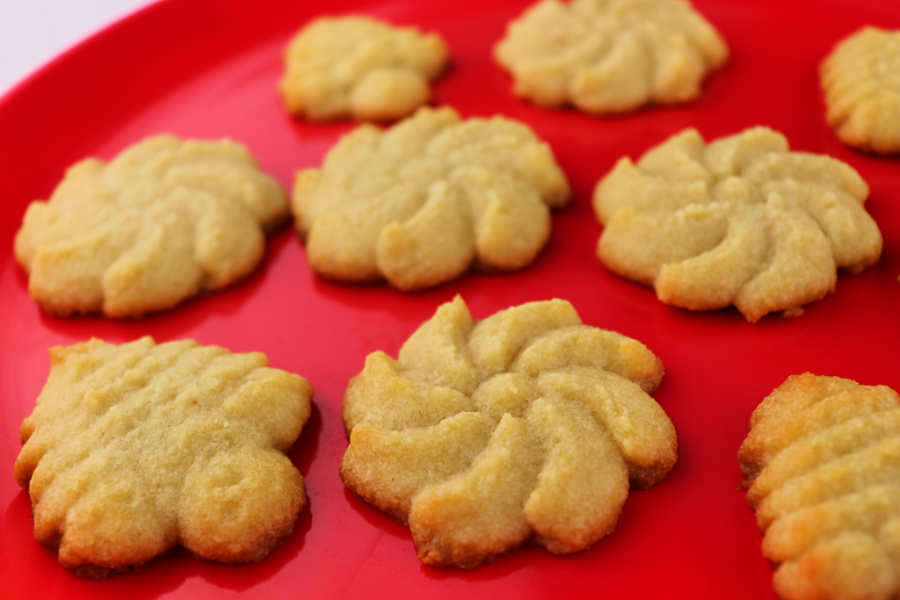 Make sure you've discussed and selected the correct shape to put in the press with any kids helping to make the cookies!
Press out the cookies, at least an inch apart. Then bake them for 7-9 minutes or until the edges begin to turn brown.
After about 15 minutes you can move the cookies to a cooling rack. I've found the keto version needs the time to cool longer because they tend to fall apart when still hot.
Let the cookies cool completely, or as long as you can before little hands start to grab them, before serving.
"All you need is love and Christmas cookies."

– Unknown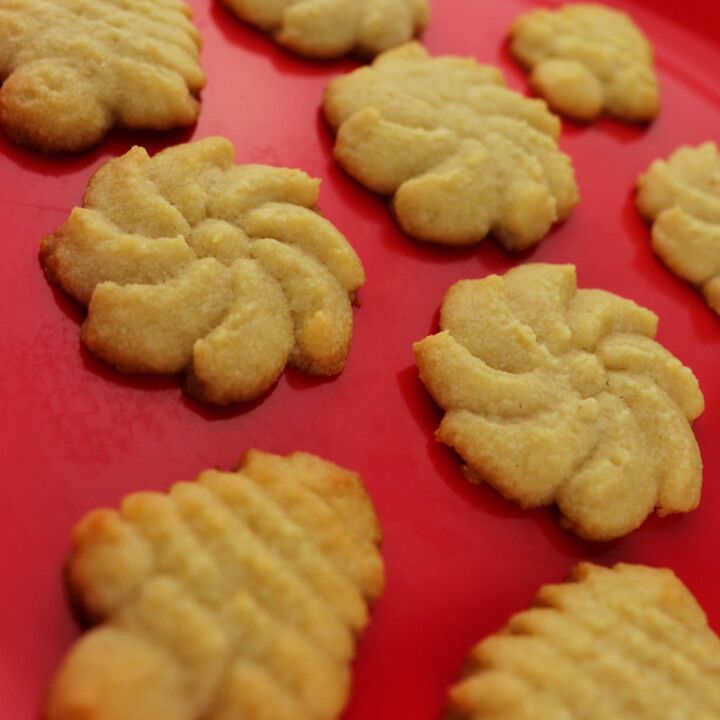 Keto Butter Spritz Cookies
Is it really Christmas without butter spritz cookies like Grandma used to make? Now enjoy that same taste in a gluten-free, sugar-free, buttery Christmas tree packet. Love 'em? Me too!
Ingredients
3/4 cup softened butter
1 cup powdered sweetener , or equivalent sweetener
1 tsp vanilla
1/2 tsp almond extract
1 egg
3 3/4 cups almond flour, buy finely ground, blanched
1 tsp baking powder
Instructions
Preheat the oven to 350 degrees Fahrenheit and prepare two baking pans with silicone liners or parchment paper.
In a standing mixer, cream together the butter, sweetener, egg, and vanilla and almond extracts.
Add in the almond flour and baking powder and mix it all together to form a dough.
Spoon the dough mixture into the cookie press and press out the cookies, at least an inch apart.
Bake for 7-9 minutes or until the edges begin to turn brown.
After 15 minutes you can move the cookies to a cooling rack. Let the cookies cool completely before serving.
Notes
Nutrition Facts
Servings 18.0 Amount Per Serving: 2 cookies Calories 88 Total Fat 9 g Saturated Fat 5 g Monounsaturated Fat 2 g Polyunsaturated Fat 0 g Trans Fat 0 g Cholesterol 31 mg Sodium 32 mg Potassium 6 mg Total Carbohydrate 1 g Dietary Fiber 0 g Sugars 0 g Protein 1 g
Nutrition Information:
Yield:

18
Amount Per Serving:
Calories:

88
Unsaturated Fat:

0g
*Nutrition Facts per MyFitnessPal.com. For most accurate facts, calculate your own with the exact ingredients you use in the recipe.
Try serving them with tasty keto coconut macaroons!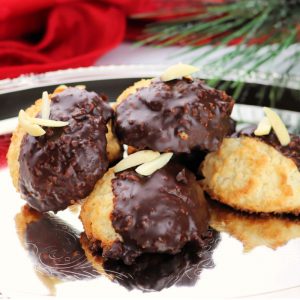 Serve them along with an amazing Keto Eggnog. You really can't go wrong with eggnog!
12 Days of Keto Christmas Cookies
There are so many mouth-watering cookies coming up in the 12 Days of Keto Christmas Cookies countdown, I can't wait to share them with you! What is your favorite traditional or not so traditional Christmas cookie?
What about other family holiday traditions? The keto butter spritz cookies are so simple but really a go-to family favorite around here. I hope you enjoy them too!
Pin this recipe here!: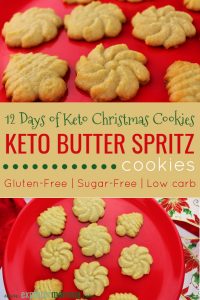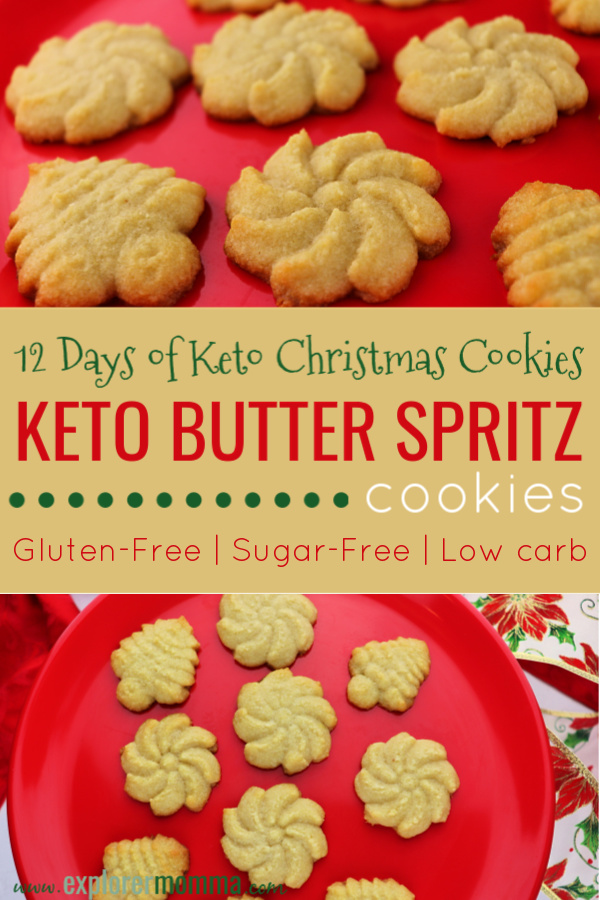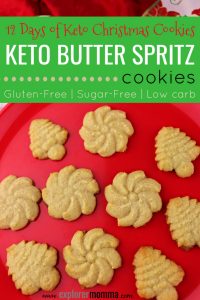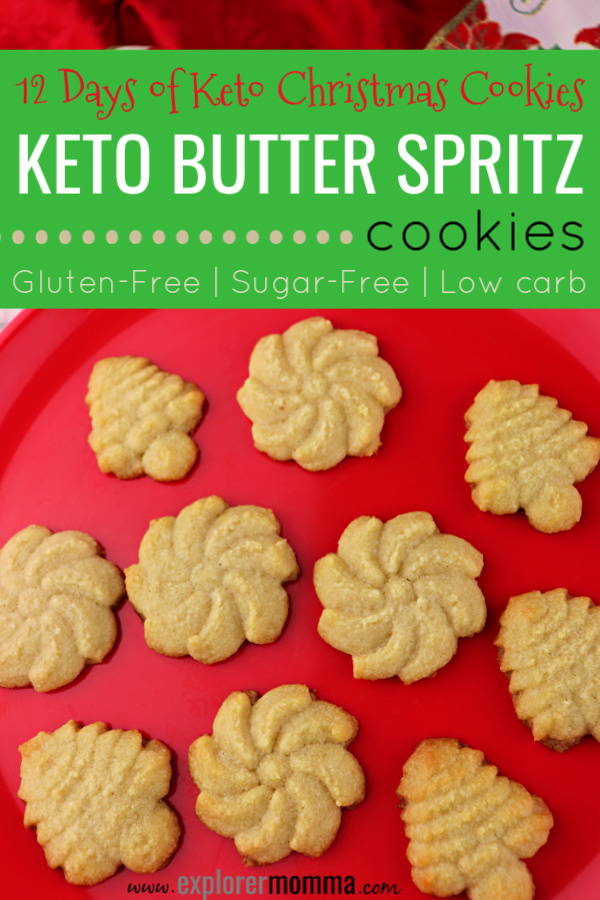 Tag me in your recipe pics on Instagram @explorermomma!
If you LOVE this recipe please consider giving it a five-star rating in the review area below.
Thanks all!
Nutrition Disclaimer
Please be aware I am not a medical specialist or nutritional professional. On this blog, I share recipes and what works for me. Please do not take anything on this blog as medical advice and always consult with your doctor before starting any diet or exercise program.
I use MyFitnessPal.com to calculate nutrition facts as a courtesy to my readers, and I remove erythritol from the final carb count and net carb count because does not affect my own blood glucose levels.
This is as accurate as possible, but it's best to independently calculate nutritional information on your own with the specific ingredients you use. I expressly disclaim any and all liability of any kind with respect to any act or omission wholly or in part in reliance on anything contained in this website.