Warm and creamy with Italian sausage spice, you're going to love this creamy keto Italian sausage soup on a cold snowy night. It's one of our favorite ground sausage keto recipes. Just close your eyes and imagine yourself in the Italian Alps as you eat your Keto Zuppa Toscana!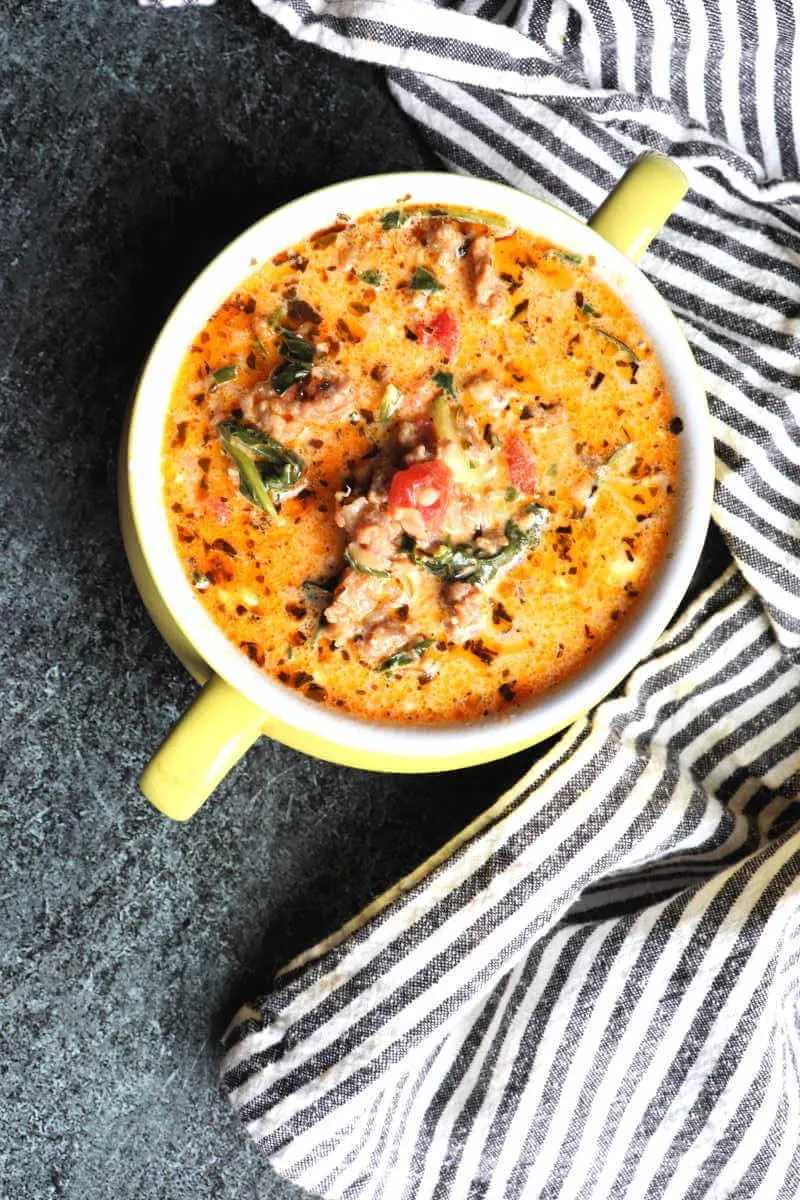 What do you imagine when you hear the words creamy keto Italian sausage soup? First, I like to picture myself by a roaring fire at an antique wooden family dinner table with snow falling lightly through the picturesque window.
The kids are smiling at each other as they enjoy their soup, and the husband is laughing about a story he just told. Then, I smile contentedly and look around as I warm my hands on the sides of my bowl.
Let's keep that pretty picture in our heads! The winter season is nearly upon us, sooner here in Northern Colorado than I'd necessarily like.
However, the cold and snow make me crave the comfort of warm bowls of keto friendly soups. And, to be perfectly honest, it's fabulous to have a big pot in the fridge prepared over the weekend you can just pull out, warm up, and call everyone to dinner. It's especially convenient when you have all those fun after-school activities like volleyball, basketball, karate, piano, and so on preventing you from kitchen time on weeknights.
This post may include Amazon links. As an Amazon Associate, I earn from qualifying purchases.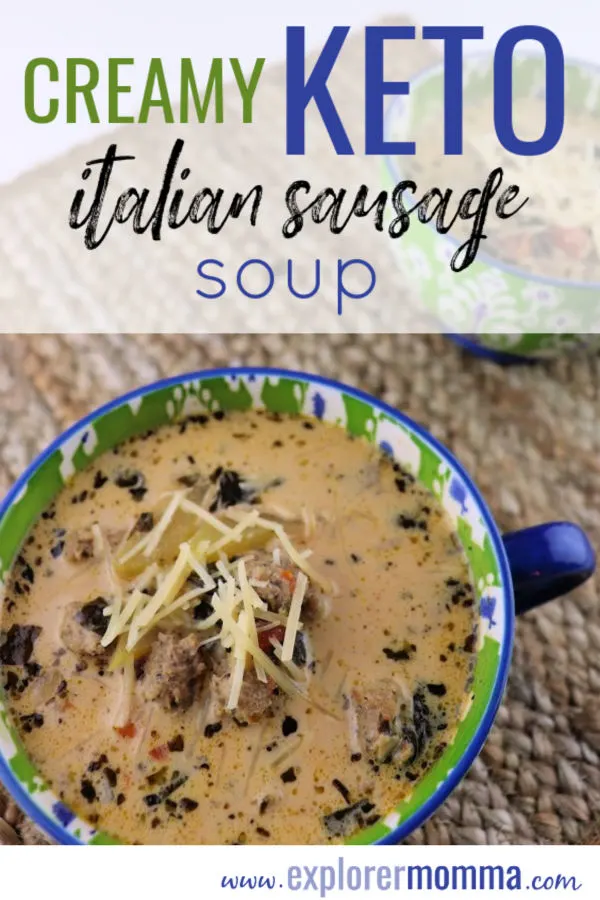 Cold day keto soups
Yesterday morning we had to get up early to head down to Denver for an appointment. It's the middle of October right now, and when we left the house at 6:30 am it was 11 degrees Fahrenheit with a blanket of white snow covering the neighborhood.
Yes, you read that right 11 degrees. True, this is Colorado, but that's not a normal temp for mid-October when the average low is about 37!
So, we exclaimed about the weather, discussed it with everyone we saw, and posted about it on social media, my daughter and I decided it was definitely soup weather.
If you ask my girl what kind of meat she likes she will immediately say sausage, meatballs, or pork chops. In short, she's a meat lover and so this creamy keto Italian sausage soup is always popular on the menu. She has to have sugar free and gluten free recipes so it's a good thing meat is popular!
In a hurry? Get me to the recipe!
Scroll down to the bottom for the printable recipe or PIN it here for later!
🍽 Equipment for keto sausage soup
Kitchen items you'll need: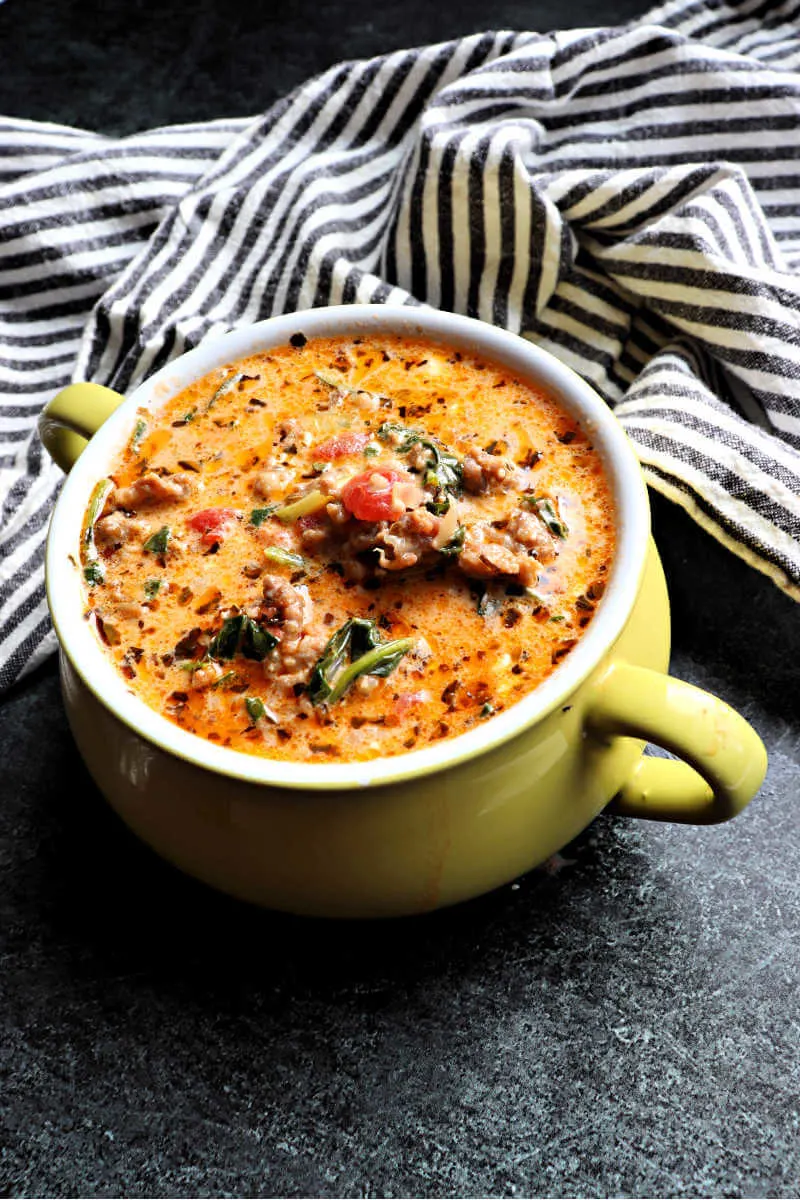 Simmering soup on a cold day was like filling a house with cotton batting. The comforting scent of it plumped and muffled and cuddled.

– Sarah Addison Allen
💭 Top tips
Perfect creamy keto Italian sausage soup
I really like to add cream cheese to soups to give them an easy low carb creamy goodness. I've tried many different methods to add said cream cheese to soups, smoothies, and desserts.
Far and away, the best way I've come up with to evenly distribute the cream cheese in soup or even a muffin batter is to blend the cream cheese up with wet ingredients before adding it to the main mixture.
In this creamy keto Italian sausage soup recipe, I use a cup of broth and cream cheese and blend them together before adding them to the soup. Why do I do this? It's the easiest and most practical way to not have cream cheese lumps floating about your soup!
Now, if you don't have a blender you can take room temperature or slightly warm cream cheese and whisk or stir it into your simmering soup. It is possible. I've done it before. It's how I do it in the video.
However, it does take longer to get all the lumps out and mix it in completely without making a mess.
Also, I tend to forget to get the cream cheese out of the refrigerator early so blending it up is a fabulous way to make up for my lack of planning skills.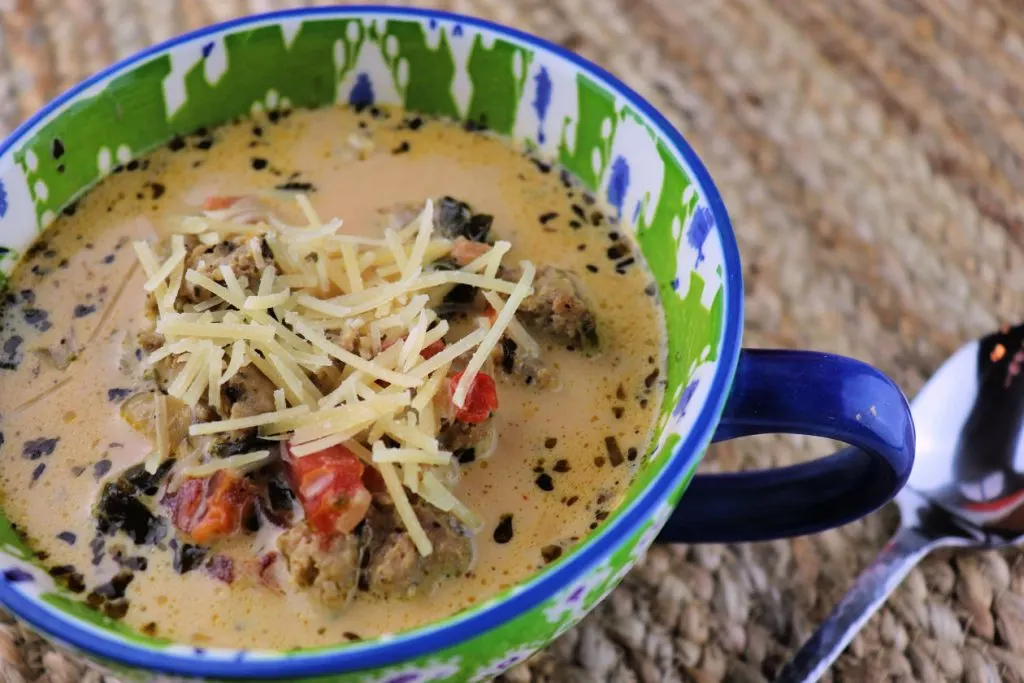 Only the pure of heart can make a good soup.

– Ludwig Van Beethoven
🥘 Ingredients in this delicious keto soup
1 tbsp butter (or sub avocado oil or olive oil)
1/2 onion chopped
2 cloves garlic
4 cups of chicken bone broth (or beef broth, beef bone broth works also)
8 oz cream cheese
1 lb Italian sausage (mild or hot, casings removed) You can substitute ground beef or other tender meat here, but you may need to add some extra spices.
1 14 oz can diced tomatoes
zucchini (small) chopped
2 cups chopped spinach
1 tsp dried basil
1 tsp dried oregano
bay leaf
parmesan cheese
1/4 tsp cayenne pepper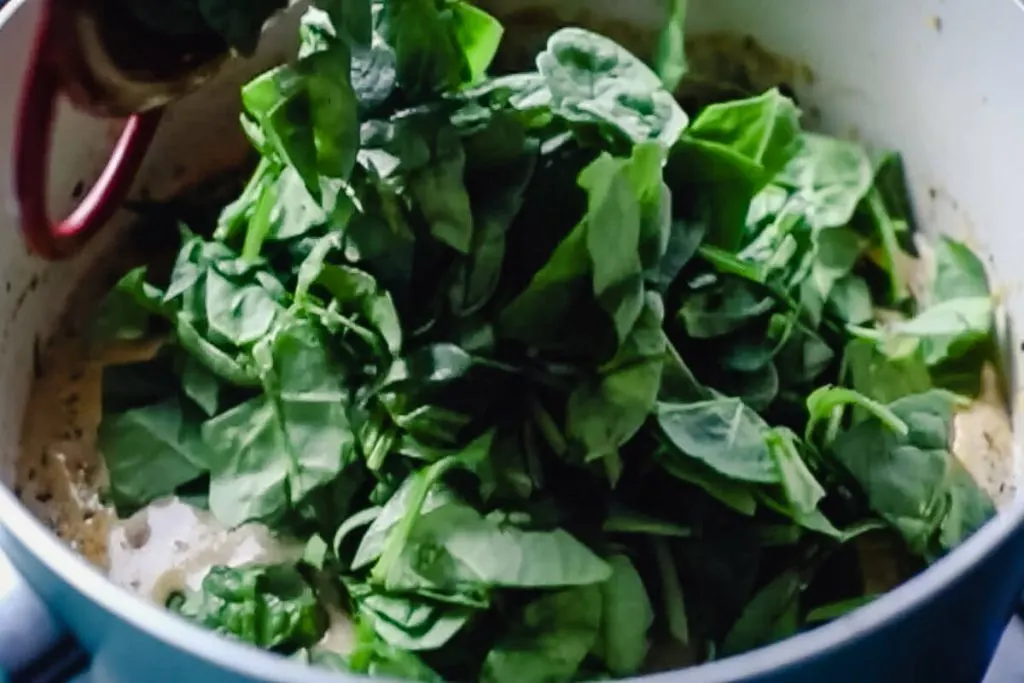 🔪 Instructions
How to make creamy keto Italian sausage soup
AKA Keto Zuppa Toscana.
(Just pretend you're in a chalet in the Italian Alps. Yes, please. Celebrate keto Italian food!)
First of all, to make this creamy keto Italian sausage soup, melt the butter in a soup pot or dutch oven over medium-high heat.
Second, you're going to scrape in the chopped onion and minced garlic from the cutting board and mix those around with the butter.
Then, the Italian sausage goes in to cook for about 4-5 minutes or until the onion is soft and the meat is browned and filling the kitchen with good smells. It should brown evenly so stir it around and break it up as it cooks. Cheers for keto recipes with ground sausage!
As the meat browns, add the zucchini to cook. I like to use zucchini in soups as a sort of a pasta replacement and another texture. Then pour in three cups of the bone broth.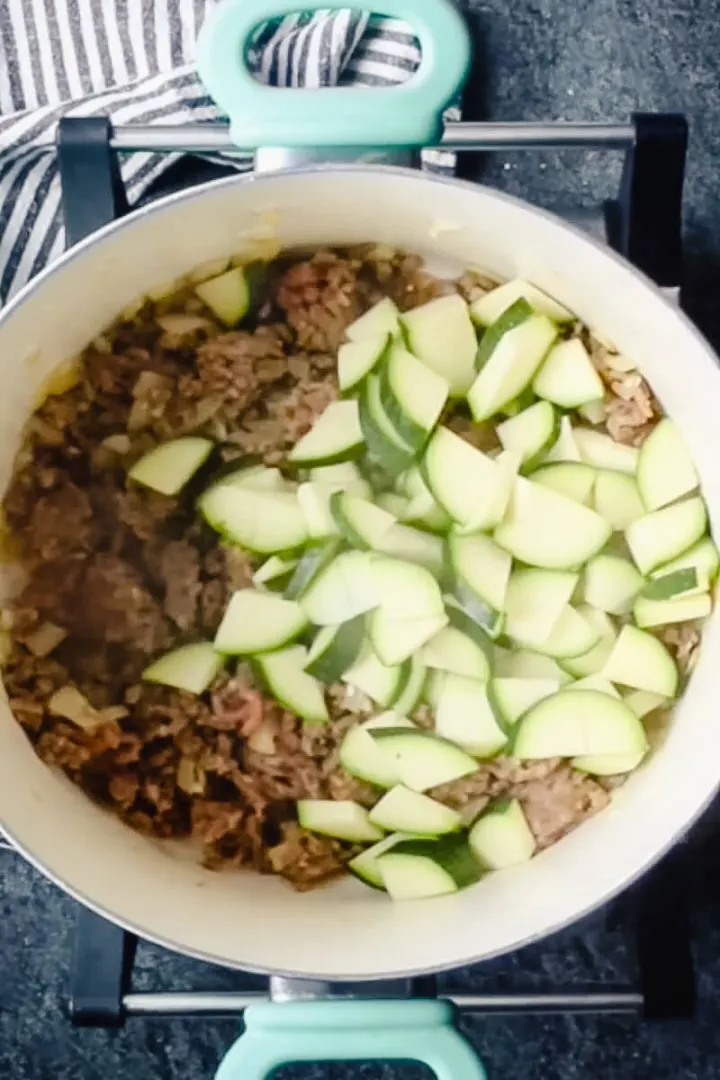 Sometimes, I even peel the zucchini and take out any large seeds simply because the children are more likely to eat it that way. They are less likely to attempt to pick it out if they don't see the green. At least that's my kids!
You can julienne it sort of in more of a noodle shape, or slice and quarter it, or just chop it as you like!
Now for the good stuff!
Okay, next add the herbs, basil, oregano, a bay leaf, and then the cayenne pepper. Stir that up a bit then add the diced tomatoes. After that, bring the pot to a boil then lower to medium heat or low to simmer.
While the soup is simmering, place the remaining cup of bone broth and cream cheese in a blender and blend it up until it's smooth with no lumps. Then, pour it into the rest of the soup and stir.
Next, chop up about 2 cups of spinach and mix it in the soup to wilt. You can serve it almost right away or allow it to simmer for another half hour or so for the flavors to combine. It does taste better if you simmer it a bit longer or make it the day before and heat it for a quick weeknight meal.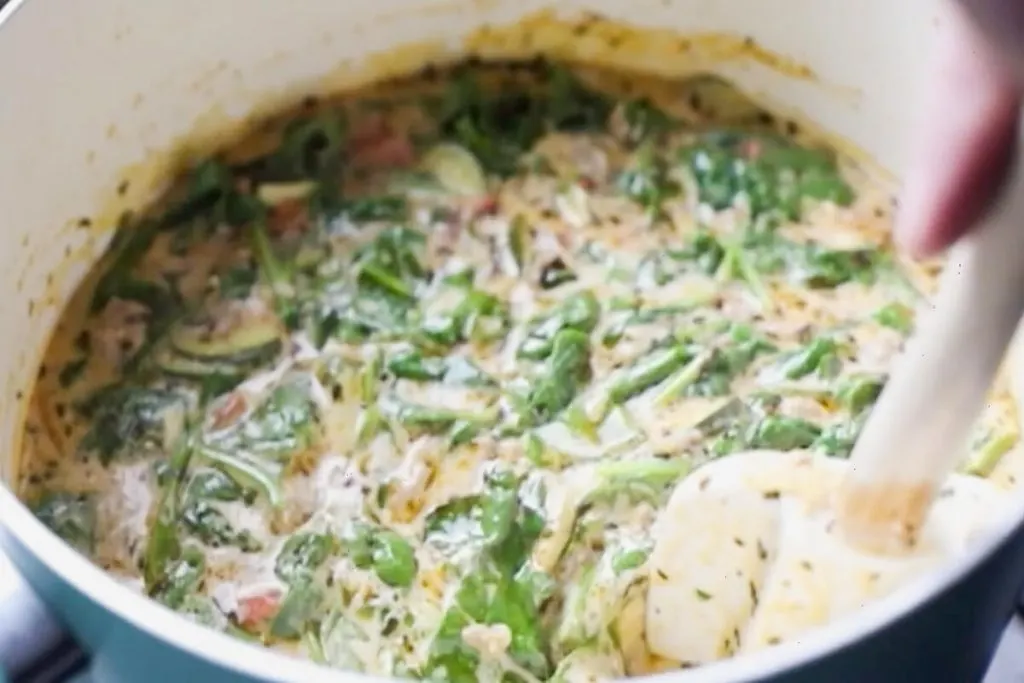 Last but not least, don't forget the cheese!
Serve the bowls of soup topped with shredded parmesan cheese. I like to shred my own if there's the time because often the pre-grated, shredded cheeses contain potato starch or other things to make them not stick together. That's not something I want to eat so tend to buy block cheese and prepare it myself.
Eat and enjoy!
👩‍🍳 Variations
There are several variations I've had readers try and suggest. One of the most popular is to switch out the spinach for kale. I've done this myself many times and highly recommend it!
Others say they also switch out the zucchini for cauliflower to make keto cauliflower sausage kale soup.
Also, it can be turned into a bratwurst soup with slices of bratwurst if that's what you have on hand. Is bratwurst keto? Well, it's protein and high in fat so can definitely be added to a keto diet. Just watch any added ingredients. Creamy bratwurst stew? Why not?
There's a lot you can do with it, depending on what you have on hand. I love that it's a super versatile recipe.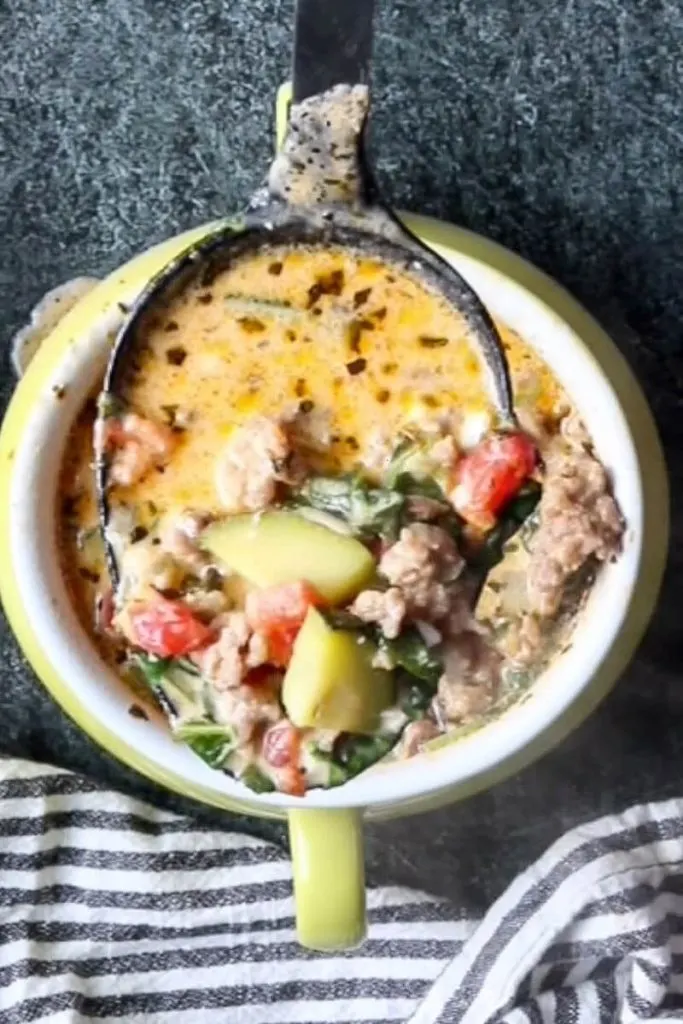 There's a sorrow and pain in everyone's life, but every now and then there's a ray of light that melts the loneliness in your heart and brings comfort like hot soup and a soft bed.

– Hubert Selby Jr.
❤️ Keto Tuscan Soup = Keto Zuppa Toscana = I love soup
What are your favorite keto soups and stews? Do you create your own with whatever's in the fridge or stick to recipes? I do a little of both as it's a great way to get rid of leftovers! Keto sausage dishes are super popular for a cold winter evening around here, and we often have keto sausages around.
I love this delicious recipe, and it's truly one of my favorites. I'm not opposed to eating it for breakfast, breakfast sausage soup anyone?
What tastes do you like that might work well in soup or stew form? Philly cheesesteak? Cheeseburger? Chicken enchilada? We love keto ground Italian sausage recipes like this keto sausage casserole, slow cooker – who knew you could cook a casserole in the slow cooker!?
On the stove or in the slow cooker or Instant Pot, soups speak comfort in fall and winter!
Yes, I like to think of some of my favorite meals and winterize them so to speak in easy peasy stew form. Winter is the ideal time to make delicious recipes like this, Keto Jambalaya or Keto French Onion Soup anyone?
Now, I hope you try this creamy keto Italian sausage soup, find a fireplace and a book set in Italy and enjoy some keto zuppa Toscana!
Tag me in your keto and carnivore diet recipe pics on Instagram @explorermomma.
If you LOVE this recipe please consider giving it a five-star rating in the review area below!
Thanks all!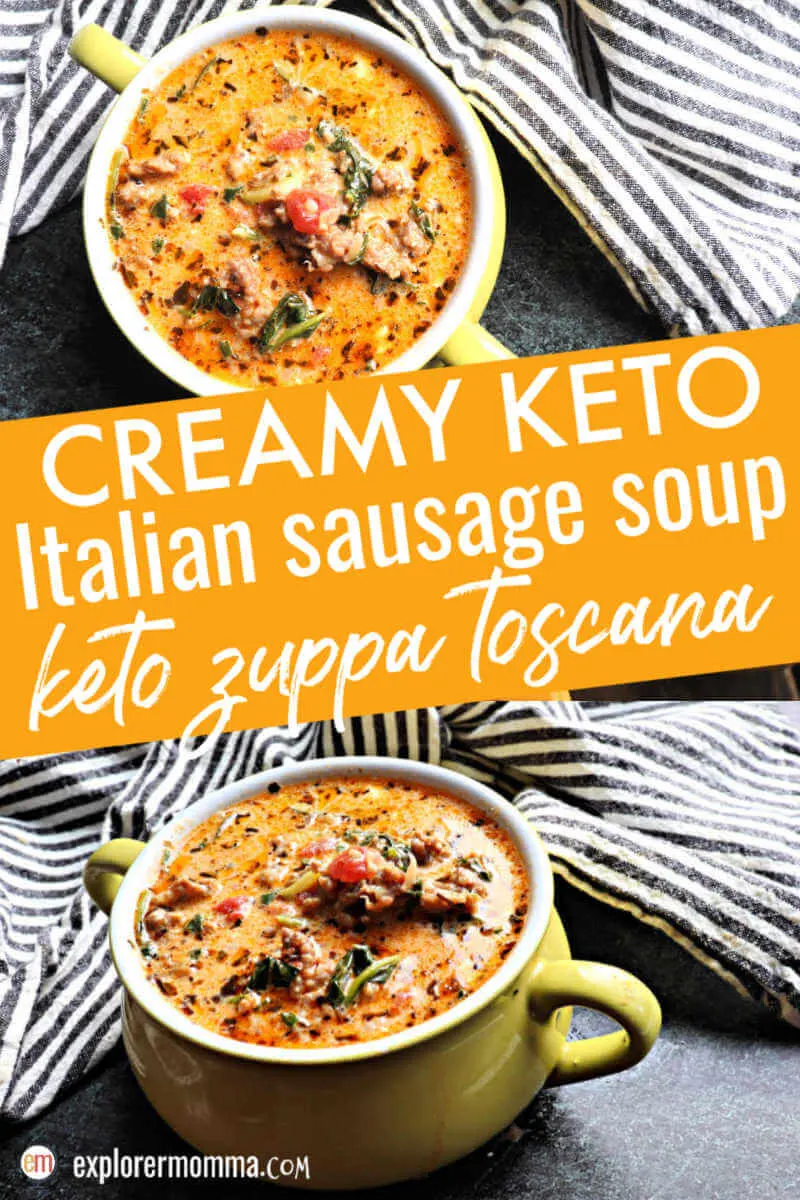 📖 Printable recipe card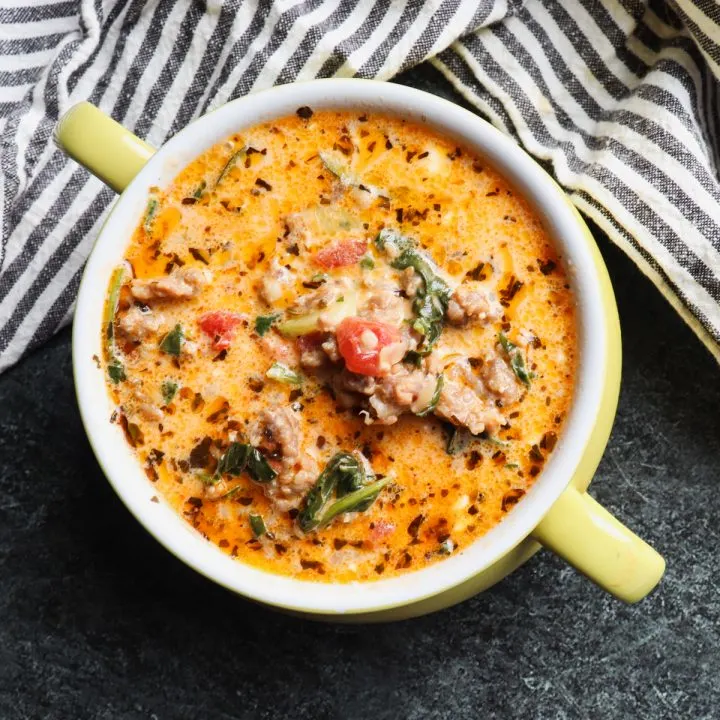 Creamy Keto Italian Sausage Soup
Warm and creamy with Italian sausage spice, you're going to love this low carb soup on a cold snowy night!
Ingredients
1 tbsp butter
1/2 onion, chopped
2 cloves garlic
4 cups chicken bone broth
8 oz cream cheese
1 lb Italian sausage, (mild or hot)
1 14 oz can diced tomatoes
1 zucchini (small), chopped
2 cups chopped spinach
1 tsp dried basil
1 tsp dried oregano
1 bay leaf
parmesan cheese
1/4 tsp cayenne pepper (to taste)
Instructions
Melt the butter over medium-high heat and add the onion, garlic, and Italian sausage to cook for 4-5 minutes or until onion is soft and meat browned.
Pour in three cups of the bone broth then add the zucchini, basil, oregano, bay leaf, cayenne pepper (if using), and diced tomatoes.
Bring to a boil then lower the heat to simmer.
Place the remaining cup of bone broth and cream cheese in a blender and blend until smooth. Pour into the rest of the soup and stir.
Mix in the chopped spinach and once wilted serve the soup or allow to simmer for another half hour or more for the flavors to combine.
Serve topped with shredded parmesan cheese.
Notes
Nutrition Facts
Servings 8.0 Amount Per Serving Calories 312 Total Fat 22 g Saturated Fat 11 g Monounsaturated Fat 0 g Polyunsaturated Fat 0 g Trans Fat 0 g Cholesterol 75 mg Sodium 656 mg Potassium 423 mg Total Carbohydrate 4 g Dietary Fiber 1 g Sugars 3 g Protein 20 g Net Carbohydrate 3 g
Nutrition Information:
Yield:

8
Amount Per Serving:
Calories:

312
Unsaturated Fat:

0g
*Nutrition Facts per MyFitnessPal.com. For most accurate facts, calculate your own with the exact ingredients you use in the recipe.
Pin this recipe for later!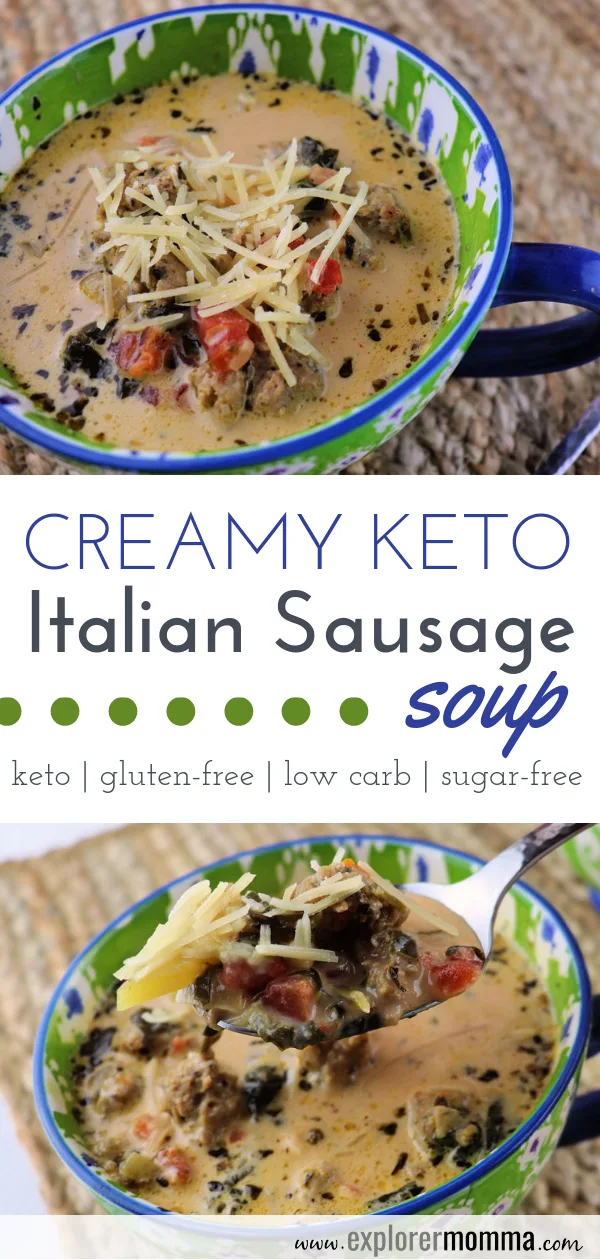 Nutrition Disclaimer
Please be aware I am not a medical specialist or nutritional professional. On this blog, I share recipes and what works for me. Please do not take anything on this blog as medical advice and always consult with your doctor before starting any diet or exercise program.
I use MyFitnessPal.com to calculate nutrition facts as a courtesy to my readers, and I remove erythritol from the final carb count and net carb count because does not affect my own blood glucose levels.
This is as accurate as possible, but it's best to independently calculate nutritional information on your own with the specific ingredients you use. I expressly disclaim any and all liability of any kind with respect to any act or omission wholly or in part in reliance on anything contained in this website.