Preview: A Northern States National Parks Bucket List for families. Join guest writers as we travel around the states of Alaska, Michigan, South Dakota, Nebraska, and Wyoming to national and state parks!
I am so excited about this group of national and state parks to share with you! Truly I have no doubt it will spark a bit of wanderlust. When I was a kid, we went to parks in Alaska, and I will never forget the time we spent there with family.
Now join our tour around the United States in Explorer Momma's Operation U.S. Parks, Every Kid in a Park. This is number three in a series of five posts featuring guest writers who plug their favorite parks and give tips and stories about the area. I hope to encourage you and your family to get out, wander, and experience our magnificent national and state parks.
So, moving northward, let's continue our journey and add to your own Northern States National Parks bucket list!
This post contains affiliate links, which means I receive a small percentage if you make a purchase after clicking on my links.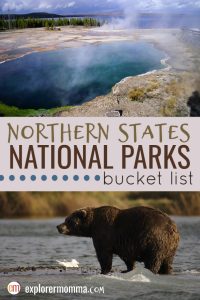 Northern States National Parks
Katmai National Park, Alaska
There are some places so worth going to that getting there is half the adventure. Katmai National Park is one of those places. To get to this over 6,000 square miles of Alaskan wilderness, you must first take a flight to King Salmon. Then, from there you'll hire a charter flight to take you to the park. The number one reason to visit this park is to see grizzly bears in the wild.
Each summer the bears congregate at the Brooks River Falls where the migrating salmon jump UP the falls. Visitors have their own bear-viewing platform to watch all the bears' activities. From that point, you can see the older, wiser bears who can open their mouths and magically a salmon jumps right. Also, don't forget, there are the younger, less-experienced bears who try and try and try again just to catch a couple of salmon per day.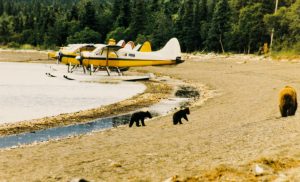 Due to the sheer number of bears in the park (estimates are around 2200), visitors must immediately take bear training when they arrive in Brooks Camp. Bear safety is a must when people are camping among North America's largest predator.
Katmai National Park is one of the most beautiful and unique northern states parks to visit. Definitely, it's a journey to get there, but boy is it worth it.
By Corinne from Reflections Enroute
Badlands National Park, South Dakota
Before my husband and I were married he mentioned many times how he'd like to take me to Rapid City, South Dakota. I remember being confused because I had no clue what South Dakota had to offer. Surely there were many more exotic places to explore in this world than South Dakota?
However, we took our family there on our long term RV trip across the country. We couldn't believe we hadn't made it sooner. Truly, the beauty of the Badlands National Park is breathtaking. The vast amount of buffalo at Custer State Park is enough to leave you speechless. Also, the amount of unique and fun family-friendly activities in the Black Hills will keep you busy and entertained for days. And of course, the majesty and iconic Mount Rushmore is a must for every family visiting the United States.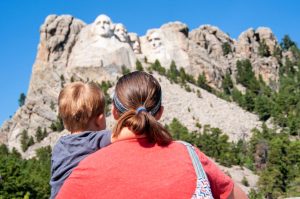 There are so many historic and interesting things for families to do and see in this area. To begin, I had no clue how much we would love it. We started off with a 5-day reservation at a campground and kept extending it until we were there for two weeks. Even then we didn't see it all and are already planning to come back.
Rapid City, South Dakota is a great choice for families looking for educational fun, history and natural beauty. Read more about the Badlands here: 10 reasons why South Dakota should be on your family's bucket list.
By Hilarye at Dotting the Map
Wyoming: Northern States National Parks for Families
Yellowstone National Park
Yellowstone National Park combines the otherworldliness of geothermal activity and the beauty of the Rocky Mountains. Then add to that the magic of the biggest wild animals in America. You won't be disappointed!
Both planned stops and impromptu wildlife sightings make up the bulk of activities for most tourists. In addition, there are boardwalks for accessing the geysers, hot springs, thermal pools, and waterfalls. Also, there are trails leading into the backcountry.
Both kids and adults alike will love the variety and frequency of things to see. First to plan your trip, know it's generally a maximum of 20 minutes between interest points. You'll find distinctive viewpoints, mud pots, geysers, waterfall hikes, and visitor centers. If you pair that with bear, moose, elk, wolf, bison, and eagle sightings, you'll find every day is almost always action packed!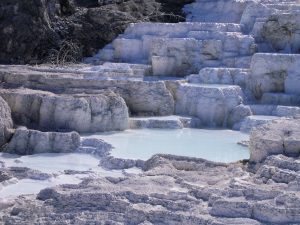 Know before you go:
Yellowstone is so big, it's hard to see all the unique features in less than two full days.

The ranger talks and visitor centers are free and hugely valuable.

Accommodations include camping opportunities and hotels.

Also, the park is much easier to visit in the summer when roads are open to the public. In winter, much of the park is closed to vehicle access, requiring snow coach tours or snowmobile rentals.

Plan to live without phone service. Signals are hard to come by given the terrain and remoteness.
Problems with the amazing wild animals or geyser injuries in the park generally are caused by tourists illegally approaching. Be safe!
Fun fact: Yellowstone is so-called for the yellow-ish volcanic material – rhyolite. It can be found throughout the caldera, which is a large volcanic crater. Did you know Yellowstone is a volcano so enormous you can't even see it?
By Jema from Half the Clothes
Yellowstone National Park in Winter
One of my favorite National Park experiences is spending a few winter days at Old Faithful in Yellowstone National Park. In summer, the park is packed with visitors. Often, you are shoulder to shoulder trying to watch the famous geyser erupt. Winter brings tranquility and space to Wonderland.
We like to stay at the Old Faithful Snow Lodge in winter. The roads are closed except to over-snow vehicles, so we ride in on a snow coach. The lodge is warm and inviting. A fireplace is ablaze in the lobby, and visitors read books, play board games, and discuss their day exploring. Also, the kids really love the ice skating rink just outside.
The dining room serves gourmet-casual food with an emphasis on local (well, as local as you can get in the middle of winter in Yellowstone). We love grabbing a hot drink from the bar to sip in the lobby before dinner.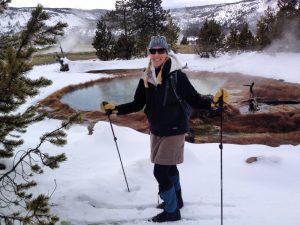 The Best Part of Yellowstone in Winter
The best part is getting out on cross-country skis or snowshoes. My family likes the zippy ski tour down Spring Creek and walking around the Upper Geyser Basin. In winter, you can watch Old Faithful erupt without anyone else around.
From the Snow Lodge, you can take a snow coach to the Grand Canyon of the Yellowstone and ski or snowshoe along its edge. Seeing the partially frozen Lower Falls of the Yellowstone River is magical, and watching otters slide through the snow into the river above the falls, brings a smile to your face.
There is something about being in a warm cozy lodge after a day in the snow that feels like an iconic winter experience. Even though our kids were young when we went, they remember it fondly and long to go back.
By Melynda from Yellowstone Trips
Grand Teton National Park
Hidden below America's first National Park, Yellowstone, is Grand Teton National Park. A place to escape the hustle and bustle of everyday life. A place to breathe.
I passed through the Grand Tetons on my way from Yellowstone the first time, and I immediately knew someday I would return. For me, it was love at first sight. I loved it there so much that I will head back next year. I plan to explore more of the area, the trails, and to find those secret places the mountains always whisper about.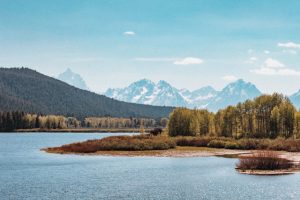 While Yellowstone is definitely amazing in its own way, I felt that the Grand Tetons offered a little more peace and quiet. And fewer people as well. You might not be completely alone here, but who cares? You've got fantastic views over the mountains, beautiful lakes to watch the sunrise over, and miles and miles of hiking trails to explore. And if that's not enough to convince you to visit, there are also plenty of opportunities for wildlife viewing.
Oh, and did I mention there are gorgeous waterfalls as well?
I actually fell so much in love with this place I'll be returning with my family next summer. It may not be the ideal time to visit if you're looking for peace and quiet. However, I'll be alongside family I'm sure it's going to be a fantastic trip.
I just know I would've just loved to visit this place when I was younger! Why? Because it's heaven for kids with endless nature to explore.
By Helena from Darling, Let's Be Adventurers
What's on your national and state parks bucket list in Utah and Colorado?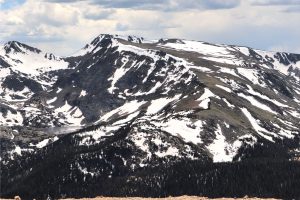 Northern State Parks
Tahquamenon Falls State Park, Michigan
Of all the amazing family-friendly stops in Michigan's Upper Peninsula, my family's favorite destination is Tahquamenon Falls State Park. We love it so much that we convinced our entire extended family (three generations – 8 adults and 11 children) to go there with us last summer. Everyone agrees it was great fun.
Upon arrival, we immediately headed to the Upper Falls overlooks. Big and powerful, the Tahquamenon Upper Falls are a thrilling sight to behold. Also, this waterfall is especially family-friendly because most of its overlooks feature paved trails that are easily accessible for strollers and wheelchairs.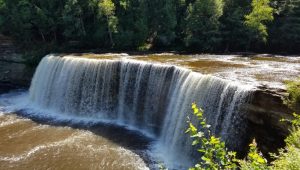 After viewing the Upper Falls, we drove down to the parking area near the Lower Falls. We walked the trail for a short distance to take in the view of the considerably smaller Lower Falls. There are boats available for rent if you want a closer look at these falls. We did not take any boats out as we had several small children (including toddlers and a baby) in our group.
Instead, we wandered a little further along the trail where we joined several other families wading in the shallow river water. The children and the adults had a blast playing in the water and stacking rocks.
Hint:
Bring water shoes for protection from the river's rocky bottom.
Our entire group left with fond memories of Tahquamenon Falls State Park. The children frequently ask when we will go back there, and the adults think it would be fun to return as well.
By April from Minivan Adventures
Mahoney State Park, Nebraska
Situated in the heart of the US, along the I-80 Interstate, many road-trippers pass through Nebraska without a second glance. However, by doing so, they are missing out on so many great stops, one of them being Mahoney State Park. It is one of the top 100 US State Parks.
One of the things that makes Mahoney so fantastic is its never-ending list of things to do. First, horseback riding, ceramic making, toboggan sledding or snowshoeing in the winter. Next, you can try sleeping in teepees, miles of hiking trails, and more. Moreover, this means there is something for everyone. Also, you can spend days upon days at Mahoney State Park and still not have done everything there is to do!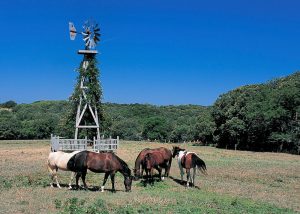 Mahoney State Park, photo credit to Nebraska Tourism
Kids love Mahoney for its gigantic indoor play zone and its AMAZING water park. Fabulously, it's complete with wave pool and dump buckets. Also, adults can't get enough of things like the high ropes and zip-line course, 40+ foot rock climbing wall, and nearby vineyards.
So don't just cruise past what you thought was nothing but boring cornfields on your next cross-country road trip. Don't forget to check out Mahoney State Park and Nebraska's other great activities for a fun stop.
By LeAnna from Well Traveled Nebraskan
Pin this post to save for later here!: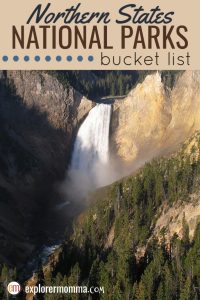 Operation U.S. Parks
So this week we've ventured up to some of the Northern regions of the United States. What do you think? I am so ready to plan a family trip to Alaska to see all the wildlife, the glaciers, and do some hiking! My son absolutely obsesses on puffins, sea lions, whales, and bears and cannot wait to see them in the wild for himself.
Also, we're planning trips to Yellowstone and the Badlands this summer and fall, and I'm so excited to experience those places as a family!
What's next on your bucket list?
Check out more articles on U.S. parks:
Have you been to any of these Northern States National Parks? What about Northern State Parks?
Tag me in your pics on Instagram @explorermomma. I'd love to see them!