Oh, how I love Rocky Mountain National Park! RMNP is one of my favorite places to go with kids, by myself, or with friends and family. There's a power in the immensity and beauty of the mountains, the trees, the wildlife, and being out in nature. With this in mind, if you've never been, what are you waiting for? Any season is a great time to visit the park, but today let's focus on winter with a few pointers. Over the years the park has gotten busier and busier due to the popularity of tourism in the area and an outdoor lifestyle. I'm going to share some of my secrets with you for exploring the park in winter, although I admit somewhat reluctantly!
This post contains affiliate links.
Snowshoeing in Rocky Mountain National Park
Snowshoeing is a great way to see the park in winter, get some exercise, and leisurely enjoy yourself. Furthermore, this is an activity you can do without any lessons or preparation, you just strap some snowshoes on. Recently I went on a trip with family, including my four and eight year olds, and they did awesome! If you can, plan your trip during the week and not on a holiday to avoid some of the crowds, although you never will completely avoid the masses.
Where to go
You can print out your park map by clicking here beforehand, or a ranger will offer you one when you enter the park. Take a look at it whilst I recommend a few choice spots to visit.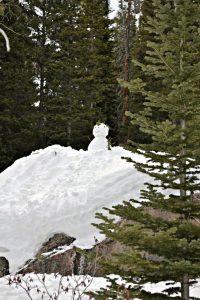 There are some great trails around Bear Lake, and depending on the amount of snow you can also take the easy trail around Sprague Lake. Warning! These parking lots fill up quickly, and you will be surrounded with other explorers. If you like this atmosphere that's great! However, if you are looking for a chance to get out on your own in the snowy expanse this is not the choice for you.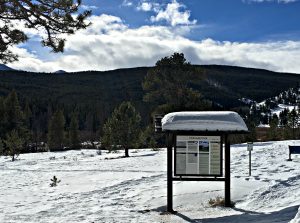 I'm going to let you in on my little secret: Hollowell Park. I'm struggling right now typing this because instinctively I don't want to share this blissful spot. Even when Bear Lake trails are packed, and the entire road is cut off due to the amount of traffic, Hollowell Park is a peaceful, wide-open trail with very few people, and when you do occasionally meet someone you share that knowing smile that yes, you've discovered a gem of a hike. You can take it fast or slow, with kids or without.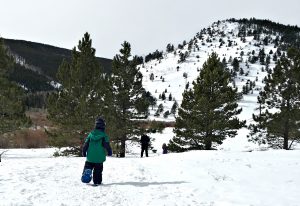 Chasm Falls
Chasm Falls is another great snowshoe hike you can do with kids. It's located up the Old Fall River Road, and in winter you can park in the lot and picnic area at the junction of Endovalley Road and Old Fall River Road. From there you will hike about a mile up Fall River Road to Chasm Falls. It doesn't sound very far, but it's a good length for kids, guaranteed to wear them out! Couple that with the fact your reward at the end of the trail is an icy waterfall, few kids can resist it.
Another nice option is to join one of the free ranger-led snowshoe trips. For more information on this awesome opportunity check out the Rocky Mountain National Park website here. Did I mention they're free?!
Hidden Valley Sledding
In the event you have a child set on sledding, the only place in the park where it's permitted is the old Hidden Valley Ski Area. The sledding area is the bunny hill, and there are no tows so you'll get some exercise! Also, make sure you bring your own sled because there aren't any on site to borrow or rent. This can be a fun family activity, but it is a valley and when it's windy it is COLD. You can call the park Information Office to ask about the wind before you go, 970-586-1206.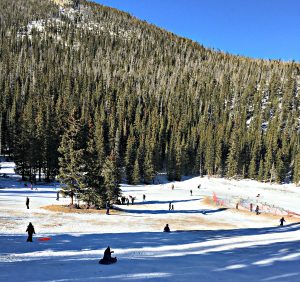 Wildlife quest at Rocky Mountain National Park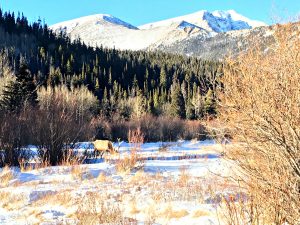 Another secret of Rocky Mountain National Park is the wide range of wildlife you can see, especially if you get back on a quiet path with snowshoes. What can you find? Even in winter you may see elk, moose, deer, and bighorn sheep. My son was incredibly excited to see a coyote walking through the snowy woods the other day. Also, we've seen snowshoe hares before, and the kids are fascinated by the fact they change colors depending on the season. On this trip, unfortunately we were only able to find the tracks of a snowshoe hare, but finding tracks is a great way to learn about all the wildlife in the area.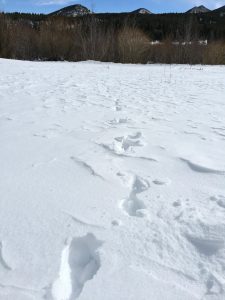 For the birdwatchers out there, you will find no shortage of camera candy in RMNP. Fun fact: there are 280 bird species in the park, and it's been designated as a Global Important Bird Area. Take special note, Lumpy Ridge, which is north of Estes Park in RMNP, is actually closed to hikers at certain times while the peregrine falcons nest there. Swoon! For the Wild Kratts obsessed four year old boy, this is a paradise. You can also see the white-tailed ptarmigan, three-toed woodpecker, blue grouse, northern pygmy owl, and oh so many more. Take some binoculars and a camera and see how many different species you can find.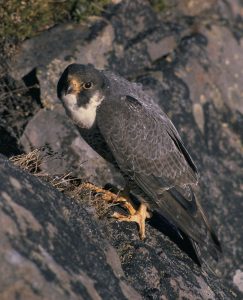 Equipment
If you don't have your own snowshoes and poles, you can rent them at any number of locations in Estes Park, Colorado before heading up into the National Park. Some are bigger stores than other, but here's another little secret: The Warming House at 790 Moraine Avenue in Estes Park. This is my favorite location to rent snowshoes and other equipment. The store is in a cabin-type building, the staff is helpful and friendly, and it makes for a homey, familiar feel.
They have all kinds of snowshoes for kids and adults, gators, waterproof shoe covers, poles, pretty much anything you might need to rent for a snowshoe trip. In addition, if you need one, you can even rent a Kelty child carrier (backpack) to explore the park.
If you are looking for skis, snowboards, or other snow sport equipment, the Estes Park Mountain Shop is one option with rentals available.
Rocky Mountain National Park Soundtrack
This is one of my last little secrets for today. First of all, remember music is extremely powerful, and your mind will associate it with experience. Secondly, make an appropriately majestic soundtrack to listen to as you drive the magical roads through the park, and force your kids (and spouse) to listen to it. Don't succumb to putting on the Wiggles (while we still love them), a Disney mix, or the Laurie Berkner Band!
You can create your own mix, but might I suggest:
So, I got stuck on soundtracks, but I do recommend The Last of the Mohicans along with some John Denver above the others. Gotta love it! Just humor me and try it out, or at least nod. There you go!
Above all, have some fun on your Rocky Mountain National Park adventure in winter! In particular, get some exercise, breathe the mountain air, and search for wildlife. I am certain you will not regret it.
SUMMER BONUS!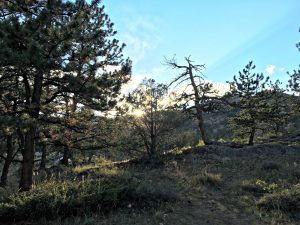 What? Why bring up summer camping in a post about winter? Well, if you want a good campsite this summer, and you know when you'll be in the area, now is the time to book your perfect campsite before all the good spots fill up. Gone are the days when you can drive in and be pretty certain of finding a campsite. Dream, plan, and book your trip on-line here!