There are so many things to do in Colorado Springs with kids! This is an amazing city, a rich cultural and historical area of Colorado to visit. In the following article, I'm going to share with you options for animal lovers, nature lovers, and history lovers. Whether you want a 4, 5, or 6 day family travel itinerary, you're going to learn about all the awesome kids activities in Colorado Springs.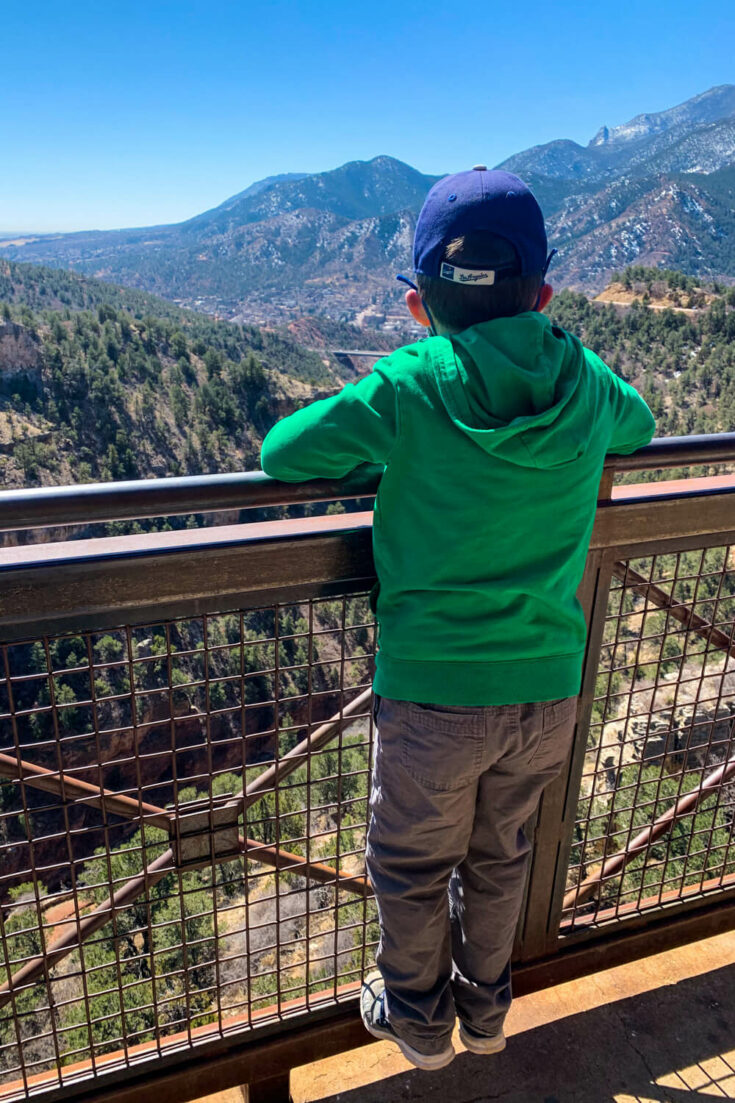 This post may include Amazon or other affiliate links. As an Amazon Associate, I earn from qualifying purchases.
Jump to menu:
Intro | Where is it | Travel in & out | Kids activities | Cheyenne Mountain Zoo | Manitou Cliff Dwellings | Red Rock Canyon Open Space | Penrose Heritage Museum | Colorado Wolf & Wildlife Center | Colorado Springs Pioneers Museum | The Broadmoor & Seven Falls | Falconry Experience | Garden of the Gods | Cave of the Winds | Hiking North Cheyenne Cañon | Rocky Mountain Dinosaur Resource Center | Closing | Even More Things to Do
Family activities in Colorado Springs
If you don't know me, my name is Lauren and love to travel with my family of four. My two kids are currently 8 and 12 and at perfect ages to explore and place like Colorado Springs. There are just SO many options of places to explore and learn, I really think you'll find something for everyone.
Another thing about me is that I've lived in Northern Colorado for most of my life. I've often moved away for two or even four years, and love to travel to new places, but I always come back to my beautiful colorful Colorado. Knowing that makes it even more unusual that until recently, I really didn't know all that much about Colorado Springs.
While I've travelled through Colorado Springs probably hundreds of times, I tend to stay on Interstate 25. Yep, that giant highway that cuts Colorado in half and runs through Denver and south to New Mexico. Because I've had family to visit in New Mexico and Texas my entire life, as well as going to university in Texas, it's a well-worn road for me.
Well, no longer do we just drive through! After several friends telling me about the kid-friendly things to do in Colorado Springs, and also the number of people who looked at me incredulously when I said I'd never been to Garden of the Gods, I decided enough was enough!
A closer to home family vacation was soon planned for Spring Break.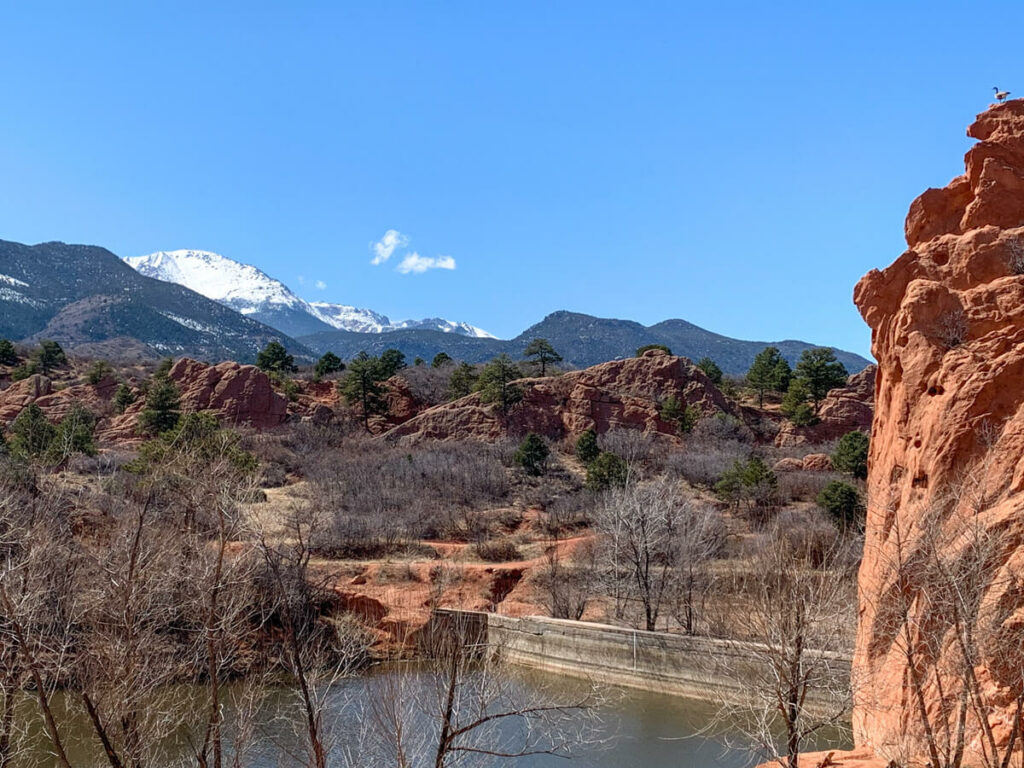 Where is Colorado Springs?
If you're new to Colorado, Colorado Springs is about an hour south of Denver, depending on traffic, or 70 miles. They've been working on that stretch of road for what seems like years, so beware of slowdowns and traffic due to construction.
Another warning about traffic. If you travel from Denver to Colorado Springs on weekends in the summer and sometimes into fall, the Renaissance Festival will be in full swing in Larkspur, Colorado, about the half-way point.
I strongly advise you check their schedule if driving through that way on the weekend as I've been known to sit there for hours in traffic. In fact, I'll admit it's made me quite grumpy because I'm used to getting through there quickly.
Now, I adore the Colorado Renaissance Festival and am yes, one of those people who goes all out and dresses up and attempts fake old English accents. Come on – it's fabulous! In fact, my grandmother used to have a stained-glass booth there back in the day, and for several years my dad's cousin was the king. But that's another blog post. If you haven't been and get the chance, do make a day of it!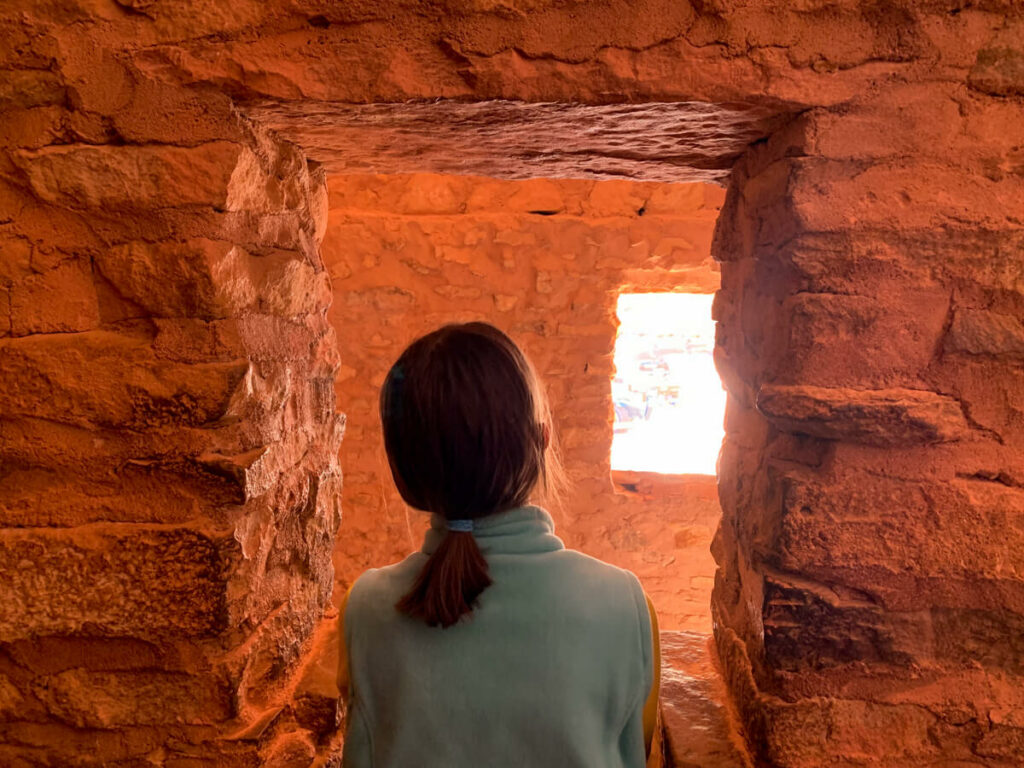 Travel in and out of Colorado Springs
As I mentioned, one of the most common ways to travel into Colorado Springs is to drive from Denver. Obviously you can drive from other directions too!
If you're traveling from farther afield, Colorado Springs does have its own airport with daily flights to/from Chicago, Houston, Dallas, Salt Lake City, Phoenix, and more! It could definitely be worth looking into flying directly to the Springs instead of Denver.
As for getting around Colorado Springs and the surrounding areas, I highly recommend renting a car. Hotels like the Broadmoor do have airport shuttle services, but unless you're staying on site at the resort, you'll want to have transportation. Your own vehicle is the best way to see the area and get you and the kids to all the family activities in Colorado Springs.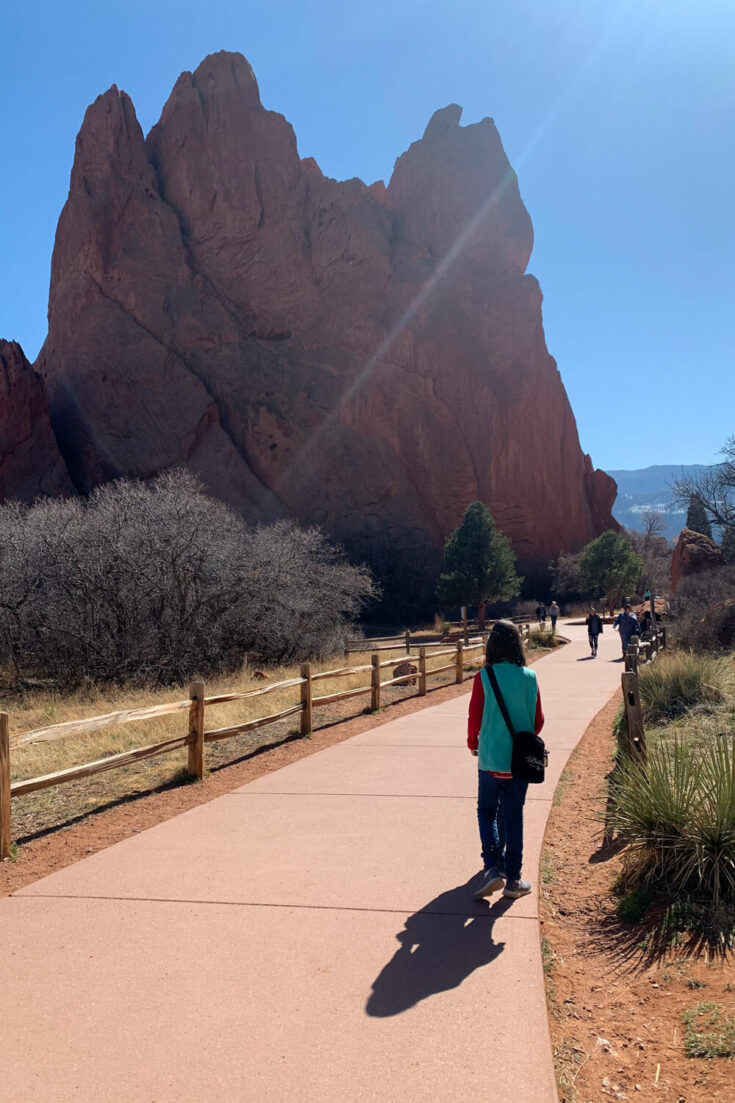 Kids Activities Colorado Springs
We did the first 11 activities I've listed here in a 4-day Colorado Springs Itinerary. I am well aware it would be too much or maybe even too little for some families, so space them out to suit your family and the kids in your life. Pick and choose or add some of the others in to make the most of your trip! There are so many things to do in Colorado Springs with kids!
1. The Cheyenne Mountain Zoo
4250 Cheyenne Mountain Zoo Rd, Colorado Springs
Phone: +1 719-633-9925
Suggested amount of time to visit: 2.5 to 3.5 hours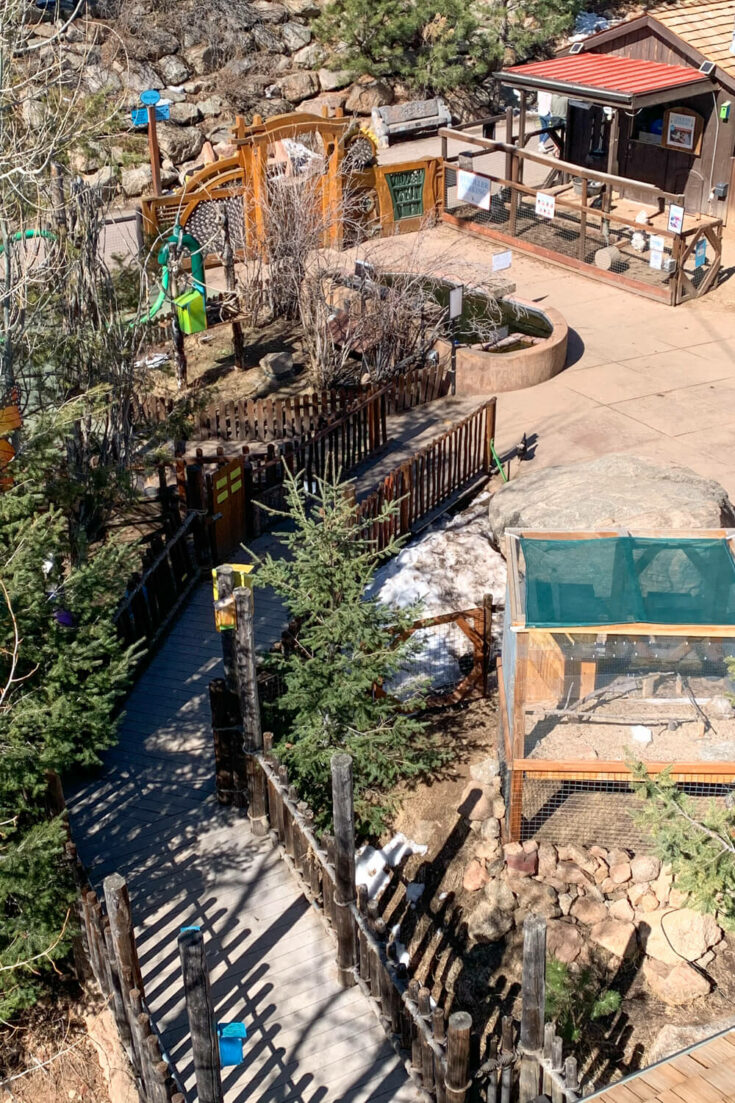 The Cheyenne Mountain Zoo is a zoo unlike any other I've been to. First of all, it's on the side of Cheyenne Mountain. For families, that means there will be a lot of walking up and down hills so dress with layers, wear comfy shoes, and bring sunscreen or hats and water. You're at 6,800 feet above sea level.
That being said, my family loves this zoo! There's a huge variety of animals (I was told 750 different animals!), and I especially loved seeing the ones native to Colorado. In fact, seeing the pack of wolves run down the side of the mountain right in front of me was probably my favorite part. I felt like Perrin in the Wheel of Time.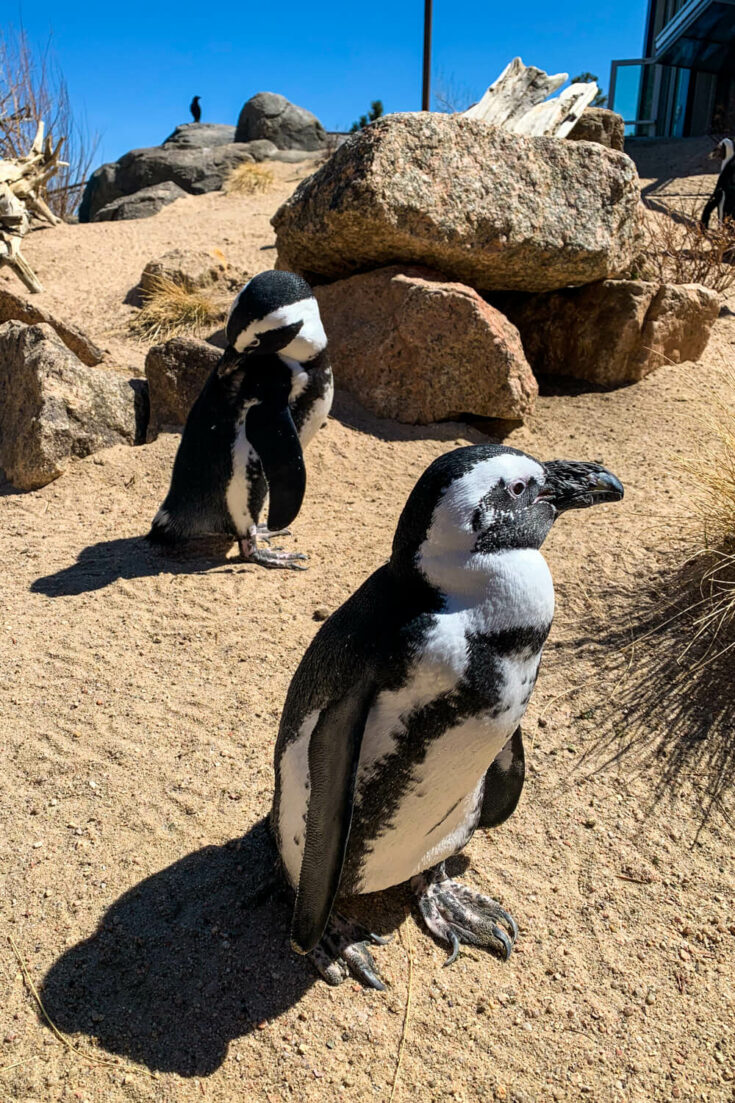 Favorite animals sighted
My kids' favorite animals to visit were the penguins, the Burmese python, and the bears. Get up close and personal with the bears swimming right on the other side of the glass from you and check out their giant claws. Also, the penguins have their own fairly new area with space both outside with some pelicans and inside as well.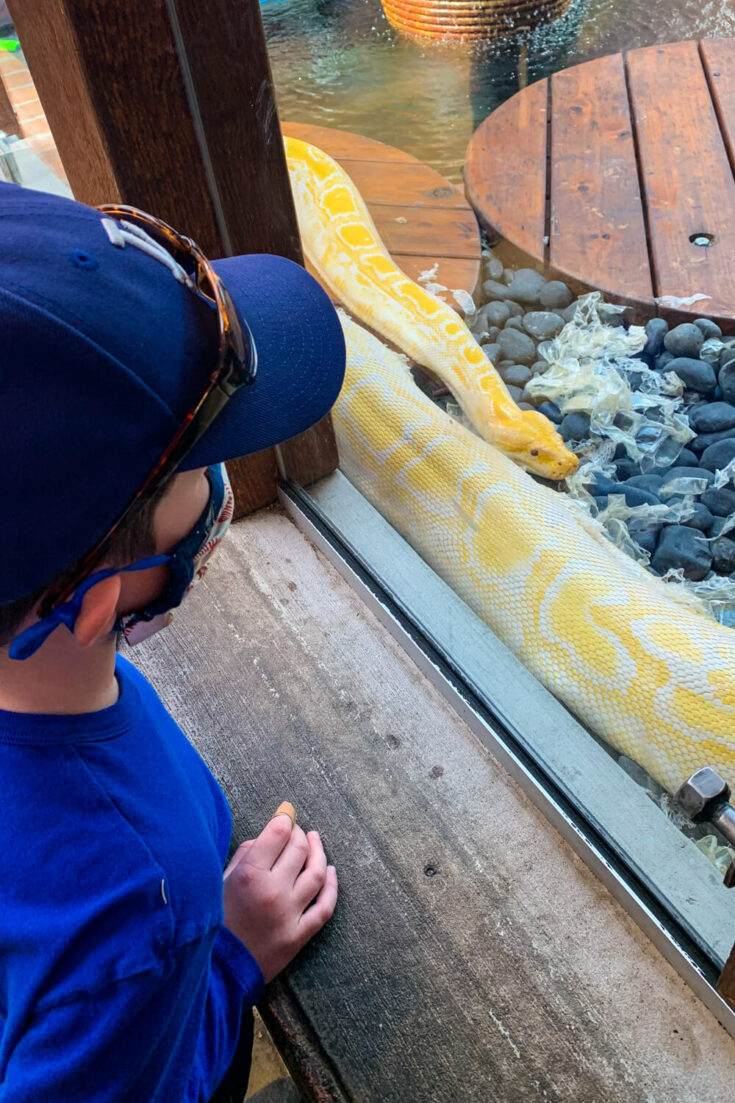 Insider top tips! Feed the giraffes. Ride the carousel when the kids need a break in the middle and have a picnic lunch.
Another fun activity offered at the zoo, is something the kids will either love or hate. I had one child who loved it and one who definitely did not. The Mountaineer Sky Ride is the ski lift from the old Cheyenne Mountain ski area and takes you to the top of the mountain for some fabulous views and a climbing wall area!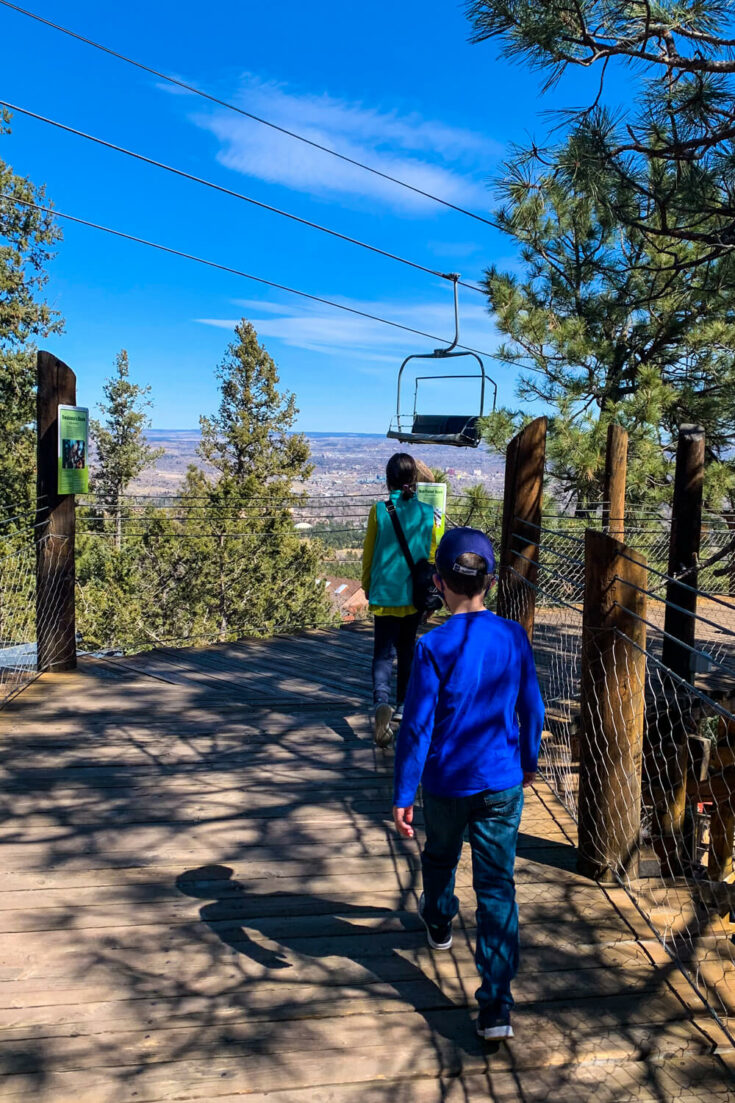 If you or the kids have any anxiety about heights, you might skip this one. I'm usually okay with ski lifts and heights, but even I got a little nervous. It also doesn't help to have a child panic halfway up the mountain!
However, I can tell you from experience that even though they say you must travel back down on the ski lift, in an issue with anxiety or a panic attack, they will send a golf cart up to take you down to the regular zoo area. Wink.
Everyone we ran into was super-friendly and the animals appear to be very well taken care of. Click here to get more information about zoo tickets.
2. Manitou Cliff Dwellings
10 Cliff Rd, Manitou Springs, CO 80829, USA
Phone: +1 719-685-5242
Suggested amount of time to visit: 1 to 1.5 hours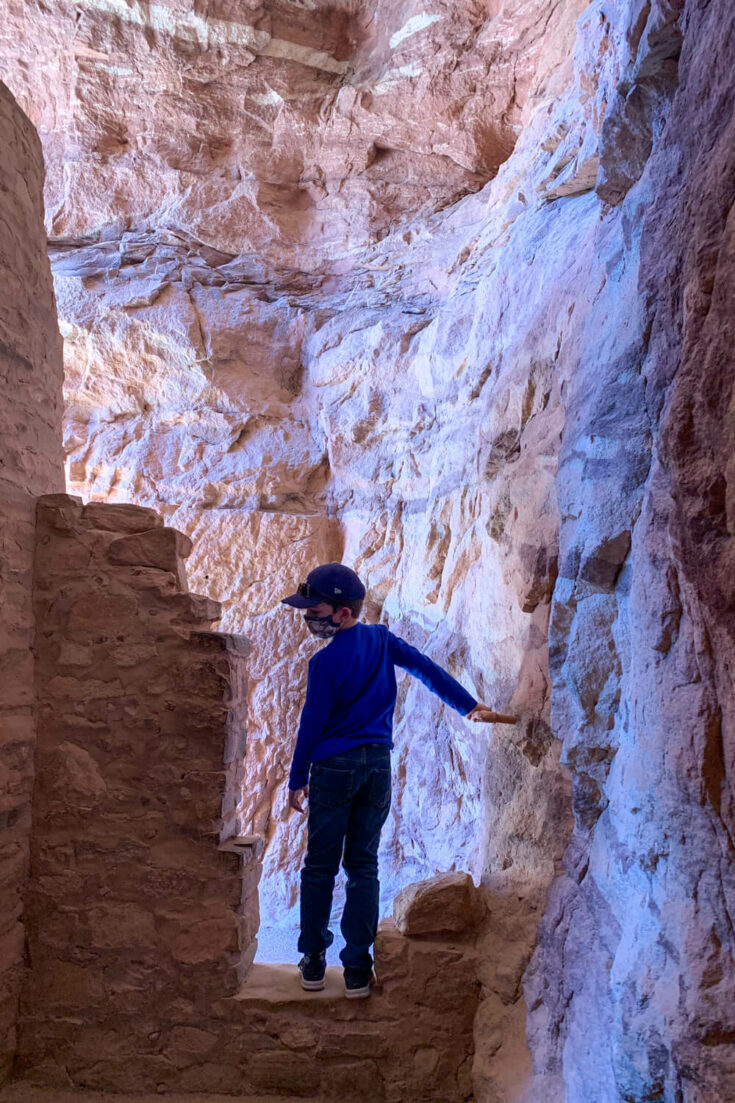 At first, I wasn't sure how much my kids would enjoy this, but the Manitou Cliff Dwellings ended up being one of my daughter's favorite activities of the entire trip.
These cliff dwellings are a reconstruction of a collapsed site not far from their current location. Because we've also visited Mesa Verde National Park in southern Colorado, my kids already knew some about the Anasazi Indians and were able to add a bit more understanding about this group of people.
The Anasazi Indians built these amazing cliff dwellings so long ago, and the ones at Mesa Verde definitely rival some of Europe's castles – take that all of you who say we have no castles in America!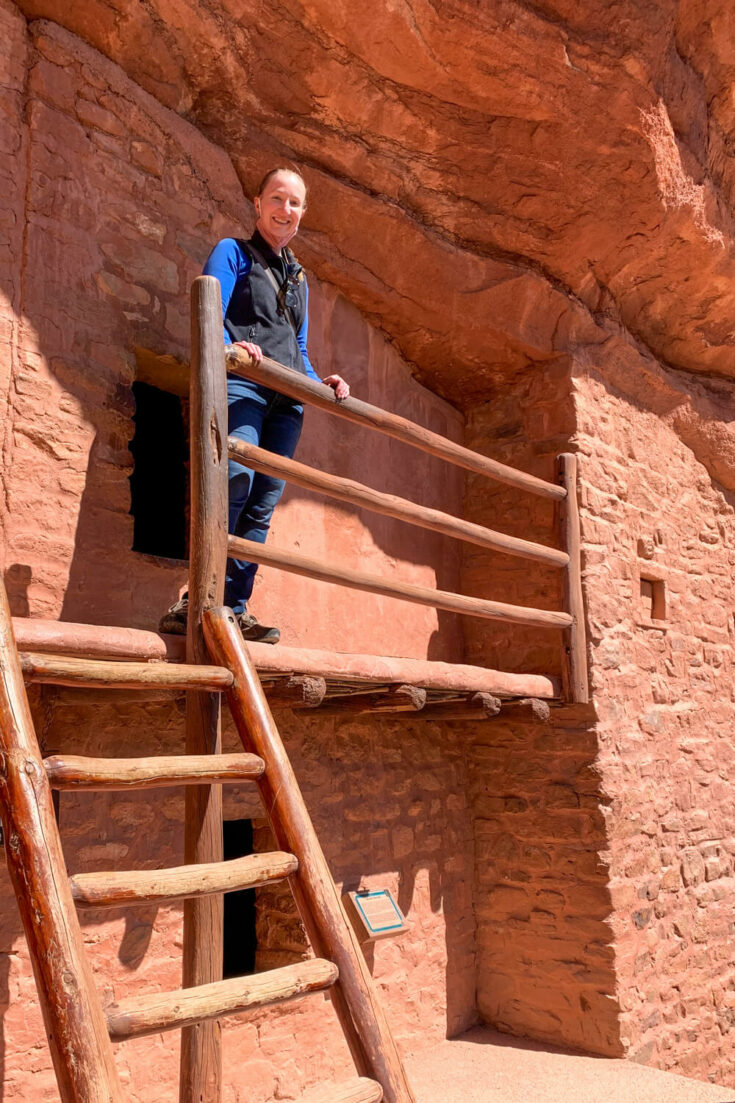 What I loved about this location, was that because it's been rebuilt, it's a hands-on exhibit! The kids can easily climb in and out of the houses and buildings and up and down ladders. My son, of course, loved crawling around all the hard to reach areas and investigating every door and window. Wear shoes and clothes you don't mind getting red dirt all over!
Insider top tips! Don't forget your camera. Take your time and really explore the buildings. Also, on another trip, visit Mesa Verde National Park if you can.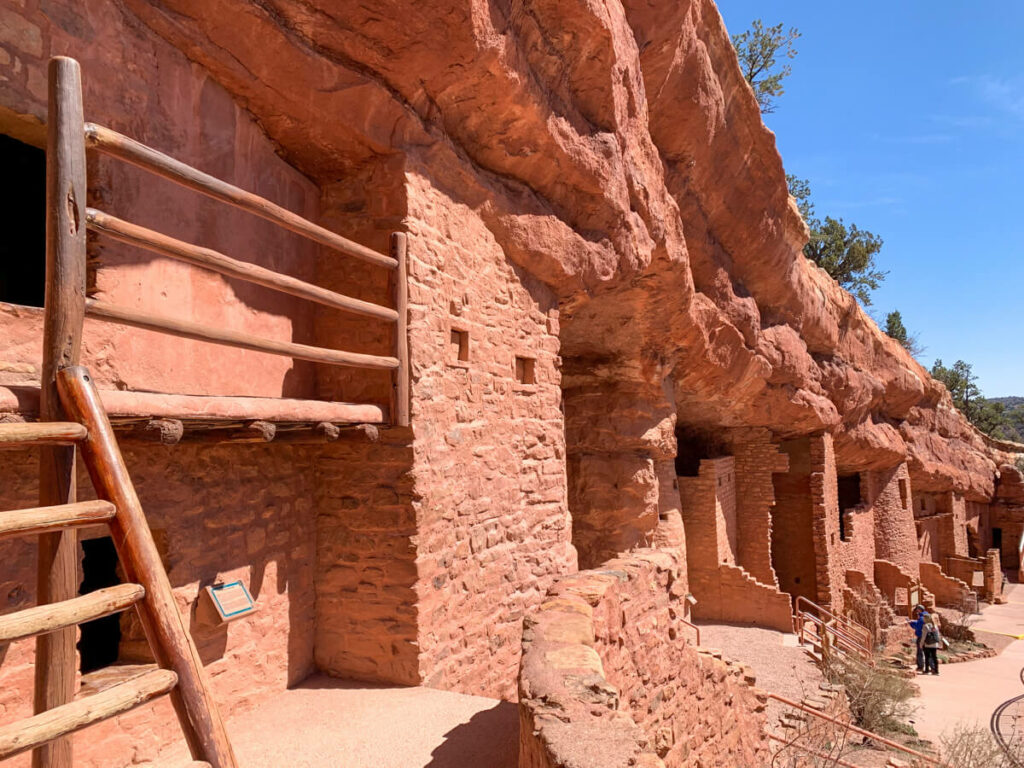 Next to the cliff dwellings there's a teepee for photo ops and also a visitor's center with a small museum and restrooms. The gift shop is extensive, so pick something fun out as a souvenir should you have the inclination.
3. Red Rock Canyon Open Space
3550 W High St, Colorado Springs
Phone: +1 719-385-5940
Suggested amount of time to visit: 1 to 1.5 hours – However long you want to get out and run, walk, or play.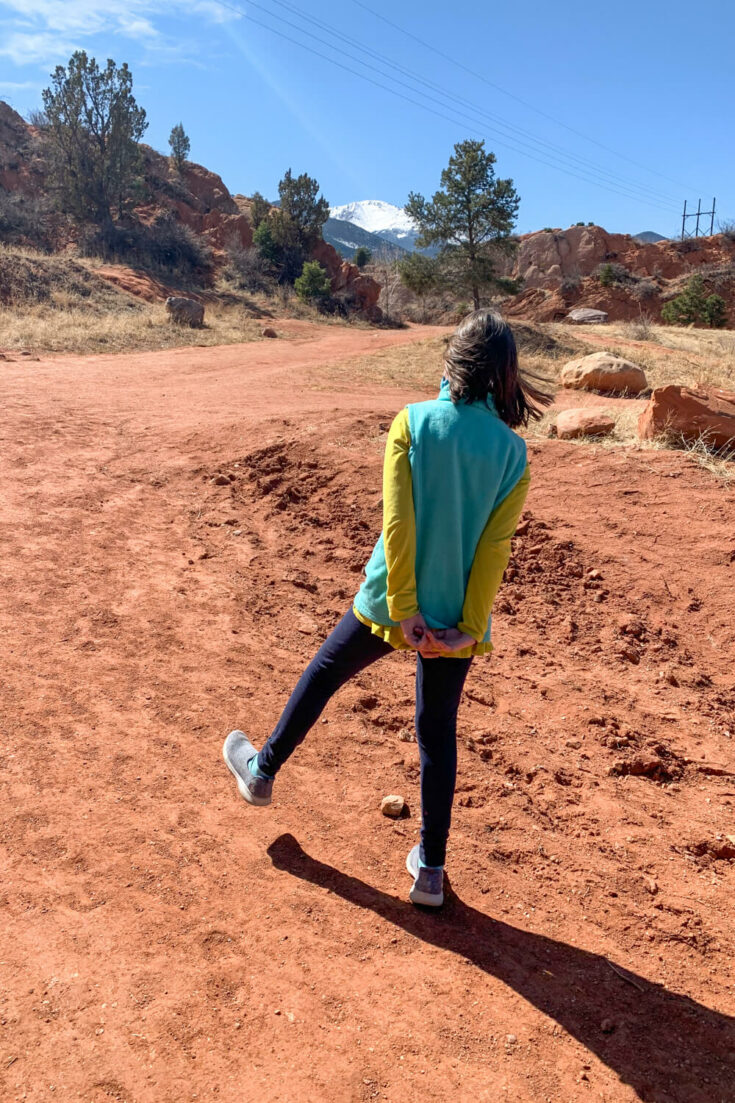 The Red Rock Canyon Open Space is not far from the Manitou Springs Cliff Dwellings and a beautiful big open area to explore. It's fun to take a walk, stroll, run, mountain bike, or a go for a longer hike around the area.
So many places in Colorado Springs are dog-friendly. Even though we personally don't have a dog, if you bring yours along they have many dog parks and places to run and explore. I mention this because when we went on our walk/hike in the Red Rock Canyon Open Space, there were many families with dogs also visiting.
Insider top tips! Just wander and enjoy the red earth, sun, and nature. Take as little or as much time as you want.
4. Penrose Heritage Museum
11 Lake Cir, Colorado Springs
Phone: +1 719-577-7065
Suggested amount of time to visit: 1 to 1.5 hours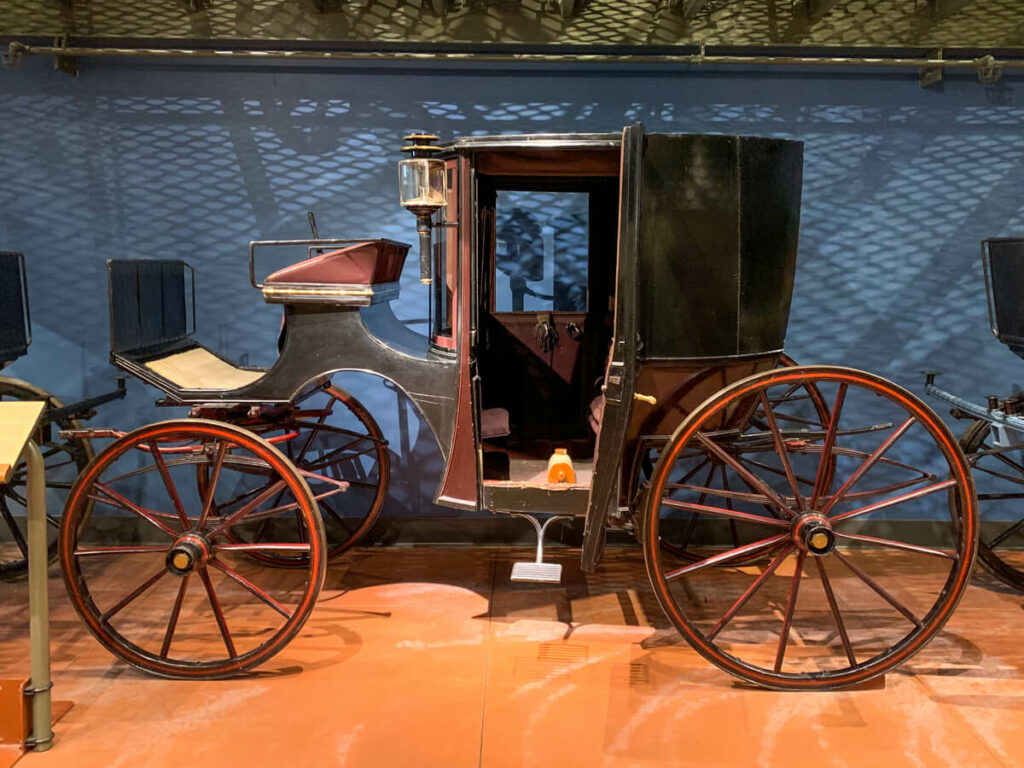 Spencer Penrose is a well-known name around Colorado Springs as he built and influenced so much in the town. Back in the 1890s Mr. Penrose struck in rich in the Cripple Creek gold rush and owned one of the most successful deep-lode mines there. Along with the gold, the Utah Copper Company, and other ventures, he amassed an immense fortune.
With some of that fortune, he built the landmarks of Colorado Springs. Well, many of them! He built the Broadmoor Hotel, the Pikes Peak Highway, the Cheyenne Mountain Zoo, the Will Rogers Shrine (although had his wife not talked him out of it, the shrine might have been to himself!), and the Pikes Peak Hill Climb.
His wife Julie helped turn him to philanthropy and facilitated in founding the Colorado Fine Arts Center, revitalized the Central City Opera, and expanded the Colorado College.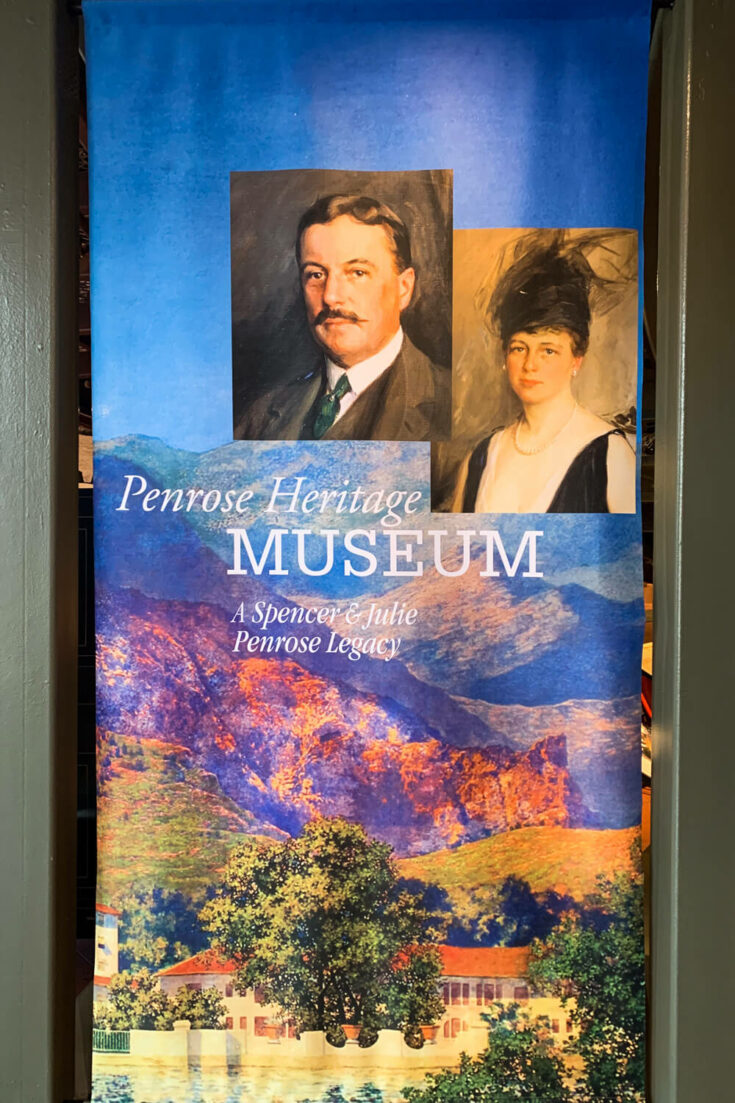 Things to do with kids in Colorado Springs
What does this have to do with the Penrose Heritage Museum?
Well, first of all, it's named after Mr. Penrose and located right on the Broadmoor grounds. The Penrose Heritage Museum exhibits an amazing collection of artifacts related to the Pikes Peak International Hill Climb, started by Mr. Penrose in 1916. It includes 30 carriages, western cultural artifacts, and 15 actual race cars from the infamous Race to the Clouds, one of the oldest motorsport events in the U.S.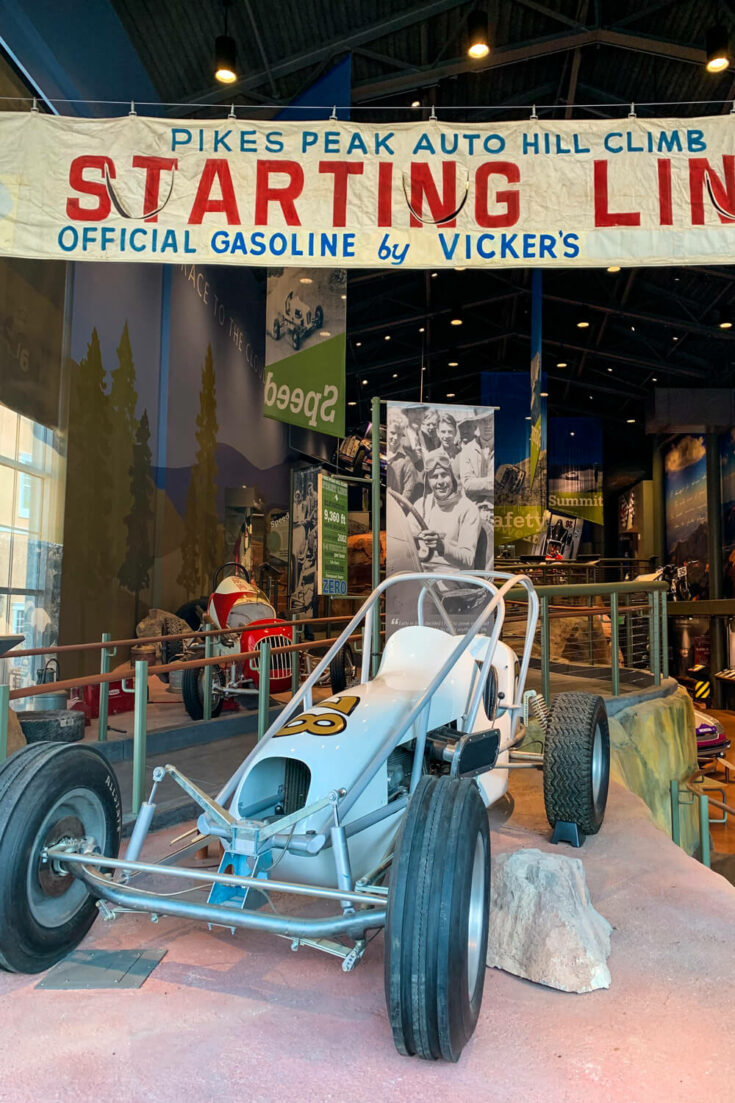 I highly recommend the museum to learn more about the culture and legacy of the area! Also, if you have kids interested in race cars or motorsports, they will love it. Personally, I could have spent a lot longer going over each and every artifact, but the kids sped me along a bit.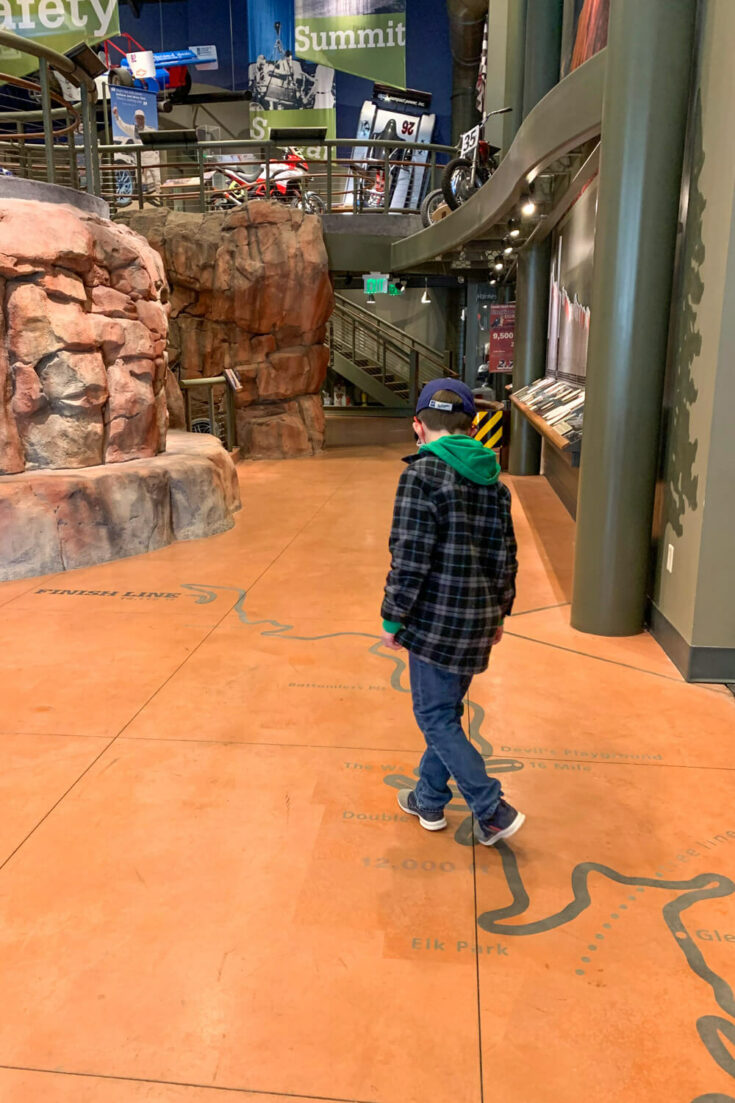 Insider top tips! Park in the parking garage just to the right of the museum (facing it), and they will give you a free parking ticket up to 1.5 hours. Admission is free, but you have to call or complete this form on the Penrose Heritage Museum website to make a reservation.
5. The Colorado Wolf and Wildlife Center
4729 Twin Rocks Rd, Divide, CO 80814, USA
Phone: +1 719-687-9742
Suggested amount of time to visit: 1.5 to 2 hours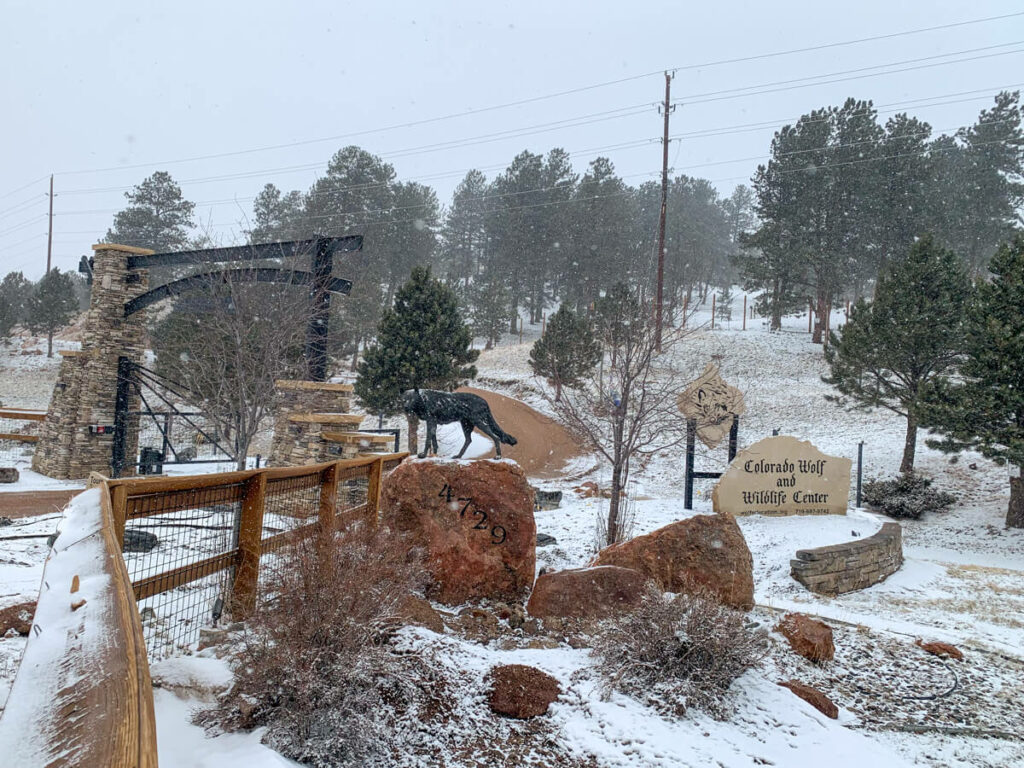 The Colorado Wolf and Wildlife Center is actually in Divide, Colorado and took us about 40 minutes to drive from Colorado Springs. Of course, the day we chose it was snowing! Don't let the distance deter you from visiting. For my animal-loving son, this was one of his two favorite family activities in Colorado Springs, or rather, on our Colorado Springs trip.
The center serves as a sanctuary for wolves, coyotes, and foxes. We did the basic tour and were fascinated the entire time, in spite of the freezing weather! The tour started out with an informational talk on the different kinds of wolves and their history in the area and in the United States. Our guide was incredibly knowledgeable and obviously enjoyed what she was doing.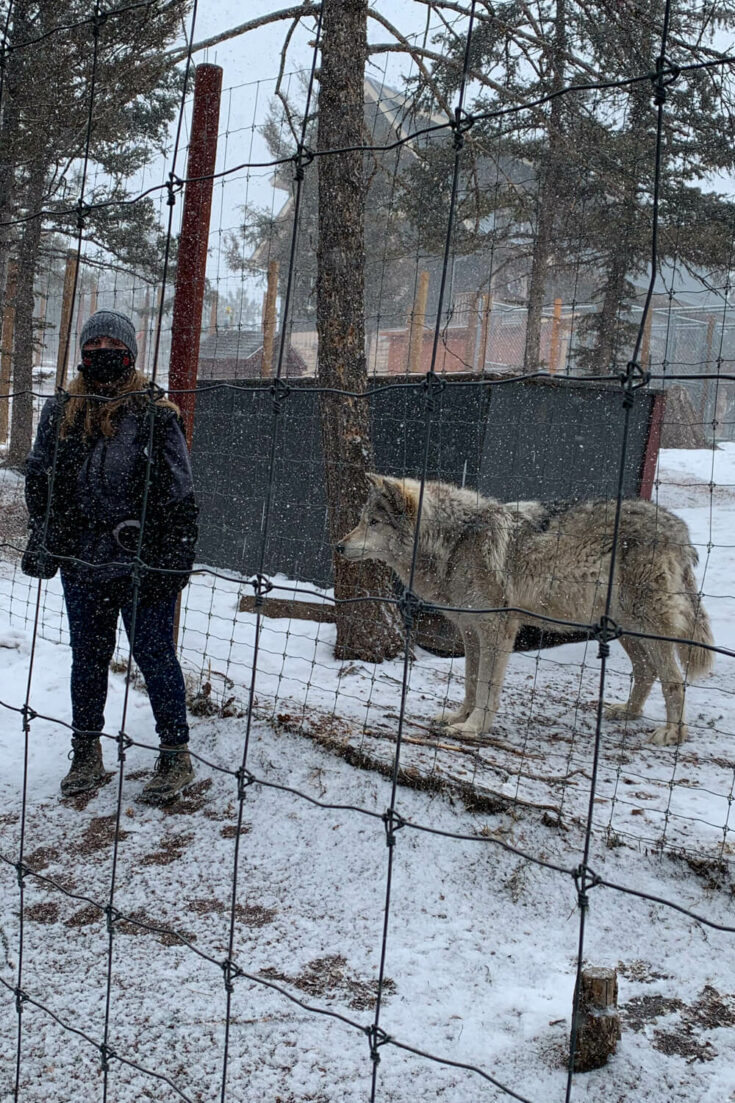 Ever since I was a little kid I've had a fascination with wolves and had posters of wolves all over my walls. My son loves to learn about all living creatures. He even took a bottle of wolf fur and photos to share all about it with his second-grade class when he got home.
Wolf education
This was an experience I won't forget, and a great educational time for kids.
You could tell the wolves were well taken care of, and they had lots of room to run. This was frustrating to us when they're way on up over the hill and you can't see them, but better for them! We got to see many different wolves, even the endangered Mexican wolves once thought to be extinct.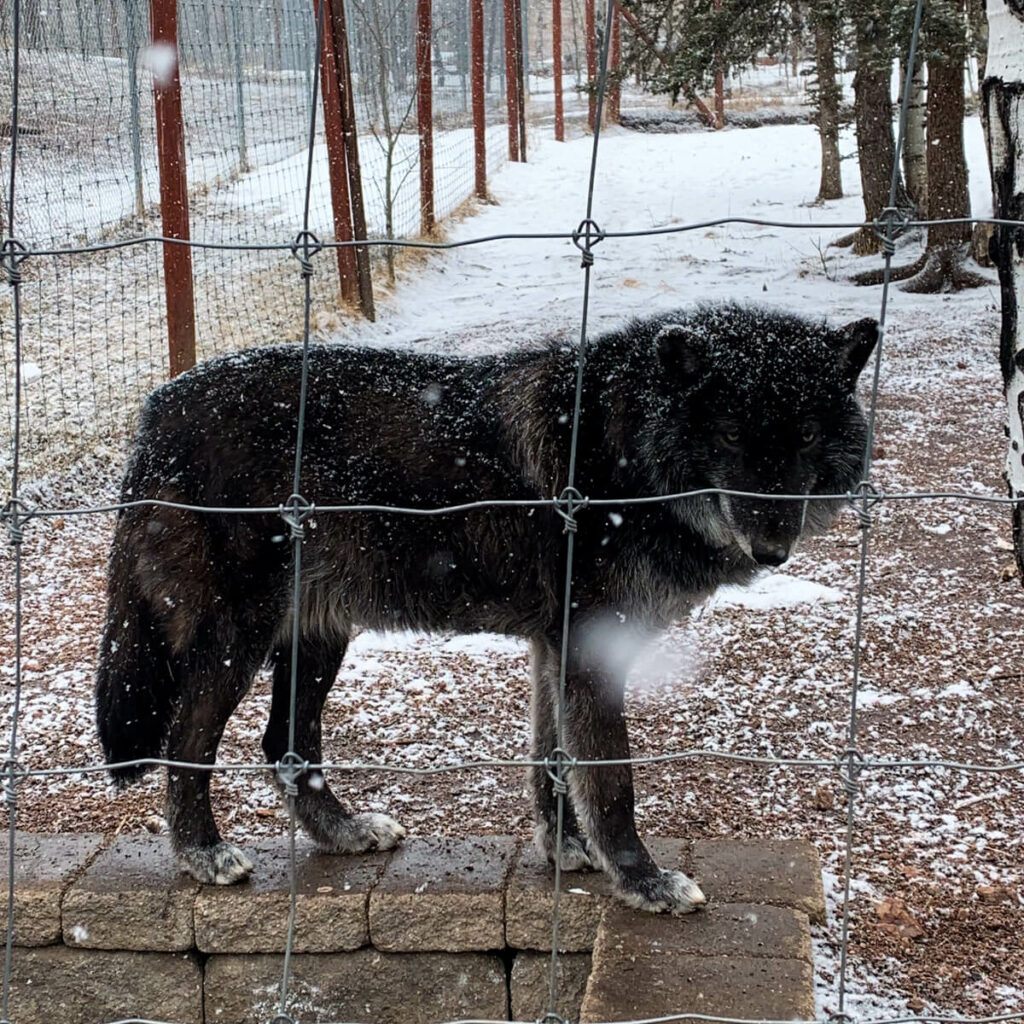 Insider top tips! Dress in layers and for the day. If they tell you it's going to be colder there than Colorado Springs, listen and wear your boots and large coats. Also, be sure to participate in the wolf howl at the end of each tour! So cool to hear the wolves and coyotes from the surrounding area take up the howl your small tour group of humans begins.
Reserve a tour on the Colorado Wolf and Wildlife Center website.
6. Colorado Springs Pioneers Museum
215 S Tejon St, Colorado Springs
Phone: +1 719-385-5990
Suggested amount of time to visit: 1.5 to 2 hours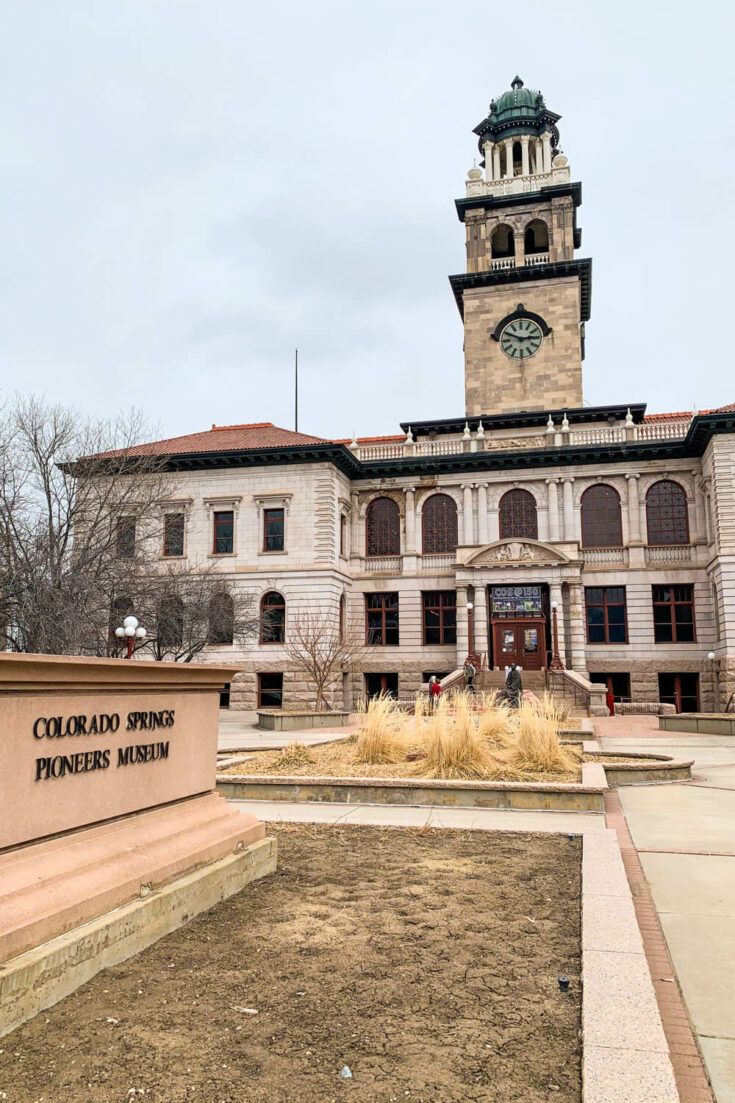 I added the Colorado Springs Pioneers Museum to our itinerary the day it snowed as it was not really hiking weather. I'm so glad I did!
If you're looking for educational activities for kids in Colorado Springs, you really can't beat this museum for the culture and history of the local area. Also, the building itself was the old El Paso County Courthouse (from 1903-1973) and still has its impressive well-preserved courtroom and stained glass.
In fact, I had a flashback to all those old Perry Mason and Matlock shows I used to watch (I may be old). I have it on good authority episodes of each were filmed on site!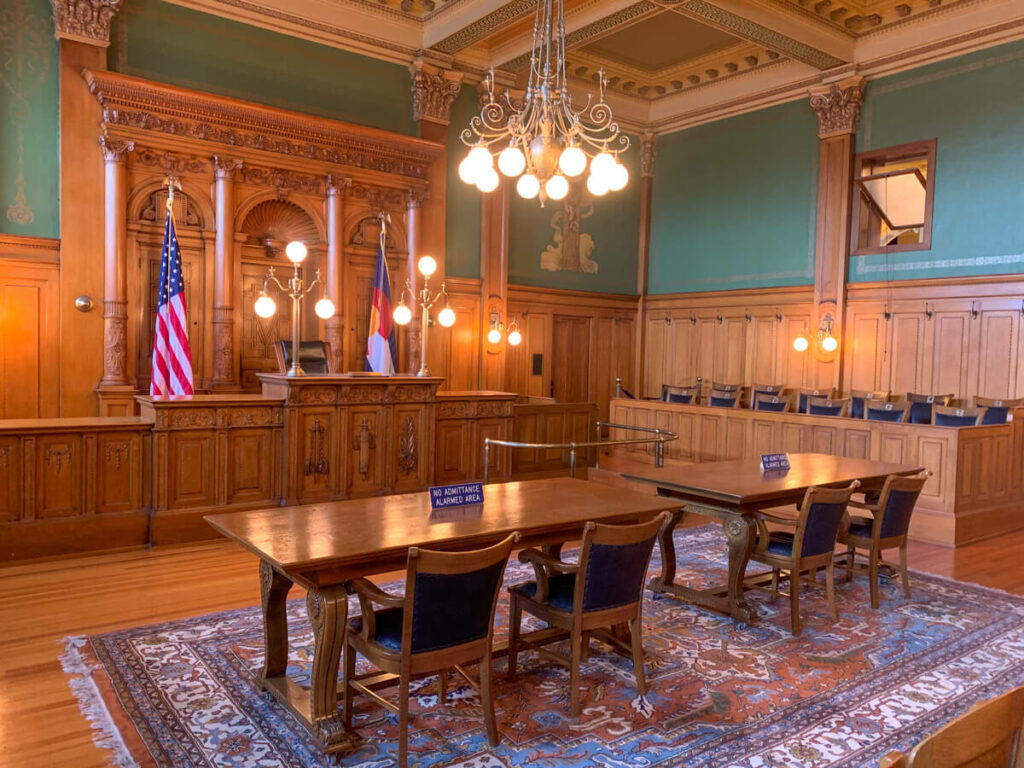 Be sure to check out the Story of Us and Cultural Crossroads exhibits. The vintage toys were also interesting for the kids to see. "Grandpa had one of those I think!"
The best elevator in Colorado Springs for kids
Oh, and by far the favorite thing at the museum, according to my son, was the ELEVATOR. Let's just say we had to ride it several times, figure out how it worked and were not allowed to take the stairs. Ever since, every time we're on an elevator, at the hotel, doctor's office, whatever, he pipes up in a matter-of-fact voice, "This is not a good elevator. Why don't they make it like the one at the museum?"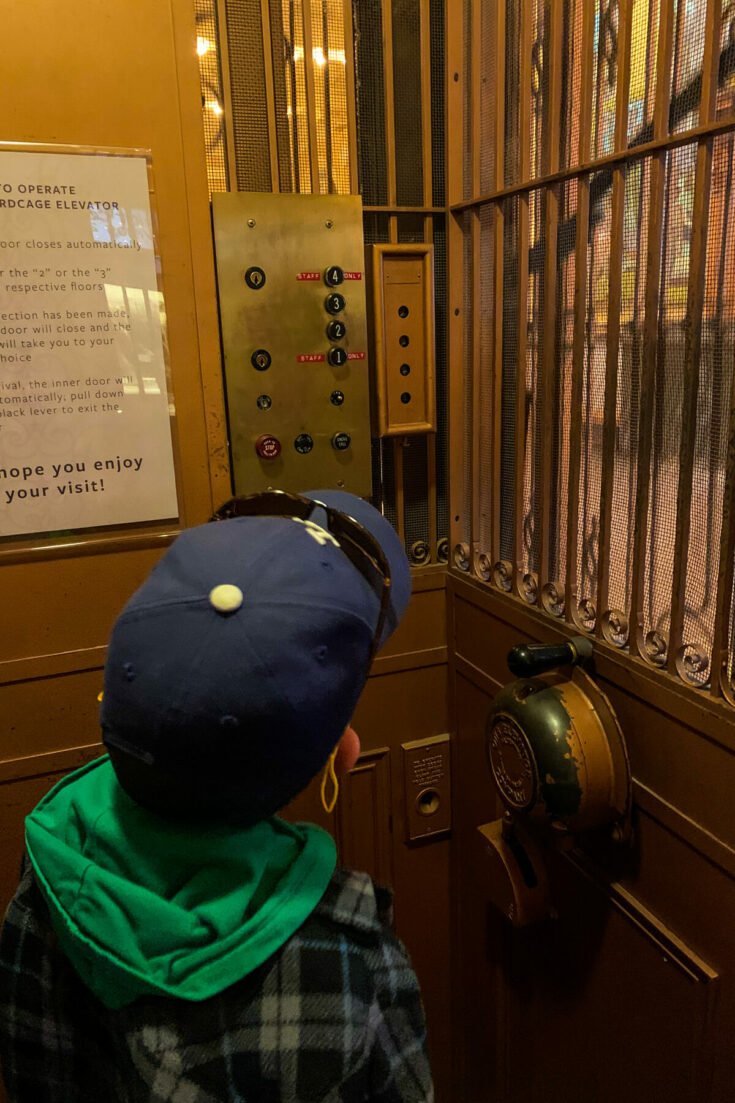 Insider top tips! Scan the QR code for the Kids Scavenger Hunt on your way in! If it's not immediately visible, ask about it. My kids loved finding the answers to all the questions in the hunt and made it more interesting for them to search for specific things in the exhibits.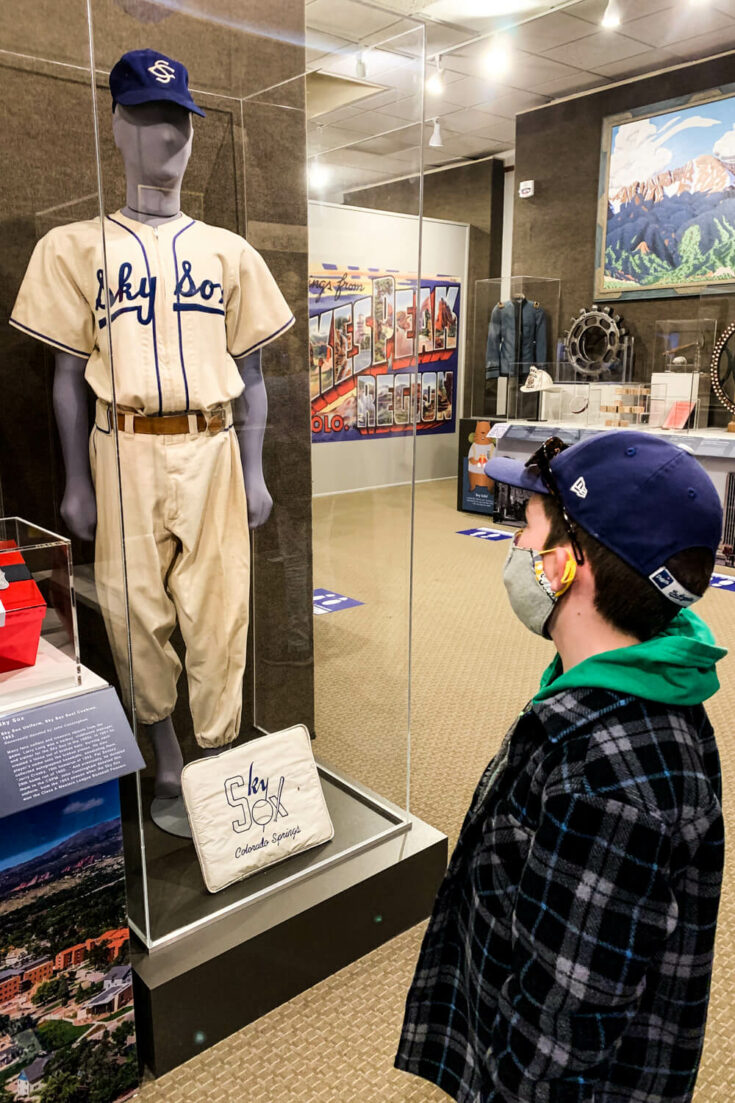 From baseball, to carriages, to courthouses, this was a great find! Another bonus is that it's completely free to visit. Awesome, right?? There are still staggered entry times so be sure to check to see if you need a reservation before you go.
Review how to make a reservation on Colorado Springs Pioneer's Museum Visitor Guidelines. I also signed up to get their emails, and I've been impressed by the virtual classes and activities they offer. Don't miss it.
7. The Broadmoor and Seven Falls Hike
1045 Lower Gold Camp Rd, Colorado Springs
Phone: +1 855-923-7272
Suggested amount of time to visit: Depends on what all you want to do. There are so many options!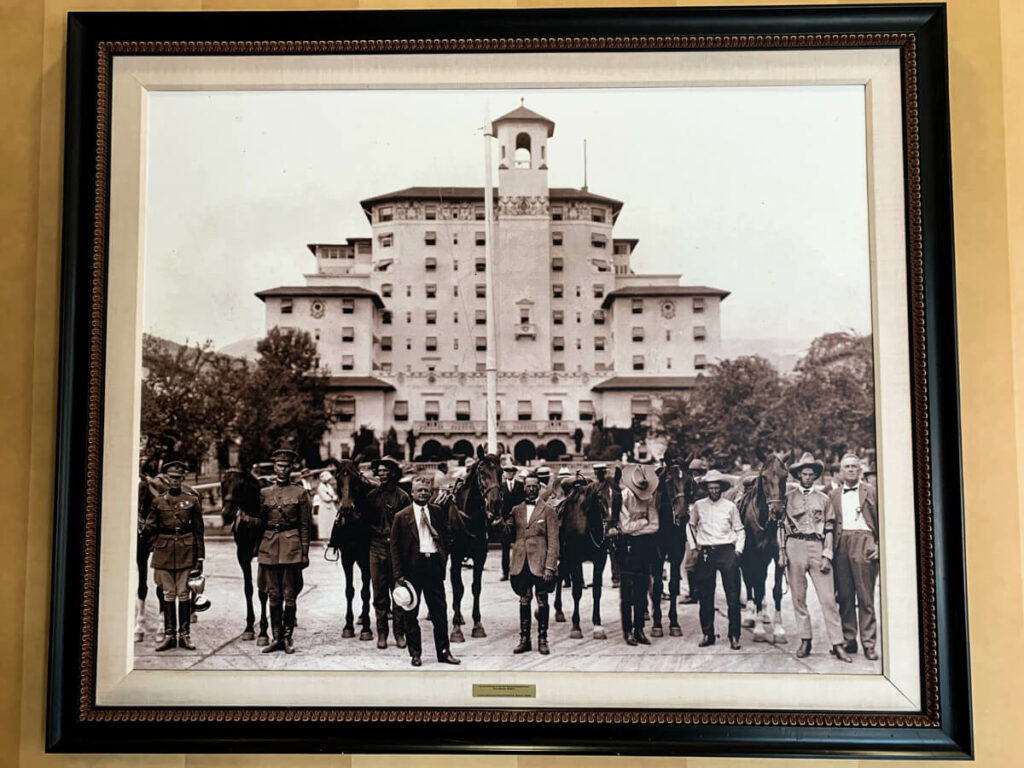 As I mentioned before, Spencer Penrose owned and built the Broadmoor and pretty much everything nearby. The resort is beautiful with an impressive entryway, friendly uniformed doormen, and an elegant lobby.
Definitely stay at the Broadmoor if you get a chance and enjoy the resort and all the amenities. It's more than the location my high school band played in a music competition (I had to throw that in there)! Go relax at the spa, enjoy a round of golf, play tennis, or go on one of the other adventures they offer, more on that below!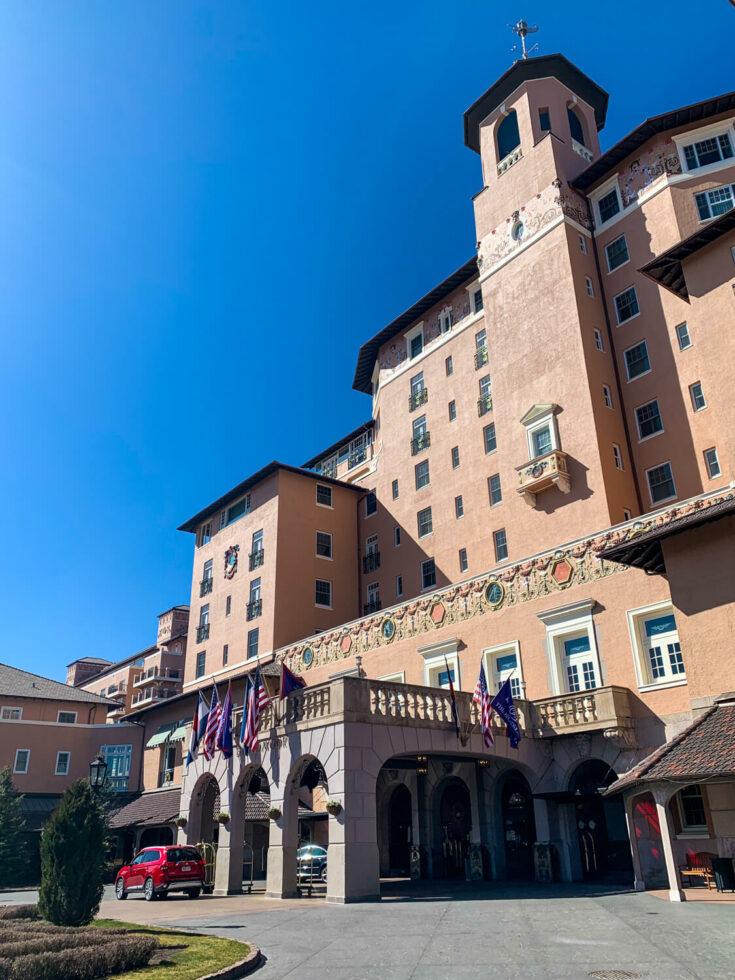 There are hikes around also, such as the not to be missed Seven Falls. Ask at the front desk or check the website to make sure it's open before you plan your hike.
Also, it's possible to visit the World Arena Ice Hall or other Olympic training areas with a reservation. My mother loves to tell the story of when she visited the Broadmoor long ago and got to watch a figure skating lesson. The coach walked up to her, asked her how she enjoyed it, and answered her questions – it was none other than Scott Hamilton!
Empty bottles
Insider tips! This is completely random, but as you enter the front of the hotel, if you turn to the right, you'll find hallways lined with empty old liquor bottles. What!? Well, during Prohibition, evidently Mr. Penrose kept his giant liquor stash behind a secret door he had installed in his library at Penrose House.
If you notice scratches on the floor from the swinging bookshelf door, behind it at the time you would have found a narrow staircase to a triple-locked wine cellar and the best exclusive alcohol money could buy. The bottles he shared with friends daily during Prohibition are what you see now empty and lined up on the walls in those hallways at the Broadmoor.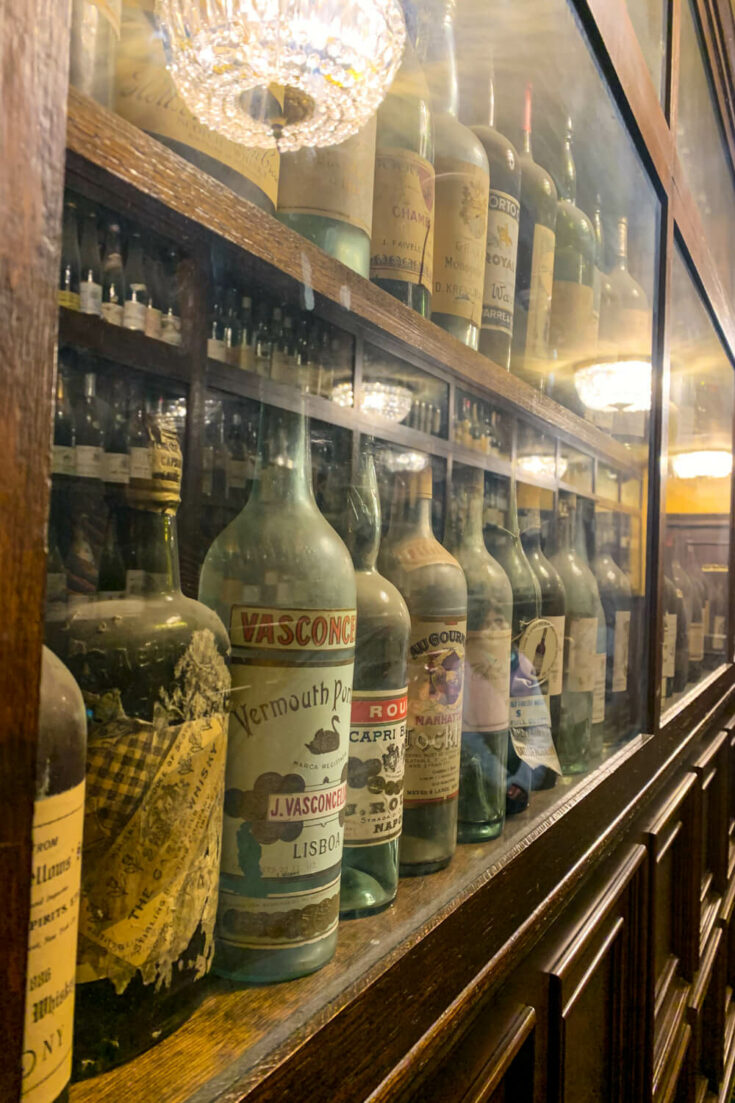 8. Falconry Experience at Broadmoor Outfitters
6 Lake Ave, Colorado Springs, CO 80906
Phone: (719) 471-6168
Tickets and info on other activities: Broadmoor Outfitters
Suggested amount of time to visit: 1.5 to 2 hours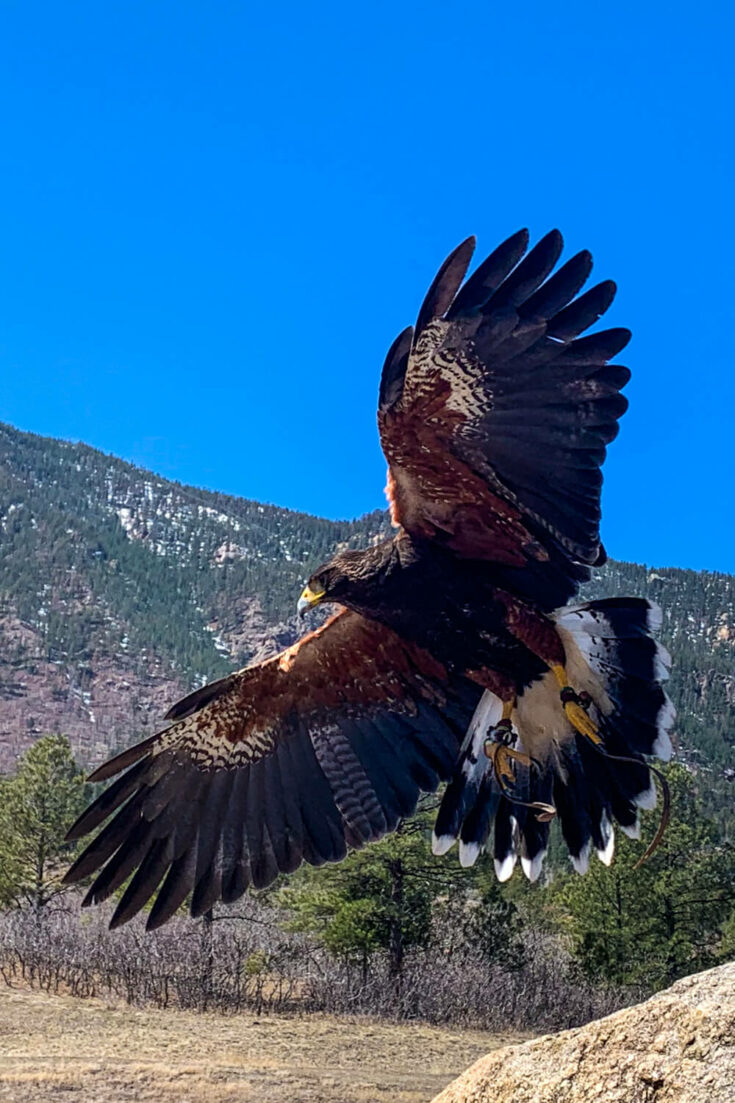 This was an amazing falconry class, perfect for anyone interested in raptors.
Can I just say WOW! What an awesome time – if you have any interest in falconry or all kinds of raptors, sign up for the Falconry Experience at the Broadmoor Resort.
The head falconer at Broadmoor Outfitters, Deanna, taught our beginner lesson and was amazing at combining raptor education and falconry. She is THE person to talk to if you want to get into falconry with experience on how to break into the sport or just to learn more about it.
The falconry beginners lesson consisted of a visit to both the indoor and outdoor mews with fun stories and education on the wide variety of hawks, owls, and falcons housed there. Momma pride poked up when my son identified every bird correctly in the mews but one. The favorite was of course the peregrine falcon. Just ask him sometime how fast they can fly.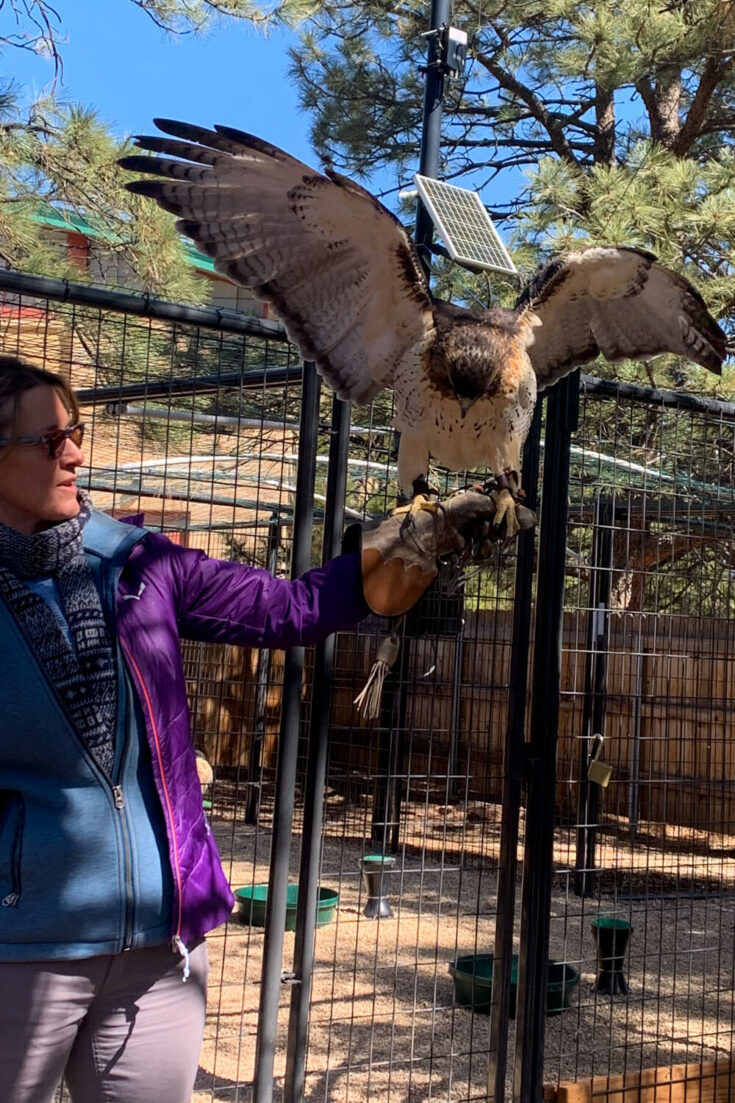 After that, we got to go for a walk with Goose the Harris's hawk and then met up with Lance the Lanner Falcon for a photo op! We talked about hawks swooping over our heads, the special falconry gloves, and how cool it was to hold the falcon FOR DAYS, literally.
Needless to say, my 8 and 12-year-old kids were fascinated and loved the entire session, especially getting to wear the glove and hold Lance.
Falcon selfie!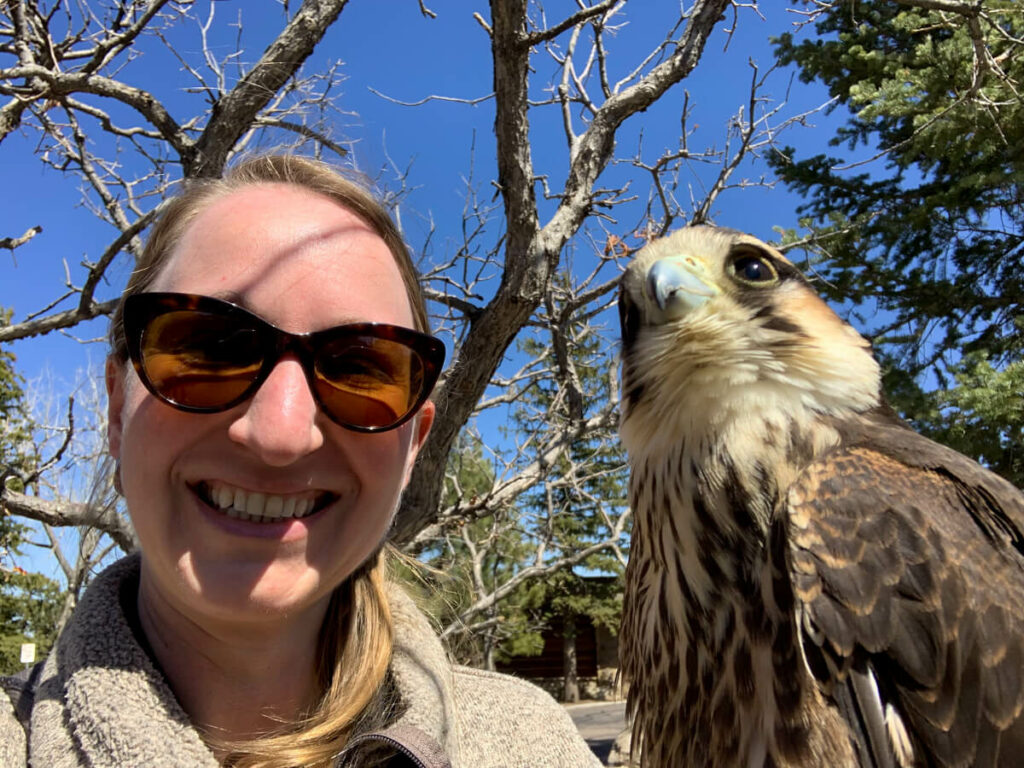 Thanks so much to Deanna and the super friendly and helpful group at Broadmoor Outfitters who sponsored us for this lesson when I reached out and expressed an interest. We were already obsessed with raptors and this experience ingrained it further. Along with the wolf sanctuary, the falconry experience was my son's favorite activity of the trip.
Insider top tips! Read up on raptors and falconry a little before the visit so the kids can try to identify the birds and ask questions. My son also suggests you watch the Wild Kratts episode season 4, episode 10, Raptor Roundup!
9. Garden of the Gods
1805 N 30th St, Colorado Springs
Phone: +1 719-634-6666
Suggested amount of time to visit: 2 hours or more depending on if you'll be hiking, biking, climbing, or other activities!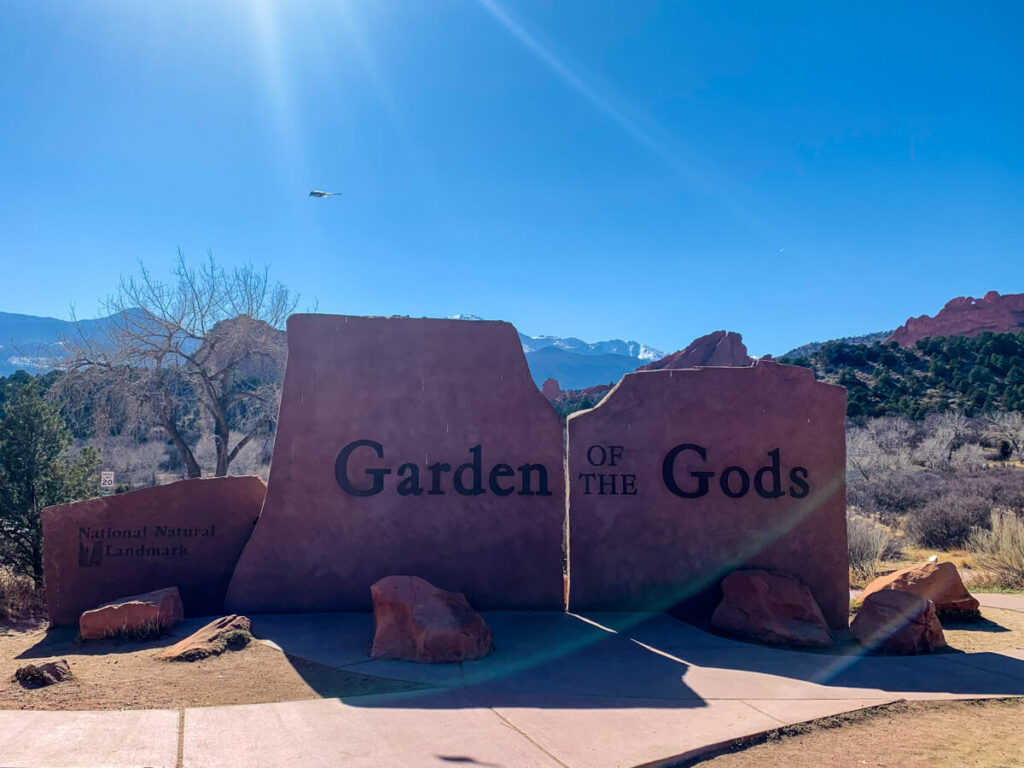 What exactly is the Garden of the Gods? Growing up, if Colorado Springs was mentioned, I always heard, "Oooh! Have you been to Garden of the Gods?"
Now, I pictured it as a giant amazing botanical garden with all kinds of flowers, trees, and colorful sights. When my daughter asked me what kinds of flowers we'd see, I knew she was thinking the same thing.
The Garden of the Gods is a 1,364-acre public park famous for the freestanding red rock formations throughout. It's not a botanical garden, although you will see a variety of trees, bushes, and wildflowers. With snowcapped Pike's Peak in the background, these 300-foot sandstone formations are a magnificent site for rock climbing, dreaming, strolling, biking, or hiking.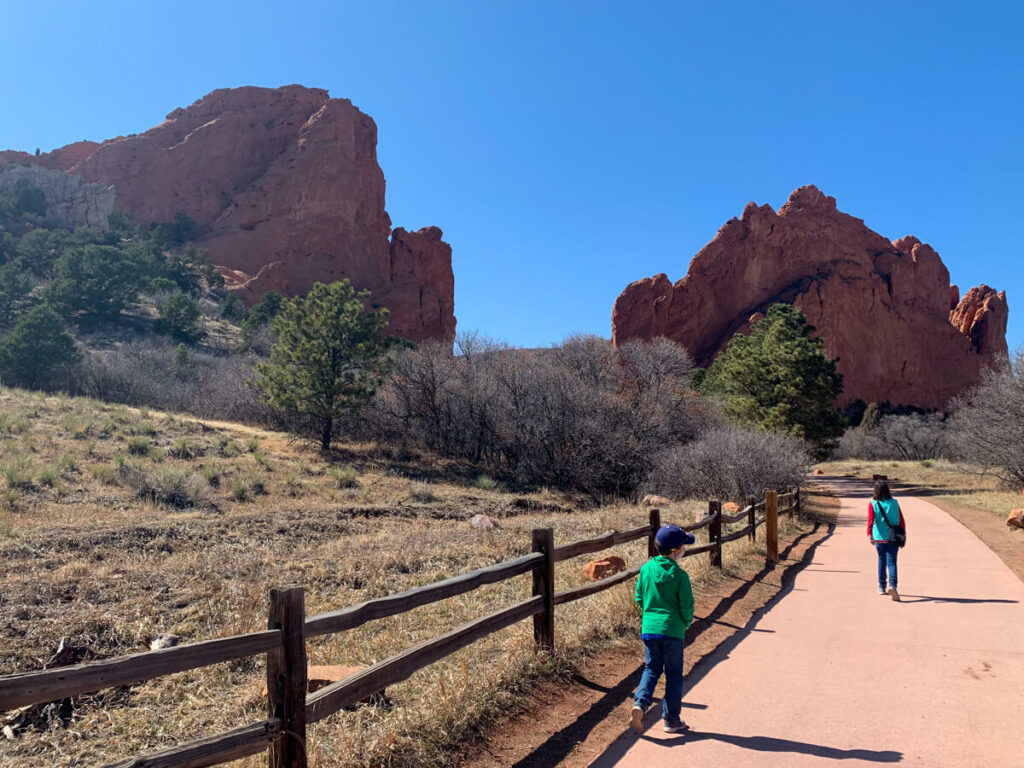 Garden of the Gods Visitor and Nature Center
My son was not interested at all in hiking in and around (children do have moods and opinions!), but he did enjoy the Garden of the Gods Visitor and Nature Center. The center has some great interactive exhibits on the flora and fauna, the history, and the geology of the area.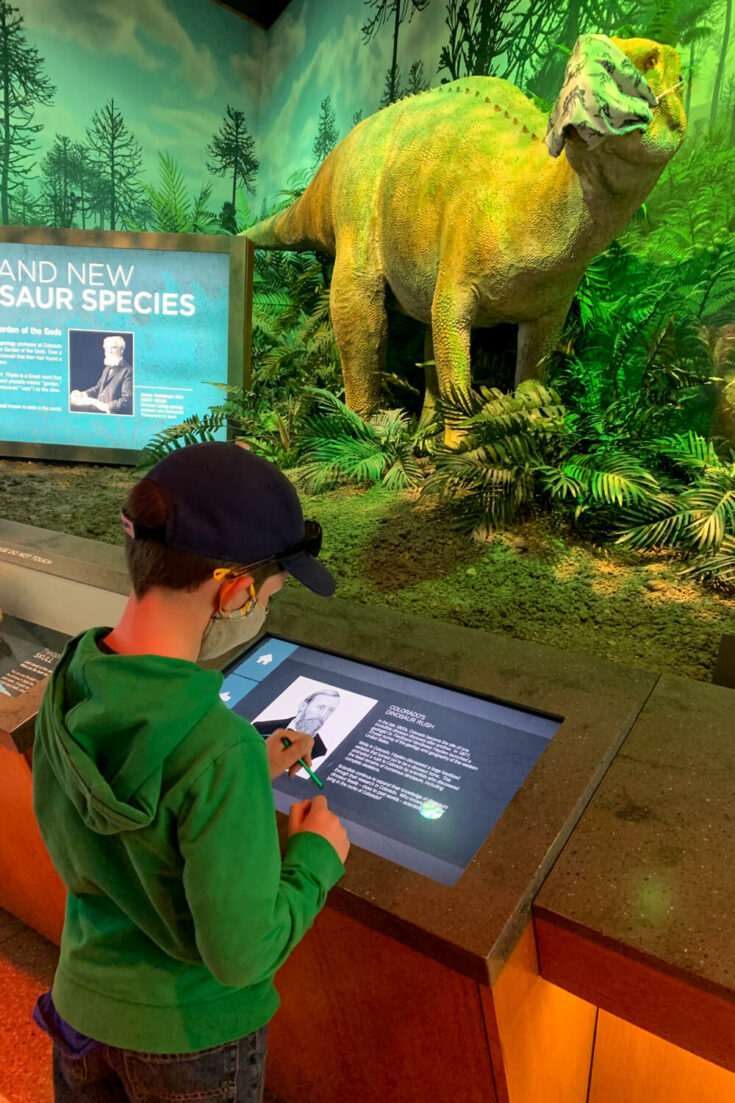 The kids will love learning about a local dinosaur, and as every kid has their own interests, there will be something fun to learn for everyone. You can probably guess we spent a lot of time at the wall featuring all the animals found nearby. My daughter rolled her eyes as my son had to read the information on each one from the touch screen and point to it.
Insider top tips! Get on the Calendar of events and participate in one of the guided nature hikes or other programs! There are a ton of fun activities for both kids and adults including nature hikes, classes on history, nature journaling, and more! Be sure to register early as they fill up fast.
10. Cave of the Winds
100 Cave of the Winds Rd, Manitou Springs
Phone: +1 719-685-5444
Suggested amount of time to visit: 3 hours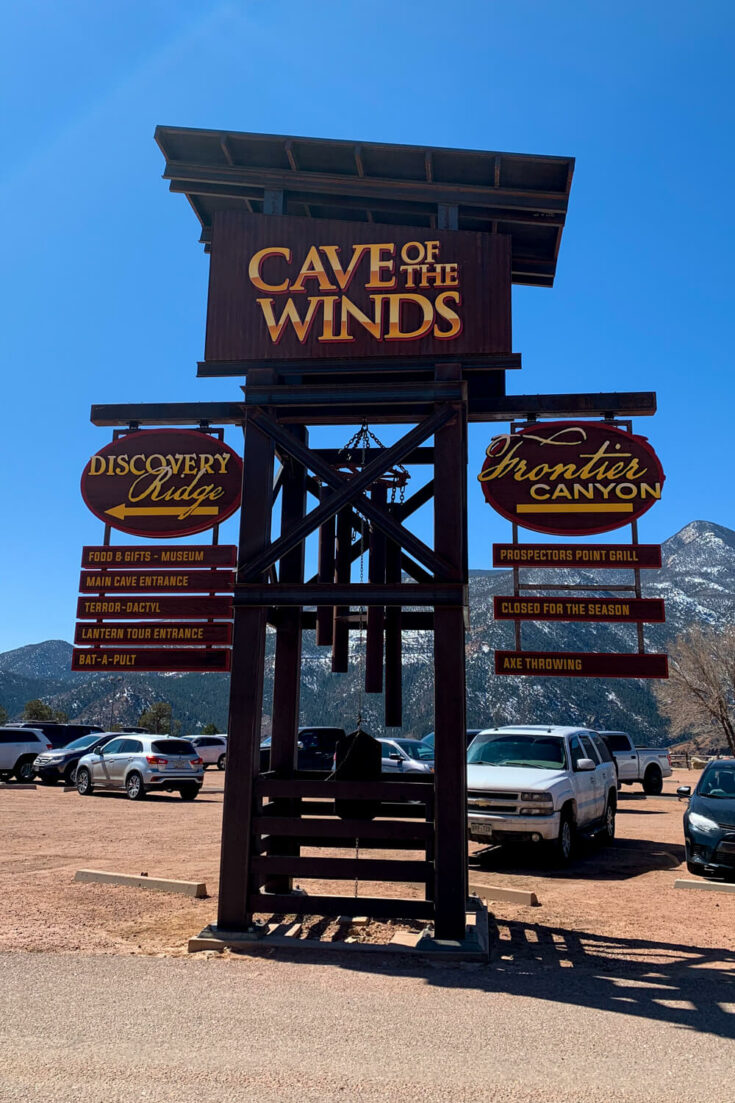 The first time we visited a cave as a family, my son was enthralled. For some reason, he can hike for hours underground in a cave without tiring, but try to hike around Garden of the Gods or a hike in Rocky Mountain National Park, and he's completely worn out and can't move after 10 feet (unless there's a promised fishing spot at the end).
However, he absolutely LOVES exploring caves and going on cave tours. From Carlsbad Caverns to Jewel Cave in North Dakota to our latest discovery, the Cave of the Winds, he wants to visit them all.
The parking area and above ground portion of the center has some amazing views right next to the cliff wall. They have activities such as the Wind Walker Challenge Course, Bat-A-Pult aerial adventure, Cliff Hanger Climbing Wall, a slide, Geronimo's Leap, and even a zip-line to keep families busy for hours.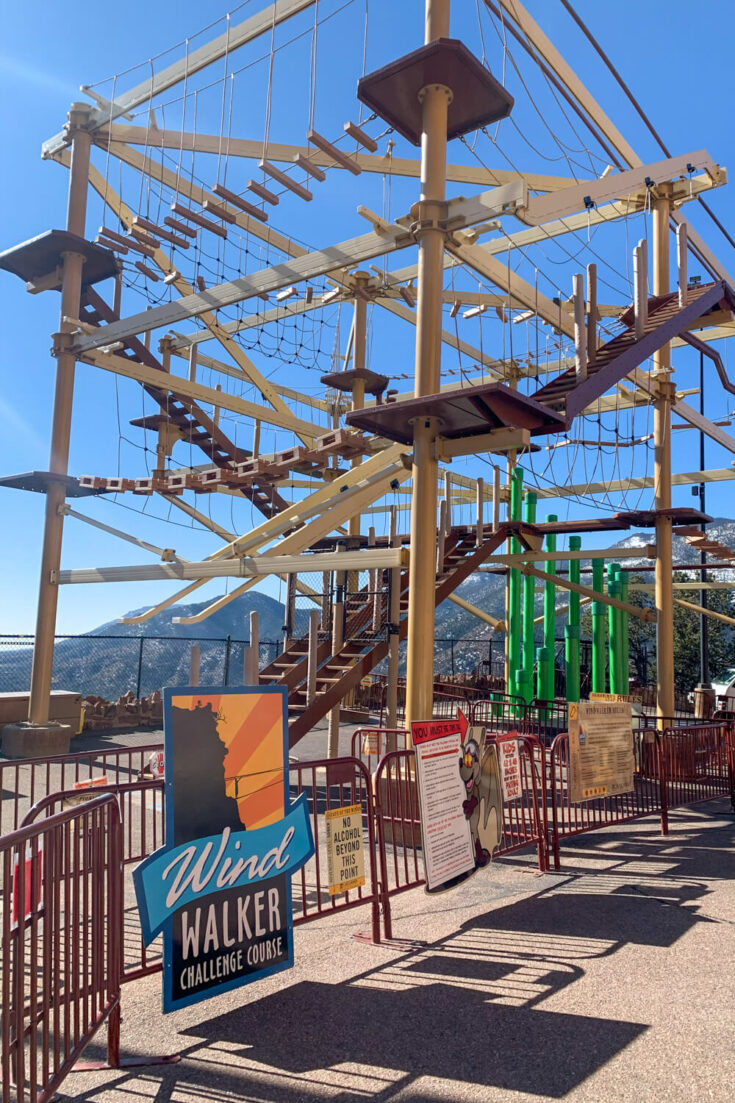 Different cave tours
Each experience can of course be tailored to the family, and as one child especially is not good with heights, we decided to only do the cave tour. We chose the Discovery Tour, a 45 – 60 minute guided walking tour of the caves. It includes 15 rooms, .5 miles of concrete walkways, 196 stairs, and it's all electrically lit. Our guide was energetic, funny, and very knowledgeable.
The Discovery Tour is more geared towards families and those interested in the history and geology of the cave. Because it's lit by electric lights (that are turned off for effect during the tour), you can see more of the formations. Great for a geology lesson!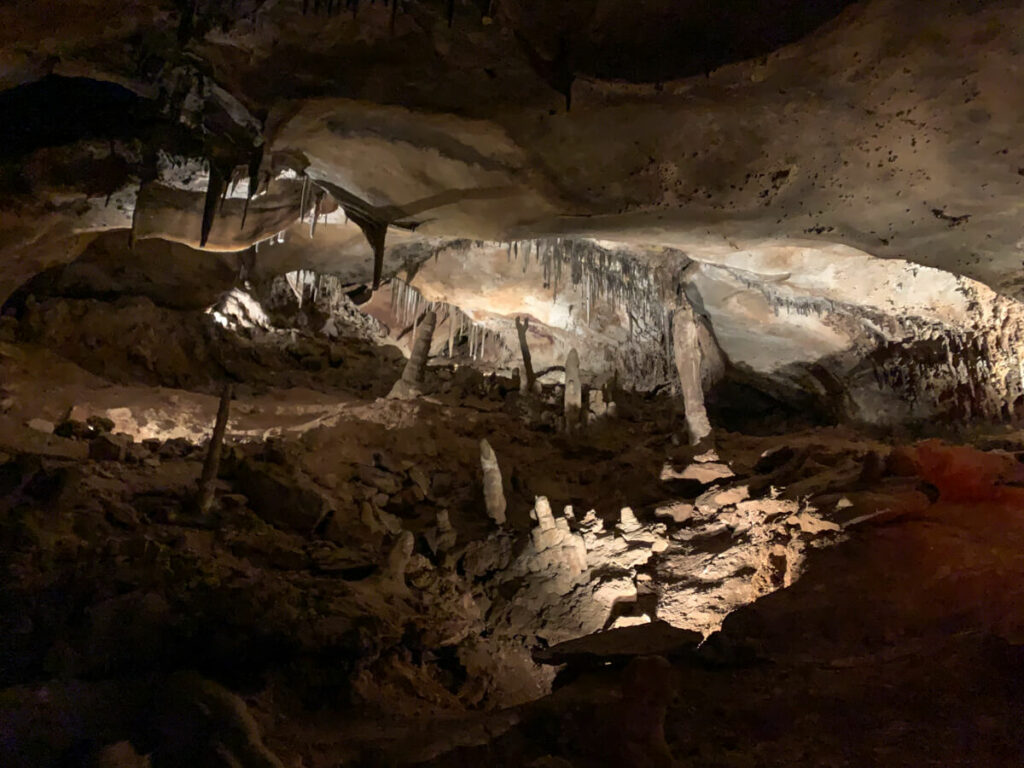 For a spookier experience she recommended the Lantern Tour, through more of the cave. You have only a candlelit lantern for an hour and a half, and are told ghost stories and folklore as you make your way through. We all agreed we preferred the Discovery Tour, ha! But if that's your thing, go for it!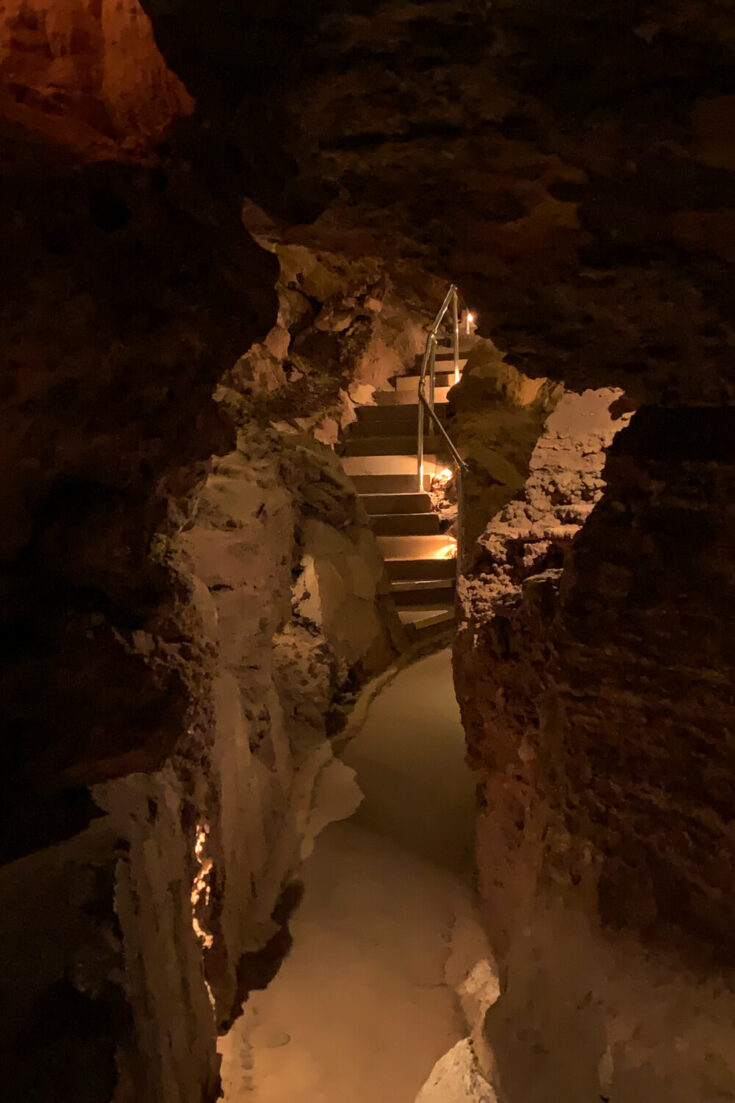 Insider top tips! Book your cave tour and any other activities online before you go. Also, it can be chilly in the cave so dress in layers.
11. Hiking the North Cheyenne Cañon Area
Hiking with kids can be hit or miss. My daughter just loves to hike and be out in nature but with a destination and a plan in place. The other child does not follow the plan, which can cause some stress and arguments.
Tips for getting all kids excited about the hike
Brings lots of fun snacks and water
Comfy shoes
Hats and sunscreen
Have an end goal for those who need it and tell them what to expect. Example: We are going about 2 miles on the Mt. Carter hike. Our goal is to see the awesome outlook view and Seven Falls.
Take a nature scavenger hunt specific to the area. Tell the child your goal is to get photos of various birds, deer, a moose, 4 different kinds of trees, and maybe a bear. The person who gets the most wins a prize.
You get the idea.
Mount Cutler
After the turn onto N. Cheyenne Canon Road, travel for 1.5 miles to the trailhead on the left side of the road. Look for the "Mt. Cutler Hiking Trail" sign.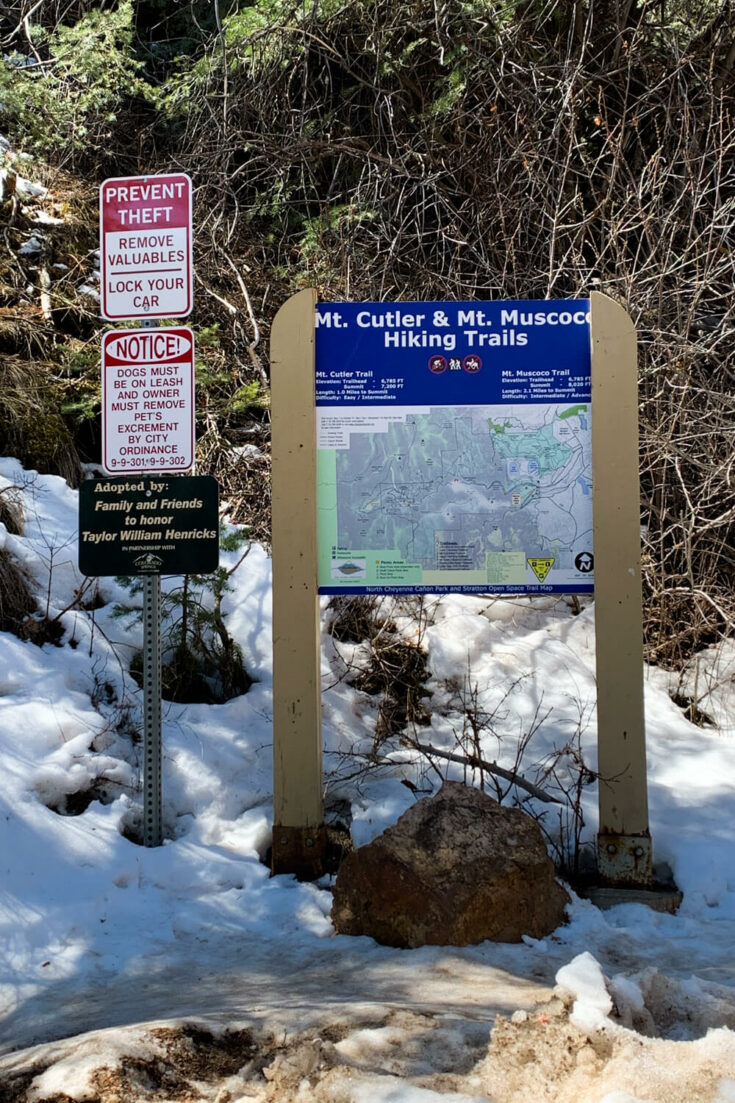 Quick info:
Distance: 1.88 miles roundtrip
Difficulty: Easy
Elevation gain: 588 feet
Dogs are allowed on leash
There will be parking and a trail on the left side of the road. If you see the Helen Hunt Falls parking and trail you've gone too far. This is a hike with the reward of gorgeous views of the Stratton Open Space, Seven Falls, and the Will Rogers Shrine. The initial quarter-mile was super icy when we were there so we did a lot of sliding!
However, when I asked around about the best family hiking trails this one inevitably came up as a pretty easy hike with lots of views to enjoy. I would suggest hiking when there's not snow on the ground.
Helen Hunt Falls
Helen Hunt Falls, Colorado 80906
Phone: +1 719-633-5701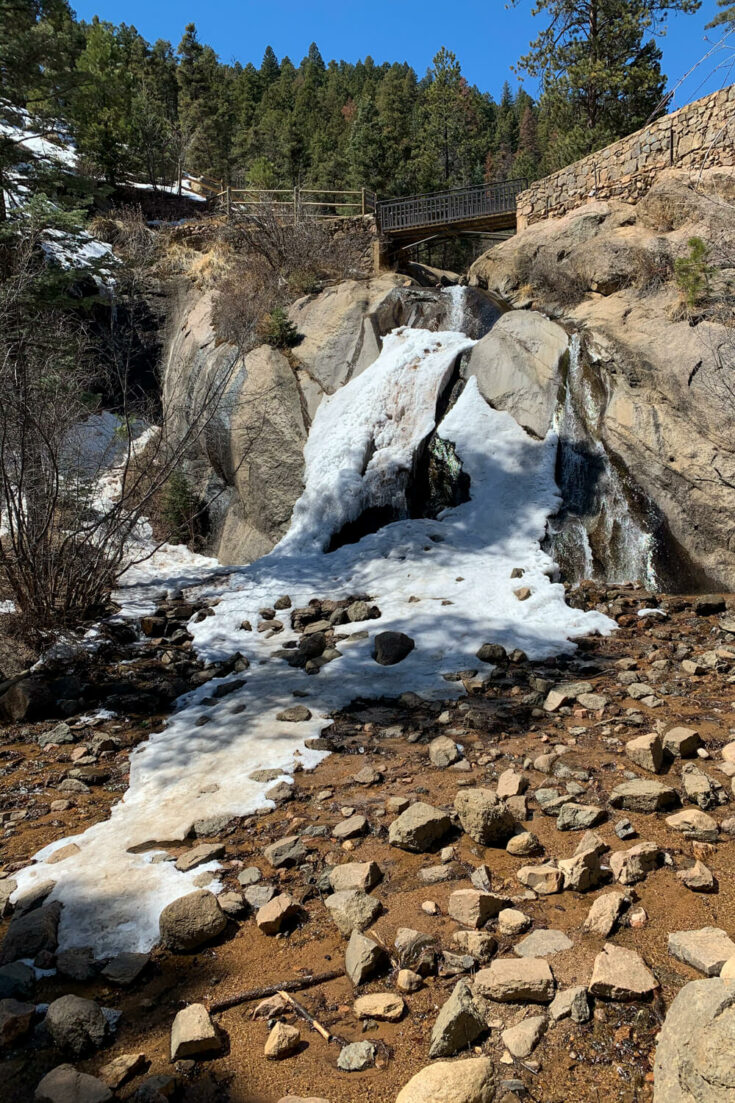 Quick info:
Distance: .1 miles or 8 miles round trip
Difficulty: Easy to moderate
Elevation gain: 1000 feet+
Duration: 15 minutes to hike and look around the falls, 4 hours for the entire trail (round trip)
Dogs are allowed on leash
This is a great trail for families who want immediate satisfaction and get the kids excited to see the falls. You can see Helen Hunt Falls from the road, and the initial trail is quite the climb on well-maintained stairs to wander around it and up to the rest of the trail. If you don't have a lot of time, just stop for a photo op and see the falls.
Seven Bridges Trail
N Cheyenne Canyon Rd, Colorado Springs
Phone: +1 719-685-5089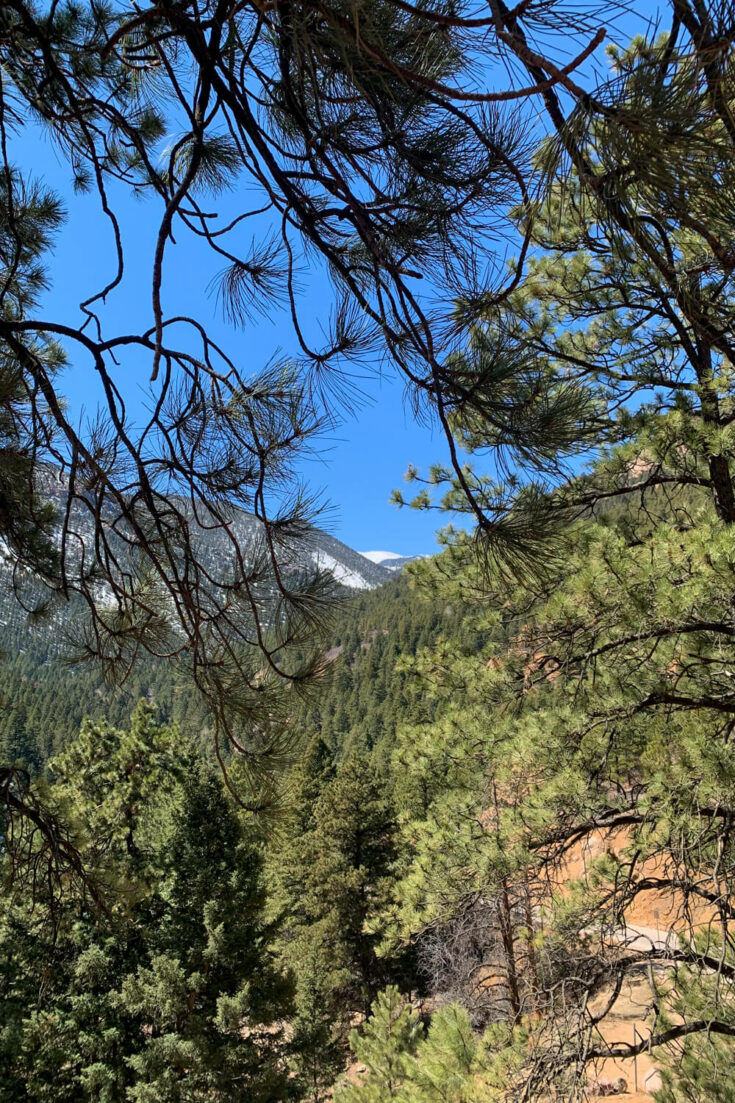 Quick info:
Distance: 5.8 miles round trip
Difficulty: Moderate
Elevation gain: about 1600 feet
Dogs are allowed on leash
This is a great hike when you have kids who like landmarks along the hike. The trail follows the stream, and kids can count off the 7 bridges as you go. There are trails to go further beyond the seventh bridge, but a local guide I spoke with said it's not as interesting and could be tedious for kids.
One thing that drove me crazy with all the hiking areas in Colorado Springs, is the lack of signage and directions! You're just sort of expected to know the way to go and how far it's supposed to be. I am super-spoiled with how well marked and maintained everything is in Rocky Mountain National Park and expect all trails to be the same.
Insider tips! Especially with kids, plan where you're going and know your way to the parking and the trailhead.
12. Rocky Mountain Dinosaur Resource Center
201 S Fairview St, Woodland Park
Phone: +1 719-686-1820
For kids who are obsessed with dinosaurs, be sure to stop by the Rocky Mountain Dinosaur Resource Center in Woodland Park. When you drive through the center of town, you can't miss the t-rex and triceratops out front.
Dinosaurs fossils have been found all over this region and up into Denver and Wyoming. It's so fascinating for kids to learn about it first hand, face to face with the dinos. My son loved seeing the Compsognathus and the Stygimoloch, known as the "spiny river devil," along with all the more well-known dinos.
Many of the dinosaurs you can learn about at the center are also featured on the Canadian TV series, Dino Dan and more recently Dino Dana. Both of my kids loved these shows so check them out on Prime Video if you have dino-loving kids also!
There's a fun gift shop at the center, so be prepared to buy or not to buy. Or you can come prepared with dino books or this awesome Dino Dana Field Guide.
Insider tips! For those of you with special diets like us, there's a Natural Grocer's in Woodland Park and a great place to pick up sugar-free or gluten-free snacks.
Roar!
Colorado Springs things to do with kids
Whew! Can you believe how many kids activities in Colorado Springs there are? To be honest, we've just scratched the surface, and I'll be listing more below. If you live in the Colorado Springs area, there's definitely no shortage of family activities so take advantage of it!
In a year where we wanted to stay a little closer to home for our adventures, Colorado Springs most certainly delivered. More and more things are starting to open back up, so just make reservations and check to be sure they're open when you want to visit.
I am huge on an itinerary beforehand to lessen the unexpected closures and weather issues. However, I know that's not everyone's style when traveling! I hope you get some good ideas and can pick out the activities for families in Colorado Springs to best suit the children in your life and your situation.
We love this area and will definitely be stopping in more than driving through in the future! Have fun!
Even more things to do in Colorado Springs with kids
North Pole – Santa's Workshop
5050 Pikes Peak Hwy, Cascade, CO
Phone: (719) 684-9432
Santa's Workshop is such a fun and different park with so many rides for younger kids. My children LOVED it when they were small, and to be honest we still do! Here are some Tips for Visiting Santa's Workshop, North Pole Colorado.
National Museum of WWII Aviation
755 Aviation Way, Colorado Springs
Phone: +1 719-637-7559
We weren't able to work this into our recent trip due to the more limited days it was open, but I've heard very good things about it and plan to see it soon.
Air Force Academy
U.S. Air Force Academy
Phone: +1 719-333-2025
If the Academy is open for tours, it's an impressive place for kids to see and learn about the university.
Pikes Peak – America's Mountain
5069 Pikes Peak Hwy, Cascade, CO
Phone: +1 719-385-7325
Rock Ledge Ranch Historic Site
3105 Gateway Rd, Colorado Springs
Phone: +1 719-578-6777
The Broadmoor Soaring Adventure
7 Lake Ave, Colorado Springs
Phone: +1 719-471-6167
Does your family love a good zipline? The Broadmoor Soaring Adventure and Royal Gorge Zipline Tours both offer amazing thrills and views!
Royal Gorge Zipline Tours
45045 W US Highway 50, Canon City
Phone: +1 719-275-7238
U.S. Olympic and Paralympic Museum
This museum opened July of 2020 with impressive architecture and what I've been told is a well-designed experience and museum display. I would love to return and spend a good amount of time exploring it, but at the end of our last trip my kids were worn out and not interested. It's on our next to visit list!
Glen Eyrie Castle
3820 N 30th St, Colorado Springs
Phone: +1 719-634-0808
Manitou Springs Incline
North Cheyenne Canyon Park
2120 S Cheyenne Canyon Rd, Colorado Springs
Phone: +1 719-385-6086
This is the super-popular not for the faint of heart hike more for adults to challenge themselves than kids! If you'd like an elevation gain of 2,000 feet over less than 1 mile and 2,768 steps, this is the challenge for you!
Note my exclamation points of excitement to counter my inclination to run away from it. HA!
If you do make it up the incline be prepared to take the 4-mile trail back down as hiking back down the incline is strongly discouraged for obvious safety reasons! Exclamation point. Good luck.
Pin this article for later here: