These are our family favorite restaurants in Grand Lake CO. Grab a delicious dinner or bite to eat in the perfect town in the Rocky Mountains. Stop in and enjoy!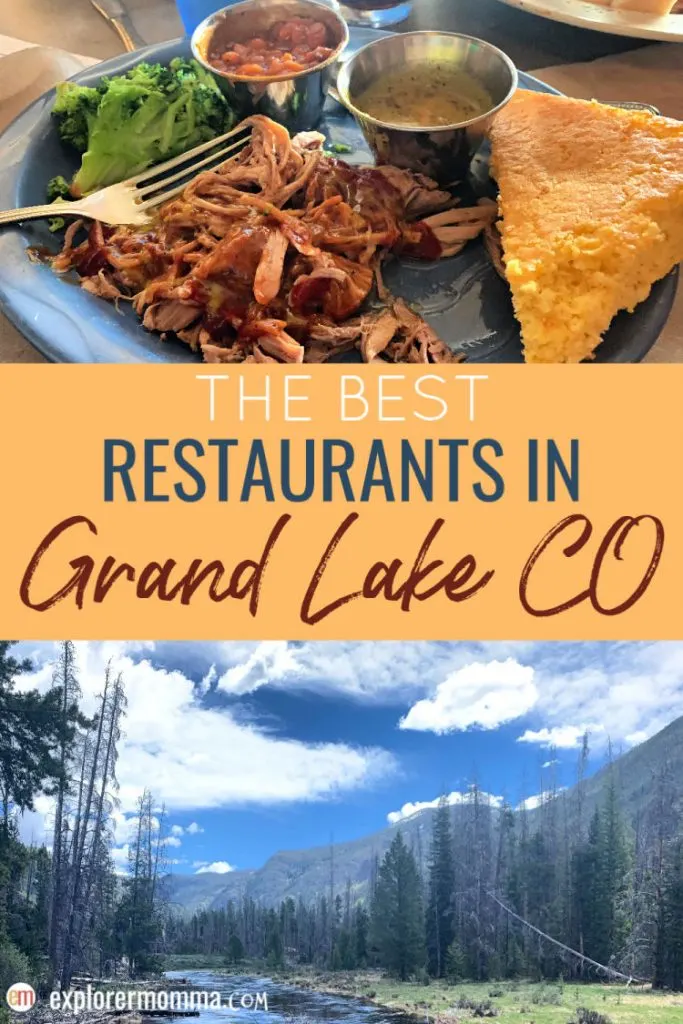 Are you planning a vacation to Grand Lake, Colorado? Click here for some awesome things to do in Grand Lake. Also if so, well then you need to eat well!
Grand Lake is a gem of a mountain town just west of Rocky Mountain National Park. It's no secret it's one of my favorite places in the world. I love that it's not the ski-resort type but a more of an old-fashioned, super-friendly, nature-loving town.
I've visited Grand Lake almost every summer since I was 8 years old. Now, I'm not going to tell you how old I am right now, but that's enough to consider it a second home! Also, that means I've been to a LOT of restaurants in the area.
This post contains affiliate links, which means I receive a small percentage if you make a purchase after clicking on my links.
My favorite Grand Lake restaurants
Restaurants, coffee shops, and good places to eat.
The Fat Cat Cafe | Blue Water Bakery | Wake Coffee Shop | Grand Lake Lodge | Miyauchi's Snack Bar | Sagebrush | Grand Pizza | Fish Fry
Breakfast / Brunch Restaurants in Grand Lake, Colorado
1. The Fat Cat Cafe
Location: (Recently moved from Grand Lake to Granby! Still do NOT miss it!) 185 E. Agate in Granby, Colorado
Food: Scottish/American breakfast/brunch/desserts
Options: Gluten-free, sugar-free, low carb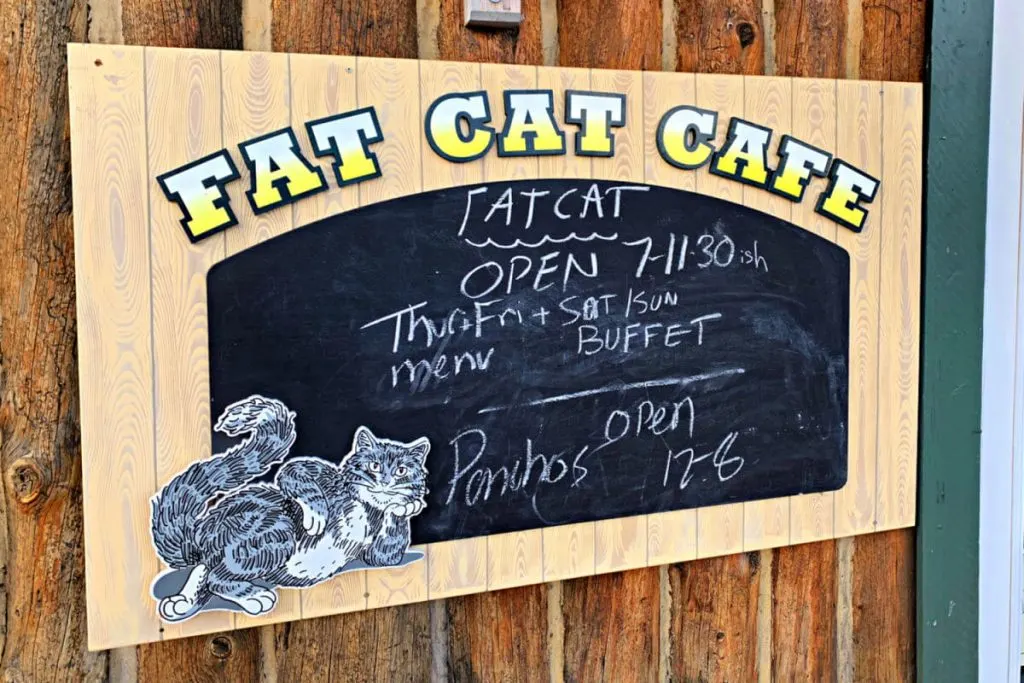 Now we have come to what is most definitely my favorite place to eat near Grand Lake, Colorado. Don't question, just plan on making a visit to this fabulous cat-loving establishment. Why, you may ask. Well…
Can I say the absolute best homemade sausage I've ever tasted? Banana cream pie? Scotch eggs? Victoria sponge. Oh, yes.
The first time I ate at the Fat Cat Cafe I was immediately blown away by how good the breakfast sausage was. I had a simple sausage and eggs breakfast that came with a small cinnamon roll on the side, and I still remember it with fondness as one of the best meals I've ever eaten.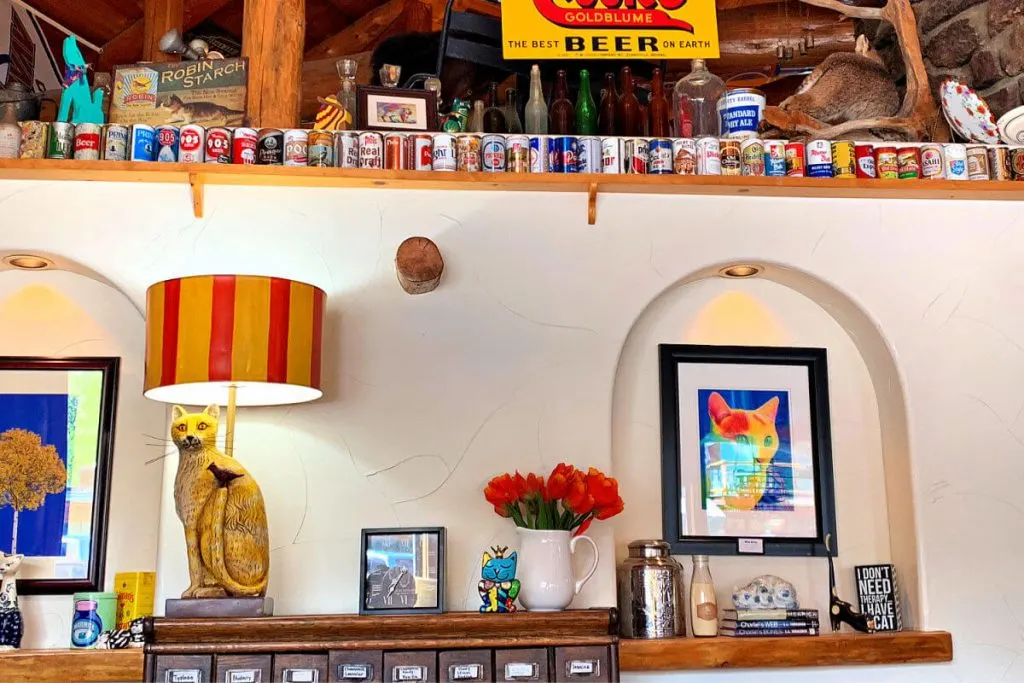 Fat Cat Cafe weekend brunch
The second time I experienced the Fat Cat Cafe, it was for their weekend brunch. And oh let me tell you, what an all you can eat brunch! This was before I ate keto, and so I tried just about everything.
The brunch has all the traditional breakfast foods, eggs, bacon, sausage, etc. Then of course there's fruit and ALL the homemade pies and pastries. My favorite discovery (aside from the awesome sausage I already knew about) was the banana cream pie.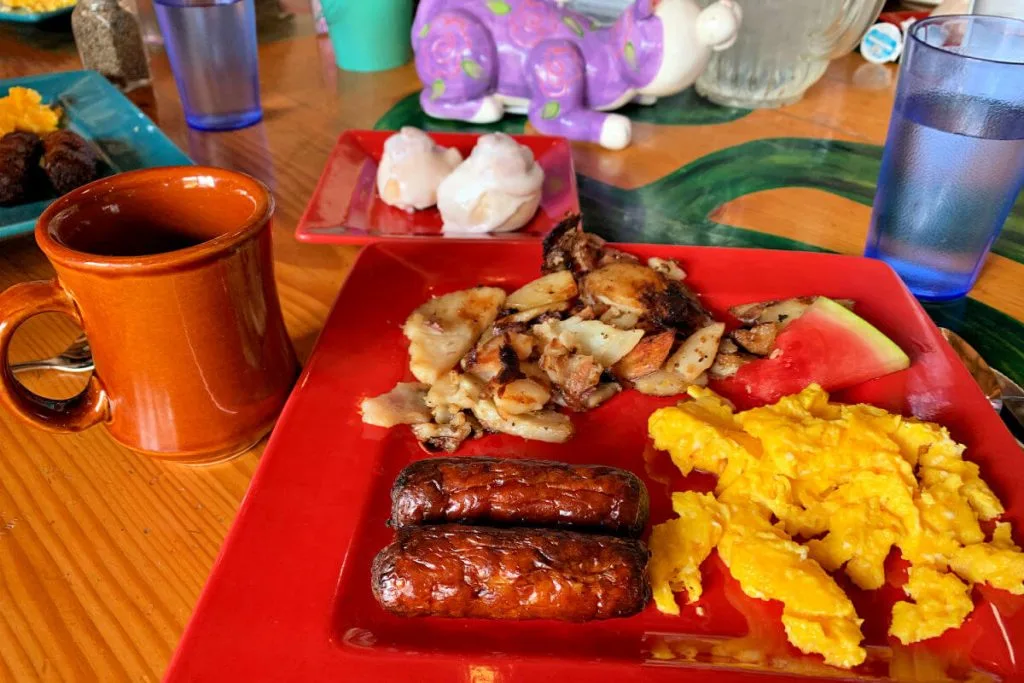 Now, the owner makes other pies too, mostly cream pies, but the banana cream is really to die for. I spoke with the baker, who told me she actually doesn't use any extra sugar in the banana cream pie, but uses the good very ripe bananas and their natural sugars to sweeten it.
I could talk about the the brunch all day long, but you really should experience it for yourself. Plan not to hurry but to enjoy your meal and company. This is one place I really do splurge and don't regret it a bit!
2. Blue Water Bakery
Location: 928 Grand Ave. Grand Lake, CO
Food: American, breakfast, lunch, coffee, pastries
Options: Gluten-free, sugar-free, low carb, vegetarian
The Blue Water Bakery is a fun place to grab a coffee and breakfast or a great salad for lunch. It has a charm all it's own with comfortable seating inside and outside, and even it's own garage door that's left open in nice weather.
Usually I like to visit the bakery in the morning on one day of our visit to Grand Lake. Generally, it's for a late breakfast and coffee then stroll along the lake front. The bakery's often quite crowded at peak times, but I've always had good friendly service.
Take a seat outside with a view of the lake and sip your coffee. Alternatively, enjoy a meal and have a spirited discussion with a friend over the best fishing spots in the area. I like this place for the easy in-town location, yet close to the lake, service with character, and good food.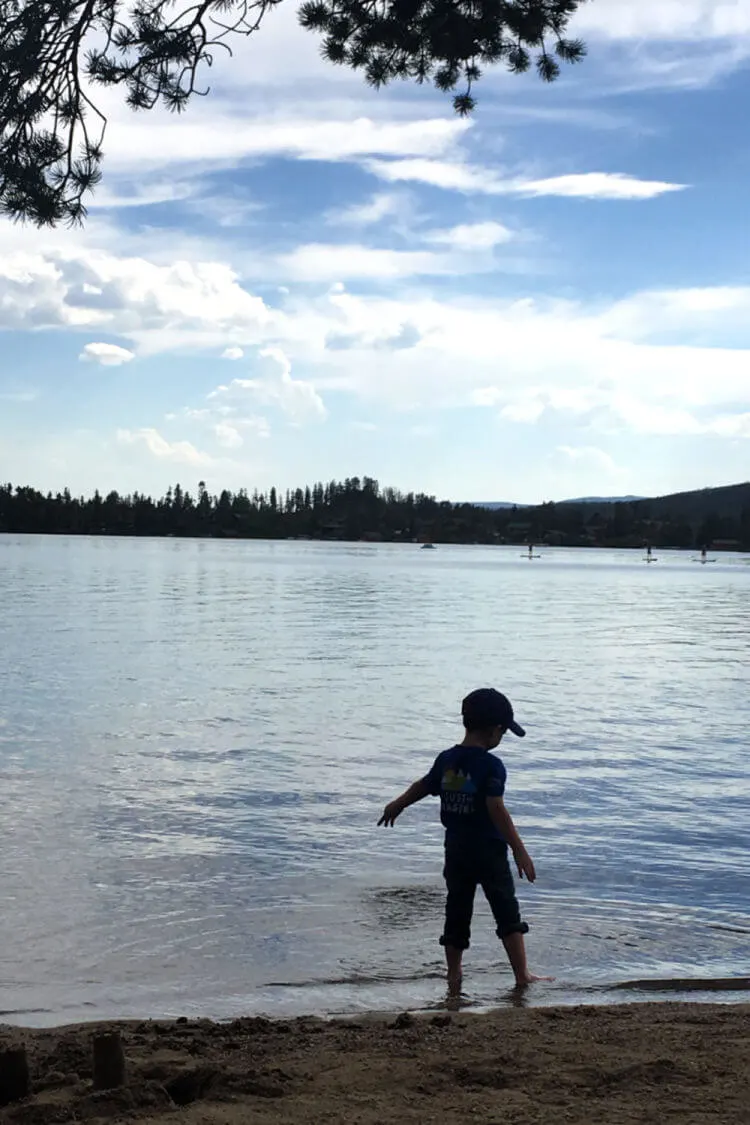 3. The Wake Coffee Shop
Location: 1146 Lake Ave, Grand Lake, CO
Food: American, breakfast, lunch, coffee, pastries
Options: Gluten-free, sugar-free, low carb, vegetarian
Extras: Free Wifi, next to the Grand Lake Marina
Why include a coffee shop in my list of favorite restaurants in Grand Lake CO? Well, why not? The Wake Coffee Shop is small and cozy, but let me tell you why I love to go there.
For one, they are located just next to Lemmon Lodge (where we like to stay) by the Grand Lake Marina. Therefore, super-easy access, and yes, the all important free Wifi.
You may be surprised, in this mountain town, Wifi and even good cell phone service, are not in every cabin, hotel, restaurant, and hiking trail. In my opinion, that is one of the many charms of the area. However, there are times when I really need Wifi to get something done.
Therefore, I get a child and another adult family member set on an hour kayaking rental to explore the edge of the lake. Then, I take a seat in the Wake near the window to keep an eye out for them, or in one of the cozy chairs.
Grab a coffee or one of their popular breakfast burritos or a more low carb option, and I'm set to get some work done. Or have a good conversation with my grandmother or friend. There are many options.
4. Grand Lake Lodge – Huntington House Tavern
(Sunday brunch or lunch/dinner)
Location: 15500 US-34, Grand Lake, CO
Food: American, breakfast, lunch, steakhouse dinner
Options: Gluten-free, dairy-free, works well with food allergies
Extras: Amazing views overlooking Grand Lake, wheel-chair accessible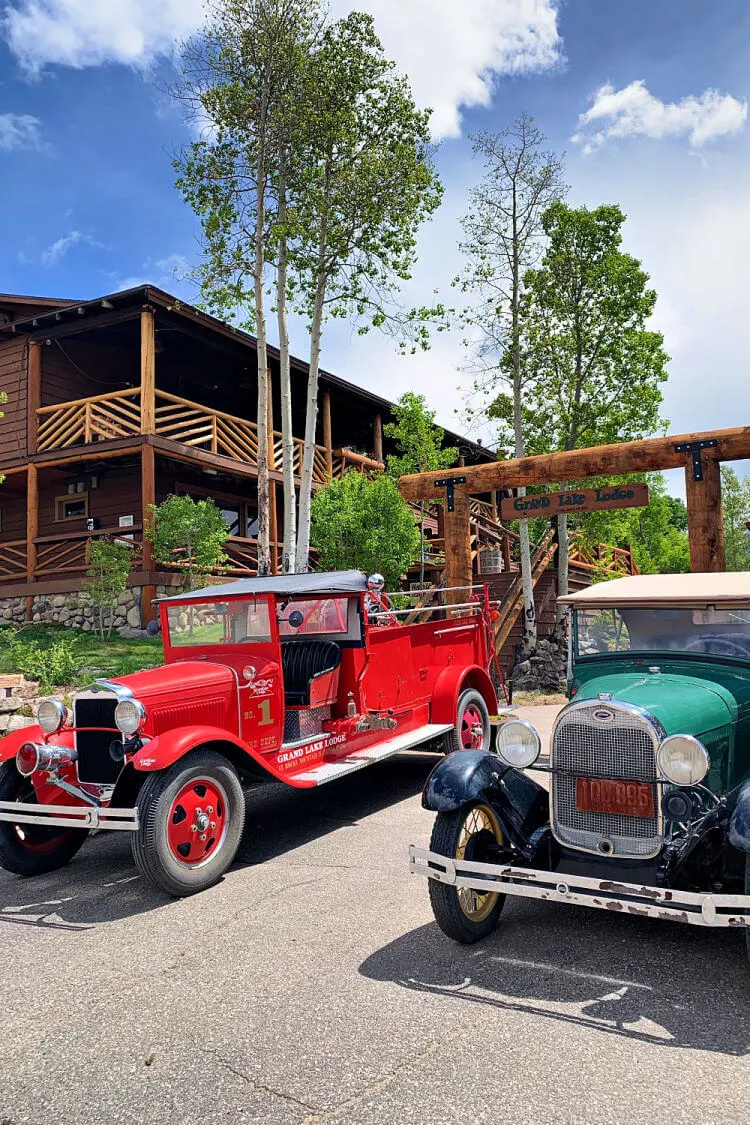 When we visit Grand Lake, especially as a family group, I like to make it up to Grand Lake Lodge for a meal. It's located up the mountain overlooking Grand Lake with beautiful pine trees and flowers to frame the fabulous views.
Usually, you'll see some antique cars parked in the lot, and there are often car shows to check out. It's rustic and charming, and on the National Register for Historic Places. You'll enjoy a stroll around the deck, and maybe venture down to the chapel area for weddings and Sunday morning services.
We don't stay at the Lodge but like to have breakfast, especially the Sunday brunch, or a steak dinner. It's also a great place to wander around and take a family photo or two. In addition, there's usually free coffee so enjoy your coffee and a view!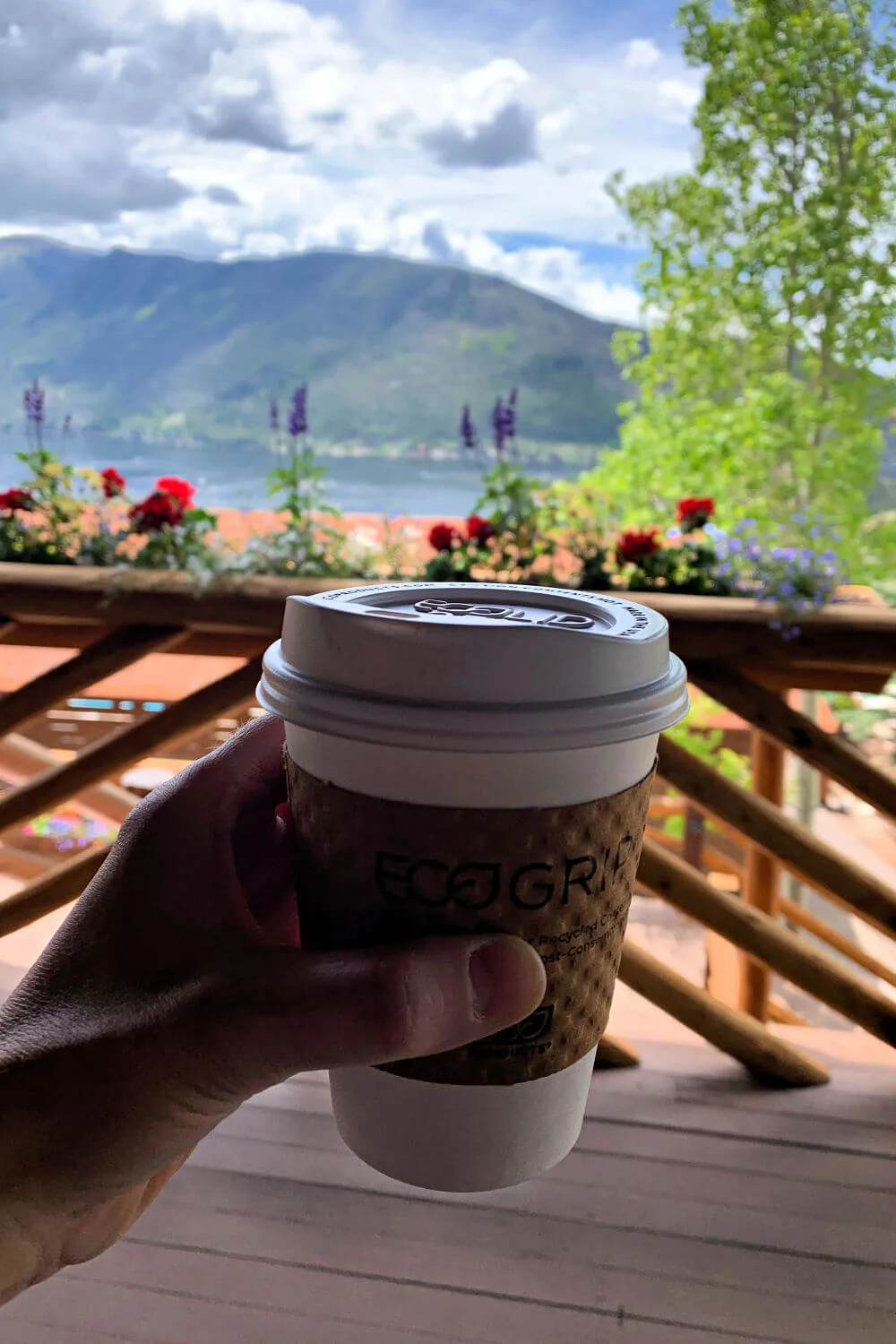 Lunch / Dinner Restaurants in Grand Lake CO
As far as lunch and dinner options go, I've already mentioned the Fat Cat Cafe (go there!) and Grand Lake Lodge. Here are some other options I'd rank pretty high on the list of best places to eat in Grand Lake.
5. Miyauchi's Snack Bar
Location: 1029 Lake Ave, Grand Lake, CO
Food: American, burgers, fries, ice cream
Options: General fast food options
Extras: Outdoor seating (only), lakeside view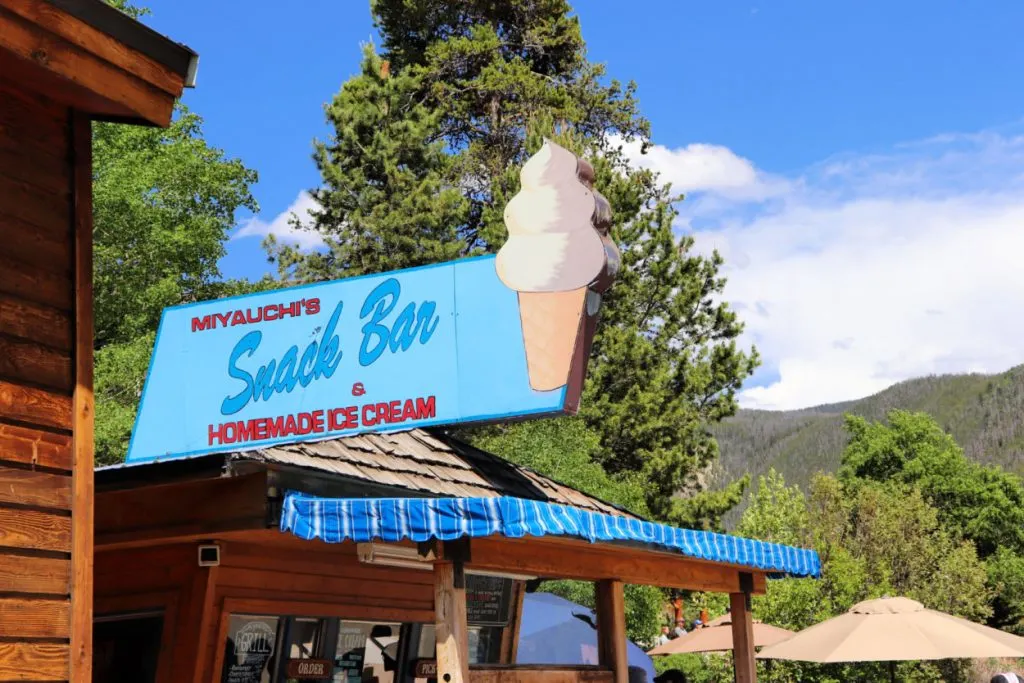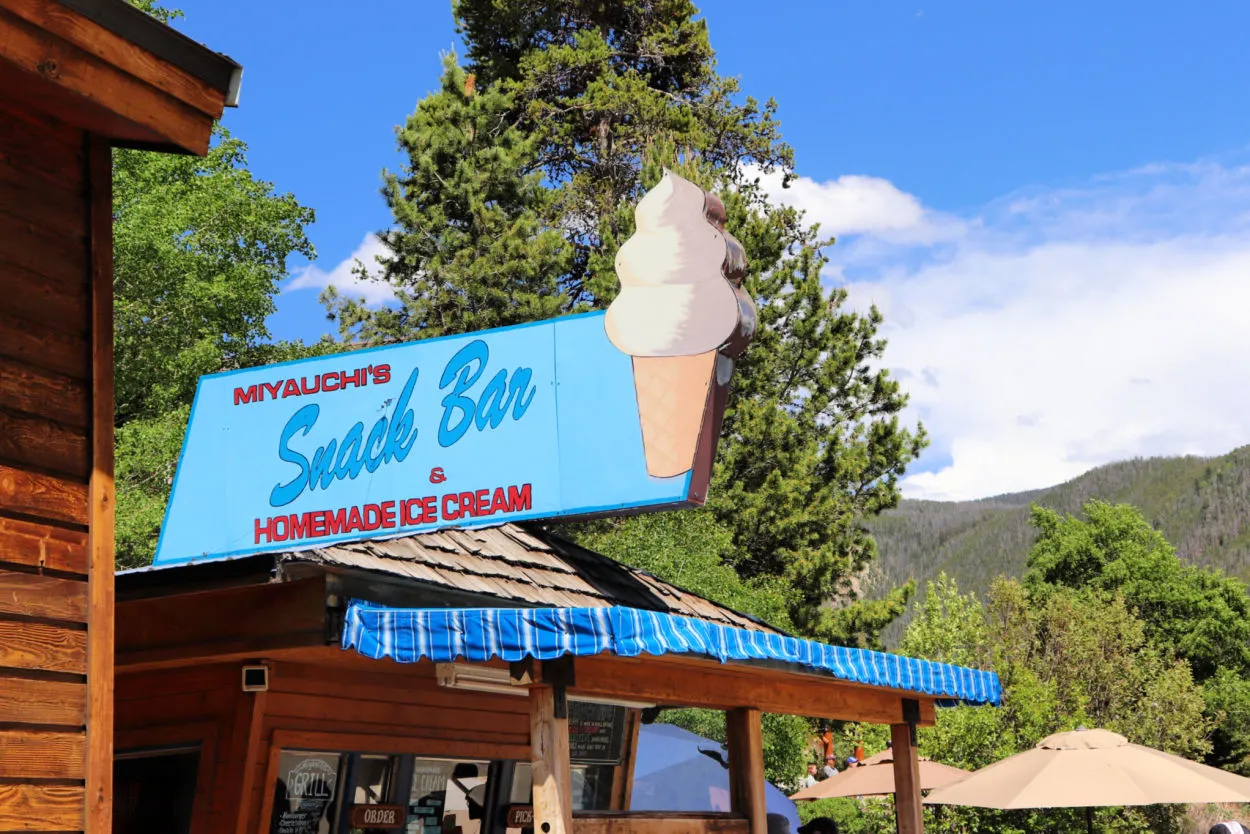 Miyauchi's Snack Bar is an iconic destination in Grand Lake. The sign with the ice cream cone on blue background is a beacon to those who love the mountain town.
As a kid, I remember loving Miyauchi's. The moment we got into town I would beg to go get my favorite twist cone dipped in chocolate. So good and super-messy!
Lately, I like to visit Miyauchi's for a burger dinner before a walk by the lake. I go for a no-bun, extra lettuce option, and everyone else loves the burgers, fries, and one of the many ice cream flavors. Even if you don't eat a full meal there, the ice cream is hugely popular with kids and tourists.
Note: There are nuts in the ice cream so any allergies should check when ordering. My gal with a nut allergy has to opt for the soft-serve.
6. Sagebrush BBQ & Grill
Location: 1101 Grand Ave, Grand Lake, CO
Food: American, BBQ, burgers, etc.
Options: Gluten-free, low carb
Extras: Buckets of peanuts on the table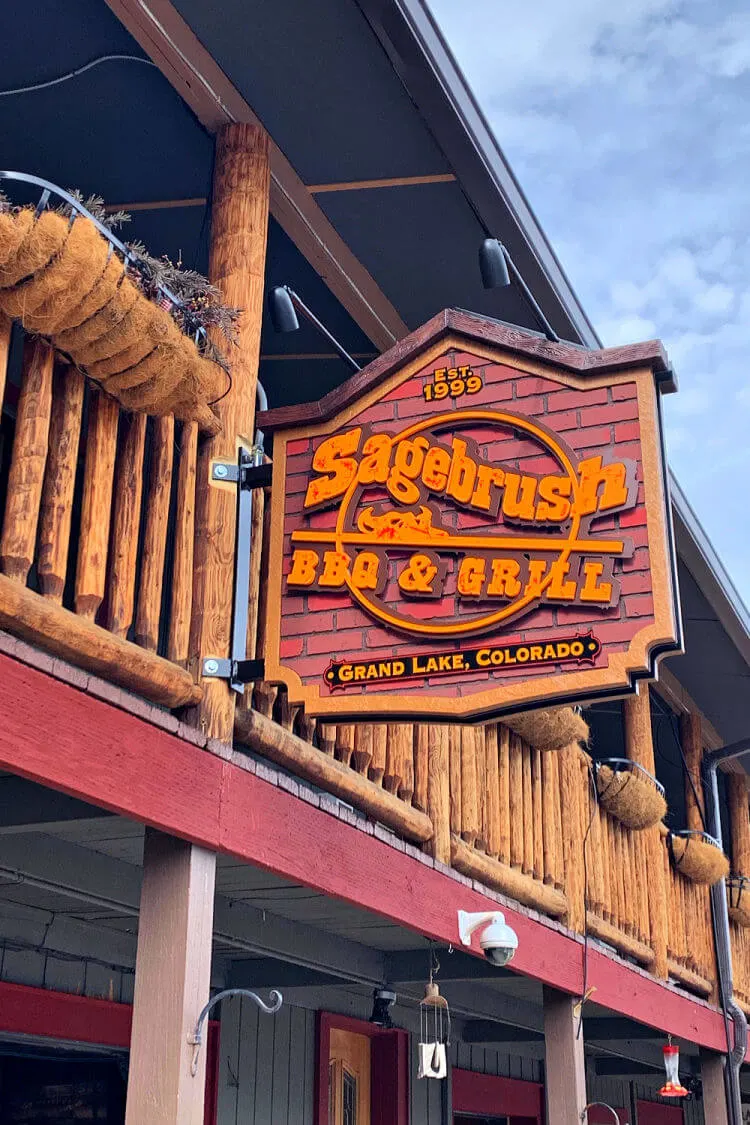 Who loves BBQ?! Ask that in my family and you'll see just about all hands raised and ready to go. My son affectionately calls this place, "The restaurant where you can throw peanut shells on the floor!"
Indeed, throwing peanut shells on the floor and looking around with a sneaky smile could occupy him for hours. It's the perfect way for Mom and Dad and friends to enjoy a good meal and an actual conversation!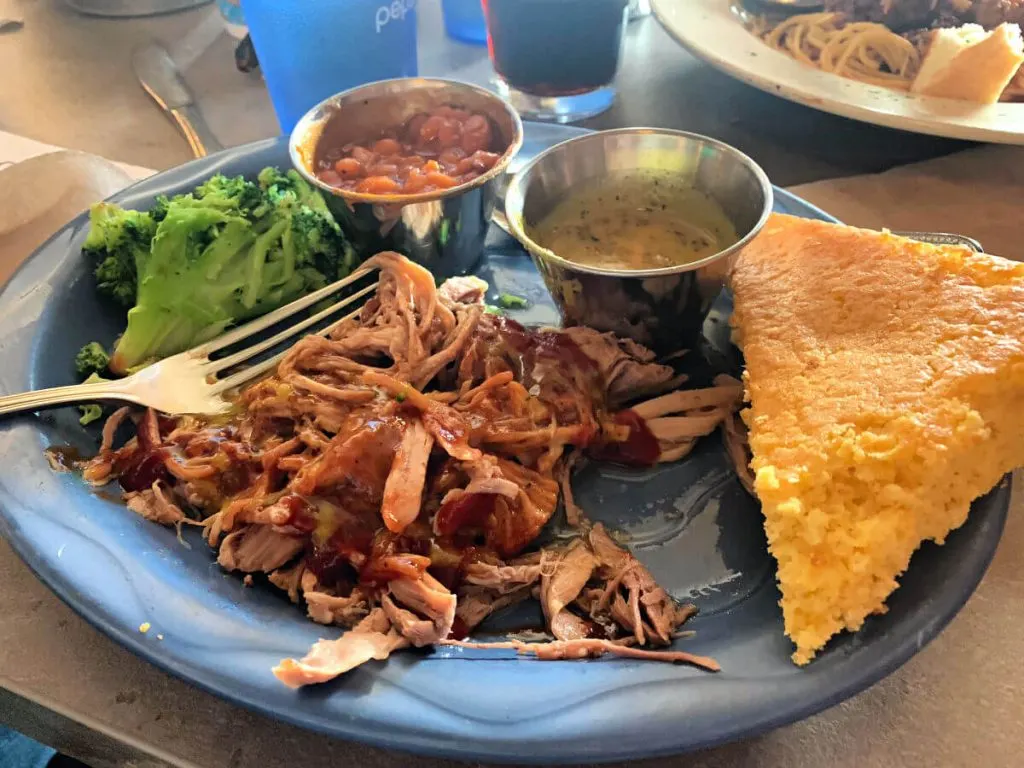 The Sagebrush BBQ & Grill is a restaurant in Grand Lake CO with many options, not just BBQ. Personally, I'm a huge fan of the pulled pork or brisket. There are also burgers, trout, panini sandwiches, salmon, fettuccini Alfredo, and a lot more!
They also have a gluten-free menu so be sure to ask for it if you had need.
7. Grand Pizza
Location: 1131 Grand Ave, Grand Lake, CO
Food: Italian, American, pizza, calzones, panini sandwiches, salads, etc.
Options: Vegetarian, gluten-free, low carb (salad)
Extras: Located on the Grand Lake boardwalk
For those looking for a great family-friendly restaurant, Grand Pizza is always popular with guests. If the kids are requesting pizza, give this Grand Lake Restaurant a try!
Personally, I love that they have gluten-free pizza crust, and quite a few interesting salad options. They have a good kid's menu, and can you believe, 34 pizza toppings to choose from. Just look for the sign with the moose tossing the pizza dough!
8. Fish Fry!
Last but not least is not a restaurant at all! Because it is one of our regular meals while in Grand Lake, I had to include it.
If you do some fishing, hopefully you'll get a few trout from the lake. As my son likes to say, keep one for Daddy to eat and let the others go free and in the wild! Keep enough trout for your group for an evening fish fry!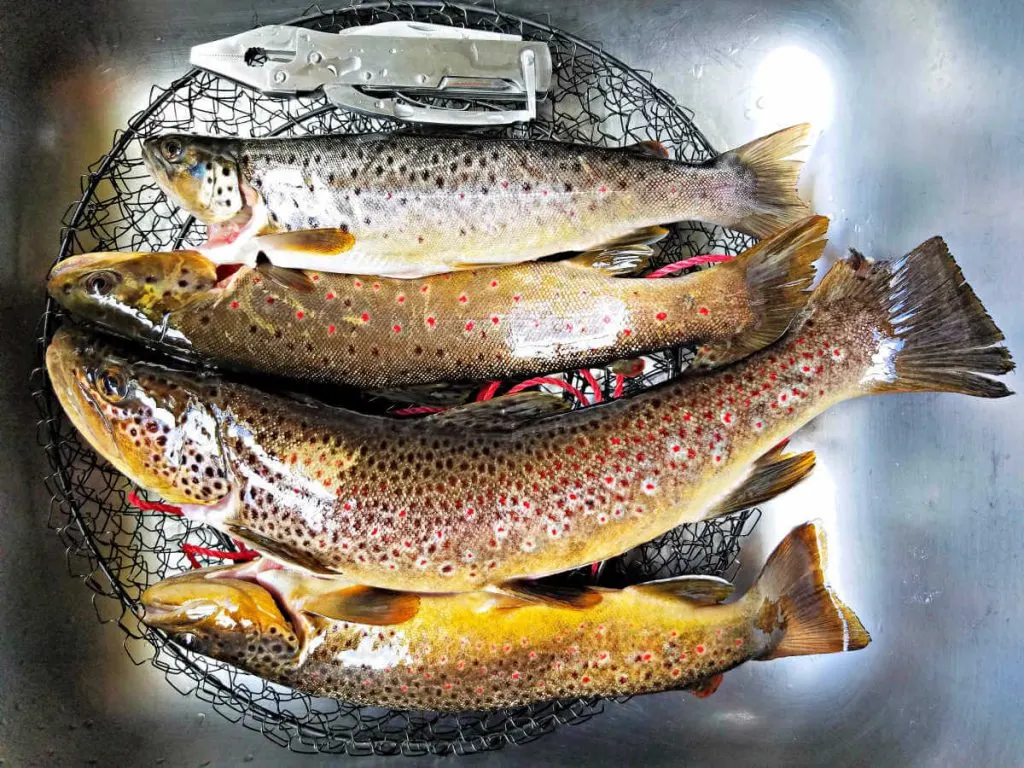 Many visitors to Grand Lake like to stay in a cabin. See my article on Things to do in Grand Lake CO for some ideas on how to book a cabin.
One of the many perks in renting a cabin is that you have a kitchen. In addition to snacks or occasional quick meals, why not utilize that kitchen for a fresh trout fish fry? When they come from the clean mountain snow runoff waters of Grand Lake, you'll rarely taste as good a fresh trout.
Beyond the restaurants in Grand Lake CO
Did you know that Grand Lake is the deepest natural lake in Colorado? In fact, this summer when I was sitting at our favorite fishing spot, a gentleman nearby told me a fascinating story. Is it a fisherman's legend or a proven fact? I've yet to find out, but either way it makes for a fun conversation!
This older fisherman claimed there's a different sort of creature down in the deepest waters of the lake. A creature one would not normally associate with a mountain lake. What could it be?
Supposedly, fishermen have brought up Kokanee salmon, found deep when ice fishing, with a surprising creature in their stomachs. Inside the Kokanee salmon, people found small shrimp that could only have come from the ocean.
He went on to say that only a deep underwater passage could have brought such a species to our dear lake.
So, is there a deep underwater passage into Grand Lake that could possibly lead to the ocean? Some claim there is. Others are doubtful. I don't know either way for certain, but I have to say it's fun to speculate about!
There are so many reasons to absolutely LOVE this mountain town. Cabins, wildlife, hiking, water sports, fishing, and good family time. If you haven't been, maybe you should!
Tag me in your travel pics on Instagram @explorermomma. I'd love to see them!
Pin it here!: