Are you thinking about a family vacation to Central Montana? There are so many things to do in Great Falls MT! Packed in and around Great Falls you'll find a ton of history, family activities, fishing, boating, and good food. You won't want to leave.
Before we get started, let me just tell you I was sponsored by Central Montana Tourism on this trip. However, as with anything on Explorer Momma, the opinions and effusions are entirely my own. I will only share something with you if I've experienced it, found value in it, and believe you will also.
I consider myself incredibly lucky to discover this part of Montana. To be honest, this is entirely my style of relaxing vacation. It's really the perfect fit of outdoor activities, recreation, education, and exploration for my family.
So what is there to do in and around Great Falls MT? Of all the Montana vacations, why Great Falls? Well, let me tell you!
PIN it for later here!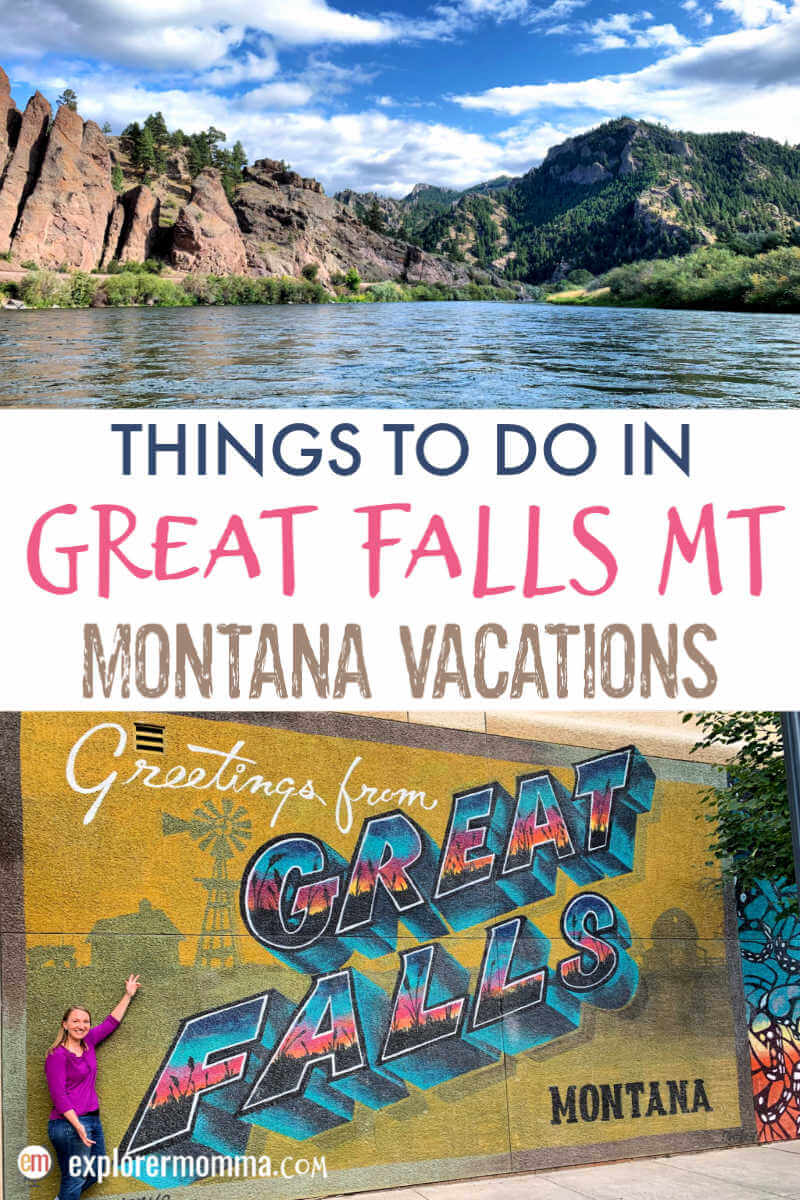 This post may include Amazon links. As an Amazon Associate I earn from qualifying purchases.
Where | Why Great Falls | Things to do | Lewis & Clark Interpretive Center | Giant Springs State Park | Electric City Coffee | C.M. Russell Museum | Paris Gibson Square Museum of Art | Hotel Arvon | Mighty Mo Brewery | Sip 'N Dip Lounge | Goshawk Ecotours | First Peoples Buffalo Jump State Park | Montana River Outfitters | Hidden Canyon Lodge
Where is Great Falls Montana?
Great Falls, Montana is located in Cascade County, in sort of the western side of central Montana. According to the 2017 census, the population estimate was 58,638. Every one of those people I met, was very friendly and welcoming.
Also, it has it's own Great Falls International Airport and is easy to fly or drive in and out.
Why is it called Great Falls?
Are you up on the history of the Lewis and Clark Expedition? Visit this portion of the United States and you soon will be!
The name Great Falls comes from a series of five waterfalls along the upper Missouri River basin. Team Lewis and Clark had to portage this area, or remove their boats from the water and carry them over land to the top of the falls.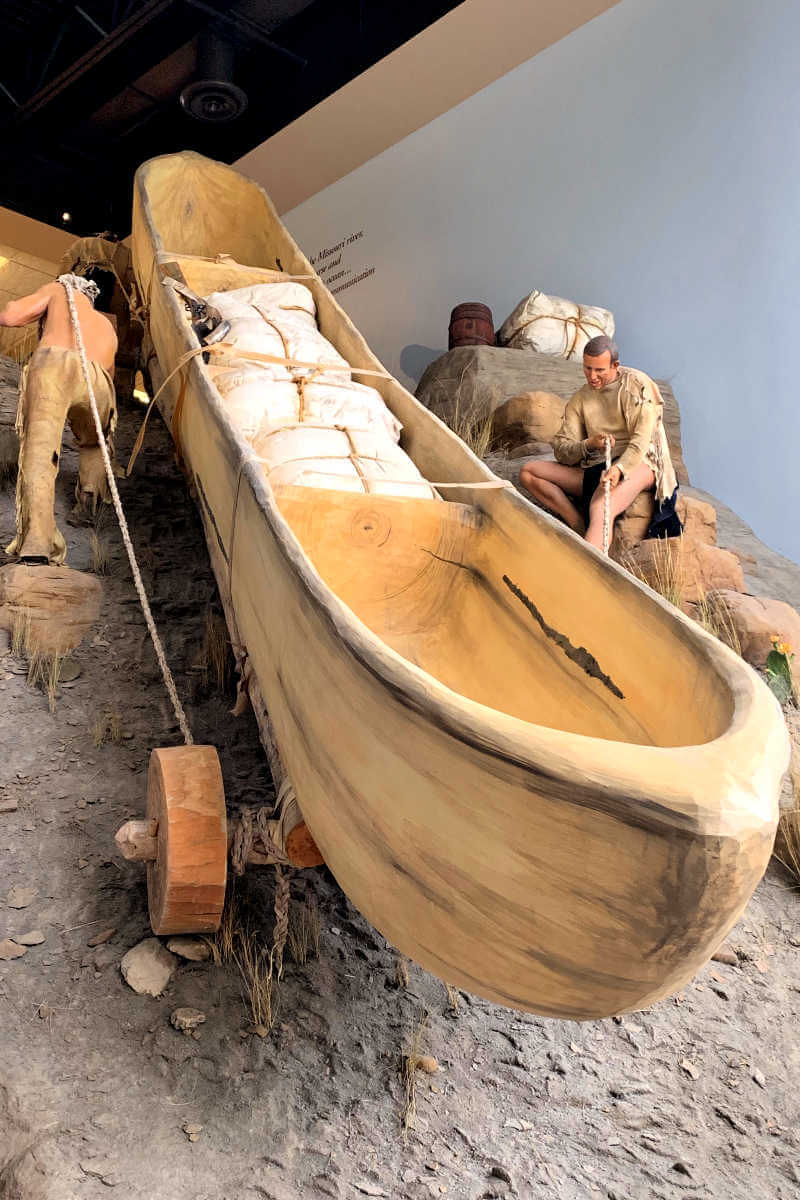 It took them about 31 days to get around Great Falls during their 1805-06 exploration of the Lousiana Purchase to the Pacific Northwest.
I took full advantage of this beautiful area and got to explore a lot! As you will see from my list of top things to do in Great Falls MT, this is the perfect destination for a family vacation. It has just the right mix of activities and attractions to have something for every member of the family.
Top Things to do in Great Falls MT
1. The Lewis and Clark National Historic Trail Interpretive Center
When I travel I'm the history-obsessed traveler who likes to read all the signs and learn the history of an area. I loved this find in Great Falls, Montana.
The Lewis and Clark National Historic Trail Interpretive Center, while a mouthful, is definitely a must-see for anyone interested in Lewis and Clark and their journey of exploration.
Managed by the US Forest Service, the center does an amazing job sharing their story. There's a theater with several introductory videos, ranger-guided tours, self-guided tours, and even an audio tour in several languages.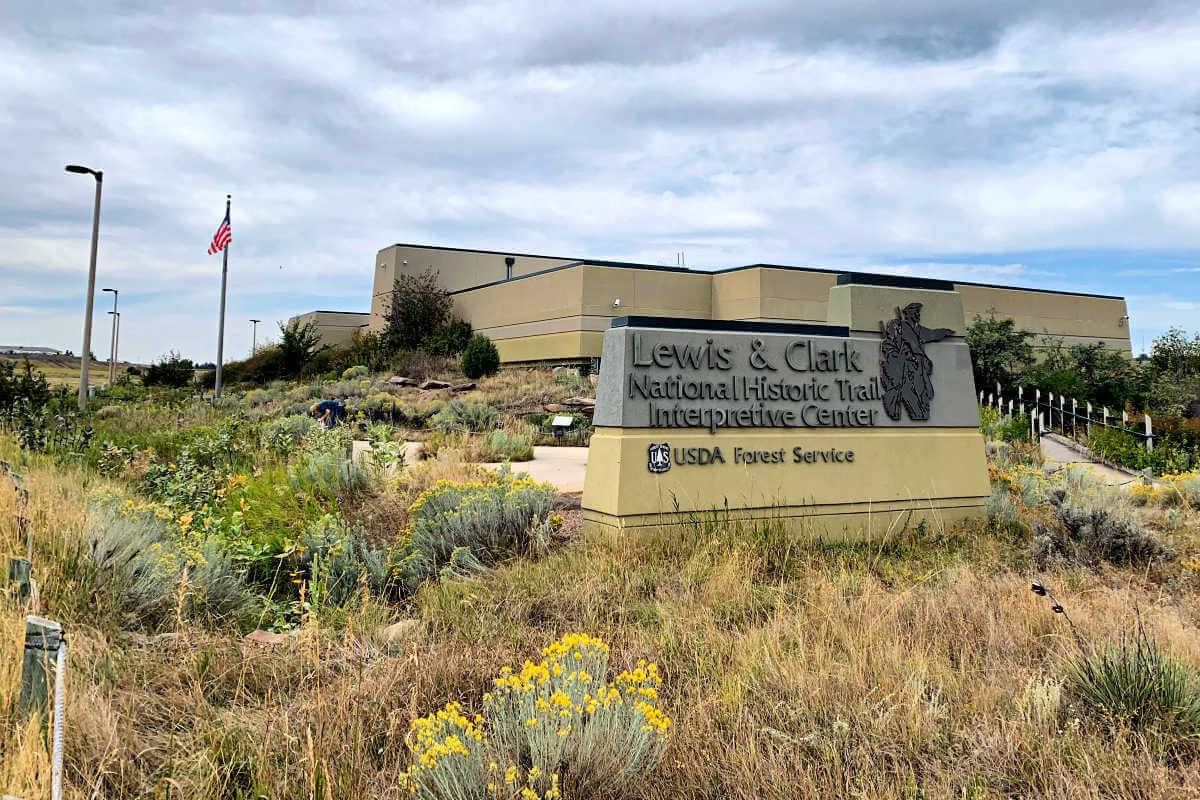 Not only do you get to hear stories of the people on the journey, but even Seaman the Newfoundland dog. The center is in the perfect natural setting to learn about it. Set in a bluff overlooking the Missouri River, you can imagine how Lewis and Clark felt trying to navigate their way west.
Kids Programs
Personally, I've read a lot about the Lewis and Clark expedition, and this center makes it come to life. Fabulous for kids because so many of the exhibits are interactive, they even provide a Junior Explorer program and Lewis' Lookout Scavenger Hunt.
There are so many little details to appreciate about the center. I love that the carpet indicates whether or not the group was on the water or on land at the point you're learning about during the expedition.
Interactive means you participate!
Do get into the interactive part and try to pull the weight of the boat upstream! I'm not going to show you the pictures of me attempting several wrong ways of putting on a cradleboard in the style of Sacajawea.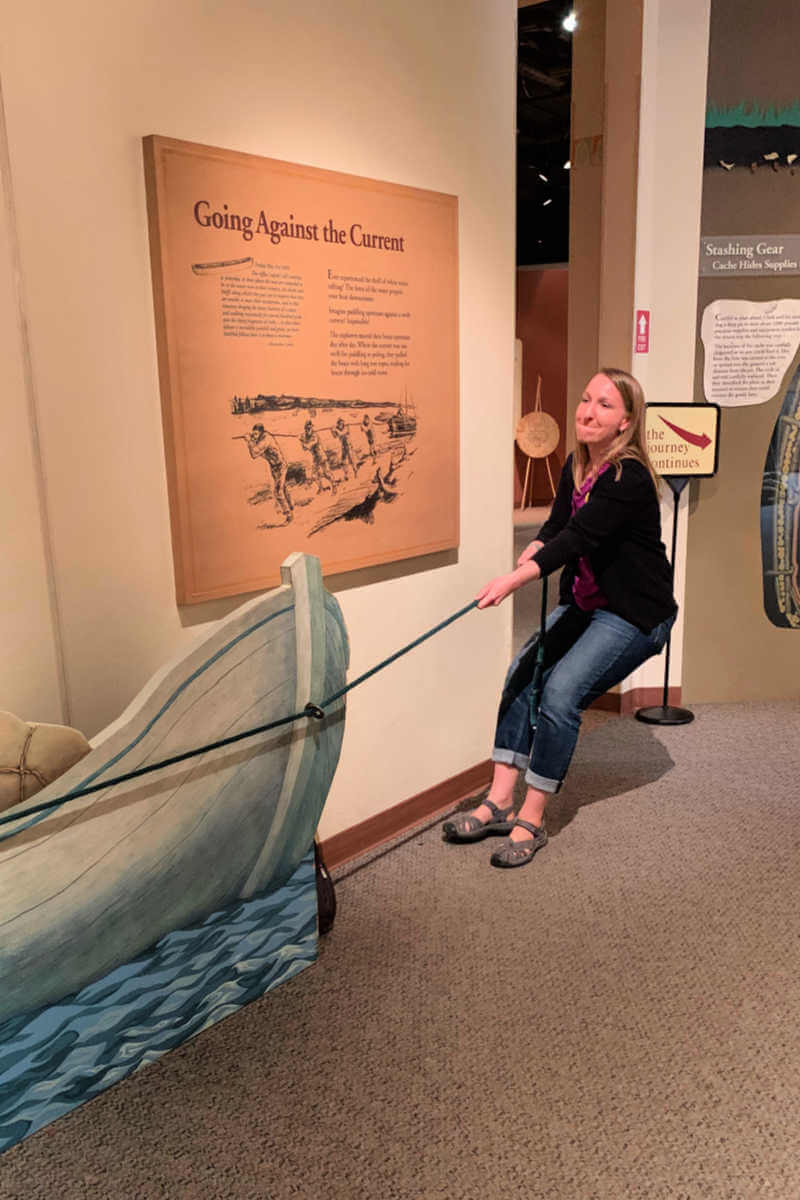 Sacajawea is really one of the heros of the expedition as she translated for the group and prevented many attacks just by her presence. A woman in the camp meant it was not a war party to many groups.
Going back to the cradleboard, did you know she carried her infant son on her back for the entire journey? Visit the center and learn more about this strong woman's story and more!
Find out more about the Lewis and Clark Foundation and current ticket costs here.
2. Giant Springs State Park
For another kid-friendly stop, make a point to have a picnic or just wander around Giant Springs State Park. It is the most-visited Montana state park for a reason!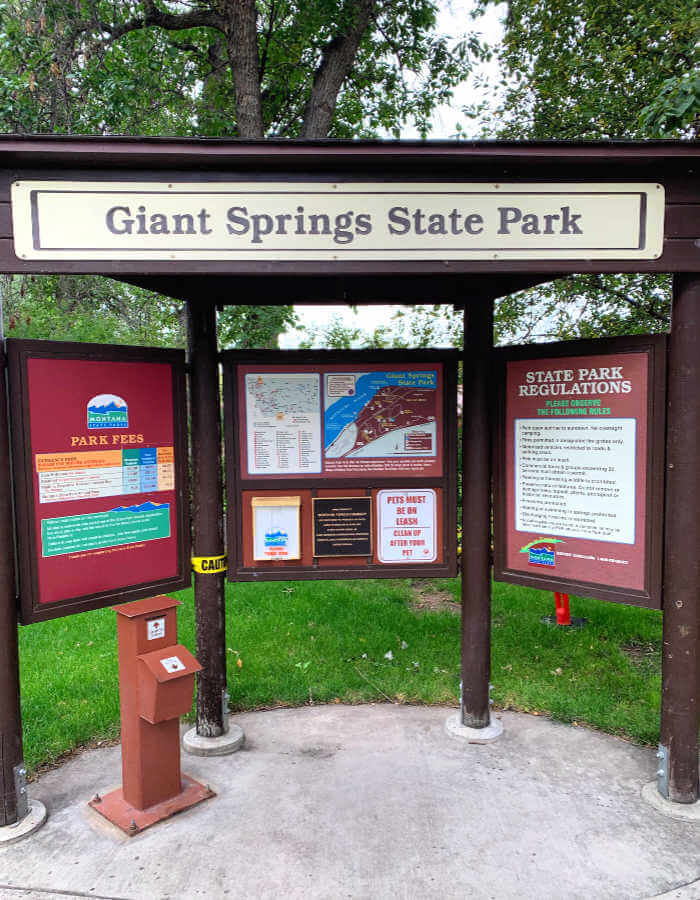 The Lewis and Clark Expedition recorded seeing Giant Springs in their journals in 1805. It's one of the largest freshwater springs in the country flowing at a rate of 156 million gallons per day. Also, it miraculously stays at a constant temperature of 54 degrees year-round.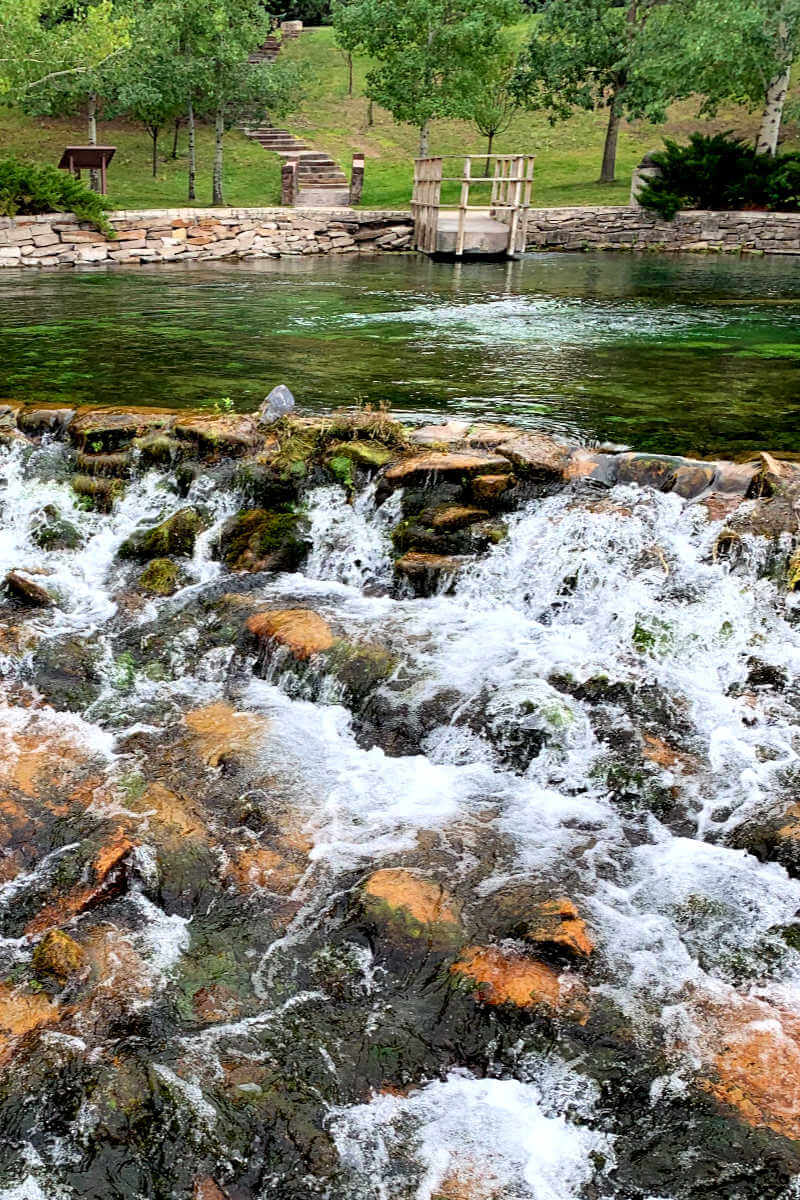 There are many other things to do at Giant Springs State Park children will like especially. Kids love to wander around the Giant Springs Fish Hatchery and Visitor Center.
Let them run and play on the play area or maybe do a photo scavenger hunt of the bird life. There are several hiking trails nearby. I even saw what looked to be a young man's birthday party enjoying the park!
Get more information on Giant Springs State Park.
3. Electric City Coffee
319 Central Ave, Great Falls, 406-452-4529
If you're in need of a pick-me-up or a bite to eat, in between activities try Electric City Coffee. I do have a love for for local coffee shops!
I have to say I adored the character of this place and enjoyed a view next to the communal bookshelf. And, if you know me much at all, you'll realize any place with its own public library automatically gets higher marks before we've even tasted the food.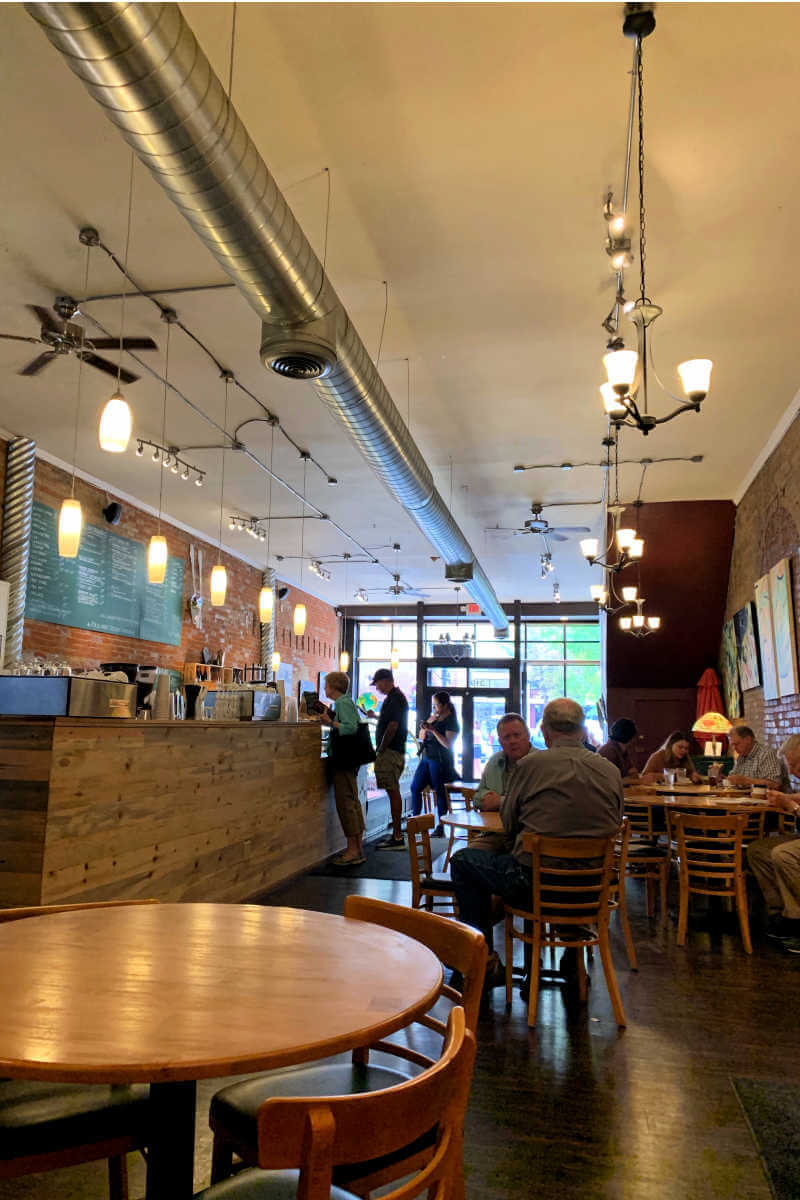 If you're a fan of fresh pastries, you're in luck! You'll be drooling at the window display as you wait to order, or maybe that's just me. I even tasted a few rather fabulous gluten-free options. However, as they weren't sugar-free, I chose a delicious crustless Mexican quiche along with my coffee.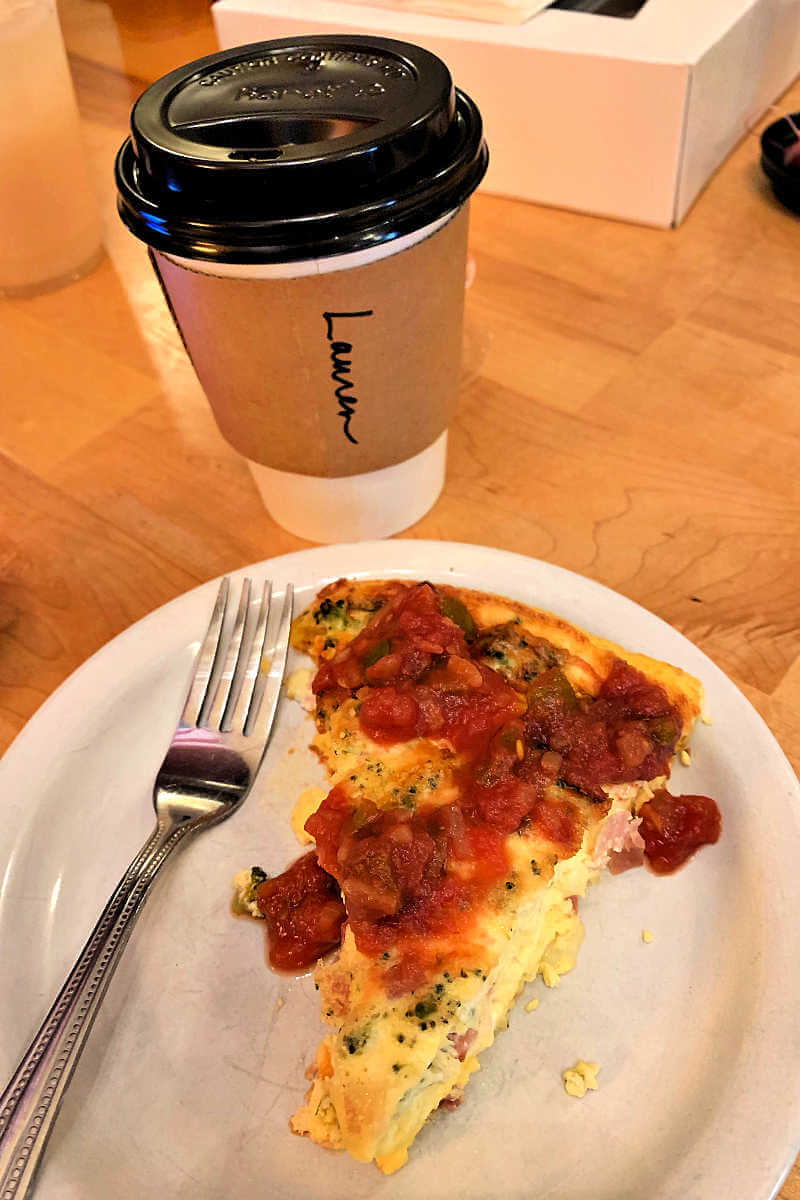 In addition, the menu offers other bistro-type foods. Soups, salads, and specialty sandwiches were all on offer when I stopped by.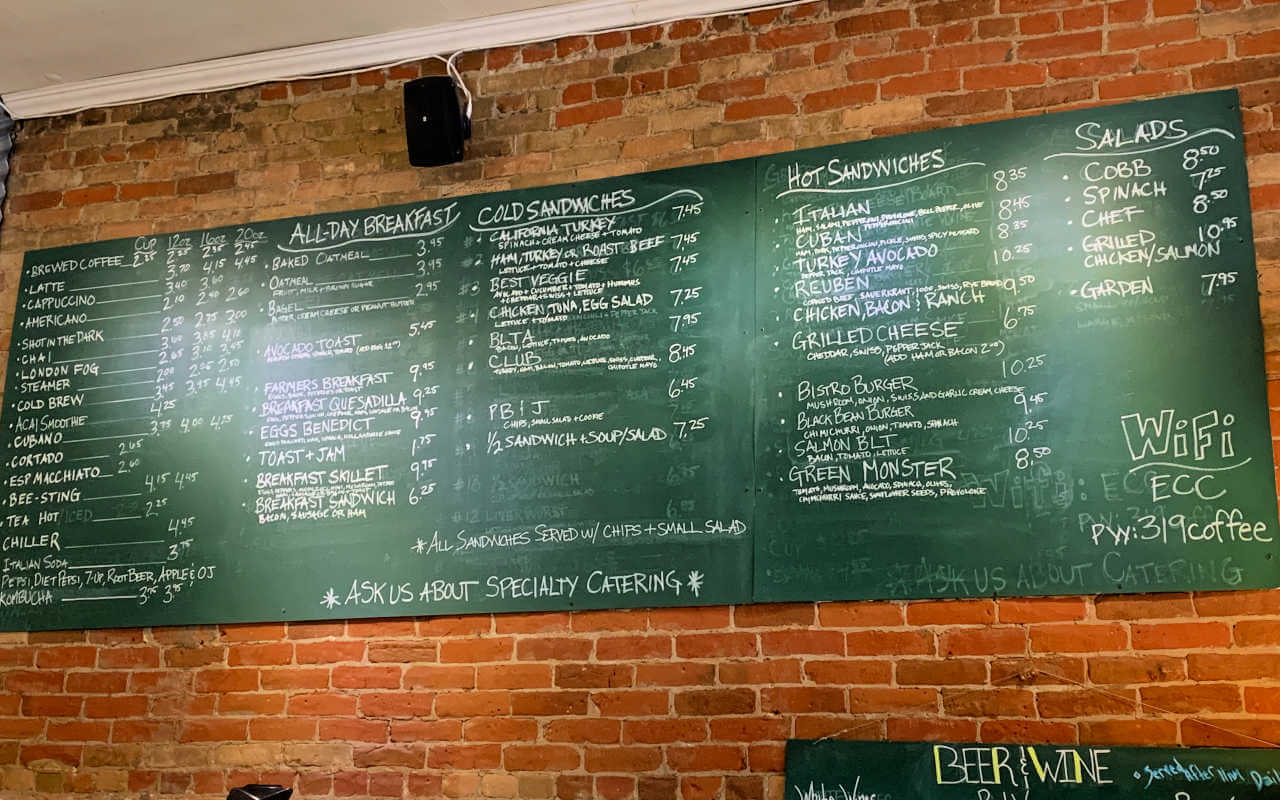 Give it a try! Just my 2 cents.
4. C.M. Russell Museum
After you've picnicked or refueled at Electric City Coffee, don't miss the C. M. Russell Museum.
Charles Marion Russell, or C.M. Russell, was an artist of the American West. He painted over 2,000 paintings of landscapes, cowboys, and Indians as well as quite a few bronze sculptures. He was born in St. Louis, Missouri in 1864 but lived much of his life in Great Falls and died there in 1926. You can see the landscape of the area in many of his paintings.
This museum is really an impressive complex as it covers an entire city block, and includes Mr. Russell's log studio, his original home, and the museum galleries.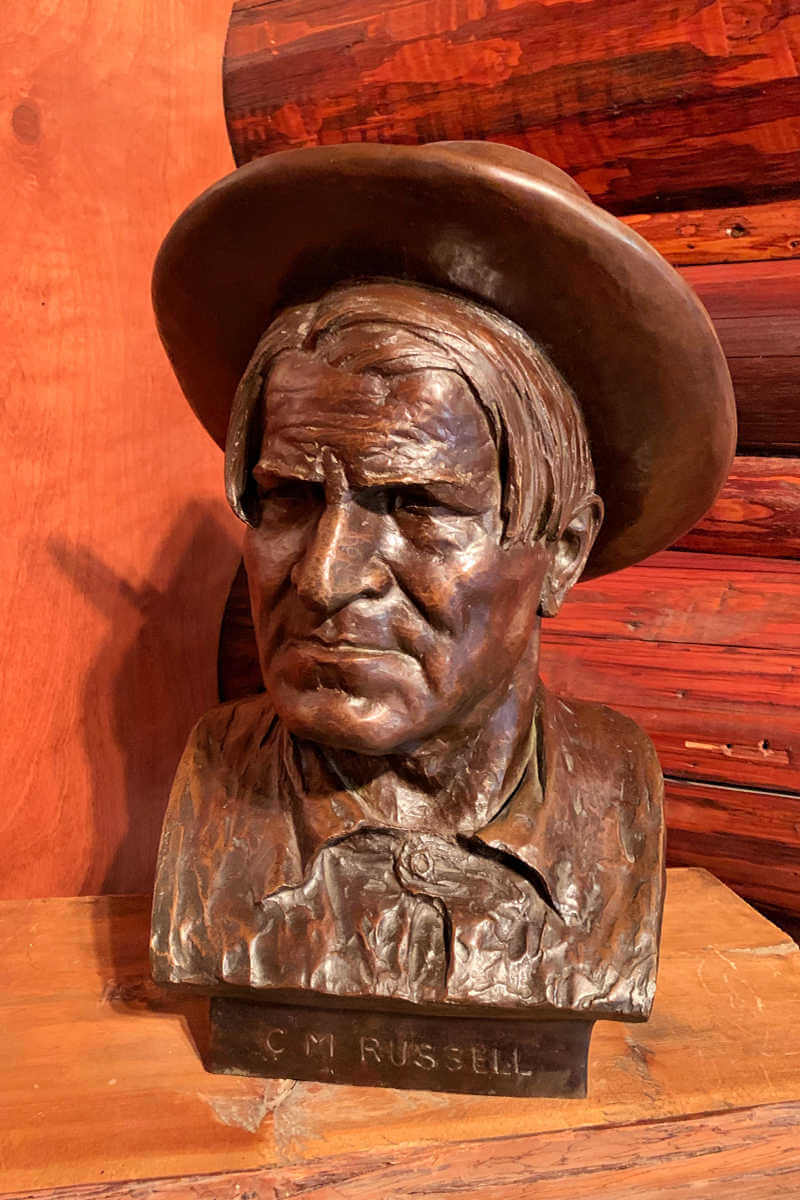 To be perfectly honest, I could spend hours wandering around this museum. Remarkably, it's the home to the largest collection of works by America's cowboy artist Charlie Russell.
Start at his beginning paintings and note the progression of this self-taught artist. I love the way he uses light and tells a story in each of his paintings.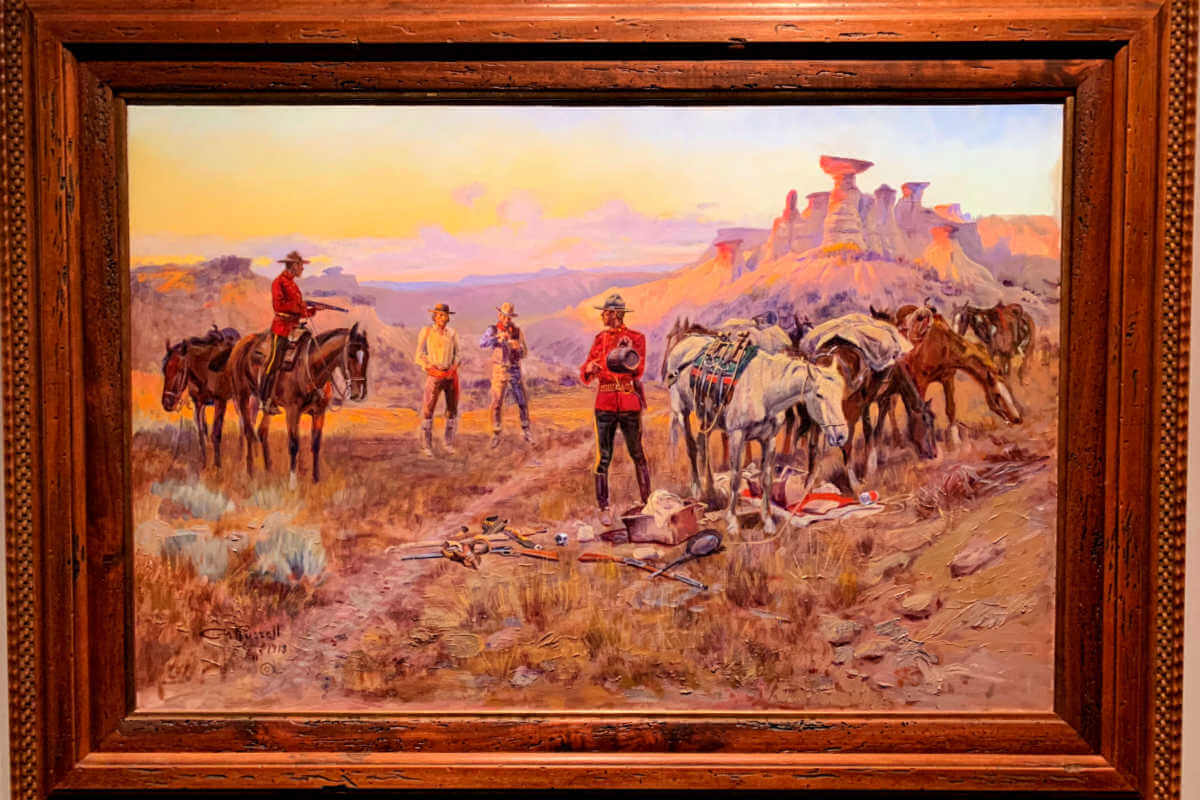 If you walk around with kids, it's a fun activity to re-tell the story from each painting aloud with words. What will each person notice in the scene or imagine is happening? I love to see personalities come out in this way.
C.M. Russell Studio and Home
Make sure you have time to visit his studio and original home as well. I decided I wouldn't mind living in his home one bit! It's certainly my style, with just a bit of modernization.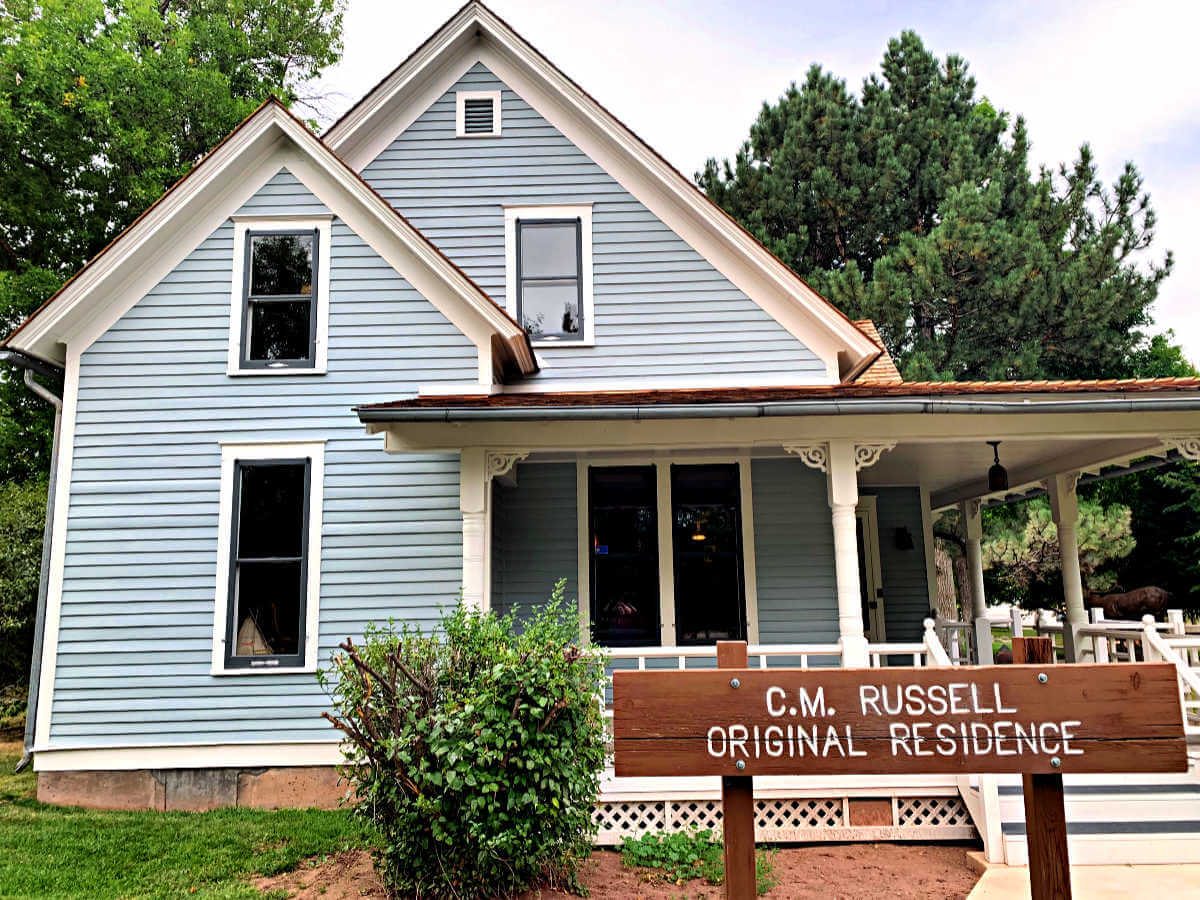 The details around the house are fun to explore. Walk in and take a look at his desk with the old-fashioned phone and typewriter. The kitchen is also interesting to see with its wood stove and all the period household utensils.
Then, wander over to the studio and note the differences from the house to the studio. What a collection of items to help inspire him in his painting!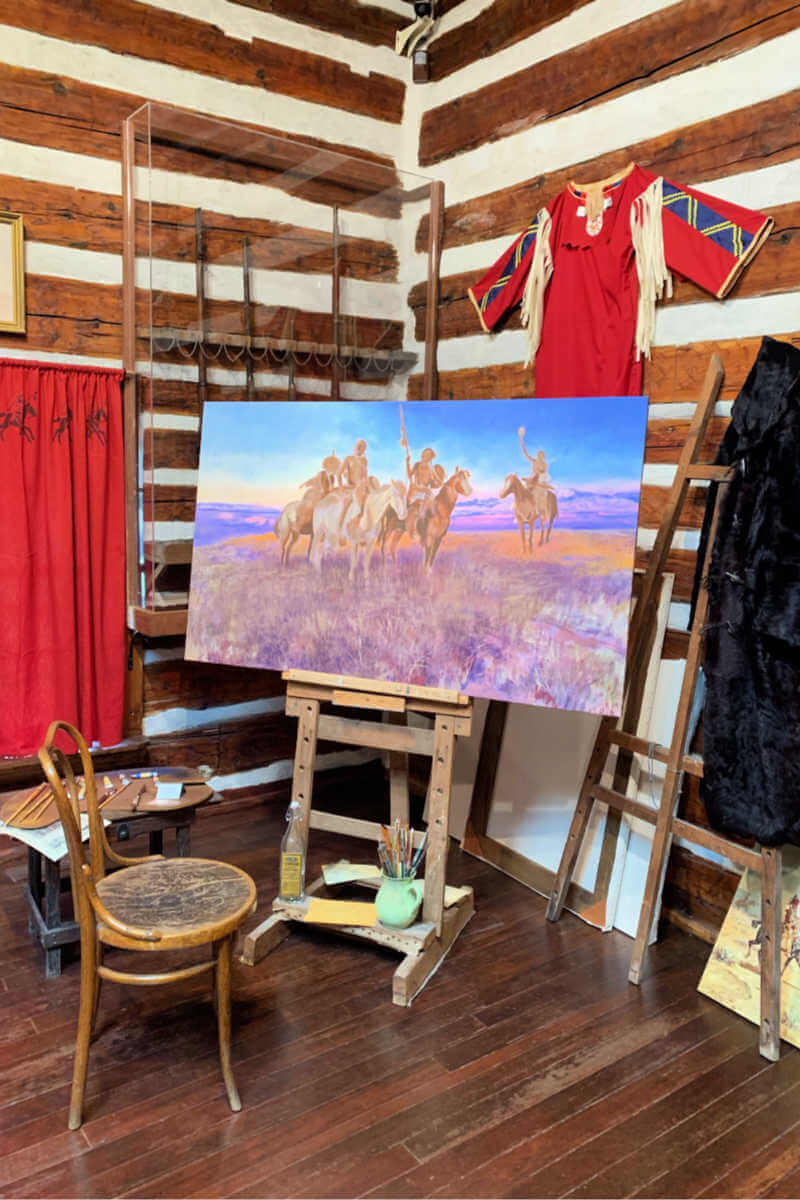 Learn more and plan your visit to the museum here: C.M. Russell Museum
5. Paris Gibson Square Museum of Art
If you get a chance, visit the Paris Gibson Square Museum of Art if only to see the amazing historic building that was once a school.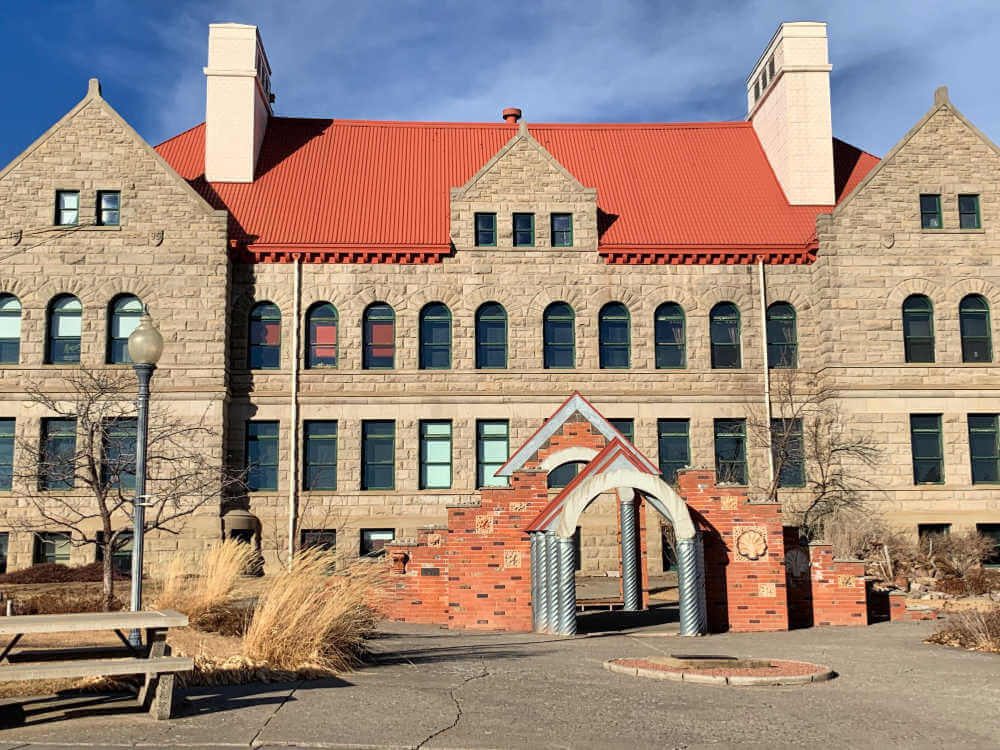 This is a contemporary art museum and has a variety of exhibits to peruse. Outside, you'll see a collection of art that used to line Montana roadways. Also, it features a Lee Steen collection of stick figures or "people trees" that are most likely like nothing you've seen before!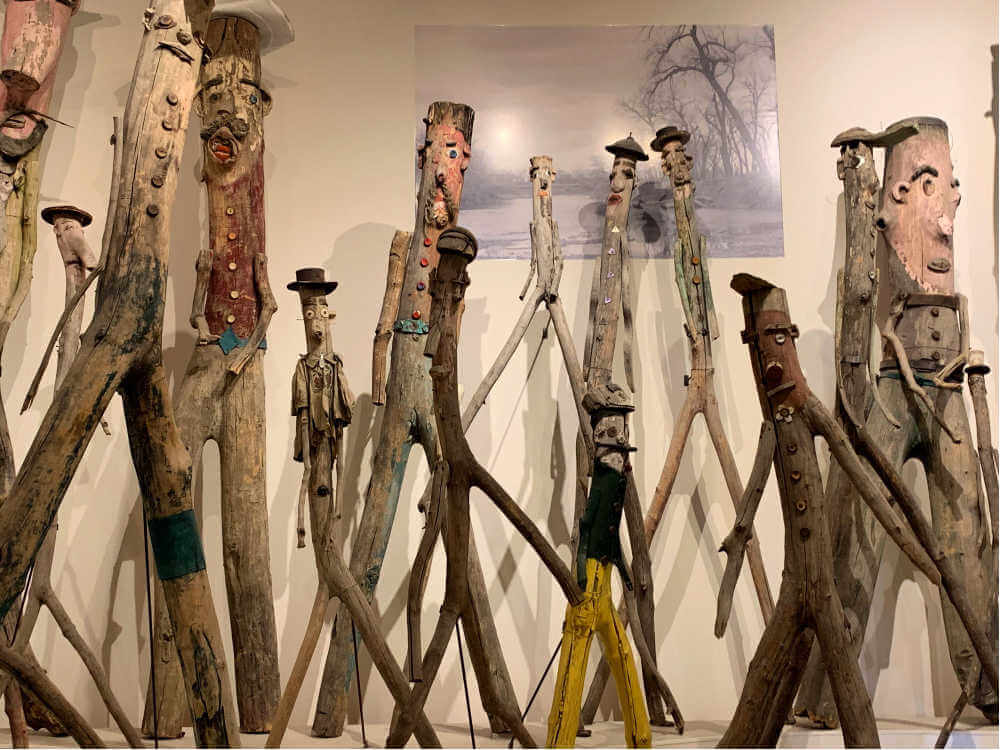 Learn more here: Paris Gibson Square Museum of Art
6. Hotel Arvon
If you're looking for a place to stay with character and history, I have to suggest the Hotel Arvon. It's a historic renovated hotel in downtown Great Falls, and a very comfortable hotel for the night or week!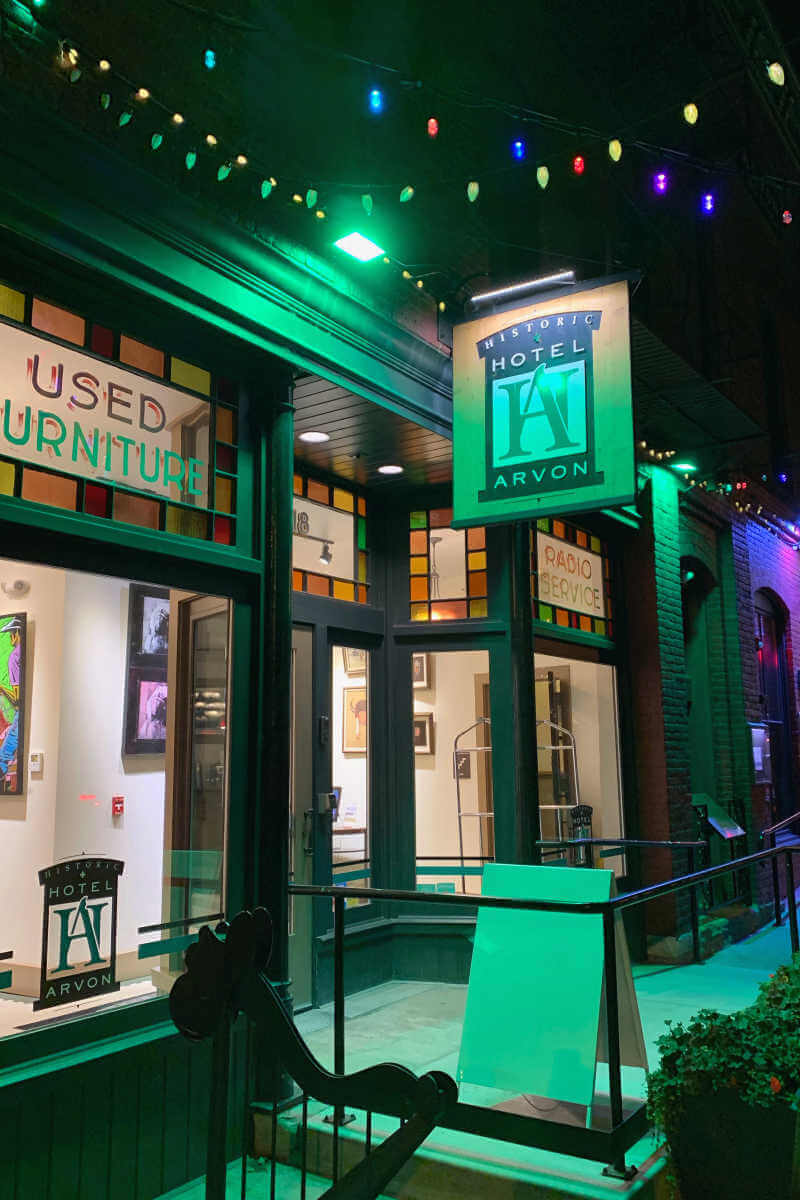 Historically known as the Arvon Block, this Oldest Commercial Building in Great Falls houses The Historic Hotel Arvon, The Celtic Cowboy Pub and Restaurant, The Darkhorse Hall, and Darkhorse Wine Snug.
The hotel was remodeled and preserved over four years and finished in 2016.
I personally found my room very cozy and convenient. Also, I loved how the modern touches mix with the old original building. For example, enjoy the gallery of original western art and other art lining the halls.
It's a unique and fun hotel I'd definitely recommend when exploring downtown Great Falls and the area.
Read more about it here: Hotel Arvon
7. Mighty Mo Brewery
412 Central Ave, Great Falls, 406-952-0342
For another great place to eat, try the Mighty Mo Brewery. It's fabulous to see businesses renovating the original downtown buildings for modern use! The personality of the place shines through, and the remodel was well done.
If you're a fan of beers and brews, try a flight in their signature fish beer flight boards. Or, if you're interested in the process, you can visit during the day to view the whole brewing process from the Mezzanine level.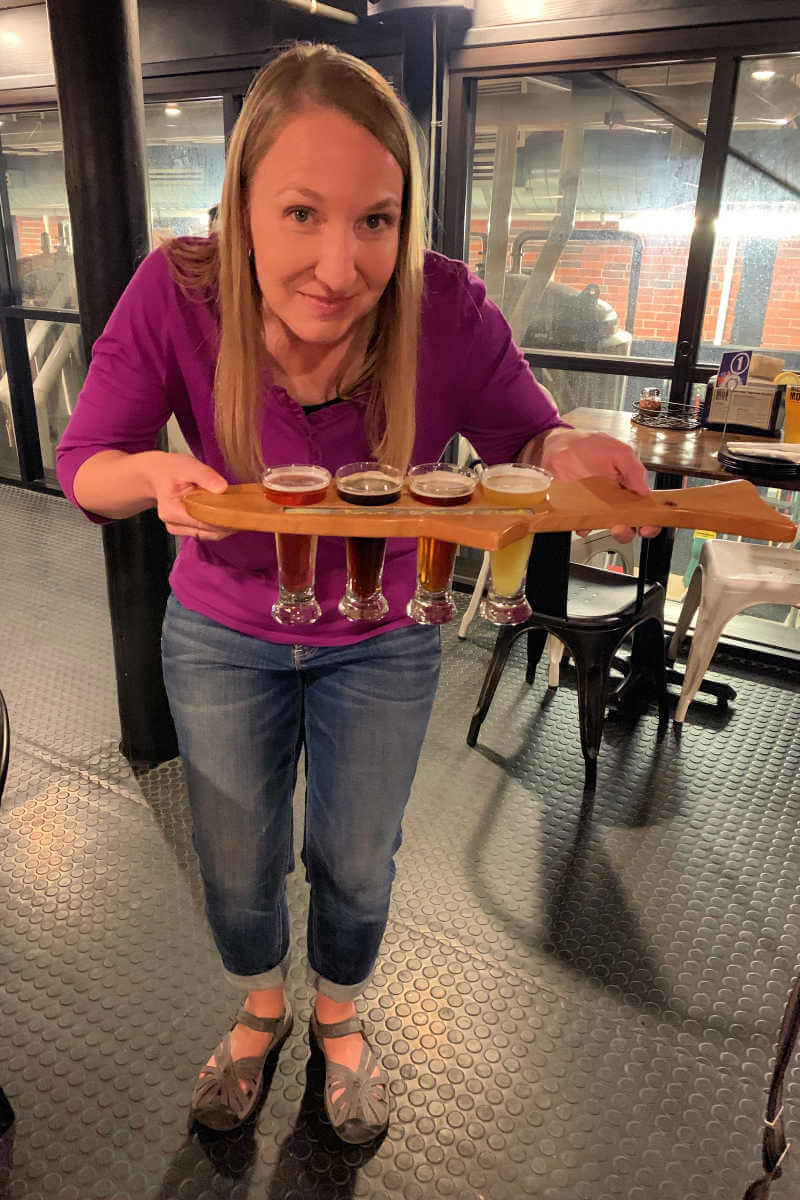 Not only do they have high quality craft beer but pizza, wings, sandwiches, salads, and appetizers. I had the half portion of "The Mighty" salad, and it was awesome! Not your everyday salad and packed with flavor.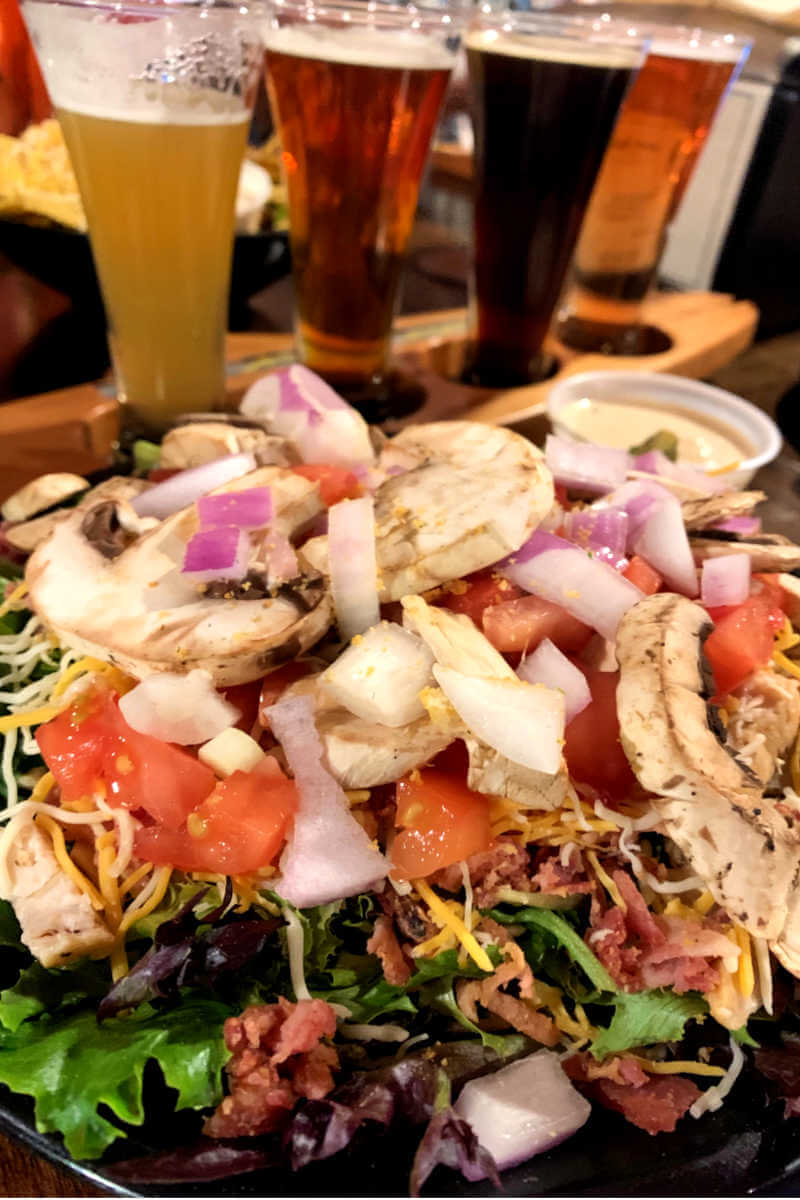 The evening I visited, I felt an even greater attraction to the place because of their support of the community.
The Great Falls Symphony was to receive a percent of every order placed that night. Therefore, it was full of musicians and supporters of the organization. I LOVE THIS, as a huge fan of my own town's philharmonic orchestra and arts programs.
Also, as a note to families, although it is a brewery, I found it very family-friendly. In fact, I spoke to a local who said she often stopped in with her grandsons who especially loved the garlic knots.
So bring the family in for lunch or an early dinner on your Great Falls tour!
8. The Sip 'N Dip Lounge
17 7th Street South, Great Falls, 406-454-2141
When I first stepped into the Sip 'N Dip Lounge, I had to pause a minute to take it all in. This is a place like no other. Actually, I felt like I might have walked into a movie from the '60s or early '70s.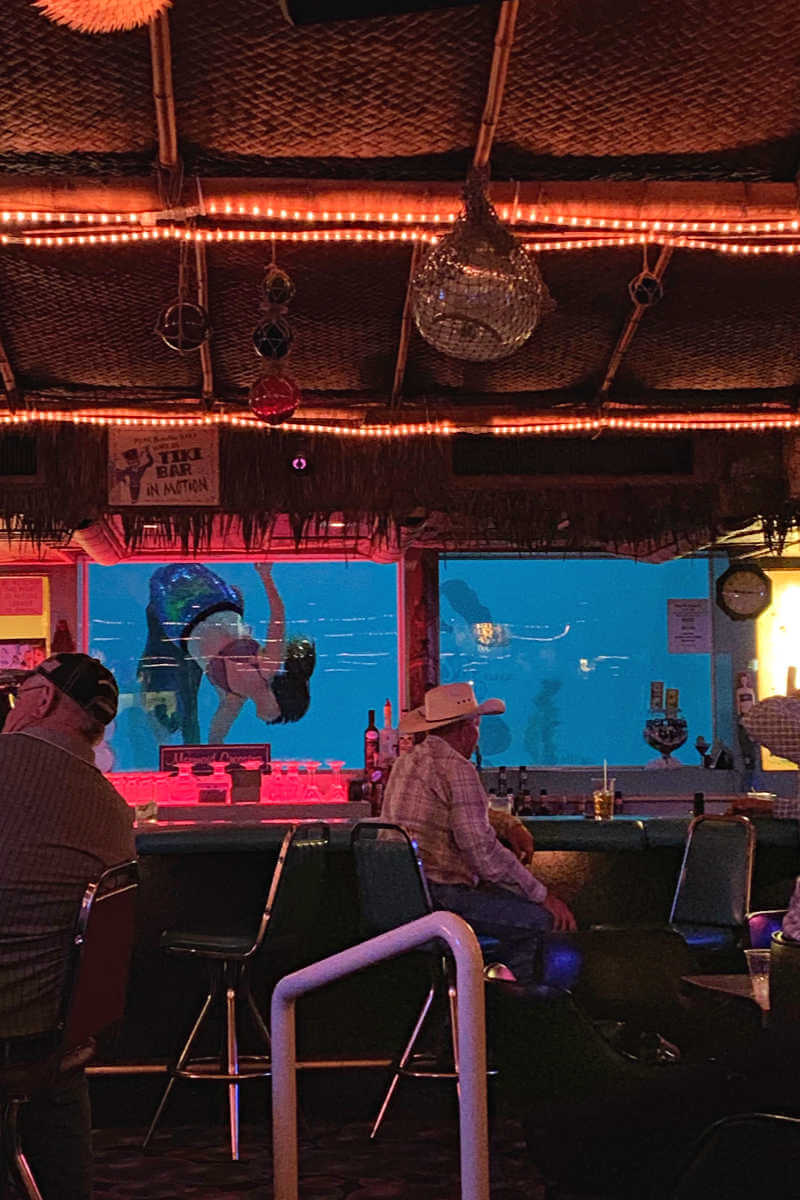 One of the first things you notice as you walk in, is the glass tank. And what do you think swims by? Why a mermaid of course! I was told that even a merman sometimes will make an appearance.
Take that in and then move on to the eclectic interior design. The bamboo, grass-woven ceiling, then the retro style formica tabletops come into view. Again, it just seems like you've stepped through some sort of passageway in a fantasy novel to another time and place.
Order a Sip-N-Dip Fishbowl to drink or to add to the ambiance and take pictures with! At times there are singers to add to the entertainment provided by the merpeople.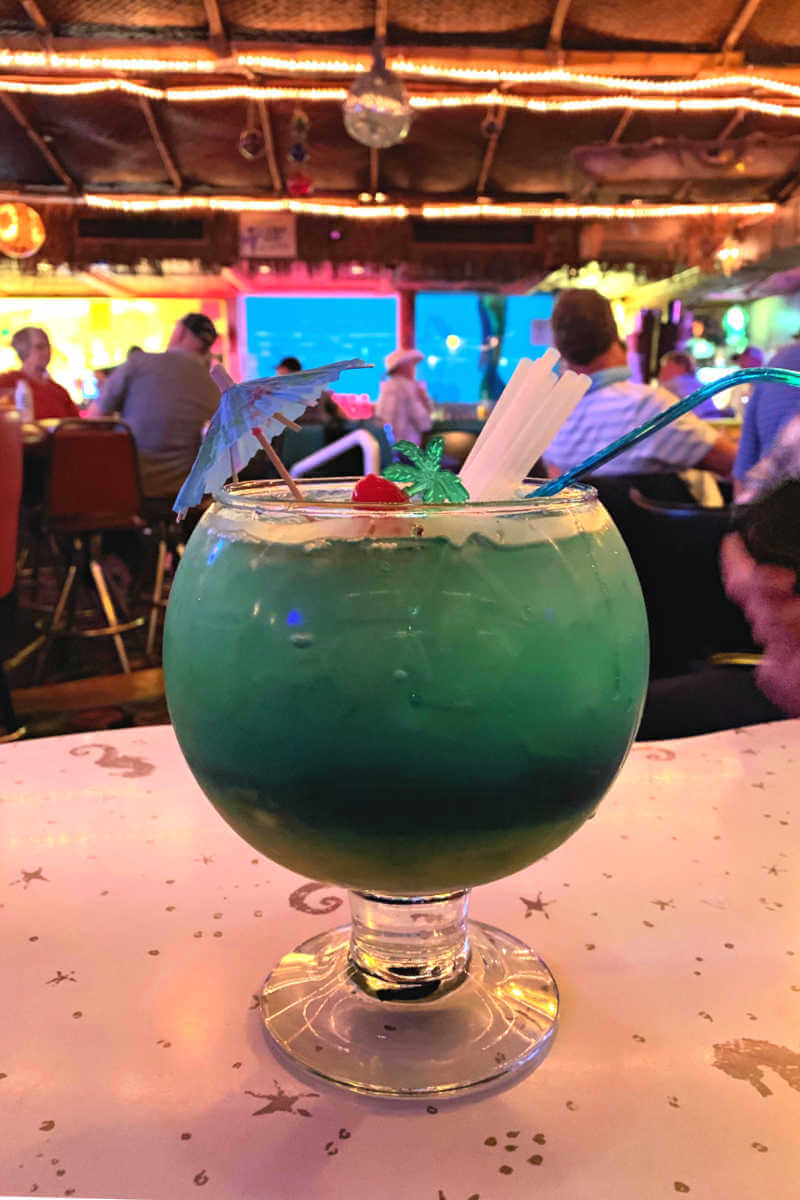 Keep in mind the Lounge is nearly always packed so plan your visit accordingly. While the evening is probably not a place for the kids, they do offer a mermaid brunch every other Sunday. This would be the time to bring the family if you want to all share in the surreal Tiki experience.
Random fact: The Sip 'N Dip Lounge was once featured by GQ Magazine as the #1 bar on earth worth flying for.
It's definitely an experience.
9. Goshawk Ecotours
One of my favorite experiences while in Great Falls was getting to meet Goshawk Ecotours.
These guys are a wealth of knowledge and have 8,000 acres of gorgeous Montana habitat at their fingertips. Moreover, they are deeply concerned with how present-day ranching and ecotourism can work together to preserve these pristine landscapes.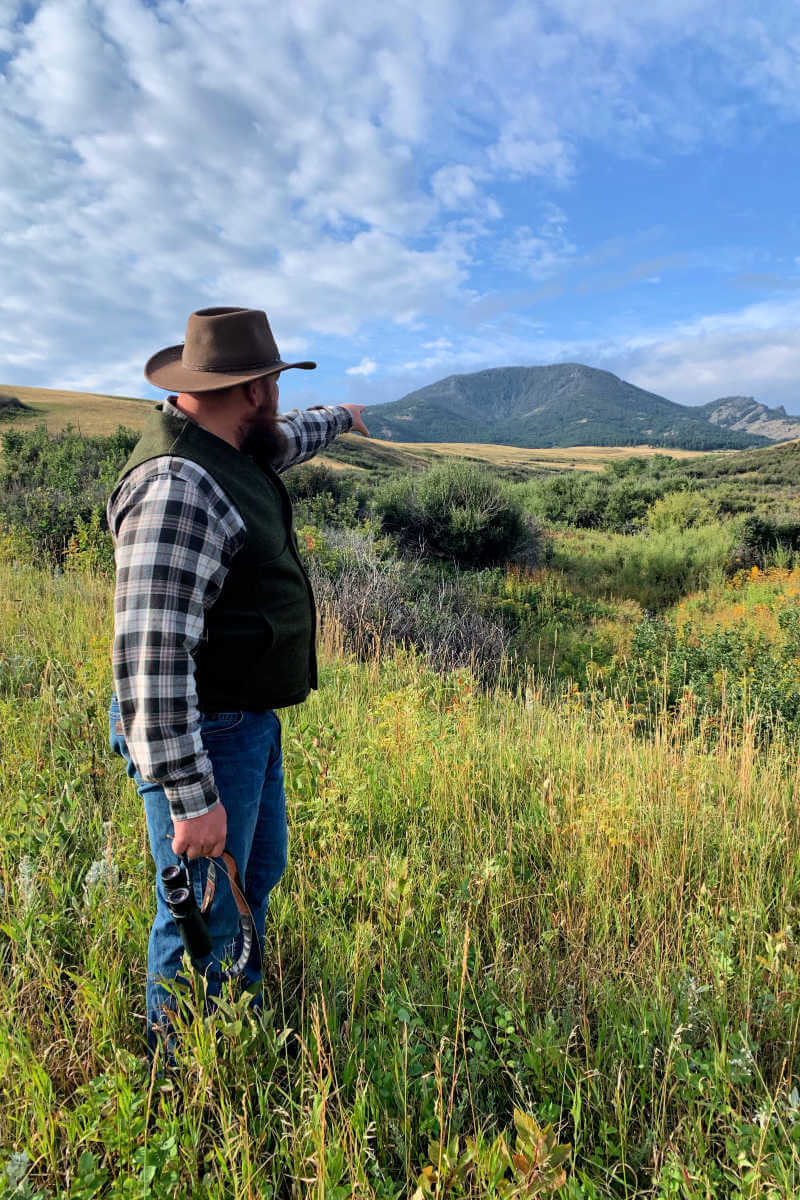 I was lucky enough to be a part of one of their morning breakfast and bird watching tours with a guided hike.
Now, I'm a Colorado girl, and while I don't get out camping as much as I might like, one of my favorite parts of it is the quiet morning around the campfire.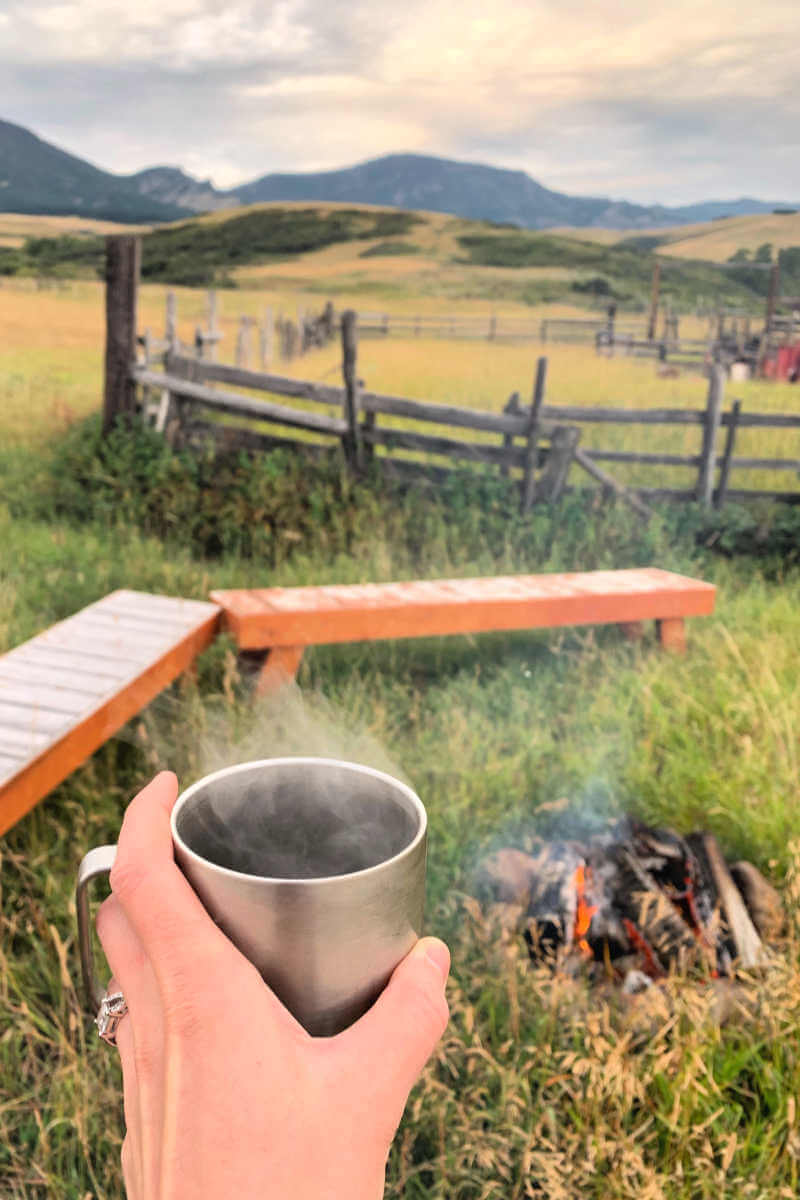 A cool morning by the campfire with cowboy coffee, overlooking an incredible landscape. What more do you want?! It's truly the ultimate de-stressor and relaxation.
Therefore, when our tour started out as a motorized tour around the ranch and dropped us at a campfire I was pretty happy. The Montana mountains and prairies have a different look to them than those in Colorado.
Sitting there with my coffee I was excited to see buttes in the distance. I had a moment to imagine and reflect on Charlie Russell himself incorporating them into one of his paintings.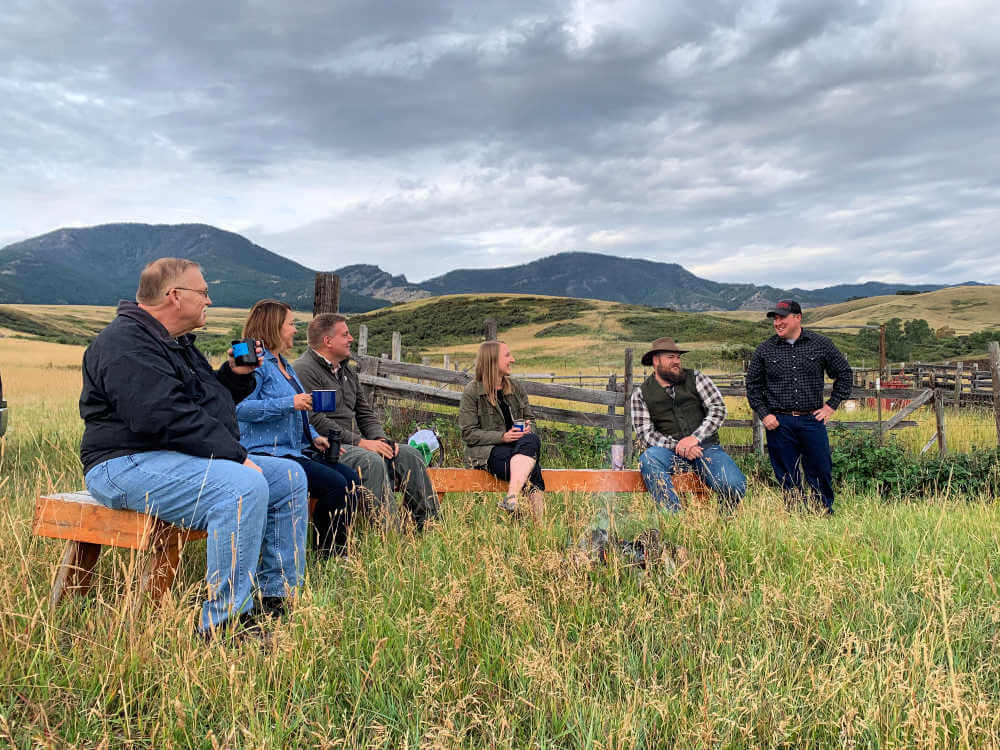 Our guides John and Josh sat around the campfire with us and talked about ranching and the wildlife that could be seen around.
We saw quite a few species of birds just from that location with binoculars and a scope. All sorts of raptors to chickadees and other smaller birds (you can tell I'm not a bird-watching expert).
Once sufficiently relaxed, they got us up and ready for a short, guided hike. It was a great experience to view the flora and fauna of the area. Our guides told us about the plants around, like sticky curlycup gumweed, the birds, and other wildlife. We were also regaled with stories about the sleeping giants in the mountains and how to navigate your way around.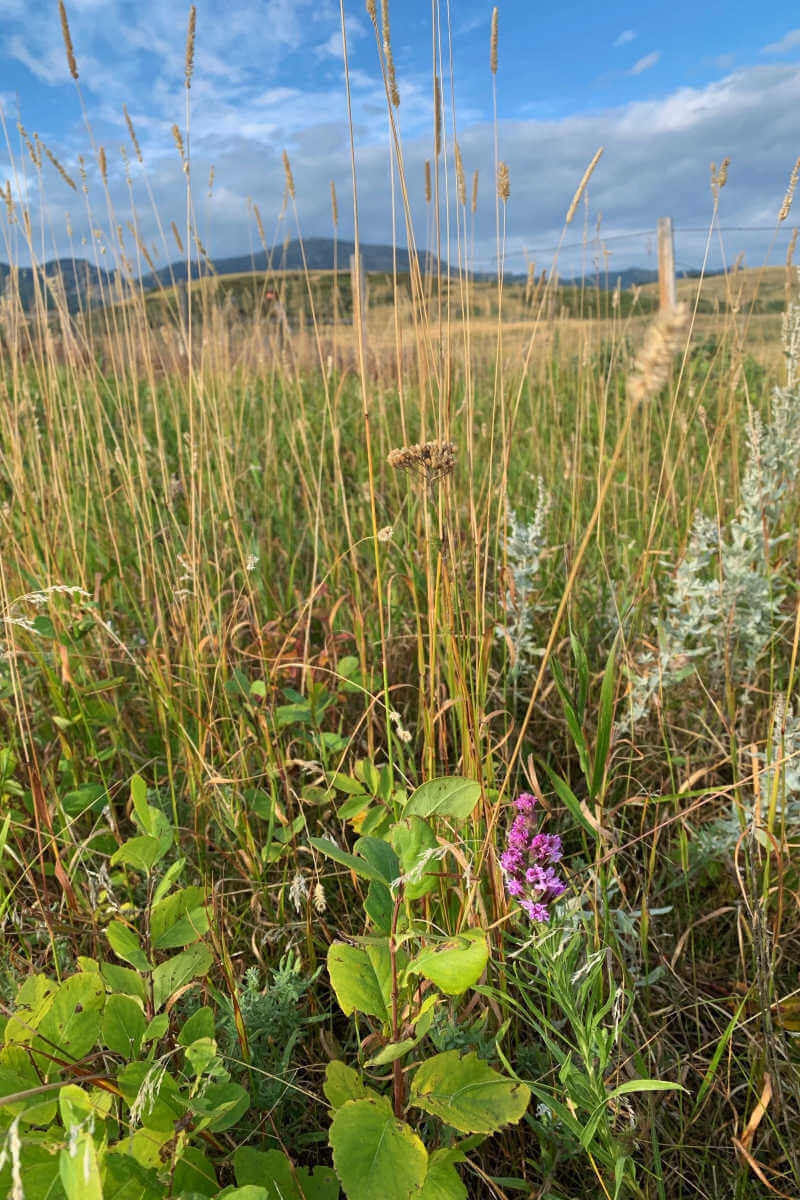 Why Goshawk Ecotours?
It was a gorgeous day with good company. If you're in the area I highly recommend you contact Goshawk Ecotours. They personalize their tours depending on what you want to do and who's with you.
I was grateful for John's advice about several bird-watching apps I got to share with my kids. This is the perfect family activity to get out into nature and learn about the wilds of Montana.
Their specialties include bird watching, wildlife viewing, and interpretive hikes. For more information visit: Goshawk Ecotours
10. First Peoples Buffalo Jump State Park
For a powerful history lesson, stop by First Peoples Buffalo Jump State Park. This cliff is possibly the largest bison cliff jump in North America. The groups of Native peoples (thousands of years before Lewis and Clark came through) used the cliff for hunting. They would actually guide the buffalo herds to the tops and get them to stampede and push themselves off the cliff.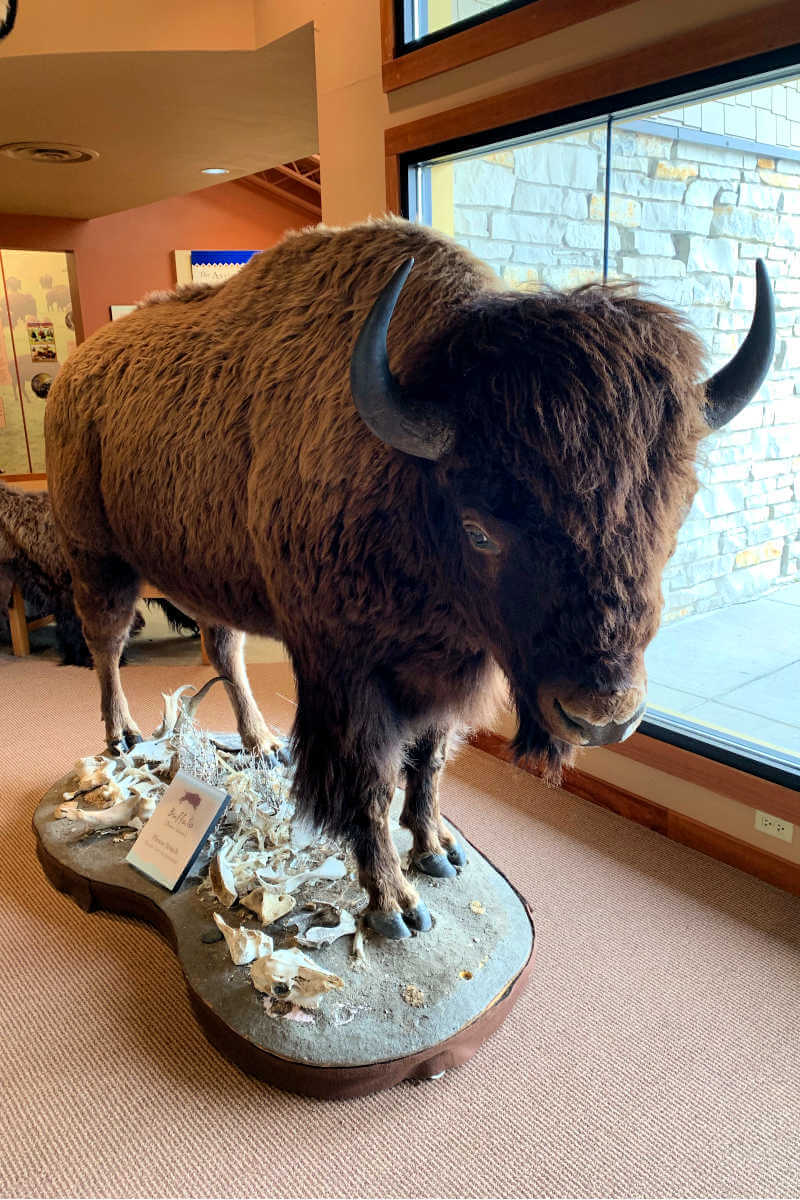 Then, at the bottom of the cliff they would take the meat and all the parts of the buffalo they could use. Bones were left at the bottom, making it obvious to archaeologists how this natural area was used. There are actually up to 18 feet of compacted buffalo remains at the bottom of the cliff.
Fascinating for kids and adults alike, you'll want to tour the education Visitor's Center. Ask questions of the very knowledgeable Park Manager Clark Carlson-Thompson or other rangers.
If you have kids with you, be sure to sign up for the Junior Ranger program or attend one of the Junior Ranger talks. Then hike up on the interpretive trails to the top of the cliff.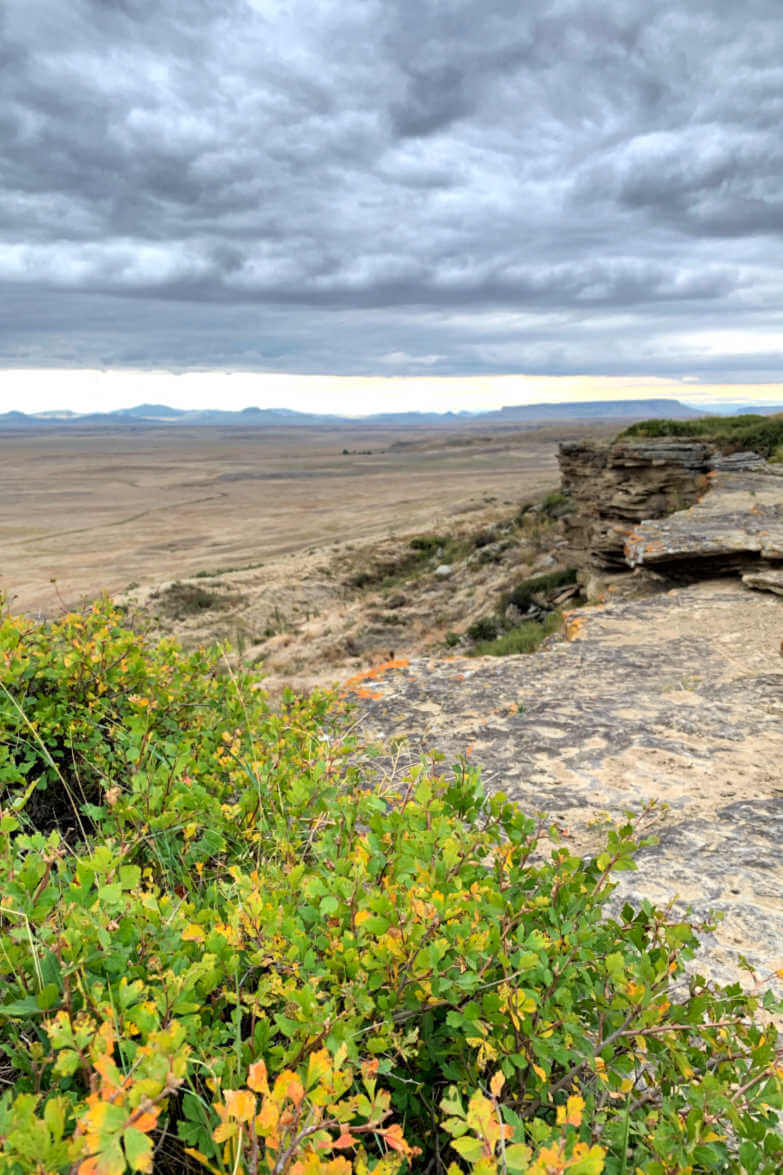 Can you imagine if you were the person trying to get the buffalo to follow you? Where would you run, jump, and hide as the buffalo barreled off the cliff?
Learn more here: First Peoples Buffalo Jump State Park
11. Float the Missouri River by raft with Montana River Outfitters
Are you ready to float or fish the Missouri River like Lewis and Clark? Or maybe like Brad Pitt in A River Runs Through It? Or perhaps you'd like to float under the bridge where Kevin Costner and Sean Connery shot everyone up in The Untouchables.
Of course there's always the beauty of canyon to consider. And it is pretty amazing.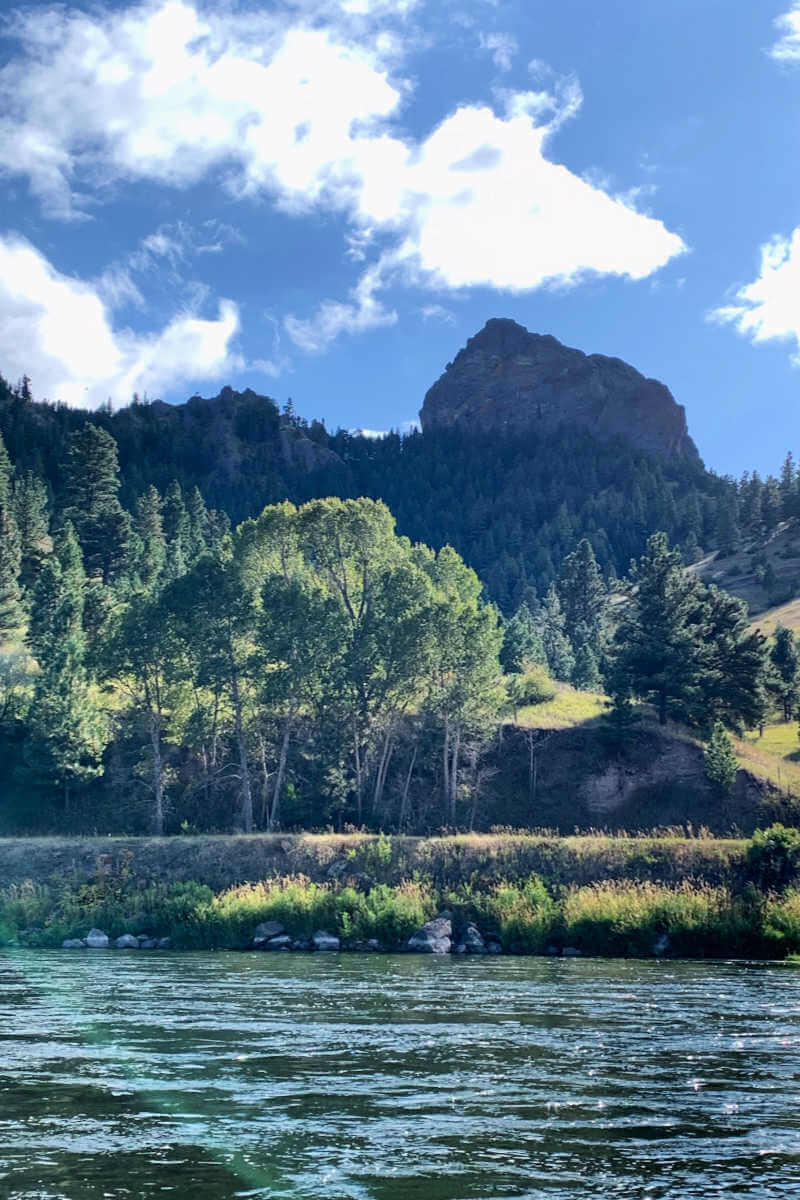 I got to go on the Missouri River "Canyon" Trip with Montana River Outfitters and had a grand afternoon on the river. We launched at the Mid-Canon fishing access site and floated down to the historic Tower Rock State Park and got out at the Prewett Creek Campground.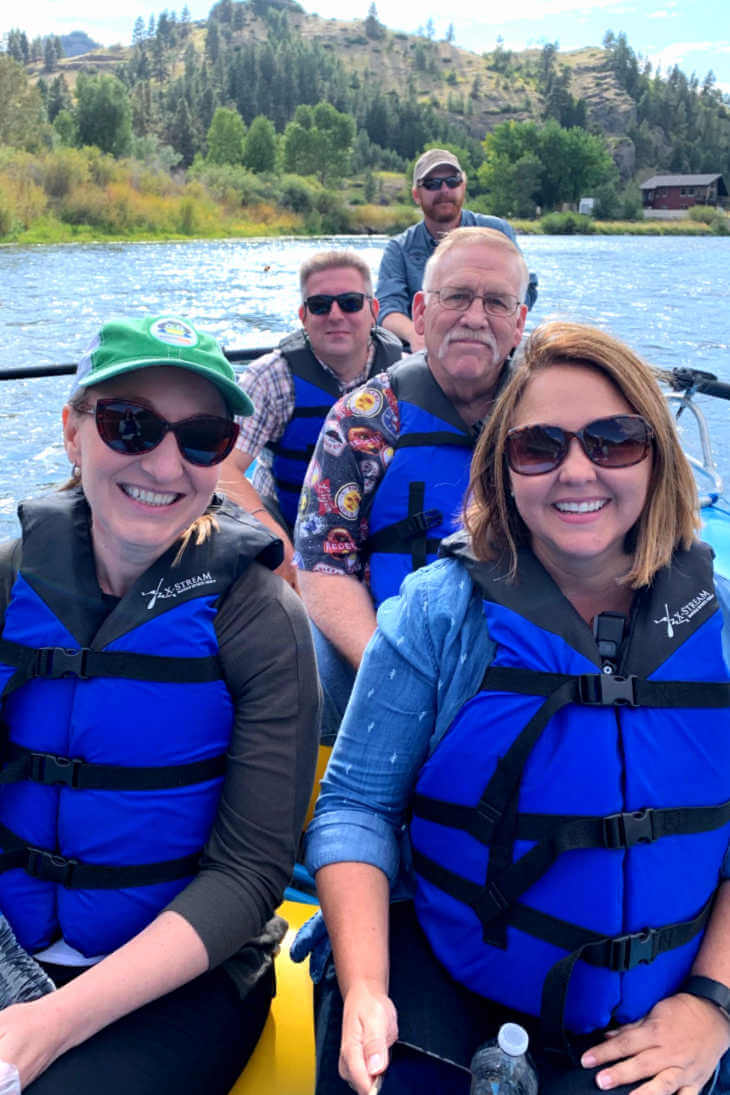 We saw cliff walls of igneous rock, forests, meadows, a bald eagle, and gorgeous scenery. Oh, and of course, the bridge from the shootout scene in The Untouchables, as I keep calling it. Or the Hardy Bridge.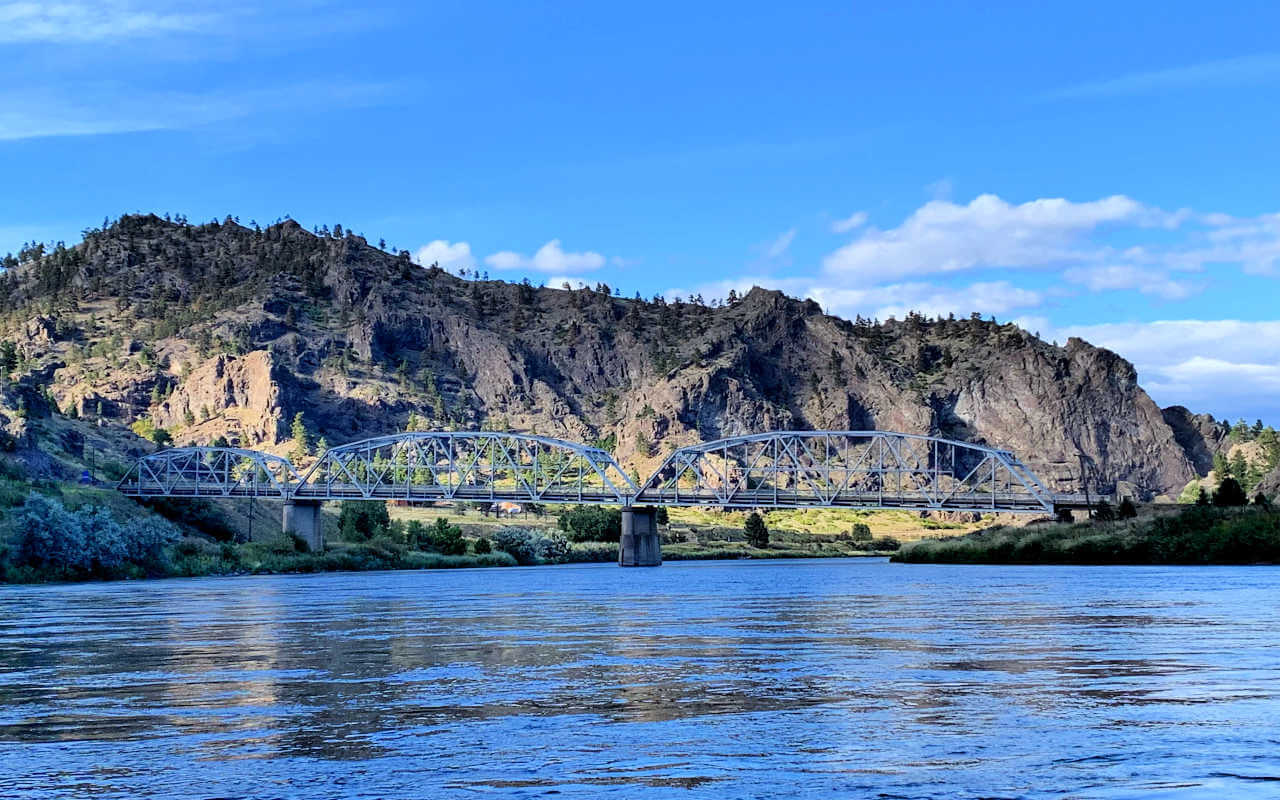 Learn more or contact: Montana River Outfitters
I had a great time, and I can imagine fishing it too. In fact, the entire way I know my husband would have been itching to get a line in the water. When we got out, we were ushered into a delightful place called the…
12. Hidden Canyon Lodge
I think about the Hidden Canyon Lodge right now and still my taste buds get all happy. After a day fishing or exploring the Missouri River, what better way to end your day than with a fabulous meal?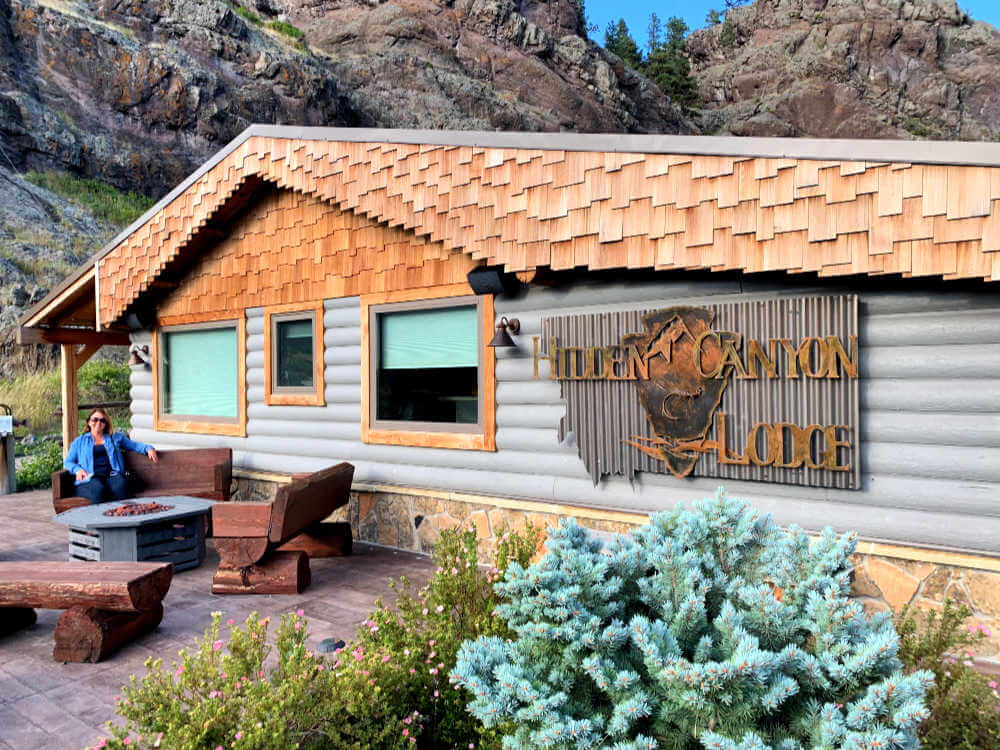 The interior of the lodge is tasteful and comfortable Montana mountain style. You can go get a drink, maybe a Montana Mule, in a mug covered with fishing flies. Sample the cheese appetizers and discuss the days' events. OR that big one that got away.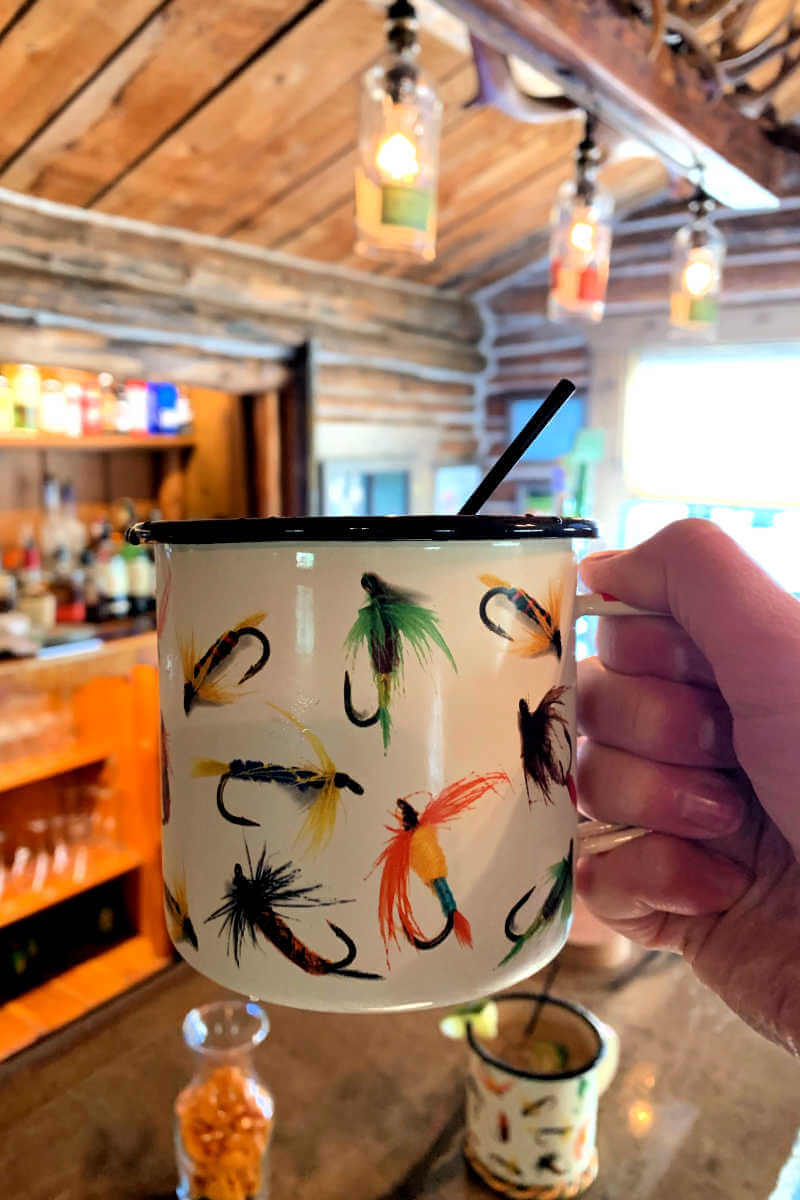 I can't say enough about our meal that night. I'm afraid I did not stick to my keto rules and let myself enjoy it. We started off with a pear, apple, walnut, and feta salad with a balsamic vinaigrette.
Then (and can I have another one of these?), it was a filet mignon topped with lobster, asparagus, and a hollandaise sauce. There was a side of squash, potatoes, and Brussels sprouts. Yes, indeed. Just imagine all those flavors if you will, just be careful, you might drool.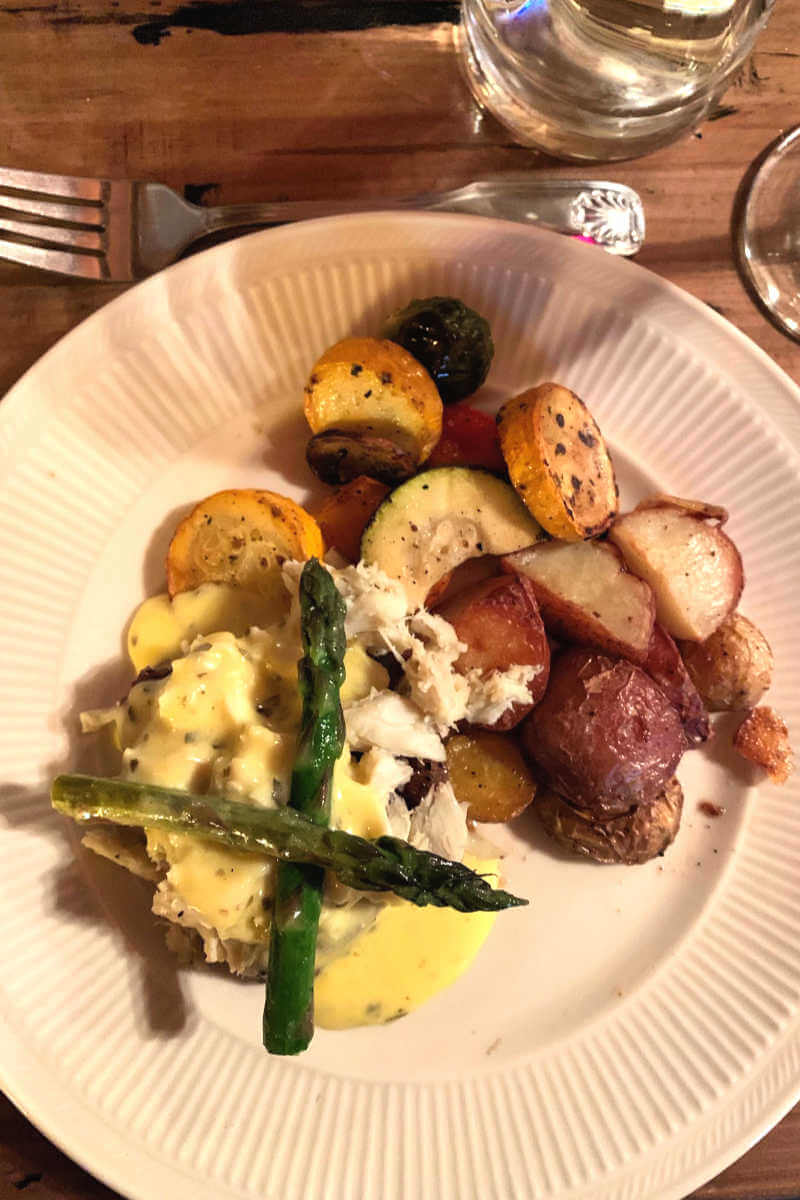 Finally, for dessert we finished with a super-moist chocolate cake topped with huckleberry ice cream and whipped cream.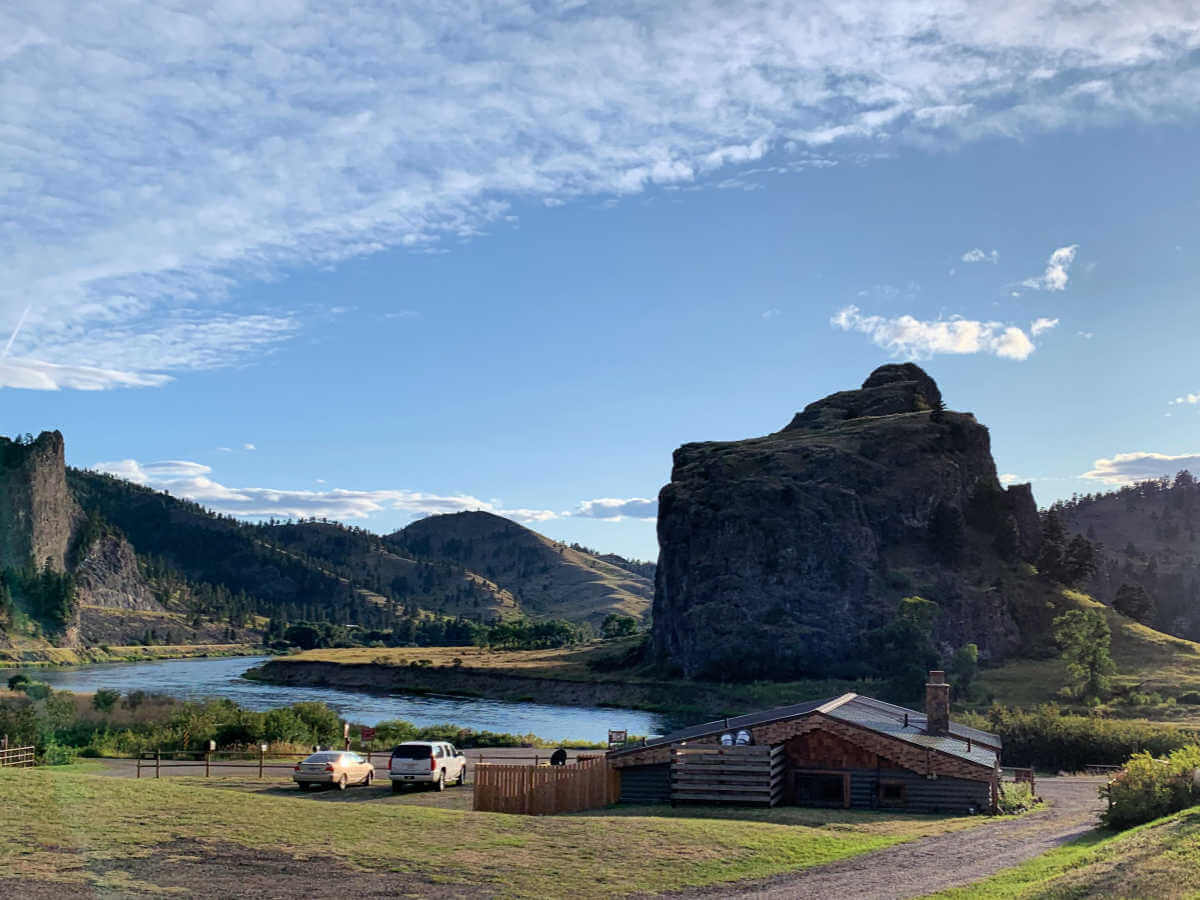 Do contact them and find out about their accommodations as well: Hidden Canyon Lodge
I'm pretty sure you'll love it.
Great Falls MT Family Vacations
You can probably tell by my exclamations and pictures this was a fabulous trip for me. It was totally my style, and perfect for families. If you ever have the chance get up to Great Falls and on the way check out my things to do in Fort Benton Montana as well!
Other resources for things to do in Great Falls MT:
Pin this article for later here: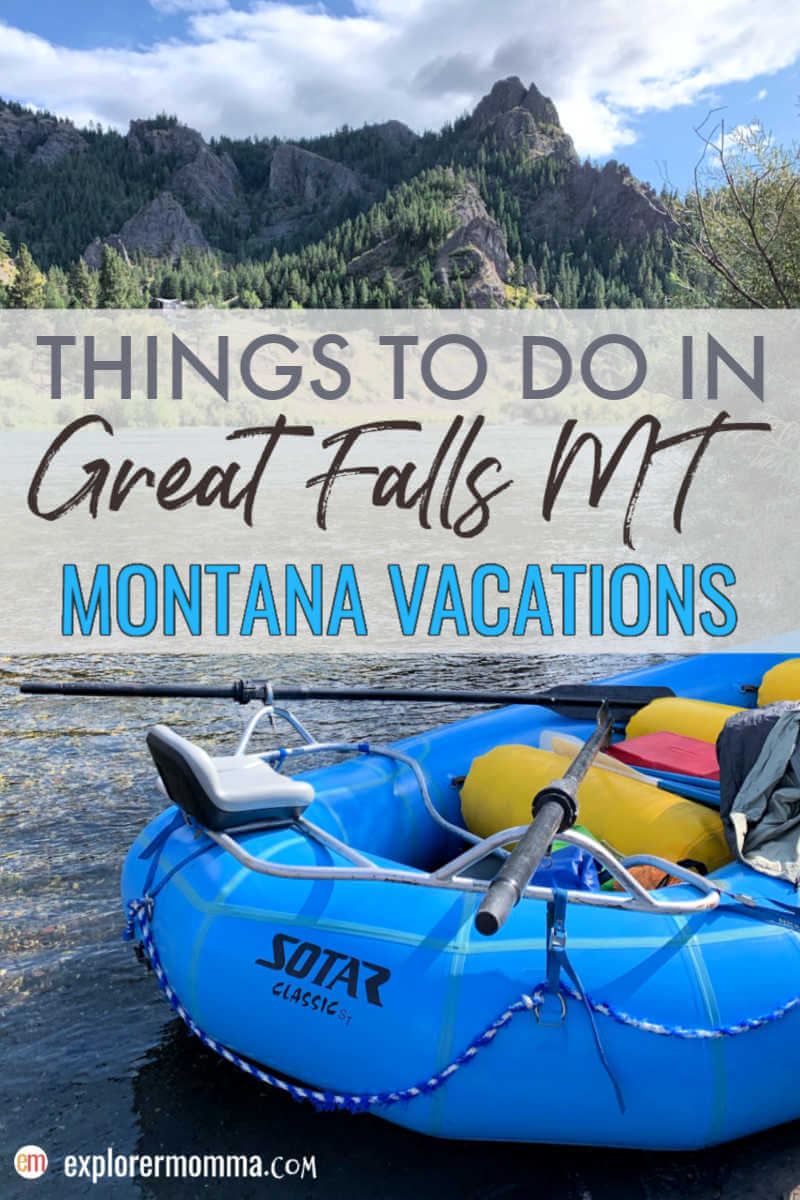 Follow me on Instagram and tag me in your Montana travel pics @explorermomma! I'd love to see them!
Check out some other great USA family adventure destinations:
1. Best Estes Park Hikes for Kids, Colorado
2. Top 10 Things to do in Ruidoso New Mexico
3. Owego New York: Top Things to Do
4. Things to do in Fort Benton: Montana Vacations