Preview: I truly fell in love with the beautiful and historic Tioga County, New York. In this article, you'll find my favorite things to do in Owego New York.
What are the top places that come to mind when you say, New York? Of course, there's New York City with Long Island, Brooklyn, the Bronx, and more. All fascinating places with their own cultures within the city in their own right. But what of the rest of the state? If we get out of the big city what do you think of? You might name Niagara Falls, but if you're not from the area I want to introduce you to one of the friendliest, most beautiful, and definitely historic counties in the state, Tioga County.
Believe me, you will want to visit this hidden gem! Especially if you drink in history like I do, or if you just want to eat and drink well and enjoy yourself, Owego is a fabulous find!
Did you know I walked in the same places as Teddy Roosevelt? Looked at the same beautiful Susquehanna River and walked in and around the same beautiful buildings he did? My inner history nerd jumped up and down with joy the entire time I was there.
Disclaimer: This is a sponsored travel post for which I received financial compensation and/or complimentary travel accommodations. All opinions are my own.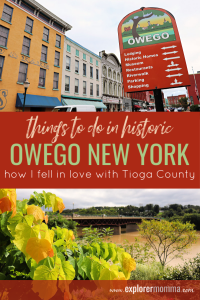 Where is Owego New York?
Owego New York is a village located in south-central New York, in Tioga County, USA near the border with Pennsylvania. It's on the edge of the beautiful Finger Lakes region and only about a 45-minute drive from the Elmira/Corning Airport or 3 and a half to 4 hours from New York City. I would suggest getting a rental car to explore the entire area if you don't drive in yourself, just to make your stay more flexible.
Top things to do in Owego New York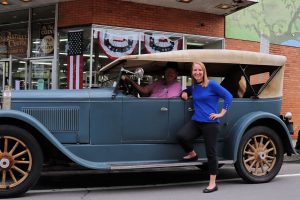 1. The Belva Lockwood Inn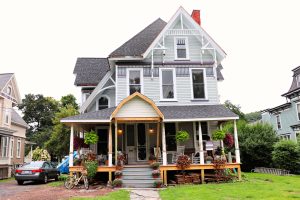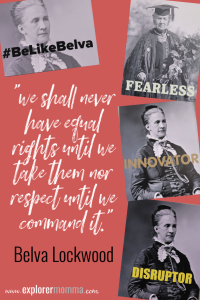 Have you heard of Belva Lockwood? I, who at times obsess on history and the women's rights movement, had not. But never fear, let's remedy that injustice. Belva Lockwood was born on October 24, 1830, neither to wealth or privilege or any real hope of a good education. She persevered against hostility and became the first woman admitted to the bar of the U.S. Supreme Court after successfully lobbying to admit women lawyers. She was bold and ran for president, not once but twice, for the Equal Rights Party.
For a time Belva Lockwood ran a school in Owego New York before she moved to Washington D.C. to pursue her political career. That school was at this very property, recently renovated and now being turned into the fabulous Belva Lockwood Inn. Can I tell you a little secret? I got to tour the property and heard the Belva Lockwood story from the owners Ike and Julie Lovelass themselves, recently featured on House Hunters, (another thing I love). Check out that episode here!
Truly, I cannot WAIT for it to be finished later this year so I can come back to stay and do some more exploring. If you want to be among the first to stay at the Belva Lockwood Inn, be sure to take advantage of the $100 voucher for an overnight stay (30% off) you can get it here (as long as it's offered!).
2. Walking tours – Historic Homes, Evergreen Cemetery, Courthouse Square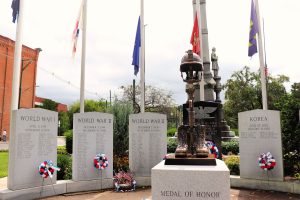 There are several walking tours of Owego with brochures available at numerous locations around town. The Tioga County Visitor's Center is located at 80 North Avenue, Owego, New York and is certain to have them. To begin I'd suggest the Courthouse Square Walking Tour where you'll learn about the Tioga County Courthouse, the Civil War Soldiers and Sailors Monument, Veterans Memorial, and more!
When you enter Owego you will also immediately notice the beautiful historic homes along the streets. There is conveniently a cell phone self-guided walking tour of Owego's Historic Homes! All you have to do is start at the Susquehanna River Bridge and Front Street and dial 607-345-4080. There are also maps and brochures available for this tour. I love learning about the people and the stories behind the old buildings!
If you're really interested in the people who lived in the area there's also an Evergreen Cemetery Walking Tour where you'll learn about characters such as Lyman Park Truman, 1829-1881, the "Millionaire Banker of Owego". Introduce yourself to naturalist author J. Alden Loring, 1871-1847 who traveled with Teddy Roosevelt on his year-long African safari and Dr. Helen Dean King, 1869-1955 second only to Marie Curie of France in her achievements in genetics and embryology at the turn of the century, one of the few women to hold a professorship in research work.
3. The Cellar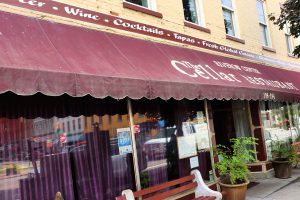 With all that walking you're going to need some sustenance! I highly recommend the locally owned restaurant, the Cellar on the River. They have their traditional menu items that have been on the menu for 10 years or more, such as the Lobster Thermidor Fondue (please try this as it's absolutely amazing!). Also, they're always trying new menu items and actually smoke their own meats and fish for dishes. As you may know, I eat keto, and the Cellar Tap had awesome options like pastrami and swiss with house-made Guinness mustard, salmon lettuce cups with caper cream, smoked tuna salad stuffed tomatoes, and more.
The Cellar Tap is the front seating area with a bar near the street, but there's more formal dining in the back and beautiful Susquehanna Riverview Dining Room. Who doesn't want to enjoy their meal with an amazing view of the river? Top it all off with some fresh berries and champagne sabayon and you'll be one happy traveler.
4. Tioga Arts Council Events – Cloud Croft Studios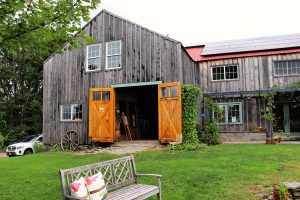 Owego also has an active and impressive creative arts community. The Tioga Arts Council appears to do an amazing job cultivating the local arts and celebrating artists. I was lucky enough to attend an exhibition at the picturesque Cloud Croft Studios, an almost story-book location with a beautifully updated barn and swimming pond, perfect for fishing. I have relatives who are professional artists, and this place and the wonderful people who welcomed me there reminded me of my own family. For a moment, my inner Bob Ross awakened and I longed to paint and return to my father's old workbench to perfect my stained-glass techniques. Do visit and support any of the local exhibitions.
5. Riverow Bookshop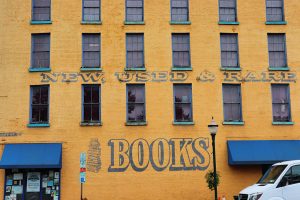 I am a book nerd, lover, obsessor, whatever title you want to place on it. Who doesn't absolutely love to look through local bookstores? In the Riverow Bookshop you can peruse THREE floors of books and enjoy tea or a glass of wine while you do so. Does that not just sound like heaven? Take an hour or two, or an entire afternoon and just relax and commune with the books, or talk with the store owner and helpers, take your pick.
6. Take a ride with Jim and go antique shopping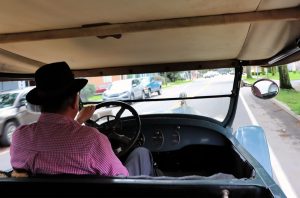 Is antique shopping your thing? I adore antique shopping and can be drawn in for hours looking at items and thinking about their past owners and uses. It can take hours for me to find that perfect souvenir or necessary item for my kitchen, and I drink in every minute of it. When you're in Owego, be sure to stop in to the Early Owego Antique Center. You'll find quality antiques and interesting stories about the area. And if you're really lucky you might talk the owner into showing you his antique car or even giving you a ride around town! Everyone at the store is amazingly friendly and full of pride and stories about historic Owego.
7. Calaboose Grille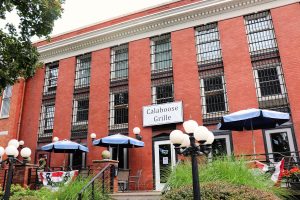 Are you looking for a dining experience unlike any other? How would you like to eat in an old jail cell? Why not, I say! The Calaboose Grille is dripping with character and good food. "Calaboose" is evidently an old Cajun slang term for jail, and the restaurant maintains that atmosphere and much of the original architecture with the bars still on the windows and cell outlines, but with a quirky modern twist. In addition, it's also a stop on the Haunted History Trail of New York State so be sure to ask about the mysterious occurrences like glasses moving around and pictures flying off of walls! Gasp.
8. The Owego Riverwalk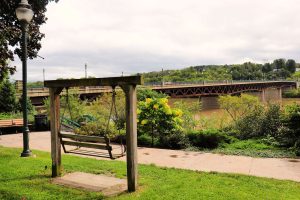 If you have some extra time during your stay in Tioga County, get out to enjoy nature and get some exercise! The impressive Susquehanna River is a huge part of life in Owego and locals and visitors alike love the beautifully landscaped Owego Riverwalk. Walk from Draper Park to Ahwaga Park, watch for birds along the water, take some photos, or go fishing! I was shown a black and white photo of one of the old-time riverboats that used to travel up and down the river like you'd think of in a Mark Twain book. Truly, I can just imagine it, the circular paddle at the back, maybe a dinner cruise? There may be a business opportunity there!
9. Tioga County History Museum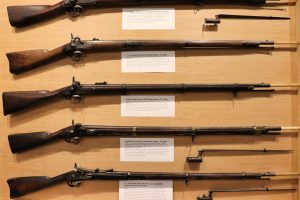 The Tioga County Historical Society and Museum was founded in 1914. The museum is located at 100 Front Street in Owego and is open from 10am-4pm Wednesday through Saturday. The museum has a variety of galleries and exhibits, many focused on military history, and there's an impressive portrait of Abraham Lincoln. One display I found fascinating, was the story of a man who was in attendance at Ford's Theater the night Lincoln was shot and his experience trying to help the President. His clothes, now on display at the museum, were covered in the President's blood and are poignant and heartbreaking in bringing this man's story to life.
Why I love Owego New York
I think what hit me most about this place is its people. The locals here are passionate about their town and the county's rich history. They have great pride in their local farm produce, foods, and brews, and serve them up well! Also, one of my favorite characteristics of the people I was fortunate to meet here is the connection to the arts and the true beauty of the rolling hills, ponds, trees, and rivers.
I can tell you if this Colorado girl lived closer, there are so many amazing things to do in Owego New York, experiences to enjoy, it might very well be my go-to weekend getaway. I do hope to return!
Have you been to Owego New York or Tioga County? Tag me in your pics on Instagram @explorermomma. I'd love to see them!