One of our favorite family vacation destinations is Ruidoso, New Mexico. Not far from Carlsbad Caverns, Santa Fe, or Albuquerque, Ruidoso is a mountain oasis in the desert. Kids and adults alike love it for an outdoor adventure vacation or relaxing shopping weekend. Here are our top 10 things to do in Ruidoso New Mexico with kids.
This post may include Amazon or other affiliate links. As an Amazon Associate, I earn from qualifying purchases.
Picture your favorite Western movie. Do you see wide open spaces, dusty ground with cactus and yucca plants as far as the eye can see?
What's that in the distance? Is it a plateau, a mountain? Imagine the scene as Billy the Kid and his crew come at you in a cloud of dust.
As they get closer you can make out figures on horseback in cowboy hats racing to guide the stampede of cattle. The rustlers just made off with the cattle from a nearby ranch, will get rid of them for a price, and for good measure may even rob a train in the evening. Who knows?
Ruidoso, New Mexico Scenery
What I know is that the scenery as you near Ruidoso, New Mexico inspires all my stereotypical western stories to come to life. Moreover, it's truly another world you step into, at least another culture, as we travel from northern Colorado to mid-southern New Mexico.
The area around Ruidoso may be the dry, cracked Western scene; however, go up the mountain and into Ruidoso, and you'll find a charming mountain town perfect for family vacations.
But what are the top things to do in Ruidoso, New Mexico with kids? What is it that draws us so often away from our beautiful Colorado mountains? To be perfectly honest, my grandparents lived there long ago, and now it's where we meet up with our relatives from Texas for fun and family. We LOVE it.
So be inspired! Go pull up that western soundtracks playlist on Spotify, and plan your family vacation today.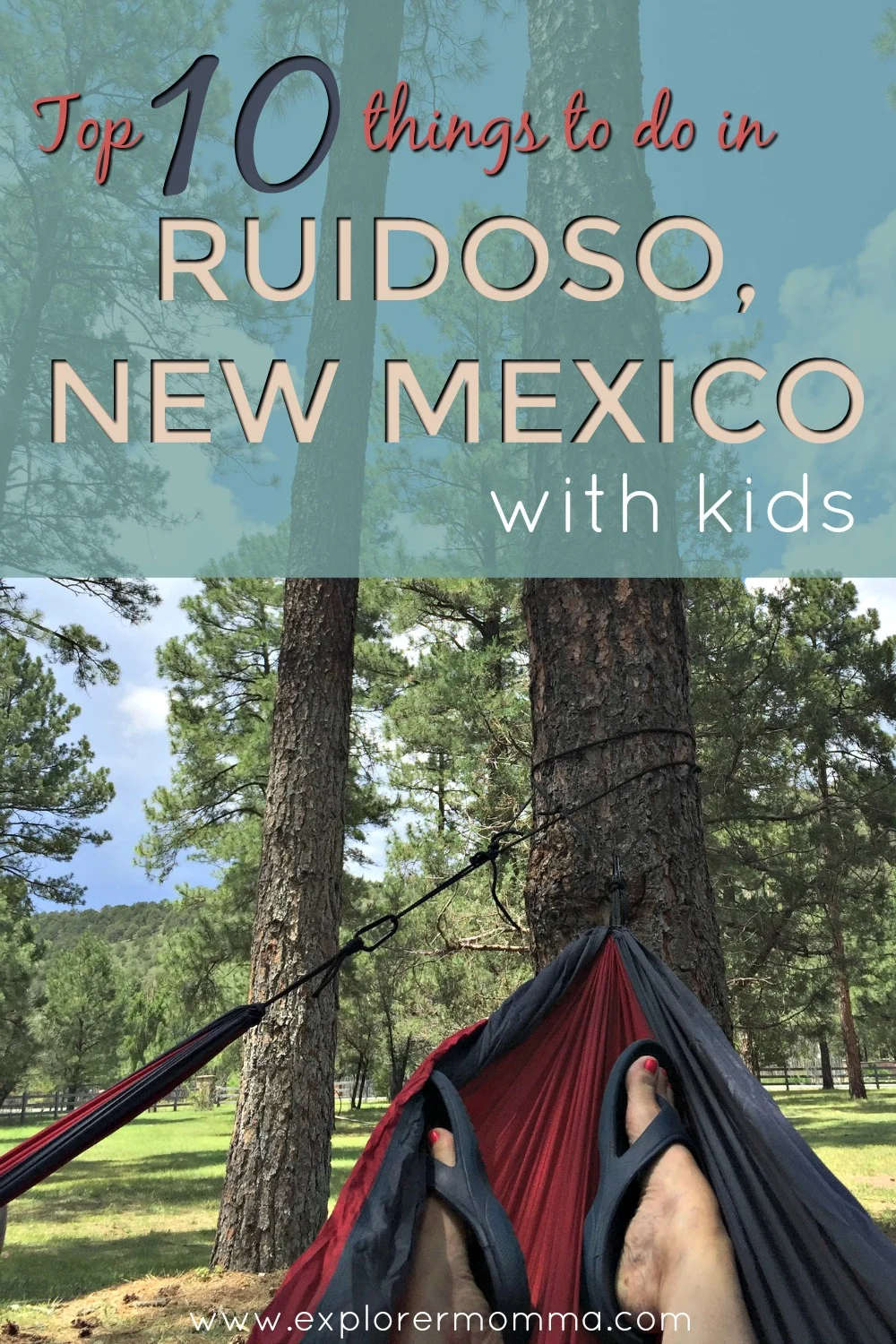 Where to stay in Ruidoso: Book a cabin with an outdoor space
Before we get to all the family activities in Ruidoso, New Mexico, let's look at where to stay.
If at all possible I highly recommend booking a cabin or house with plenty of outdoor space for the kids to play. It's true we usually go as a large group and so enjoy a larger area, but there are smaller cabins choices available too.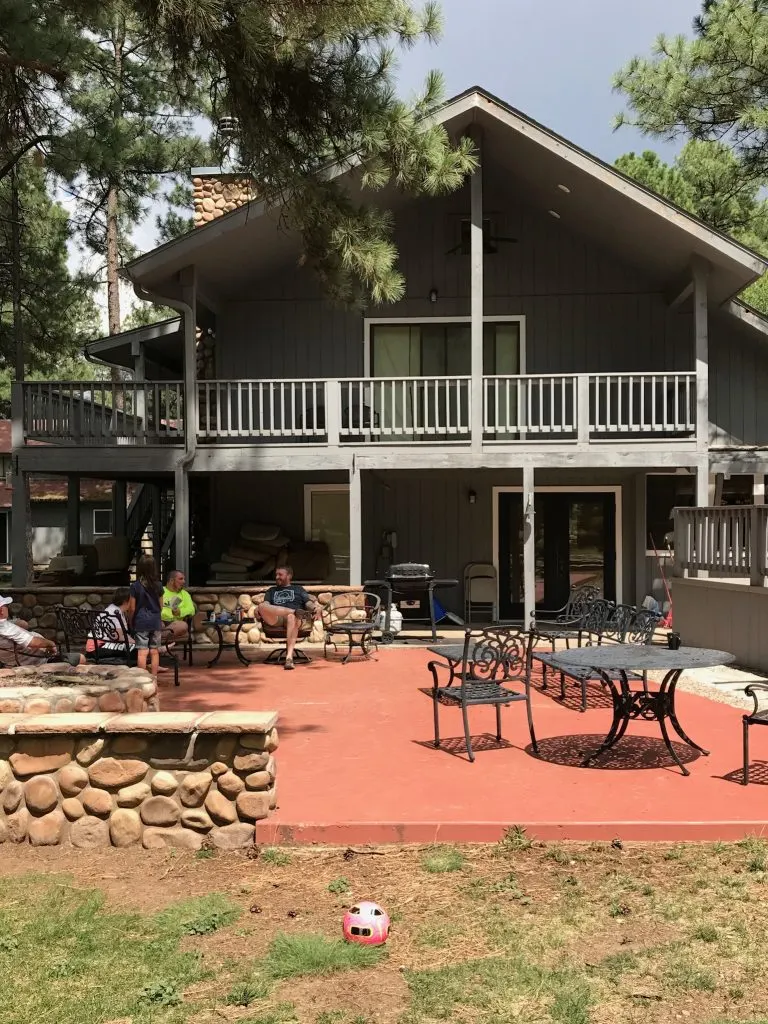 Then, with your own cabin, you have a kitchen to do more of your own meal prep, and more space for the family to rest and relax. We loved our space this last summer with a fabulous outdoor seating area complete with grill and hot tub, our own little golf green, horseshoes, and much more!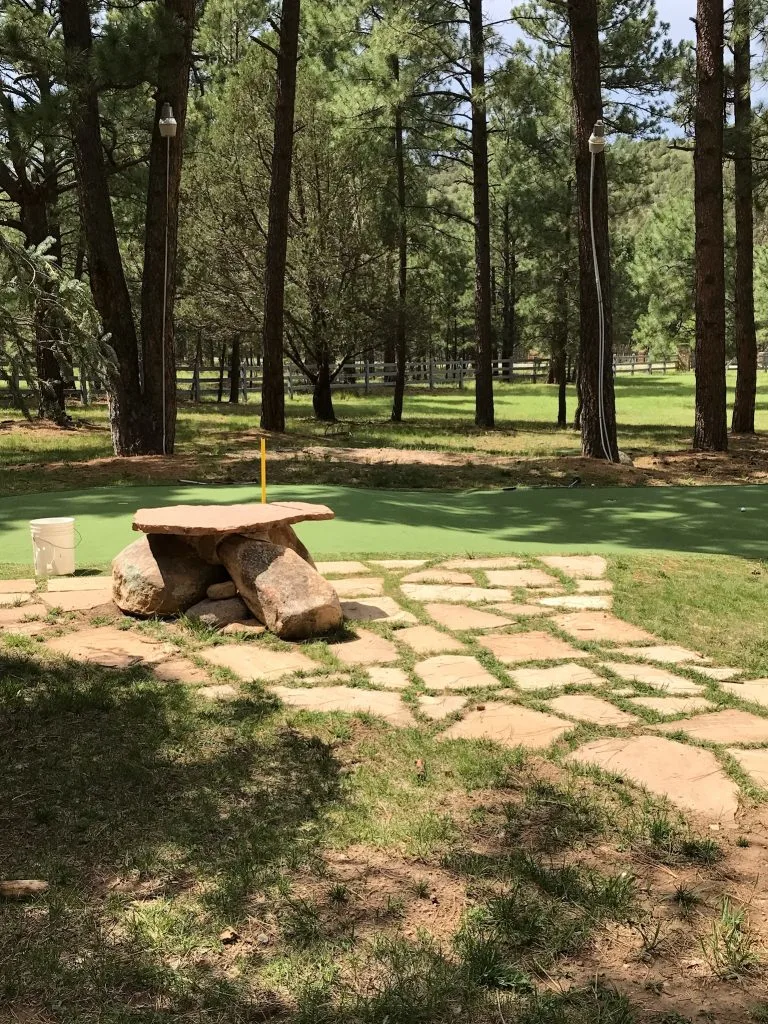 Website options for cabin rentals:
1. Airbnb – We've had good experiences with Airbnb in the past. My advice is to make sure you look for places with plenty of good reviews and use your best judgment. If you are new to Airbnb you can use my link here to sign up and get up to $50 off your first booking.
2. VRBO – Click here for their website.
3. Ruidoso Reservations by Condotel – Click here to see the cabin availability on their site.
A lot of the best cabins are available on multiple sights so you can do some searching to get the best deal.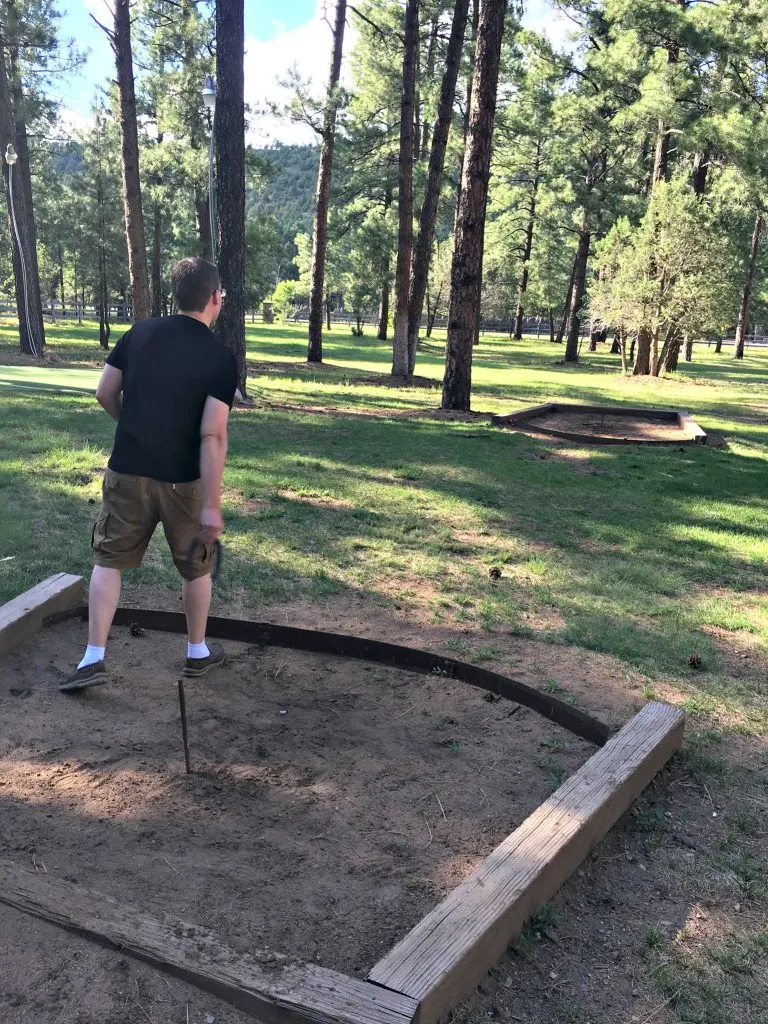 1. Ruidoso Family Fun Center: Adventure Mountain Family Fun Center
Adventure Mountain is a family friendly theme park great for the kids to get some energy out! It's the perfect place for birthdays, special events, or just an enjoyable day out while on vacation.
There are games like bumper cars, mini-golf, an arcade, and my son's favorite, the batting cages! There are plenty of ways for everyone in the family to have fun – and it's a fun day out with cousins.
If you're looking for things to do in Ruidoso New Mexico with kids, Adventure Mountain should definitely be on your list!
2.
Inn of the Mountain Gods
The Inn of the Mountains Gods is owned by the Mescalero Apache Tribe and boasts beautiful scenery, fabulous rooms, food, and a casino. It's located a little over seven miles from Ruidoso and will take you about 20 minutes by car.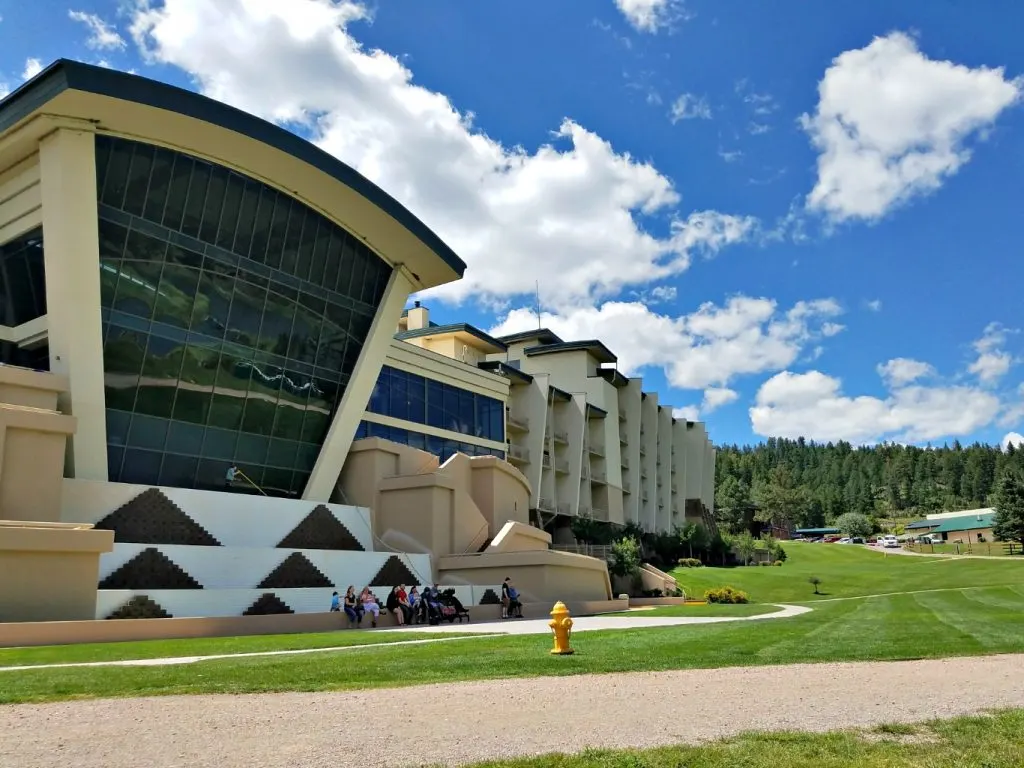 For kids, we like to make a day excursion out of it.
First, we drive out to the hotel and look around the inside for a bit. When we're ready we head down to the buffet and enjoy the variety and quantity of the breakfast or lunch buffet. After that, once sufficiently stuffed, we either continue to look around the inside of the hotel or wander down to the lake for the kids to play or walk around it on the convenient pathways.
What kid doesn't love a walk around the lake with frequent stops to look for fish, study the plants, or throw rocks and twigs in the lake? You probably won't make it all the way around, but it's fun to explore!
Funtrackers is a great place for families to play and have a fun time together. First, you might play a round of miniature golf. Following that, race around the track on the goKarts (there are several tracks depending on ages). Then perhaps you'll want to cool each other off with a giant splash from the bumper boats and then go get lost in the Mountain Maze.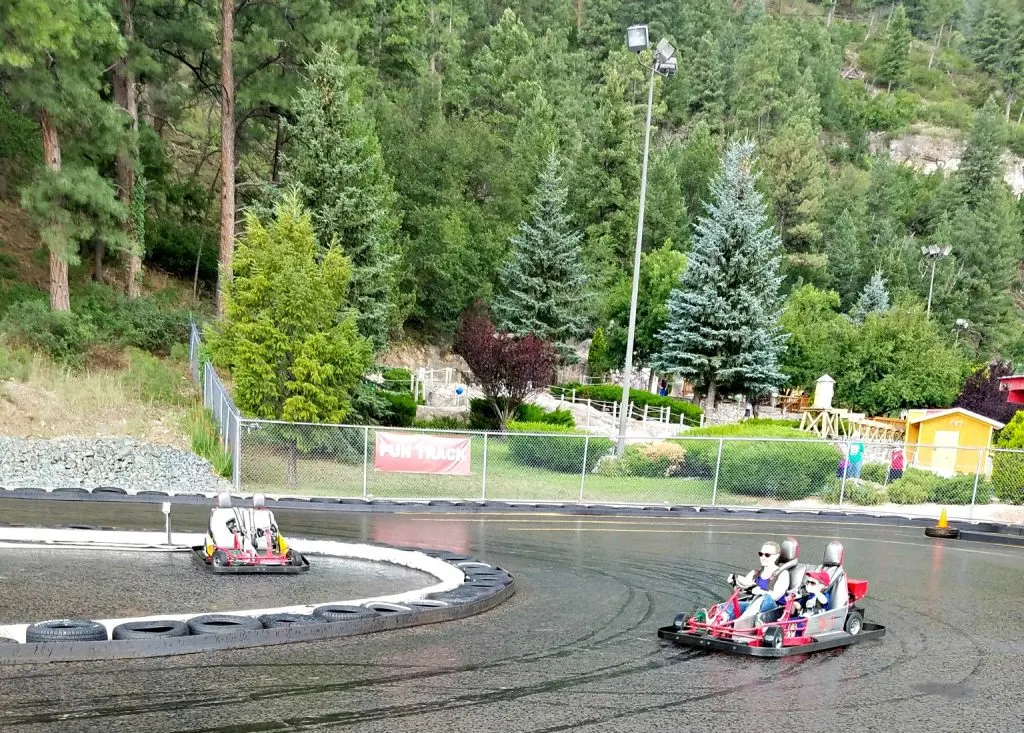 For weeks after we visited this place my son's favorite thing to call out was, "Grandpa's lo-oost!" Yes, Grandpa got a bit mixed up in the maze, which was of endless amusement to the children.
There is just so much to do here that you could literally hang out most of the day or until the kids get their fill and wear out. If you're searching for go karts Ruidoso NM, this is the place to be! Lots of fun for all.
4.
Kids Konnection Playground
For a morning out to a playground, you won't want to miss the Kids Konnection Playground (685 Hull Road, Ruidoso). First of all, the equipment is fun and original and actually covers a large space. Also, there are areas for kids 5 and under as well as 6 and up, fabulous!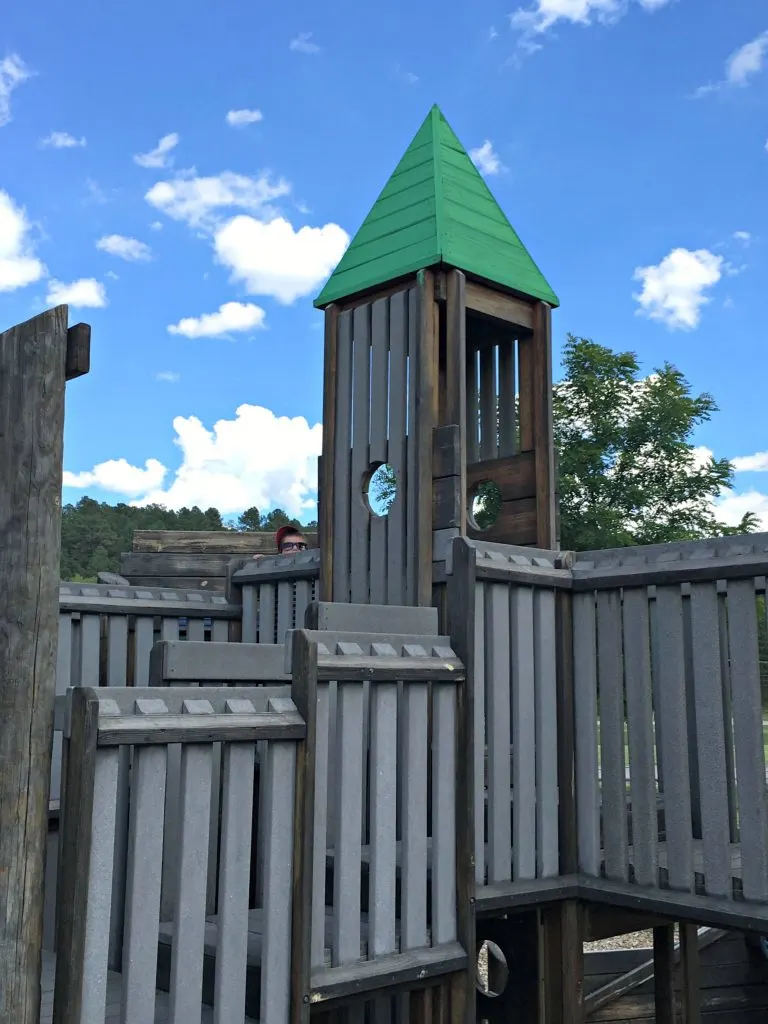 We also like the fact it's located right next to a big open grassy field where the kids can run, play soccer, play tag, or just burn off some energy. I've also been told there's a good dog park nearby, and although we haven't been in need of one, you may!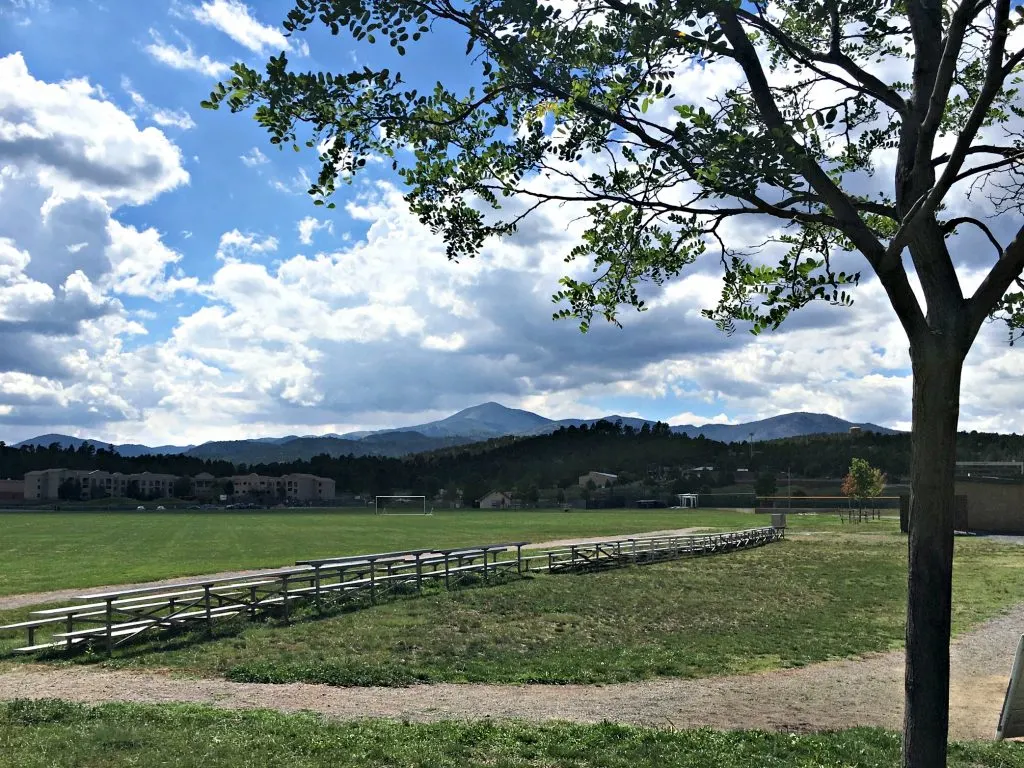 26301 Hwy 70 West, Ruidoso Downs, NM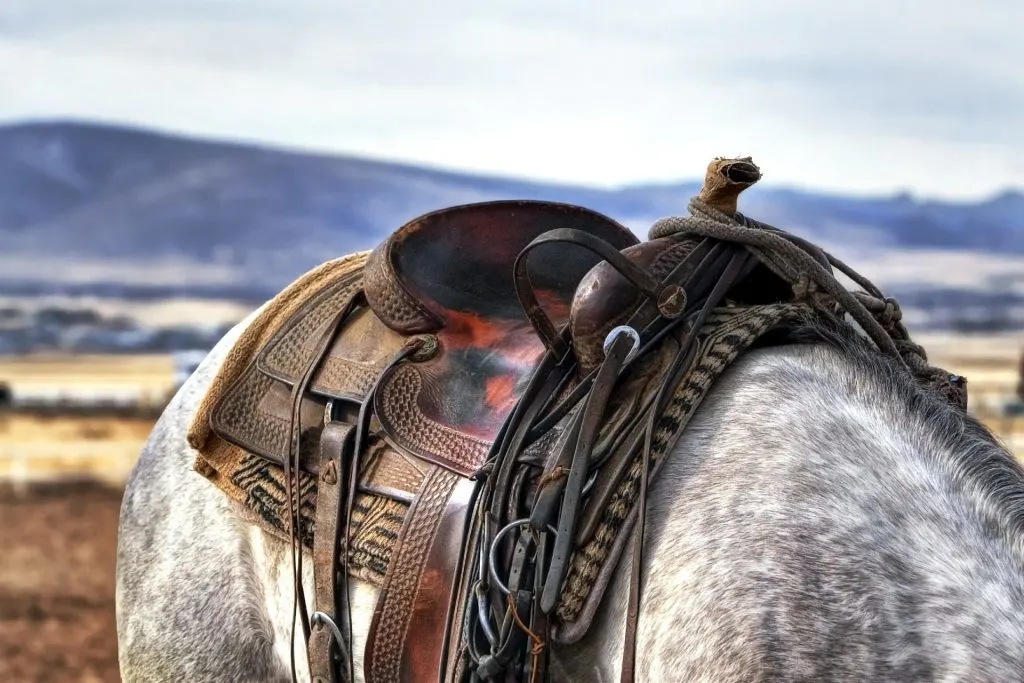 All right now, tell me. Have you cranked up an American Western film soundtrack yet? You might The Good, the Bad, and the Ugly, the Silverado Soundtrack, my favorite The Last of the Mohicans, or Round-Up.
Listening to a bit of this will get you in the mood to visit the Hubbard Museum of the American West. This is a fun museum for kids and adults alike, although with kids you may have to move a bit quicker than if you were on your own! Be sure to see the horse statues at the top of the hill.
A tour of this place is sure to bring out your inner cowboy, and if you're like me you'll start saying, "I'm your huckleberry" in a southern accent to all friends and family. Or to that random person who meets your eyes in the museum. 😉 Just kidding.
523 Resort Dr, Ruidoso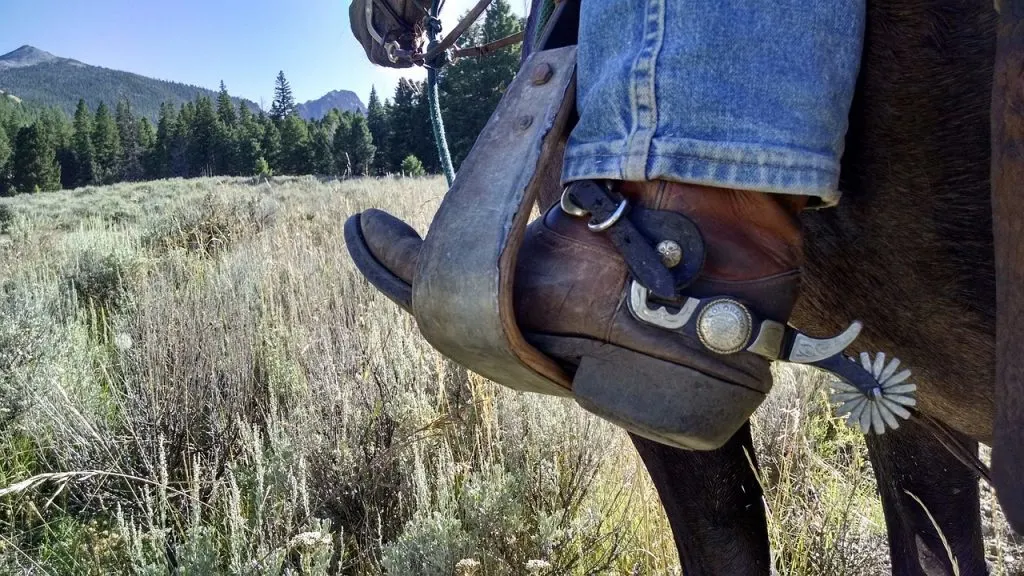 It's inevitable the kids will be dying to go on a horseback ride after a visit to the Hubbard Museum of the American West. Therefore, why not saunter on over to the Grindstone Stables and go on an hour-long guided horseback ride?
Or if that's not your thing, enjoy a carriage ride through mid-town Ruidoso with amazing views of Sierra Blanca in the distance.
515 Sudderth Drive, Ruidoso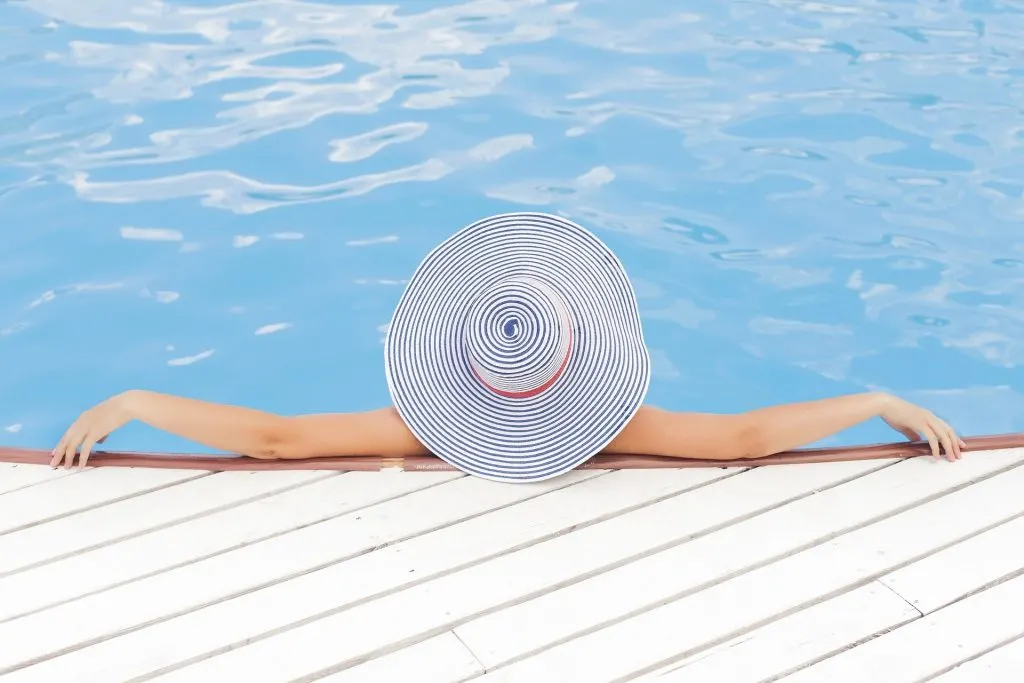 If it's hot, and the kids need some exercise, we love to head over to the Ruidoso Municipal Swimming Pool for open swim. Be sure to check their website or give them a call (575-257-2795) to get open swim times before you drive over. The swimming pool is nice, and although definitely not brand new, a lot of fun. As a matter of fact, they have a huge, fabulous slide perfect for kids.
While I stayed in the baby pool with my son the last time we were there, my eight-year-old daughter probably went down the thing 15-20 times. It's a climb to get up to the top of the slide so it's also great for ensuring an easy bedtime routine in the evening because they'll be so worn out!
8. Wildlife Photo Scavenger Hunt
Ruidoso is a beautiful mountain location with mountain views, a variety of flora, but also wonderful chances to see wildlife.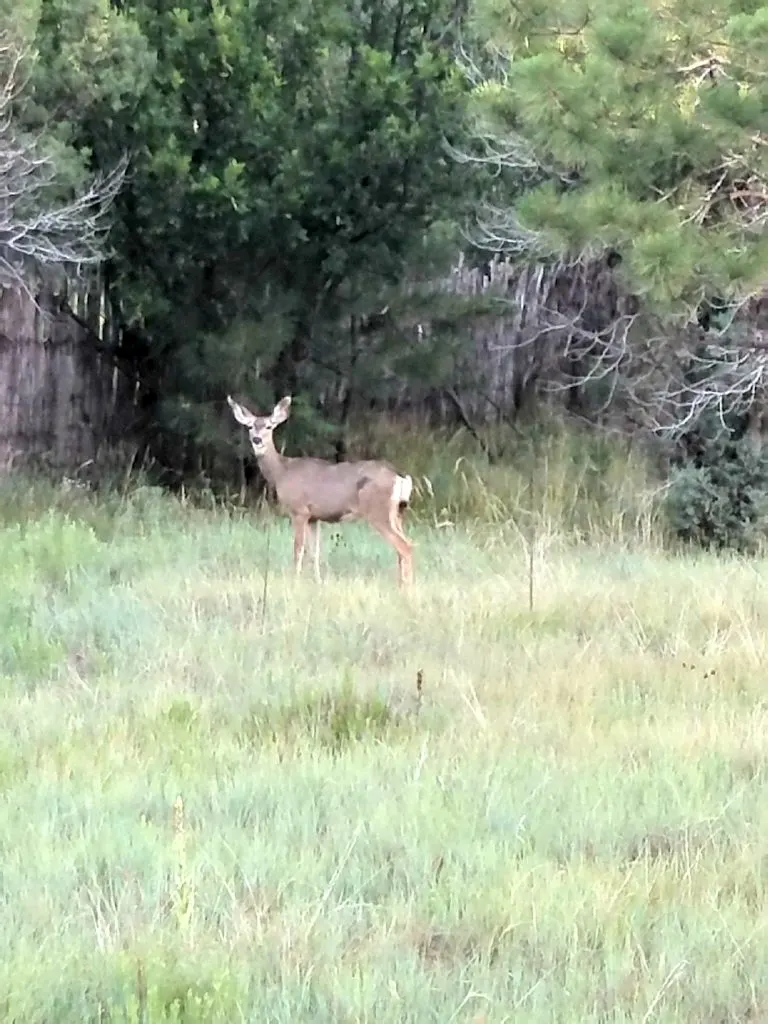 Go on a wildlife photo scavenger hunt with the kids to get pictures of elk, deer, wild horses, hummingbirds, eagles, and so much more.
However, I will advise if you happen to run into one of the bears, steer clear!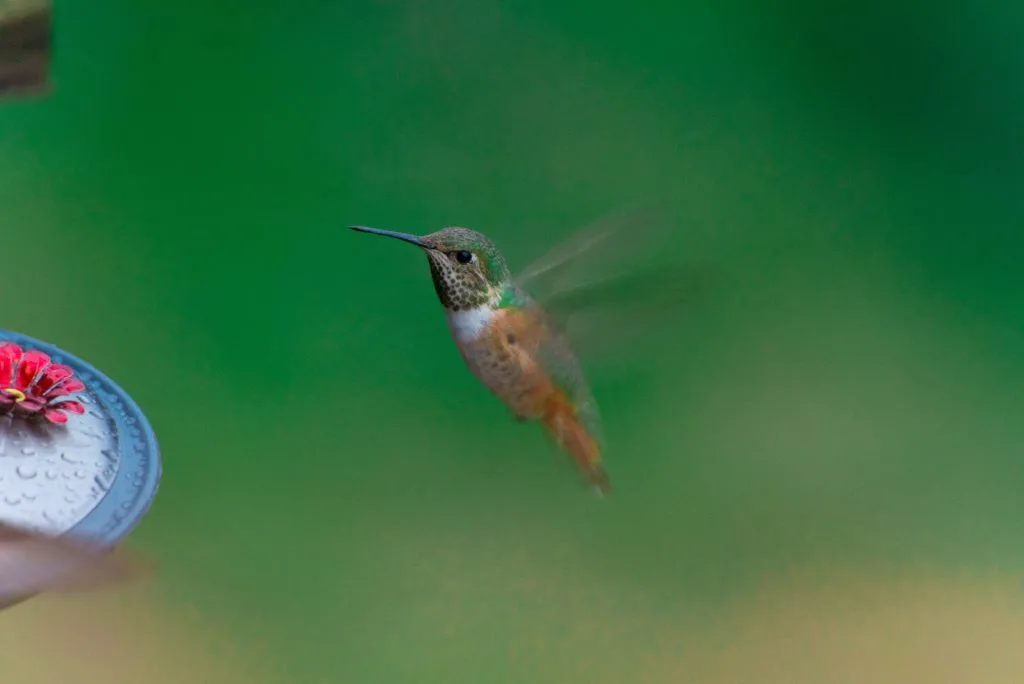 9. Gondola Ride at Ski Apache
1286 Ski Run Road, Alto, NM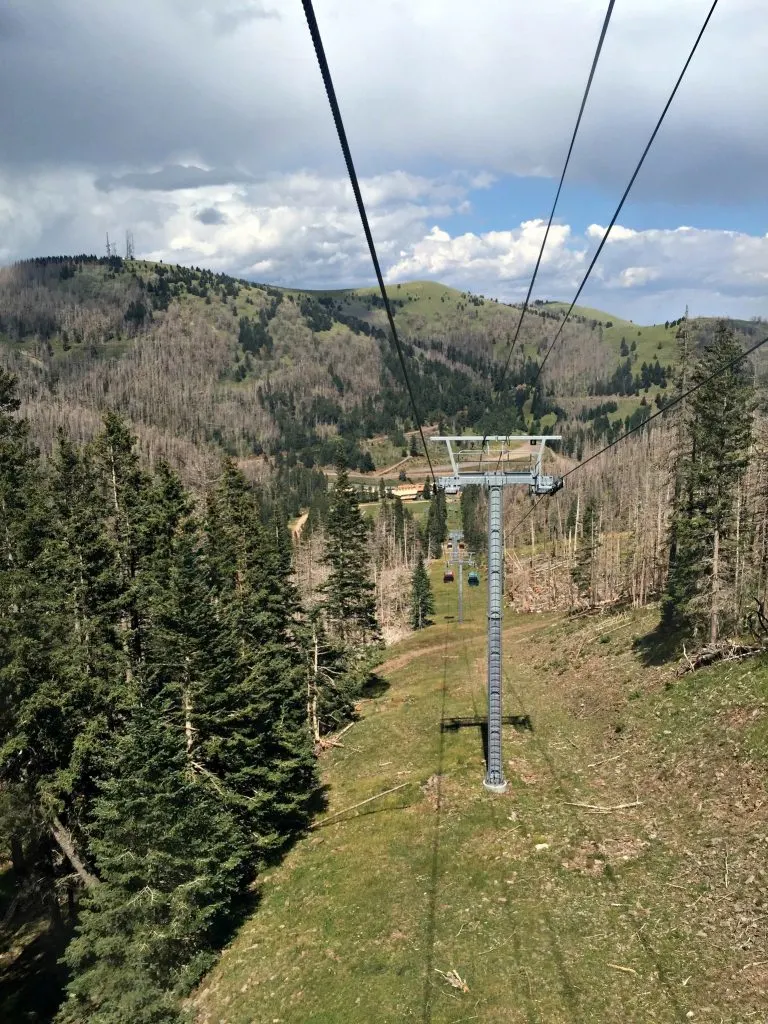 Is your family ready to see some stunning views? Make the drive to Ski Apache in summer to take the gondola ride to the top of the mountain.
You won't regret a visit to this magical place, unless perhaps you have a child like mine who claims vertigo and refuses to step on all gondolas, funiculars, etc. But never mind that! Have an amazing ride up the mountain, eat at the snack bar, and enjoy yourself.
Of course, if you're a skier, it's a must when looking for Ruidoso things to do in winter.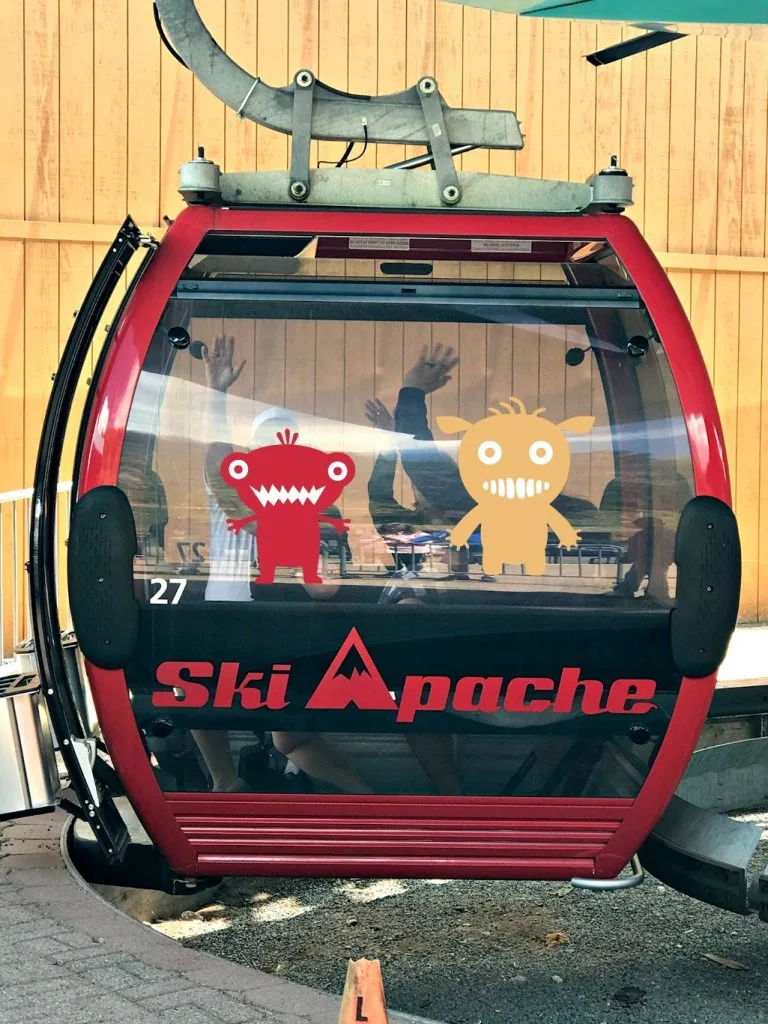 6 Flying J Road, 1028 State Hwy 48, Alto, NM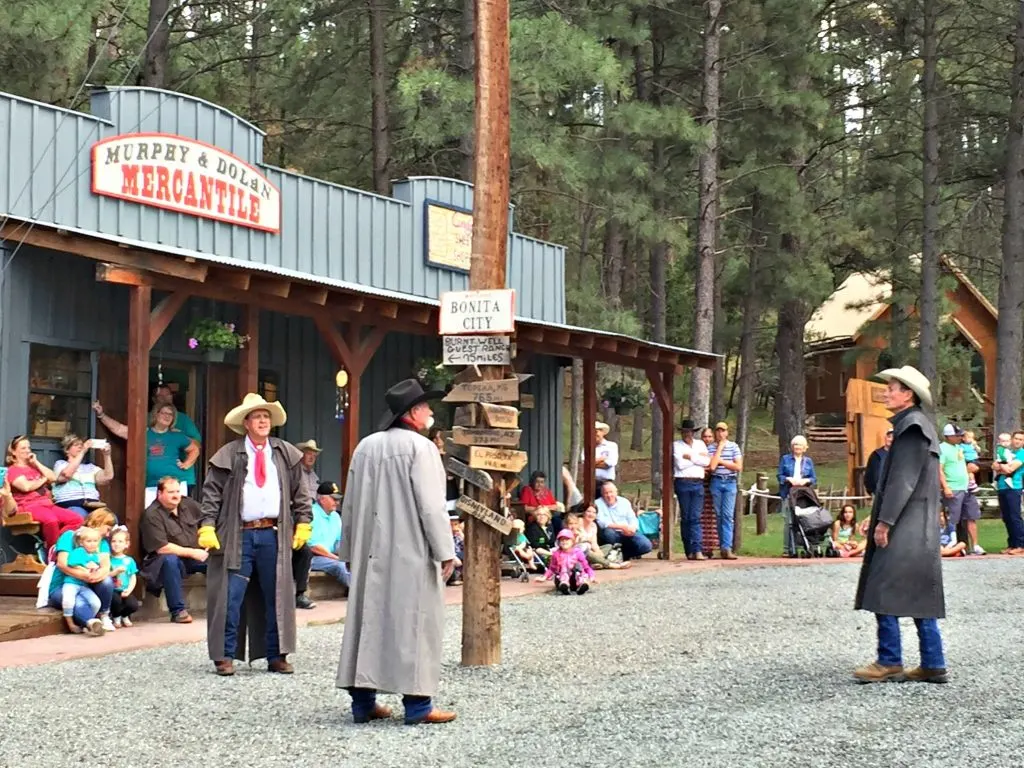 The first time I visited Flying J Ranch was over 20 years ago (no need to be exact!), and I loved it just as much then as I do now! It's my favorite attraction in Ruidoso, and kids love it.
Relax and find your inner New Mexico western cowboy or cowgirl. At Flying J you'll enter an old west town complete with Sheriff and a live gunfight.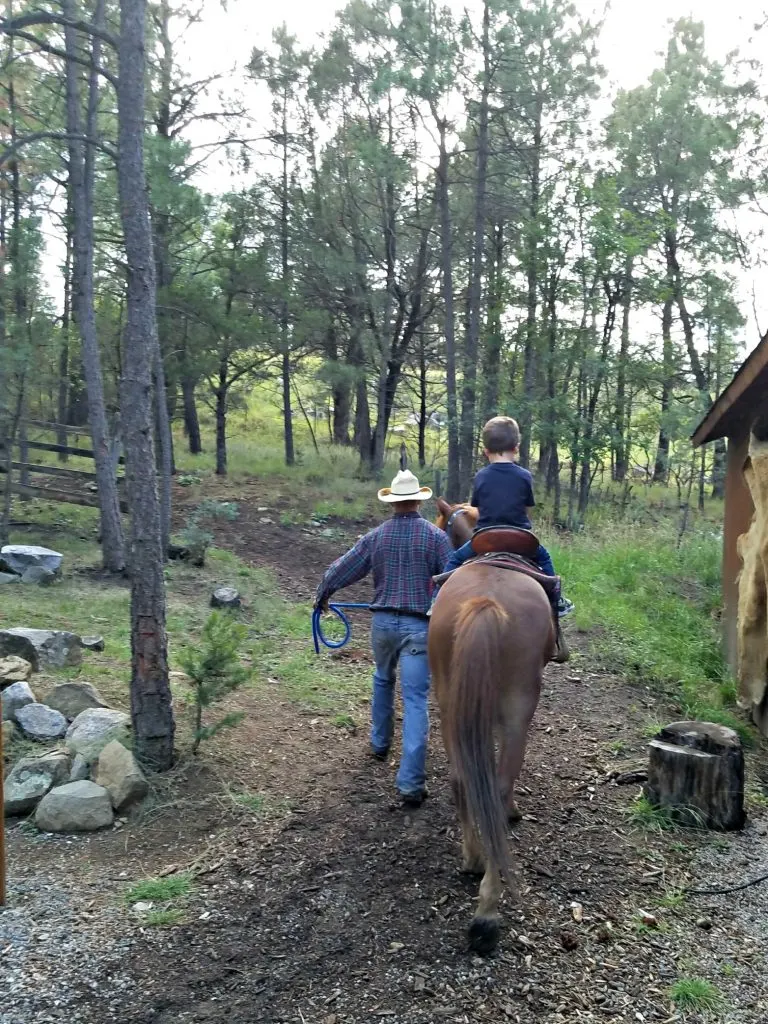 The kids can ride ponies, explore teepees, and even rope some cattle. Then the whole family will enjoy a chuckwagon dinner with beef, chicken, beans (of course!), biscuit, applesauce, and my daughter's favorite spice cake.
After you eat be ready for James and Cindy Hobbs and friends to entertain with the Flying J Western Show. See their website here for more information.
"The show is an action-packed show filled with World Champion yodeling, amazing harmonies, fancy fiddling, hilarious comedy, banjo playing and guitar picking! The show at the Flying J Ranch is simply fantastic!"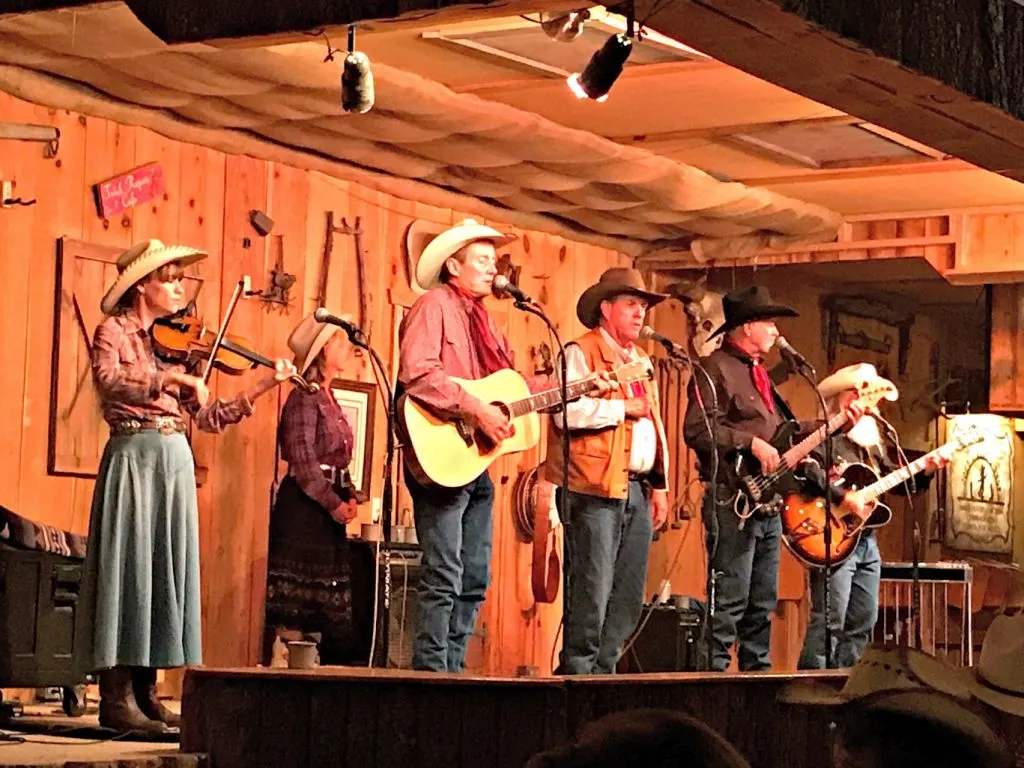 Summer family vacation plans
Are you planning to visit Ruidoso this summer? Take advantage of my kid-tested list of top things to do in Ruidoso, New Mexico with kids. Then let me know how it works out for you! For us, it's a family tradition and fabulous time.
Where else are you planning a family trip this summer? Check out some of my favorite Epic Colorado Family Vacations! Or maybe where did you go recently? Give me your suggestions below!
Other New Mexico family vacation ideas
Looking for more family-friendly vacation destinations in New Mexico with something for everyone? From the beautiful city of Santa Fe to the fun and quirky town of Roswell, there are plenty of places to explore and things to do. Here are just a few ideas to get you started planning your trip(s).
Carlsbad
Visit the Living Desert Zoo and Gardens State Park, take a ride on the Carlsbad Scenic Railway, explore the Guadalupe Mountains National Park, or go for a swim at Sitting Bull Falls.
Carlsbad Caverns National Park is a must-see and completely awe-inspiring. It's such the perfect exploratory experience for kids. It's about a 3-hour drive from Ruidoso and completely worth it. I thought the kids would be scared going deep down in the cave rooms, but they were fascinated.
Taos
Go skiing or snowboarding at Taos Ski Valley, explore the Rio Grande Gorge, visit Taos Pueblo, hike to the top of Wheeler Peak, or go for a scenic drive on the Enchanted Circle Byway.
Roswell
Visit the International UFO Museum and Research Center, take a tour of the Roswell Museum and Art Center, explore Bitter Lake National Wildlife Refuge, or go for a swim at Bottomless Lakes State Park.
Santa Fe
Walk or bike around the Santa Fe Plaza, visit the Georgia O'Keeffe Museum, take a scenic drive on the Turquoise Trail National Scenic Byway, go for a hike at Bandelier National Monument, or explore the Santa Fe Railyard District.
Albuquerque
Visit the Albuquerque BioPark, ride the Sandia Peak Tramway, explore Old Town Albuquerque, or take a hot air balloon ride.
No matter what you choose to do, you're sure to have a fun and memorable time on your vacation in New Mexico with your family!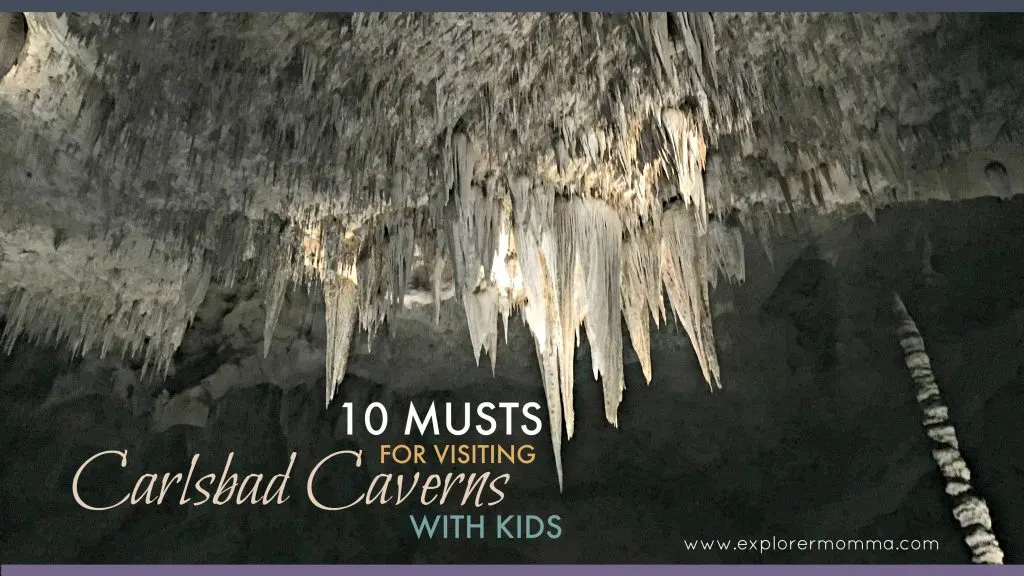 Pin it here: