What's your family tourist destination this summer? Can I suggest several Colorado family vacations? I'm a little biased, but I really think Colorado is the perfect state for family vacations. If you're a nature person or not, kids THRIVE when they're outside and near a stream or in the mountains. Whether it's hiking, fishing, kayaking, riding whitewater rapids, camping, or reading a book by the mountain lake, it's an ideal spot for kids' activities and empowerment.
This post contains affiliate links, which means I receive a small percentage if you make a purchase after clicking on my links.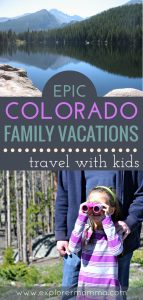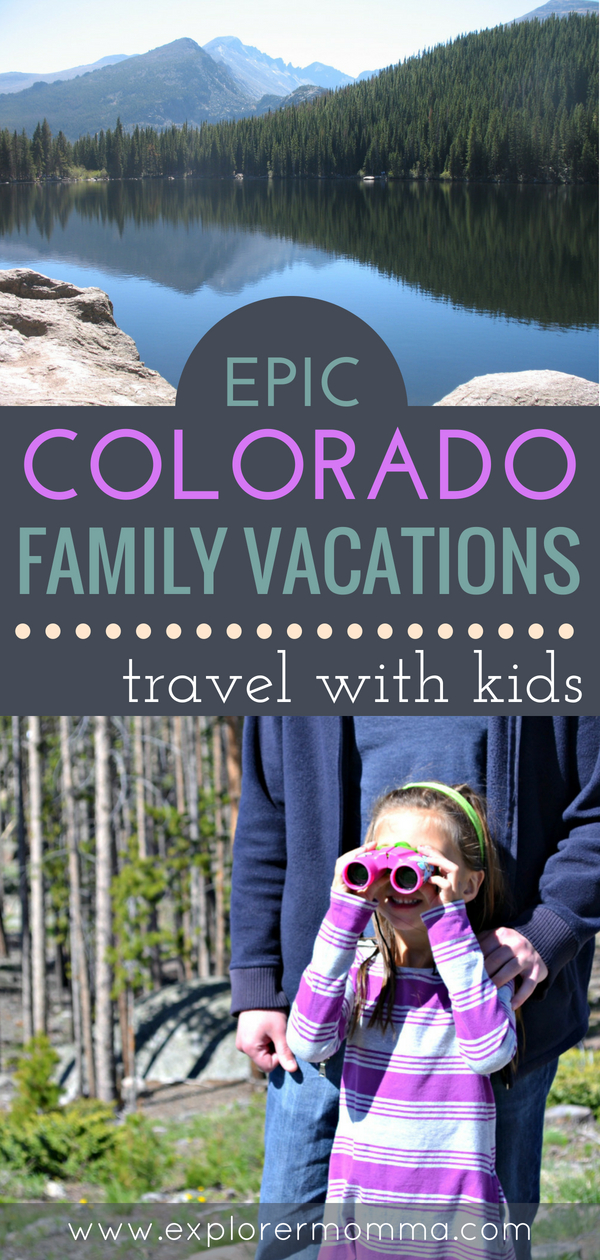 This summer we're all about exploring and appreciating our own backyard. By that, I mean a good time to appreciate all the awesome travel destinations nearby our home in northern Colorado! We'll be heading to Grand Lake for a few days, be doing some camping in various locations, getting the kids out to summer camp with their peers, and doing day trips to Denver. Of course, we have some more travel lined up, but that's another post. We can't wait!
Therefore, I thought it would be appropriate to start my list of EPIC Colorado family vacations close to home. My own hometown, in fact, Greeley, Colorado. If you haven't, dive into my blog post linked below, and if you have, still read all about it. With an insider's perspective, you're sure to find something new and fun to explore!
Simply EPIC Colorado Family Vacations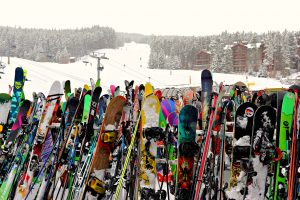 Have you been to Breckenridge, Colorado? When you hear the name, what do you think? If you think skiing you're right on. However, did you know Breckenridge is one of those amazing mountain towns with a TON of stuff to do for families in any season? I have to say I think summer's my favorite season in Breckenridge. The old town's fabulous, and did you know they hold an excellent summer music festival? If you are at all into concerts every night with beautiful mountain scenery, this is the place for you!
We were in Breckenridge, Colorado most recently in spring at the end of the ski season. There was still a good dose of spring snow on the ground, but we found a ton of fun family activities even without skiing. To learn more things to do in Breckenridge, Colorado with kids, see the blog post here.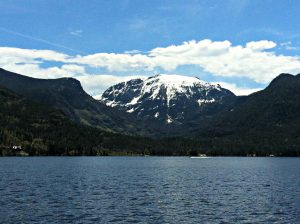 Grand Lake, Colorado is one of my favorite places on earth, and I've been to visit very nearly every summer since I was about six years old! There are many places I might tire of going that often, but not Grand Lake. For us as a family, it's the perfect place to relax, be in nature, and enjoy the small mountain town and its residents. Kids can build castles on the beach, swim, fish, make s'mores, play on the playground, hike, marvel at the moose walking by the cabin, and just be a kid in the Rocky Mountains. As a mom, this is an incredibly relaxing trip because the kids are so easily occupied, and I can enjoy my morning coffee staring out over the lake with Mount Baldy (Mount Craig) looking down!
Learn more about Grand Lake, Colorado and read the blog post here!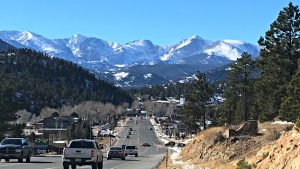 Estes Park, Colorado is another amazing Colorado destination for families. I have SO many memories from my own childhood and now with my own kids in this popular town. If you want to shop, play miniature golf, head out to the local YMCA, and so much more all in a spectacular Rocky Mountain paradise, you need to head here.
We LOVE to get out and hike so click here to see the Best Estes Park hikes for kids.
Half the fun of travel is eating, right? Click here to learn more about Estes Park restaurants with character.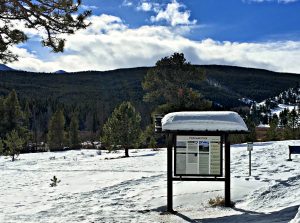 If you love Estes Park, no doubt the family with also fall in love with Rocky Mountain National Park. You'll find wildlife such as elk, coyotes, or bighorn sheep in any season, and it's a great place to camp in one of the park campgrounds. We love it any time of year but especially in winter when the crowds are down slightly and you have time to explore.
Read all about what there is to do with kids in Rocky Mountain National Park in winter here.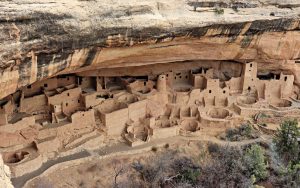 Our family absolutely loves to visit national parks and Mesa Verde is definitely one you don't want to miss! Can you imagine, some of these cliff dwellings were built at the same time as some of the oldest European castles? What a super-rich history we have in Colorado and are lucky to learn about the Puebloan people.
Make a day or 5 of it, but definitely glance over this 1 Day Mesa Verde Map Itinerary to get all the best spots to stop as a family!
Check out the family-friendly, beautiful Ruidoso, New Mexico!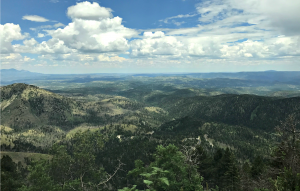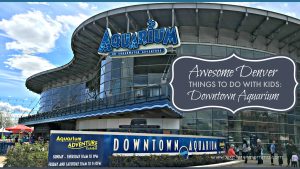 If you fly into Colorado or most of the time even drive, you'll probably head through our beautiful capital, Denver, Colorado. Denver has SO many amazing things to do with kids like the Denver Museum of Nature and Science, the Children's Museum of Denver, the Botanic Gardens, the Butterfly Pavilion, and more! We make day trips fairly often as a family and are so lucky to be nearby to take advantage of all the interactive educational opportunities for kids. Denver is always a great base for a Colorado vacation or a vacation itself.
If you're heading to Denver check out my articles on:
The PERFECT Denver Zoo trip and
The AMAZING Denver Downtown Aquarium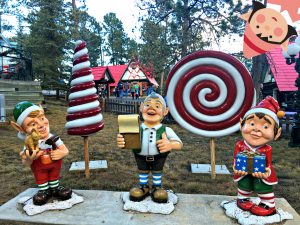 Is Christmas the favorite holiday at your house? Well, you will want to make the day trip from Colorado Springs to North Pole, Colorado. Santa's Workshop is a theme park set in the mountains where it's always Christmastime and full of fun! Don't expect a modern day Disney World or Six Flags, this is a place built in the 60's, and it truly feels like a nostalgic step back in time. Be a kid again. There are SO many rides for the young and old; it's a great day out.
Click here to see more and get my tips for visiting Santa's Workshop!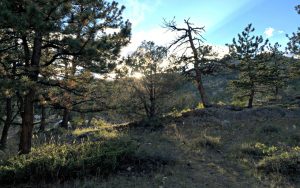 Near all of these scenic family travel destinations, there are opportunities for camping. If you have an RV or love tent camping, you'll find the perfect spot. So pull out those sleeping bags and hiking gear and let's get ready for summer!
Sign up for the Explorer Momma newsletter and get the free printable camp packing checklist as a bonus! Check out my family camping tips and free printable packing checklist here!
What to do as a family in Greeley, Colorado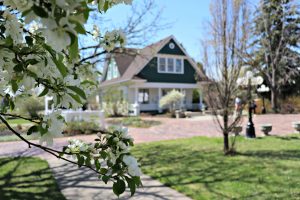 Recently, I was given the opportunity to collaborate with a fellow blogger and guest post on her website A Book Lover's Adventures. Do you know what I was asked to do? Write a blog post for tourists from an insider's view of my own hometown. How many of you think about your hometown as a travel destination? To be honest, I certainly hadn't much. I LOVE my hometown and am proud of it, but it's always been Denver or the nearby Rocky Mountains that seem to be the more natural tourist draw. If you have the chance to come through I know you'll love it too.
Click over to A Book Lover's Adventures to read all about Greeley, Colorado and other hometown tourists!
Are you convinced? Go Colorado family vacations
I hope you plan several perfect Colorado family vacations or camping trips! The sun will lift your mood, the mountains will call, the trees will rustle, and if you're like me, you'll be in your happy place. I think it's so important to teach kids to appreciate nature and take care of it for the future. Also, they will love, or at least appreciate, the joys of an active outdoor lifestyle and have the chance to embrace it for themselves.
Now, I have to admit I haven't covered nearly enough of the state and need to remedy that. Where else are your favorite Colorado family travel destinations?
Tell me in the comments, where shall we adventure next?