Are you planning to visit Mesa Verde National Park or short on time and considering it? Don't miss this national wonder and immaculate preservation of American history! Follow this family-friendly 1 day Mesa Verde Map Itinerary and love every minute of your self-guided tour.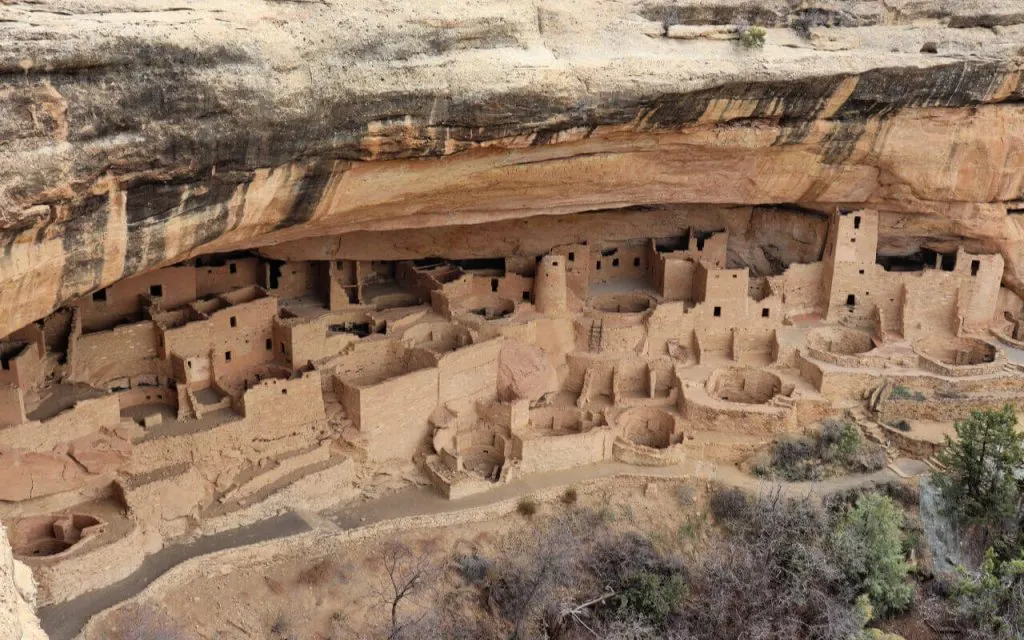 Mesa Verde National Park was founded in 1906 to preserve the archeological culture and legacy of the Ancestral Pueblo people. I've heard many Europeans speak about their medieval castles and state Americans have nothing to compare. Not true!
The Mesa Verde Cliff Dwellings are true castles, not built on a solid hilltop but dug out and built inside the sides of a cliff! The Mesa Verde Cliff Dwellings, are a National Park and World Heritage Site in southwestern Colorado. This archaeological site contains over 500 structures that were built by the Ancient Pueblo People. These dwellings offer visitors a glimpse into what life might have been like for ancient people who inhabited these cliff dwellings.
So what brought the cliff dwellings to national attention and put the area on the path to becoming a national park? Two cowboys, minding their own business herding cattle rediscovered a gigantic cliff dwelling and brought it to the attention Wetherill family. They called it "a magnificent city". Can you imagine stumbling upon such a find?
This post may include Amazon or other affiliate links. As an Amazon Associate, I earn from qualifying purchases.
PIN the article for later here!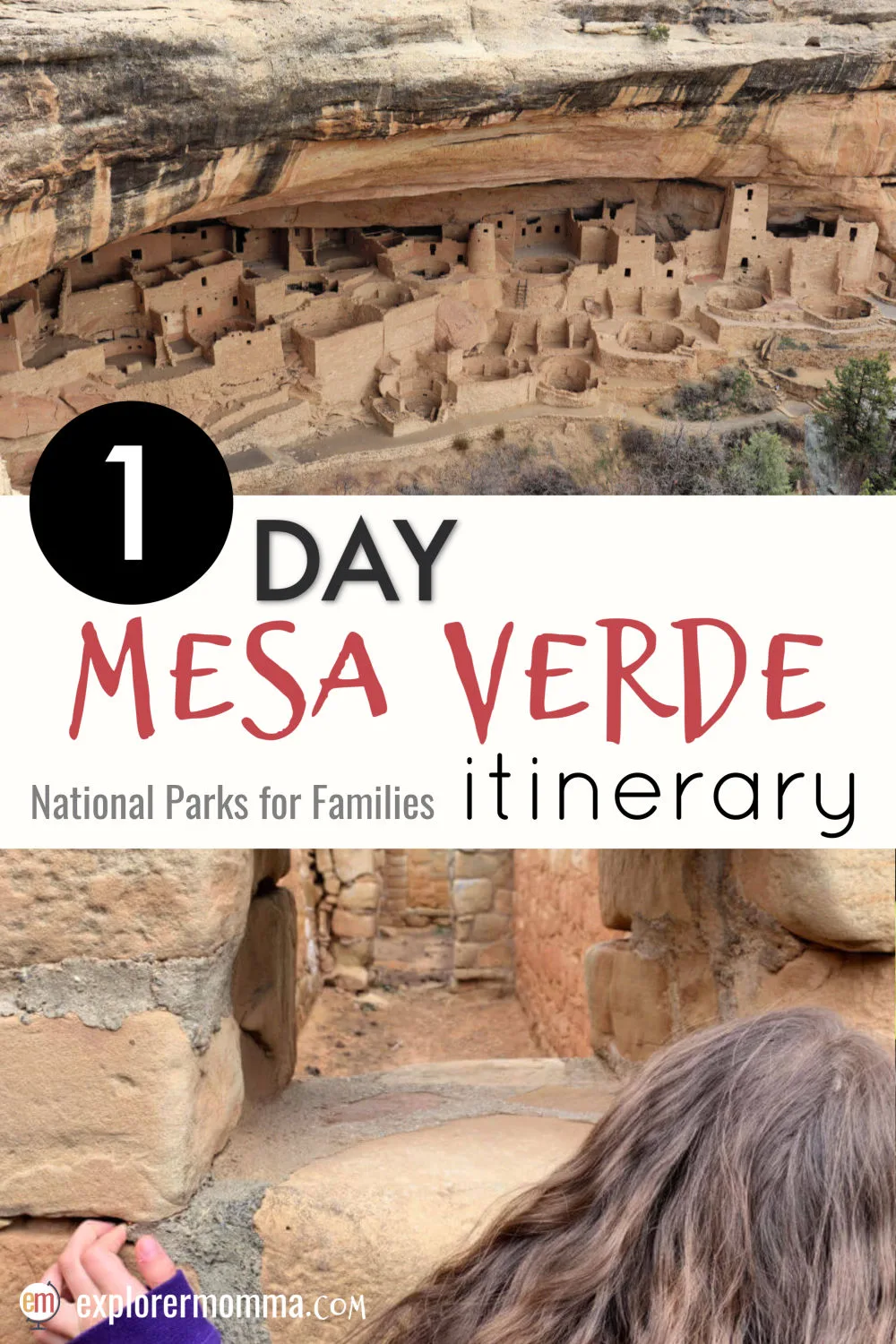 Ute People near Mesa Verde
Now, the Ute People knew about the structures long before this. The Utes are one of the largest tribes in America and were originally from central and south Uto-Aztecan group. They lived in Colorado, Wyoming, Utah, and New Mexico. Utes have had a long history with their dealings with other tribes, and they played a key role in helping to shape American history. Utes have had a long and tumultuous history with their dealings with settlers and other tribes. I would love to learn more about their role in Mesa Verde history so please let me know if you have any good sources.
However, the cowboys made their "discovery" famous and got more people involved in the excavation and preservation. This led to the timeline of events to create Mesa Verde National Park and the opportunity for visitors to see it today.
In fact, in Mesa Verde National Park, you will see not only cliff dwellings but a progression of homes and religious buildings. The Puebloans lived here for more than 600 years, from around A.D. 600 to around 1300. Take that European castles! (Don't worry, I love you too!)
Mesa Verde National Park quick information
Mesa Verde is one of 4 national parks in the U.S. state of Colorado. They also include Rocky Mountain National Park, the Great Sand Dunes National Park, and Black Canyon of the Gunnison National Park.
Location: In the southwestern corner of Colorado, easily accessible from Cortez or Durango, Colorado.
Elevation: 7,000 – 8,500 feet
Safety: The park has rugged terrain with steep cliff dropoffs, deep canyons, and some narrow trails. Stay on the prepared trails and monitor children.
Park Entrance Fees: There is an entrance fee to enter the park, and I suggest you check their website for current rates. If you have a fourth grader traveling with you, find out how to get a free U.S. national parks pass here!
Mesa Verde Tours:
If you visit during summer months, the park is more crowded, but you also have the opportunity to join a group tour. If you have the time and are physically able to walk for a couple of hours and climb ladders, I highly recommend the park-run tours of Cliff Palace and the other dwellings. On the guided tours, you will learn about the history and more recent activity of this area. You will have no problem getting your fill of information from these guides as they truly know their history!
Be sure to reserve your spot beforehand or check in immediately at the Visitor's Center to find out what's available during your visit. They are various lengths and different levels of difficulty.
The self-guided 1 day Mesa Verde map itinerary below is kid-friendly and accessible for wheelchairs. The stops and short hikes I've recommended are mostly paved pathways or wide well-maintained paths.
Where to stay in Mesa Verde:
Camping: Stay in one of the brilliant campsites in the national park at Morefield Campground.
Airbnb or VRBO: As a family, we love to book places using Airbnb and VRBO! I like to have more room, a different experience, and our own kitchen to prepare meals. Check for options in and around Durango, Colorado.
When using Airbnb, I always advise you to choose a place with plenty of good ratings. It's nice to read a few of the past reviews to get a feel for the place. Also, it will help you be able to tell if it's a good fit for your family.
Hotels: My kids like to stay in hotels for the exciting experiences of a free morning breakfast buffet and a swimming pool! I always look for hotels with a good swimming pool.
Mesa Verde map
While you probably won't be able to see the detail on this map, it will give you an idea of the locations I suggest to visit. Be sure to pick up your own map on your way into the park when you pay the entrance fee and mark it up to your heart's content.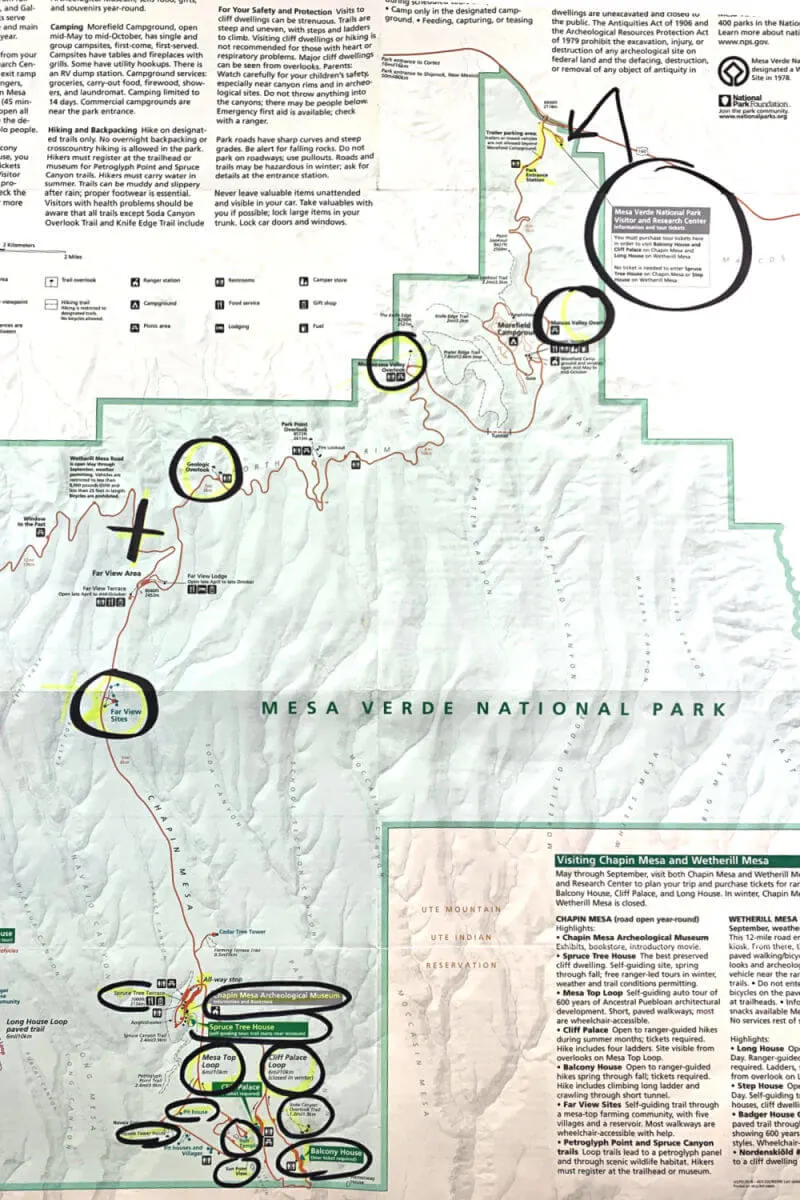 Now, shall we begin the self-guided essential 1-day tour? Yes, please!
Mesa Verde National Park itinerary
The following plan is meant to be a self-guided tour. It consists of easy, quick stops along the way for families with young kids or those who don't wish to go on a long hike.
Use this as a guide but make it your own day trip. Grab a Mesa Verde map, and if there's something you want to see along the way I don't specify, by all means, explore!
1. Visitor and Research Center
When you enter the park, do take the time to stop in at the visitor's center. There's an interesting exhibit, and the rangers are knowledgeable and ready to help. Ask what to do in the current weather conditions, if any trails or sites are closed, that sort of thing.
a. Purchase tour tickets
Here you will purchase any tour tickets you wish to go on run by Mesa Verde National Park. Purchase tickets or find out more information on the guided tours if you have the time and wish to tour the Cliff House or other dwellings. Most take at least a couple of hours so keep that in mind.
b. Sign up for the Mesa Verde Junior Ranger program
I absolutely LOVE the Junior Ranger program, and it's a perfect fit for kids wanting to learn more about the park. My daughter is a huge fan, completes EVERY activity in EVERY book and is determined to collect as many badges from U.S. national parks as possible.
My son, on the other hand, is not quite as eager but has participated in the program, and we've had fun with it together. It also helps keep the adults in the group on their toes and on the lookout for interesting facts.
Find a ranger and ask to sign any kids with you up for the program. They'll have to fill out a booklet of activities and when complete they'll be sworn in as a Junior Ranger. They get an official certificate in a small ceremony and a badge. Awesome!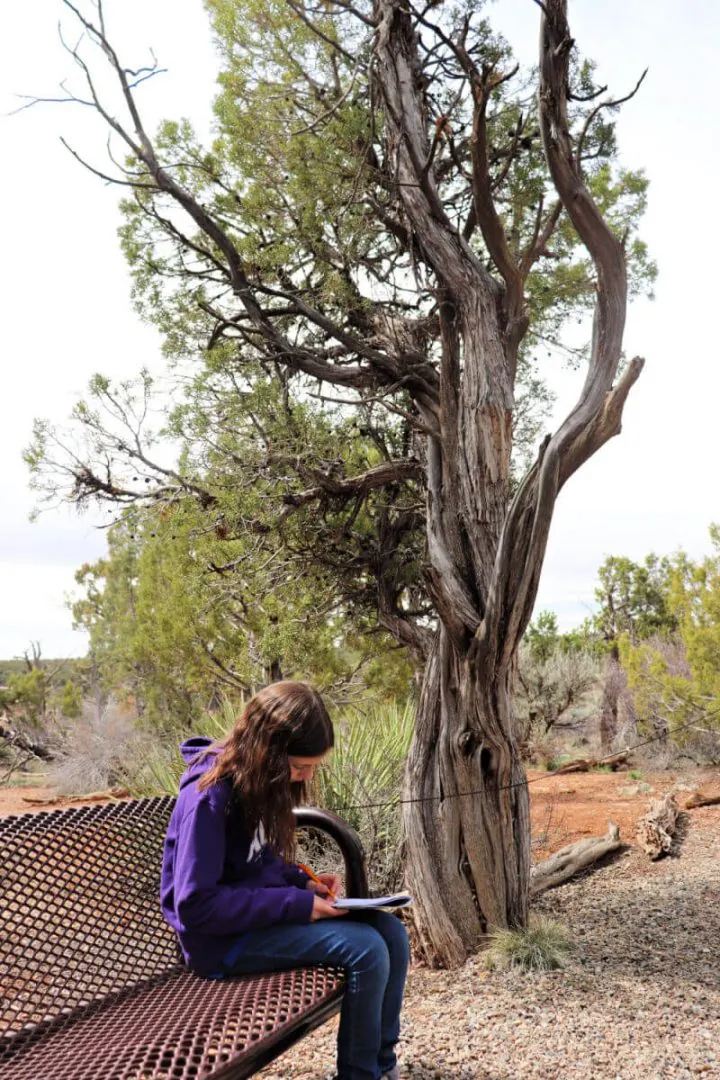 c. Gift shop souvenirs
If you or the family want to stock up on souvenirs to remember the trip, this is the place to do it! Truly, they do have a good variety of books, postcards, posters, and kid collectibles. My daughter selected an adult coloring book of all the national parks with some colored pencils, and the 6-year-old found a stuffed peregrine falcon he couldn't live without.
d. Facilities
Last, but not least, this is a good place to use the bathrooms before you set off on your adventure. There are restrooms at some of the stops but not all so I like to avoid as many panicked emergencies as possible.
2. Mancos Valley Overlook
On to stop number 2! After the visitor's center is about 4 miles to the Mancos Valley Overlook. This is a quick stop, but one not to miss! Get out of your vehicle and walk down to take in the views. This is also right next to the Morefield Campground if you happen to be camping there.
There are some tables if you'd like to have a picnic or a snack or simply get that photo op.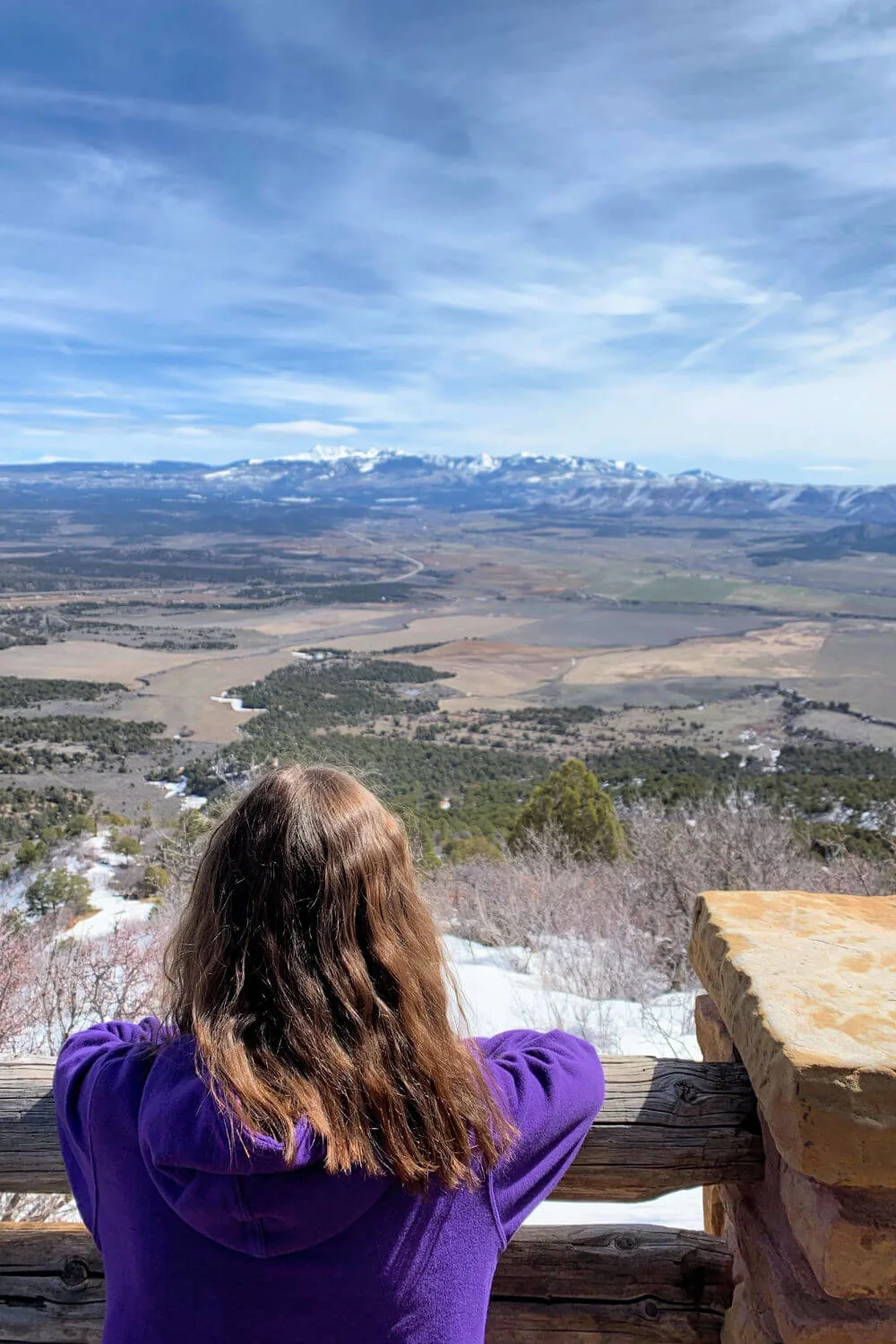 3. Montezuma Valley Overlook
This is another great point to see some different views of the park. It was a little muddy when we were there, but I made great friends with this tree. We enjoyed the stop.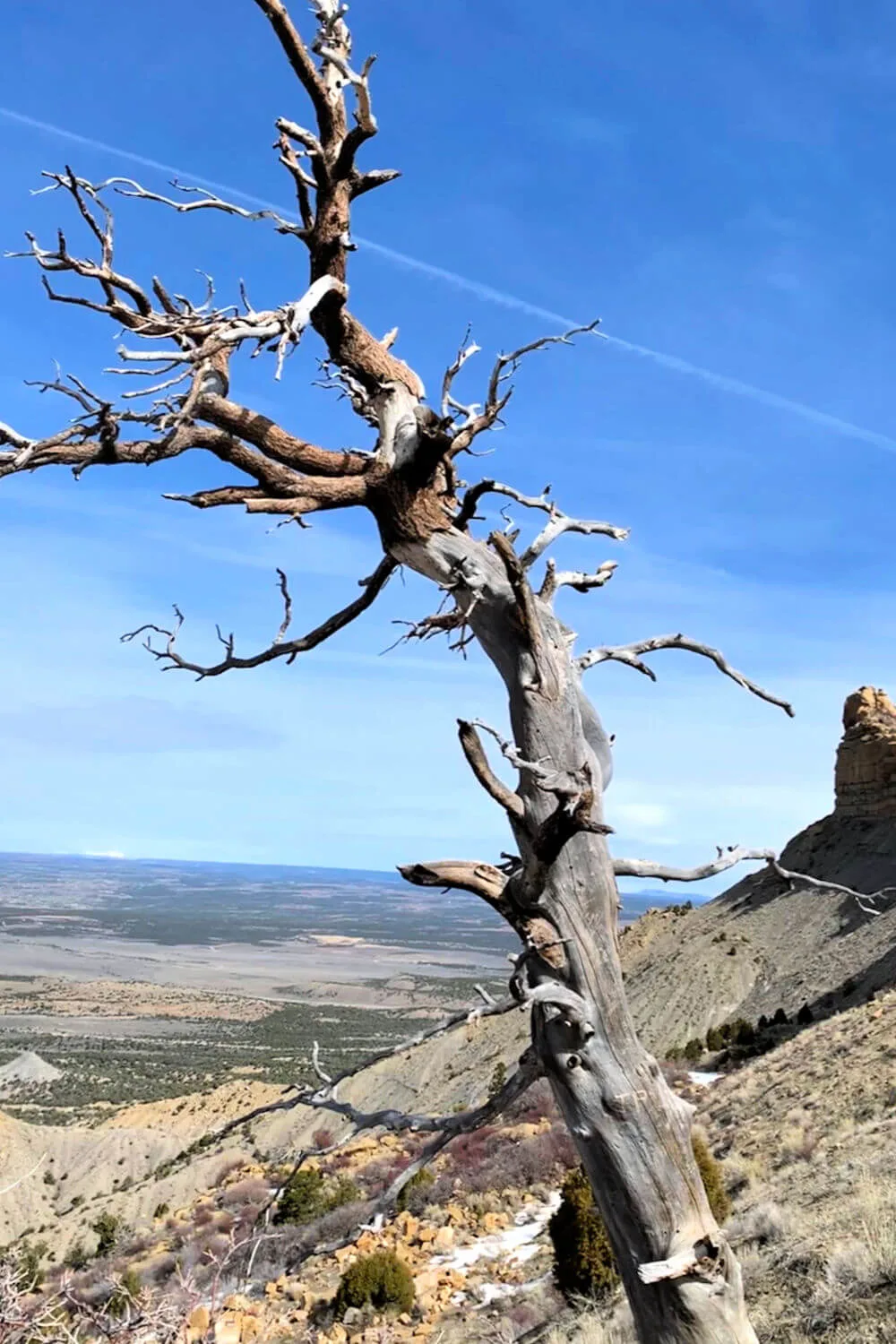 4. Geologic Overlook
Continue to drive until you make it to the Geologic Overlook. In good weather, there are good views and short well-maintained paths. Take a minute to work on the Junior Ranger packets and think about the astounding feats of architecture you're about to see.
5. Far View Sites
Next, travel down to the Far View Sites, passing the Far View Lodge and Far View area. Do NOT accidentally turn onto the Wetherill Mesa Road. This is a great turn off to visit on the second day in the park but won't fit into our 1 day Mesa Verde map itinerary.
The Far View Sites are surface sites, which simply means they're above ground and not in the cliff. You can see the Far View House, Pipe Shrine House, Coyote Village, Far View Reservoir, Megalithic House, and Far View Tower. We were told it was one of the most populated areas from A.D. 900-1300.
Perfect spot on the Mesa Verde map for kids
What do I like about this site? It's a good, safe place with nice trails, and interesting places to explore for kids. They can run around, act out stories, and let imaginations run wild!
The last time we were there it was under snow so I didn't get a good picture. Let me know how your kids enjoy it!
6. Cliff Palace Loop (6mi/10km)
The Cliff Palace Loop is one of the two main loops that take you to see the cliff dwellings and mesa sites on the Chapin Mesa. It's a one-way loop, and I suggest going here first and earlier in the day before the large crowds arrive.
a. Cliff Palace
If you see one thing in Mesa Verde National Park, you will want to see the Cliff Palace. It's the "enchanted castle" and iconic picture you see in anything referencing Mesa Verde.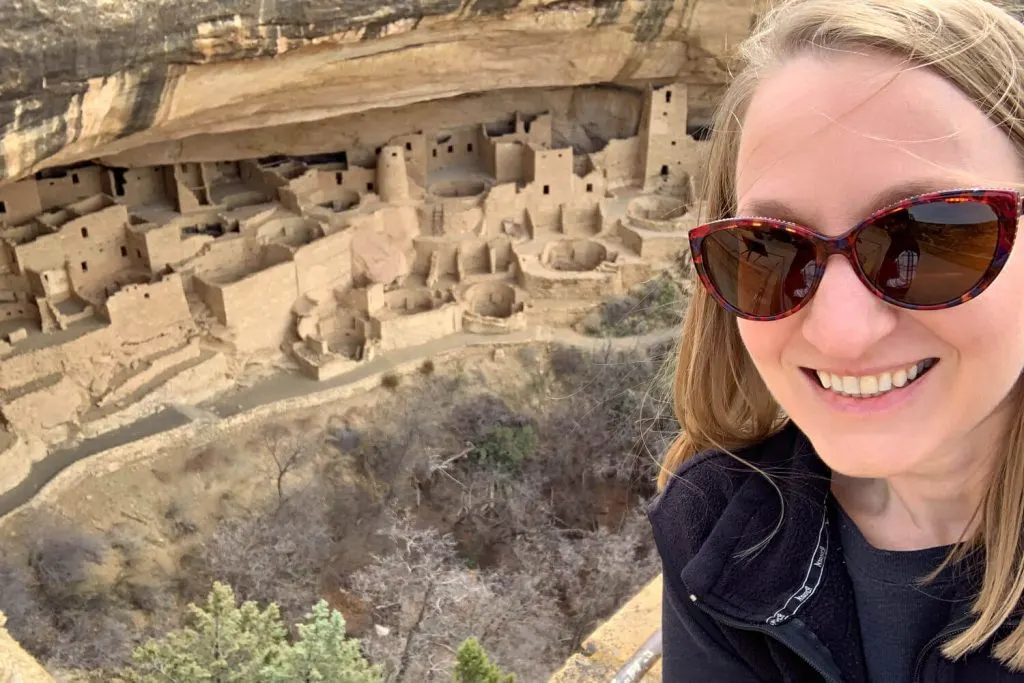 Frederick Chapin, the first tourist guided by the Weatherill family to Cliff Palace, was an experienced mountaineer. He visited in 1889 and 1890 and described it in writing like this: "It occupies a great space under a grand oval cliff, appearing like a ruined fortress, with ramparts, bastions, and dismantled towers. The stones in front have broken away; but behind them rise the walls of a second story; and in the rear of these, in under the dark cavern, stands the third tier of masonry. Still farther back in the gloomy recess, little houses rest on upper ledges."
The pathway down from the parking area is nicely paved and you even pass by a seating area for when the rangers give their guided tours. Once you get down to the viewing area there's an amazing view of the Cliff Palace and all around the canyon.
Unfortunately, unless you have a ticket to attend one of the guided tours you won't be able to go down the locked rusted staircase to view the dwelling up close. When traveling with kids and only a day to explore this is no problem. If you have an extra day book one of the tours.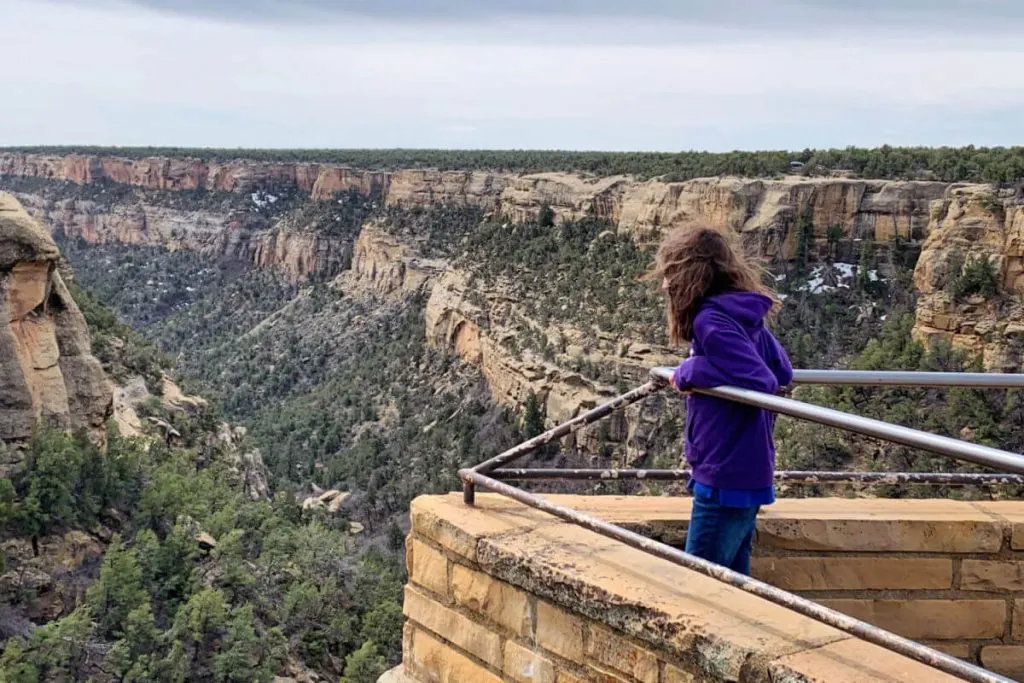 b. Balcony House
Balcony House can better be seen from the Soda Canyon Overlook trail. If you have tickets to the tour stop here or move on to see it from the trail viewpoint.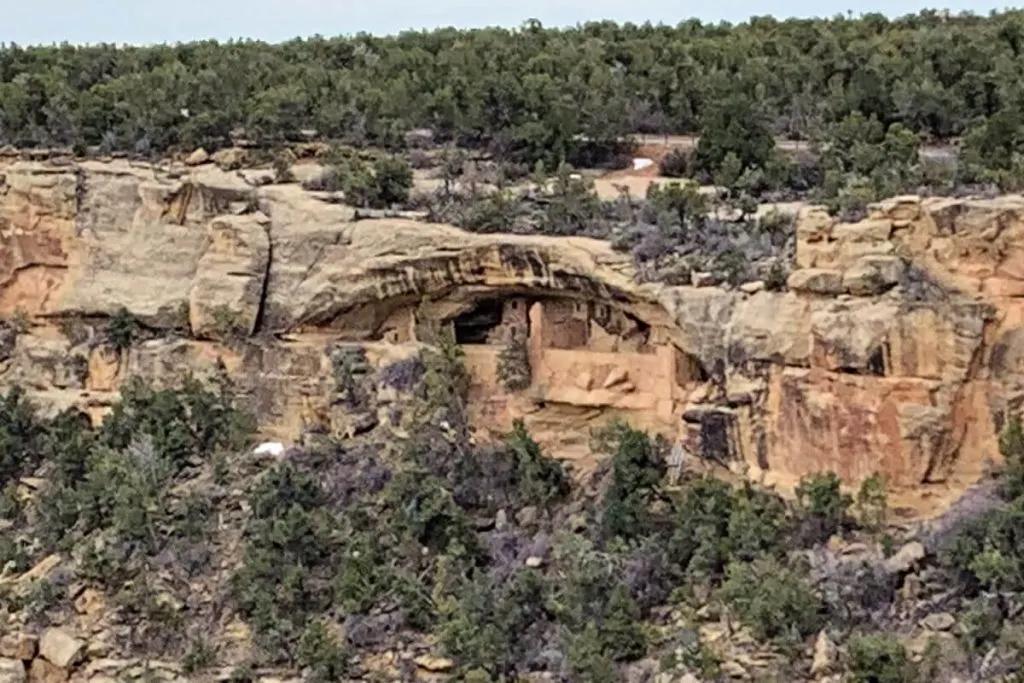 c. Soda Canyon Overlook Trail (1.2mi/1.9km)
The Soda Canyon Overlook Trail is the longest we attempted with my 6-year-old. Moreover, he called it the "really long hike", and it was a lot of fun. Awesome views abound, but this is one of those places where Mom panic kicks in.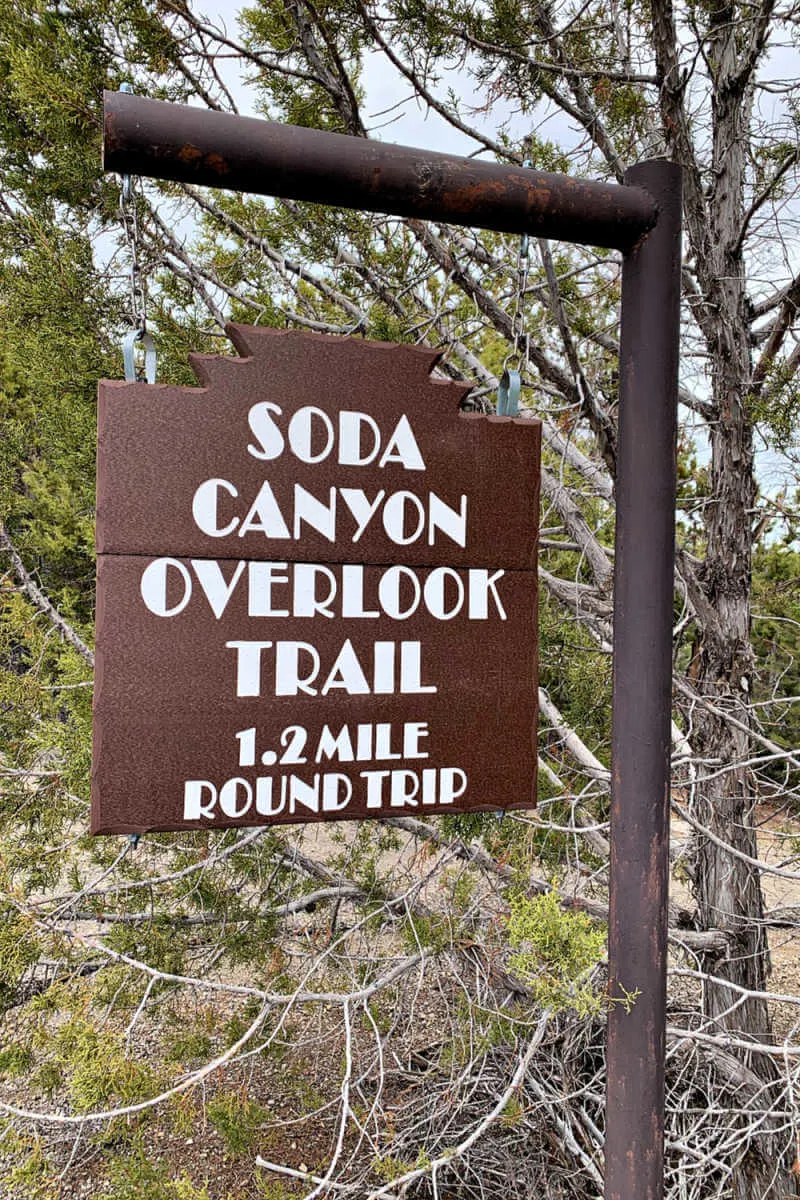 The trail goes very near the dropoff down into the canyon. Also, the telescope in the picture below is on a large rock sticking out into the canyon. While the places that meet the trail are fenced, off the trail they are not. I would advise kids know to stay on the trail on this one!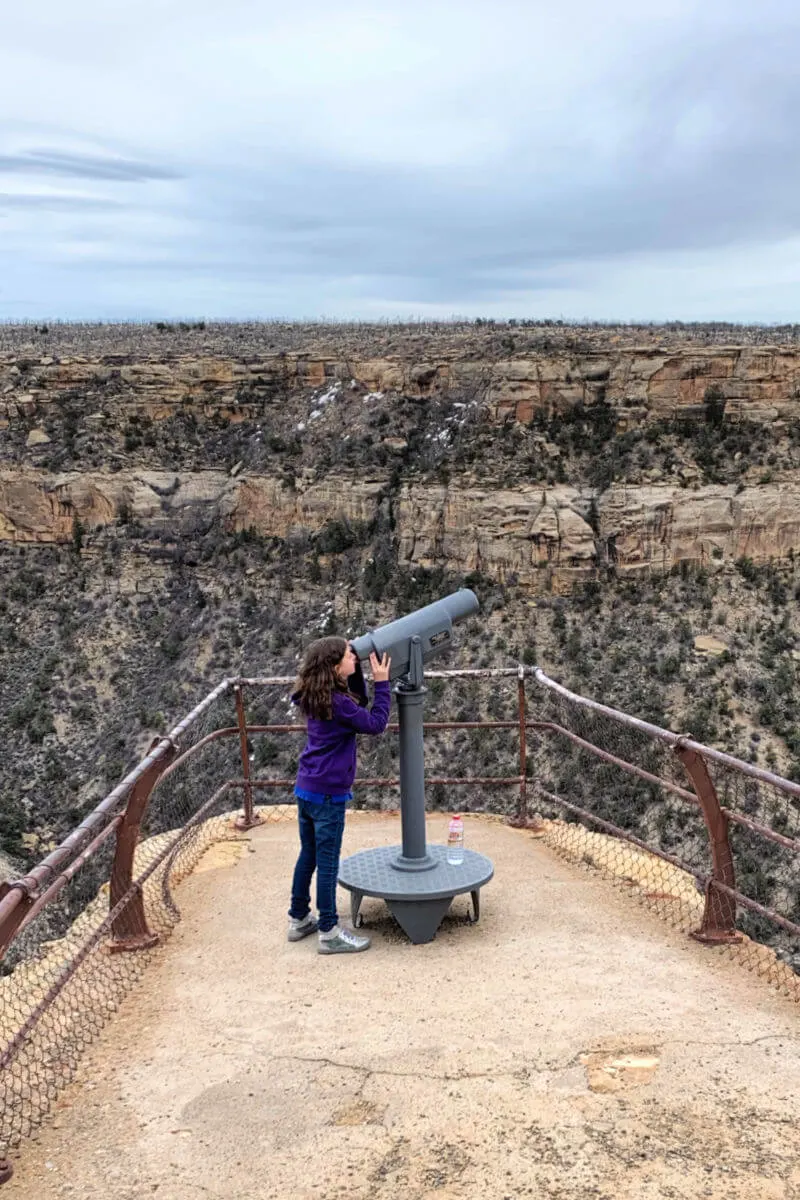 But wow! What an experience!
7. Spruce Tree Terrace
Spruce Tree Terrace is a little café area where you can stop for lunch or a snack. We didn't pack a picnic and found it to be a good break between loops. There are various sandwiches, hamburgers, brats, French fries, salads, cookies, and general American-style quick foods. It's a little higher priced than you'd normally find, but hey, it's the only thing in the park!
If you live close by or are organized to get a good picnic together before going I highly recommend that also and taking advantage of one of the many picnic areas.
In summer, needless to say, it is very HOT. Be sure to bring enough water, sun hats, non-toxic sunscreen, etc. to keep you hydrated and safe.
8. Spruce Tree House
Safety concerns with falling rocks have closed the Spruce Tree House for tours for the foreseeable future. However, you can still get a good view of it from the overlooks near the museum.
This is the third-largest cliff dwelling and hopefully will be open again soon! It's one of the easiest to get down to and has paved paths for strollers and wheelchairs.
9. Chapin Mesa Archeological Museum
If you have the time or just want to breeze through, the Chapin Mesa Archeological Museum is worth a stop. Some people will really want to examine the dioramas illustrating Ancestral Pueblo life. My children did not, but we'd also been on a lot of stops!
In addition to the dioramas, there are exhibits of prehistoric artifacts, a chronology of Ancestral Pueblo culture, and other displays.
If the family needs a rest, there's also a 25-minute informational video on the park that runs on the half-hour. In summer months, I would imagine it would be a welcome break in the air conditioning! Check it out.
10. Mesa Top Loop (6mi/10km)
Now, head over to the second loop on the map, the Mesa Top Loop. It's good to start this one after a good lunch and everyone's revived and excited to see more! There's a lot more to see on our 1 day Mesa Verde map itinerary than just Cliff Palace (although it IS pretty impressive on its own!).
a. Pit house
Be sure to stop at the Pit House. This is the earliest evidence of people living in the area from about A.D. 550 to 600. They build shallow pits in the ground and covered them with pole and mud roofs and wall. In fact, the entrance would have been through the roof!
The Pit House you will see at the site is one of the best preserved anywhere with features common on all pit houses. There's a large space used as a living room with a fire pit in the middle. Then to the side, adjoining the living room is an antechamber where they think firewood and food were stored. All the family would sleep on the floor around the fire, grandparents, parents, kids.
How would you like that? Pick up the Mesa Top flyer at the entrance for more information.
b. Square Tower House
I have to say Square Tower House is my second favorite cliff dwelling in the park, after Cliff Palace. Take a short paved trail down to the viewpoint area. The four-story tower looming over the rest of the buildings is quite impressive. The tower boasts window, flooring, doorways, and even a reed mat, feathered cloth, and a humanlike figurine were found inside.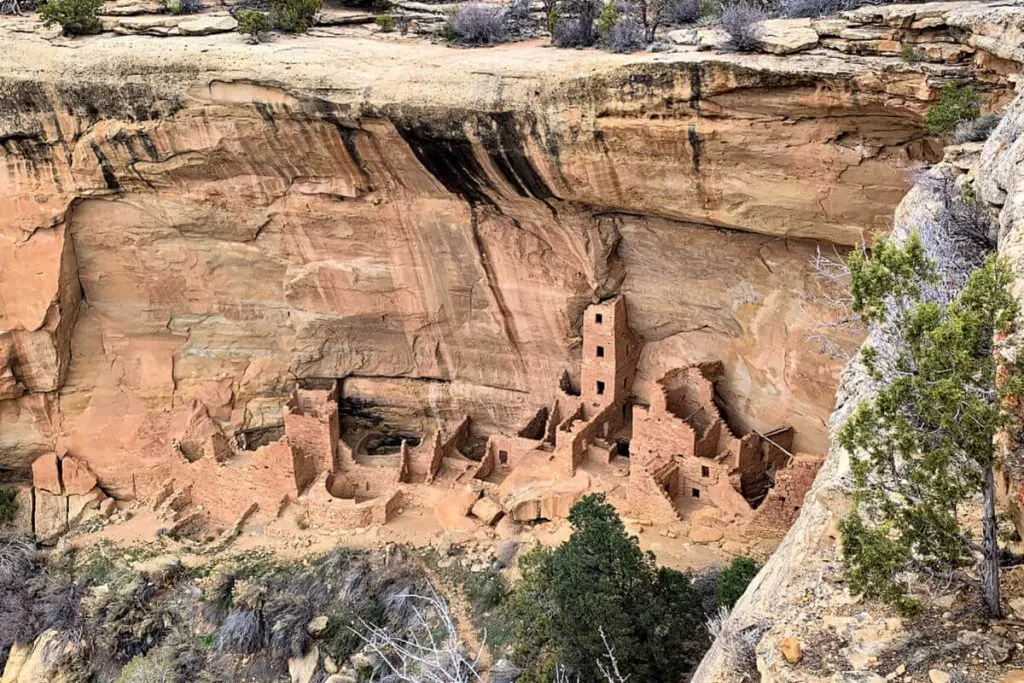 Evidently, the residents of the 80 original rooms in this dwelling came and went using hand-and-toe holds dug out of the cliff walls. Yes, they had to climb in and out! People lived here toward the end of building in Mesa Verde, from A.D. 1200 to 1300.
c. Sun Point View
Sun Point View is a good place to stop to view many dwellings at one time. Here you will see a dozen different cliff dwellings in alcoves in the Cliff and Fewkes Canyons. Take the kids out, stretch your legs, and see how many you can spot!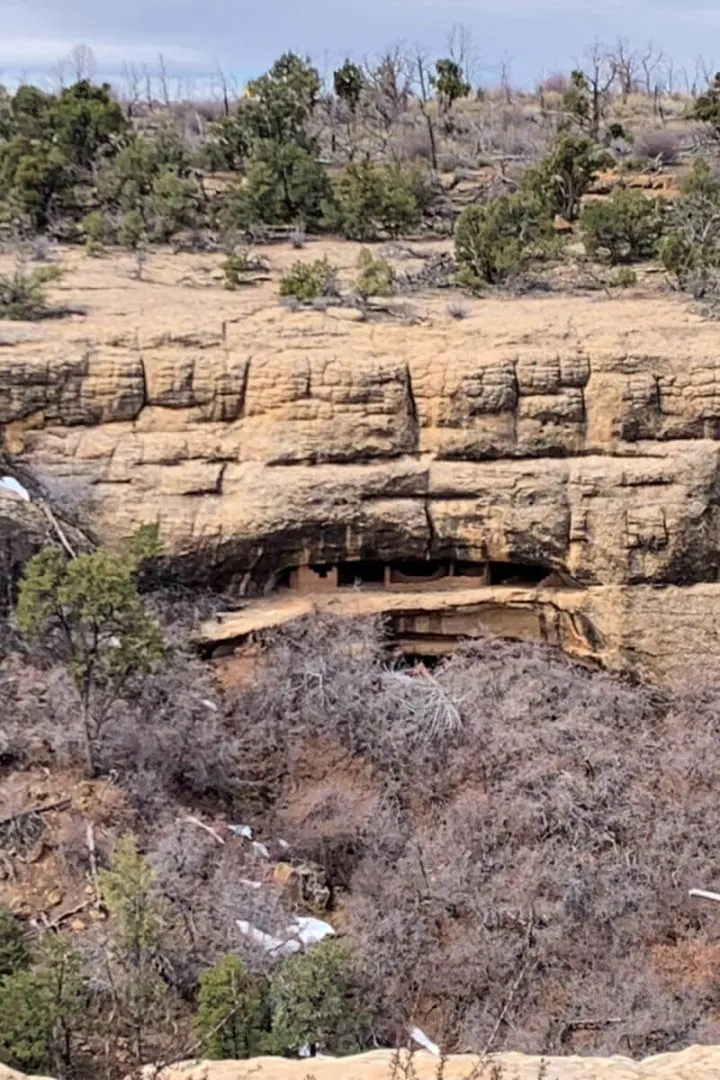 d. Sun Temple
The Sun Temple is a fascinating place to explore and let the kids run around to see what they can see. Moreover, it's another place where you can get up close and personal with one of the structures. Peek through the windows and discuss why they might have created four-foot-thick walls.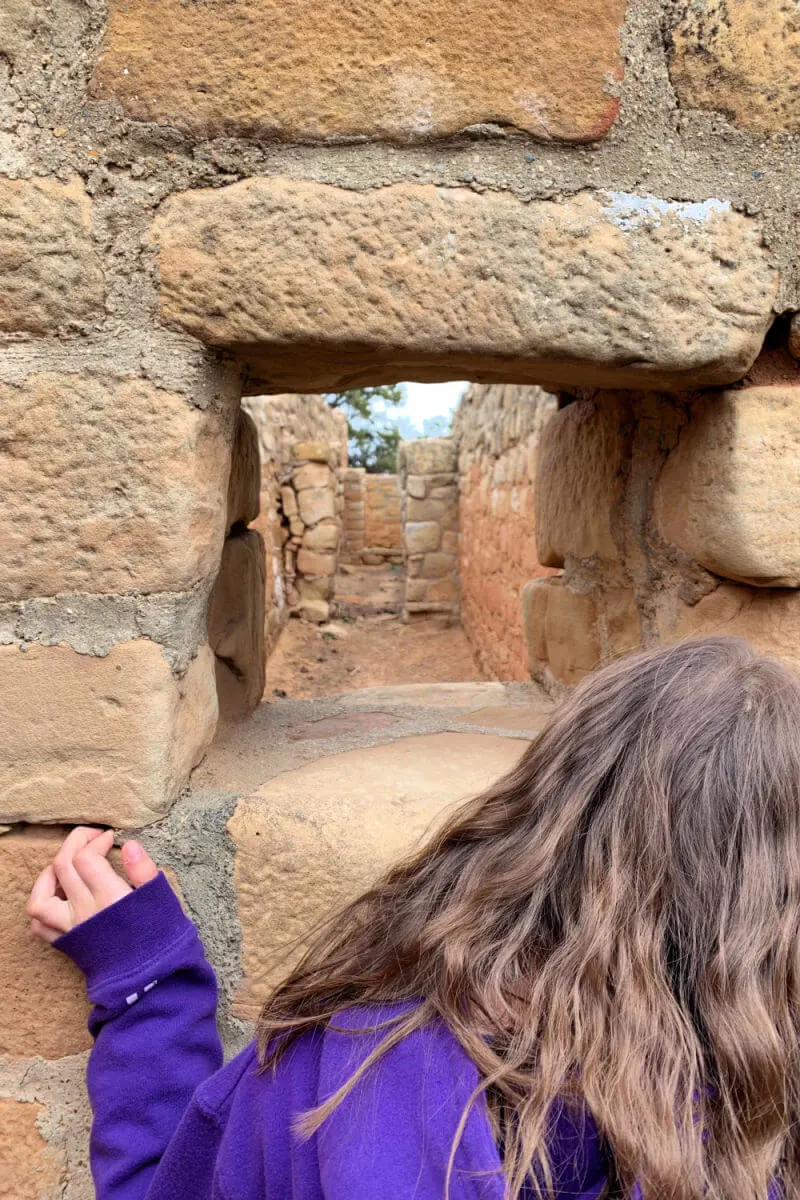 What would they have used this D-shaped structure for? There are signs it was left unfinished, without a roof, according to the experts. But, a point of interest is the natural rock basin in the southwestern corner possibly served as a "solar marker". Also, people from the surrounding areas could have attended ceremonies in the temple.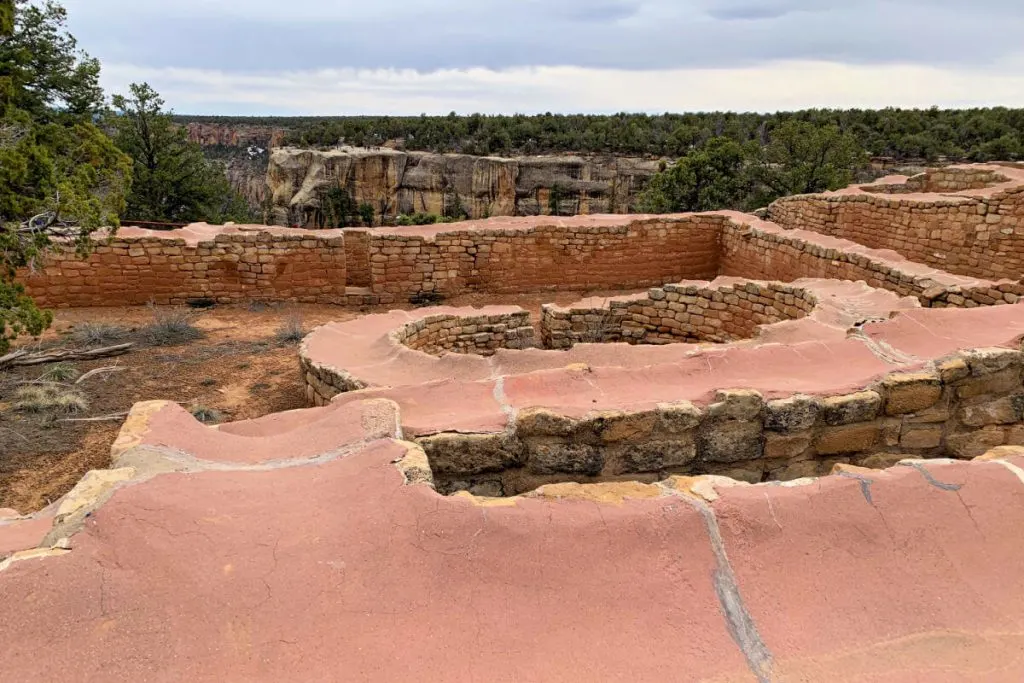 11. Return to the Visitor's Center
The Sun Temple is the last stop on the Mesa Top Loop. From there, if you have any time left explore away. If not, head back to the Visitor's Center before it closes. When we were there it closed at 4:30, but times do vary depending on the season.
In addition, the kids can complete the Junior Ranger program with a ranger and get their certificates. The packets can be mailed in, but they love that sense of accomplishment to finish in a day. Have I mentioned we LOVE the Junior Ranger program?!
Grab the last minute souvenirs, and you're done for the day! I hope you enjoyed this 1 day Mesa Verde map itinerary. Let me know in the comments below if it's useful to you!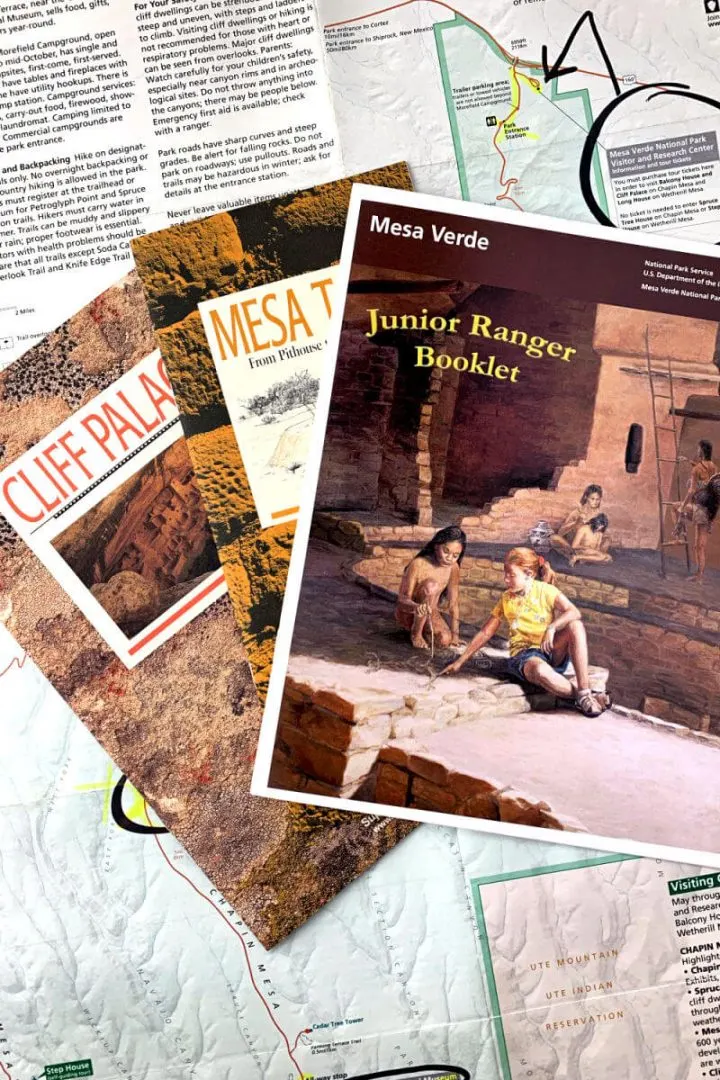 1 Day Mesa Verde Map Itinerary
Itineraries are never hard to come by. One of the most popular itineraries for Mesa Verde National Park is a one-day itinerary. This includes all of the essential stops without overwhelming you or your family with too much information at once. One day will be enough time to explore Mesa Verde and get an idea of what life was like. It's the perfect way to learn how these ancient people who inhabited the cliff dwellings thousands of years ago would have lived!
To be fair, this is a lot to pack into one day at Mesa Verde National Park. However, if you do only have the day you're going to want to see as much as possible. It's a fascinating place to discover hands-on about the ancestral Puebloan people. Forget reading about it in books, go out and explore!
The kids will love this National Park, and I have a feeling it's a trip they will remember for a long time! Happy travels!
Lauren
PIN it here!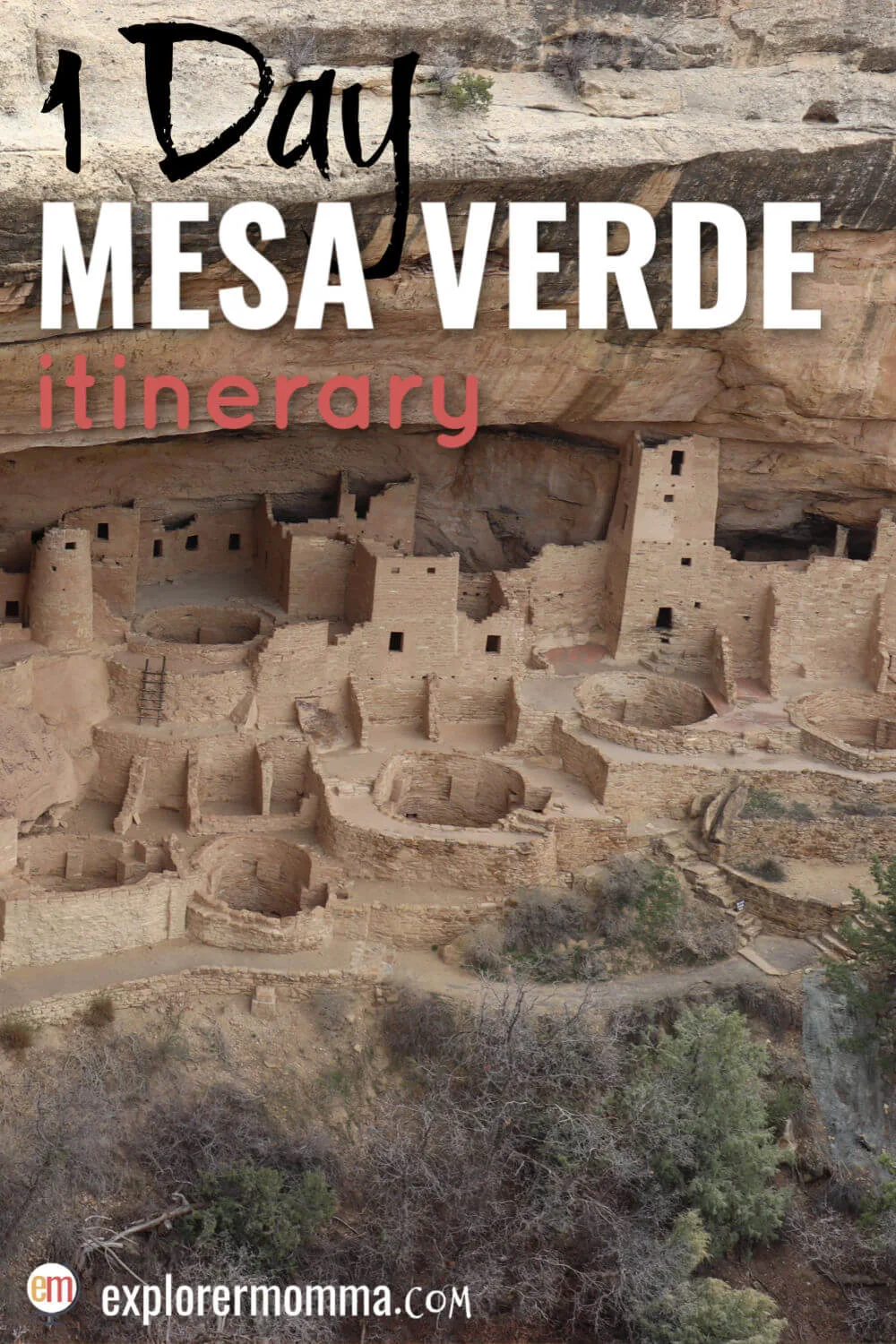 Other U.S. National Parks