Preview: A Utah and Colorado National Parks Bucket List for families. Join guest writers as we travel around these mountain states to national and state parks!
What's your reason to visit a national or state park? Why do we go to these parks? Is it the magnificence, the feeling of heaven on earth, the challenge, or the varying landscapes?
We are planning family trips for this summer and so I asked travel bloggers from all over to share their experiences in state and national parks. You may find your reasons to travel to one of the parks from their answers!
The national parks bucket lists will be published in a series of 5. I hope you enjoyed last week's California National Parks Bucket List! Have you been to many of the California parks?
But now, without further ado, let's continue our journey and add to your Utah and Colorado National Parks bucket list!
This post contains affiliate links, which means I receive a small percentage if you make a purchase after clicking on my links.

Utah National Parks for families
Bryce Canyon National Park
Bryce Canyon National Park is one of the most unique and memorable parks we explored in the U.S. on our West Coast road trip.
Technically not a Canyon, the landscape is surreal. Millions of years of erosion through the valley have created pillars called hoodoos, and are scattered over a large area. You can admire the hoodoos from the canyon rim, or take a hike down to the valley floor where the hoodoos tower above you.
Bryce Canyon is great with kids as it is quite small. The park can easily be visited in one day and many of the hiking trails are not too challenging. We took the Navajo Loop Trail starting from Wall Street and also covered the Queens Garden Loop Trail in the valley.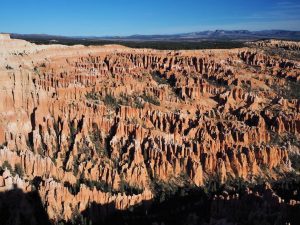 The kids loved walking through the hoodoos, looking for shapes in the towering pillars of sandstone and playing hide and seek amongst the spires.
Our best tip is to visit the park at sunrise or sunset when the colors are simply magnificent. If you have time, sign up for a ranger talk on the trail. They are engaging sessions, and our kids learned a lot from about the landscape and the animals that call the park home. The area around Bryce Canyon is said to be one of the darkest locations in the US. That makes it also the perfect spot for a little star gazing.
By Rachel from Adventure and Sunshine
Zion National Park
Zion National Park is centered around a large canyon. However, unlike most canyons which you see from above, the main accessible part of the park is along the canyon floor. The park is car-free. Instead, there are frequent free shuttle buses that run the length of this part of the park, making it easy to travel, and keeping the park free of traffic.
There are plenty of places to stay in nearby Springdale, but if you want to stay in the park, the lodge is half way along the canyon. At the lodge, you'll find a restaurant and cafe as well as an enormous cottonwood tree that is lovely to relax under in the summer.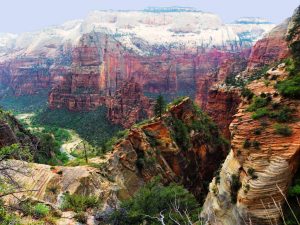 There are plenty of hikes, including The Narrows – a spectacular hike through a narrow slot canyon in a river. Younger kids can do the river walk to the start of this hike easily. You'll also find plenty of slot canyons that are perfect for canyoneering (rappelling down a series of extremely narrow canyons) – not for little kids, but perfect for adults or even adventurous teenagers.
Also, there are shorter, easier hikes, such as the short half-mile hike to Weeping Rock (a dripping 'waterfall' over a rocky outcrop) and a one-mile hike to Canyon Overlook for breathtaking views of the canyon below.
Zion really does have something for everyone of all ages, levels of fitness, and adventurous spirit.
By James from Travel Collecting
Arches National Park
Arches National Park was one of my favourite national parks to visit in the USA. If you have 2 days you should be able to see everything in the park. There are a lot of short hikes that you can do which is ideal if you are going with children.
Just off the main road through the park, there's a nice little hike of 0.3 miles is to see Balanced Rock which stands at 39 metres tall. More difficult, Delicate Arch was one of my favourite hikes and is a 3-mile hike. Actually, it is quite a strenuous hike as it's mainly up a steep rock face on the way there. However, it's well worth it once you get there. It is possible to do with children, but you will need to keep a close eye on them as there are sharp drops in places.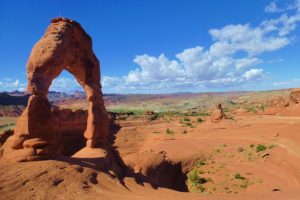 Devil's Garden trailhead has a lot of different options for hikes with many more arches you can see. Some are very easy walks and some are longer and more difficult. This is a great area to explore though as there is so much to see. Unfortunately, it does mean it is one of the busiest in the park. My favourites to see are Landscape Arch, Partition Arch, and Double O Arch.
If you are in Utah you need to make the time to have a couple of days or at least a day to visit this park.
By Clare from I Live 4 Travel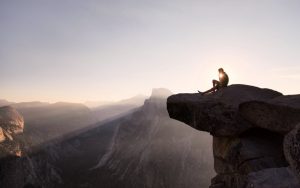 (Pssst!! Add all of these to your Utah and Colorado national parks bucket list today!)
Colorado National Parks for Families
The Great Sand Dunes National Park
The Great Sand Dunes National Park is one of the most unique National Parks in the United States. Containing the tallest sand dunes in North America, the dunes stretch across about 30 miles of land. One would think the dunes were close to the ocean, but no, the dunes are actually located in Colorado, at the edge of the San Luis Valley and Sangre De Cristo mountain range.
The dunes can be spotted from miles away, and the closer you drive to them the bigger and bigger they appear. A favorite way to explore the dunes is to rent sand sleds or sandboards and climb to the top for an awesome view and then an even better ride. Families with children can choose to surf down smaller dunes rather than the very large ones.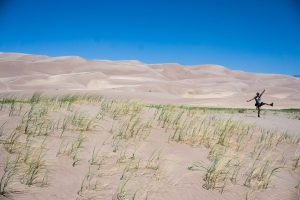 Another way to explore the dunes is to drive the rugged Medano Pass, a 22-mile sand road that requires a 4 wheel drive vehicle to go on. Don't have a 4 wheel drive vehicle? You can actually rent fat tire bikes that are the only type of bike allowed pass the no point of return on Medano Pass.
If you don't feel as adventurous, simply taking a hike to the foot of the dunes at sunset is a magical experience. The dunes light up in a soft ray of orange light and are beautiful to photograph at this time.
By Jess at Unearth the Voyage
Rocky Mountain National Park
Rocky Mountain National Park, just west of Estes Park, Colorado, is my happy place. It feels like a second home to me, always welcoming and awe-inspiring. There are so many different places to explore and fabulous hiking options for families.
In this magnificent park, you'll find views of majestic mountains, valleys, and snakelike rivers, as well as a variety of wildlife and plants. There are mountain-sides with pine and aspen trees, mountain flowers like the Rocky Mountain columbine, and even the grass of the tundra up on top of Trail Ridge Road.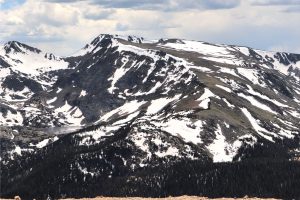 If you want a day to impress the kids in the park definitely drive up Trail Ridge Road. A highway to the sky, Trail Ridge Road is the 48-mile portion of U.S. 34 between Estes Park and Grand Lake, Colorado. To me, this is one of the most beautiful stretches of road and mountains you will ever see. At the top point, 12,183 feet in elevation, the wind whips and even in summer cars drive by walls of snow.
Take your time and get out of the car to enjoy the scenic views or take one of the short hikes. The Alpine Visitors Center is almost at the top on the Grand Lake side and worth a stop if nothing else but for the photo op.
Personally, when traveling the road I've seen moose, elk, deer, coyotes, bighorn sheep, marmots, chipmunks, and all sorts of birds. If your kids keep a written or art journal be sure to encourage them to track all the wildlife they see!
For more information on Rocky Mountain National Park and the area check out these articles:

I may be a little biased as I grew up in the area, but there is no place on earth like Rocky Mountain National Park. It's perfect for families, adventurers, and wanderers.
By Lauren from Explorer Momma
Pin this post to save for later here!: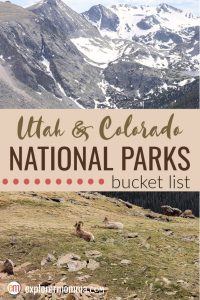 Operation U.S. Parks
Are you ready for a family education? Teach your kids to respect and honor nature. Visit the parks, hike, camp, and enjoy the outdoors! It's so much more powerful to have a hands-on experience to demonstrate why we must protect them and the wildlife in them. Truly, as a kid, these are things you'll never forget, not only the time in these amazing places but the fun as a family.
Are you enjoying our journey around the country to the U.S. Parks? Have you added to your Utah and Colorado National Parks bucket list? Maybe it will give you and yours some inspiration to get out and plan your own trips! Good luck!
Have you been to any of these Utah or Colorado National Parks? What about any other State Parks?
Tag me in your pics on Instagram @explorermomma. I'd love to see them!
Check out more articles on U.S. parks: