Did you know if you go to Niagara Falls with kids you'll experience 3,160 tons of water flowing over Niagara Falls every second? Amazingly enough, the power of Niagara Falls is capable of producing over 4 million kilowatts of electricity. Situated between the two countries, that electricity is shared by both the United States and Canada.
This post contains affiliate links, which means I receive a small percentage if you make a purchase after clicking on my links.
What do I love about these natural giants of power? Absolutely everything! Niagara Falls is one of those super epic impressive sites that if it isn't on your bucket list, then WHY NOT?? To a child, the immensity of the falls is huge and one of those experiences that will stay with them forever. These are the moments I love to capture with my kiddos. As we begin this year of Operation National Parks, let's start off with one mouth-dropping state park. This is why we travel to national parks, state parks, and the world!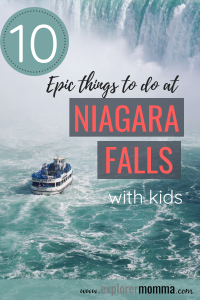 Just the basics
Niagara Falls State Park is located on the border between the United States and Canada. It's easy to get to from Buffalo, New York or Toronto, Ontario from the Canadian side. Because it is a U.S. State Park, it is located on the U.S. side, but you can get amazing views by crossing over into Canada as well.
TIP: I had no trouble parking and was there mid-September on a weekday. However, I was told the lots fill up quickly in summer, especially on weekends, so if you're traveling with kids or a large group I would do my best to come on a Tuesday, Wednesday, or Thursday to avoid lines and crowds.
TIP 2: If you plan to see all the attractions, save some money and purchase a Discovery Pass before you go. It gets you access to Maid of the Mists, Cave of the Winds, and pretty much everything, with about a 35% discount. Check out the Niagara Falls State Park website for the most up to date prices here.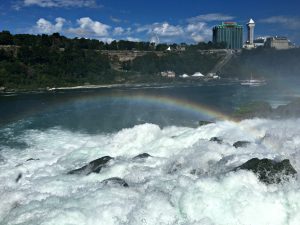 Top 10 things to do at Niagara Falls with kids
1. Cave of the Winds
From the parking lot, I meandered over to the Cave of the Winds ticket booth and building. I walked under a grand archway and enjoyed the plants and flowers smartly planned throughout. There was no line, and the friendly woman working the booth gave me a flier of attractions and suggested some options.
TIP: Conveniently, there are also restrooms right next door to the Cave of the Winds ticket area for that 5-year-old's emergency!
The actual tour is awesome. I'm an admitted history nut and love to spend hours soaking up little bits of random facts and staring at black and white photographs. The beginning of the Cave of the Winds tour is for the general public, and presents a visual experience through displays and then a short film. It is very well done and designed to make the history of the falls come alive to not just the interested history buff, but for the energetic 12-year-old boy, or anyone.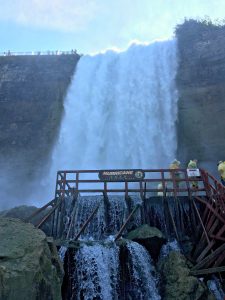 From there you walk over to get on the elevator to take you down to the walkway at the bottom of the falls. You're given souvenir sandals to wear and keep (the 12-year-old boy I mentioned was super-excited about this), a bag to protect your own shoes, and a yellow poncho to protect you from the water spray. Wander around. I highly recommend it. It's amazing!
2. Trolley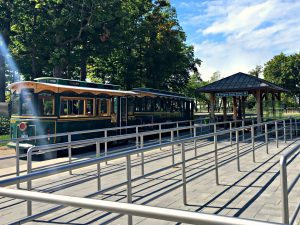 The trolley is a fabulous option for families to take to the major attractions and sites all over the park. You can leave your car, save your feet, and the kids love the novelty of taking the trolley to each place. All aboard!
3. Maid of the Mist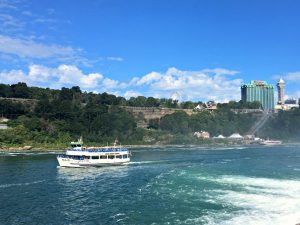 Maid of the Mist is another must-do at Niagara Falls with kids. This time you get a blue poncho and a tourist-filled boat takes you lazily down the river past flora and fauna past Bridal Falls, Cave of the Winds, and then into the spray of the mighty Horseshoe Falls. From the bank, it looks as if the boat's enveloped by the water at the bottom of the falls. It's an amazing experience for sure and a great memory for kids.
4. Niagara Fall Observation Tower
While you're at the Maid of the Mists, be sure to ride the elevator up to the Niagara Falls Observation Tower. There are some stairs to the top, but you're rewarded with fabulous views. In addition, should you have a young up and coming bird watcher with you, this is the perfect location to see some of the local peregrine falcons, bald eagles, and other birds. We search for these birds everywhere we go thanks to our friends the Wild Kratts so this is a huge hit with our family.
The Niagara Gorge has officially been designated an Audubon Important Bird Area (IBA).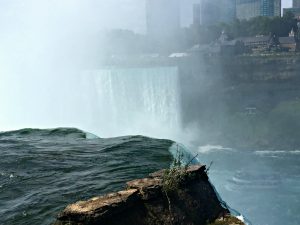 5. Aquarium of Niagara
The Aquarium of Niagara is always a hit with kids who love marine animals. Check out the Penguin Coast exhibit and see some sharks! With over 40 exhibits you're sure to find the California sea lion or seahorse.
6. Hiking Trails and the Discovery Center
Does your family love to hike? Briefly check out the Discovery Center then pick one of the many hikes to explore. There are convenient signs posted around with the distance of each hike, difficulty, and age appropriateness. It's super-easy to find the best one for you as an individual or a group with different levels.
7. Walking Tour App
Do you have a teenager attached to their phone with you? Did you know the Niagara Fall State Park has its own Walking Tour app? It's a great thing to put that pre-teen or teen in charge of downloading the app and giving the family the information it sends to you as you complete the walking tour. Just search for Official Niagara Falls Tour in the Apple App Store or Google Play Store. There's information on 17 sites as you make your way around the park and an interactive map. Depending on where you go it can even send coupons for discounts on ice cream, souvenirs, and more. Click here to learn more about the app.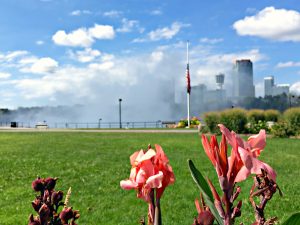 8. Niagara Adventure Theater
Okay, you've walked, hiked, and are planning to bike. Do you need a rest? The Niagara Adventure Theater provides a little break in your active schedule. When it's time for a rest, stop at the Niagara Falls State Park Visitor Center. There you can view the half-hour presentation of "Niagara: Legends of Adventure" full of daredevils, stories, and history. It's air-conditioned and a good place to relax for a while.
9. Biking the State Park
While I did not bike, a family with older kids can have a wonderful time biking around the state park. As you finish with the Adventure Theater look for the rentals tents just outside the Visitor Center. There are different kinds of bikes on offer, even kids bikes for ages 7-13. Ask about the best bike routes or explore on your own.
Here you can also rent wheelchairs, strollers, and kid wagons. I love that this gives everyone access and opportunity to explore the park in their own way!
10. Fireworks and Illumination days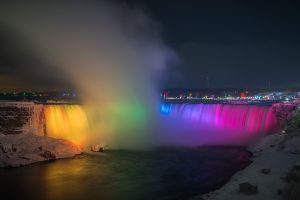 Bryan Goff
If you're going to get the family out at night, the fireworks and Niagara Falls' illumination days are spectacular and very popular. Kids love the fireworks and the different displays of color on the water.
Travel Stories
I love people watching when you travel. It's fun to see the families, individuals, and couples and imagine, what brought them to this place at this time? For example, I ran into a couple at the Cave of the Winds last week. Evidently, I'm fairly approachable being a mom, generally with at least a hint of a smile, and the ability to handle an iPhone, because I get asked all the time to take pictures for people.
This particular couple wanted their picture under the falls at Hurricane Deck, so I took the traditional smiling pose. "Great", she says, "thanks so much!"
They gave each other a quick kiss before coming back to get the phone from me, and I managed to capture that moment with the kiss under the falls. The woman looked at the photo with the kiss, and a gigantic smile lit up her face. "This is absolutely perfect!" she says. "We're on our honeymoon, and I'm blowing this one up to frame!"
You never know how you can make someone's day! It definitely was a great addition to mine!
Get your free U.S. National Parks pass and join us on the U.S. Parks journey.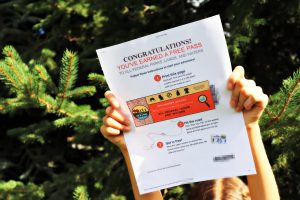 Books and shows with Niagara Falls
It's always fun to tie something kids know to their travels. If my son sees something on TV or we read a book about it beforehand, that prior knowledge makes it all that much more interesting when you actually visit. For example, "Mommy! This is where Trek fed the baby Spinosaurus!"
Films and shows
Niagara Falls With Kids Books
Are you going to Niagara Falls with kids?
Niagara Falls is one of these magical places on earth that creates an inner joy and excitement to those who experience it. Last week when I visited, I could feel the enthusiasm in people all around me! Travel establishes a bond or camaraderie with those near you like few things can. Also, it's another teaching point for me to show my kids how to interact with others and be kind to everyone when you're traveling or just visiting a local event.
Have you been to Niagara Falls? Tag me in your pics on Instagram @explorermomma. I'd love to see them!
Hover over the Pin and click Save for later! Then don't forget to follow me on Pinterest here!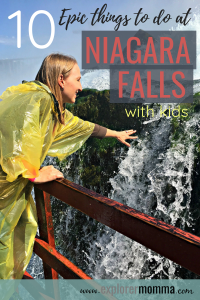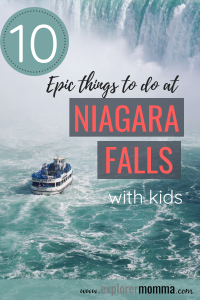 Thanks all!