Here are 8 of my favorite Estes Park hikes for kids, families, or whoever wants to enjoy the beauty of the mountains. Read about Estes Park trails in and around this Colorado mountain town. These trails are beautiful and fun but on the easier or shorter side.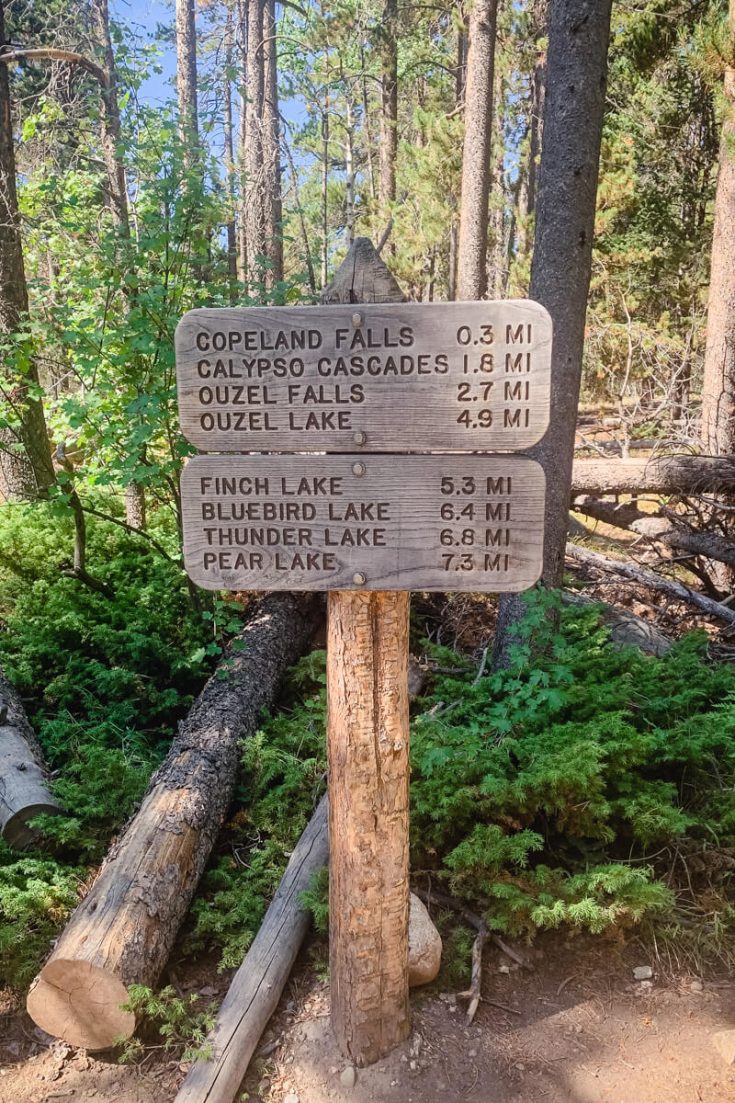 I was such a lucky kid to have many memories hiking around Rocky Mountain National Park and other areas near Estes Park, Colorado. Quite often I think about how fortunate I was to grow up near to such a beautiful place.
Naturally, I want my kids to love it as much as I do, and so it's necessary we explore as often as possible. Of course, we don't get up there nearly as much as I'd like!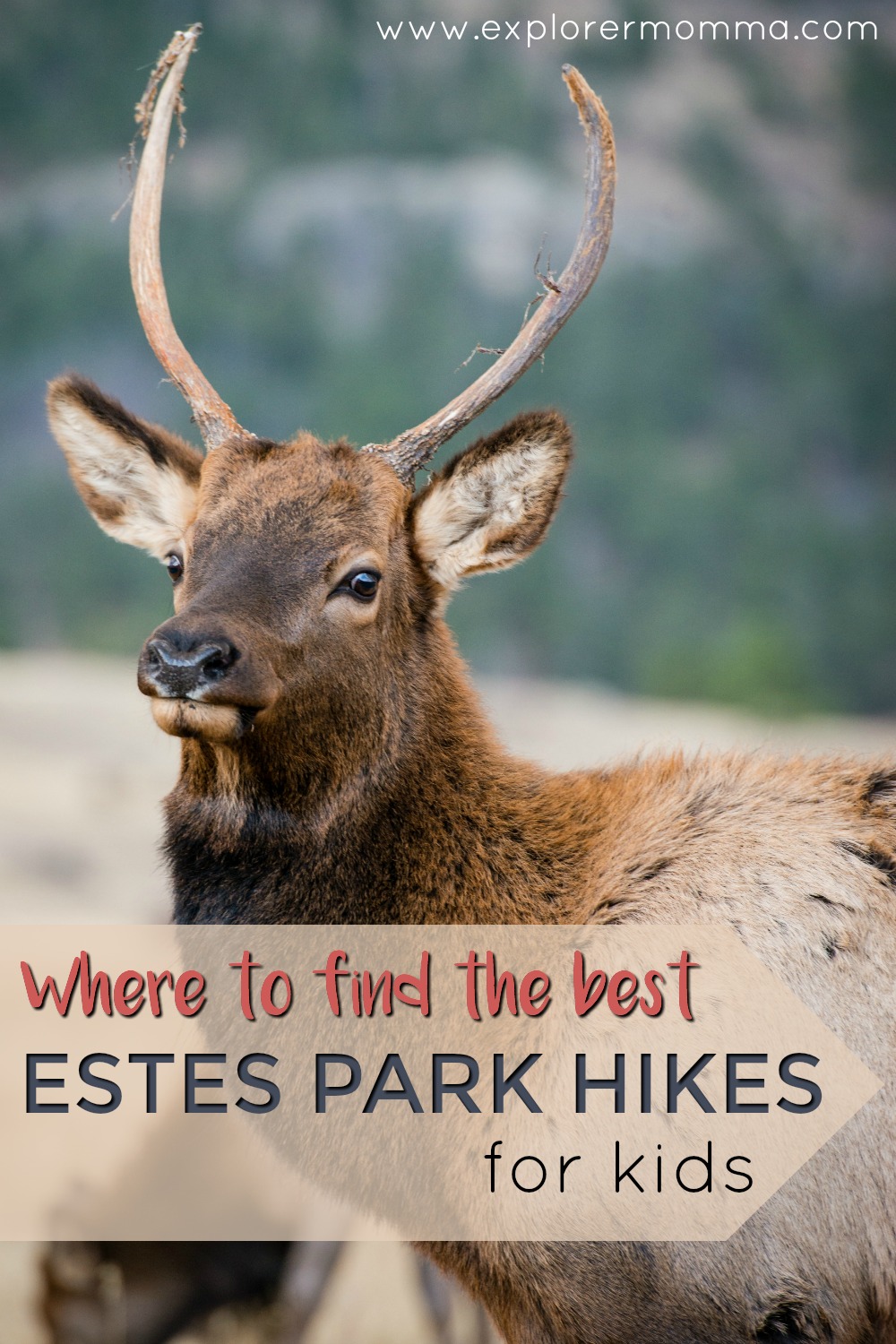 Estes Park Hikes Menu
Lily Lake | The Knoll | Lake Estes Trail | Downtown River Walk | Moraine Park Discovery Center Nature Trail | Sprague Lake | Bear Lake | Copeland Falls
Estes Park trails
I close my eyes and flashback to my childhood. My parents and I drive up to Estes Park and eat lunch at a local restaurant. Then, we head into Rocky Mountain National Park to drive around and look at the leaves or the elk, and stop at a hiking trail to explore.
My father bends down with his black Canon camera to take close-up pictures of leaves and rocks along the trail. Squeal! I see a chipmunk, and my day is made.
Rocky Mountain National Park hiking
Back to the present, together, my kids and I adventure out to explore the same trails and others in the Rocky Mountains. For you, we've put together a collection of our favorite Estes Park hikes for kids.
Why?
Because I want you and your family to have a fabulous Rocky Mountain experience. If you're nearby or plan to vacation next summer and come in from across the country these are must-see beginner hikes. I hope you will love and protect these areas too. Also, I highly suggest you print out this Free Hiking Planner for yourself or the kids. My daughter especially loves to keep track of all our hikes and the details as a sort of journal or memory book.
The hikes we've listed are an easy introduction to hiking and are meant for families to do together. Consequently, they are each no more than a mile or so in distance and fairly level.
They were selected intentionally so a 4-year-old can walk them with Mom and Dad, and Grandma can join in if she wants. Try any or all of these Estes Park hikes for kids your whole family will love!
Our 8 favorite Estes Park hikes for kids
1. Lily Lake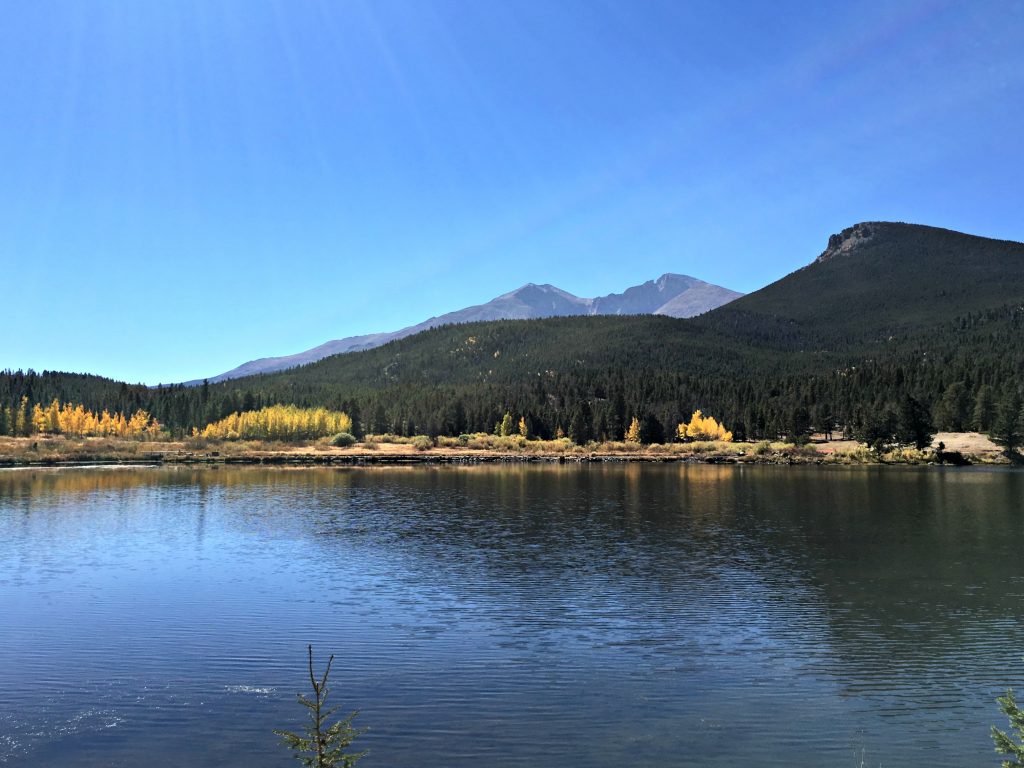 Lily Lake is an absolutely magical place in the Fall. I highly recommend going there anytime, but if you are in the area in late September this is a must-see.
There are yellow and orange aspens all about the lake and a nice flat walking area all the way around (about 3/4 of a mile). This is a handicap accessible trail, and you are in for some great photo ops!
Lily Lake is located about 6 miles south of Estes Park on Colorado Highway 7. There's a convenient parking area very near the entrance to the trail. Everyone in the family will enjoy this one.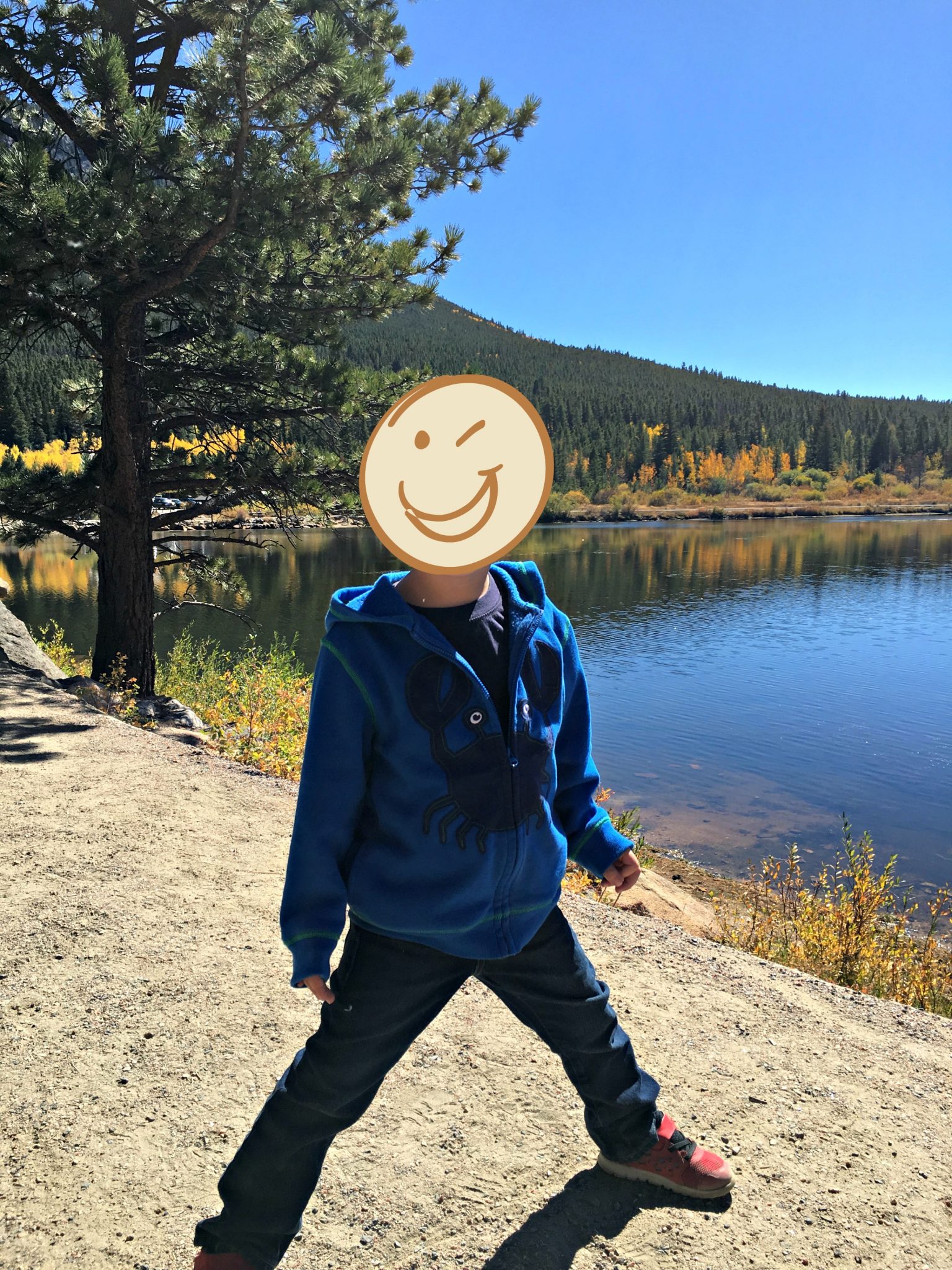 Bonus! The historic Bald Pate Inn is just nearly across the street and makes some of the most awesome pie I've ever eaten. Read about the Baldpate Inn here.
2. The Knoll
This is a good hike if you're actually staying in Estes Park or spending a lot of time in town. Maybe you check out the historic Stanley Hotel, go on the ghost tour, and then the kids are ready to run.
Park your car in the small parking lot or on Wonderview Avenue, just across from the Stanley Hotel. You will be able to access the trail from the parking lot. FYI – Dogs are not allowed on this trail.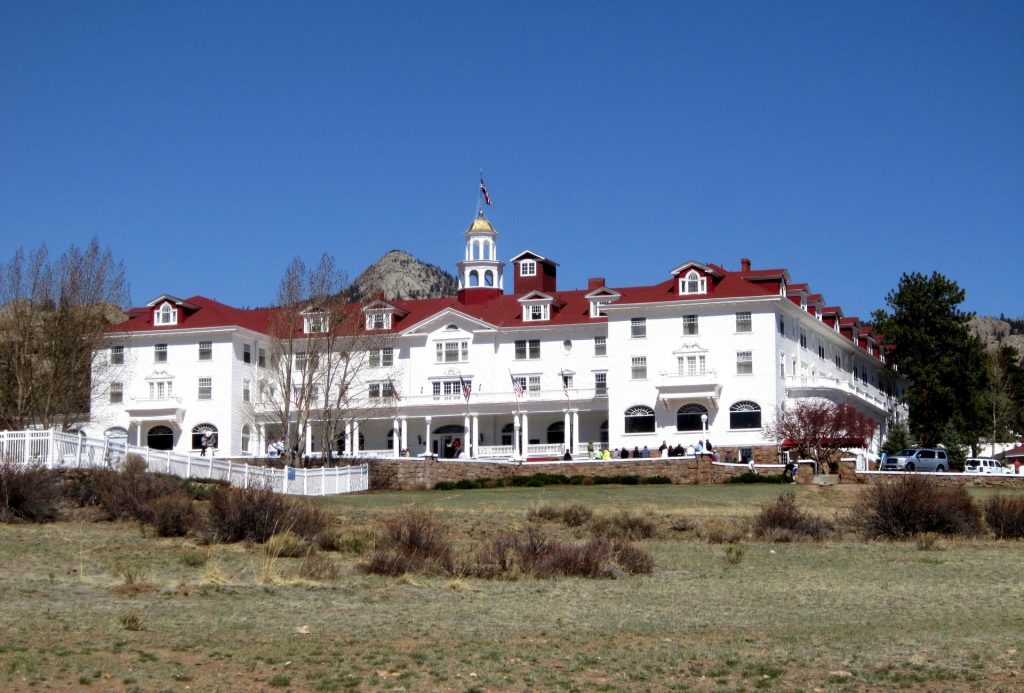 First, start off going south on the trail to the Knoll. Don't you just like that name? "The Knoll…" What it is really is a view of downtown Estes Park and what's left of an old stone cabin.
For those of you who like histories, I was told it was originally built in 1907 by a former editor of the Denver Post. The elaborate cabin had a huge porch and fireplace, maybe too big, since it burnt down at the end of that year.
Next, go back north on the path until you see a downhill trail to the west. Follow it until you find the cabin built by the editor, Mr. Birch, to replace the one burnt in the fire.
This one was built in 1908 and used by the Birch family into the 1980s. It's is a fun path to scout out and to see some great views of the Stanley Hotel and downtown Estes Park.
3. Lake Estes Trail
Did you bring dogs with you on vacation or your bikes? You can walk with your furry friends around Lake Estes or have a fun family bike ride.
When the fog and mists are down you almost imagine yourself in the Scottish Highlands (especially if the Scottish Festival is going on in mid-September, and you can hear the bagpipes over the lake!).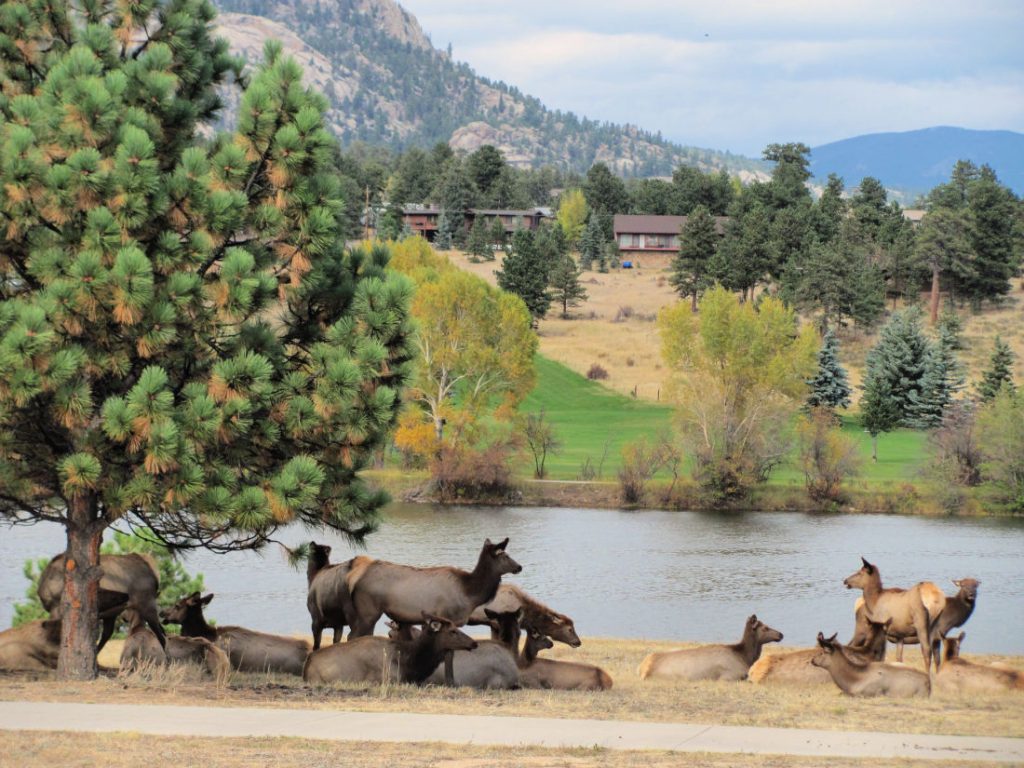 4. The Downtown River Walk
The Estes Park Downtown River Walk is a fun "hike" with the kids along the river. There are cafés and restaurants with tables set up should you need refreshment.
Also, parents can peruse the gift shops as you walk, and kids can explore with another adult or take a rest at one of the many wooden benches with a fabulous view and sounds of the river running by.
5. Moraine Park Discovery Center Nature Trail
As you enter Rocky Mountain National Park, hold onto that map and newspaper the ranger hands you after you pay your fee to get in. The newspaper lists a ton of hikes and activities you can participate in during your visit. Certainly, take a look at your map if you need to, and head on over to the Moraine Park Discover Center.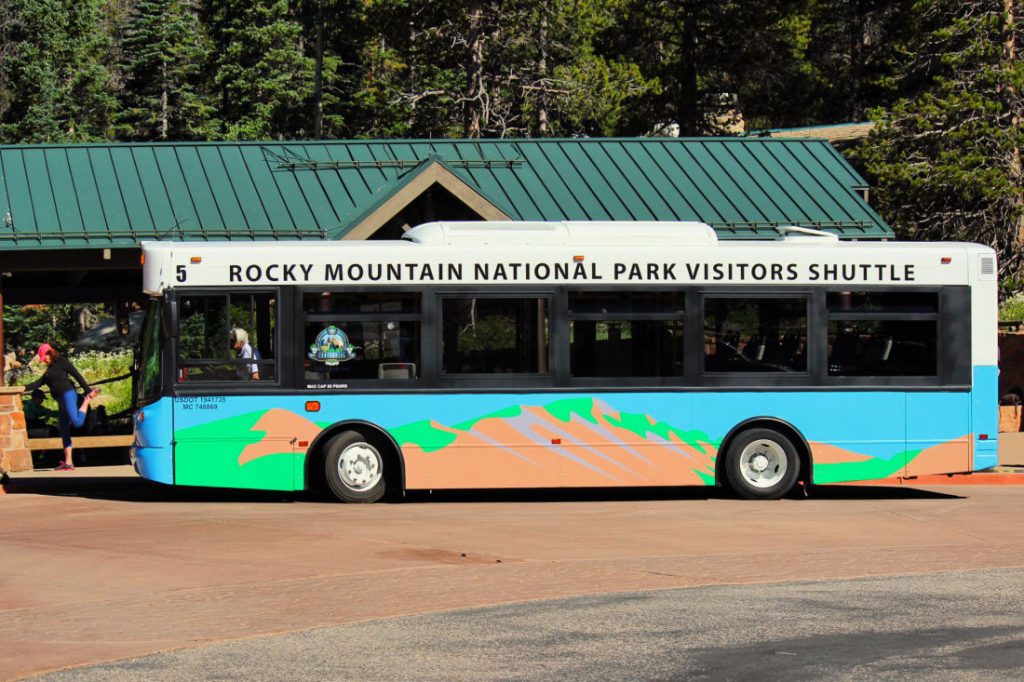 After you park, you'll find an easy half-mile trail the kids will enjoy just behind the Discovery Center. Before you begin, be sure to find a ranger in the center and get the activity booklet for kids to complete as they explore.
You can get other great ideas from the rangers here for things to do with kids, and in the summer there are activities like Discover Days and Discover Hikes led by the rangers.
Another awesome program is the Junior Ranger Program where kids can complete a booklet, speak with a ranger, and earn a Junior Ranger badge. Lots of fun! For more information on the Junior Ranger program click here.
6. Sprague Lake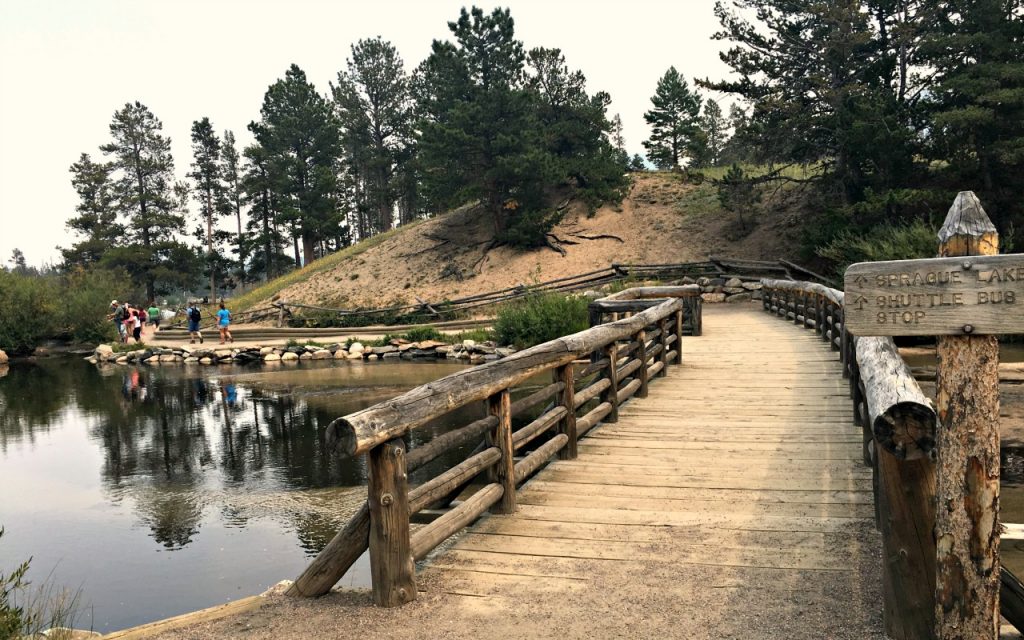 Sprague Lake, oh how I love you! This fabulous place is located in Rocky Mountain National Park up Bear Lake Road. It's is a fabulous place to go for a leisurely picnic by a stream.
We like to go to this lake in the fall, generally mid-week when it's less busy. Although, as long as you can find a parking spot there are many picnic tables and a nice path around the lake. We always have a good time whether it's busy or not.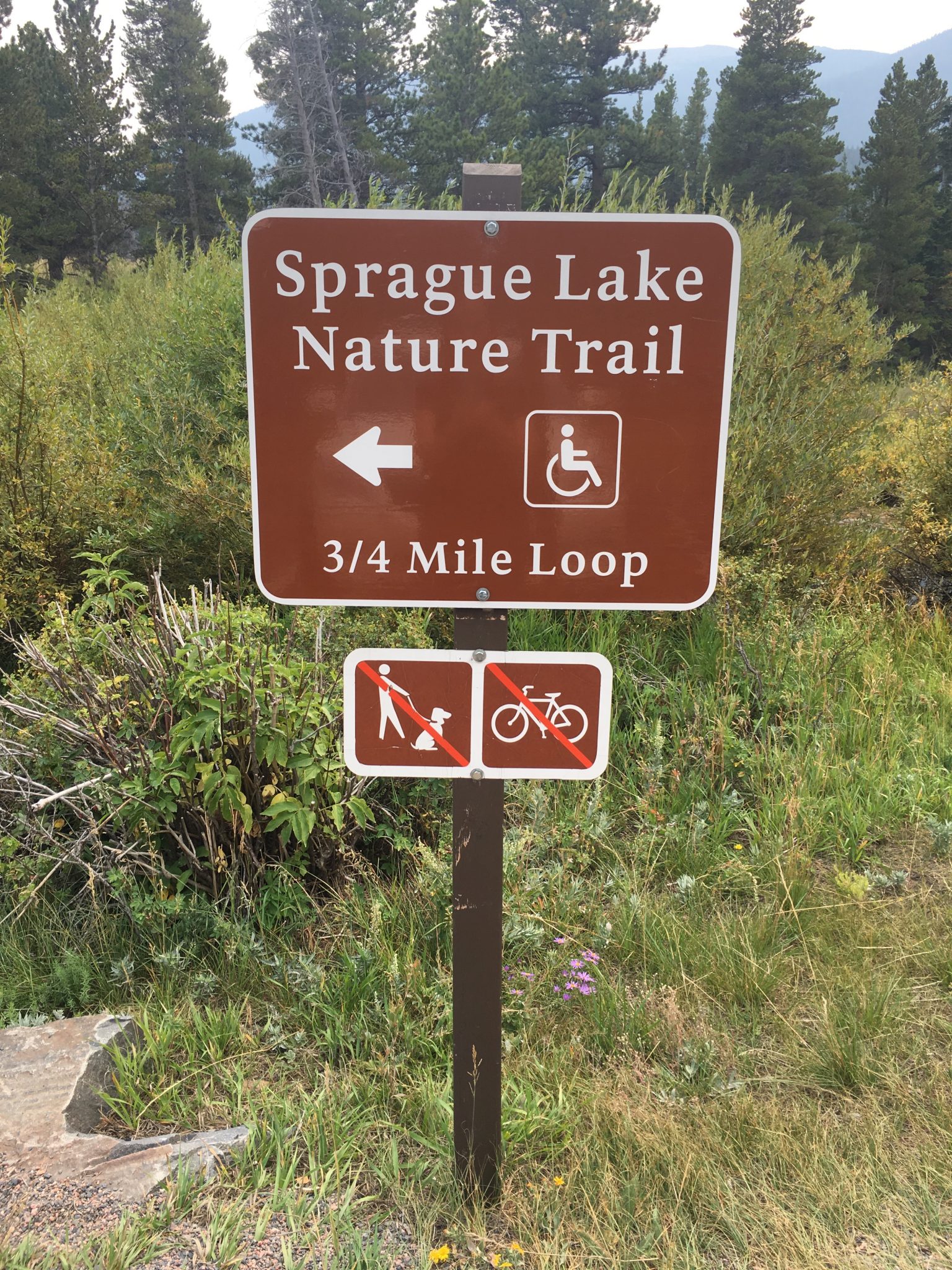 First of all, you can enjoy your picnic, and then put your lunch stuff in the car. There's even a well-kept bathroom with regular toilets during the summer, which is always important with kids!
From there, head over to the path around the lake. It's about 3/4 of a mile all the way around, and my kids love it! You'll find log benches placed every 50 feet or so to sit and take in the magnificent views. N
ot only that, but it's wheel-chair accessible, stroller friendly, and ready for the perfect photo op. A couple of weeks ago when we visited, my son stopped at every bench, rock, sign, flower, whatever, then plastered a smile on his face and yelled, "Picture!"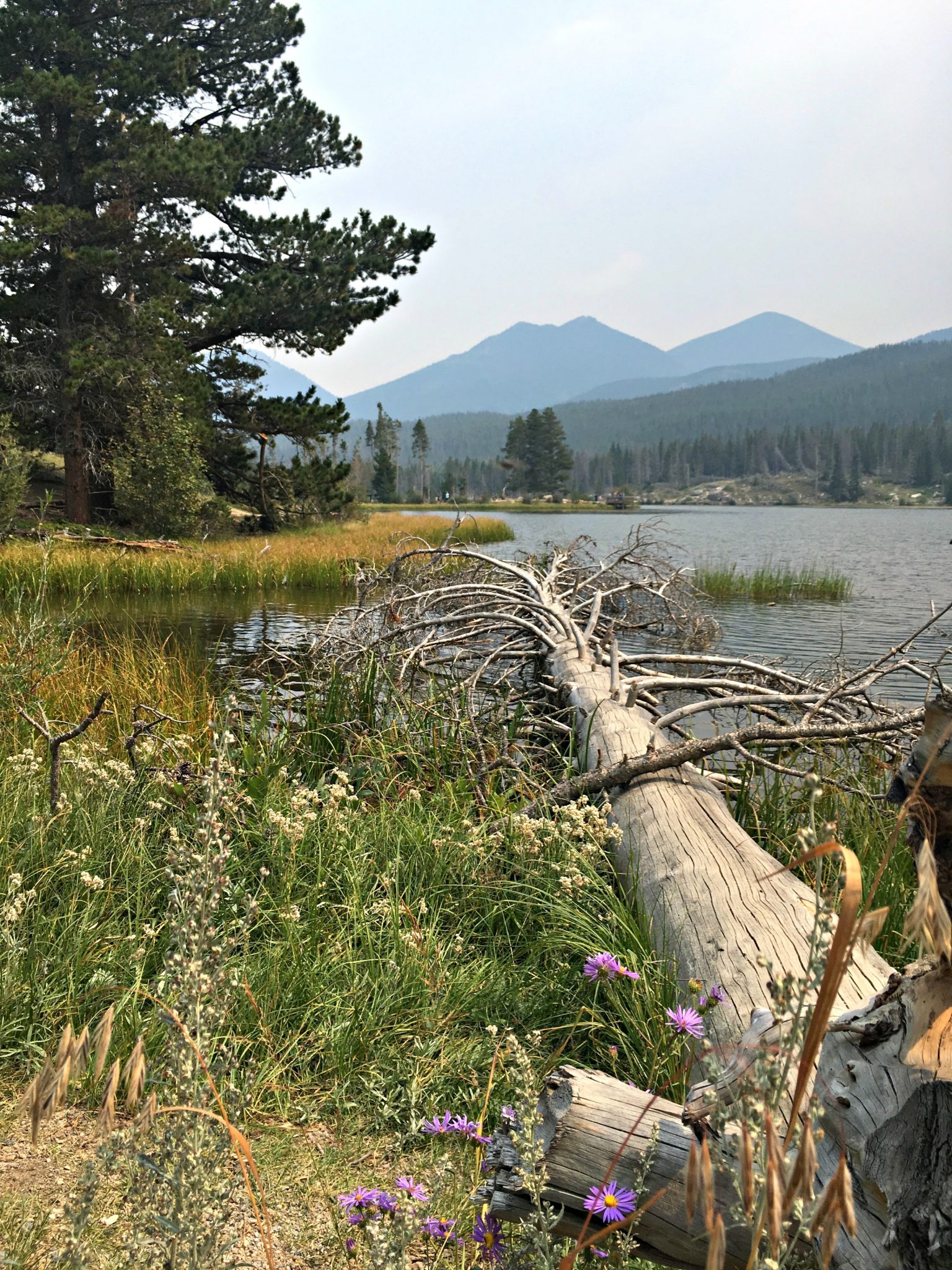 Therefore, take your camera or phone. You'll get some great shots.
7. Bear Lake
After you finish at Sprague Lake if everyone's still full of energy, head up Bear Lake Road until you get to the Bear Lake Trailhead.
The loop trail around Bear Lake is not to be missed, and even though it's only about .6 miles, it's a bit more challenging than Sprague Lake and others. I don't mean it's incredibly difficult, but it's not completely level and may be harder for younger kids and not as accessible.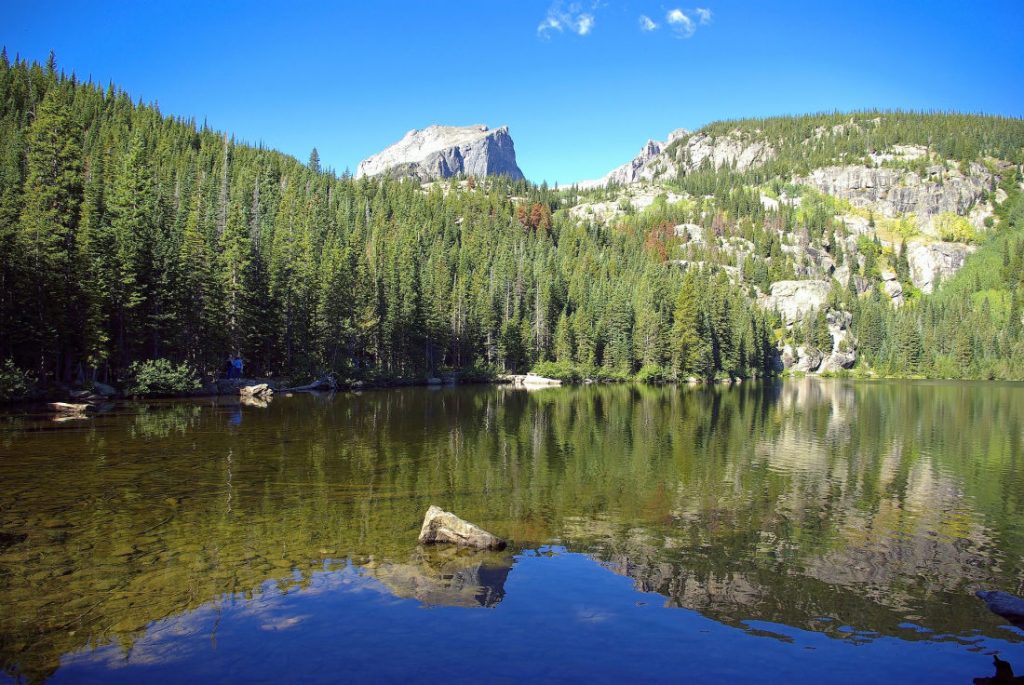 Word of warning. Bear Lake is INCREDIBLY popular all times of the year so I would suggest going early, or late in the day, mid-week.
There are a lot of other fun more lengthy trails that start out here, but they're more advanced. For example, Nymph Lake is only .5 miles away, but it has an elevation gain of 225 feet. It's great for a quick hike or snowshoeing in winter. You can look more at RMNP's list of trails here.
This area is also fabulous in winter for snowshoeing in Rocky Mountain National Park. It's glorious when there's fresh snow on the ground and the birds chirping.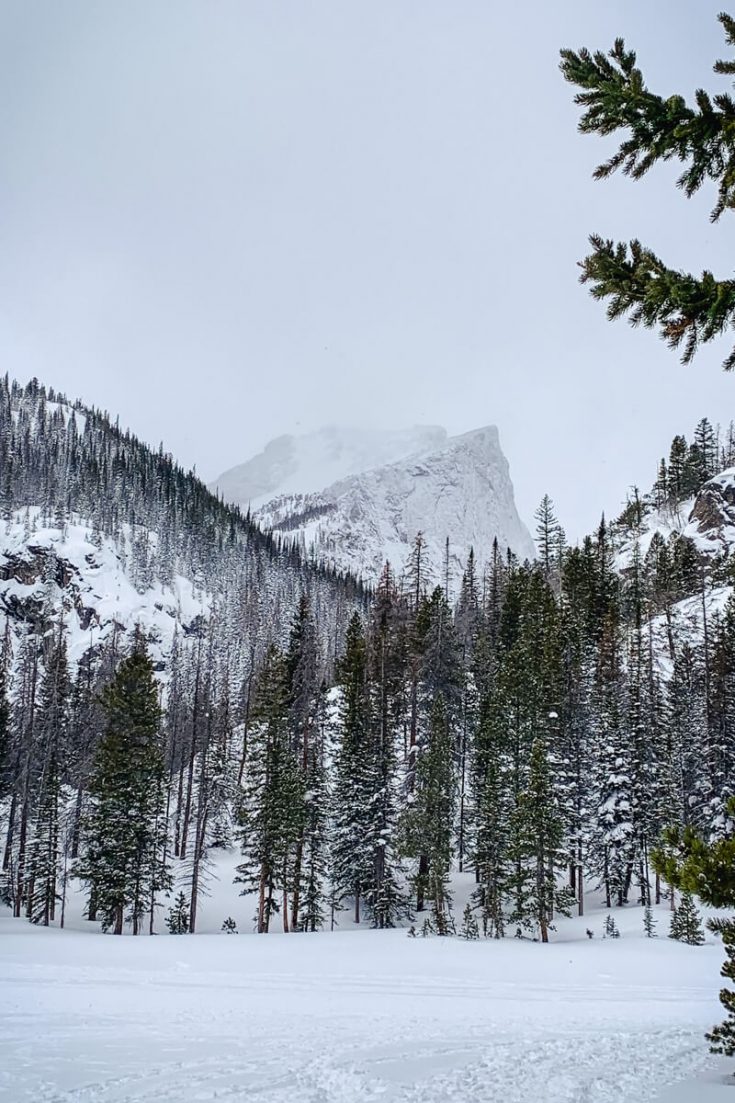 8. Copeland Falls
If you're heading out of Estes Park to Meeker or Allenspark south on Colorado Highway 7, you'll want to pay a visit to the Wild Basin Trailhead. It's about 12 miles south of Estes Park, then turn right off of Colorado Highway 7 onto Wild Basin Road.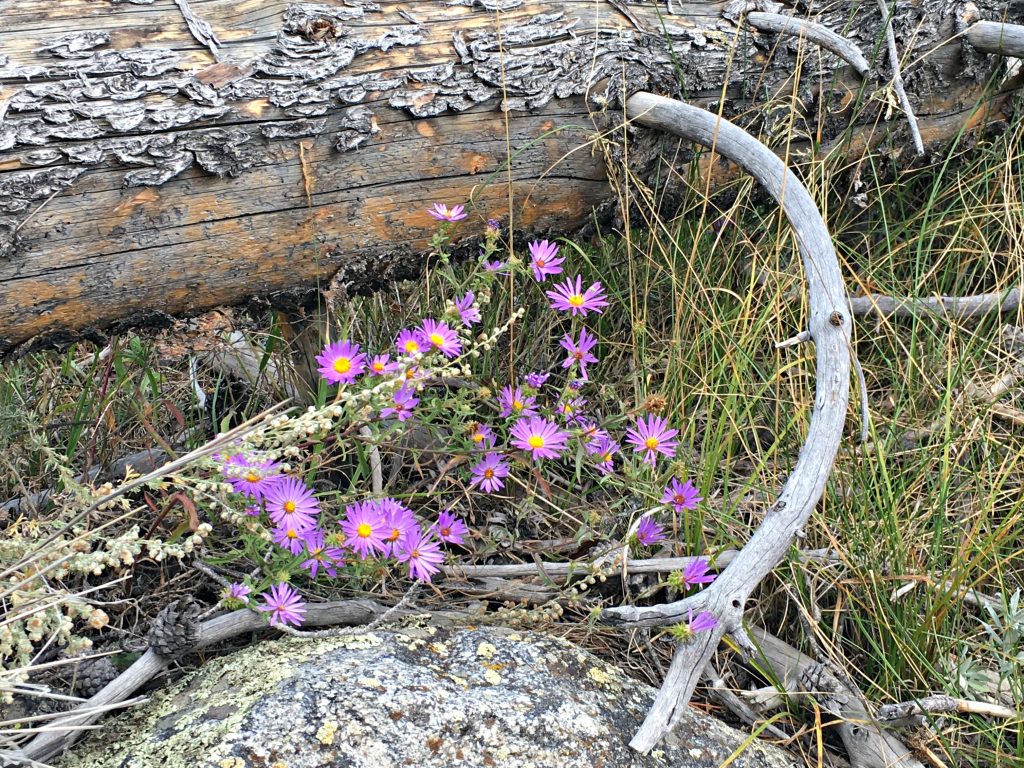 From there, drive about half a mile more and take another right into Rocky Mountain National Park. Keep going to the Wild Basin Trailhead just a couple more miles from the park turn-off.
In our experience, this trail is not nearly as busy as some of the others. Moreover, it's conveniently located near Allenspark and one of my absolute favorite restaurants, the Meadow Mountain Cafe, a rather fabulous gem you should definitely check out (read about it here in Estes Park Restaurants With Character). But enough tangent there, back to the hike!
So you've made it to the Wild Basin Trailhead. The trail will eventually take you all the way up 2565 feet and seven miles to Lion Lake. However, with the kids we like to hike to the Lower, then the Upper Copeland Falls, only about .3 to .4 miles up the trail. There's an elevation gain of 15 feet so pretty manageable!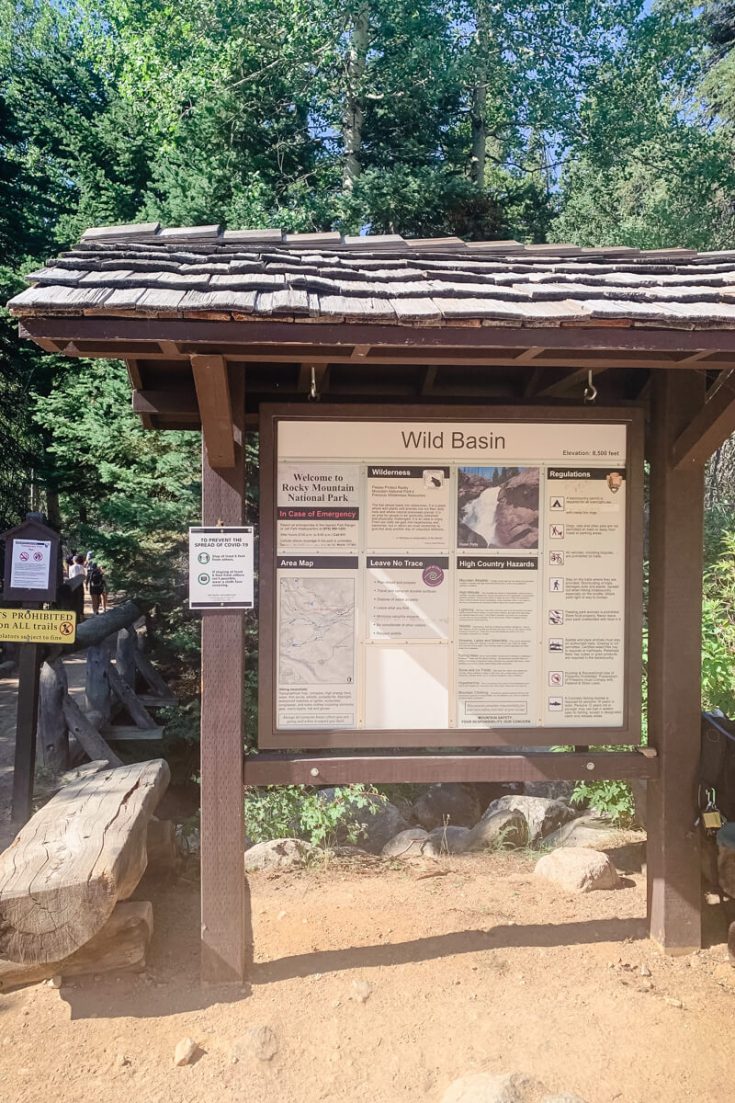 From the main trail, you will want to branch off to the side trail to take you right by both parts of the falls. After you pass by the Upper Falls it will reconnect back to the main trail without having to backtrack down by the falls on the same path.
There are more lakes, cascades, and falls the farther up you go, but it's also a lot steeper so I'd wait until the kids are quite a bit older to tackle those.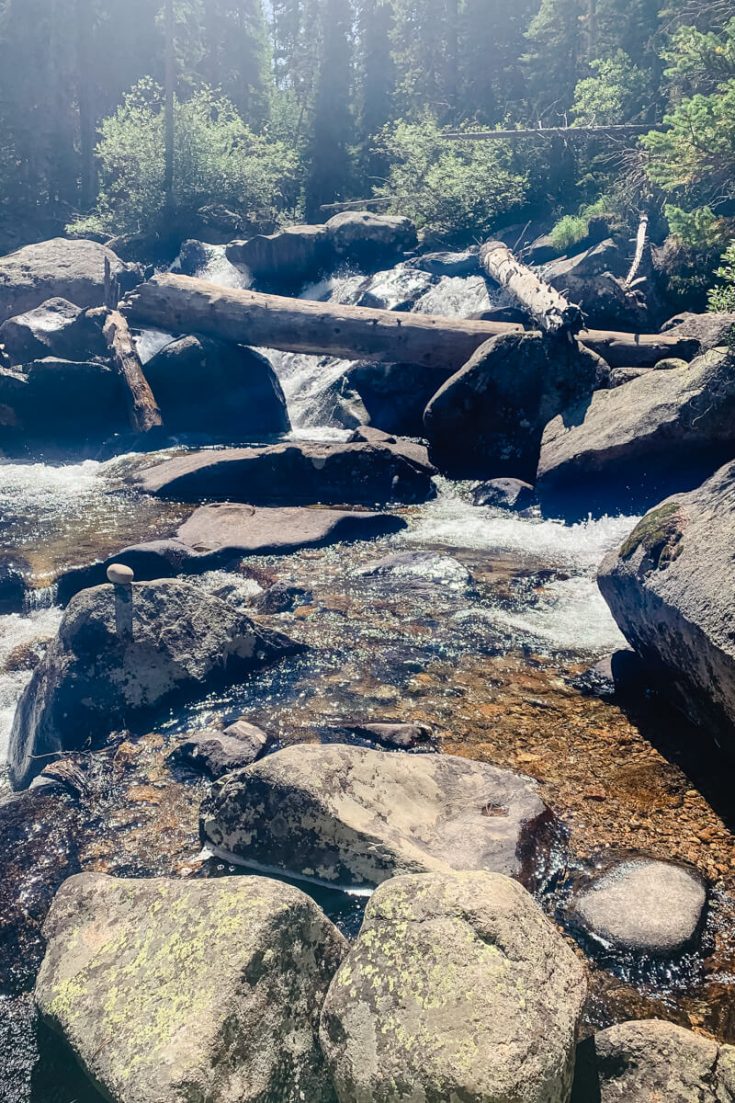 Now go hike!
There you have it! Those are 8 of our favorite hikes in and around Estes Park, Colorado. Give them a try and let us know what you think. OR if you have another kid-friendly hike suggestion in the area PLEASE let me know because we'd love to try them out!
Also, if you're spending some time around Denver, Colorado, you can also find some more family-friendly hikes to explore. Read all about 9 Dynamite Hikes Near Denver and enjoy your time hiking in Colorado!