Are you ready to start planning the perfect summer family vacations and adventures? A lot of times I start planning much earlier in the year, but when spring hits I allow myself to really dig into the details and begin to daydream about summer days on the lake. We love to find new things to do in Grand Lake, Colorado, our absolute favorite mountain lake retreat!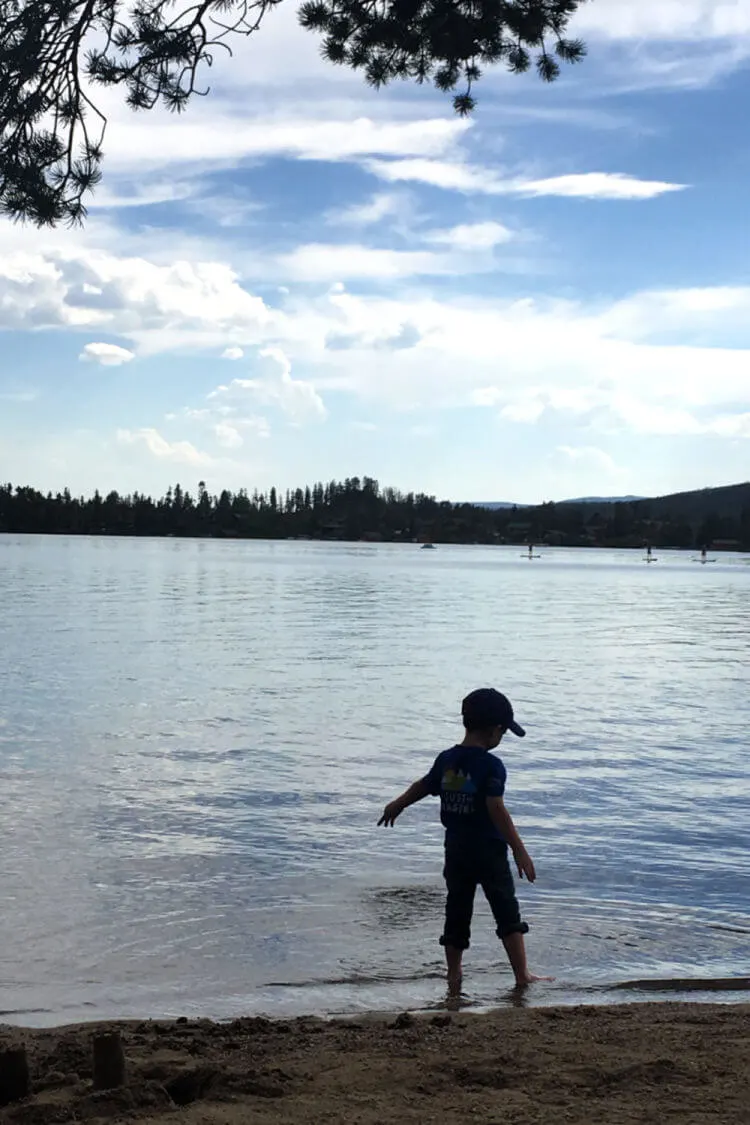 This post may include Amazon links. As an Amazon Associate, I earn from qualifying purchases.
Where to stay | Trail Ridge Road | The beach | Hiking | Fishing | Water Activities | Nature & wildlife | Kauffman House Museum | Holzwarth Historic Site | Shopping | Fat Cat Cafe
Did you know Grand Lake is the largest natural lake (meaning not man-made) in Colorado? Also, it's on the western side of Rocky Mountain National Park so can be a great base to avoid the crowds of Estes Park and explore not only the Grand Lake area but the Park as well.
There are just so many things to love about Grand Lake, from the historic boardwalk to the burger and ice cream shop on the beach, to the spectacular hikes nearby.
I'll start by saying there are a ton of restaurants in Grand Lake with character. However, that's whole other topic. You can check out some of my favorites in The Best Restaurants in Grand Lake CO.
So let's dig in. What are some of the best things to do in Grand Lake, Colorado as a family?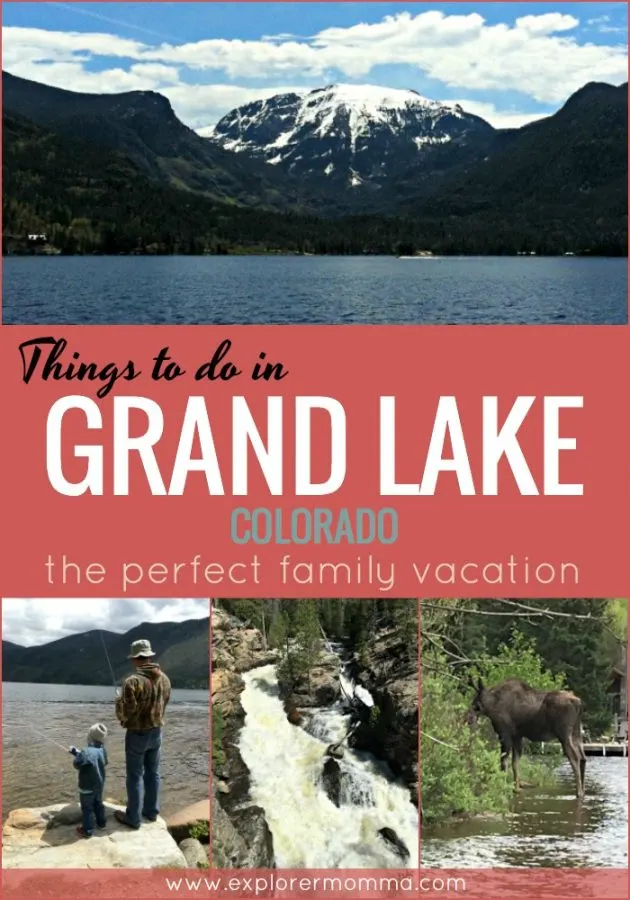 Where to stay: Grand Lake CO Cabins
To start off, where should you stay in Grand Lake? There's Grand Lake Lodge and smaller hotels around. However, we always prefer to stay in a cabin, if possible right on the lake. There are many ways to find a cabin in Grand Lake. Here are our preferences.
1. Lemmon Lodge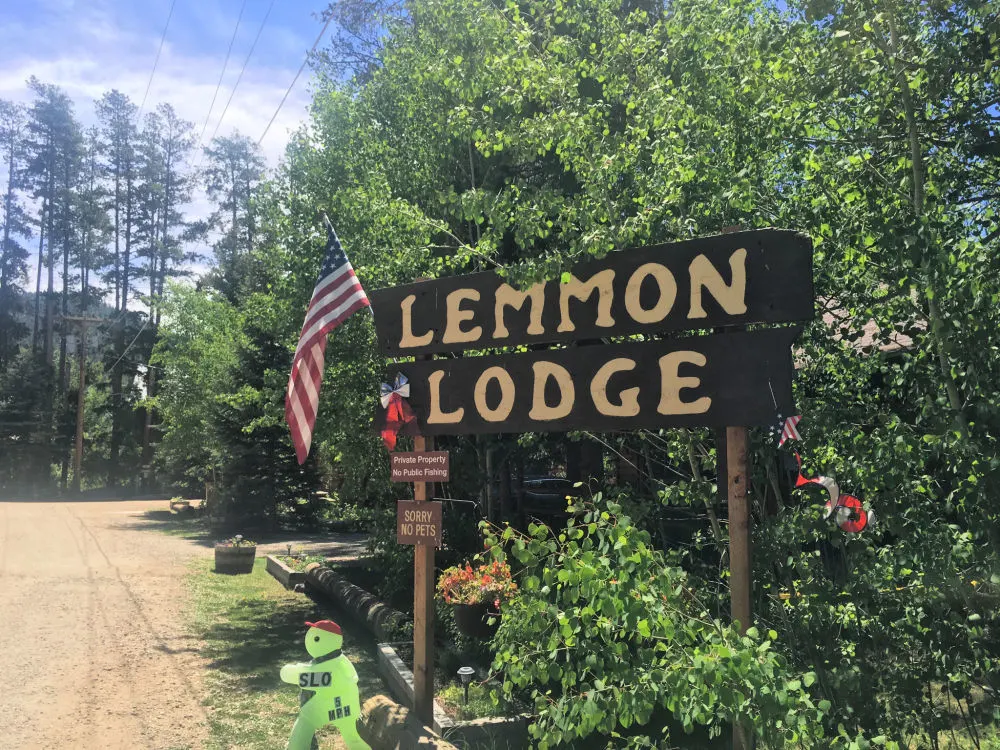 Lemmon Lodge is by far our favorite place to rent a cabin each year. To be honest, I've stayed in one of their cabins almost every summer since I was eight years old. It's the perfect family location, a group of cabins right on a private beach.
Also, it has a fabulous fishing spot where the river enters the lake and a kids' play structure. There's even a fire pit where you can make s'mores!
We've had good experiences with Airbnb in the past and you can find some good cabins. My advice is to make sure you look for places with plenty of good reviews and use your best judgment. If you are new to Airbnb you can use my link here to sign up and get $40 off your first booking. Click here for the link to sign up.
Click here for their website. I've noticed that many Grand Lake cabins are now also listed on VRBO so it's another good option.
Why do I love Grand Lake so much? For me, it's the perfect little mountain town on the lake with charm and old-time character. It's not pretentious, and nearly everyone's friendly and ready to enjoy themselves on the lake. In addition, it's super kid-friendly.
Did I mention it's also the most beautiful idyllic spot? So, if you get tired of reading a book in your beach chair by the lake or your kids drag you away, here are some fun and entertaining things to do. Grand Lake for kids and families.
Awesome things to do in Grand Lake Colorado
1. Trail Ridge Road
To get to Grand Lake, we like to head west from Estes Park, through Rocky Mountain National Park. A highway to the sky, Trail Ridge Road is the 48-mile portion of U.S. 34 between Estes Park and Grand Lake, Colorado. To me, this is one of the most beautiful stretches of road and mountains you will ever see.
Not only are there views of majestic mountains, valleys, and snakelike rivers, but also a variety of wildlife and plants. You will see the pine trees, the flowers, and grass of the tundra, and so much more I can't begin to identify. Personally, when traveling the road I've seen moose, elk, deer, coyotes, bighorn sheep, marmots, chipmunks, and all sorts of birds.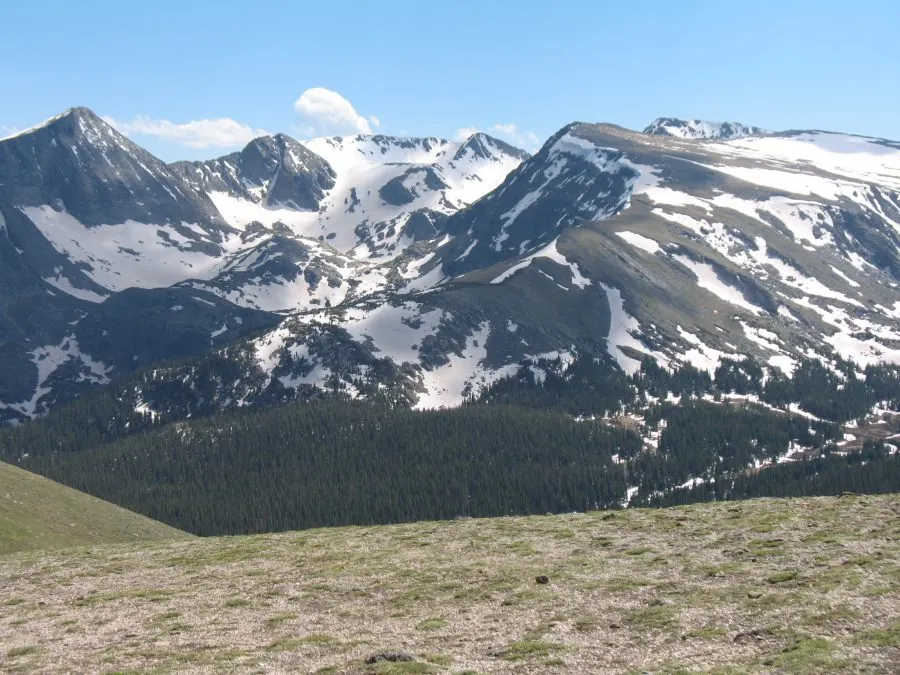 In just a few minutes you travel up from Estes Park and drop 20-30 degrees. The awesome mountain tree-covered landscape changes to tundra as you go higher and higher. At the top point, 12,183 feet in elevation, the wind whips and even in summer cars drive by walls of snow.
If you're anywhere nearby plan a day of it. Take your time and get out of the car to enjoy the scenic views or take one of the short hikes. The Alpine Visitors Center is almost at the top on the Grand Lake side and worth a stop if nothing else but for the photo op.
Stop to take pictures, explore the visitor's center, or take the Alpine Ridge trail hike at the top. It's not a long hike, only .6 miles roundtrip; however, you gain 200 feet so can be a bit of a climb. Slow down and breathe in the views.
One of my favorite places on earth, don't miss Trail Ridge Road.
2. Play on the beach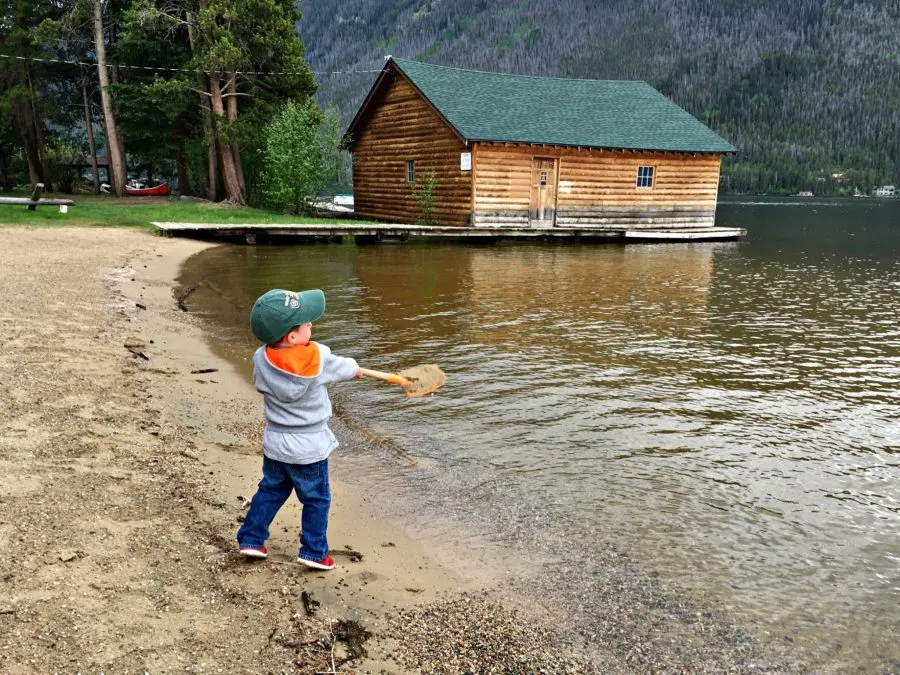 Here's a great way to stay relax and enjoy the view as you read a book and drink your coffee next to the lake. There are a couple of sand beach locations, one in town and open to the public between Grand Lake Marina and Headwaters Marina.
We like to stay in one of the cabins in Lemmon Lodge with its own beach and kids' play structure. Grab a floaty and some sand castle supplies, and the kids are set for the afternoon!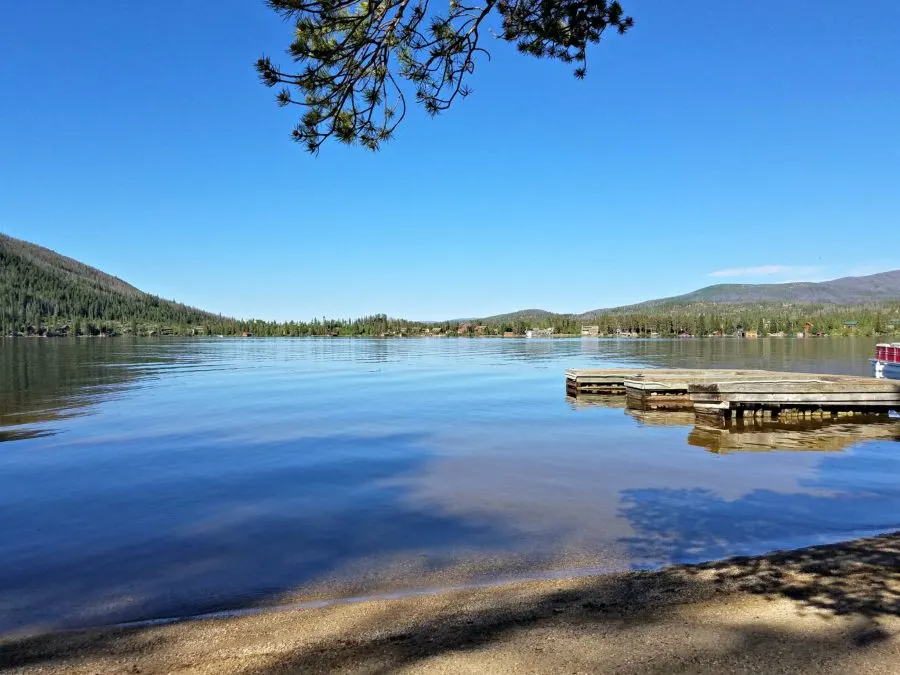 3. Hike in and around Rocky Mountain National Park
There are some awesome hikes around Grand Lake, at many different levels depending on who in the family is going. I can't think of many better things to do in Grand Lake, Colorado than some good hikes. Here are some suggestions to try with your family.
A. Adam's Falls – easy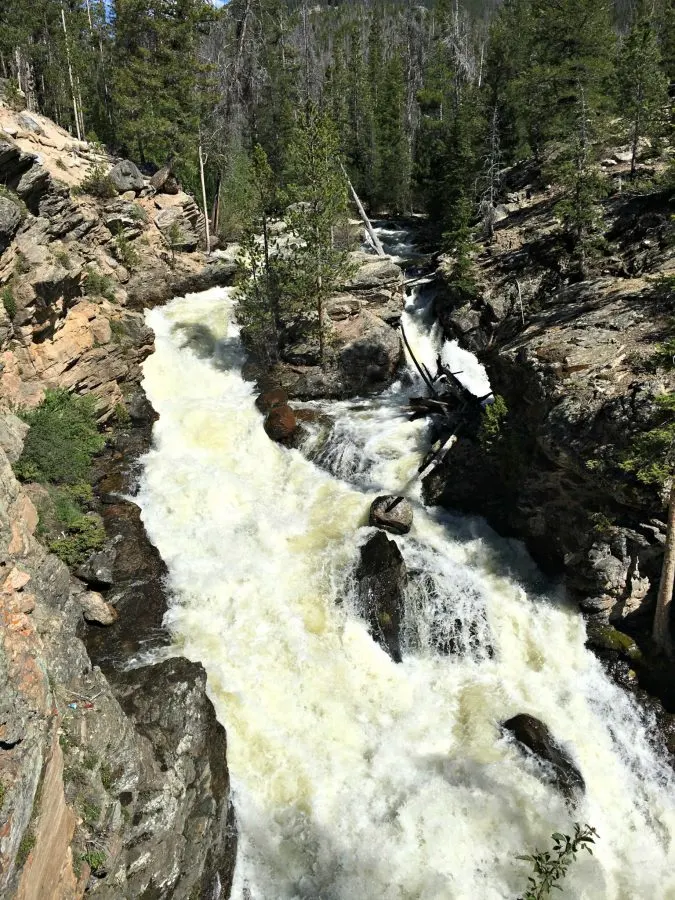 From the East Inlet Trailhead, Adam's Falls is a great short hike with an impressive reward at the end. I like this hike because it's accessible to nearly everyone, and kids feel a good sense of accomplishment when they reach the falls.
When I was little I remember my father hanging off the side taking pictures, and I was scared to death he was going to fall in. I think he enjoyed that.
However, since then they've added more stone walls to block off dangerous areas and make it more kid and family friendly. Also, it doesn't take very long if you need an activity because it's only .9 miles roundtrip.
B. Cascade Falls – medium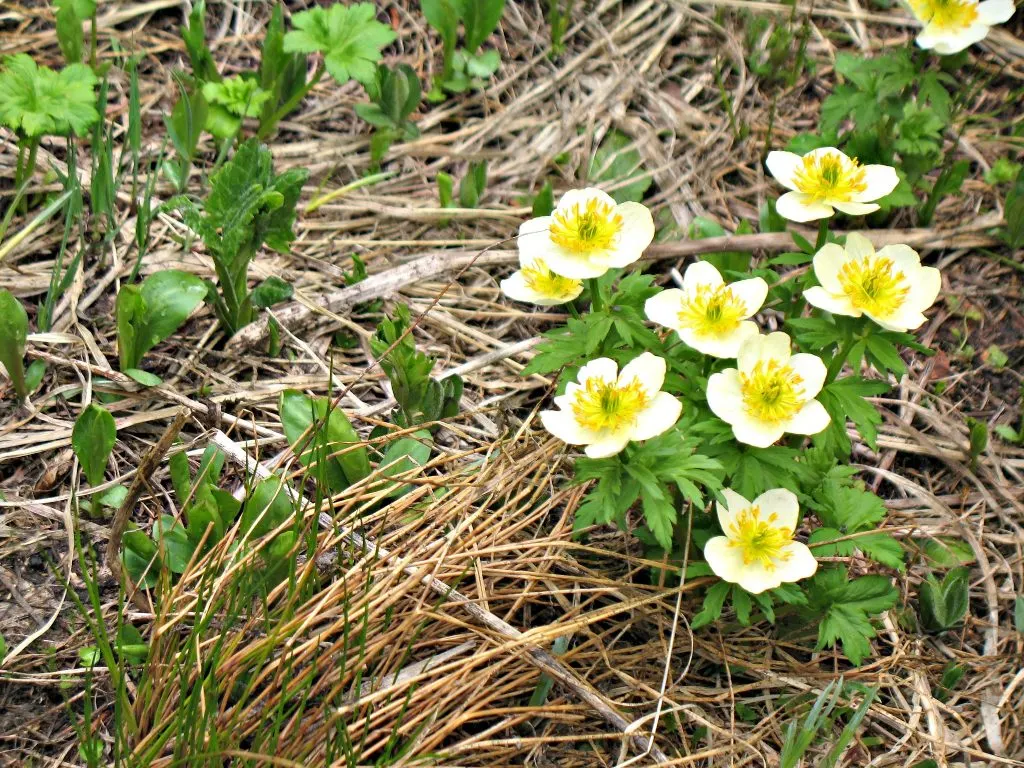 If you start at the North Inlet Trailhead, Cascade Falls is a good 6.8-mile roundtrip hike with amazing views and falls. I like it because there's only a 430-foot elevation gain and doable with older kids.
In this area, we've seen moose and deer and other wildlife so be on the lookout. It's also a good trail to spot wildflowers along the trail.
C. Shadow Mountain Lookout – hard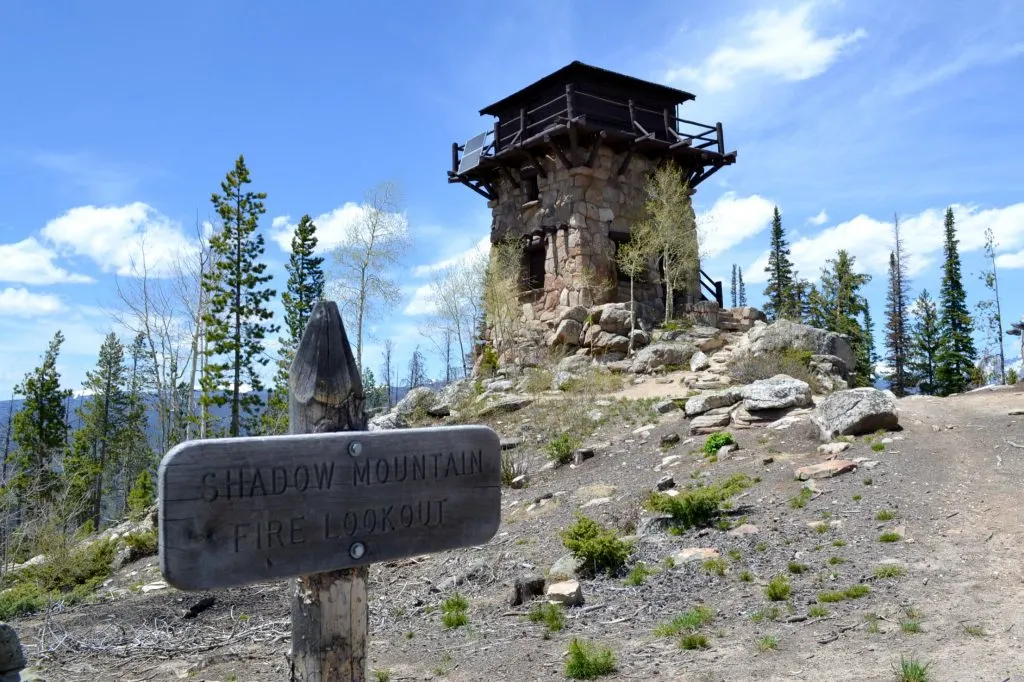 I'm classifying this hike as hard because it's difficult for me, and at the ages of 5 and 9 my kids would not get very far. However, it's a beautiful hike with far-reaching views from the lookout point at the top, and I do recommend it for adults or older, experienced kids. The hike begins at the East Shore Trailhead and is about 9.6 miles roundtrip with an elevation gain of 1,635 feet. Good luck!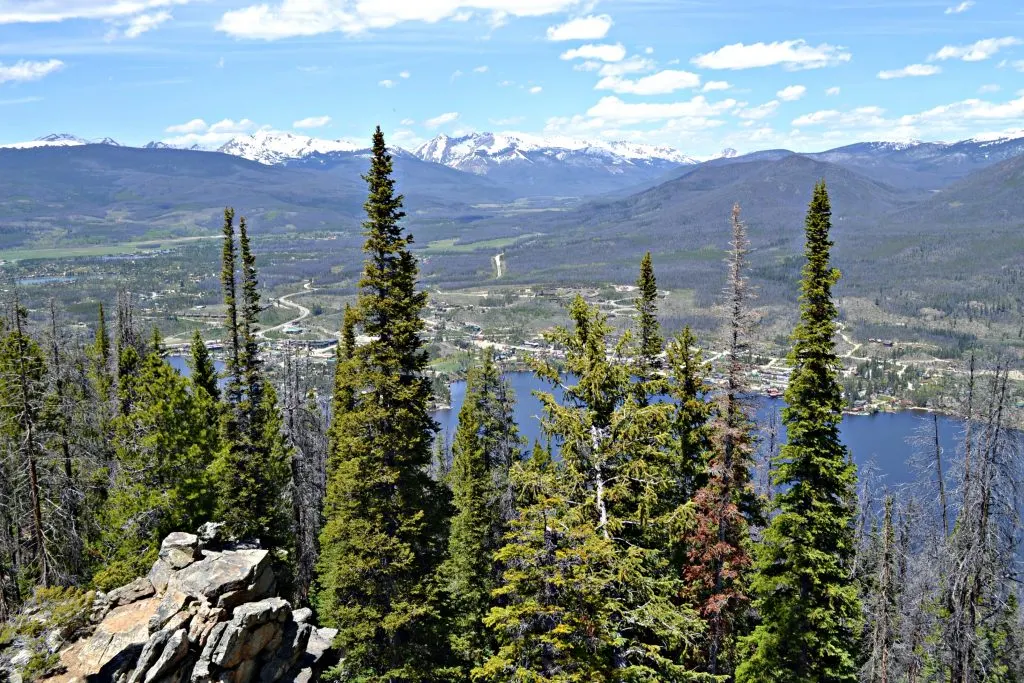 There are many more hikes around, and it's always good to ask in one of the local hiking shops which hike is good at the moment. For people who are on them all the time, they can generally tell you which ones are in good shape or difficult to navigate because of snow or mud.
I also like to hear which area is their current favorite. You can get some good recommendations!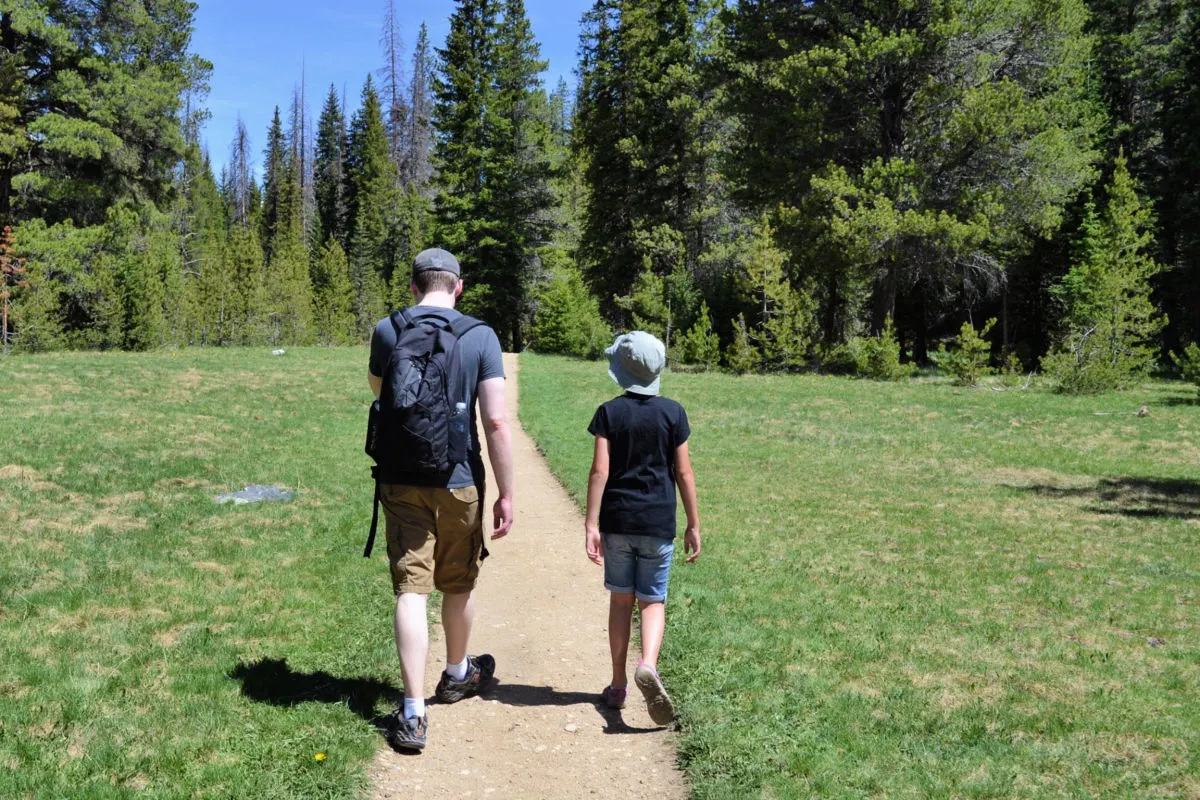 Want more hikes? Check out Where to Find the Best Estes Park Hikes for Kids!
4. Fish with the kids on Grand Lake and Shadow Mountain

Lake

Fishing is my husband's favorite activity when we get to Grand Lake. There are great opportunities to catch trout, especially rainbow, brown, and lake trout. I've been advised the best time is early morning and the best spot where the river runs into the lake.

Of course, there are many great fishing spots from land or even from a boat on the lake. If you forget to purchase a Colorado fishing license, most marinas, fishing tackle shops, and even some gas stations sell them. Currently, kids and seniors fish for free, although seniors must still obtain a license.

When you get your license, be sure to also grab the year's Colorado Fishing Brochure containing regulations and information on the area.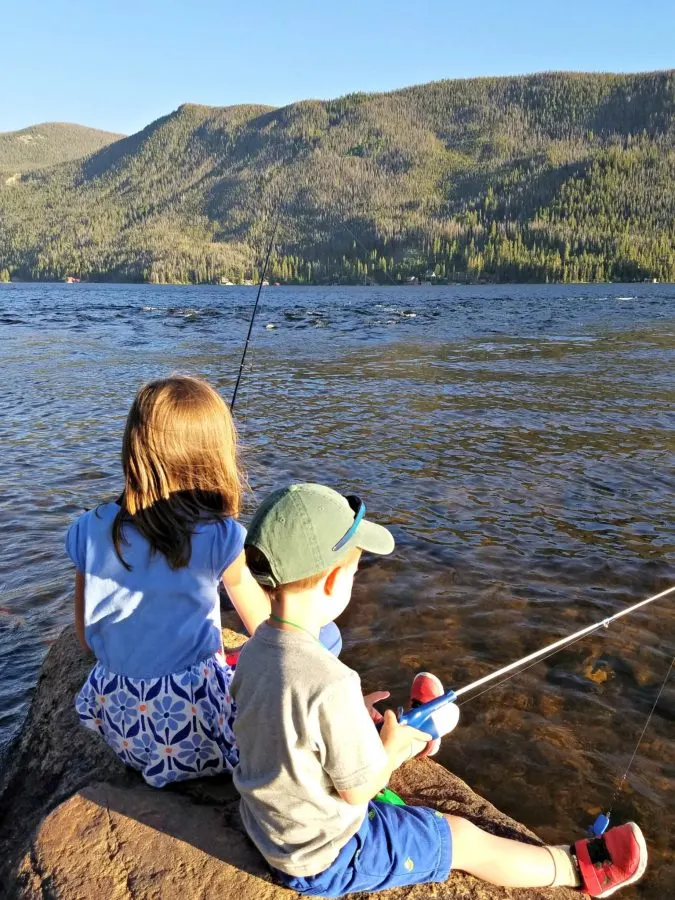 My son told me recently he's planning to catch a lot of seaweed and sticks because he doesn't want to put a hook in the fish. A kind soul.
5. Water activities on Grand Lake
There are many options to get you and your family out floating on Grand Lake. Truly, there are so many things to do in Grand Lake, Colorado. As a family, we like to sometimes take the tour boat from the Headwater's Marina next to the public beach.
We like to take it around the lake because the drivers give you the history of the area, lake facts like depths and fishing, and they also point out all the cabins and the famous people who've lived there.
You'll also get random facts about which ones are accessible by road or only by boat or snowmobile.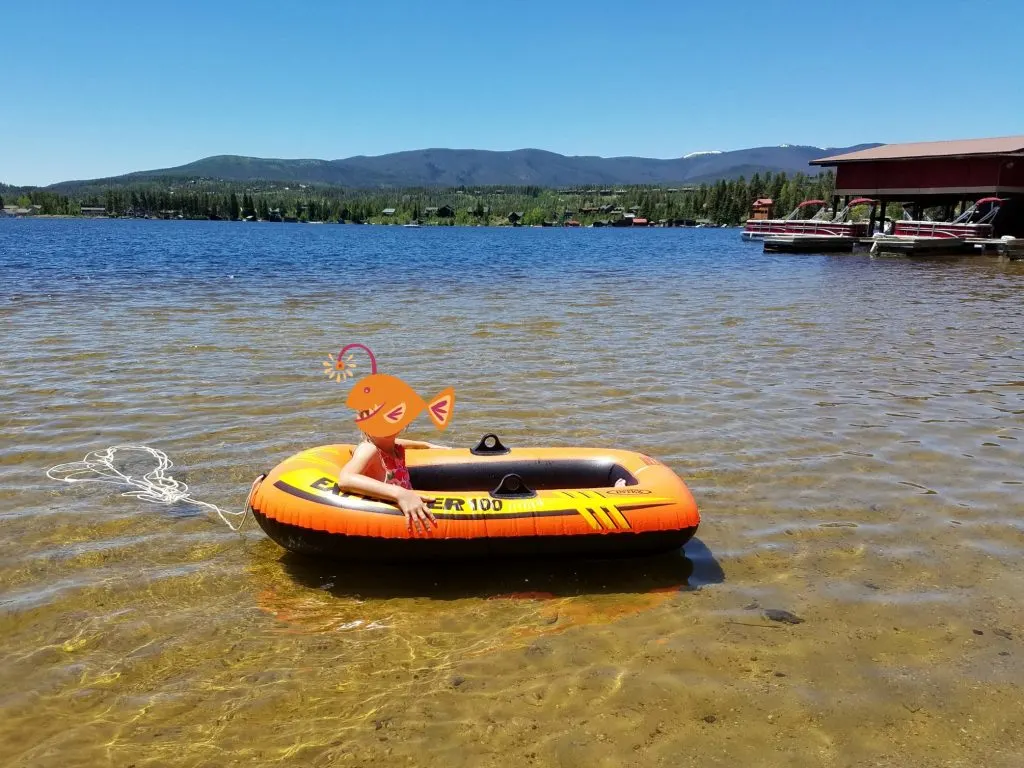 At several of the marinas, you can rent a canoe, paddleboat, motorboat, pontoon boat, kayak or even an SUP, a stand-up paddleboard. Have you tried out an SUP? They're those things that look like big surfboards you stand on with a paddle.
I've even seen people doing yoga on them, but so far I've been a chicken to try one. Therefore, this summer's the time! I will get out on an SUP, and it's really not the end of the world if you fall in, right? 😉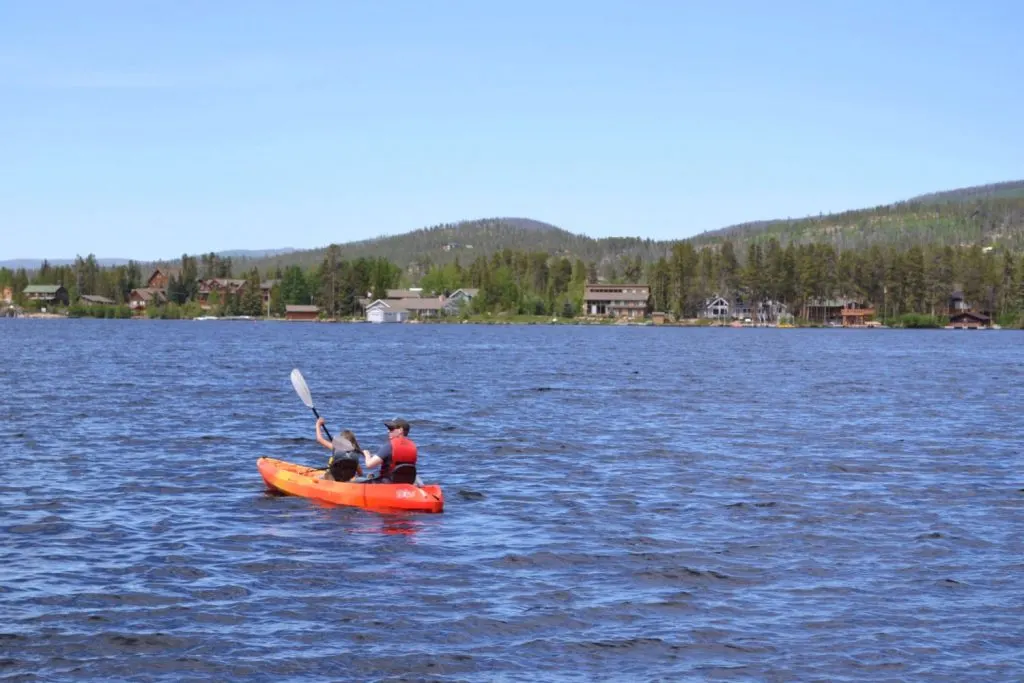 6. Go on a nature and wildlife hunt
My kids always love to go out on what we call a "nature hunt". This is one of their favorite things to do in Grand Lake, Colorado. You can do this on a hike, around town, or just as you wander around your cabin.
Be on the lookout for animals such as hummingbirds, deer, elk, moose, coyotes.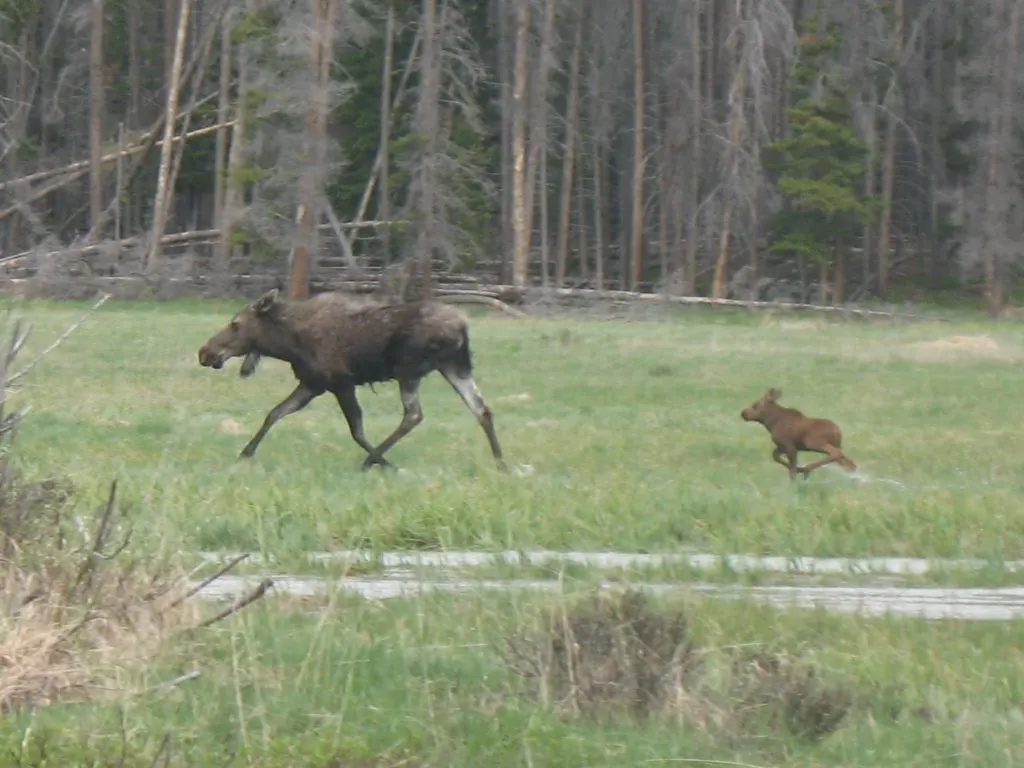 We try to take pictures when we can, and my daughter likes to draw a picture of each animal spotted in your journal.
There are also some beautiful wildflowers and plants to see around, and we always love seeing the Colorado state flower, the Rocky Mountain Columbine.
7. Kauffman House Museum
I'm a complete history geek and love to check out local museums when we travel. The Kauffman House Museum is conveniently located near the lake just up from the public beach. It was built in 1892 and run as a hotel by the Kauffman family until 1946.
Now it's run by the Grand Lake Area Historical Society as a museum and open most days from 11 am to 5 pm. Check their website here for more information and hours.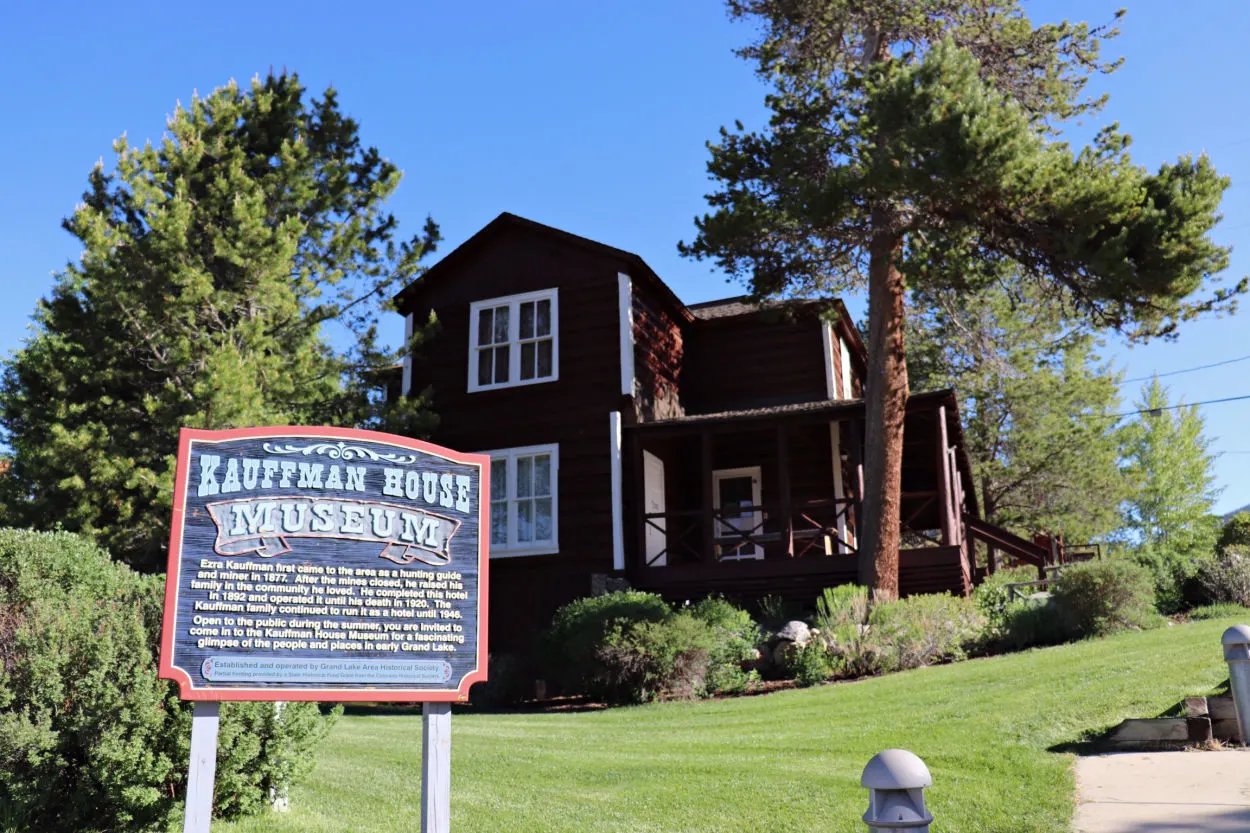 The museum is a fun activity for history buffs like myself and for older kids interested in how people lived in the area over 100 years ago.
8. Visit the Holzwarth Historic Site
Another interesting hike and interactive historic site for the family to visit is the Holzwarth Historic Site, also sometimes called Never Summer Ranch.
The trailhead and parking area to visit the ranch is located a little over 7 miles north of the Grand Lake Entrance on the west side of Rocky Mountain National Park. It's about 1.3 miles roundtrip from the parking lot to visit the site and historic structures.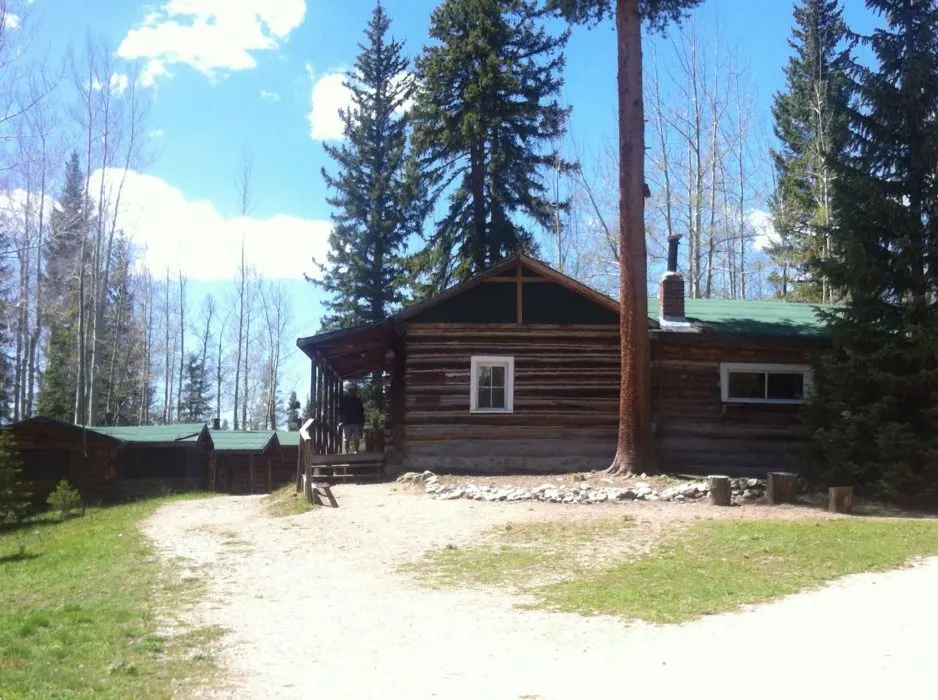 During the summer, volunteers help visitors connect to the Holzwarth's story, the German family who immigrated to Colorado and settle the original homestead and began the ranch.
They also teach the homestead way of life and what early dude ranches were like on the border of Rocky Mountain National Park. You might even get to have your picture taken in a period giant bearskin coat!
9. Grand Lake boardwalk and shopping
Still wondering what to do in Grand Lake? Another fun activity is to wander up and down visiting the shops along the historic Grand Lake boardwalk.
You may be on a mission to find your perfect cabin-style souvenir or just window shop, but it's a must-do activity for our family. There's also a conveniently located park and play area for kids about midway down the boardwalk, so a good resting place.
There are so many other things you can find to do if you want such as putt-putt golf, bowling, making s'mores, card games, and fun restaurants to try.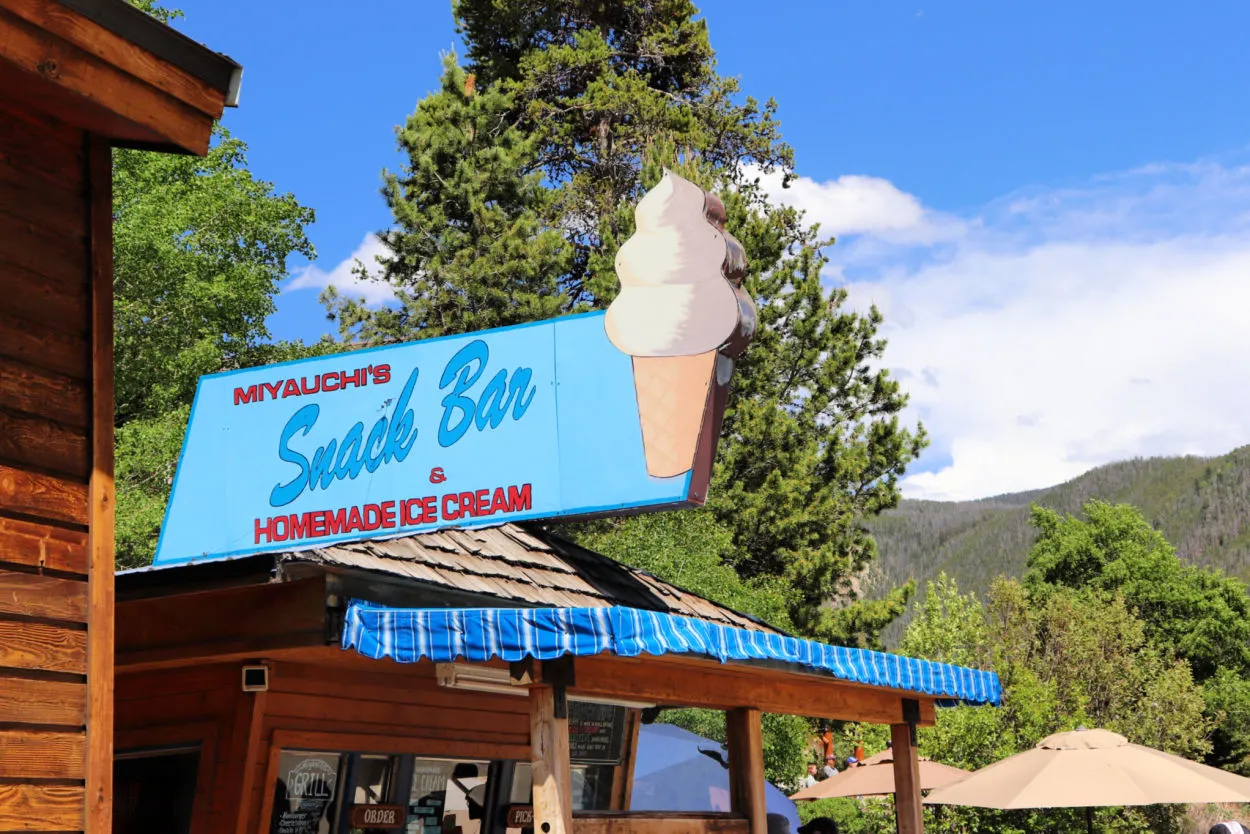 10. Our favorite restaurant – The Fat Cat Cafe
I also have a post on the best restaurants and food in Grand Lake, but I have to point out the Fat Cat Cafe here too. Of all the wonderful things to do in Grand Lake, Colorado, of course, you have to eat. Now, I've recently been informed the Fat Cat moved locations to 185 E. Agate in Granby, Colorado. Granby is not far at all from Grand Lake and definitely worth the effort.
Do NOT miss the Fat Cat!
We absolutely love the food and the people who run this place. Truly, I don't know how she does it, but the sausage, yes I said breakfast sausage, is to die for. I love pretty much any of the food, but I'd also recommend especially any of the homemade pies. Like the banana cream. The last time I was there I bought a whole one on our way out of town to take home with me it was so good.
Travel planning
Yesterday I walked around my backyard with my son, just sort of to survey the yard work we need to get done. I was also trying to get him to burn some energy because he'd been going crazy being inside so much lately.
Did you know that children actually grow faster in spring than other times of the year? So says the book Spring: A Spiritual Biography of the Season by Schmidt and Felch, and I really believe it to be so. Kids have been cooped up more all winter and are ready to run and grow!
Back to our explorations, we discovered some tulip and crocus leaves starting to peak out through the old leftover fall leaves we planned to clean out. I LOVE spring flowers, lilac bushes starting to bloom, and the sun warming off the chill in the air. It's spring, and do you know what that means? Yes, indeed, it's time to plan a trip to Grand Lake, Colorado!
At least, that's what it means to me. Flowers coming up through the snow are the clear signal I'm allowed to begin dreaming of our June trip to Grand Lake. It's truly one of my favorite spots on this earth, and I hope you get to visit one day.
Try out any or all of these activities, and if you discover something else awesome I've left out please give a shout-out in the comments below!
Pin it for later here: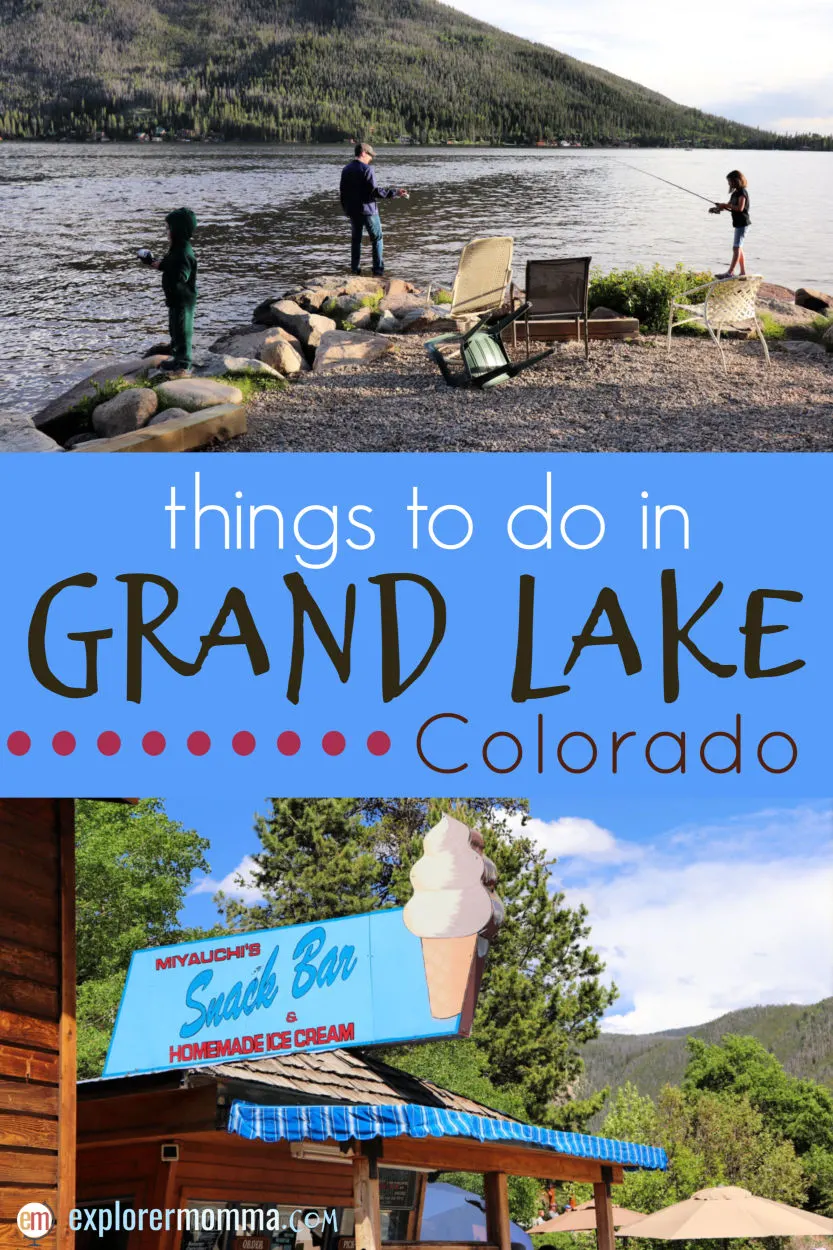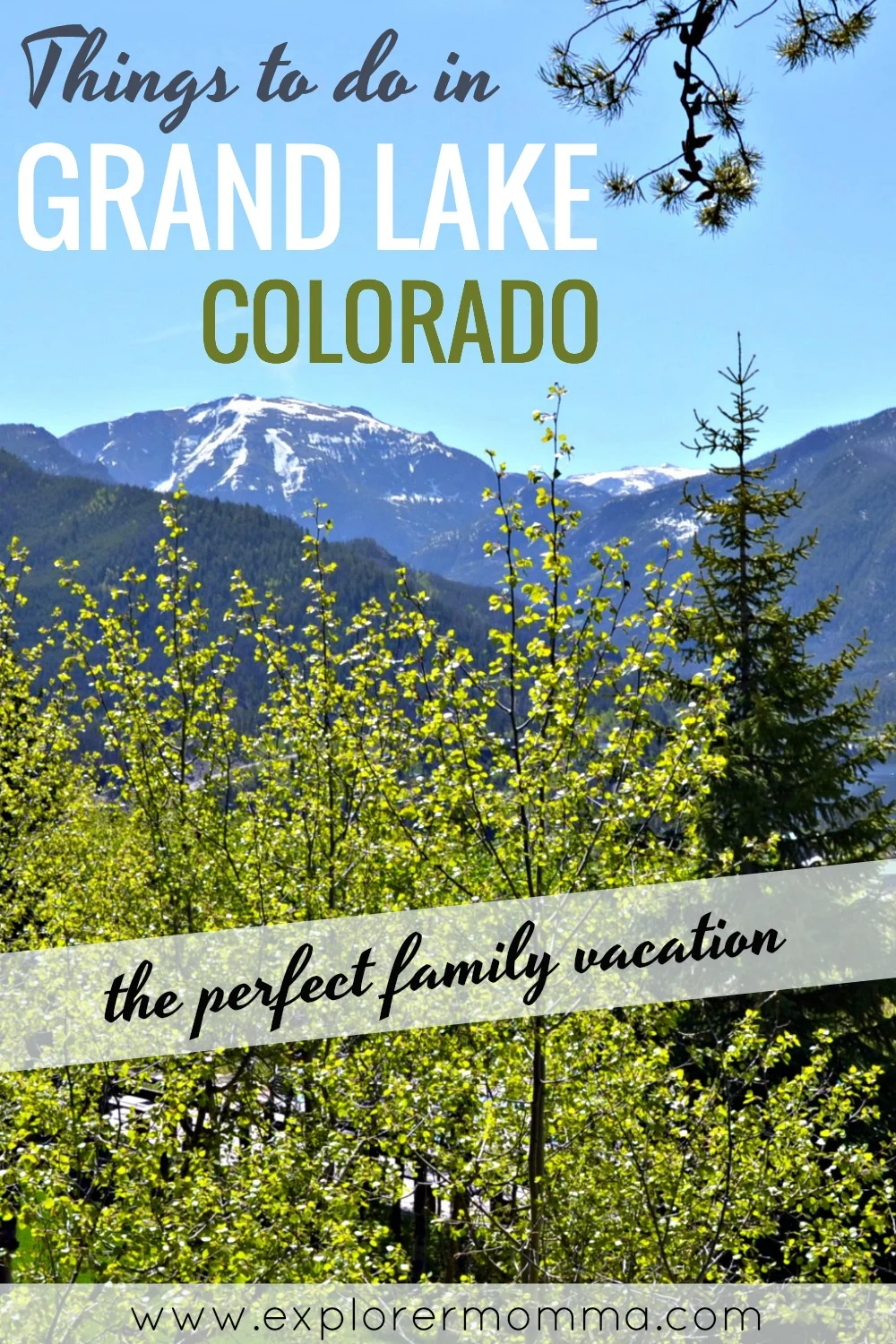 Things to do in Grand Lake, Colorado.