Preview: A California National Parks Bucket List for families. Join guest writers as we travel around the state of California to national and state parks!
This year my daughter is in the fourth grade, and eligible for the Every Kid in a Park pass. What this means is she gets her own national parks pass that will let our entire family into all national parks all year for free! Your child does have to be a U.S. resident to qualify, so click here to see my blog post on how to get your own free pass!
We're in the process of planning trips for this summer so I asked travel bloggers from all over to share their experiences in U.S. state and national parks. I got many fabulous responses and will share them with you by region of the United States.
This post contains affiliate links, which means I receive a small percentage if you make a purchase after clicking on my links.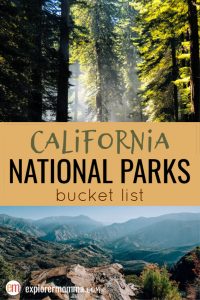 So, without further ado, let's begin our journey and add to your own
California national parks bucket list!
Yay! Let's go!
Joshua Tree National Park
One of our favorite national parks to visit as a family is the unusual and beautiful Joshua Tree National Park. It's located in Southern California, on the way between Los Angeles and Arizona. Joshua Tree is often described as 'otherworldly' and indeed, it is different from anything we had ever seen before.
The park lies where the Mojave and the Colorado deserts meet. Indeed, its landscape is made of barren land dominated by large boulders which erosion has carved into unusual shapes. The park takes its name from the 'Joshua trees', yucca plants stretching their spiky arms towards the sky, typical of this area.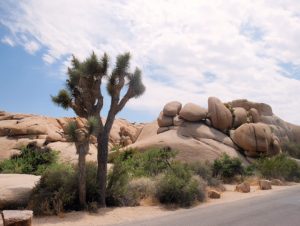 You can visit Joshua Tree at any time of the year. The spring is the most popular time as it is when the desert flowers blossom. However, we went there in the summer and it was still easy to enjoy its stillness and beauty.
If visiting in the hot season, be aware that this is an unforgiving, desert landscape and some caution is required. Suitable clothing, shoes, and sunscreen are a must as well as protection from the sun and water.
The park is easy to enjoy with kids as several of its hikes are short and some even stroller friendly. The most popular hikes with kids are the walk in the Cholla cactus garden and the loop around Skull Rock.
The park is served by 3 visitor centers, one at each entrance. I highly recommend a stop there as they rangers can give advice on how to visit safely no matter the season.
By Marta, Learning Escapes
Lassen Volcanic National Park
Lassen Volcanic National Park is one of the most unique and yet least visited National Parks in California. The park is famous for having every type of volcano represented in the park from shield, composite, cinder cone, to plug dome. The volcanic landscape allows visitors to explore beautiful and interesting rock formations, sulfur pools, boiling mud pots, and volcanic cones.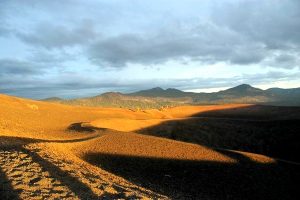 One of my favorite experiences in the park was getting to climb up the sides of a cinder cone. It was around sunset, and I got to see the light highlighting various spots of the volcanic ash.
The park is a great learning experience, especially for those interesting in viewing the violent and beautiful sides of nature.
By Anwar, Beyond My Front Door
Sequoia National Park
Sequoia National Park in California is an amazing destination for outdoor, family adventures. This national park is a part of the Sierra Nevada mountain range, and it's named for its beautiful Sequoia trees.
The General Sherman Tree is the largest tree in the world (based on its volume) and is a must-see! The giant sequoia forest is beautiful, so plan for at least one full day to explore the trees alone. The paths through the forest are all stroller accessible.
In addition to enjoying the sequoia trees, you will want to go to the underground Crystal Cave to explore cool streams and rocks. Walk around Crescent Meadow Trail and enjoy the beautiful meadow flowers, and if you're lucky, catch a glimpse of a bear (I have seen several bears in the meadow over the years!).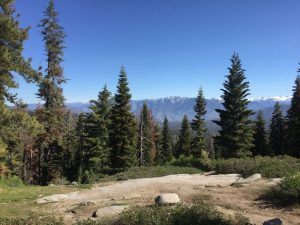 Sequoia National Park Family Travel Tips
Hike to the top of Moro Rock for a magnificent view of the park from above. It is a steep climb and therefore not the best for small children on their own two feet. Babies in carriers and older children who don't have a fear of heights will do just fine, but leave the stroller behind!
If your family enjoys camping, the Lodgepole Campground is our family's personal favorite. It is located in Lodgepole Village, which has a small market, restaurant, and showers. Campsites are available 6 months in advance, and they go almost immediately, so be sure to plan ahead to avoid missing out!
The park's shuttle system runs often, is family-friendly, and is the easiest way to explore multiple destinations within the park. During holiday weekends and peak season, it can be difficult to find parking, so I highly recommend considering the shuttle.
Sequoia National Park is a stunning destination, and it definitely deserves a spot on your family's bucket list.
By Leah, An Adventure is Calling
DL Bliss State Park
DL Bliss State Park is home to gorgeous Emerald Bay in South Lake Tahoe, California. The picturesque bay is the spot of many iconic photos of the region.
The parking lot fills up quickly so arrive early in the morning!
Many visitors photograph the view from the upper lookout each day. However, only those willing to hike down to the shoreline get to enjoy all that the area has to offer. The hike is .8 miles each way on a wide paved path, but it is quite steep.
Our kids basically ran down the hill; the walk up was much slower (and hotter!), but they all made it and were so proud. We saw younger children riding back up on their parents' shoulders, so be prepared!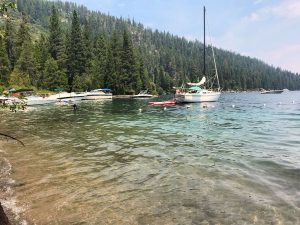 Because the path is paved, it is easily accessible for strollers as well. Down at the shoreline are restrooms, kayak rentals, swimming, guided tours of the Vikingsholm Mansion, and a small gift shop with drinks and ice cream. The tour is not stroller friendly, but it is short and doable for children of all ages. Our daughter was in awe of the historical interior design, and it was a highlight of her day.
Our children loved playing in the shallow water on the water's edge. Also, just a few minutes beyond the mansion is an easy detour hike. It brings you to Eagle Falls which is a peaceful photo spot and a wonderful bonus.
When in Lake Tahoe, DL Bliss State Park is not to be missed!
By Sierra, Free to Travel Mama
You do not want to miss Carlsbad Caverns National Park! Get great tips for visiting the caverns with kids.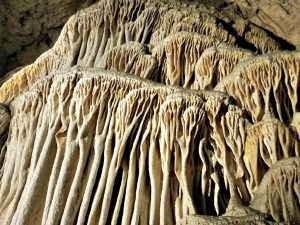 (Pssst!! Add all of these to your California national parks bucket list today!)
King's Canyon National Park
Part of the charm of King's Canyon National Park is the variety of ever-shifting landscapes throughout this beautiful place. From towering granite walls, to open vistas, to groves of giant sequoias, each new landscape is surprising and delightful.
One of the most well-known features of King's Canyon is the General Grant sequoia tree—the second largest tree in the world. This tree is an icon as both the official US National Christmas Tree and a living monument to veterans.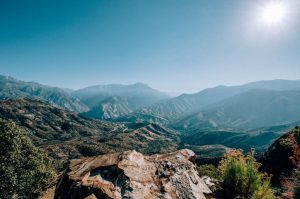 But besides groves of living sequoias, King's Canyon also contains groves that are monuments to fallen giant sequoias from the days of logging. The Big Stump Trail hosts the most famous stump—the Mark Twain Tree. A ladder stands against the remains of this tree so visitors can climb on top of the stump and gain a new perspective of the size of these sequoias. Kids and adults alike will love to experience the size of this fallen giant in a tactile way. They will also love attempting to count the tree rings to find its age!
Towards the backcountry of King's Canyon, there are hikes for all ages and skill levels. From very short hikes like Roaring River Falls, longer hikes like the one to Mist Falls, to hiking overnight, there is something here for everyone. Inevitably, each hike reveals another facet of this park's beauty. The waterfalls are particularly gorgeous and worth the journey to see them.
Whether you visit for a short or a long time, King's Canyon National Park will leave you fascinated by its diversity of nature and the range of things to do and see!
By Abi, Happy Go Abi
Yosemite National Park
There are so many amazing national parks to visit in the US. Yosemite however, is a great option for those who aren't very outdoorsy, or have younger children with them. But it does cater to the adventure junkies too.
Yosemite is one of the most popular national parks on the list. And after even just one afternoon there – you will want to return a million times over. The thing I love about Yosemite is that it is full of amazing scenic views but also some hidden gems worth detouring for.
Tip: Bear in mind that even as late as June, parts of the park may be closed following the winter season. We had a 4-hour detour because a major road was closed. But it was so worth the wait.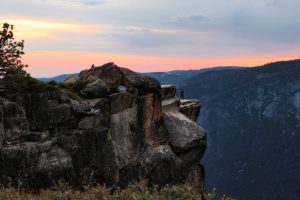 When it comes to ultimate views, you really can't go past Taft Point at sunset without stopping. It's recently made the news for both positive and negative reasons. One couple had a photograph taken of their marriage proposal by chance, and the photographer managed to track them down. However, one couple also fell from Taft Point, assumed, when taking a selfie together.
Therefore, always remember to err on the side of caution and be careful around cliff edges and lookout points. It can be dangerous if you aren't paying attention.
Other highlights for your California national parks bucket list
Other highlights include Half Dome (for rock climbing), Yosemite Valley, Yosemite Falls and El Capitan. There are heaps more, but if I listed everything we would be here all day!
A real highlight that many don't know about is Bridgeport. We stayed at an RV park there and rented an anchored RV for the night. At sunrise, we woke up in darkness to enjoy the views from the natural hot spring rock pools at the Travertine Hot Springs. This is evidently a real local haunt as we only saw one other person there. Little kids would absolutely love it!
Yosemite is truly amazing. I need to go back to see more, just like everyone who visits and immediately falls in love with it too.
By Toni, Enchanted Serendipity
Redwood National Park
Home to the tallest trees on earth, Redwood National Park is the most magical of national parks and in 2018 was 50 years old!
It was the discovery of the world's tallest tree that led to the creation of Redwood National Park in 1968. While the tallest tree lost its title to another, the current record holder is in the vicinity. There are 40 miles of rugged coastline to explore, and you'll find 45% of the remaining coastal redwoods here.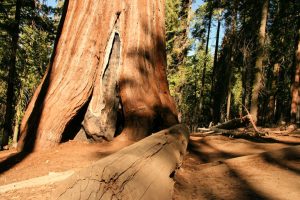 The biggest tree you'll see here is Big Tree, which has a circumference of 68 feet and is estimated to be 1500 years old.
The Shrine Drive-Thru Tree is the focal point for many visitors, myself included. There are in fact THREE drive through trees on the Redwood Coast. It's a great sight for all ages and of course fun to drive through too!
For me, though, the unique and best thing about Redwood National Park is simply being able to walk through the woods and stare in wonder at the giant trees, protected for future generations.
By Sarah, A Social Nomad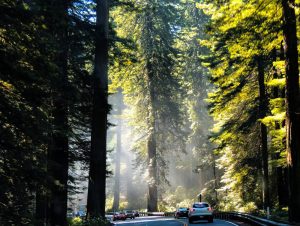 Pin this post to save for later here!: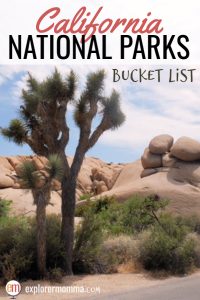 Operation U.S. Parks
Does your family love to visit U.S. National and State Parks? This is such a beautiful country, and visiting parks, hiking, camping, and just being outdoors can be a huge education for kids. They need to see their beauty and learn hands-on why we must protect them and the wildlife in them.
I hope you're enjoying our journey around the country to the U.S. Parks. Have you added to your California National Parks bucket list? Maybe it will give you and yours some inspiration to get out and plan your own visit! Happy Travels!
Check out more articles on U.S. parks:
10 Musts for Visiting Carlsbad Caverns National Park
Epic Things to Do at Niagara Falls with Kids