Preview: A State and National Parks Family Bucket List. Join guest writers as we travel around the southern and eastern areas of the United States to national and state parks!
Are you ready to add to your family bucket list? There are so many amazing natural wonders around the United States. Sometimes we overlook the opportunities for family adventures as they seem they're in our own backyards! What kid doesn't like to seek out mountains, streams, and wildlife? Embrace it and do some family bonding at the same time.
So onward! Let's continue our tour around the United States in Explorer Momma's Operation U.S. Parks, Every Kid in a Park. This is the fourth series featuring guest writers who plug their favorite parks and give tips and stories about the area. The goal is to encourage you and your family to get out, wander, hike, and appreciate these amazing destinations.
Let's get started. We'll continue our journey and add to your own state and national parks family bucket list!
This post contains affiliate links, which means I receive a small percentage if you make a purchase after clicking on my links.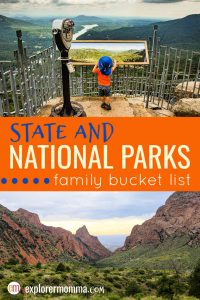 Shenandoah National Park, Virginia
Shenandoah National Park is located within driving distance of Virginia, Maryland, West Virginia and North Carolina, making is the perfect National park for families living or visiting the East Coast. Our family are frequent visitors of Shenandoah National Park because it offers something for everyone. With three entrances (North, Middle, South) it is easy to access the 105 miles skyline drive that covers the length of the park.
We love Shenandoah National park because it features a variety of trails for all activity levels and interests. Before we had children, we would hike for miles to find hidden waterfalls and vistas overlooking the valley. Now that we have a toddler, we are still able to find shorter hikes to search for unique bugs and beautiful flowers. Shenandoah even has a handicapped accessible trail for everyone to enjoy the great outdoors. Want to linger longer? Make a reservation for their campsite, complete with a general store. Or if you'd prefer to stay in a hotel or cabin, check their website for a list of accommodations.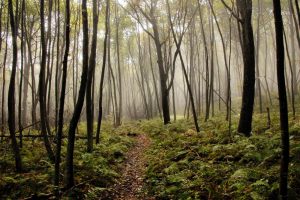 Park Tips
If it's your first visit to the park, I highly recommend stopping at one of their visitor's centers to get a detailed park map or pick up one of their $2 map booklets that feature titles such as "kid-friendly hikes" or "peaks and vistas". We've used these little booklets over and over. The visitor's centers also have interactive exhibits about animals you may encounter in the park, helping to bring nature closer to families.
Be sure to visit the park at different times of the year, Fall is certainly a favorite with the changing Fall foliage. Want to read more about where we like to go in the park? Head over to our family friendly travel blog, Pack More Into Life.
By Chelsea from Pack More Into Life
Chimney Rock State Park, North Carolina
Chimney Rock State Park is the perfect area for a family to explore. Be prepared to give your legs a workout but it will all be worth it.
If your family is craving some time in nature, like we were, you can hike directly from the parking lot up the Four Seasons Trail. Head to the Hickory Nut Falls, which are an impressive 404 feet tall. After taking time to marvel at the falls, you can walk back along the Hickory Nut Falls trail to a very long set of stairs up to the main entrance.
Don't worry, if this doesn't sound like your kind of fun, you can take a shuttle from the parking lot up here. Our kids seemed up for climbing the stairs, so after a lunch stop, we just kept climbing right up to the Pulpit Rock and Chimney Rock viewpoints. The trail sign says this was 500 steps, but it actually didn't feel like that much… There is an elevator option too. Either way, the view of the Hickory Nut Gorge and Lake Lure are worth every step!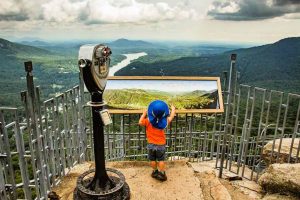 There is the possibility to climb even further, but our kids were more interested in exploring the bat cave. From there we took the shuttle bus back to the parking lot to give us all a little break. Once at the parking lot, we took time to stop at the Animal Discovery Den and hike around the Great Woodland Adventure trail (an interpretive trail for kids). The kids loved this part of the day. We especially loved that this outing gave us an opportunity to hike with our kids and included some fun things for them!
Other close parks to visit
I also have some great tips for visiting nearby Shenandoah National Park at our family travel blog, Family Can Travel.
By Celine from Family Can Travel
Great Smoky Mountain National Park, North Carolina, Tennessee
The Great Smoky Mountain National Park was visited by more than 11 million people in 2017. You can bet many of those were families! Our family has been visiting the Smoky Mountains since before I could walk, and I've continued that tradition with my own kids. While I was a child my family enjoyed visiting the Smoky Mountain gateway towns of Gatlinburg and Pigeon Forge. However, my husband and I now prefer hiking in the Smokies.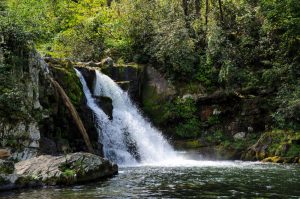 There are hiking trails suitable for families with kids of all ages including those in strollers. We recently enjoyed a great hike on the Middle Prong trail which served as a logging camp in the 1900s for the community of Tremont. The trail has numerous climbing and exploring side adventures, a gradual elevation gain of only 275 feet, and is wide with lots of room for kids to spread out.
There are three cascading waterfalls to enjoy along the way. The entire trail is probably too long for kids, but it's a great place to explore for an hour or so and then head back
If you love wildlife, Cades Cove is a must, but be sure to take a lunch because the 11-mile loop auto trail gets backed up and wait times can be quite long. We also recommend viewing the Elk in the Cataloochee area on the southeastern section of the park.
There are so many opportunities for family fun in the Smokies, you are sure to have a great family adventure when you visit.
By Amanda from VeraVise Outdoor Living
Watkins Glen State Park, New York
While the Finger Lakes region may be known for its wine, it's also an amazing area for family adventures. One destination that's not to be missed is Watkins Glen. This adorable little town is also home to Watkins Glen State Park.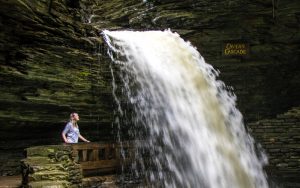 No matter your age, you'll fall in love with the beautifully picturesque trails and incredible waterfalls that call the park home. With over 700 acres of land, the highlight is the almost 400ft deep gorge. Carved by glaciers thousands of years ago, it's home to 19 beautiful waterfalls. The trails can be tricky, but it is definitely worth a visit. Since you can see a waterfall from the entrance, you can truly spend as little or as much time as you like here! I suggest at least a couple of hours to see a few of the waterfalls, especially the Cavern Cascade where you can feel the water as it rushes into the gorge!
For families, the best time to visit would be in the summer. This is when all of their facilities are open, including their campgrounds as well as their swimming pool. You can also take advantage of their daily shuttle service from the end of June until Labor Day which will definitely help keep any little legs well rested! To reward the little ones (and big kids, of course) on completing such a great adventure, there's an amazing ice cream shop just down the road. A delicious way to end the trek!
By Lindsay from I've Been Bit!
What's on your national and state parks bucket list in our northern states?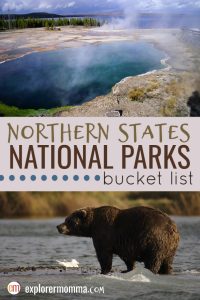 Anastasia State Park, St. Augustine, Florida
Anastasia State Park in Northern Florida is 1,600 acres of fun! With 139 campsites, bike trails, three playgrounds, fishing, boating, hiking trails, geocaching, wildlife viewing, an amphitheater for events, shelling and the beach there is plenty to keep a family busy. Especially given that it is so close to the oldest occupied city in America — historic St. Augustine!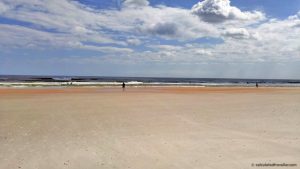 You can't see the beach from the main road or parking lot. It's like a secret waiting to be discovered. However, if you walk along the raised wooden trail (to protect the dunes) you'll find the most amazing of beaches.
While you are visiting, go on a kayaking excursion or SUP of the Salt Run estuarine tidal marsh like we did. There you'll see lots of wildlife including osprey, eagles, turtles and possibly a dolphin or two! Don't worry if you don't have your gear, there are rentals available.
By Mary from Calculated Traveller
Big Bend National Park, Texas
Big Bend National Park is located in West Texas, right where the Rio Grande bends deeply to the south before Texas meets New Mexico (hence the name).
Despite being born and raised in Texas, it wasn't until recently that I finally made it to this isolated park. We visited in the heart of summer, which concerned me (how smart can it be to drive into the desert in August?). But Big Bend is special, it's the only park that houses an entire mountain range within its borders. The Chisos Mountains rise up from the Chihuahua Desert and are filled with hiking trails of different lengths and difficulties.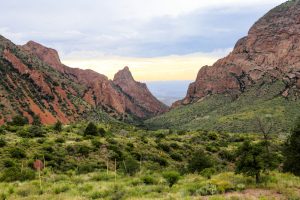 While there are miles of trails in the desert and along the Rio Grande, we decided to save those for cooler months. We spent our three days in the mountains. We hiked the popular Lost Mine Trail and the massively long and strenuous Southern Rim Trail.
Big Bend for families
Big Bend is a family-friendly national park, in fact, plenty of friends of mine came here every summer on their family vacations. We even met a troop of boy scouts hanging out at the top of Lost Mine Trail. There are campsites for the adventurous traveler or family, and a lodge in the mountains for those (like myself) that prefer a mattress and indoor plumbing.
Whether you come alone, with a partner or a family, Big Bend is worth every ounce of effort required to get to in the isolated West Texas desert.
By Erin from Sol Salute
Petrified Forest National Park, Arizona
The Petrified Forest and Painted Desert were a natural choice for us when visiting the USA with our kids. We traveled Route 66, and the road passes right through the park!
We'd never visited a National Park before and this was a great introduction for us. We're not big hikers at all, and although the park does have some hiking trails it wasn't necessary for us to go on them to have a really good day there.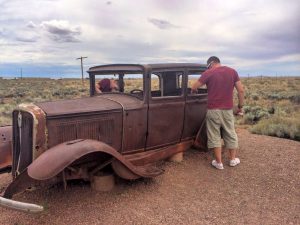 There's a road that goes around the park with spots to park up in, take pictures and learn about what's there. We went with teens but it would be great to visit with younger kids who might not walk far. We loved the fabulous scenery around with gorgeous hills and vistas with all sorts of colors peeping through. Therefore, for me, it would be worth it to visit for that alone.
There's so much more to see in the Petrified Forest. We loved the history with an old building that dates to when Route 66 was built and was originally built with petrified wood! There's also an old rusty car which sits next to an older section of the road. It's great for photos but also for the kids to poke around in and explore.
Finally, towards the end of the trail is another visitor center and lots of big bits of petrified wood around to see and learn about. We collected some worksheets about them and qualified to become junior rangers too – a highlight for us all!
By Kirsty from Lost In Landmarks
Wupatki National Monument, Arizona
Wupatki National Monument is a huge 56 square mile site in Arizona. It protects numerous ancient pueblo and dwelling ruins. The largest pueblo in the area – and the most impressive – is the ruins of Wupatki Pueblo.
Meaning 'tall house' in Hopi language, Wupatki is three stories tall. It has 100 rooms and housed around 100 people at its peak in the late 12th Century. It is thought to have been the largest and richest pueblo in the region. Built from flat Moenkopi sandstone, the deep red rock structure is striking against a pure blue Arizona sky. The walls are held together by mortar and are in remarkably good condition.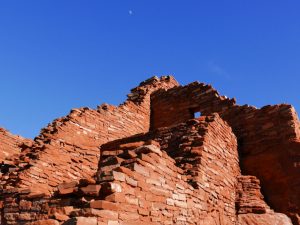 The site is compact and only takes a couple of hours to fully explore so it is an ideal stop for families. It is not an over visited site and we arrived on a particularly quiet day which allowed us to enjoy the serene environment. It is also one of those parks where you are allowed to get up close to the ruins; a must for inquisitive children.
Visitors are provided with an information booklet to read on a trail that winds around the historical site, explaining at various significant points how the pueblos were built and how the people lived, farmed and traded – in what seems an inhospitable environment! It is a fascinating place.
Our children joined the Junior Ranger program here, had a full oath ceremony, and were fully engaged throughout our visit by their excellent Junior Ranger activity booklet. Don't miss the blowhole, a geological fissure in the ground blasting hot air into your face. We had not encountered one before. The kids loved it!
By Sinead from Map Made Memories
Pin this post to save for later here!: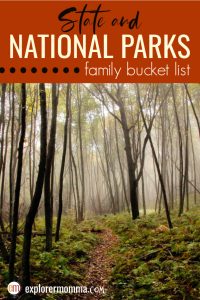 Operation U.S. Parks
It is so awesome to be able to travel with all of these guest writers to the state and national parks all over the United States. I love to hear stories and plan out where I think my family would like to travel. Oh, wanderlust! Where are you planning to travel to next as a family? Have you seen the studies on how children remember their family vacations and how they bring the family closer together? Right, let's plan a trip!
What's next on your bucket list?
Check out more articles on U.S. parks:
Will you add any of these to your own State and National Parks Family Bucket List? Or maybe you've been to some of them already?
Tag me in your pics on Instagram @explorermomma. I'd love to see them!