This page contains affiliate links. Santa's Workshop
What are your childhood memories of visiting Santa? Did you go to the mall to sit on Santa's lap and ask for that one special gift? Maybe you spoke to Santa's helper at a Christmas party? Personally, I rarely went to see Santa, but I did write him letters. As I grew older I knew what was actually going on, but I didn't want to let go of the magic. Truly, I embraced the idea of Santa and his reindeer stomping on our roof and saying 'Ho! Ho! Ho!' down the chimney.
Where is Santa's Workshop?
Well, this year our family made the trip to Santa's Workshop at North Pole, Colorado, and it was fabulous! North Pole, Colorado you say? Yes, that's what they call it, Santa's Workshop at North Pole, Colorado. Actually, it's located conveniently near Colorado Springs outside the town of Manitou Springs. It's a full-blown theme park dedicated to the North Pole and Santa Claus. Santa's house is at the center of the village, and a visit with Santa's an important part of any trip! I'm going to save you a hassle and let you in on my tips for visiting Santa's Workshop.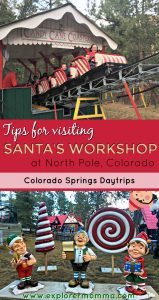 What is Santa's Workshop?
Santa's Workshop is a theme park aimed towards younger kids, but teenagers and adults alike love the place. In spite of the fact it's not as large or modern as Disney or Six Flags, it's treasured by locals and visitors alike. Moreover, it's set in the mountains, unique, and nostalgic. Santa's Workshop is in its 61st year, a quaint mountain village theme park with fun rides especially for ages 3-7. Of course, there are other rides for older kids and adults, but there are few a 3 or 4-year-old can't ride.
My kids love it because you can ride as many rides as you want all day long with very short lines if any at all. Well, that's if you avoid the busiest days! Also, my daughter enjoyed the magic show so much she wanted to go again later in the day. You'll find rides, shows, food, shops, and fun!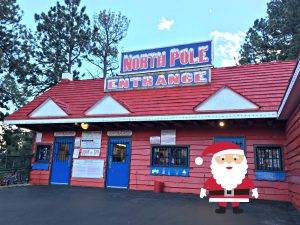 My top tips for visiting Santa's Workshop
1. Print out the $3 off coupon before you go
If you visit the Santa's Workshop website go to the coupon section to print off the coupon. When I last checked it was three dollars off the general $23 admission. Also, if you have a military or dependent ID an even greater discount so be sure to bring it with you.
Tip! Print the coupon before you go or copy a picture of it in your phone. Internet and phone services are iffy, and most phones will not have service.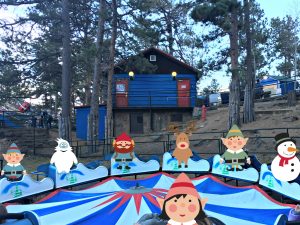 2. Double check to be sure they're open the day you wish to go
In winter Santa's Workshop is closed most Tuesdays and Wednesdays and can be closed due to weather. If you're not sure about the weather you can call 719-684-9432 to check whether or not they'll be open.
3. Wear your walking shoes and several clothing layers depending on the weather
There are picnic tables and benches all around, but even so, you'll do a lot of walking! In order to be comfortable, wear comfy shoes and a jacket or layers depending on the weather. Therefore, check the weather and dress accordingly.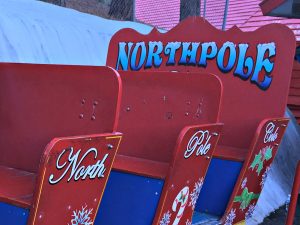 4. Arrive at least 10 minutes before they open
Santa's Workshop opens at 10 am, and if you're there on a busy day (such as the day after Thanksgiving) you'll want to be early! I suggest you arrive and park 10-15 minutes before they open to get in the entrance line. Then again, some days there may be little to no line, but do you want to take that chance?!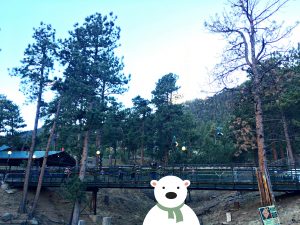 5. Go see Santa first to avoid the lines. Smile big for your picture!
Again, in order to avoid long waits, make a beeline for Santa's house to get in line for a visit. With kids, you HAVE to visit Santa, and you might as well get it done early and then enjoy the rest of the park. In addition, be sure to avoid the lunch hour. You won't be happy if you've been in line for 45 minutes, Santa goes to lunch, and you have to wait in line another 30 minutes until he gets back!
You can have an elf or helper take a picture with your own camera or have them use theirs. After that, you can go to the shop around the corner to view the pictures and make any purchases you wish. For example, get your picture on an ornament, a mug, or in a photo book just to name a few. Smile!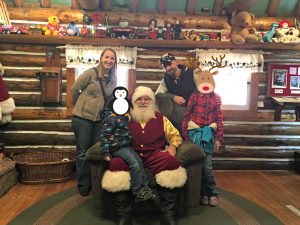 (Yes, I covered up my kids' faces. I generally do on the blog, and that is a personal choice. In this post you may notice I got a little carried away with adding characters to my pictures…)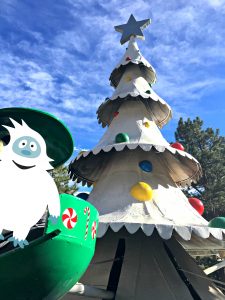 6. Make any personalization orders in the shops immediately after visiting Santa
There's a great shop with all sorts of ornaments and Christmas decorations that can be personalized with kids' names and years, family names, whatever you want. If this is something you want to do go early so the personalization can be done while you ride rides. Then you can pick up your order on your way out and not have to carry it all day either.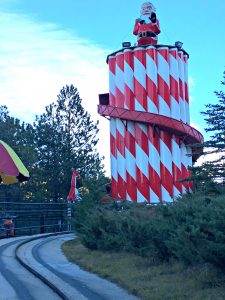 7. Pack your own lunch for any sort of special diet or to cut costs
The food is expensive at Santa's Workshop and limited to pulled pork, turkey, chicken nuggets, hot dogs, pretzels, and various other items. Moreover, if you're on a special diet, need gluten-free, or have other allergies I would suggest bringing a sack lunch. You can keep it in the car and send someone out to get it when the time comes if you don't want to carry it around with you. As I said before, there are quite a few picnic tables in the eating areas, and you can enjoy your lunch there.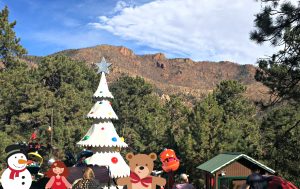 8. Make some s'mores!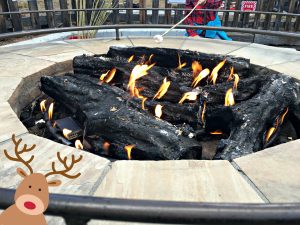 I loved this! There's a fire pit in front of the village shops, and there you can stop and warm yourself. OR…go into the candy shop and purchase a s'more kit! Who doesn't love to make s'mores? If you have kids with you, it will be something they remember. Also, they'll need a good snack mid-afternoon. In the candy shop, they'll also give you sticks to roast the marshmallows. So much fun!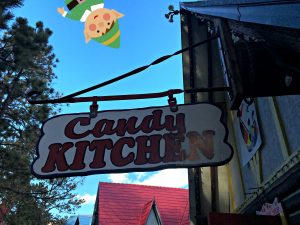 9. Get super-excited about the magic show!
Like I said, my daughter thought the magic show was AMAZING! As with anything, go in with a positive attitude and play it up to the kids. The more excited you are, the more they will be.
10. Have fun and be a kid again!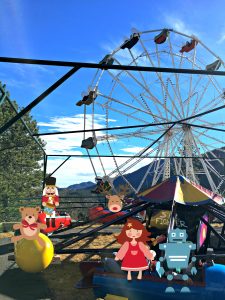 Our family favorite holiday is far and away Christmas. Did you know you can get a dose of Christmas cheer any time of the year? Indeed, one can visit Santa's Workshop in North Pole, Colorado year round. Do you need a dose of Christmas in July when you're on your family camping trip in Colorado? I hope you'll review my top tips for visiting Santa's Workshop. Then go for it! Santa's Workshop is merry anytime during the year.
Do you need some Christmas book ideas for Mom?
Check out my cozy Christmas book list and grab a couple today!