Are you planning a mountain vacation? Do you need things to do in Breckenridge, Colorado with kids? There's always skiing, but what else is there to do in winter or even summer? We've got you covered! Recently we had the opportunity to visit Breckenridge for a long weekend and had a blast with the kids.
This page contains affiliate links.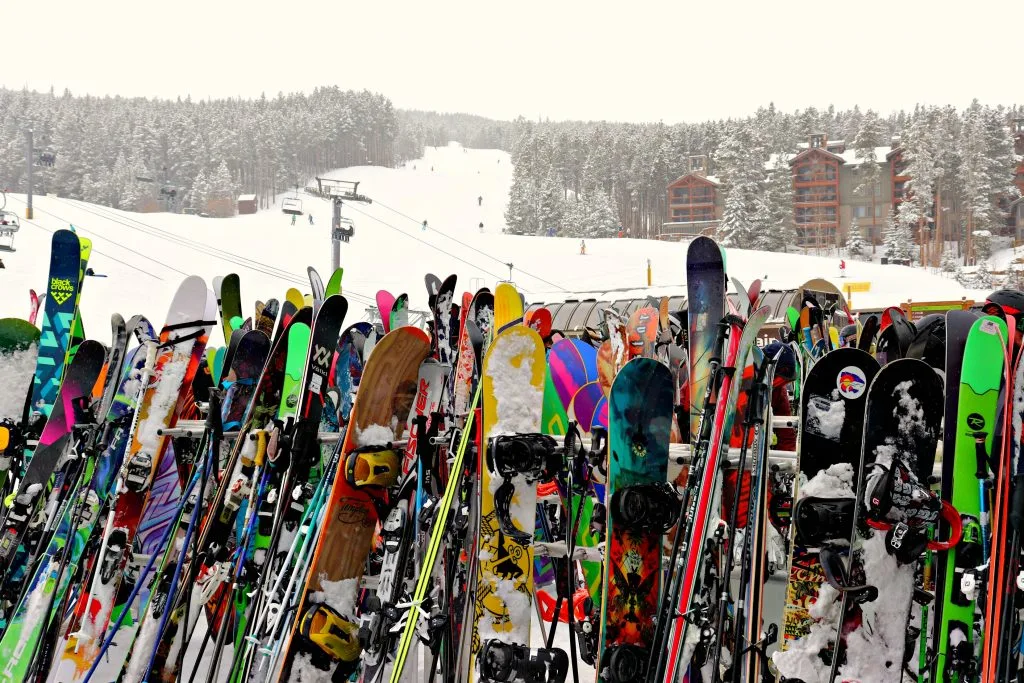 This past weekend we got a deal on a hotel and decided it would be a fun weekend to explore Breckenridge but not make it a ski weekend. We wanted to relax, hang out as a family, and have fun! There are not a lot of places in the world with a better view than Breckenridge so my arm doesn't need a lot of twisting to head on up there.
As a kid, I remember heading up to Breckenridge usually in the summer. My favorite thing to do was to ride the alpine slide, or sleds on rails, down the ski slopes. Most of the ski areas around have one as a part of their summer activities to draw in tourists.
Another thing I've always loved about the town is that there's ALWAYS some festival or event going on. The Breckenridge Music Festival is fabulous if you are at all interested in orchestral music. One year, I think I was a freshman in high school, I attended a weeklong music camp and focused on flute and piano all day. Every evening of the camp we attended the nightly music festival performance, and I was in heaven.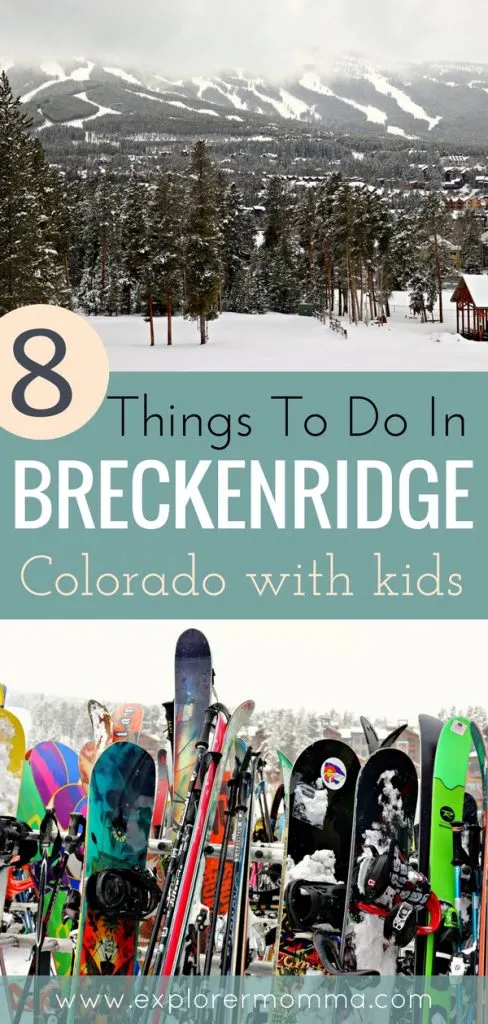 8 things to do in Breckenridge, Colorado with kids
This last time we were in Breckenridge, it was the end of the ski season. Still a good snow, but at the very end before it starts to turn to mud. Since we weren't determined to ski the whole time we were able to find quite a few great activities to do as a family. If you head up I hope you try some of these things to do in Breckenridge, Colorado too!
1. Breckenridge Gondola
First of all, the Gondola. The Gondola is a great thing to do with kids once or more a day because hey, it's FREE!! During the ski season, it runs from 9 am to 6 pm seven days a week. You can ride from the base parking all the way up with stops at Shock Hill, Peak 7, and Peak 8. It's great even if you're not skiing to go up to the top to eat, explore and see the views, check out the new hotels, or to take it up to go snowshoeing.
Eight people can fit in the enclosed gondola cars, and I found everyone in our cars always eager to encourage each other and share their experience so far in town. A lot of the people we ran into were escaping offices in Denver for the weekend and just could not quit smiling they were so happy to be up in the mountains. The Breckenridge Gondola is one of many awesome things to do in Breckenridge, Colorado with kids.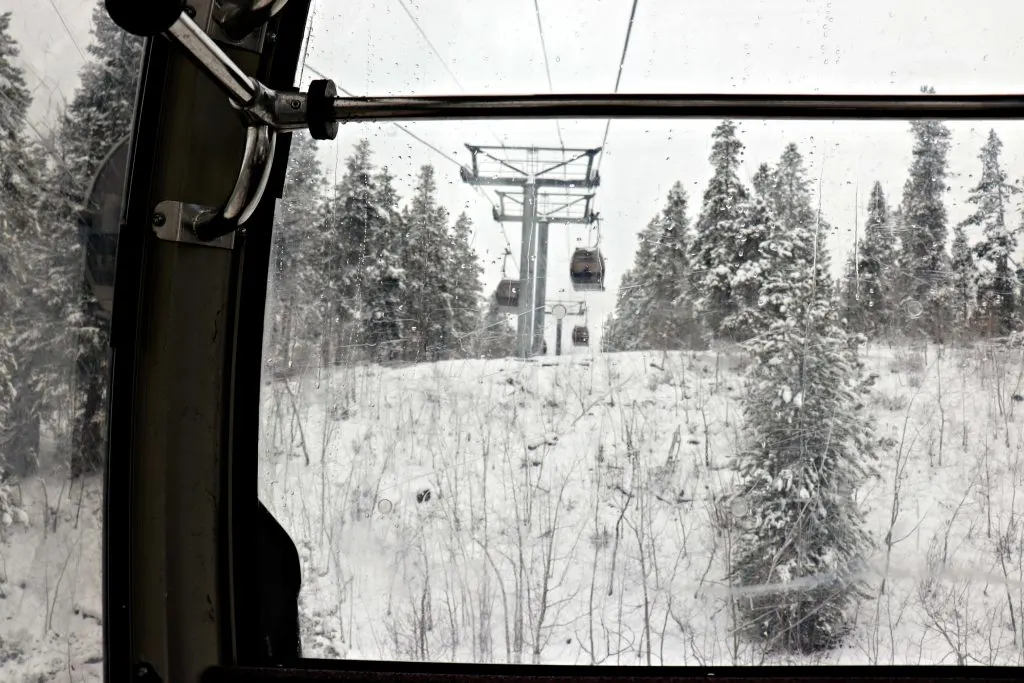 2. High Line Railroad Park and Playground
189 Boreas Pass Road, Breckenridge
Do you have a Thomas the Tank Engine obsessed child in your household? While my son is not quite so into it as he once was, this High Line Railroad Park was a HUGE hit. On display, just outside in the park, you'll find Engine No. 9, one of the few remaining narrow gauge engines that once braved the precarious mountain passes. Think Skarloey and Peter Sam. As a bonus, it's even fitted with a huge snowplow just like Thomas is always grumbling about. If that means nothing to you just move on, but it's a fun tie-in for young kids! 😉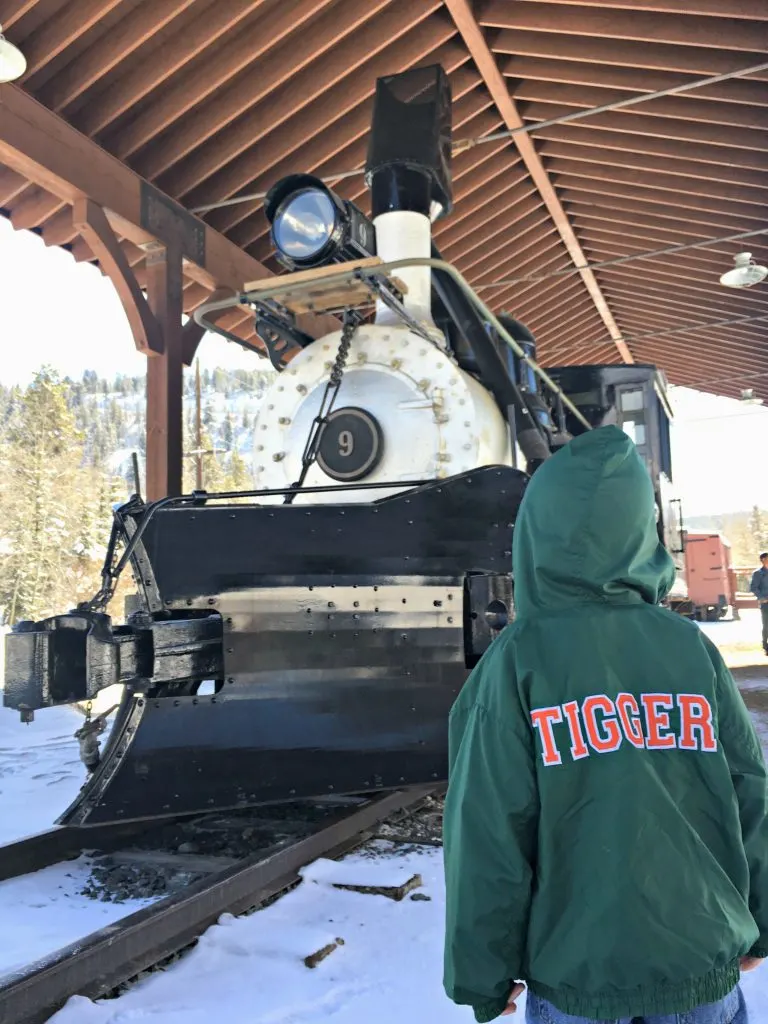 You'll also find a caboose and various other cars and memorabilia around. It's so much fun to see the engine detail up close and to try to figure out how it all works. We actually easily explored the area with snow on the ground, and it was a much-needed play time for my kids. The playground next to the trains was a lot of fun, a good way to get in some more exercise and laughter.
3. Stephen C. West Ice Arena
If your kids want to try out some ice skating, head over to the Steven C. West Ice Arena. It's right next to the High Line Railroad Park and has a ton of fun options for everyone. They're open seven days a week, but I would call (970-547-9974) or check the website beforehand to verify the daily schedule. However, there are choice activities for the entire family. Join the free skate indoors or outdoors. Maybe you're into figure skating or want to try your hand at curling! They have something for you!
Read all about the perfect family-friendly mountain getaway in Grand Lake, Colorado!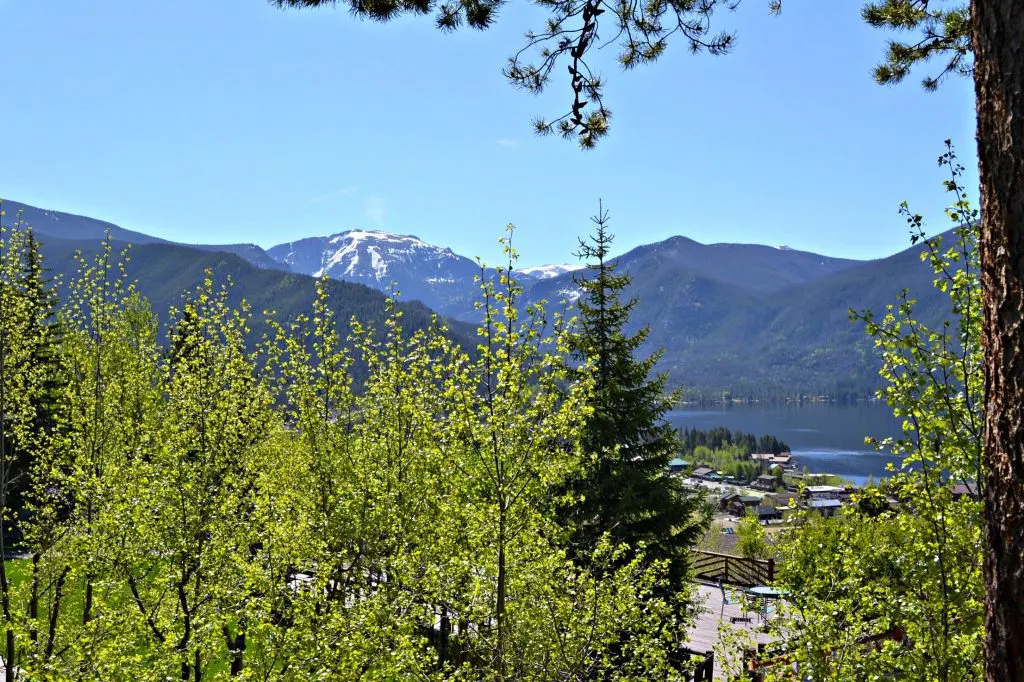 4. Carter Park Sled Hill
300 S. High Street, Breckenridge
Are you still looking for things to do in Breckenridge, Colorado with kids? I hope so because this is a good one! We got an insider tip from a woman working at our hotel about this great sledding hill just over at Carter Park. We brought a sled with us, but the hotel also had stacks of them you could borrow while you were there.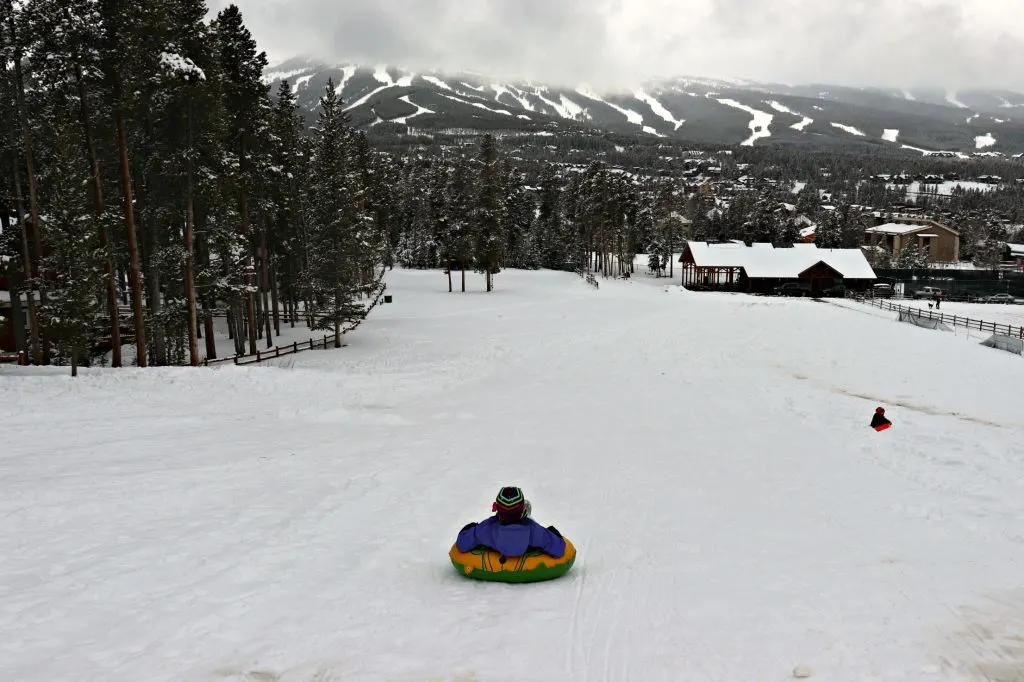 Many locals use this hill for a fun afternoon of sledding. However, on the day we went out there, the sledding hill had only two other families out there with us. I was shocked because it was one of the busiest, craziest days of the ski season, and the ski slopes were more than a little packed.
Plan to get your exercise because yes, you have to walk back up the hill. It didn't seem to bother the kids too much, and in fact, they wanted to stay on there into the evening! Unfortunately, my husband wore out pulling the child up the hill in one of the sleds, but while they did that I got to admire the magnificent view. This is a place to see. Have fun!
5. Ready Paint Fire
Okay, switching gears here. Do you like to paint? Make pottery? Fire things in kilns? Well then! Take a rest from all the outdoor activities and check out Ready Paint Fire. Have you always wanted to make a mosaic or fuse glass together as abstract art?
This place is awesome! Truly, it's a place to be enjoyed by the entire family ages 3-80. Plan to spend a couple of hours and make a piece of art and share fun and laughter with the family. It's a very different activity and one the kids can really get into.
Tip: Check the local guidebooks found at most hotels for coupons because there is a studio fee along with different costs depending on what you want to do!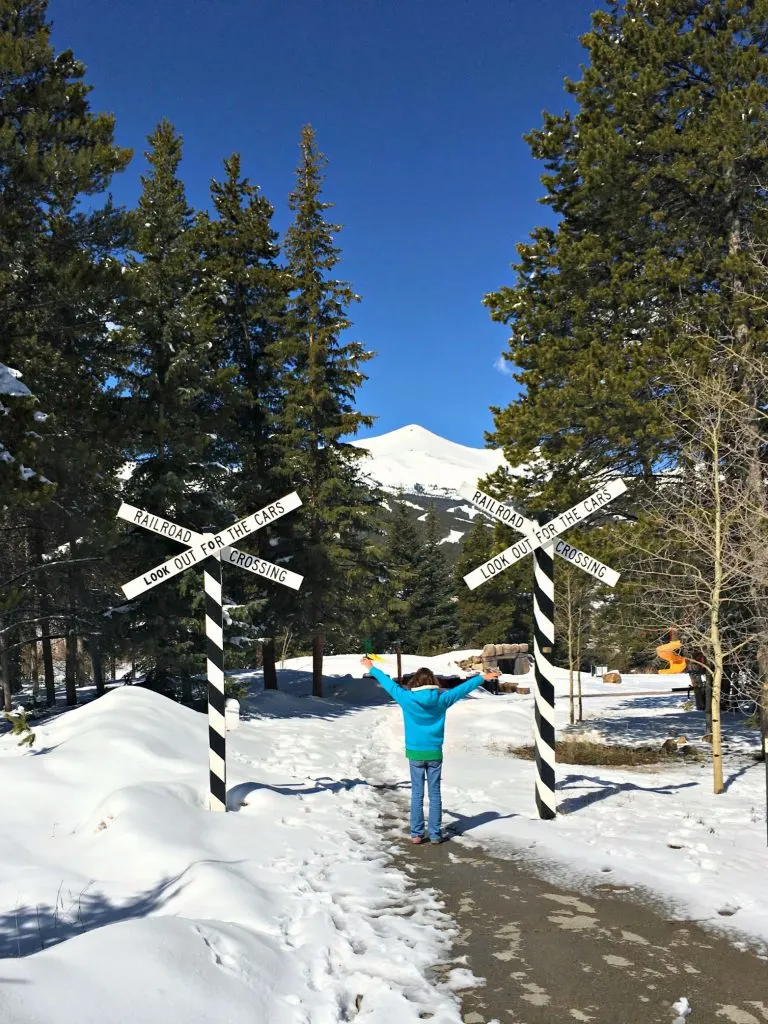 6. Breckenridge Recreation Center
If the kids get sick of the hotel pool or yours doesn't have one, you need to visit the Breckenridge Recreation Center. After all the fun in the snow switch to warm and water! What kid (or dad) doesn't like an excellent water slide? It's obviously perfect in summer too.
If swimming's not your thing, they also have an indoor rock-climbing wall, gymnasium, racquetball court, indoor track, and aerobic/dance studios. I even heard mention of fencing classes. Check out their website for complete information here. Tempting!
7. Hiking, snowshoeing, and bike trails
Breckenridge is well-known for being great for bike riding. There are paved trails through town and well-maintained trails all around the area. My family loves to snowshoe, and so in winter, many of the bike trails double as awesome snowshoe hikes. It depends on the age of your kids, but even a short walk or hike can be memorable for them up in the beauty of the mountains. My son tends to remember it for making him TIRED, but you know, it's good for them! Am I right?!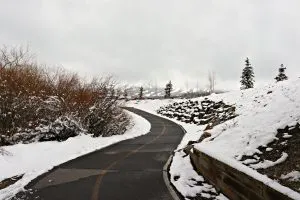 Just next to the gondola you'll find one of the paved bike trails, and you can easily get a map of those online, from a local store, or your hotel. For some snowshoe trail options, click here. I remember when I was younger and came up with a good friend of mine, we brought our bikes. Her dad loaded all the bikes and drove us to the top of one of the slopes, and we got to ride our bikes downhill all the way back to town. I thought it was such a good idea, thus avoiding the difficult uphill climb!
8. Dog Sledding or Snowmobiling
When you were young did you read Jack London and imagine you were going to be in that great sled dog race the Iditarod? Scott O'Dell, Jack London, and several other authors I read gave great accounts of the preparation and entire Iditarod experience, and at about age 10 I was determined to participate.

While unfortunately, that dream didn't come true, did you know there are places where you can at least go dog sledding? Oh, yes, my friend. You too can mush the dogs and pose for an action photo of you seriously fighting the cold and bonding with your trusted sled dogs.
At Good Times Adventures you can take the whole family dog sledding or snowmobiling. This is one of my favorite things to do in Breckenridge, Colorado. For more information see here!
BONUS!
2 Below Zero
I know I said 8, but here's another possible awesome thing to do in Breckenridge, Colorado with kids! If you head on over to 2 Below Zero you will have an amazing sleigh ride or chuckwagon ride (depends on the season) with a chuckwagon dinner, musical and/or comedy entertainment and fun! The winter sleigh ride is about 2 hours and 15 minutes or so and includes a sleigh ride, dinner, and musical entertainment. My family LOVES these kinds of places, and it's so awesome to make an event out of your location, its cultural history, and FOOD!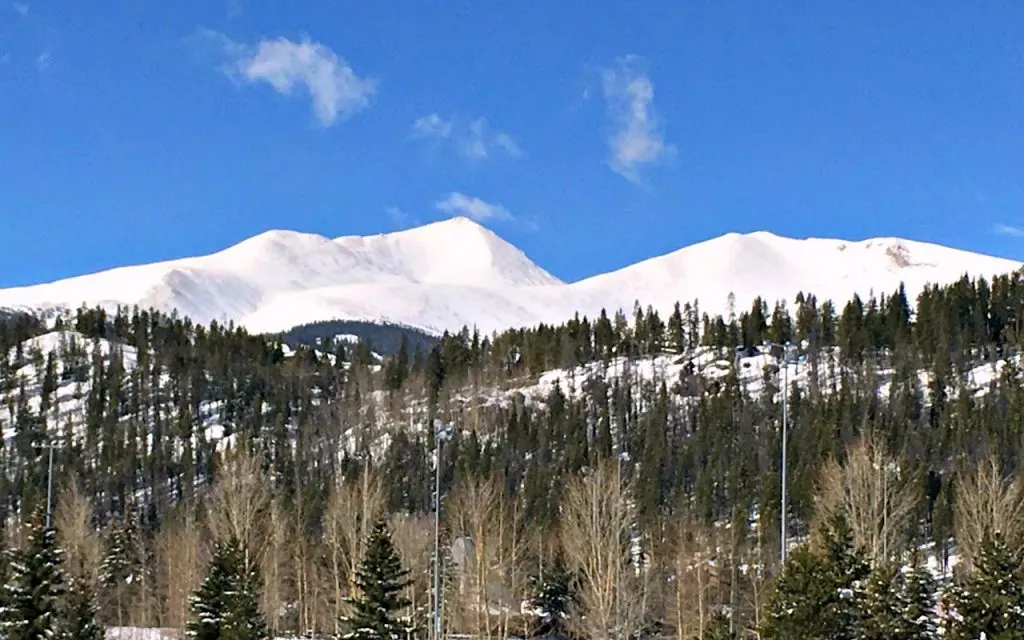 What other things to do in Breckenridge, Colorado will you try out?
I absolutely LOVE being in the Colorado Rocky Mountains. Moreover, the more you get kids out in nature the better I tend to think. Teach them an appreciation of nature, a love of exercise, and the outdoors, and they have an outlet for life. So many problems can be solved with a good hike and time to think.
Check out more Epic Colorado Family Vacations!
Where are your favorite family vacation destinations to get the family outside and moving?