Now is the perfect time to be talking about family camping preparations because hey it's just decided to start SNOWING! Do you know what? I'll let you in on a little secret. Go ahead and go through your family camping checklist.
There's never a bad time to plan for a camping trip, and I'm in Colorado so since it's 25 degrees Farenheit right now, tomorrow it should be 74 again, right? Because that's what happens here!
This post contains affiliate links which means I make a very small percentage if you click through and purchase something. All opinions are strictly my own!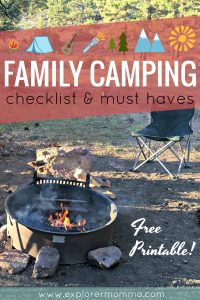 Let me first tell you what can happen on a badly planned family camping trip. Last summer we decided on a whim to grab that camping site that had just been released on the website in Rocky Mountain National Park at the Moraine Park Campground.
What luck! That place is crazy busy in the summer and we hadn't booked ours months in advance. We threw the tent, some food, and the kids in the car and set off to enjoy the mountains.
The BAD Camping Experience
Don't get me wrong, I LOVE my Rocky Mountains, but what ensued was NOT a pleasurable experience. I did NOT use a family camping checklist. Our campsite was in the middle of a group of sites in the large campground, although at first, we didn't think it was too close to others.
We got our tent up and sent the kids to look for pinecones and bugs. Unfortunately, there's not a river or lake or a lot to do at that campsite, and we were sort of pinned in. We'd forgotten our normal card games and had to drive out of the campground to do much hiking or other activity.
That night the ground was hard, the hole in our camping mattress painfully evident. Not that we could sleep anyway because it was so cold one of the people at the next campsite turned their car on and ran the heater ALL NIGHT. YES!! All night the hum of the car and the burr of it when the heater came back on caused none of us to get much sleep.
By morning we were so tired, grouchy, and picking at one another that we picked up things and went home. It was not like a bear attacked our food and destroyed our campsite, it was just NOT the ideal family camping trip in nature.
SO what did that teach us? PLAN, PLAN, PLAN!! With kids, my sanity revolves around checklists and planning and preparing for every eventuality. Of course, so many people's personalities are different, but even a little planning can't hurt!
Prep the kids and test your gear with a trial run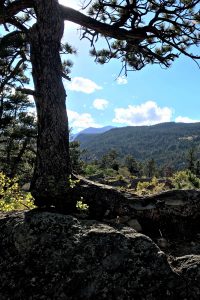 What do you mean by a trial run you may be thinking!? I mean exactly that. If you haven't used your camping gear for a while, pull it all out and build up a grand event for the kids to CAMP IN THE BACKYARD!! Ooh!
Try out some of your favorite or new camping recipes modified for your kitchen, but take it outdoors to eat in camping chairs by the tent. Test out your headlamps, flashlights, even the camp stove if you use one. Also, I like to shake out the tent and sleeping bags to air them a bit and make sure they've all been cleaned since the downpour and mud slosh of the last trip!
Another thing that I love about a backyard campout is that it's a great trial run for the kids! If you have young ones who've never camped before it can be scary. In the backyard, it still can be but with easy access to the house. Once the tent and set up is more familiar to a child, they will be more comfortable with it in a foreign setting, your desired campground. Baby steps, right?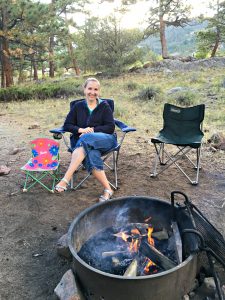 Reserve your campsite in advance
If you are headed to a national park or a popular campground, be sure to book your campsite online in ADVANCE. The Rocky Mountain National Park campgrounds open up reservations six months in advance, and if you're planning to go there I suggest you book it as soon as you can.
First, choose your campground. What activities are there around for the kids to do? Do you want to be by a good fishing spot, a lake or a river? Do you want to be close to accessible hikes or areas for wildlife viewing? Or do you just want a space to hang out, play cards, talk, and hang out around a campfire? Some campgrounds even have games like horseshoes, putt-putt, and other things children like to do. Do you need electricity and a bathroom? Decide, what is it you want out of the campsite area?
Second, study the campground map and look at the campsite pictures if there are any. Are you a family that likes to be in the middle of things among a lot of people at a party or more separated with space and a good view? Book your campsite accordingly! If you've never been there, consult someone who has or Google reviews for the specific campground. Another thing, be sure the review is recent so you know there hasn't been a fire or attack of pine beetles or something to drastically change the area!
Third, book your campsite on-line! Find the website for the campground you've chosen and get your reservation booked!!
Check out these awesome Estes Park, Colorado hikes for kids and family!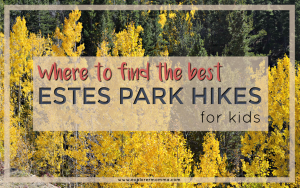 Camping Gear
When you're looking at gear for a camping trip a lot of it depends on the length of time you're going to be camping and what exactly you're wanting to do. I've admitted I'm no longer a hardcore, a week at a time camper with kids, but I do like a two-night trip. When you do your trial run fun backyard campout you can determine what gear you still may need to get. I would really LOVE to have this entire awesome new tent setup from Cinch!, with solar charging hookups and super easy setup and takedown. However, for our short-term camping, our old tent will probably do just fine! What kind of tent's on your family camping checklist?
I highly recommend downloading my family camping checklist. You can write all over it, add things, and cross things off as you need. As a mom going in a million directions I know I need something written down clearly defining the next step.
Truly, I've learned because I've had too many experiences where I've said oh, I'll remember that! And then, of course, I don't, and it gets left in the storage area in the basement.
Sign up for Explorer Momma's newsletter and as a bonus download this amazing family camping checklist today!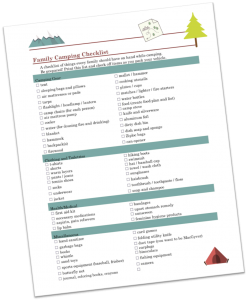 Family Camping Food
Food! There are so many fun camping recipes on Pinterest I encourage you to find a few new ones to please the family. As a kid, I still remember how much fun it was to wrap my packet of food up in foil and throw it in the fire to cook. How in the world did the adults let me do that?! As a strict rule follower, it was a great release and rebellion for me without really rebelling. Of course, there's always a traditional s'more to be had as well!
If you are wanting to cook with a campfire or just sit around one, always check for fire restrictions or bans at your campsite before you go!
With food, plan out your days. What will you eat for each meal? What are your snacks? Will it spoil or need to be kept iced? There are a lot of things to think about with food, and my preferred short trips make it a lot easier than a couple week campout, although that is totally doable also.
Another thing to think about is how you can keep your food away from the wildlife in the area. Can you contain it at night so the bears don't sniff out your camp? (Often there's a locked "bear box" assigned to campsites to keep food if that's a problem in the area). Maybe you can tie all the food in a bag up in a tree or in your car? Although, I've heard of bears getting into cars as well! Talk to the ranger or campsite director about best practices in regard to food storage.
PLEASE! When you plan out your food, remember you also have to cart out all your trash or find an appropriate receptacle for it!! Leave nature and your campsite as it was when you found it!
Things to do while camping
I mentioned this briefly before, but think about what things you want to do with the kids or friends while you're there. Find out what's available and what will work for you all to do. Add the necessary items to your family camping checklist.
Where are the best nearest hikes?

Can you fish in the area? Who all needs a fishing license?

Can you boat or kayak?

Bring card games to play during a downpour in your tent!

Frisbee, baseball, soccer, or other sports

Plan a nature scavenger hunt for the kids.

Give the kids an old camera and tell them to take pictures of as many different: leaves, pine cones, bugs, birds, animals, or whatever's around, they can. My son LOVES this and can do it for hours.

Create a nature journal. This is more my daughter's style. She loves to draw and write about the things she sees. I don't like to give it too many rules so she can be creative, but you can give suggestions. Why don't you draw all the flowers, butterflies, or animals you find? Can you imagine a story about that tree and write it out?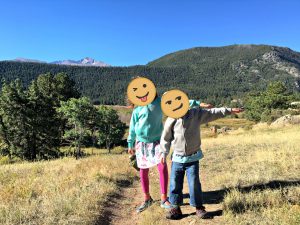 What's left on your family camping checklist?
Family camping and camping on your own or with friends are two ENTIRELY different animals. I used to love to pack in all my gear and tent on my back 5 miles or more to the backcountry campsite where there wouldn't be anyone else around. Peaceful. Quiet. Serene.
Add young kids to that equation, and you are headed for a disaster of high magnitude!! Now, as a family, our ideal camping experience is 2 nights at a campground site. In addition, this site is close enough to walk back to the car, but separated enough from the other campsites so you still feel the peace of the great outdoors.
You can have an amazing experience, but it does take some patience and planning. And flexibility, which is what I always have to work on!! I hope you printed your family camping checklist and will use it this summer!
Get your family outside and run! Soak in the sun and stare at the stars. Give it a chance, and planned properly with a family camping checklist, you will LOVE your time and memories made.
Now here's a question for you! Where are some of your favorite family camping spots all over the world?