Nestled in the heart of the Peloponnese, a region synonymous with the myths and legends of ancient Greece, lies the breathtaking Menalon Trail. It's an idyllic setting for hikers seeking a truly immersive outdoor experience. The trail weaves 75 kilometers through lush forests, rocky ravines, and picturesque villages, offering an intimate view of Greece's tranquil countryside.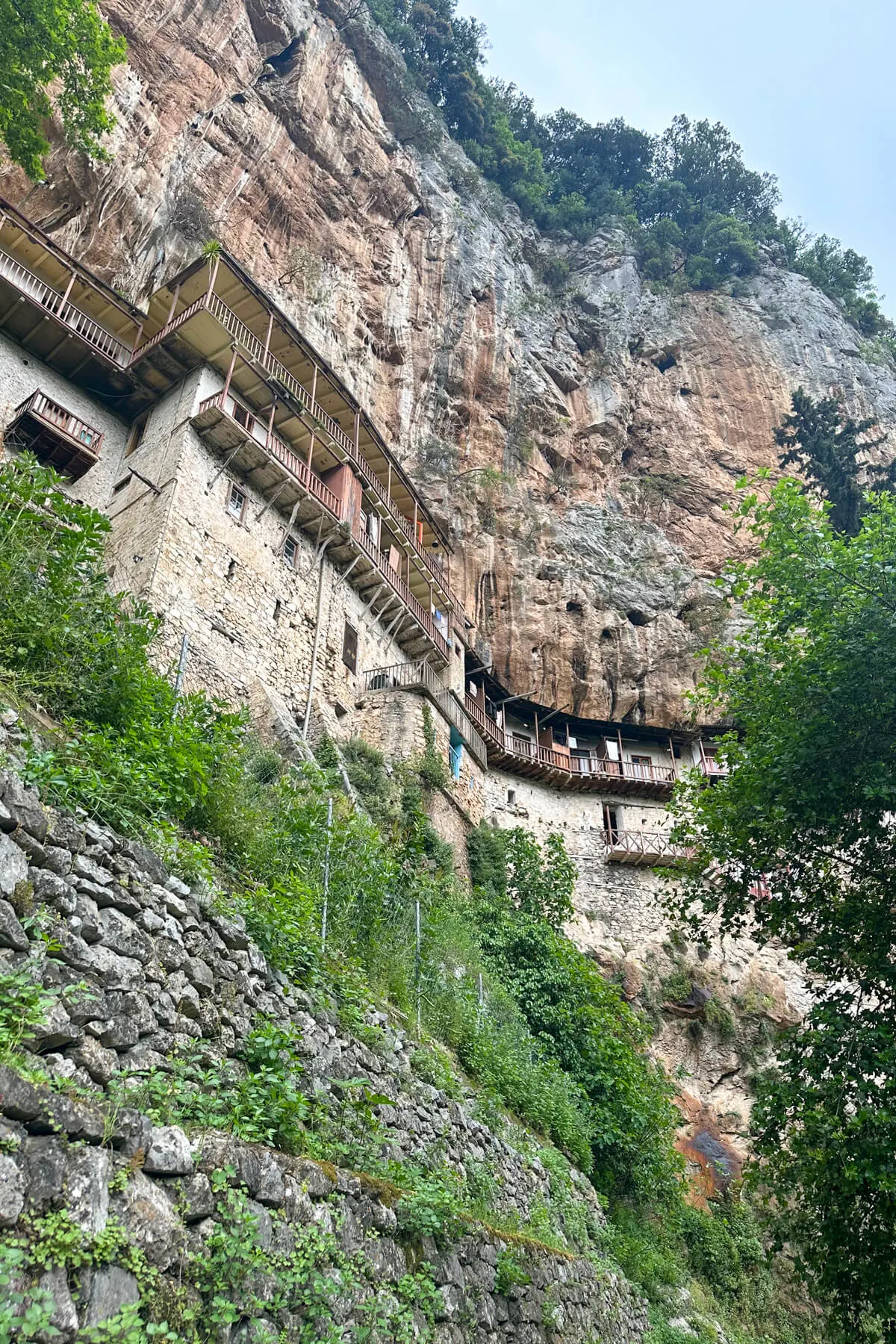 Boasting several challenging yet rewarding hikes, the Menalon Trail is one of the best trails for adventurers and nature enthusiasts alike. The Lousios Gorge is dotted with awe-inspiring monasteries and ruins. For me, this was a particular highlight of the trek, and I loved every minute of my time there! Join me in exploring this hidden gem of Greece by embarking on a journey of a lifetime!
This post may include Amazon links or other affiliate links. As an Amazon Associate, I earn from qualifying purchases.
Jump to
What is the Menalon Trail? | Menalon Trail video | What to expect | History | How to get the most out of it | Scenery | Best practices | 1 day hike: Section 1 | Top tip | How long | Tour company: Trekking Hellas | More Greek trails | Resources | Summary | Conclusion | More articles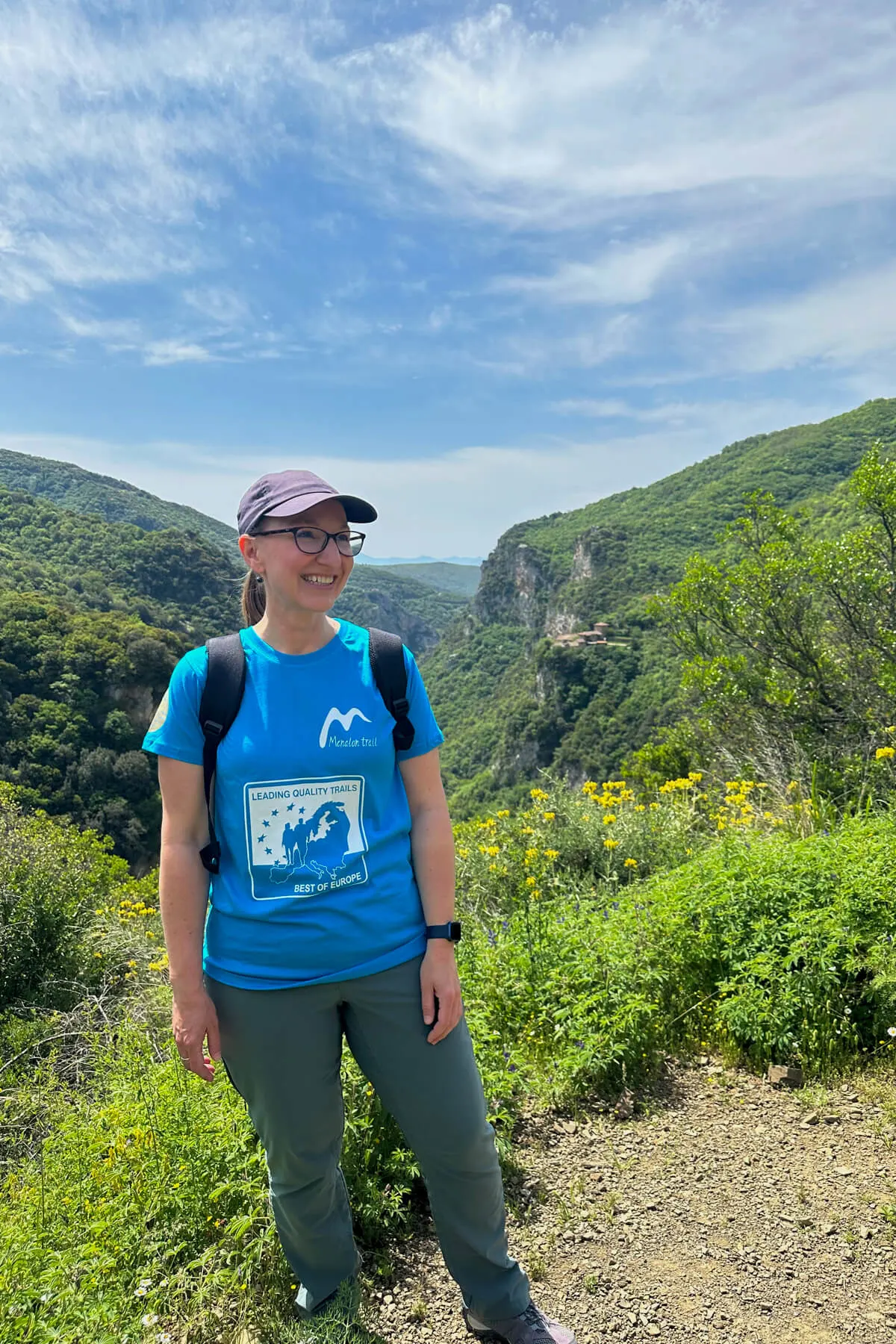 🤔 What is the Menalon Trail?
The Menalon Trail is a 75 km long, marked hiking trail in the Peloponnese region of Greece. It's home to a variety of terrains and terrain features, including dense forests, rocky ravines, and rolling hills. The route takes hikers through several small villages along the way.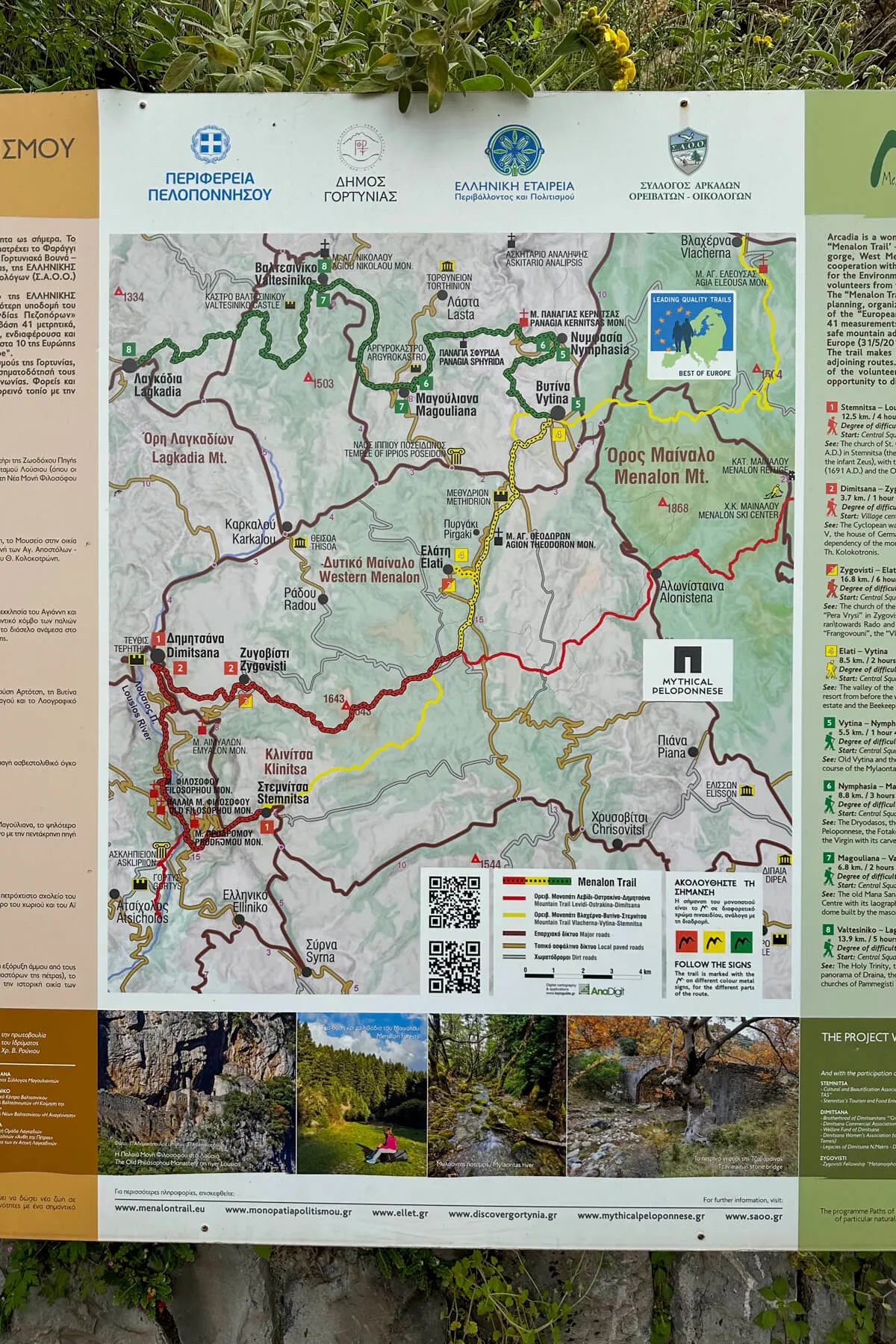 The village stays offer the opportunity to experience local culture and a warm welcome with a night's stay. The bonus is your get to admire picturesque views of the countryside along the way!
What's it like to hike the Menalon Trail in the Greek Peloponnese?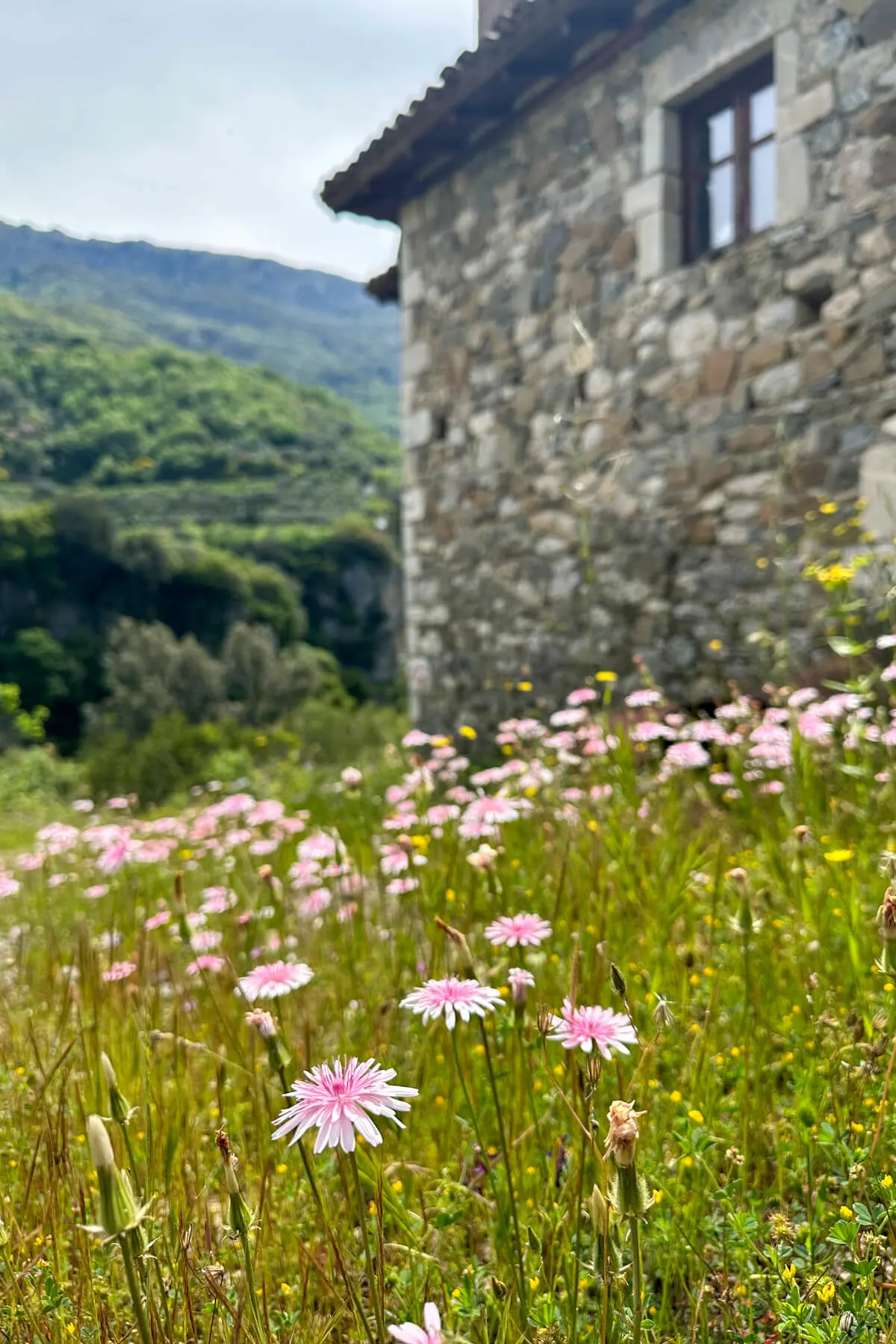 🌎 What to expect
The Menalon Trail is divided into eight sections, all offering unique and breathtaking landscapes for hikers to explore. In fact, the Lousios Gorge is home to several ancient monasteries and ruins, perfect for an epic adventure. The route also offers many opportunities for wildlife spotting. Indeed, a variety of indigenous birds, lizards, and wild boars as well as beautiful wildflowers to be found en route.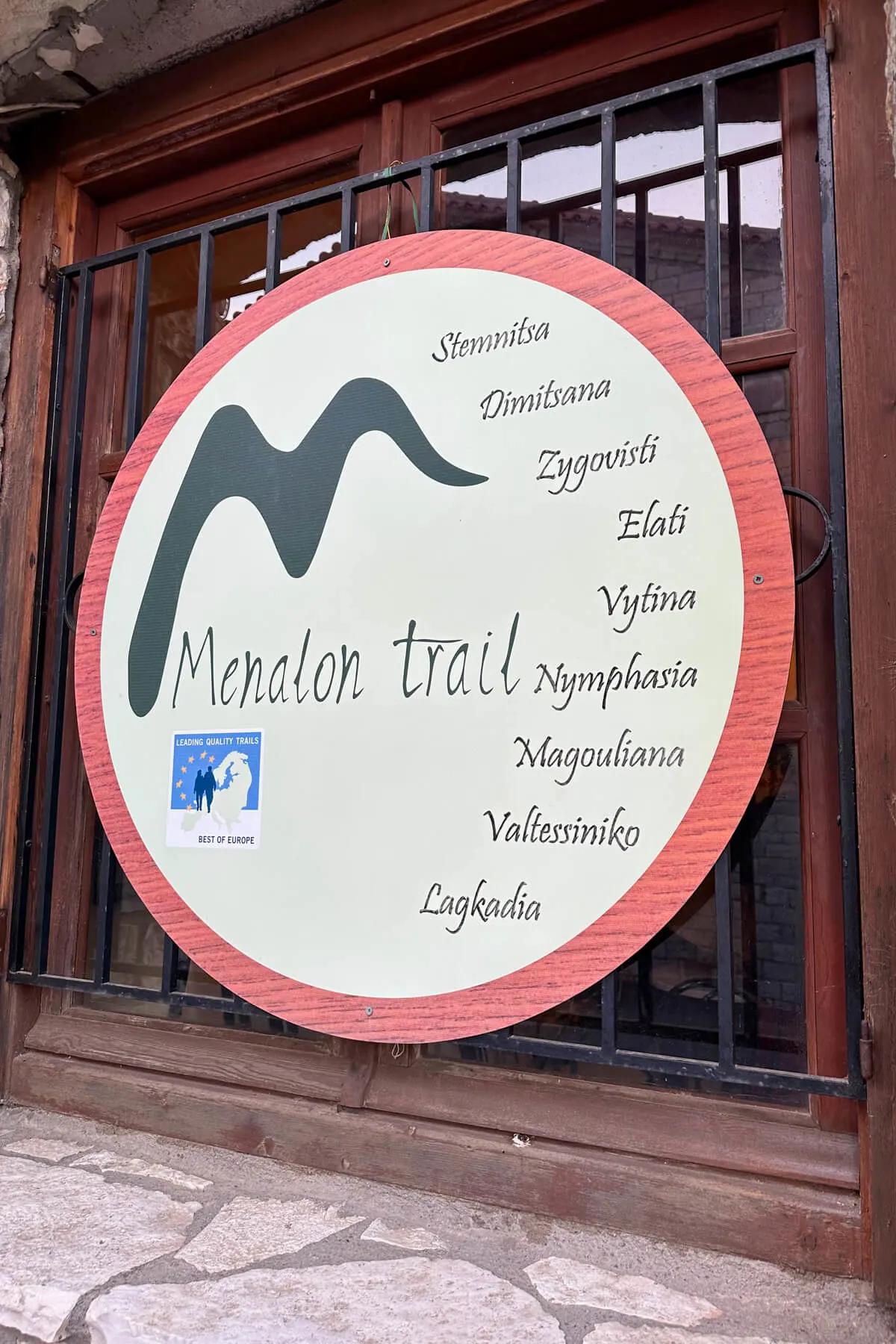 📚 The history of the Menalon Trail
The Menalon Trail has been a part of Greece's cultural heritage since the 19th century. It follows an ancient trading route that was used by traders and villagers to transport goods. Not only for goods, but people used it for regular transporation between mountain villages.
This makes it one of the oldest trails in Europe. You can call it a walking route or a series of mule paths. However, it was a good way to get to some of the more remote villages!
The trail is dotted with fascinating archaeological sites. Some of the most interesting to me include the remains of Byzantine churches, monasteries, and ancient artifacts.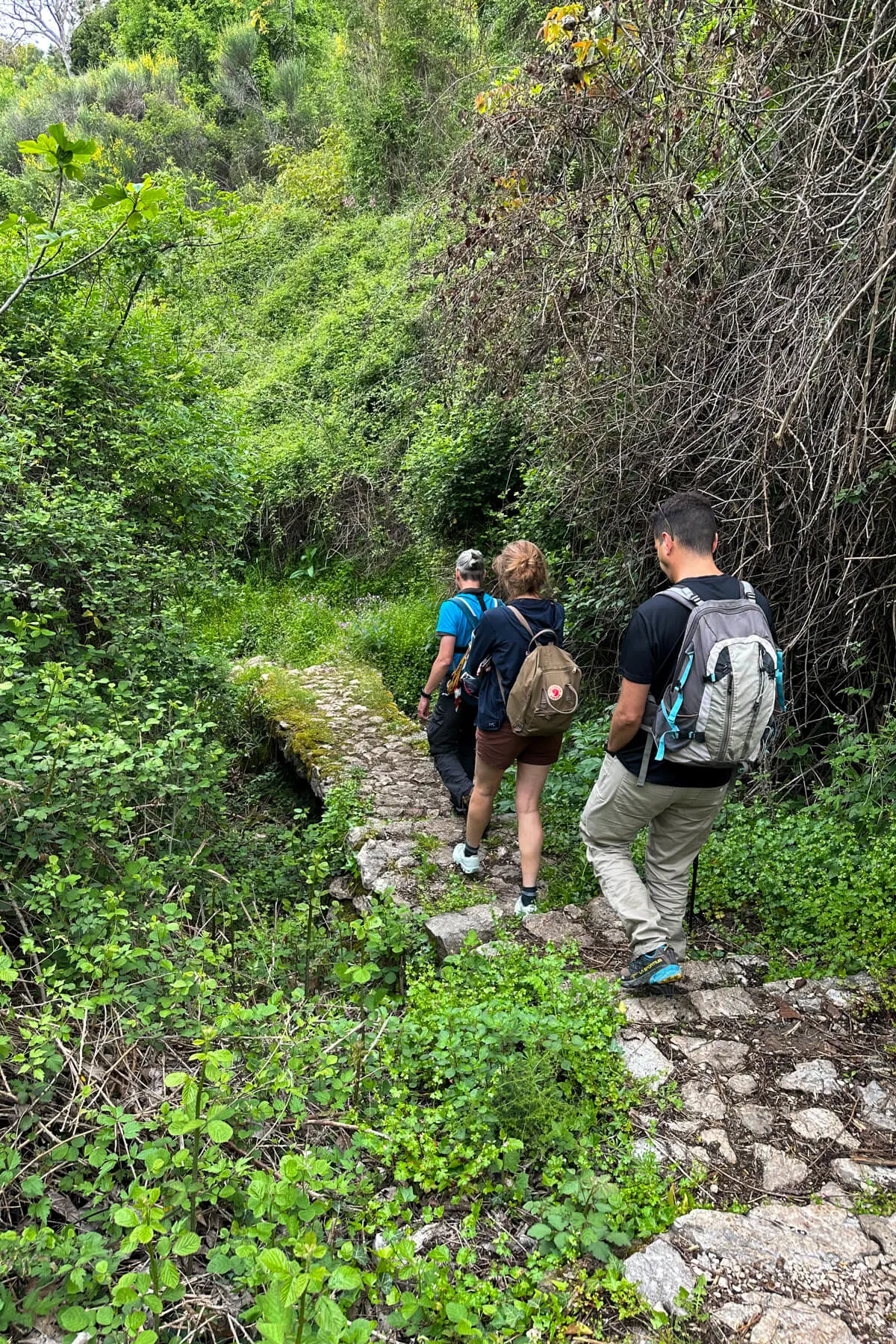 🥾 How to get the most out of your adventure
The best way to experience the beauty and history of this mountainous area is on foot. So make sure you pack a good pair of hiking boots or hiking shoes! These Merrell hiking shoes are the ones I used, and they held up great.
Also, the trail can be hiked in sections or as a whole. This makes it perfect for both short day trips or longer excursions.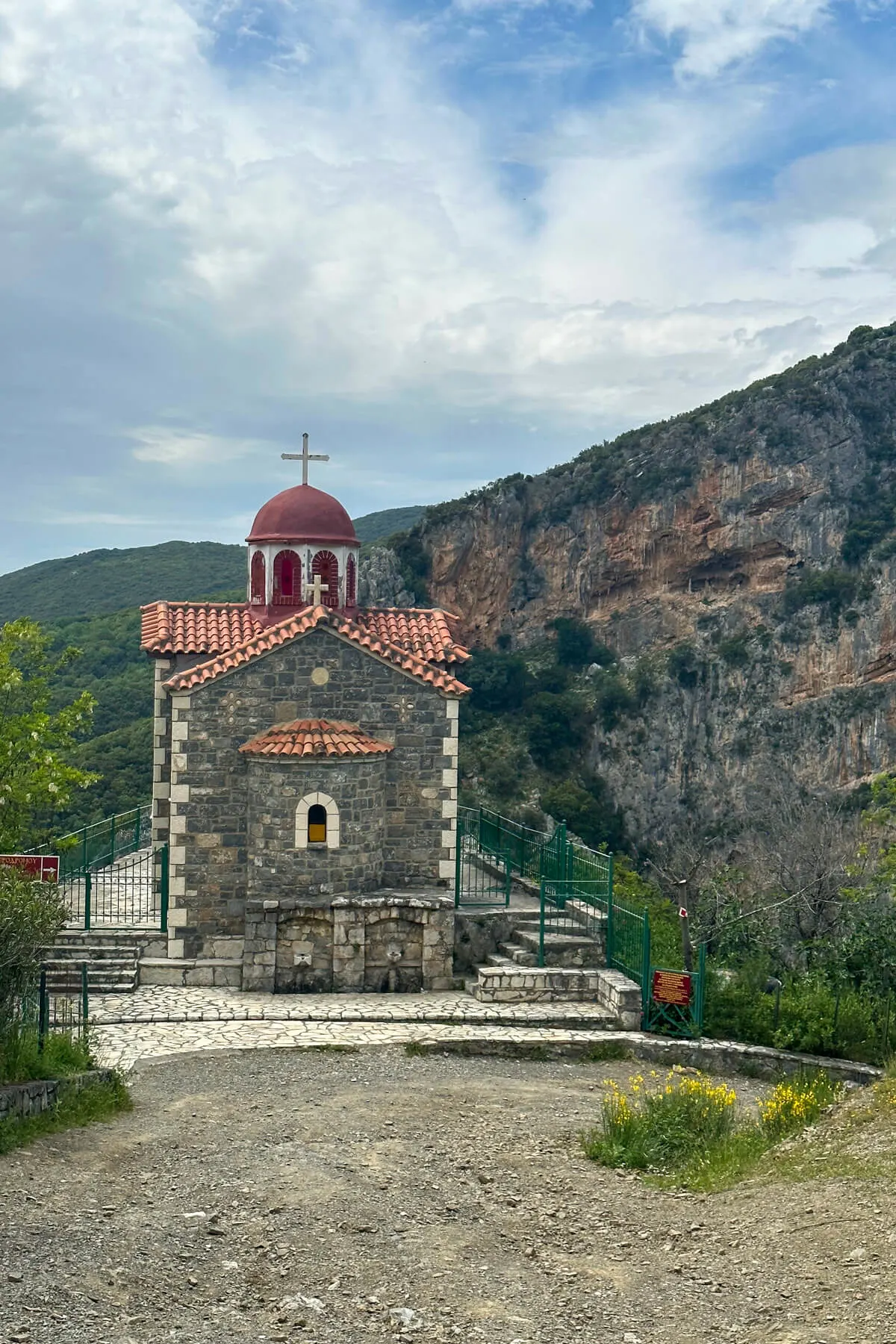 🙋‍♀️ What kind of scenery will you see along the Menalon Trail in the Greek Peloponnese?
The scenery is pretty amazing, with lush forests, rocky ravines, rugged gorges, olive trees, and rolling hills. What a stunning backdrop for your adventure, right?
The trail passes through several small villages, nine villages to be exact! Each offers hikers the opportunity to experience local culture while also admiring the beautiful countryside views.
Along the way, you'll also be treated to spectacular panoramas of mountainside forests. Enjoy the tranquil ravines of the Lousios Gorge, and see how many different kinds of wildlife you can spot (this guy's not so wild)!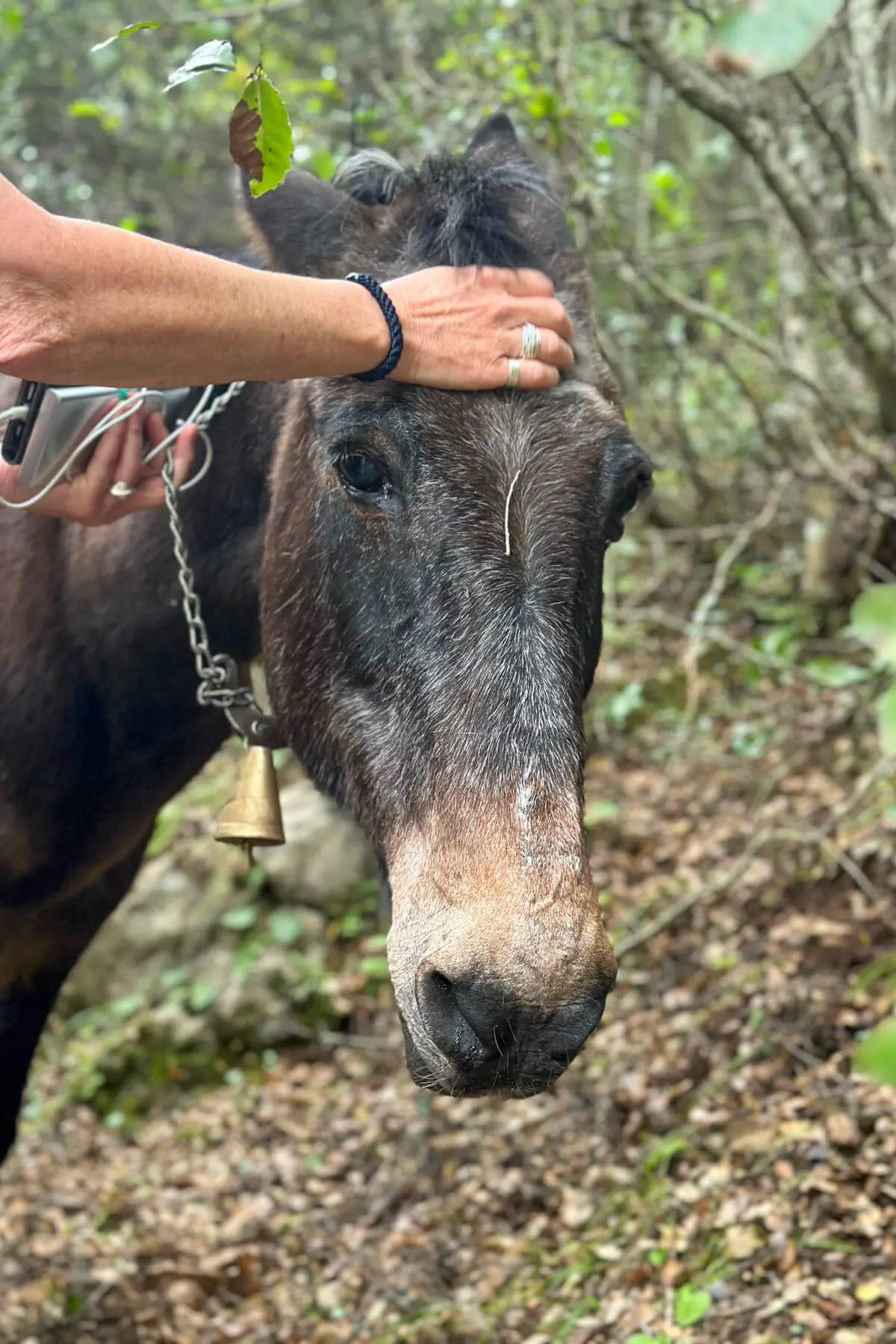 I'm a girl from Colorado used to hiking in Rocky Mountain National Park. Personally, I found the flora and fauna similar to home but a bit more exotic than what I'm used to.
Unfortunately, while I did not see a wild boar (or maybe that's a good thing?) I got to see quite a bit! There were the plane trees, all sorts of moss, a snake, dry stone walls, a quiet village or two, several monasteries, wildflowers, jaw dropping views, and even the home of a Greek war hero (but I'll write more about that soon!).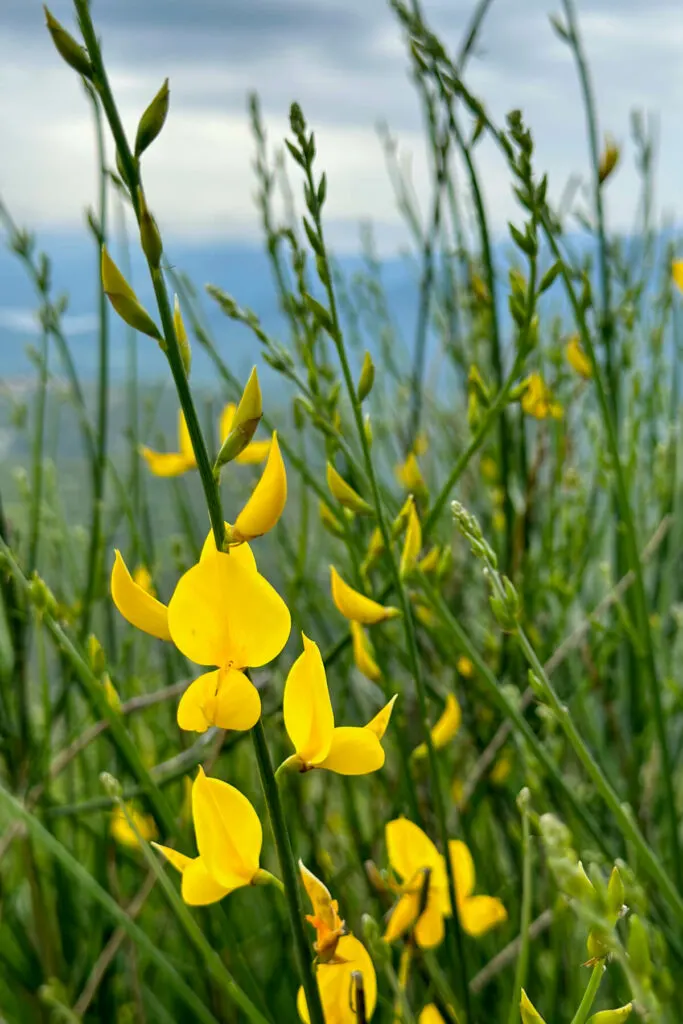 🏃‍♀️ Best practices for hiking on the Menalon Trail
Safety is always the priority when embarking on a hiking adventure. That means please make sure you are prepared for your Menalon Trail journey by following these simple best practices:
Pack the right gear. Whether you're just getting started with hiking or an experienced outdoorsman, it's important for a safe and enjoyable journey. Bring sturdy boots and plenty of food and water. It's also a good idea to have a map or guidebook, sunscreen, mosquito repellent, and appropriate layers for the weather. Then of course bring a first aid kit and any medications you may need in case of an emergency.
Know your limits: The Menalon Trail has many challenging sections. Make sure you have a realistic idea of how far you can comfortably walk in one day.
Stay on the trail: It's important to stay on marked paths and trails and not venture off into unmarked areas. This is for your own safety! Be on the lookout for the signs along the trail.
Be respectful: Make sure to respect the local environment and culture. Treat nature with care and follow any signs or instructions.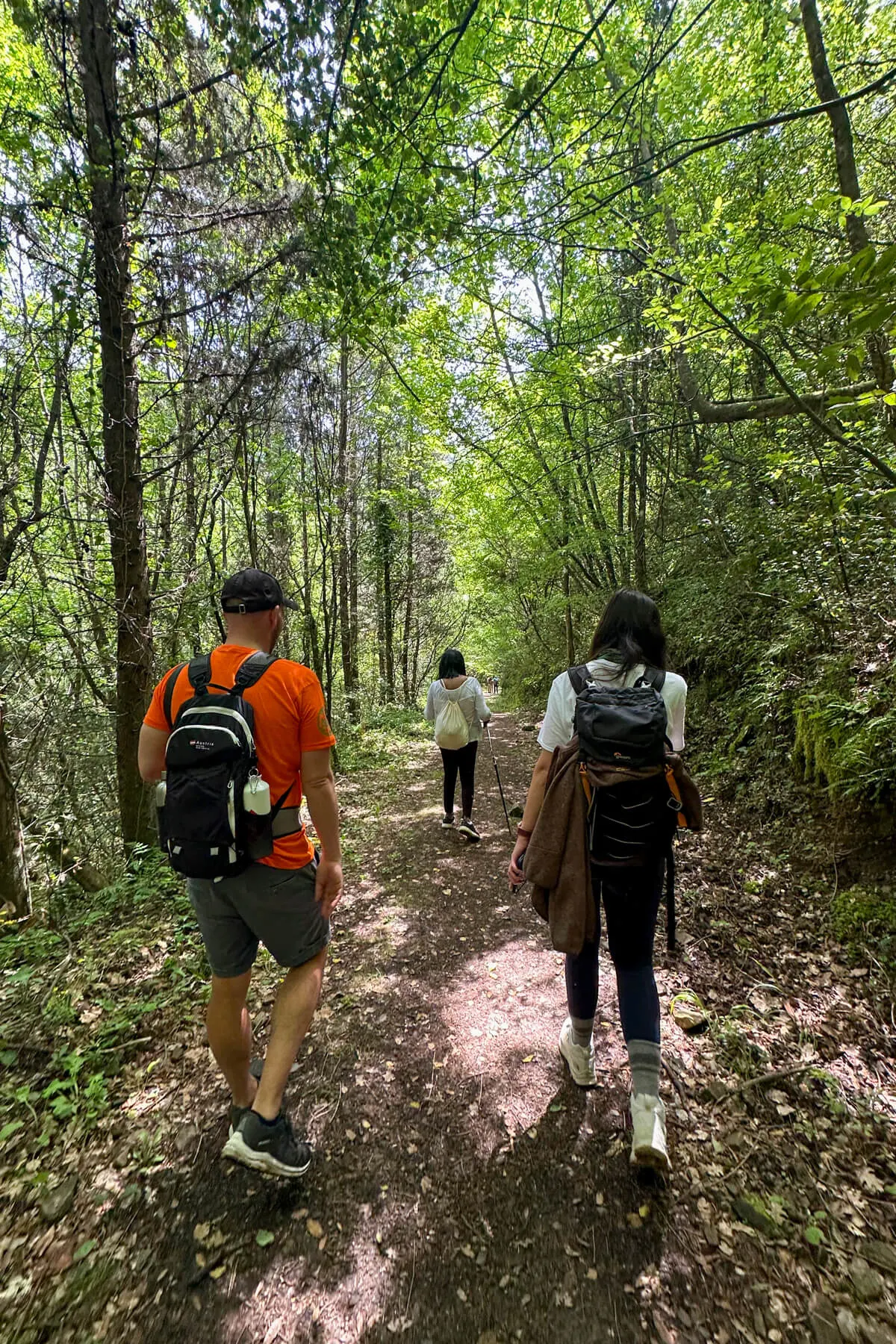 ⛰ One day hike on the trail: Lousios Gorge in Arcadia
Section 1
Length: 12.5 kilometers (about 7.77 miles)
From Stemnitsa to Dimitsana villages
Where to start/stop and which landmarks to visit along the way!
Section 1 of the trek is one of the most captivating sections of the Menalon Trail, offering spectacular views and plenty of archaeological sites along the way.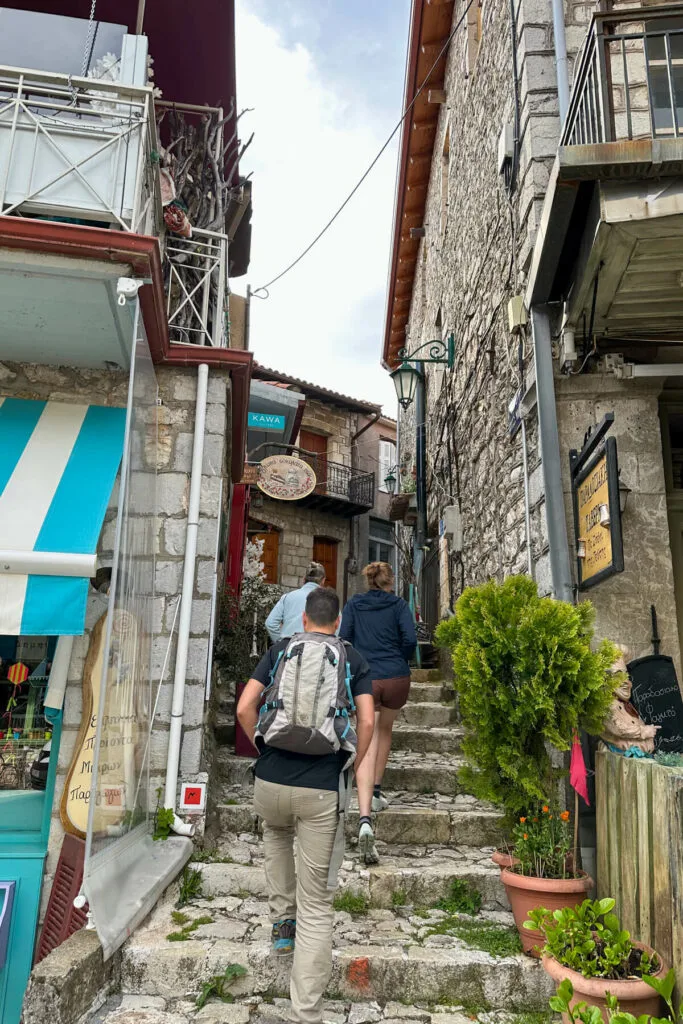 The trail starts near Stemnitsa village and follows a meandering path into the gorge. Highlights along the hiking path include views of the mountains and the town of Megalopoli. There are impressive rocked paths and a bridge, the remains of a 13th century Byzantine monastery, and several ancient ruins.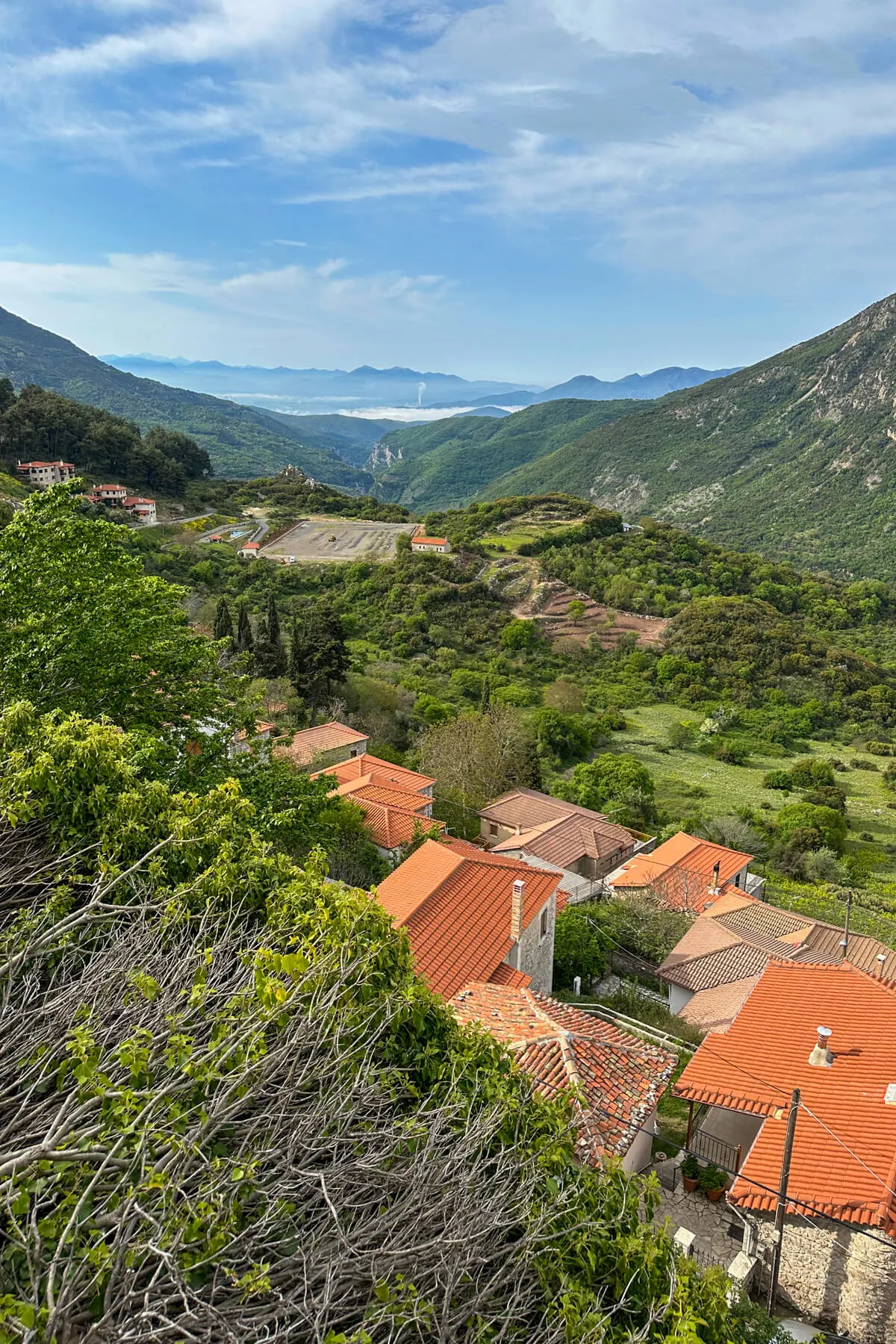 In fact, there are three different monasteries along the route. These include the Prodromos Monastery and the Church of the Transfiguration of Christ.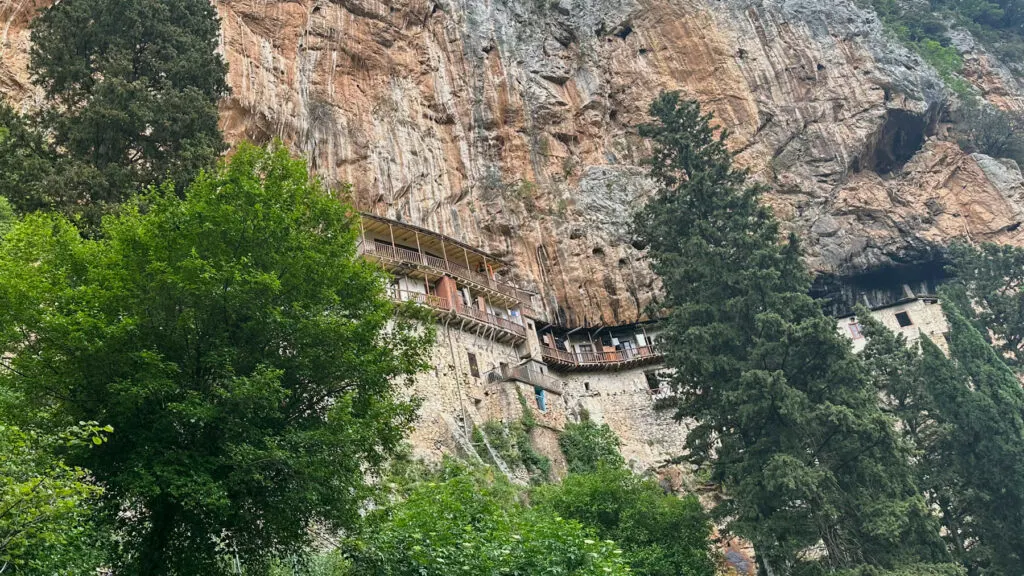 Then there's the old Philosopher's Monastery with ruins along the gorge dating to 963. I have to say, this was one of my favorite places on the entire hike to explore.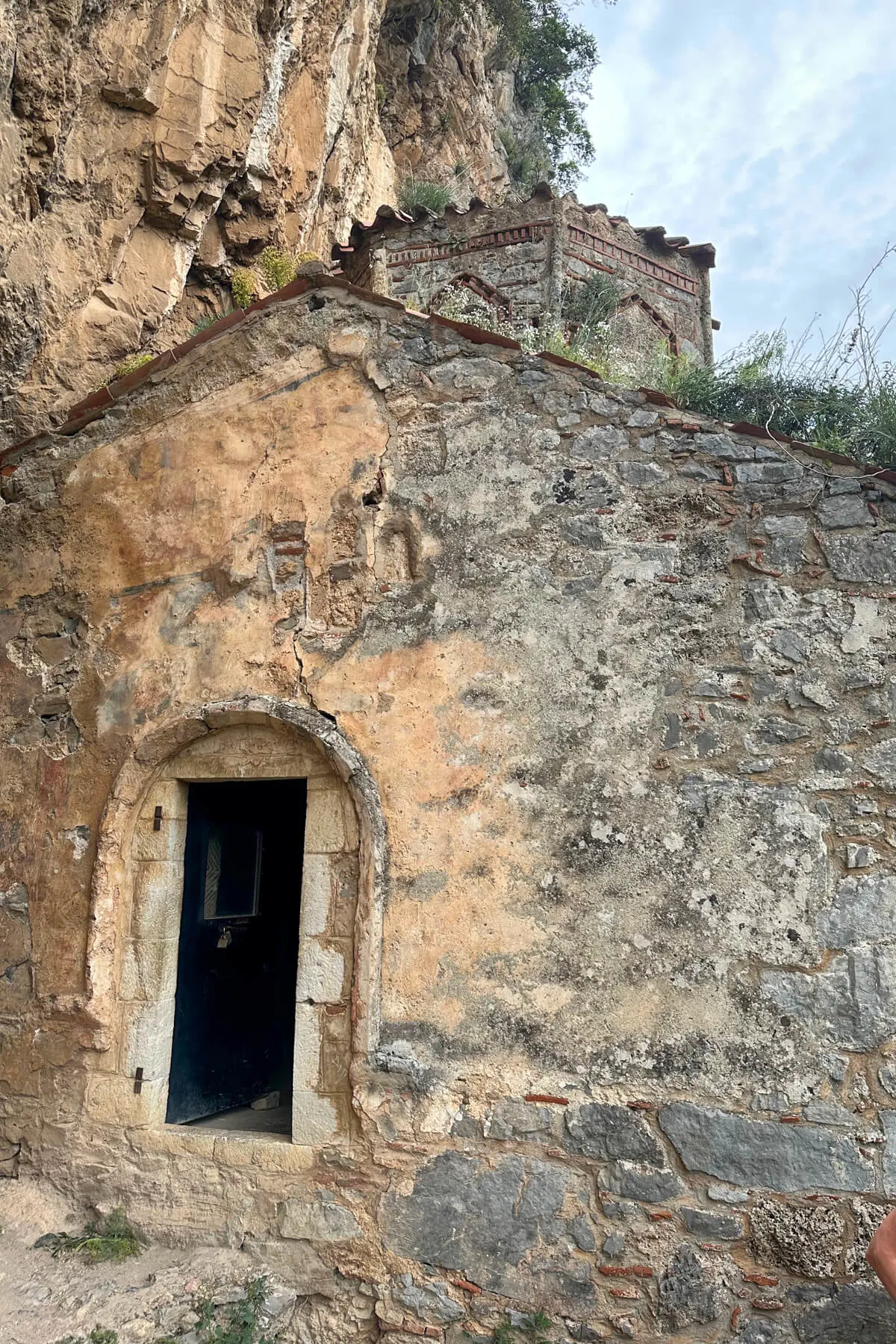 Finally, you will also see the new Philosopher's Monastery founded in 1691. It's in a more open and practical location just up a bit from the old.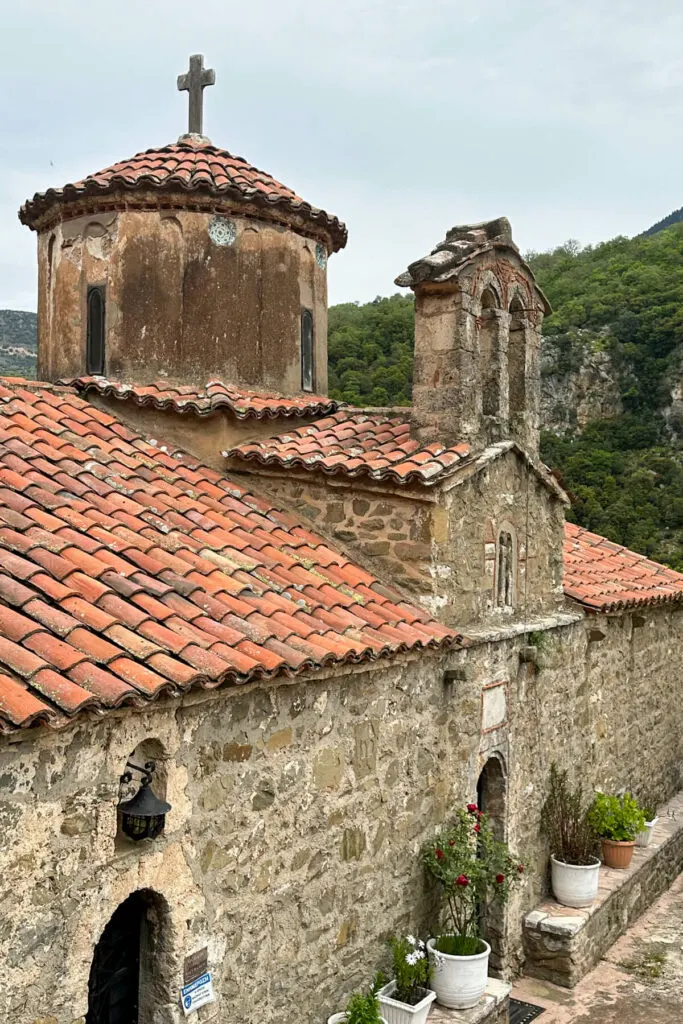 💭 Top tip for Section 1
If you are completing the entire Menalon Trail, you will want to start in Stemnitsa and end in Dimitsana. This way you can continue with section 2 the next day.
However, if you are only completing this one section of the trek and just want to make a day of it, I have a suggestion. Instead of Stemnitsa, start in Dimitsana. Go backward and you'll find the trail just next to the Open Air Water Power Museum.
Why?? Well, it's up to you, but in this direction, you go more downhill than up. That's a win in my book as it's easier for a day trip.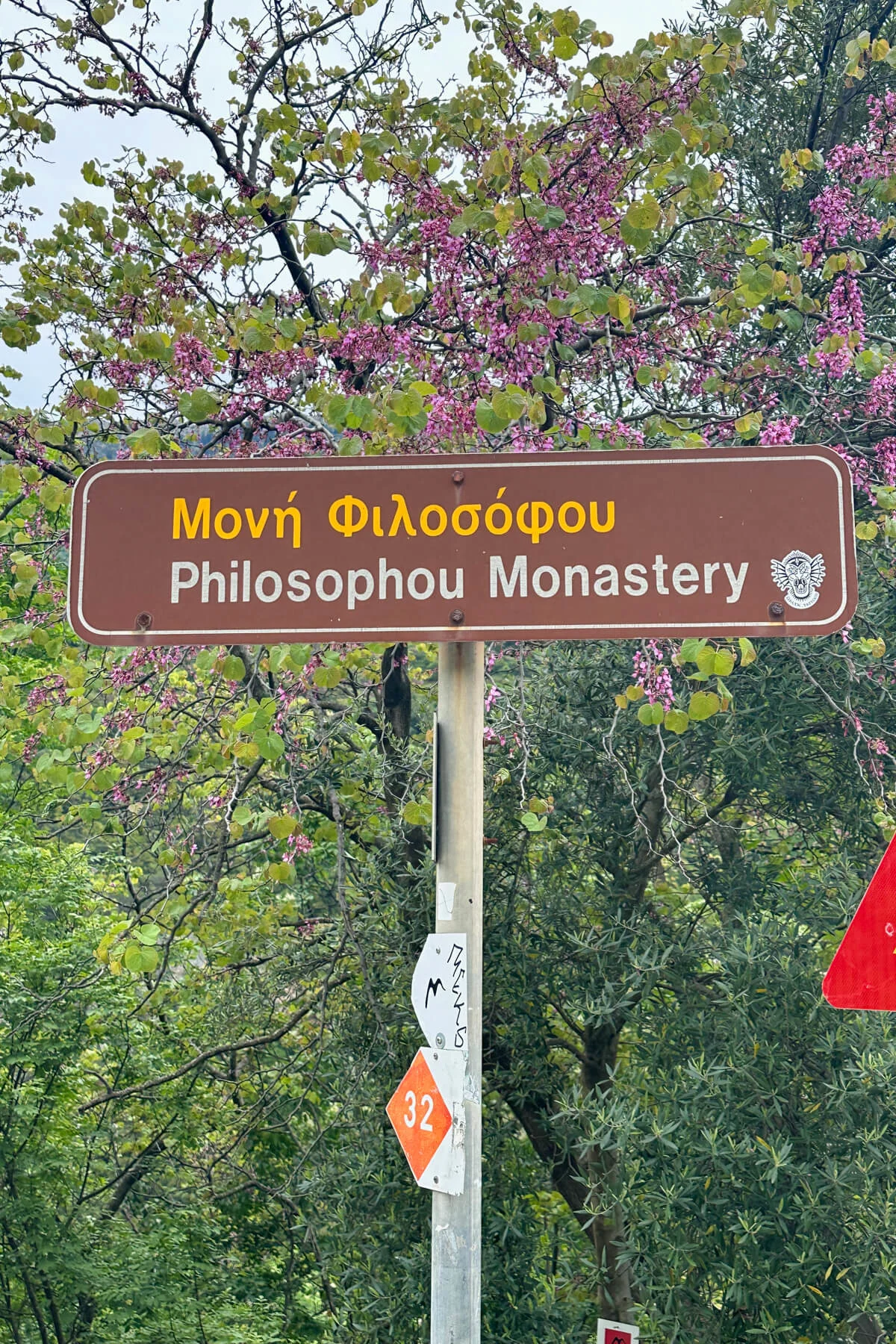 I was lucky enough to get to hike this section of the trail with the tour company Trekking Hellas. We had a fabulous group excited to be on the trail. Also, the tour guides and organizers were super friendly and knowledgeable, and after this experience, I would highly recommend them.
We had an awesome local guide who regularly walks the entire trail. In fact, he even spent much of Covid epidemic time re-marking the trail signs. He said the old signs were fading and he wanted to make it more clear for hikers and guests. Nice!!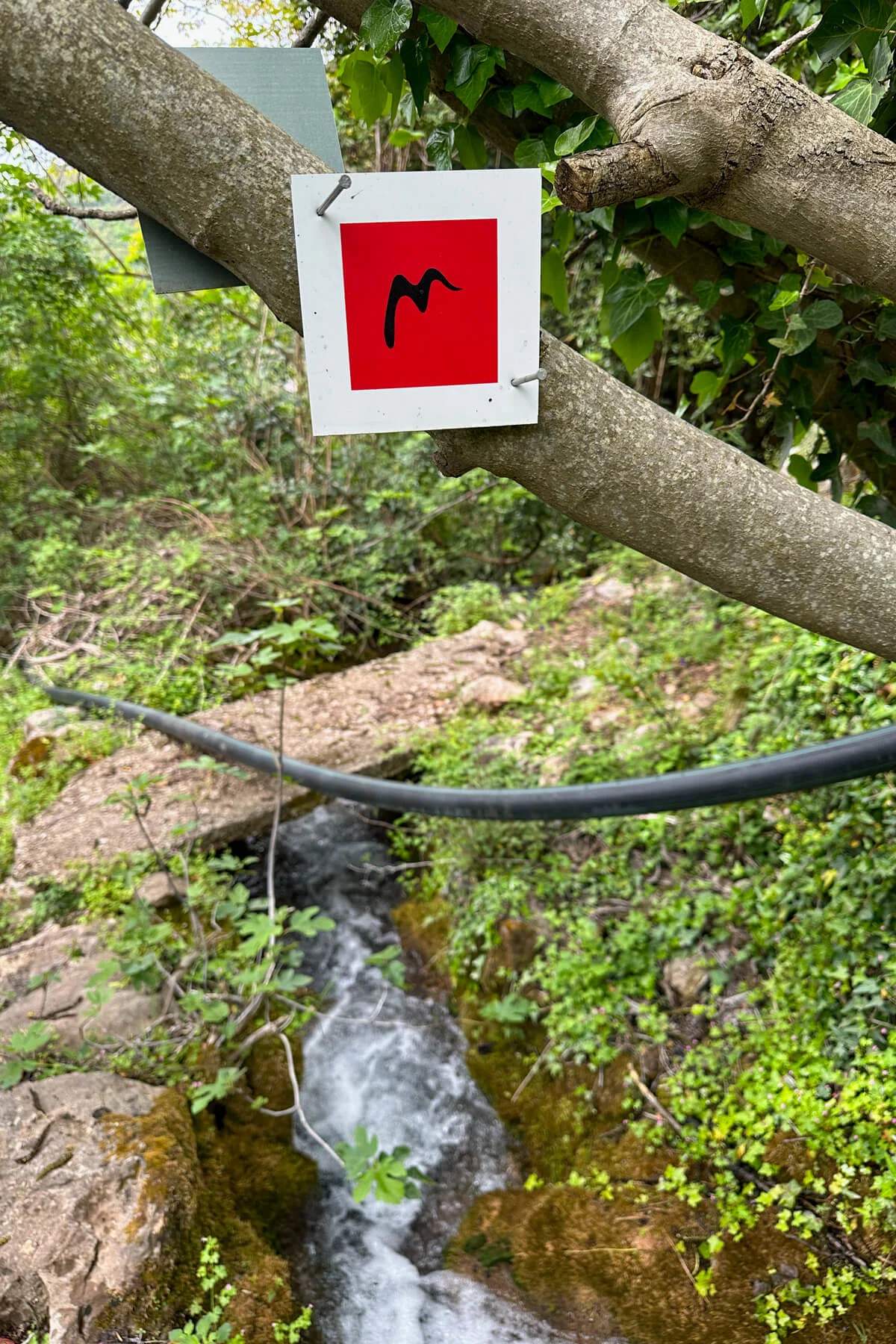 🙋‍♂️ How long does it take to hike the entire trail?
The entire Menalon Trail is approximately 75 km in length, split into 8 sections. It can take anywhere from 4-8 days to complete. However, the trail has many sections that are suitable for day hikes or even a half-day adventure.
Regardless of the time frame you choose, make sure to bring plenty of water and snacks. Also, as with any hike, be prepared for unpredictable weather conditions!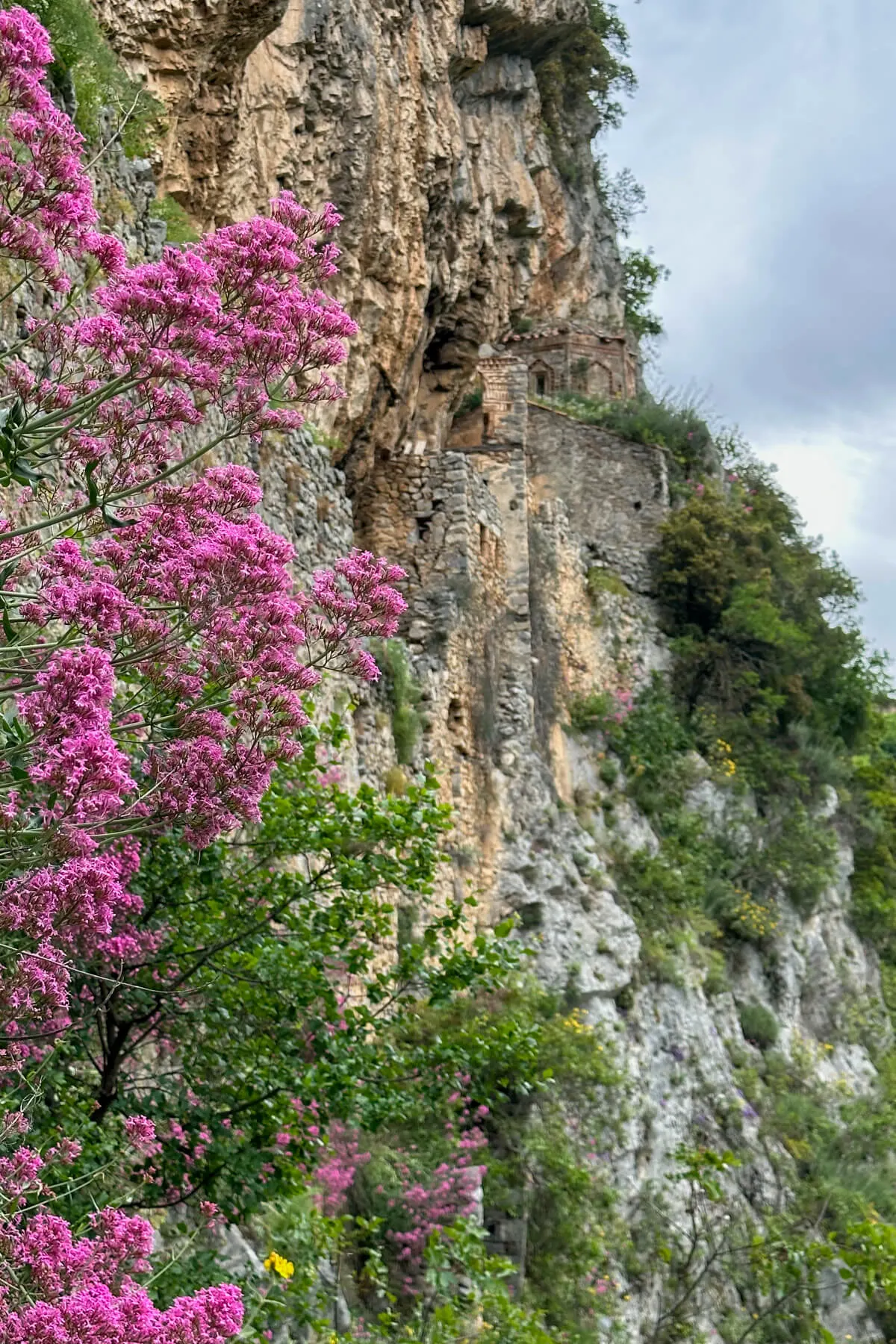 🎒 Tour company: the best way to hike the entire 75 km trail
I love the fact that if you book with Trekking Hellas, you don't have to worry about every minor detail. You don't need to become an expert because you'll have an actual expert helping you with a ton of experience.
All you have to worry about is enjoying the hiking and your adventure! They will transport all your things from one village to your next stopping point for the night.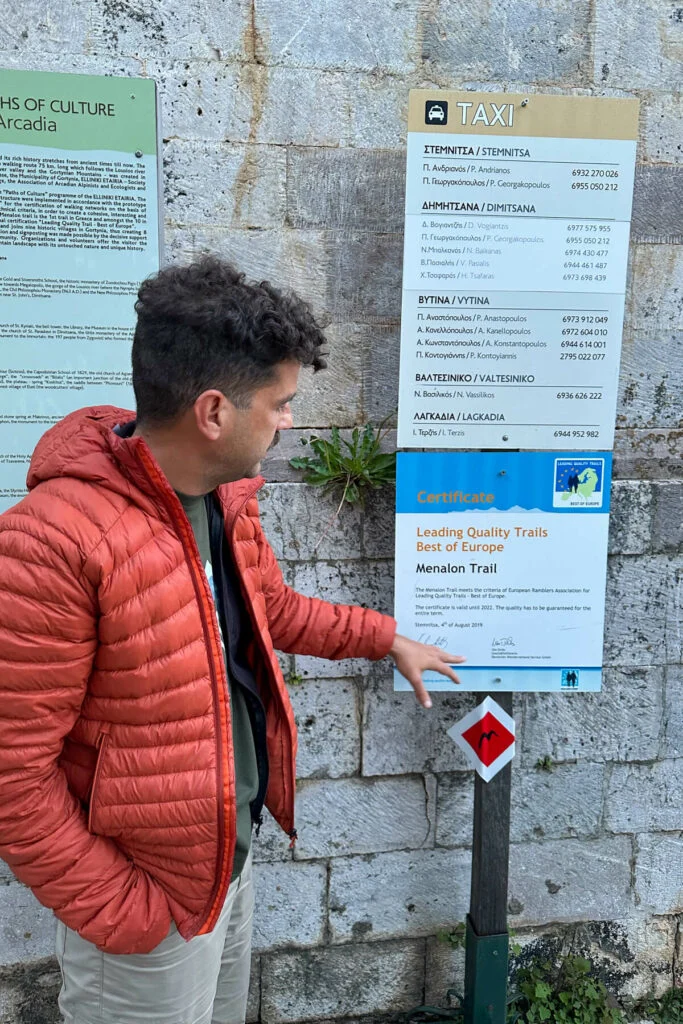 This makes the hike way more enjoyable and stress-free. Why? Well because you don't have to worry about where to park your car or carry a giant hiking backpack! There will always be someone to help in an emergency or if you forget something.
Trekking Hellas also ensures that you will get the best experience possible on your journey. From unique cultural experiences to activities like white water rafting, Trekking Hellas is pretty awesome.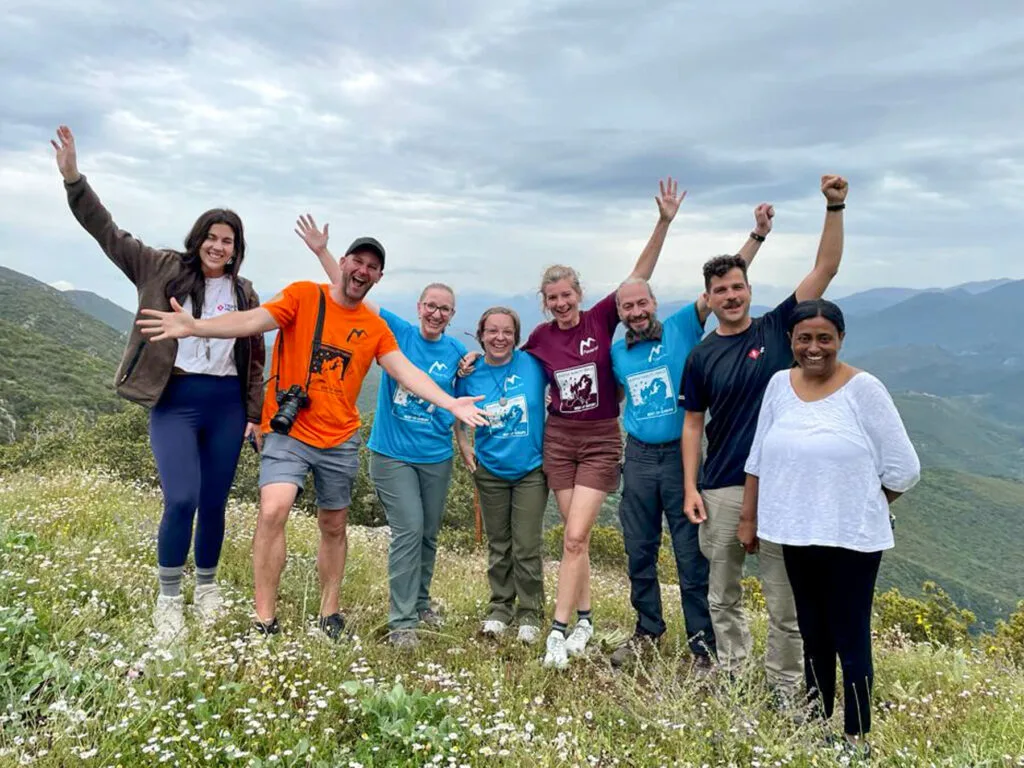 🇬🇷 More trails in Greece worth exploring
Hiking in Greece offers something for every type of traveler. From those looking to explore the great outdoors to more experienced adventurers who want to challenge themselves.
Samaria Gorge
Located in the White Mountains of West Crete, this is one of the longest gorges in Europe. It's a stunningly beautiful hike at 15 km (about 9 miles). It's known for its lush vegetation, picturesque views, and an abundance of wildlife. Definitely, it's no wonder why this is a popular destination for hikers looking to explore the outdoors.
E4 Trail
This long distance route with sections located throughout Greece is a great way to explore the country's diverse landscapes. You'll make your way from the Pindus mountain range to the Aegean Sea.
Vikos Gorge
Located in the Pindus Mountains close to the Greek-Albanian border, this breathtaking gorge is known for its unique landscape of deep canyons and riverbeds. It's one of the largest and deepest canyons in the world and is surrounded by a forest, sheer cliffs, and mountainsides.
Santorini Hiking Trails
The island of Santorini is known for its dramatic beaches and views, but there are also some incredible hiking trails to explore. From the Caldera Trail to the Akrotiri-Red Beach route, you can enjoy spectacular views of volcanoes. You also see the amazing crystal blue waters from these well marked routes.
Corfu Trail
This picturesque hike in the Ionian Islands takes you along some of the island's most stunning and unspoiled coastal paths. With lush olive groves, hidden coves, and rolling hills, it's easy to see why this route is so popular among hikers.
Mount Athos
Located in northern Greece, this holy mountain is home to some of the most spectacular views and monasteries in the country. Hiking here will take you past stunning landscapes and ancient ruins. There are also plenty of monasteries and religious sites as you make your way to the summit.
Mount Olympus
Can you hike to the center of Greek mythology? That's what the Mount Olympus trail is all about. This challenging multi-day trek will reward you with amazing views of snow capped peaks. You'll see lush valleys and plenty of wildlife as you make your way to the highest peak in Greece.
Now, are you ready to tackle the Menalon Trail??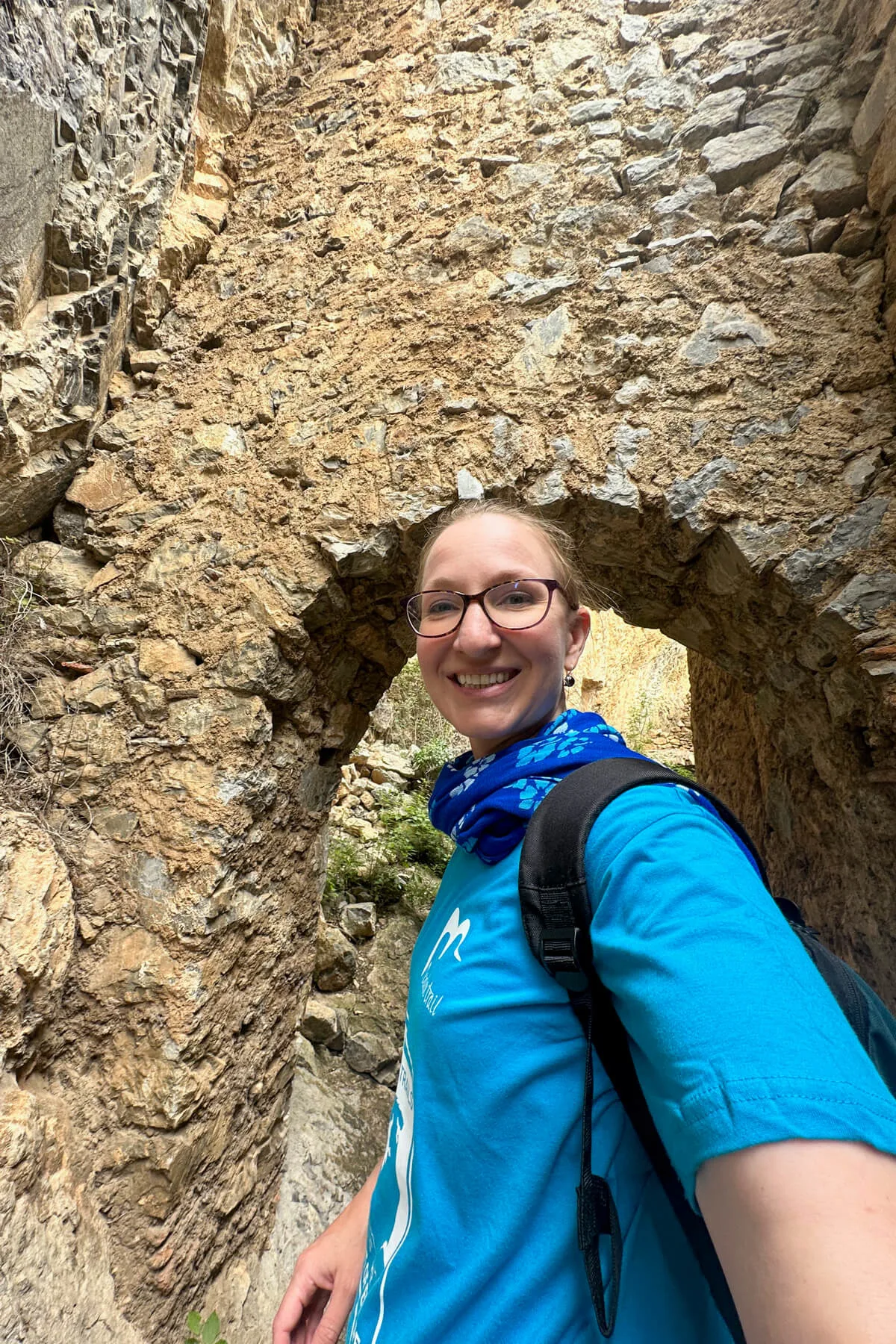 📋 Resources for planning a trip to Greece
For planning your trip to Greece, some great resources include:
This is a nice website for getting information on the Menalon Trail and booking a guided trek with a local guide.
Check out their website to learn about the best hiking trails, as well as about accommodation and transport options, and booking guided hikes with experienced guides.
JayWay Travel offers personalized and customized itineraries for exploring the Greek Peloponnese region. With their in-depth knowledge and local expertise, travelers can explore the rich history and culture of the cities and towns. Highlights include Nafplio, Mycenae, and Monemvasia.
You also can soak in the stunning natural beauty of the area including the Mani Peninsula and the Taygetus Mountains. Jayway travel also offers accommodation options ranging from luxury villas to boutique hotels.
Greek Travel Pages: This is a great resource for finding information on hotels, transportation, and attractions in Greece.
These resources should provide you with plenty of information to help you plan a successful and safe trip to Greece. Happy hiking!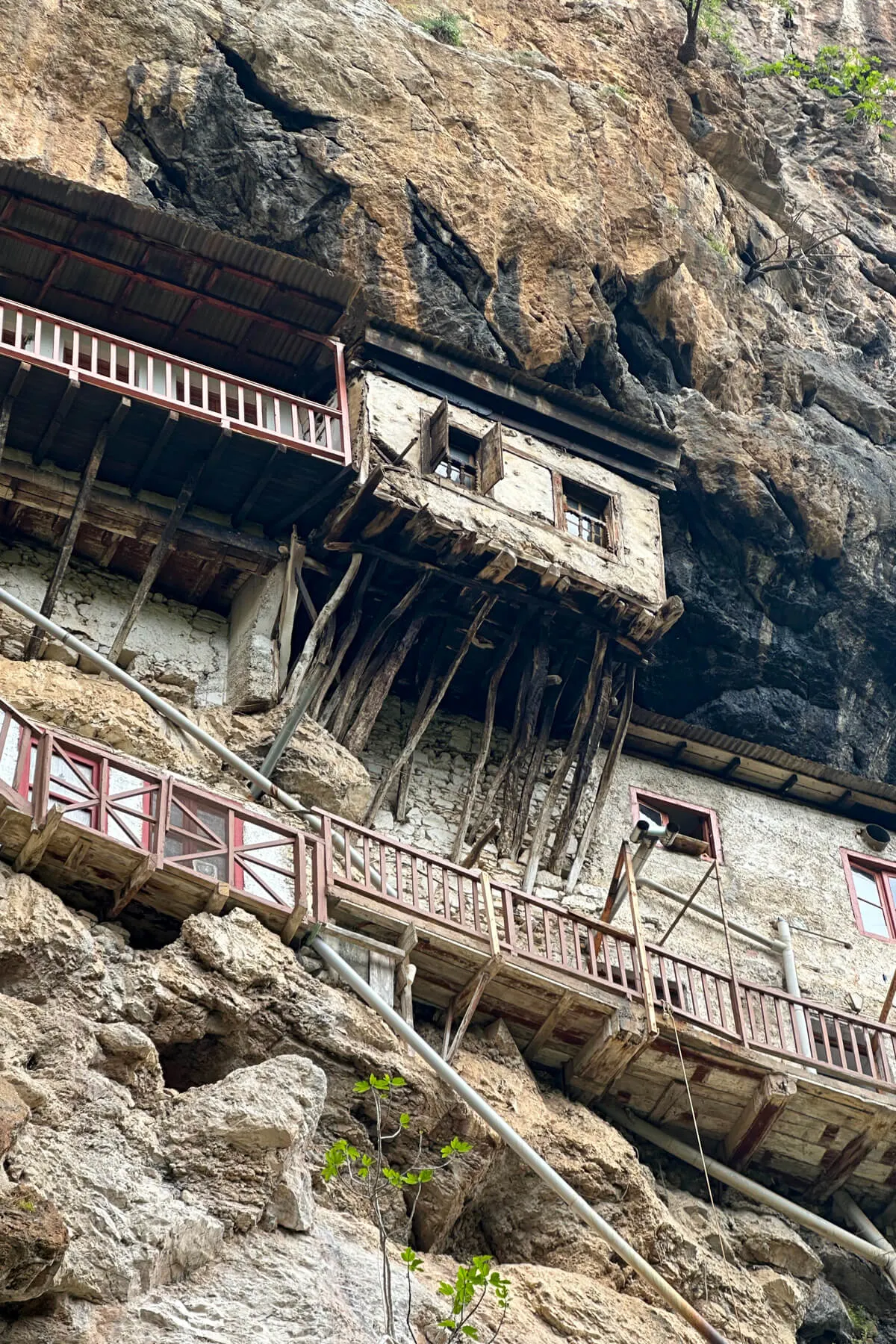 🌸 A spectacular hiking adventure in the Greek wildlands
The Menalon Trail in Greece is one of the most captivating and diverse outdoor experiences. I was amazed by the stunning landscapes, the cultural heritage, and a well-maintained trail.
Those planning to explore the trail should always put safety first! Be sure to pack the right gear, know your limits, stay on the trails, and respect the environment.
One particularly beautiful section of the Menalon Trail is Section 1, the Lousios Gorge in Arcadia. This was the perfect hike for me with the mix of views and culture. For a comprehensive experience of the entire 75 km trail, a tour company like Trekking Hellas is an excellent choice. There are also plenty of other great trails to explore throughout Greece so check them out!
With the right resources and preparation, you can have an unforgettable experience on the Menalon Trail in Greece!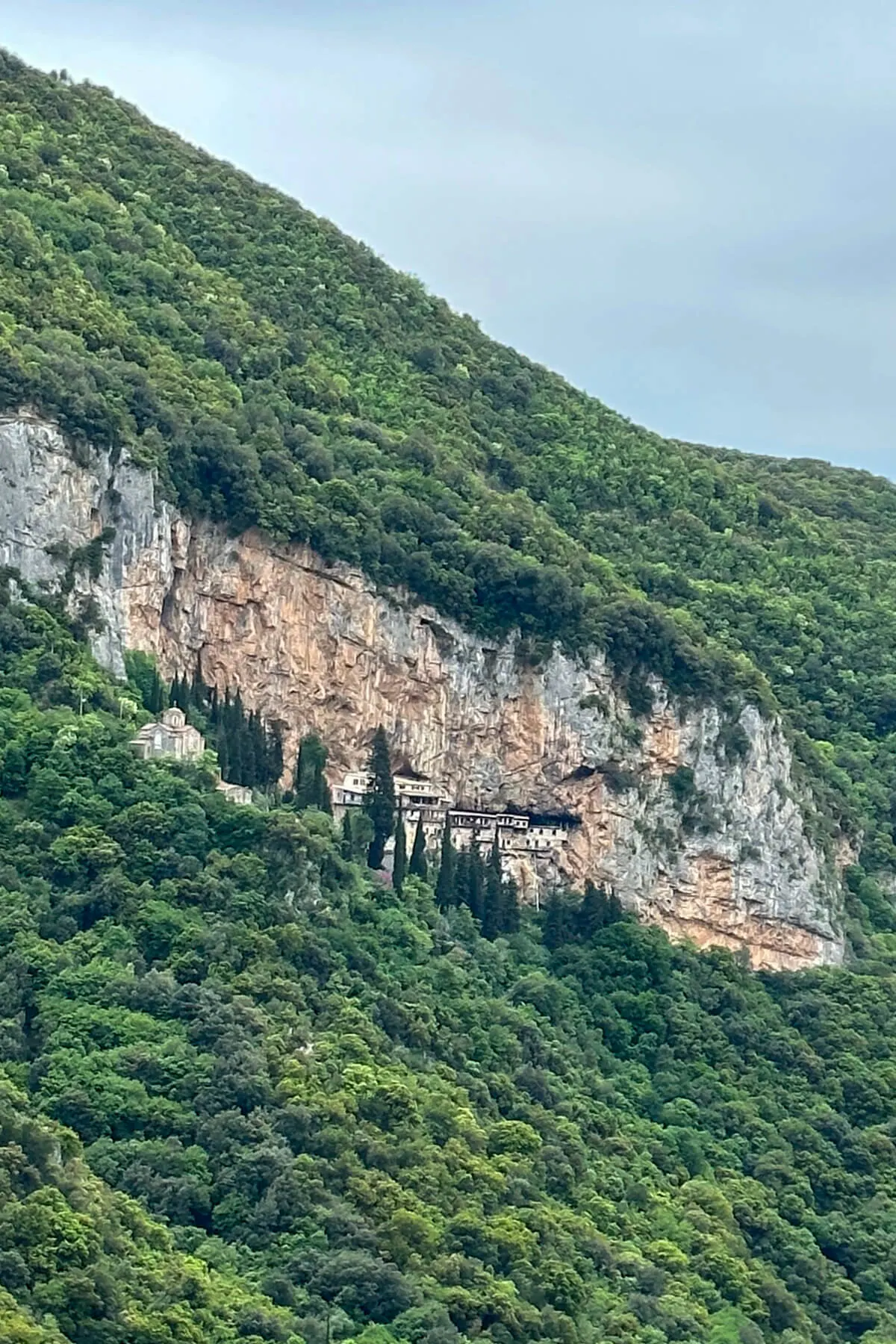 Conclusion
From stunning waterfalls highest mountain top to hidden historical sites, hiking the rugged terrain in Greece is an amazing adventure. Start with a cultural experience and visit a cute village. Then experience a trek through the area of Greece where the Greek Revolution originated.
It's time to just do it now and make plans to visit Greece today!
I highly recommend you add the Menalon Trail to your list of must-see destinations. If you love hiking, definitely this experience is for you. It's truly one of Europe's most beautiful scenic routes.
So pack your hiking boots, plan your own perfect trip, and get ready for an unforgettable summer journey!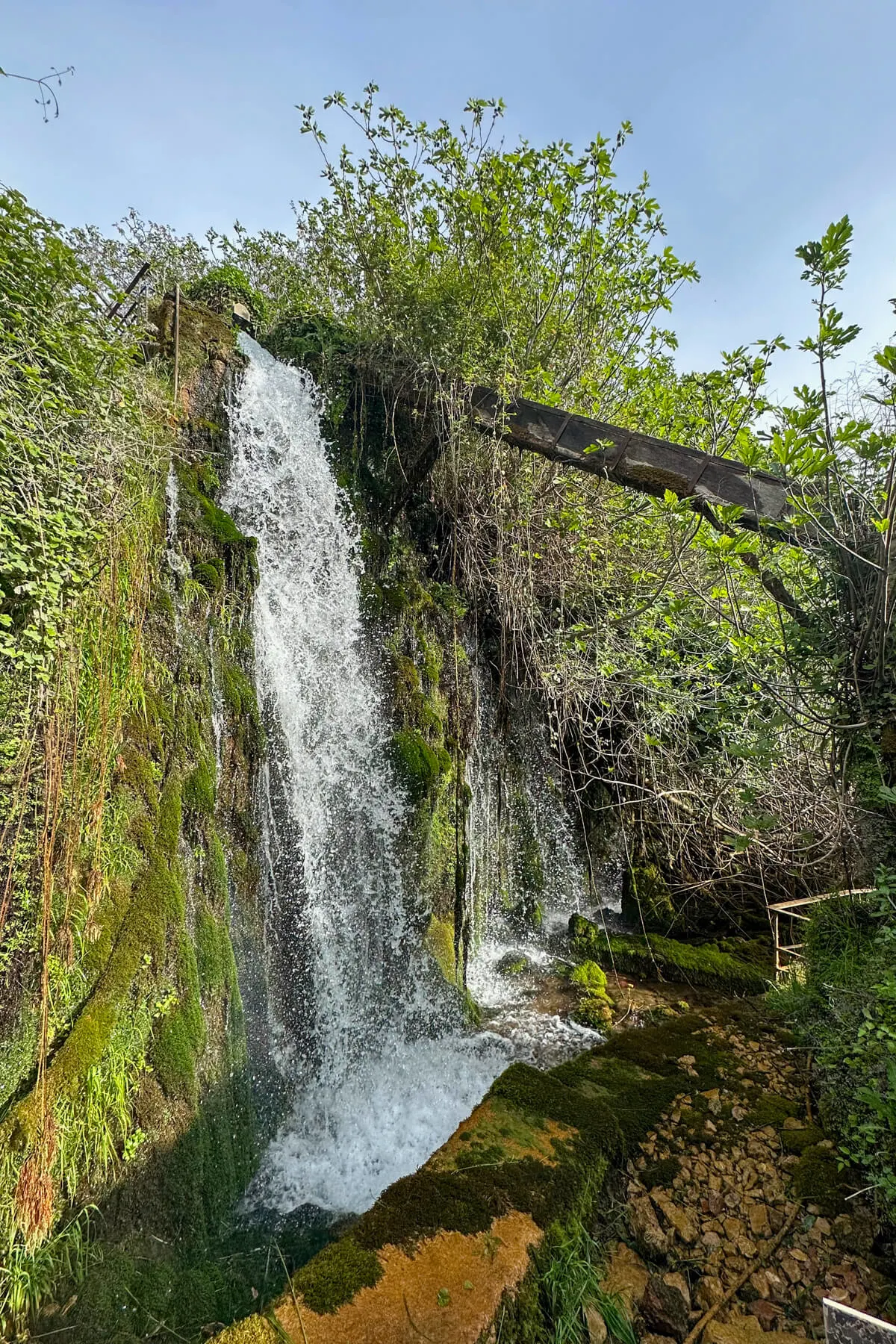 🤩 More articles to get you ready for a trip to Greece
Best Middle Grade Books to Inspire Wanderlust
Coming soon! The Libraries, Museums, and Historical Sites along the Menalon Trail
📌 Pin the article here: