Stories inspire travel like nothing else! Middle grade books and YA books to inspire wanderlust in kids and us all! A chapter book list for kids who travel.
My entire life, I've been proud to be a book nerd. I was the kid who read a book on the bus, was intent on winning the school book challenges, and sighed with contentment when I finished my work and was allowed to read during class. Stories of the lives of others, especially in exotic settings, give you a connection to a place.
Can a book connection inspire the love of travel?
For example, in high school, I remember reading E.M. Forster's, A Room With a View. Lucy, Mr. Beebe, Mrs. Honeycut, George, and all the characters seemed to pull me to Florence, Italy. From that moment on, I became determined to have my own room with a view of the River Arno and my own adventures in Florence.
And do you know what? I did. And it was amazing.
Also, I loved finding the different places in Florence mentioned in the book.
Now you think. What books have inspired you to travel or think about travel? Here's a list of middle grade books and YA books to inspire wanderlust in kids and young adults. Also, they're great to read when the family travels around the world.
Just want the list of middle grade books?
Scroll to the end of the blog post for the full list of books. They are books either set in other countries or perhaps the author lived in that area of the world. I'll be adding to the list as we discover more so send me your recommendations in the comments below!
This post contains affiliate links, which means I receive a small percentage if you make a purchase after clicking on my links.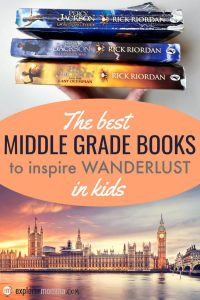 Photo credit: Houses of Parliament, London, The Wanderlust Crew
Books inspire travel to:
1. London and the English Countryside
The War That Saved My Life and The War I Finally Won
by Kimberly Brubaker Bradley
The War That Saved My Life and its sequel The War I Finally Won by Kimberly Brubaker Bradley are both fantastic books for middle readers. The books take place during World War II. They are about a little girl named Ada who struggles with a disability but is able to overcome the odds through the kindness of others and her own strength.
The books take place in London and the English countryside. It's heartbreaking and educational to read about the events of WWII that took place in this area and especially to read about how they affected the children of the time. There are many WWII sites you can visit in London and in the countryside even today.
From the Wanderlust Crew
2. Greece
Percy Jackson and the Lightning Thief
by Rick Riordan
My son set his heart on visiting Greece after reading Percy Jackson and the Lightning Thief by Rick Riordan. Twelve-year-old Percy's normal life in New York is thrown into chaos when he is attacked by a maths teacher who turns out to be a terrifying Fury. Then he's pursued by a Minotaur, and on top of it all, his mother disappears.
In the safety of Camp Half-Blood – home to the children of ancient Greek gods – Percy discovers he is a son of Poseidon. Along with his friends, Grover – a satyr, and Annabeth – a daughter of Athena, Percy begins a quest to recover Zeus's stolen lightning bolts.
"I don't think of all the misery but of the beauty that still remains."
Although the book is set in the US, the theme is ancient Greek mythology. Percy Jackson and the Lightning Thief and its sequels sparked my son's interest in ancient Greek gods and the stories associated with them. This includes an interest in Greek architecture and landmarks.
When Percy first sees Camp Half-Blood – located on Long Island – he is astounded to see Greek architecture featuring white marble columns including an amphitheater and an arena. The Greek mountain, Mount Olympus was thought to be home of the gods. During his quest, Percy learns that Mount Olympus, the home of the gods, is now accessible from the 600th floor of the Empire State building!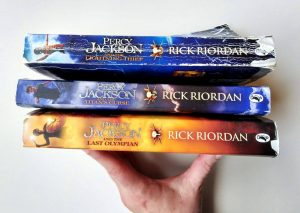 Places to visit from the book
My son was intrigued by a discussion between Annabeth and Percy as they stood below the Gateway Arch in St. Louis. Annabeth reveals she plans to visit the Parthenon in Athens in Greece and is inspired to be an architect by her heritage. My son has the same goal as Annabeth to visit the Parthenon and also to see the amazing Temple of Poseidon outside Athens. The Percy Jackson books are a great inspiration to travel and explore ancient history!
From Reading Inspiration
3. Amsterdam, The Netherlands
The Diary of Anne Frank (The Diary of a Young Girl)
by Anne Frank
"I don't think of all the misery, but of the beauty that still remains."
This quote from Anne Frank's The Diary of a Young Girl captures the true resilience of the human spirit. This harrowing true story is about Anne Frank; a 13-year-old girl who is forced into hiding with her family during the Nazi regime. Translated into 70 languages, The Diary of Anne Frank is a must-read for all young adults; it depicts the transition from childhood to maturity in an eloquently relatable way.
Amsterdam is the lively capital city of the Netherlands and is a very family-friendly place to visit. Explore the city by boat along the canals, try on traditional wooden clogs, and sample some delicious Dutch waffles, stroopwafels. All these bustling activities are directly contrasted against the small attic in the city center where Anne and her family were forced into hiding.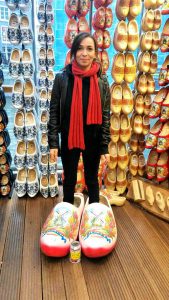 An afternoon spent paying tribute to the Franks, and all those who lost their lives in the Holocaust is not to be missed when visiting Amsterdam. To visit the secret annex teaches young adults about Nazi Germany and the horrors that unfolded during World War II. It is a humbling experience for people of all ages – and to paraphrase Anne – it reminds us that even when the going gets tough, there's still so much beauty in the world.
Full ticket information & opening hours for the Anne Frank museum can be found here.
From Becular Writes Stuff
4. Concord, Massachusetts
Whispering Graves
Whispering Graves is about a girl named Lillia who can see and talk to ghosts. She goes to Massachusetts with her brother Charlie and her great aunt, Nora. There, Lillia meets a girl named Jo, and they try to solve the mystery of the Peabody house by listening to the whispers from the graves at Sleepy Hollow Cemetery.
This is a great book to read while you explore Concord, Massachusetts. The characters visit the Concord Museum, which has one of the lanterns Paul Revere used to signal the revolutionists. Maybe you remember his famous line, "One if by land, two if by sea." The Redcoats are coming!
Also, the characters visited an ice cream place for breakfast called Bedford Farms Ice Cream, where you can still visit today. For fans of the classic book Little Women, visit Orchard House, where Louisa May Alcott wrote the beautiful story. Of course, also be sure to explore Sleepy Hollow Cemetery where many famous authors are buried.
Speaking of authors, nearby is also the famous Walden Pond. First, sit by the water. Clear your head and think only of the necessities and how to be minimalistic living by the pond like Thoreau. Then pull out your copy of Walden, and read a few lines.
From a book-loving 10-year-old.
5. Egypt
The Elfin Pyramid
by Penny Fernandes
Do you think that the pyramids of Egypt were built by man? Baah! It was the magic of elves that brought about these wonders. You probably don't know we exist – that's exactly the way we want it. Times have changed and our magic has begun to ebb away. The only hope for Elfin survival lies in a forgotten region of modern Egypt. Sobek, Horus and I have no choice but to hurl through the desert, find a stolen pearl and bring its magic back home. The sands of time aren't in our favor and, in a world full of deception, we are forced to face our worst fears. This is our story…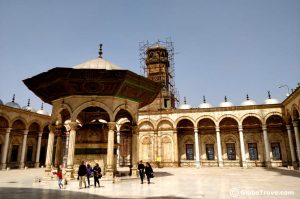 One of the most enchanting, mind-boggling places I have ever visited is Egypt. With two trips to the country and almost two months spent in Cairo, I found that the history and the culture called out to the creative side in me. It wasn't a surprise that I landed up putting my pen to the paper and writing The Elfin Pyramid.
Set in modern-day Egypt, the book mingles the past and the present as a group of elves race against time to find a stolen pearl and get back to their pyramid in time to save it. Things, however, were not meant to be easy and they find themselves facing numerous hurdles along the way.
The Elfin Pyramid inspires a person to look beyond just the external structure of the Pyramids of Egypt. It helps a person's imagination take shape while simultaneously understanding a lot of the ancient Egyptian history (which is really cool!). I really fell in love with the country and I think I will go back someday soon as there is still so much that I haven't seen.
From Globe Trove
6. London, UK
by Michael Bond
The story of Paddington Bear begins on Paddington station in London, when the Brown family of 32 Windsor Gardens, come across the young bear waiting at the station. He's carrying just a suitcase, an old bush hat and a sign around his neck from his beloved Aunt Lucy in Peru ('please look after this bear'). The Browns adopt Paddington and he quickly becomes the center of life in their household. Paddington has an uncanny knack of causing uproar wherever he goes, due to his propensity for unwittingly causing misunderstanding – but always with the best of intentions.
Paddington exposes the quirks of British culture in a humorous and innocent way that also involves many London landmarks.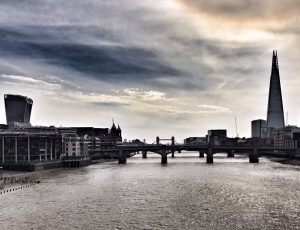 There's the obvious Paddington station reference (and there's a statue there today), as well as hilarious stories of Paddington bringing the escalators on the London Underground to a halt as he tries to understand British escalator etiquette. Then there are trips to the department store for Christmas shopping – in Paddington, the store is called Crumbolds and Ferns, and it always reminds me of our Liberties or John Lewis department stores. One of my favorite episodes is in Paddington Races Ahead, when Paddington tries to board a London bus using a pair of fresh oysters – rather than an Oyster Card.
Throughout all the stories we learn of Paddington's love of a marmalade sandwich (marmalade being a peculiarly British kind of jam!) as well as sticky buns and tea. He is a very British bear!
From Epic Road Rides
7. Yellowstone National Park, the USA
The Mystery at Yellowstone National Park
by Carole Marsh
There are a lot of great books for kids, tweens, and teens to read before or during a trip to Yellowstone National Park in Wyoming, Montana, and Idaho. The Mystery in Yellowstone National Park is one of our favorites. The book is a fun read about two kids and their grandparents who snowmobile into Yellowstone. It's part of the Real Kids Real Places series. In addition to exploring real places in Yellowstone during the winter, the family encounters a mystery they have to solve. Each chapter ends with a cliffhanger to keep the reader on the edge of their seat (or snowmobile!).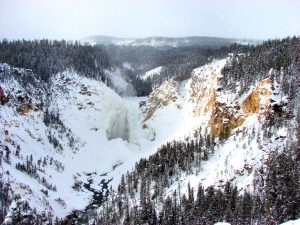 Marsh uses her two grandkids, her husband, and herself as the main characters as they explore real places and have fictional adventures. Marsh wrote the book after a trip to Yellowstone with her two grandkids. They explore the hot springs, geysers (including Old Faithful), mud pots, and the Grand Canyon of the Yellowstone for which the park is famous.
From Yellowstone Trips
8. Italy
by Jenna Evans Welch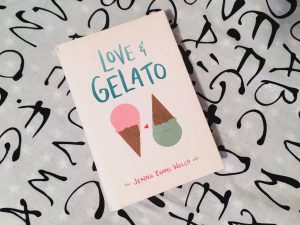 Lina is sixteen with a dying mother and all her mother wants her to do is go to Italy to get to know her father. Of course, being sixteen, that's the last thing she wants to do, but she goes anyways. Once she arrives, she is given a journal her mother wrote when she lived in Italy. Lina and her charming new friend Ren follow her mother's footsteps around Tuscany and Florence on their own adventure learning about her parents and herself.
The book is set in the Tuscan countryside but includes frequent trips to nearby Florence. Make a trip to the Duomo and Ponte Vecchio with frequent stops to enjoy gelato. Give yourself plenty of time to enjoy the squares and walk around the streets and alleys. Explore the Tuscan countryside and take the train down to Naples for an afternoon and enjoy some pizza. Follow along on Lina's journey through her mother's journal.
From Red Around the World
9. Oxford, England
by Lewis Carroll
Oxford is a literary treasure trove, and many authors lived and studied here including Tolkien, C.S. Lewis, and Lewis Carroll. It was actually in Oxford that Lewis Carroll met a real-life Alice who inspired the beloved children's character Alice in Wonderland. Alice famously follows a white rabbit down a rabbit hole and ends up in a weird and wonderful world where she makes many friends and enemies.
Charles Dodgson (aka Lewis Carroll) was both a student and tutor at Christ Church in Oxford. Here, he met Alice Liddell, the daughter of the Dean. Several years later, Dodgson and the Liddell family were out on a boating trip and Dodgson created a story for the children as they rowed along. Alice asked him to write it down for her and, voila, Alice's Adventures in Wonderland was born!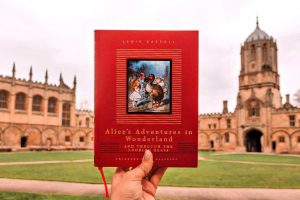 Where to visit in Oxford
There are many Alice in Wonderland inspired places to visit in Oxford and you should start your tour at Christ Church. In the infamous "Harry Potter" dining hall here, you will find firedogs on either side of the fireplace with incredibly long necks. These inspired the events in the story where Alice ends up growing really tall with a super long neck! If you've got a keen eye you'll also notice that there's a tiny Alice and White Rabbit painted in one of the panels of stained glass.
Further afield in Oxford, you can visit Alice's Shop, a shop wholly dedicated to Alice in Wonderland souvenirs. There's also a rare specimen of the Oxford Dodo in Oxford University's Natural History Museum, which is sadly now extinct. There is a painting of a Dodo in the museum which is thought to have inspired the Dodo in the story. This museum is wonderful for children and you could spend the whole afternoon here. If you're feeling peckish at the end of your tour, head to Cafe Loco where the whole family can enjoy an Alice in Wonderland inspired afternoon tea.
Find out more about Alice in Wonderland in Oxford.
From What's Hot?
10. Namibia, Africa
Tippi My Book of Africa
by Tippi Degré
When I asked my children which book had made them want to visit different places, they didn't have to think long before they agreed "Tippi."
Tippi is an extraordinary book, by an extraordinary girl. Written in the voice of 10-year-old Tippi. It's the story of her life so far. She was born in Namibia, the daughter of French photographers. Her parents are documenting African meerkats..
Tippi believes that she can speak animal language. And when you read the book you can believe it too. The book brings out the magic of her friendship with the wild animals of Africa including a 28-year-old elephant and a jaguar.
It's full of warm pictures showing little Tippi with her animal friends. This book and its pictures project Africa and Namibia through the eyes of an extraordinary child.
First I read it to them, and now they re-read it themselves. Whenever they do so I hear the same question, "Mummy, when can we go to Africa?"
From The Travelling Twins
11. Kauai, Hawaii, USA
Aloha, Kanani
by Lisa Yee
Aloha, Kanani is from the American Girl series, and Hawaiian native Kanani was their first Girl of the Year. The story introduces middle grade readers to Kanani's unique world in Hawaii through both a cultural and geographic lens.
Readers meet Kanani's many "aunties" in the small town of Waipuna and learn about the slower pace of life than mainland USA. Also, they get to see Kanani and her friends spend their time helping their families or enjoying the natural wonders of Kauai's north shore. But there's a big shakeup in Kanani's world when her cousin arrives from New York with a very different perspective and her own emotional challenges.
From The Family Voyage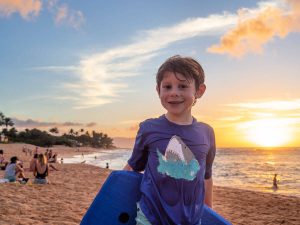 12. Prince Edward Island, Canada
by Lucy Maud Montgomery
Anne of Green Gables is about a little red-headed orphan girl named Anne who goes to live with Matthew and Marilla on Prince Edward Island. They want a boy orphan to help Matthew. However, there's a mixup, and they end up with Anne instead.
After many misadventures and mishaps, they end up keeping her. The joyful Anne goes on many adventures with her best friend, Diana Barry. We love the drama and optimism of Anne's character. For example, one day she's in the "depths of despair", the next she is blissfully happy.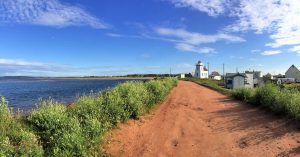 Anne lives in Green Gables, which was inspired by the Green Gables Heritage Place in Cavendish on Prince Edward Island. It's visited by tourists throughout the year and a great place to reenact your favorite scenes from the book series.
Also, get tickets to see Anne of Green Gables, the Musical at the live theater at the Charlottetown Festival. In addition, today the Anne of Green Gables Museum and the L. M. Montgomery Birthplace are sites not to be missed.
Don't forget to take a stroll along the beach and seek out some of the many lighthouses. Prince Edward Island is a beautiful place on its own but has more meaning when you read about Anne's life there. Around every bend in the road, there are things to see to spark a connection to a scene or character for a true Anne fan.
From a 10-year-old Anne fan.
More middle grade books to inspire wanderlust (and some others):
Or to read when you visit these places! This is a list in progress, and I will update periodically.
The Tale of Despereaux by Kate DiCamillo – France/Europe
The Invention of Hugo Cabret by Brian Selznick – France
The Scarlet Pimpernel by Baroness Orczy – France
Code Name Verity by Elizabeth E. Wein – England/France
The War That Saved My Life and The War I Finally Won by Kimberly Brubaker Bradley – England
Harry Potter and the Sorcerer's Stone by J.K. Rowling – UK
A Bear Called Paddington by Michael Bond – London, England
Alice's Adventures in Wonderland by Lewis Carroll – Oxford, England
The Lion, the Witch, and the Wardrobe by C.S. Lewis – Oxford, England
The Lord of the Rings by J.R.R. Tolkien – Oxford, England
The Ravenmaster's Secret by Elvira Woodruff – London
Chitty Chitty Bang Bang by Ian Fleming – UK/Germany/Europe
The Diary of a Young Girl by Anne Frank – Amsterdam, The Netherlands
Love & Gelato by Jenna Evans Welch – Italy
A Room With A View by E.M. Forster – Florence, Italy
The Trumpeter of Krakow by Eric P. Kelly – Poland
The Good Master by Kate Seredy – Hungary
Percy Jackson Book 1: The Lightning Thief by Rick Riordan – Greece
The Moon-Spinners by Mary Stewart – Greece
A Single Shard by Linda Sue Park – Korea
Tales of a Korean Grandmother by Frances Carpenter – Korea
The Power of One by Bryce Courtenay – South Africa
Tippi My Book of Africa by Tippi Degre – Namibia, Africa
The Egypt Game by Zilpha Keatley Snyder – Egypt
The Elfin Pyramid by Penny Fernandes – Egypt
A Passage to India by E.M. Forster – India
White Fang by Jack London – Alaska, USA
Alamo All-Stars (Nathan Hale's Hazardous Tales #6) by Nathan Hale – Texas, USA
Book Scavenger (The Book Scavenger Series) by Jennifer Chambliss Bertman – San Francisco, CA USA
Aloha, Kanani by Lisa Yee – Hawaii, USA
Navigating Early by Clare Vanderpool – Appalachian Trail, USA
Beyond the Bright Sea by Lauren Wolk – Massachusetts, USA
The Mystery at Yellowstone National Park by Carole Marsh – Yellowstone National Park, USA
Anne of Green Gables by Lucy Maud Montgomery – Prince Edward Island, Canada
The Witch of Blackbird Pond by Elizabeth George Speare – Barbados/Connecticut, USA
Whispering Graves by Brenda Felber – Concord, Massachusetts, USA
Heidi by Johanna Spyri – Switzerland
Where the Mountain Meets the Moon by Grace Lyn – China
The Secret of the Andes by Ann Nolan Clark – Peru
Also, if you're wanting a great list of books for various ages, check out Mini Travellers Children's Book Recommendations!
What other middle-grade books inspire wanderlust? What about YA (young adult) books?
Can you think of another middle grade or YA book in an amazing setting? I've always wanted to visit the Greek islands dotted with windmills thanks to Mary Stewart's The Moonspinners. Definitely, it's on my bucket list.
I would love to add to this list so if you have an awesome book that's a source of wanderlust for you, please let me know! Put it in the comments below, and I'll review it to read myself and add to the blog post.
Thanks for reading! Happy travels!
Do you want more book ideas?
Join my 40 Next Books Reading Challenge!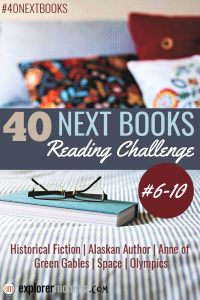 PIN it for later here: