Wondering what books to read next? Join me in my New Year 40 next books reading challenge! Today I'm sharing about categories 6-10 in the booklist and the book (or books!) I've selected for each.
Welcome to the 40 next books reading challenge!! We've had a good start to 2019 and hope you have too. Can you believe it's already May?
I have to tell you, having a list with categories has really motivated me to try new topics and search out different books than my normal comfort zone series and authors I normally read. What about you? Have you tried a new book in another genre or new author?
Yes, it's also brought out my competitive streak even if it is just me staring at my Goodreads number of 40 I put in for my goal at the beginning of the year. My inner child does a dance when it reports I'm 1 or more books ahead of schedule.
If you haven't checked out Goodreads yet, click here to go to the website. Truly, it's a good resource and helps you keep track of what you've read or would like to read later.
This post contains affiliate links, which means I receive a small percentage if you make a purchase after clicking on my links.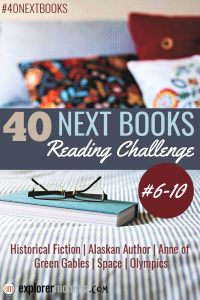 40 Next Books Reading Challenge
First of all, if you haven't joined in the 40 next books reading challenge, I invite you right now to pick out your first book. Admittedly, it's not always easy to stick to a list and I've veered off of it several times. However, I always go back to the categories and am determined to go through the entire 40.
Also, if you're a list person like I am you get that little squeal of joy when you can mentally check off numbers 1, 2, 3, 4 and so on!
Now, I also want to emphasize this is not something that has to be done in a year! It's the year of my 40th birthday, which is where the 40 comes in. Be that as it may, it does not mean you have to stuff 40 books in the year or limit it to 40!
Different ways to participate in the book challenge
Everyone reads at a different pace, has other motivations, and prior commitments taking all their time. I love to read with a book in hand, but sometimes I just can't give myself an hour or so a night. When the kids go to bed, half the time there are lunches to be made, laundry to do, the kitchen to clean, etc.
For me, this is the perfect time to listen to an audiobook, when I'm doing little thought activities like folding laundry, cleaning, or editing pictures. Definitely, don't rule out those audiobooks! There are so many places you can easily get them now and listen to an app right on your phone.
Put on your earphones and bam! You're in Winterfell.
Where to get audiobooks
My 4 main go-to places for audiobooks.
Hoopla Digital – I discovered Hoopla on a suggestion from a local librarian and have the app on my phone. You will need a library card.
Overdrive and the Libby app – Another app on my phone I got as a suggestion from a local librarian. See if your local library participates in the program as you do have to enter your library card information. Bonus: It's free!
Local library for books on CD for the car.
Audible – I love Audible but I don't always love to pay for it! This is my last source for when I know there's a book I really want to listen to and can't seem to locate anywhere else.
So let's get to it! What books are you reading for categories 6-10?
Books to read: 40 Next Books booklist
In case you need a reminder – here's the list I'm following for the challenge! You can also join my email list and get a PDF download of it as a bonus. Check it out below!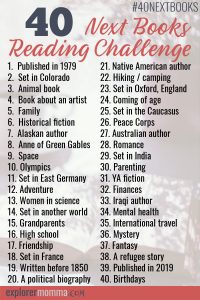 [et_bloom_inline optin_id="optin_19″]
Books to read: the next 5 books
After finishing the first 5 books for the 40 next books reading challenge, I set to selecting the next five! I like to do things organized and in groups. Absolutely it's that listmaking tendency again. It makes me feel like I have power over something. 😉
Now, pick out your own books in the categories or read along with me! Use the hashtag #40nextbooks or join the book discussion in the blog comments. I'd love to see what you're reading and add to my own booklist!
6. Historical Fiction
In truth, historical fiction is one of my favorite genres, and I read a lot of it! I've actually read several good historical fiction books lately and will give you a sample here.
by Hazel Gaynor
The Lighthouse Keeper's Daughter
is set in two locations in two different times with stories that intertwine. First, there is Grace Darling, the lighthouse keeper's daughter in 1838 who bravely fought to save those in a shipwreck near her lighthouse. In Northumberland, England the story centers on her and her family, relationships and what happened because of this incident.
The second setting is 1938 in Newport, Rhode Island when unmarried 18-year old Matilda Emmerson is sent away from Ireland and her notable family for a time to have her baby far away. The family must avoid scandal at all costs as Matilda's father is in politics. She stays with Harriet, a relative who is also an assistant lighthouse keeper.
I love the fact this story is based on the stories and true bravery of the women lighthouse keepers of this time period. I've read several books by Hazel Gaynor, and she's a strong writer. Full disclosure, I have a fondness for lighthouses so it was a perfect fit.
Explorer Momma's rating: ***** 5 stars
Buy it here on Amazon.
Bonus historical fiction books:
by Heather Morris

The Tattooist of Auschwitz is based on the true story of Lale Sokolov and his experience trying to stay alive in Auschwitz-Birkenau. Surprisingly because of his knowledge of languages, he was given the "honored" task of tattooing prisoners numbers on when they entered the camp. He deals with his struggle of the guilt of feeling like a traitor and trying to survive and make a better life for himself and fellow prisoners.
For me, this was a new perspective on the concentration camp life and treatment by the Germans. It was a difficult read to get through at times because the realities of the time period are so heart-wrenching. It didn't help that I was going through some other emotional issues when I read it! Therefore, this may be a book to read in the right season of your life.
Explorer Momma's rating: **** 4 stars
Buy it here on Amazon.
by Markus Zusak

The Book Thief is one that's been on my to-read list for a LONG time. Somehow I'd just never gotten around to reading it, and most likely many of you out there beat me to it. I have not seen the movie yet so am interested to see how it's put on the screen.
Liesel's first act of book thievery is at her brother's gravesite. She picks up the Gravedigger's Handbook, unable to read a word, but so begins her love of books. Liesel learns to read and steals books from Nazi bonfires, the mayor's library, and more. She lives with a foster family and eventually they hide a Jew in the basement.
I can see why this powerful, well-written book was so popular and on PBS's list for the Great American Read. If you haven't read it I highly suggest you do.
Explorer Momma's rating: ***** 5 stars
Buy it here on Amazon.
7. Alaskan Author
by Eowyn Ivey
To be perfectly honest, it took me a while to select a book by an Alaskan author, but I'm so glad I did. To the Bright Edge of the World took me to the cold, harsh days of 19th-century Alaskan exploration. It's not something I would have instinctively chosen and that's where having the book challenge and categories helps to stretch me just a bit.
Colonel Allen Forrester is granted a commission to lead a team to explore Alaska's Wolverine River. At the time it was unpassable and past attempts ended in tragedy. Yet, it is the key that opened our largest state to the Gold Rush and American presence.
The story goes back and forth between Colonel Forrester and his young wife Sophie. She's entered a risky pregnancy and is waiting behind in the military barracks. The thoughts, fears, hopes, and lives of the characters are poignant and bring them to life off the page.
I truly enjoyed this book and the Alaskan wilderness it painted along with the struggles of the people involved. I hope you check it out too!
Explorer Momma's rating: ***** 5 stars
Buy it here on Amazon.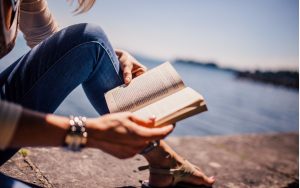 This category is one you should not skip. Anne of Green Gables is one of my favorite books/series of all time. Moreover, the books made a huge imprint on me as a child and helped shape my outlook on life. I love Anne, her drama, bright hopes, and determination. All the books are fun and have good lessons for kids and adults alike.
I've read Anne of Green Gables often and recently read much of it with my daughter. Therefore, I decided to choose the second book in the series, Anne of Avonlea, for the book challenge. But really, you should read the entire series!
Oh, how I adore all of these books! However, I have always loved Anne of Avonlea for its new characters and
locales on Prince Edward Island.
We see her trials, antics, and scrapes as she teaches at the Avonlea schoolhouse. She finds new kindred spirits. First, in her student Paul who tells her the stories of fairies. Also, she meets the delightful Lavender Lewis in the little stone house called Echo Lodge. Don't you just ache to live in a little stone cottage on Prince Edward Island tucked in the woods called Echo Lodge!?
Lucy Maud Montgomery always keeps me amused and engaged in the stories, laughing or crying where it fits. In Anne of Avonlea, we have orphaned twins, Marilla, Gilbert, Diana, Anne is almost grown up, and a surprise love story. Love.
Explorer Momma's rating: ***** 5 stars
Buy it here on Amazon.
9. Space
The Long Way to a Small Angry Planet
by Becky Chambers
The Long Way to a Small Angry Planet has been hailed as a modern Science Fiction masterpiece.
The book centers around Rosemary Harper and the life she wants to leave behind to go on new exciting adventures to faraway galaxies. She joins the crew of the crazy and chaotic ship called the Wayfarer. However, she's unaware their new assignment will possibly risk her life.
With a wide assortment of characters, all with their own quirks, we navigate the plot. Rosemary has adventures but also learns more about family. Truly, she has to figure out how to rely on and work with others and not keep everything to herself.
Explorer Momma's rating: **** 4 stars
Buy it here on Amazon.
10. The Olympics
When I started to think about the Olympics category my mind immediately went to The Boys in the Boat. My father had recommended it several times to me as one I would enjoy and even went so far as to loan it to me for a while. Unfortunately, it sat in a pile and never was read!
The Boys in the Boat
by Daniel James Brown
The Boys in the Boat is one of those books to which you become emotionally attached. In my case, you start talking to the main character Joe Rantz. "Come on Joe! No, don't do that! You can do it! Yes, yes, yes!!"
One of eight rowers on the University of Washington's 1936 crew, Joe and his crewmates show what hard work, determination, and spirit can do. All from lower working class families during the Great Depression, the boys seek what many deem as impossible. They go for gold at the 1936 Berlin Olympics under Hitler's gaze.
Spoiler alert!: Let's just say it goes well for them and may have you jumping up and down cheering with tears in your eyes. Not that I'd do that or anything… 😉
Explorer Momma's rating: ***** 5 stars
Buy it here on Amazon.
What are your next books to read?
Have any of these books caught your eye? Or maybe you have others you're reading that would fit in the categories. I'd love to hear about them. I'm always up for a good book suggestion!
If you can, follow along with the challenge! I'll be posting on Instagram and other social media with #40nextbooks, and I hope you do the same.
Who doesn't love to talk about books and share stories? It's a part of human nature and helps us grow! I can't wait to hear about your books and reading journey.
Post your reads for the challenge at #40NEXTBOOKS!
Happy reading!
Pin it here!: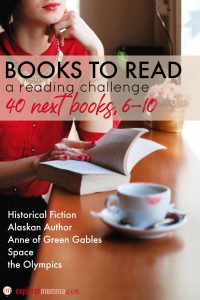 More book suggestions:
Women's what to read next: a cold weather booklist
What to read next for history fans