What books do you read during the summer? I usually go through books so fast it seems I'm always on the lookout for what to read next. So here's to my summer what to read next edition.
This post contains affiliate links, which means I receive a small percentage if you make a purchase after clicking on my links.
My summer booklist
How's your summer going? We've been crazy busy and someone's always in need of Mom. Therefore, it's been quite awhile since I've posted book recommendations in my what to read next series. For a while, I went through a period of books that didn't necessarily click with me. I never put a book on my blog I wouldn't recommend to someone else or give at least four out of five stars. Why is this you may wonder, why don't you warn us not to pick up these other books!? Quite simply, I know what goes into writing a book and the blood, sweat, and tears involved! Just because I'm not a fan doesn't mean someone else won't like it. That's just my optimistic personality.
Enough of all that! Get to the goods! This summer, since I did have a spell of disappointing book choices I've stuck to a few tried and true series. I threw in some great historical fiction, a Jane Austen classic, and an account of the making of my favorite movie ever, written by its very own Dread Pirate Roberts (or Westley, depending on your mood).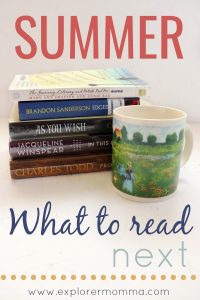 Summer what to read next
by Mary Ann Schaffer and Annie Barrows
The Guernsey Literary and Potato Peel Pie Society begins when a native of Guernsey writes a letter to our main character, Juliet Ashton, in England. Guernsey is a British island that was under Nazi control during World War II. The author of the letter owns a book Juliet once owned, and he sends her a request. She's looking for a subject for her next book, and they begin a correspondence which brings her into the Guernsey world.
This wonderful book lover's book is a few years old, and I can't believe I missed it at the time! I thoroughly enjoyed it, it's characters, informative historical setting, and depth of story. I strongly recommend it for history and book lovers or for just anyone who loves a good story.
Where is Guernsey?
Have you even ever heard of Guernsey? I had but didn't know much about it before reading this book. Dependent on the Crown of England, Guernsey is part of the Bailiwick of Guernsey with several other small islands located in the English Channel off the coast of Normandy. Our book takes place as the area is dealing with coming out of WWII, the memories, experiences, and dilemmas of what to do next. It's well-written, moving, and made me smile. Read it!!
Summer what to read next rating: ***** Five out of five stars.
by Mark Sullivan
I'm a little behind the crowd on this one, but I definitely wanted to include Beneath A Scarlet Sky on this booklist. I'm in complete agreement with all the other stellar reviews out there. Several people recommended it to me, and I was not disappointed!
The story is fascinating because it's based on a true story. Also, it's not at all from a perspective of WWII I'd seen or thought a lot about in the past. We're in World War II Italy under the Germans, and Pino Lela is a jazz-loving 16-year-old kid. His parents force him to enlist in order to protect him, although they hate the Germans and the occupation of their country. He leads Jews to safety over the mountains into Switzerland. He becomes a spy as a driver for the German leadership representative in Italy. In addition, he translates for Mussolini, the list goes on. This is an action and intrigue packed book perfect for anyone interested in the Italian occupied viewpoint of World War II.
Summer what to read next rating: ***** Five out of five stars.
by Janet Beard
The Atomic City Girls is a story of everyday life inside the Manhattan Project. I thought it was a good choice to have the book start out with June's grandfather. He's forced off his land for this government project. Is it a project, a city, a base? Whatever it is, they're all unsure. Eventually, June, looking for work, moves back to almost the same location of her grandfather's farm to work the giant machines with the other girls. What exactly do they do? None of the girls know, and anything they do know is not to be talked about outside the city. It's not supposed to exist, until one day someone slips up, and the truth opens up to June.
When you know the truth and what it will do, where do loyalties lie? To yourself, your country, what is this war anyway? This is an interesting read from several viewpoints with a good bit of drama thrown in about those working in the city.
Summer what to read next rating: **** Four out of five stars.
by Cary Elwes
As You Wish is a fabulous summer what to read next for anyone who obsessed on or is still in love with that fabulous movie, The Princess Bride. The swordfight scene between the man in black and Inigo Montoya is and will most likely ALWAYS be my favorite scene from any movie. The cast of characters was put together brilliantly, there's an amazing script crossing genres, and it's become a true classic.
Movie quotes
Have fun stormin' the castle!
As you wish.
Inconceivable!!
You keep using that word. I do not think it means what you think it means.
Hello. My name is Inigo Montoya. You killed my father. Prepare to die.
No more rhymes now I mean it! Anybody want a peanut?
I found this book a while back and had just never gotten around to it. I knew it was written by Cary Elwes about his experiences with the part of Westley, the filming, the antics and interactions with the other actors. So, of course it sounded like something I'd enjoy. Recently, I discovered the audio version. I was thrilled to find it read by none other than Cary Elwes, Rob Reiner, and many of the other actors giving their own quotes. It was perfect!
Yes, I'm the person who's always wanted Buttercup's red riding dress and cap to wear at Halloween. Truly, I'll most likely sew my own one day. Of course, I'll force my husband to be the man in black, but back to the book. The Princess Bride is a true favorite of mine and As You Wish is a fun, nostalgic look back on how it all came about, with a great deal of humor. It was an excellent summer read (or listen!), and I highly recommend it!
Summer what to read next rating: ***** Five out of five stars.
In This Grave Hour
by Jacqueline Winspear
In This Grave Hour is the latest in the Maisie Dobbs mystery series by Jacqueline Winspear. I've read this entire series as each one comes out. I find them a good mix of interesting characters, historical fiction, and mystery.
Maisie Dobbs is a psychologist and investigator, and we follow her story from childhood, as a nurse in World War I, the aftermath of the Great War, and into World War II. In this 13th book in the series, Britain just declared war on Germany, and there are those who once again need Maisie's help.
This is a comforting series for me, and one I know I can always go to for a good mystery story in a historical setting. Maisie sometimes does drive me crazy, but we're good friends now and no good friend does EXACTLY what you want them to all the time, do they? I love how this author finishes each book and ties up all possible loose ends in the mystery for a very satisfactory ending.
Summer what to read next rating: ***** Four and a half out of five stars.
Persuasion
by Jane Austen
Ah, yes,
Persuasion. Each summer I try to read a book by Jane Austen and enter the world of her heroine. This summer I decided to pass by my summer usuals (Pride and Prejudice and Sanditon) and go for one I read less often but love just the same!
Persuasion is set in England in 1806, and in this book, our heroine, Miss Anne Elliott, is a young woman of twenty and seven years. Of course, there is some urgency to see her married and settled, although some have given her up for a spinster. The family tries to lower expenses and has to rent out their large home. By chance, the renter's brother, dear Captain Wentworth, comes back from being in the English wars at sea.
He and Anne were engaged previously and parted seven years ago. In typical Austen fashion, you can imagine what comes next. I love the language and flow of Jane Austen, and any of her books are always a great read.
Summer what to read next rating: ***** Five out of five stars
Edgedancer
by Brandon Sanderson
Edgedancer is a lighter-hearted fantasy novella in Brandon Sanderson's Stormlight Archive series. It takes place between book 2, Words of Radiance, and book 3, Oathbringer. In this book, he focuses on one specific character, Lift, who we've met but have yet to see much from.
Lift is a street urchin with power. She's not what she seems and is herself a Knight Radiant. I found her to be a fun and caring character to get to know. So indeed, I'm glad I read Edgedancer before beginning the epic Oathbringer.
If I'm to be completely honest, I'd planned to include Oathbringer in this post. However, with its massive size and all the books within the book, I get distracted and read other books in between! Definitely read Edgedancer, and once I'm completely through Oathbringer I'll let you know how that goes too. 😉
Summer what to read next rating: ***** Five out of five stars
by Charles Todd
Proof of Guilt is the latest in the Inspector Ian Rutledge mystery series by Charles Todd. Inspector Rutledge started his career at Scotland Yard before the Great War and returned to his duties after. The war gave him scars he deals with every day and a Scotsman in his head who died on the battlefield. The series is not only a good cozy British murder mystery but an interesting look at the aftermath of the war and mental health.
In this installment, an unidentified man is found run down by a car, and it's up to Inspector Rutledge to find out who he is an why. He's carrying the watch of a man he resembles and has disappeared. Unfortunately, there are few other clues. When the watch owner's cousin goes missing also we have a classic who done it with a twist. Was it the neglected sister? The business clerk? The scorned fiancee?
I always enjoy the Ian Rutledge mysteries and have come to rely on them when I need a quick, engaging read. With the series, I already know the characters and their histories. If you haven't read any or Charles Todd's Inspector Rutledge or Bess Crawford books, pick the first one up today!
Summer what to read next rating: ***** Four and a half out of five stars
Check these out!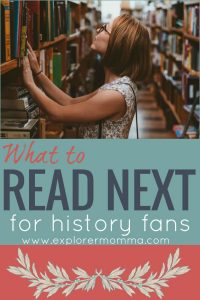 What's your summer what to read next list?
You'll notice my summer reads are still in my favorite genres, mystery, historical fiction, and fantasy. Now, if you are like me you always wish you had more time to read, but we do what we can! Would you like to make my life easier and recommend some fabulous books from each of these genres? I LOVE getting book recommendations so please, PLEASE, puh-lease put your favorites in the comments.
Happy Reading!