Here are my 2019 reading challenge results! Did you follow along with the 40 next books to read categories? It definitely helped me make some uncustomary selections. Check them out and find a new book for yourself!
To start, let's review the original booklist: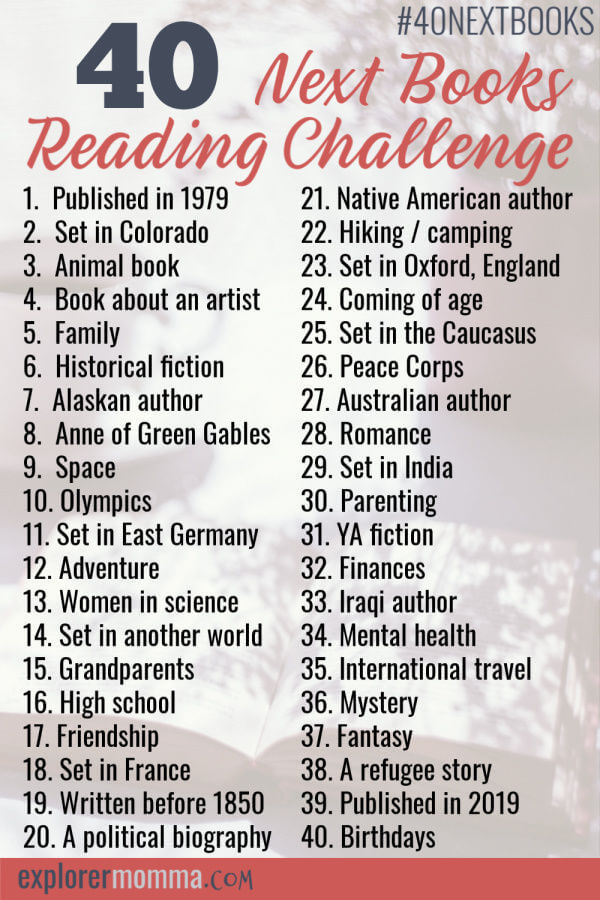 Welcome, 2020!
This post includes Amazon links. As an Amazon Associate I earn from qualifying purchases.
Last year was my first year to follow a list of categories of books to read. I admit, it definitely stretched me. The categories motivated me to read things I wouldn't have necessarily chosen on my own. And that was a good thing.
I hope you read through my list and are motivated to pick up a new book, or start your own 40 next books reading challenge!
Read the original 40 Next Books Reading Challenge post.
Why 40 next books reading challenge?
It's been fun looking back at the books I read this past year. While I read more than 40 books, I haven't yet made all forty categories. And do you know what? That's okay! That's why I made the challenge 40 NEXT books. You see, as a reader I tend to get distracted and read other things that catch my eye.
Yes, originally it was set as the 40 next books because it was the year of my 40th birthday (how is that possible)!?
How did you choose your books?
So I'm going to share with you the 40 categories and the books I've read in each. I chose the books to read mostly on friends' recommendations or reviews on Goodreads or Amazon. Like I said, I did read other books that either didn't fit the categories or weren't ones I'd recommend.
The thing is, when I read a book, I will only share it or review it if I actually liked it. I rated all of the books read in this list 4 or 5 stars out of 5.
If I can't make it through it, or can't stand the writing style of a book, I'm not going to write negatively about it.
Why? Well, I know how much work goes into writing a book, and just because it wasn't my thing doesn't mean it won't resonate with someone else.
When you take a look at this list you'll notice four categories toward the end in italics. Those are the four I haven't yet read, but the books I plan to read. Don't worry, I'll get to it!
Pin this article for later here: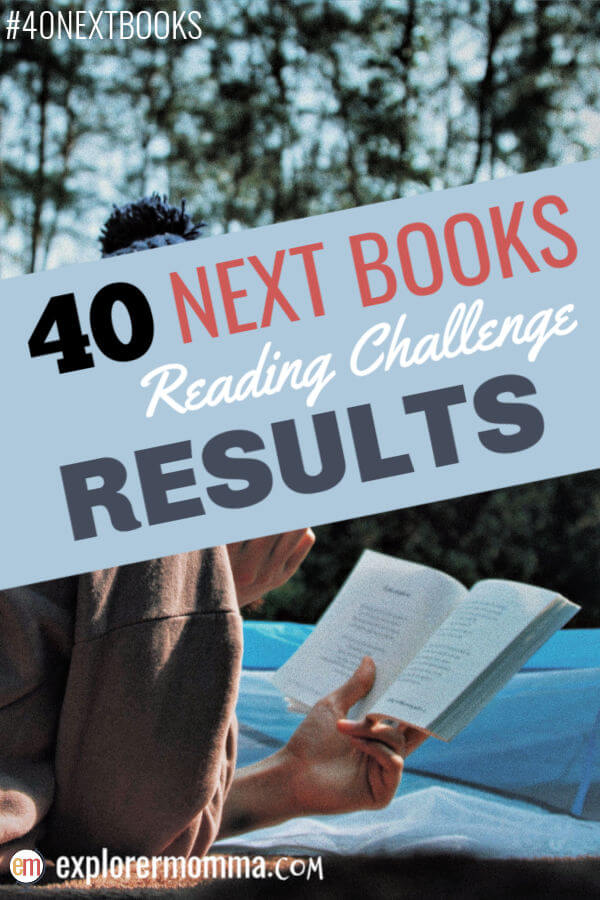 My 40 Next Books Reading Challenge Booklist
First off you'll notice I didn't include a summary or highlights of each book. However, if you click on the book title the link will take you to it on Amazon and you can read more about it there. Enjoy!
1. Published in 1979
The Hitch Hiker's Guide to the Galaxy by Douglas Adams
2. Set in Colorado
Centennial by James A. Michener
3. Animal book
All Creatures Great and Small by James Herriot
4. Book about an artist
The Masterpiece by Fiona Davis
5. Family
The Storyteller's Secret by Sejal Badani
6. Historical fiction
(Historical fiction is one of my favorite genres so I've included three.)
The Lighthouse Keeper's Daughter by Hazel Gaynor
The Tattooist of Auschwitz by Heather Morris
The Book Thief by Markus Zusak
7. Alaskan author
To the Bright Edge of the World by Eowyn Ivey
8. Anne of Green Gables Series
Series Book #2: Anne of Avonlea by Lucy Maud Montgomery
9. Space
The Long Way to a Small Angry Planet by Becky Chambers
10. Olympics
The Boys in the Boat by Daniel James Brown
11. Set in East Germany
Forty Autumns by Nina Willner
12. Adventure
Treasure Island by Robert Louis Stevenson
13. Women in science
Hidden Figures by Margot Lee Shetterly
14. Set in another world
A Game of Thrones by George R.R. Martin
15. Grandparents
The Library of Lost and Found by Phaedra Patrick
16. High school age
Read one, and you'll need to read all three! (I may have read them all twice this year actually).
I was behind on reading these and absolutely loved them. Have you heard there's another coming? I can't wait to read the prequel to be released this year, The Ballad of Songbirds and Snakes.
The Hunger Games by Suzanne Collins
17. Friendship
Rules of Civility by Amor Towles
18. Set in France
The Nightingale by Kristin Hannah
The Lost Girls of Paris by Pam Jenoff
19. Written before 1850
I read this at least once a year. 😉
Pride and Prejudice by Jane Austen
20. A political biography
The Bully Pulpit by Doris Kearns Goodwin
21. Native American author
The Absolutely True Diary of a Part-Time Indian by Sherman Alexie
22. Hiking / camping
Hatchet by Gary Paulsen
23. Set in Oxford, England
Becoming Mrs. Lewis by Patti Callahan
The Inklings by Humphrey Carpenter
24. Coming of age
The Ten Thousand Doors of January by Alix E. Harrow
25. Set in the Caucasus
The Orientalist by Tom Reiss
26. Peace Corps
Monique and the Mango Rains: Two Years with a Midwife in Mali by Kris Holloway
27. Australian author
The Watchmaker's Daughter by C.J. Archer
28. Romance
With This Pledge by Tamera Alexander
29. Set in India
The Widows of Malabar Hill by Sujata Massey
30. Parenting
Parenting with Love and Logic by Foster Cline, Jim Fay
31. YA fiction
A Court of Thorns and Roses by Sarah J. Maas
32. Finances
The Total Money Makeover by Dave Ramsey
33. Iraqi author
The Beekeeper: Rescuing the Stolen Women of Iraq by Dunya Mikhail
34. Mental health
A Man Called Ove by Fredrik Backman
35. International travel
The Paris Spy by Susan Elia Macneal
36. Mystery
To Die But Once by Jacqueline Winspear
37. Fantasy
Oathbringer by Brandon Sanderson
38. A refugee story
The Girl Who Smiled Beads by Clemantine Wamariya
39. Published in 2019
The Starless Sea by Erin Morgenstern
40. Birthdays
The Moonstone by Wilkie Collins
2020 Reading Challenge Goals
So there you go! That's my list for the book challenge and what I've been reading this year.
Do you know what? While I enjoyed following the list I'm actually looking forward to reading whatever I want for a while. Whatever grabs my interest or other books from my past to-read lists, I'm ready!
After those last four are read, of course.
My goals for this year are more general. I set a goal on Goodreads in 2020 for 41 books. Evidently, I thought it was necessary to continue the pattern – turning 41 so 41 books. Ha!
What are your reading goals? Do you have any must-reads you'd like to share? I'd love to see them in the comments below as I'm always on the lookout for a good recommendation.
Here's to the New Year 2020, and HAPPY READING!
Post your books for the reading challenge at #40NEXTBOOKS!
Happy reading!
More book suggestions for your reading challenge:
Pin this article here: