Spain is a beautiful country with an amazing culture. There are many travel guidebooks and novels that help you get to know the people, food, places, and language of Spain before you go. This blog post will give you some recommendations for books about Spain so your trip, or even your daydreams about Spain, are perfect! We love Spain books!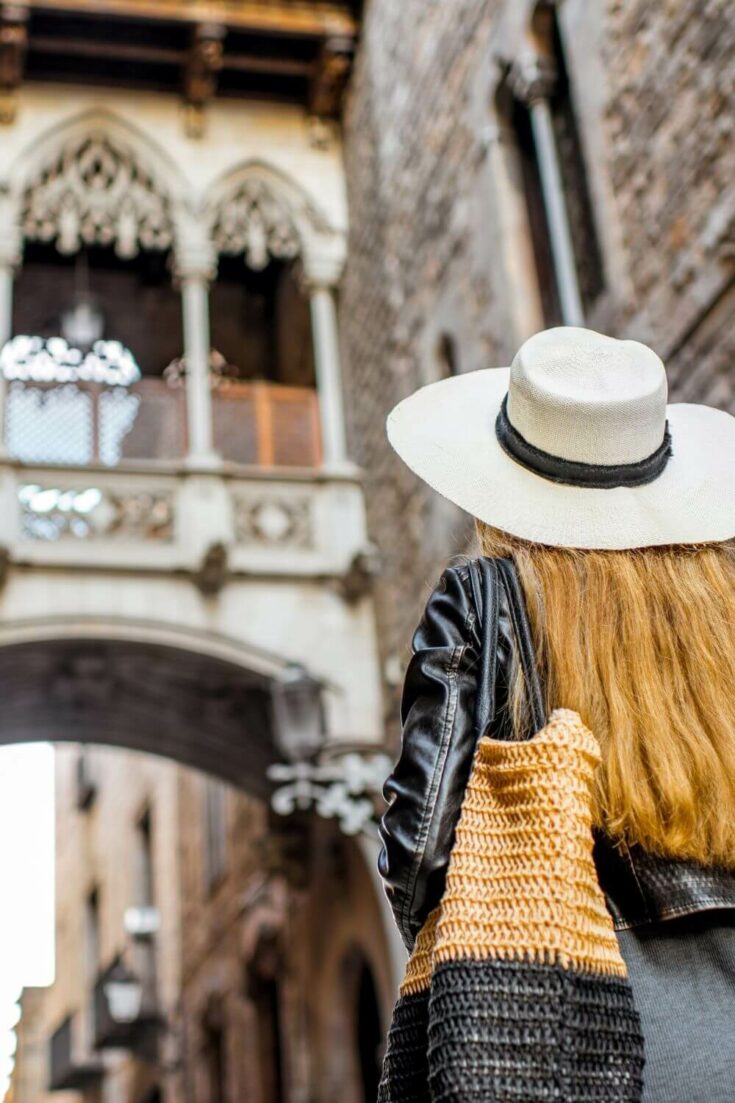 This post may include Amazon and other affiliate links. As an Amazon Associate, I earn from qualifying purchases.
Today I am here to let you know about the best books to read before or during your trip to Spain. Along with my own recommendations, I've gathered the favorite reads of other travelers to Spain. Therefore, I am certain they will make a great reading list for anyone who is planning a trip there in the future. Whether you are looking for fiction, nonfiction, travel guides, or even children's books, this blog post has got you covered!
I hope you enjoy these recommendations and find them helpful on your next adventure through this beautiful country. Are you wondering what is Spain known for? Read some of these Spain books to find out more!
Jump to:
Fiction | Non-fiction | Travel Guides | History & Food | Language Books | Children's Books
Fiction books set in Spain
1. The Time In Between
By María Dueñas
The Time in Between by María Dueñas will take you from Spain's capital to the vibrant and colorful streets of Tangier and Tetouan in Morocco, and back again. Follow the tumultuous life of Sira, who leaves her fiancé and runs with her lover to the exotic lands of Morocco, through the Strait of Gibraltar. Throughout the book, she will have to reinvent herself several times, evolve to what she knows best (the art of making clothes), and find a way to survive close to the enemy during World War II.
The writer's voice and flow will capture you from the first pages, and you will be thrown in the middle of a closed ex-pat society living in both Madrid and Morocco, sprinkled with lots of war stories, espionage, passion, and gossip. Sira will be exposed to different cultures, all living in the vibrant, exotic, and then glamorous Spanish Morocco.
Learn about Spain's civil war and Madrid during World War II through the eyes of Sira, a seamstress turned spy while sewing dresses for the wives of some of the most powerful men in Morocco and their German friends. With every page you'll turn, you'll be captured by intrigue and mystery, but also love, romance, and friendship.
By Ingrid at IngridZenMoments
2. Winter in Madrid
by C J Sansom
Winter in Madrid is a gripping and heart-rending spy novel by C J Sansom, which is set in Spain during the Franco dictatorship and the aftermath of the Spanish Civil War.
After surviving Dunkirk, the main character, Harry Brett, is sent to Madrid to spy on a former schoolmate, the corrupt and wily businessman, Sandy Forsyth, for the British Civil Service. Sandy's girlfriend, Barbara Clare, is secretly on a mission to find the love of her life, Bernie Piper, who disappeared while fighting in the International Brigades for the Communist party in the Jarama Valley. Bernie was another school friend of Harry's. Barbara eventually manages to track Bernie down in a concentration camp for dissidents and Republican prisoners of war near Cuenca.
The book is full of deception, danger, love, and intrigue. There are also plenty of fascinating insights into the grinding poverty and mistrust of wartime Madrid and the rabid fascism that prevailed among the ruling class.
It would be amazing to explore the city of Madrid, where much of the story takes place, and contemplate how things have changed since then. Carabanchel, where Harry's girlfriend lived, is still a relatively poor neighborhood but has come a long way since 1940. You could also head to Cuenca, a UNESCO World Heritage site with medieval houses clustered above a massive gorge.
From Julie at Feel More Connected
3. The Barefoot Queen
by Ildefonso Falcones
Ildefonso Falcones is well known to historical fiction buffs as the author of "The Cathedral of the Sea" and many other beautifully rendered, gripping novels. When I set up to put together our holiday in Andalusia reading list, The Barefoot Queen was the first novel I picked.
Set in 18th-century Seville, in the Triana district of Seville, the novel tells the story of the persecution of Spanish gypsies, while at the same time outlining their culture and the birth of flamenco, their characteristic song. The story revolves around Milagros Carmona, a famed singer and dancer, her smuggler grandfather Melchor, and Caridad, a former slave that Melchor takes in.
This sweeping saga takes the reader from the hustle and bustle of Triana and Seville to the theaters of Madrid, following Milagros and Caridad as they become inseparable friends and face life with courage and determination to fight for their freedom and the people they love.
From Anca at Dream Book and Travel
3. Guernica
by Dave Boling
Set in Basque Country, in Northern Spain, Guernica is a historical novel that spans the French Civil War and the early years of World War II. Focused on two families, Guernica tells the story of two generations' lives in Basque Country, with the small town of Guernica largely protected from the rising political tensions in Europe. This story comes to a climax with the infamous bombing of the town, where the bombing of a civilian force by airstrike is tested for the first time.
The story spans Basque Country from Bilbao to San Sebastian and the vivid descriptions of the town of Guernica make it come alive. The oak tree and old bridge mentioned in the novel are still in Guernica today, and the Guernica Peace Museum tells the story of bombing. It also has a copy of Picasso's Guernica painting which features in the story (the original is displayed at the Museo Nacional Centro de Arte Reina Sofía in Madrid).
The fishing village of Lekeitio and the tiny Isla de San Nicolas are also lovingly described in the book and well worth visiting to experience Basque food and quiet, sandy beaches.
A beautifully written book, Guernica sometimes focuses more on character development than historical explanations, but still offers a deep insight into the culture of Basque Country. It also highlights the importance of Basque identity and people's deep commitment to retaining their language and culture, even against almost insurmountable odds.
From Roxanne at Far Away Worlds
4. Driving Over Lemons: An Optimist in Spain
by Chris Steward
The story of Ana and Chris, Driving Over Lemons, talks of their adventure in the south of Spain in Andalucia. It is mostly about them moving to a new country (Spain) and how they settle here, their experiences of a foreign place, and making it home. It is also a true story!
Chris buys a sheep farm in the south of Spain in the Alpujarra Mountains in an instant however, he does so without informing anybody.
The farm is abundant with lemon trees, as also almonds and a few others however lack basic amenities like electricity and running water. It is quite remote and hence doesn't even have an access road.
The book covers Chris' friendships and struggles with the previous owner and the new neighbor. It also talks about Chris' resolve to set up a life with his wife and child in a place where he makes unexpected friends, goes through amusing mishaps where the people are warm, and some will go out of their way to make them feel like part of the community as they settle into the place they call their new forever home.
From Lavina at Continent Hop
5. Only in Spain
by Nellie Bennett
The book Only in Spain is a memoir about the author's experience studying Flamenco in both Madrid and Seville. The story starts with the author leaving her job at an upmarket Sydney department store to move to Spain.
She had always wanted to learn how to dance flamenco but never found time for it until she moved to Madrid. In Madrid, she manages to enroll in classes at a prestigious studio for top dancers. Life in Madrid revolves around making enough money to pay for her beloved flamenco classes, which is not always easy. The memoir follows the author to Seville, where she travels to increase her knowledge and experience of flamenco in its native home of Andalucía.
Seville provides many travel experiences, including some of the best Roman ruins in Spain at Italica.
This book provides a fascinating insight into the flamenco culture of Spain, something usually hard to experience as a foreigner as it has such a deep cultural meaning and history that can't be learned quickly or without years of training.
There is plenty of romance and enough entertainment to class this book as a beach-appropriate easy read, whilst still providing insight and cultural learnings on an important part of Spanish culture.
From Emma Healey at Our Spanish Life Blog
6. The Fountains of Silence
by Ruta Sepetys
The Fountains of Silence is a story told from the viewpoint of Daniel Matheson, son of an American oil tycoon doing business in Spain. The protagonist's mother was originally from Madrid and so he wants to learn about her homeland and tell its stories with his camera just as she did before him. We follow Daniel on his journey through 1957 Madrid while learning about the dictatorship under General Franco and its effects.
This story shines an insight into life during that time period, which can't be done with pictures alone.
7. Don Quixote
by Miguel de Cervantes
Don Quixote it a classic and tells the story of two men: one, Alonso Quijano, already in his later years, and a younger man named Sancho Panza. The older man was a former Knight who believed himself still to have been alive in the time of its glorious past, so he set out in search of adventure with his horse Rocinante. The younger man was a peasant who became friends with Don Quixote and accompanied him on the quest for adventure – essentially becoming his squire.
The novel is written as a series of books, each one basically detailing the adventures that these two go through. And they are adventures. Mostly Don Quixote takes it upon himself to right the many wrongs that he believes exist in the world and as a result of this, he ends up making odd decisions – such as calling out windmills for being giants, believing that there is an entire kingdom of beautiful women hidden in a cave somewhere.
Sancho, the squire, has to watch on and ends up getting a little more proactive as time goes on – it isn't until later that he finds himself in situations where he must act rather than just watching.
Even if you don't read the book, I highly recommend listening to the musical soundtrack from The Man of La Mancha. It is an experience!
More fiction books set in Spain
In this best-selling thriller set in 1950s Barcelona, a bookworm named Daniel has to hide his favorite books from the mysterious figure of The Shadow. When he discovers that all copies have been destroyed except for one hidden by his father, it becomes an international treasure hunt led by none other than Zafón himself who hopes people will be inspired and educated about real-life events through fiction!
In Jacqueline Winspear's powerful story of political intrigue and personal tragedy, a brutal murder in the British garrison town of Gilbraltar, which leads Maisie into a web of lies, deceit, and peril. This danger is only heightened when an old friend from her past resurfaces. They bring along secrets that threaten to destroy everything she once loved most.
10. Origin by Dan Brown
Robert Langdon, our friend from Brown's famous series including The Da Vinci Code, is a Harvard professor of symbology and religious iconology. In Origin, he arrives at the ultramodern Guggenheim Museum Bilbao. The major announcement is the unveiling of a discovery that "will change the face of science forever. "
The evening's host is Edmond Kirsch, an innovative billionaire who has captivated followers worldwide with his daring inventions. A Dan Brown race to the finish-style book!
For lovers of The Alchemist, this book is a heroic, allegorical tale of self-discovery. The story follows Santiago, an Andalusian shepherd boy. He has grown up in the shadow of his father's great skill with words and storytelling.
One day he sets off on a journey that will take him all across Spain to find his home. In the process, he also finds out what it means to have one.
This book may also be for those who enjoyed The Queen's Gambit. Julia is an art expert restoring a painting from the 15th-century. It depicts a chess game between the Duke of Flanders and his knight.
While working on this piece of artwork, Julia discovers the words written as "Quis Necavit Equitem" or "Who killed the knight"? This discovery leads Julia into going on her own hunt into the Renaissance murder to find out where this message came from and why it's here.
Lucas Corso has a life that is as disconnected from the romance and adventure of Alexandre Dumas' The Three Musketeers, as he can imagine. He is a book detective, charged with finding rare books for clients.
One assignment finds himself caught up in a swirling plot involving occult practices. They're connected with swashbuckling derring-do among characters with a resemblance to those found within Dumas classic itself. Corso travels from Madrid to Toledo to Paris on a killer's trail.
With a little prompting, Alberto's memories of his missing childhood during the Spanish civil war began to surface. When grandson seven-year-old Tino discovers he has never celebrated a birthday, they embark on an adventure together around Spain. They search for the day he was born.
The Carpenter's Pencil is a haunting story of the psychological cost that ensued after Spain's Civil War. The unnamed protagonist contemplates his past as he prepares to travel away from home for an extended period. He tries to put behind him all his memories and regrets about a life lived in conflict with himself and others.
This is one of the most iconic books ever written. For Whom the Bell Tolls follows an American volunteer fighting Franco's fascist forces in Spain. Along with the Republicans, they attempt to take over Madrid during World War II and free the country from tyranny.
The Queen's Vow is a historical fiction novel that vividly captures the life and times of Spanish monarch, Isabel. The book covers the details of her marriage to Ferdinand II. Then it also describes their triumphs in the war against Muslim invasion forces who invade Spain twice; first when Granada falls under Christian rule after centuries of Islamic control.
18. The Heretic by Lewis Weinstein
Sevilla is the backdrop for this intense tale exploring the brutality and intolerance of the Spanish Inquisition. Spanning over two centuries, The Heretic tells a gripping story about one Jewish man's faith. The book describes the horrors around him that would be easy to give up hope completely.
Non-Fiction and travel Spain books
Are you planning a trip to Spain? Here are some of the best travel guidebooks and non-fiction books for your trip. Whether you want to explore the country on your own or take a tour, these books will help! Fill in all those gaps about what to do when exploring this beautiful country.
The Spanish people have had a tumultuous history but they are resilient and proud. The culture is rich with unique traditions that can be seen in food (like my keto paella!), customs, arts, and architecture. These books will give you an inside look into what it's like living there – from day to nightlife. You'll learn about everything from their favorite foods to how they celebrate holidays (like Semana Santa).
Travel guidebooks
Other non-fiction books about Spain
Spanish language books
Children's books about Spain
Do you have a budding little world traveler on your hands? If so, these are the best kid's books about Spain and other cultures to add to their collection. These diverse titles will introduce them to different parts of the world. So go ahead and give your little one the gift of global citizenship with these great Spanish-themed children's books!
Don Quixote: A BabyLit Board Book by Jennifer Adams
2. Barcelona: Panorama Pops by Sarah Maycock
3. Teach Me Everyday Spanish by Judy Mahoney
4. Asterix in Spain by Rene Goscinney
5. The Great Book of Spain: Interesting Stories, Spanish History & Random Facts About Spain (History & Fun Facts) by Bill O'Neill
6. City Trails – Barcelona 1 by Lonely Planet Kids
7. Kids' Travel Guide – Spain: The fun way to discover Spain by Wendy Crawford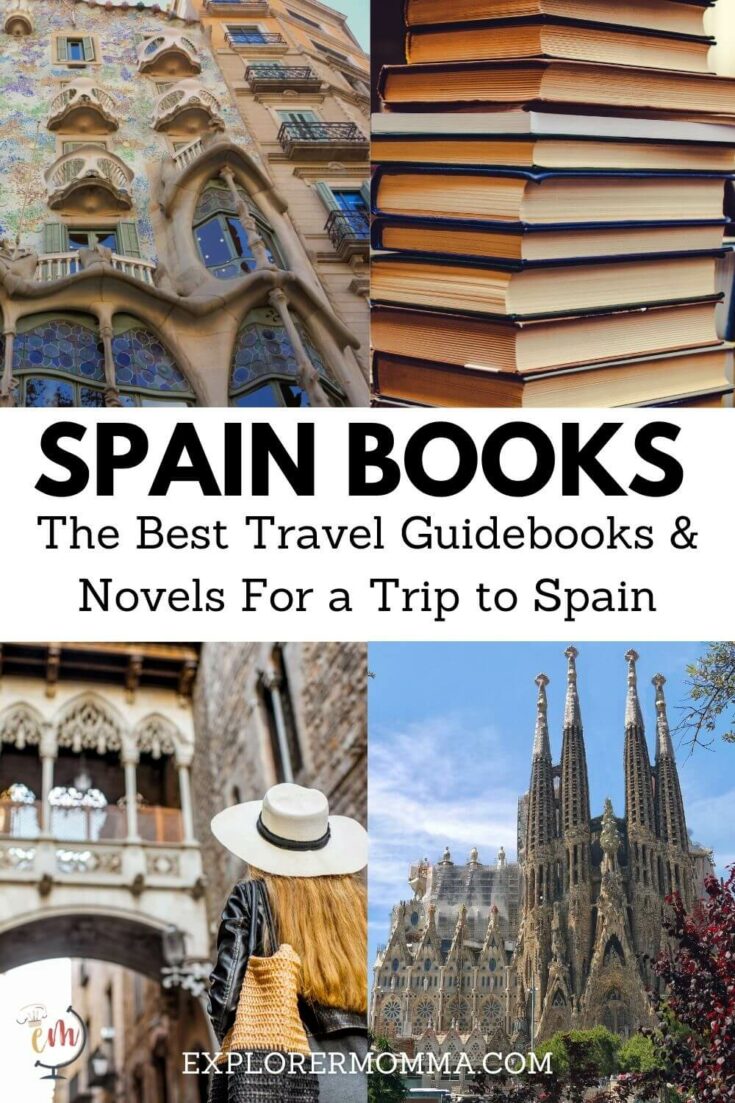 Spain books to read next
Spain is a beautiful country with an amazing culture and history. If you have never been to the Iberian Peninsula, we highly recommend investing in one of these novels or travel guides that will help give you some insight into what it's like to live and visit Spain!
There are many books about this fascinating country, but we hope these recommendations will help you get to know it a little before you go or while you're there! We've included our favorite books about Spain for your browsing pleasure. So which one are you going to read first?
Pin it here: