Join me in my New Year 40 next books reading challenge! I'm turning 40 this year, and this booklist looks back at the past and is motivation for new learning.
Welcome, 2019!
This post contains affiliate links, which means I receive a small percentage if you make a purchase after clicking on my links.
It's here, it's here! It's finally 2019! Actually, 2018 seems to have gone by in a flash, and my kids are no longer babies or toddlers. What's more, this is a significant year for me as I'm turning 40! How did that happen?!
Rather than dwell on the negative, I've decided to embrace this 40th year and look to the future. With the New Year, my resolutions vary with health, exercise, nutrition, and family goals. Also, I've decided to add a fun resolution just for me!
Because I love books so much I will commit to getting organized and focus on a reading goal for the year. Rather than haphazardly pick out books, this booklist is perfect to broaden my reading choices. Do you get in a reading rut? I admit it, I do! I look to my favorite authors and series and well-loved characters. It's where I'm comfortable, and I'll always go back to my favorites, sometimes I need a little push to try new things.
That's where the challenge comes in!
40 Next Books Reading Challenge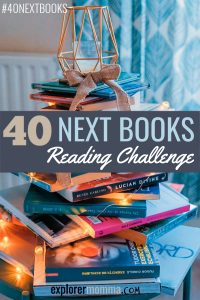 Are you ready to read? I am so excited to continue picking out books for this year! It's fabulous to have an excuse to take some time to explore new and past books you'd like to read. I can disappear for hours at a library or on online book websites just getting ideas and coming up with books I'd love to read.
I almost always have a long list of to-read books. What about you? With the 40 next books reading challenge, I've been inspired by my own 40th year and making time for my own personal growth. So often as moms we are pulled in so many directions and focus on everyone but ourselves.
What's best for the kids, the family, our home? But do you know what? Taking care of yourself and growing your own mind and outlook will help everyone. You can make yourself a priority!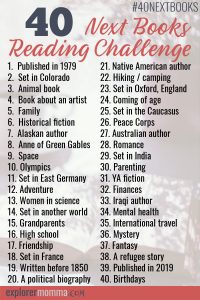 Credit where credit is due
Now, I have to give credit where credit is due. The 40 next books reading challenge was inspired by my friend Marci from my Peace Corps days. She pointed out how fortunate it is to be 40 and started her own reading challenge. Of course, I thought this was a fabulous idea and have joined her challenge but tweaked the list slightly. I plan to read several of the books she has on her own list and have many of the same categories in my list of forty books.
What I'm reading: the first 5 books
To begin the year, I've picked out the first 5 books for the 40 next books reading challenge! Select your own in the categories or read along with me. Use the hashtag #40nextbooks and join the book discussion in the blog comments. I'd love to see what you're reading and add to my own booklist!
1. Published in 1979 (the year I was born!)
I have a couple of books in this category I feel like I should have already read and still want to. Therefore, let's remedy that and start with one.
by Douglas Adams
This book is on so many booklists of best books ever. Have you read it? Does it live up to its reputation and how would I feel about it? I guess I'll find out!
2. Set in Colorado
I grew up in Colorado and kept leaving, but I'm always drawn back. Truly, I love my Rocky Mountains, and it's the perfect place for our family. This is a book I read long ago but feel like I'll have a new perspective on it now.
by James Michener

Here's another non-fiction book I love about an amazing lady that reads like an adventure novel. I highly recommend it!
by Isabella Bird

3. Animal Book
This book is in honor of my childhood love of animals in nature, and now my son's obsession with peregrine falcons, panthers, and learning about all living things. To be honest, it's an unusual pick for me, but I'm branching out. Moreover, I've heard good things about this book and can't wait to dive in!
by Craig Childs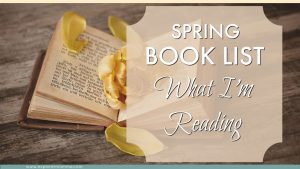 4. A book about an artist
This book was recommended to me as a fun read with the history in the background I would enjoy. Have you read it? What do you think?
5. Family
This story is more of a woman searching for her family's past in India after her own heartbreaks with miscarriages and family struggles in New York. Interpret this category however you want for your book, but this is one I've been seeing over and over again and just hadn't gotten around to reading.
Join the 40 next books reading challenge!
Do you make a reading goal for the year? This list is not to limit or pass judgment if you don't get through all 40 books, but a tool to help motivate and explore. No matter the time you have to commit or the number of books, I'd love for you to join in our book conversations! If nothing else I hope you find a fabulous new book to read and learn something in the process.
If you can, follow along with the challenge! I'll be posting on Instagram and other social media with #40nextbooks, and I hope you do the same. Who doesn't love to talk about books and share stories? It's a part of human nature and helps us grow! I can't wait to hear about your books and reading journey.
Post your reads for the challenge at #40NEXTBOOKS!
Happy reading!
Sign up for the Explorer Momma newsletter and get a PDF of the 40 Next Books Challenge!
More book suggestions: