Preview: In this booklist, you'll find my current version of women's what to read next. Strong women, powerful women, good stories, and inspiration. This is what I've been reading lately.
This post contains affiliate links which means I make a very small percentage if you click through and purchase something. All opinions are strictly my own!
We've made it to that time of year it's actually starting to feel like fall. The high is a mere 54 fabulous degrees Fahrenheit today, and it's a little cloudy. I don't know about you, but that signals tea and book reading time to me! So naturally, I took myself off to Barnes and Noble. I made the excuse to my husband that Children's Place is right there too, and the child really needs new jeans since his are two inches too short with holes in the knees.
I love bookstores
Like I really ever need an excuse to go hang out in a bookstore.
I love visiting bookstores, and it makes me very sad there are so few of them about nowadays. I'm sounding old, but many moons ago when I was in high school my best friend and I used to spend our Friday nights at bookstores. We'd get our latte or tea (I wasn't doing black coffee at this time), listening to the new music, going through every book and picking just the right one. It was fabulous, and hey, you can't get into a lot of trouble at a bookstore now, can you?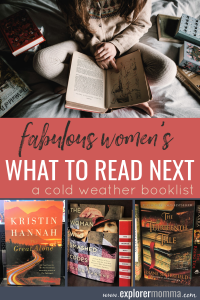 Women's what to read next
After a while of not being thrilled with my book choices (something was off), I've recently had a fabulous run of winners I'd strongly suggest to anyone. There are tales of inspiration, ghosts of the mind, difficult circumstances, powerful, intelligent women, and great storytelling. You know when a book pulls you in, and your mind won't let you, and indeed you don't want to, leave that world until those final pages have been turned? That happened to me on almost all of these books.
So let's get started.
by Kristin Hannah
This was a book recommended by someone in a Facebook group I'm in, and yes, I'm in several bookclub type groups. It caught my eye because of the location, to be honest. The setting is on the Kenai Peninsula of Alaska in 1974, and the book begins with the main character's family arriving from the Lower 48. My grandparents used to live in Homer, Alaska, a key location in the book and a place I've visited several times myself, so it naturally piqued my interest.
I agree there is this idea that if you need to get away from society you can escape to Alaska. In The Great Alone, after the Vietnam Conflict, one family is given land near Homer and their adventure begins. They have no idea what it will take to survive off the grid in an untamed wilderness. They encounter all types of people, all with their own stories and reasons for being there. It is the story of the family, a father fighting the demons of the Vietnam War, his wife who will do anything for him, and their daughter and her coming of age and survival story. A beautifully written book and one I stayed up until 3 am one night to finish! It's engrossing with good story-telling, and I highly recommend it.
Women's What to Read Next Rating: ***** Five out of five stars.
by Genevieve Valentine
Imagine a well to do New York family in the 1920s. The father is a determined businessman who wants an heir and son. He and his wife have daughter after daughter until they have a collection of them upstairs he won't admit to society. They don't go to school, don't go out, don't visit others socially, they are kept in the house.
"Dressed up in the thrill and sparkle of the Roaring Twenties, the classic fairy tale of 'The Twelve Dancing Princesses' has never been more engrossing or delightful. Valentine's fresh, original style and choice of setting make this a fairy tale reimagining not to be missed" (Library Journal, starred review).
So what do they do? It's the roaring 20s! They learn to dance, and organized by their eldest sister Jo they sneak out at night to the clubs and find a home at the Kingfisher Club. Put on some 20s music as you read for there are bootleggers, raids, and drama. The story goes deeper focusing on each girl and is a fun read.
Women's What to Read Next Rating: ****1/2 Four and a half out of five stars.
by Paulo Coelho
The Alchemist I happened upon I believe through my library app suggesting it to me. I read it, and it was interesting because I then noticed it on the PBS list of top books to read and in my Barnes and Noble promo email. Quelle coïncidence! It seemed fated for me to read it.
This is the sweeping story of Santiago, an Andalusian shepherd boy who yearns to travel. We already have something in common. But he wants to travel in search of worldly treasures. What does he truly want? How can he get it? Will he give up? Santiago learns many lessons along this mystical journey. He reads and listens to omens that come to him and follows his dreams. We all need some inspiration every now and then, and The Alchemist certainly delivers.
I liked this book very much and appreciated the positivity and determination in Santiago to never give up. Live your life and your dreams.
Women's What to Read Next Rating: ***** Five out of five stars.
Are you ready to start your pile of cozy Christmas books by the fire? Here are some I recommend.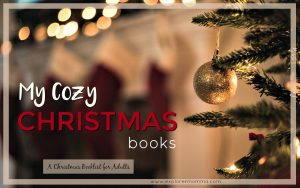 by Olive Ann Burns
I picked up Cold Sassy Tree on the recommendation of a friend, and it was indeed a hilarious journey and character study. In the small town of Cold Sassy, Georgia news and/or gossip spreads like wildfire. It's 1906 and Grandpa E. Rucker Blakeslee announces only three weeks after Grandma Blakeslee's in her grave that he's going to marry the young milliner in his store, Miss Love Simpson. Yes, half his age and a Yankee! Gasp! His grandson, young Will Tweedy finds himself in the scandal while having adventures of his own. At 14, he's growing up and has to deal with class and place, is run over by a train (literally), and does his best to keep the peace in his own household.
There are lots of characters from all over town in this one and an amusing read. I took this one about a chapter at a time and had fun with it.
Women's What to Read Next Rating: ****1/2 Four and a half out of five stars.
by Jason Fagone
I have to say, I came upon this book quite by accident, and I consider myself lucky to have done so. This is not a novel but a popular history book that reads like a spy thriller, about a real-life character hidden in history in government secrets. This era of codebreaking is fascinating, and while I've seen movies and read books about the British side in Bletchley Park with Alan Turing and others, I didn't know much about the American efforts in codebreaking in World War II.
The Woman Who Smashed Codes is the true story of Elizebeth Smith Friedman. We are introduced to her when she meets her partner in cryptology and future husband, William Friedman, at an eccentric tycoon's estate just outside of Chicago where they both worked in 1916. They become an unstoppable team in codebreaking, or cryptology, in WWI and WWII.
See a part of the Amazon summary:
In The Woman Who Smashed Codes, Jason Fagone chronicles the life of this extraordinary woman, who played an integral role in our nation's history for forty years. After World War I, Smith used her talents to catch gangsters and smugglers during Prohibition, then accepted a covert mission to discover and expose Nazi spy rings that were spreading like wildfire across South America, advancing ever closer to the United States. As World War II raged, Elizebeth fought a highly classified battle of wits against Hitler's Reich, cracking multiple versions of the Enigma machine used by German spies. Meanwhile, inside an Army vault in Washington, William worked furiously to break Purple, the Japanese version of Enigma—and eventually succeeded, at a terrible cost to his personal life.
Due to the secrecy of Elizabeth's missions and work, her story had never been told before, and she herself never spoke of it. She was true to the oaths she made to the government, and only recently have some of her records be declassified.
I LOVED this book, and if you have any interest in codes, codebreaking, espionage, and the history of World War II, you need to read this book. Elizebeth Friedman was a dynamic and powerful woman who was not afraid to use her mind. Read it!
Women's What to Read Next Rating: ***** Five out of five stars!!! Maybe more.
by Diane Setterfield
The Thirteenth Tale is a book for those of you, like myself, who love the brooding stories of the Bronte sisters such as Jane Eyre and Wuthering Heights, with perhaps a bit of Wilkie Collins thrown in, The Moonstone. (And by the way, if you haven't read those three books, by all means order them all now or get to your local library and remedy that error in your book reading ways).
Our main character, Margaret Lee, is summoned to the country to write the biography of famous author Vida Winter. Throughout her life, Ms. Winter has invented many versions of her origins and life story to shield the truth. Now is the time to share her tale with Margaret, who has her own clouded and troubled story of her birth and childhood.
In this book, you get great characters, abandoned country houses, destroyed topiary gardens, ghosts, wild twins, a great house fire to conjure up scenes of Jane Eyre, and so much more. It's a way of bringing those past ghosts to light and freeing those in the present of their haunting.
I know those who absolutely obsess over this book and how good it is. Yes, I enjoyed the book very much and a return to the feel of some of those Victorian novels. Each character (and there are quite a few of them!) is well-developed and well-placed in the setting. I don't obsess over it, but I do definitely recommend reading it! It is one of the best books I've read in a long time to really transport me back in time through good storytelling.
Women's What to Read Next Rating: ***** Five out of five stars.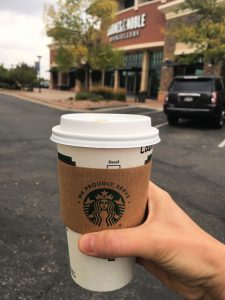 Books and coffee
So now, this is me telling you, go to your local bookstore! Enjoy your sugar-free almond milk latte (that's mine above) or coffee, or tea, or whatever! Take some time for yourself and just breathe in the books. Wander about the bookstore and find the perfect one for your mood or pick one on my list above.
Today I found myself perusing the military history section of the bookstore. Why? Well, why not? I love history, and read a lot of historical fiction, but sometimes the true stories are even more compelling. If I hadn't hung out in the military history section I might never have found The Woman Who Smashed Codes. Of course, you can do this section hopping on your phone or online too, I just happen to enjoy the luxury of doing it in a real bookstore!
So I challenge you! Try a new genre or section to choose your next read. You just might find your new obsession.