If you only have one day to experience Athens, don't worry! With the right plan, you can cover the city's main attractions, indulge in Greek cuisine, stroll through charming neighborhoods, and learn about its rich history. In this blog post, I've curated the perfect one-day itinerary for you to make the most out of your trip to Athens. From the world-famous Acropolis to local tavernas and markets, I'll guide you through Athens in a day to all its hidden gems and must-see landmarks. So pack your comfortable shoes, grab your camera, and let's explore this vibrant and historic capital of Greece. Get ready to explore Athens in a day!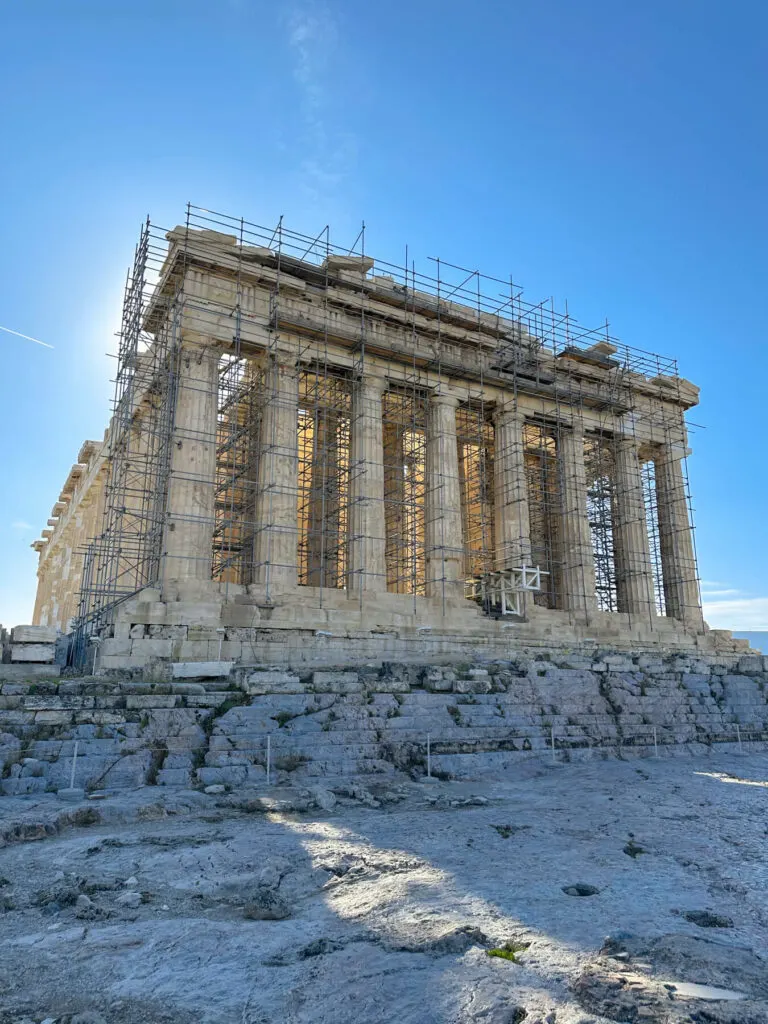 This post may include Amazon and/or other affiliate links. As an Amazon Associate, I earn from qualifying purchases.
Jump to menu
Itinerary Overview | Transportation | Breakfast | Acropolis | Visit Early | Acropolis Museum | Walks Tours | Roman Agora | Ancient Agora of Athens | Temple of Olympian Zeus | Greek Restaurants: Tavernas | Afternoon | Monastiraki Square | Psirri Neighborhood | Evripidou Street | Athens Central Markets | Archaeological Museum | Syntagma Square | Panathenaic Stadium | Evening | FAQs | Conclusion
After speaking with quite a few travelers on the subject, Athens is often a jumping off city for more explorations. That means you may only have a day or two there before heading to the Greek islands, the Peloponnese, or elsewhere. On my most recent trip, I only had a day in Athens, and I'm going to share exactly how to make the most of it!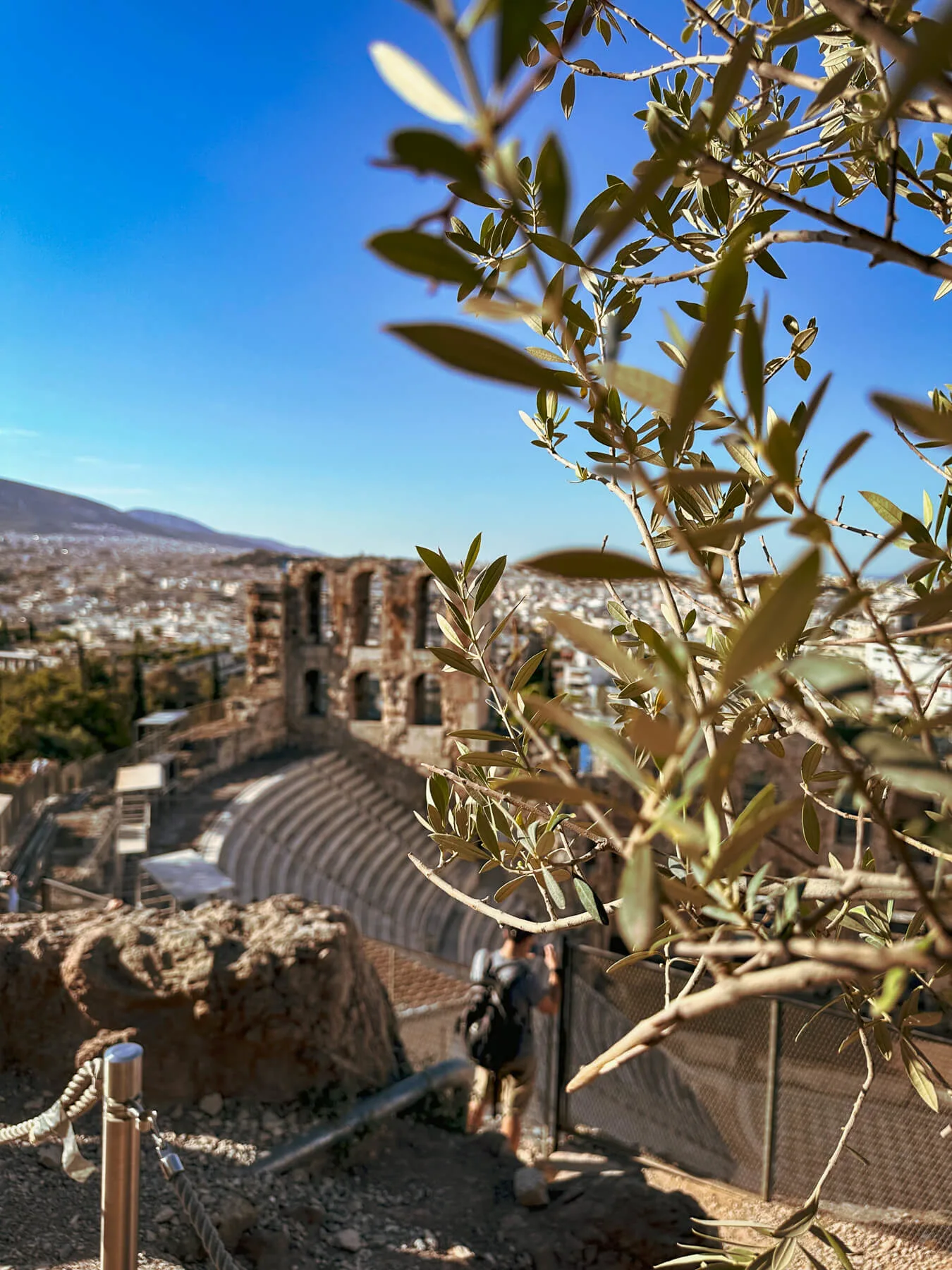 Overview Of One Day In Athens Itinerary
Morning
Start your day in Plaka, the oldest and most picturesque neighborhood of Athens. Explore its charming alleyways and admire the neoclassical buildings. Grab a coffee or a light breakfast from nearby cafes before heading to meet your tour guide or go directly to the Acropolis. At the Acropolis, you will visit the sacred Parthenon, the Propylaea, and other monuments.
Mid-day
After exploring the Acropolis, have lunch in one of the charming restaurants or tavernas in Plaka. Indulge in some classic Greek dishes like moussaka and tzatziki before taking a leisurely stroll to Monastiraki, a lively district of Athens near the Acropolis. Here you can shop for souvenirs at the bazaar and soak in the atmosphere of this vibrant district.
Afternoon
Spend your afternoon shopping and exploring more neighborhoods, or visit some of the most famous sights in Athens such as the Parliament Building, Syntagma Square, and the National Archaeological Museum.
Evening
After a day of sightseeing, head to Thission for dinner and drinks. This is one of the oldest and most popular neighborhoods in Athens where you can enjoy traditional Greek food, get lost in its charming cobbled streets, and experience authentic Athenian nightlife.
End your evening with a visit to one of the many rooftop bars for a magnificent view of the night lit Acropolis.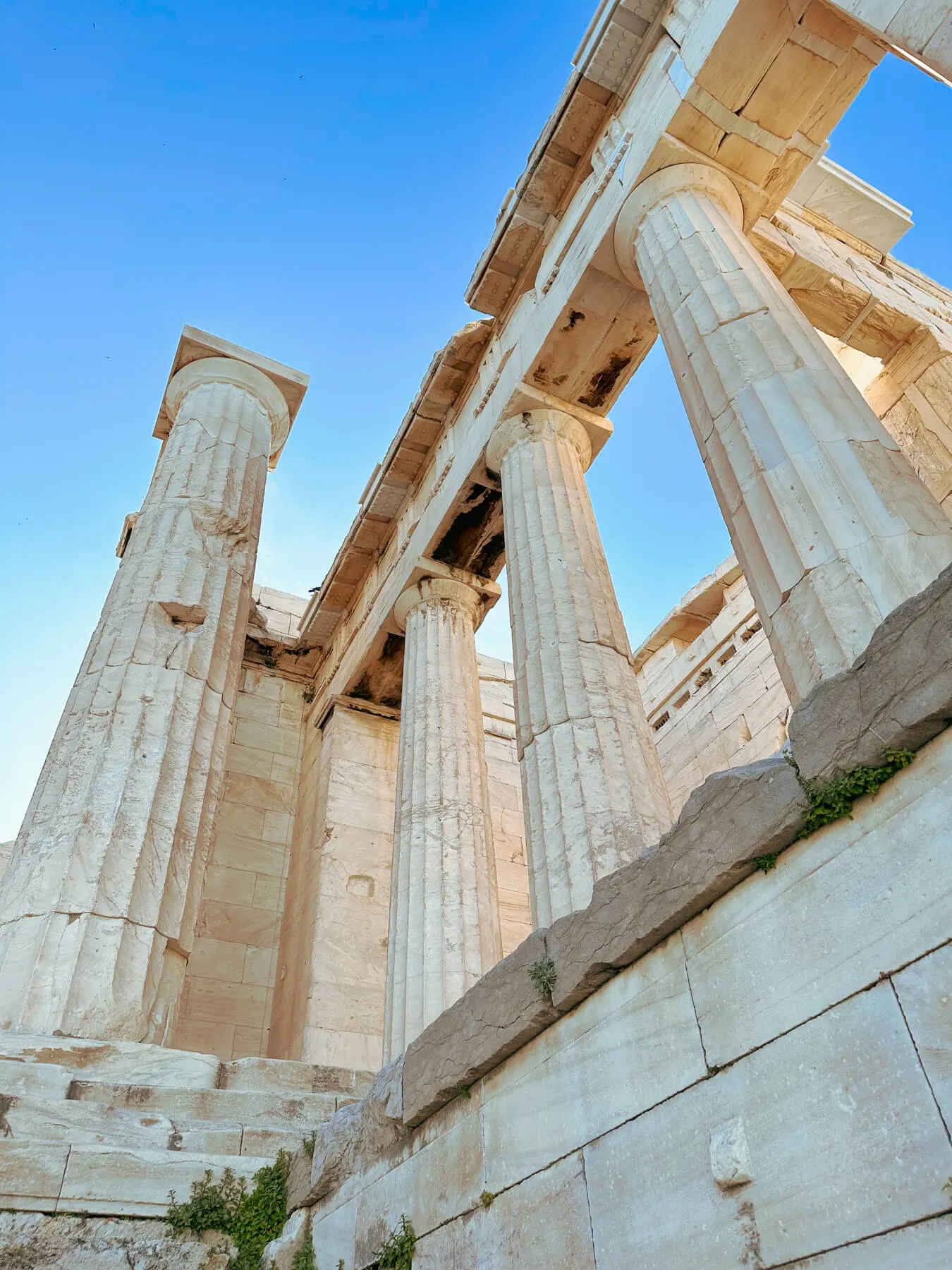 🚌 General transportation around Athens
Athens is a pretty easy city to get around if you know what's available! A good way to get around is by using the Athens metro, which takes you almost anywhere in Athens.
Taxis and buses are also available, but make sure to have coins or small bills on hand as they don't accept credit cards. If you need to use a credit card, Uber was a good option at the time of my last visit.
🛩 From the Athens International Airport
When coming from the airport, there are clearly marked signs to the official airport taxi line. Again, for this option, you will need cash. Also, as taxi drivers have to wait in line for quite a while to pick up a fare, be prepared for grumbling if you're not going to the city centre or very far from the airport.
You can also take the metro from the airport, but this takes much longer than getting a taxi.
Sometimes it can be a good idea to rent a car, although parking in the city centre can be difficult. Personally, I like to rent a car when leaving the city for the Peloponnese and to see the nearby archaeological sites, but I'm not a fan of driving in town. 😬🚗😂
Walking is also a great option once you're in the city centre, as most attractions are within walking distance.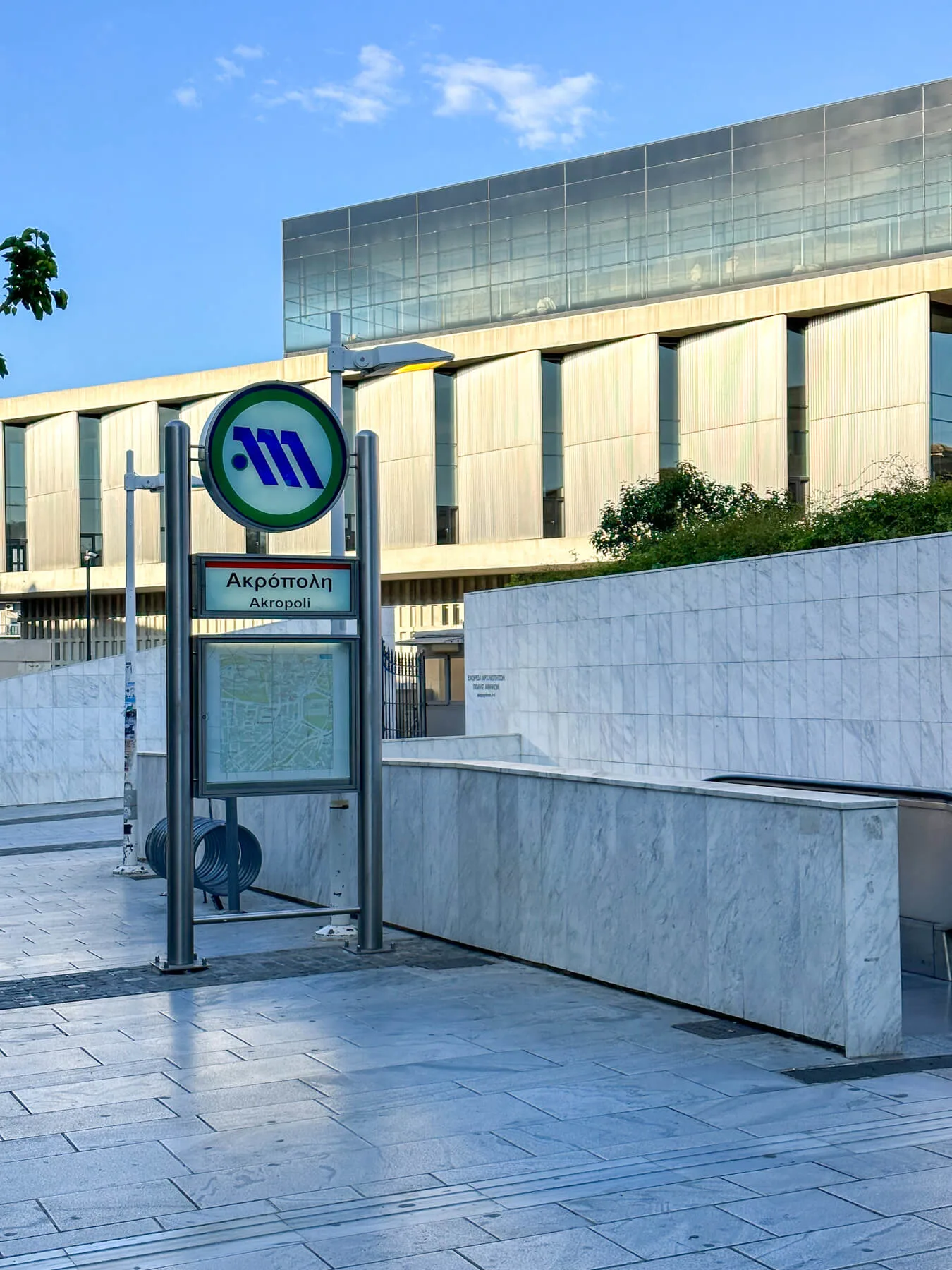 🍳 Start your Athens in a day itinerary with a hearty Athenian breakfast
Begin early and grab a traditional Athenian breakfast of bougatsa pastry and coffee, or if you prefer gluten free I love the strapatsada, an egg dish with tomatoes and feta cheese. Delicious Greek food is always a good option in my book when traveling! Any time you travel, if possible, do indulge in the local dishes and learn about the culture through food.
However, for your early breakfast, make sure you enjoy it before you want to be at the Acropolis when it opens to avoid the crowds.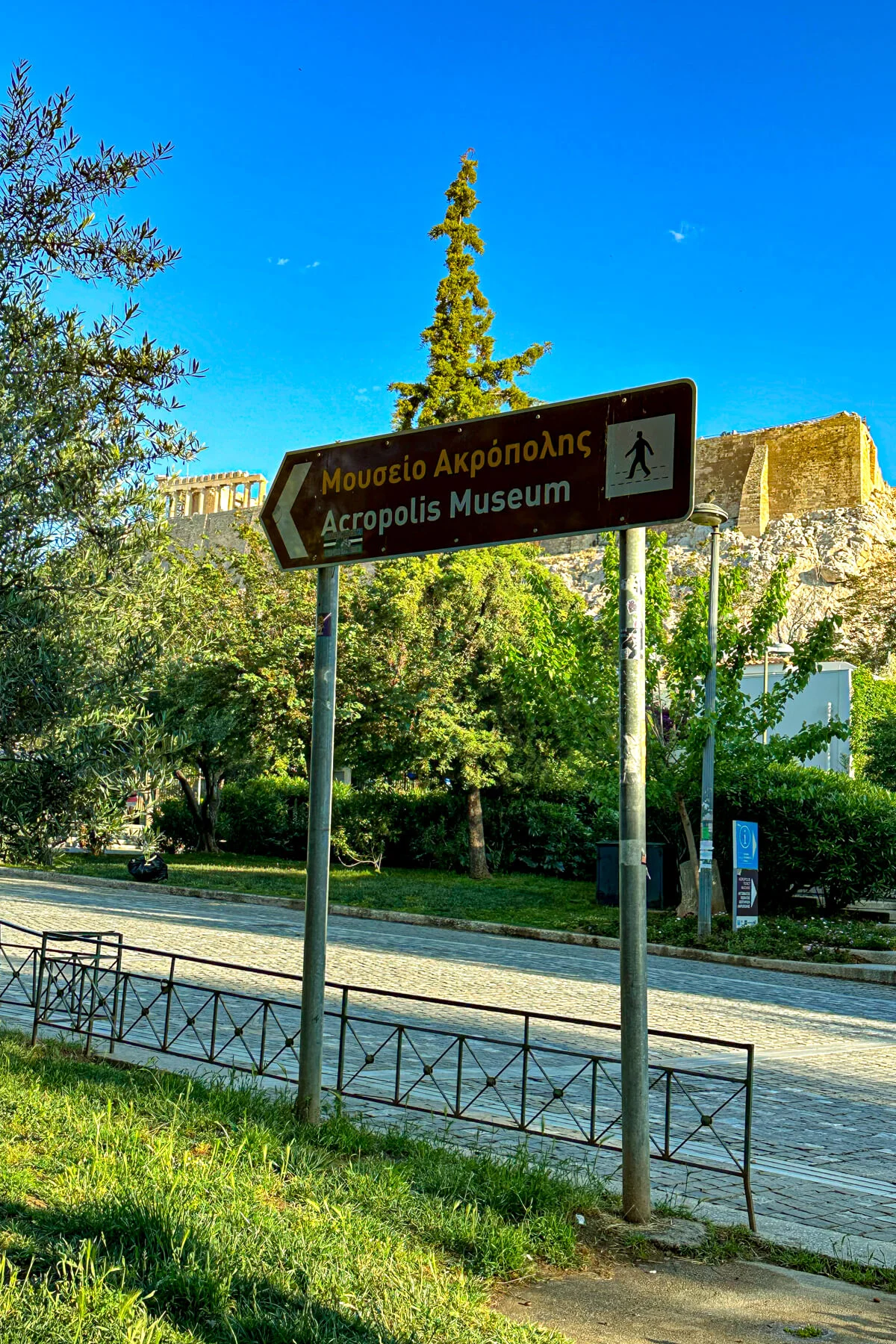 🏛 What is the Acropolis?
First of all, what is the Acropolis?
The Acropolis is an ancient citadel built in the 5th century BC high above the city atop the Acropolis Hill. It was built to be the home of the city's patron goddess Athena after she won the contest for the people's favor over Poseidon. That's why the city is named Athens!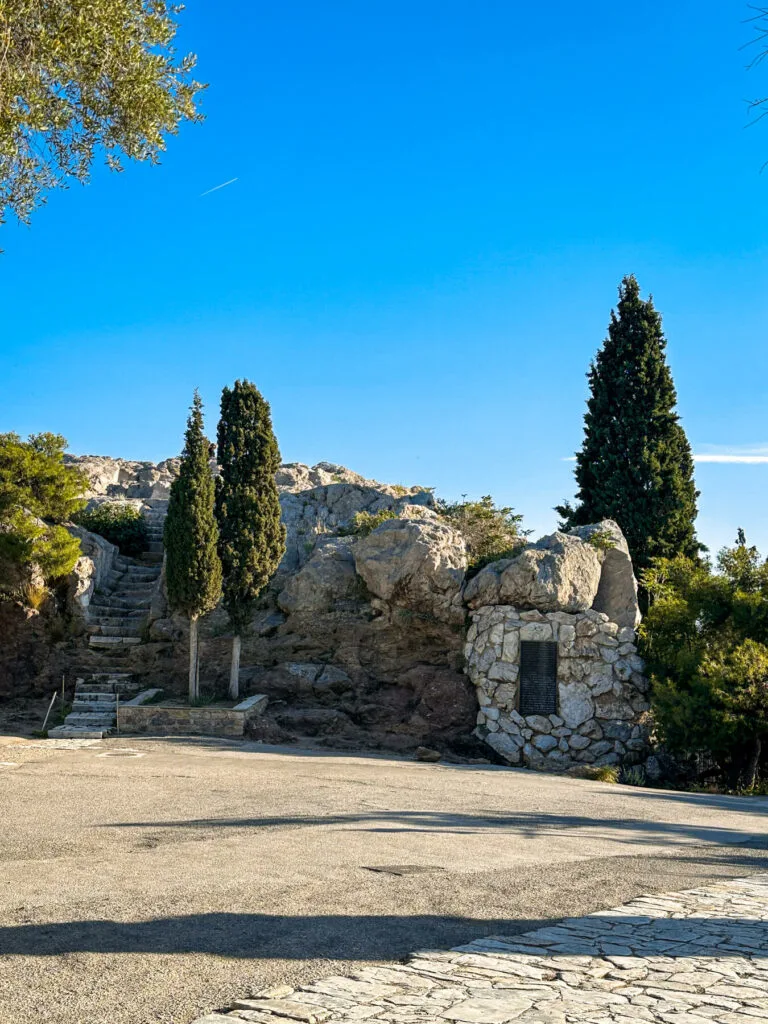 Now, the Acropolis Hill is a symbol of Greek history and culture and home to some of the most iconic monuments in Athens such as the Parthenon, Erechtheion, Propylaea, and Temple of Athena Nike. In addition, the Acropolis Hill is a UNESCO World Heritage Site. You will also see Mars Hill where the Apostle Paul gave his famous sermon recorded in the Bible.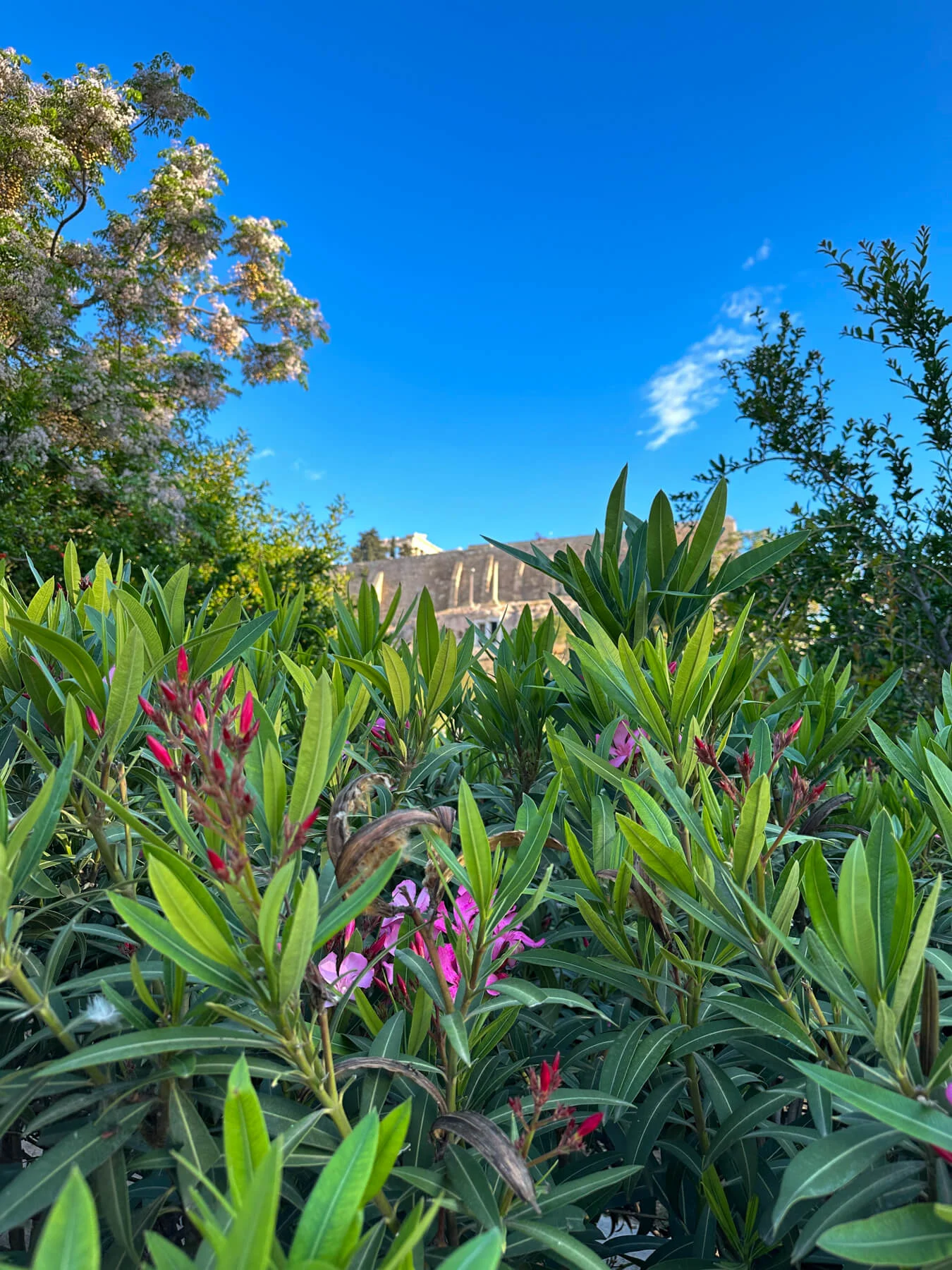 Visit the Acropolis before the crowds with Walks Tours
I recently had the pleasure of embarking on the Pristine Parthenon Walking Tour with Walks Tours, and it was truly an amazing experience. From skipping the long lines to the Acropolis and the New Acropolis Museum to exploring the stunning ancient structures and exhibits, this guided tour really did exceed my expectations.
If you choose to go on your own or with a tour, either way, I highly recommend getting skip the line tickets beforehand and going just as it opens.
So, what made this tour so exceptional? Let me highlight the top three things that stood out to me, and why I loved every minute of it.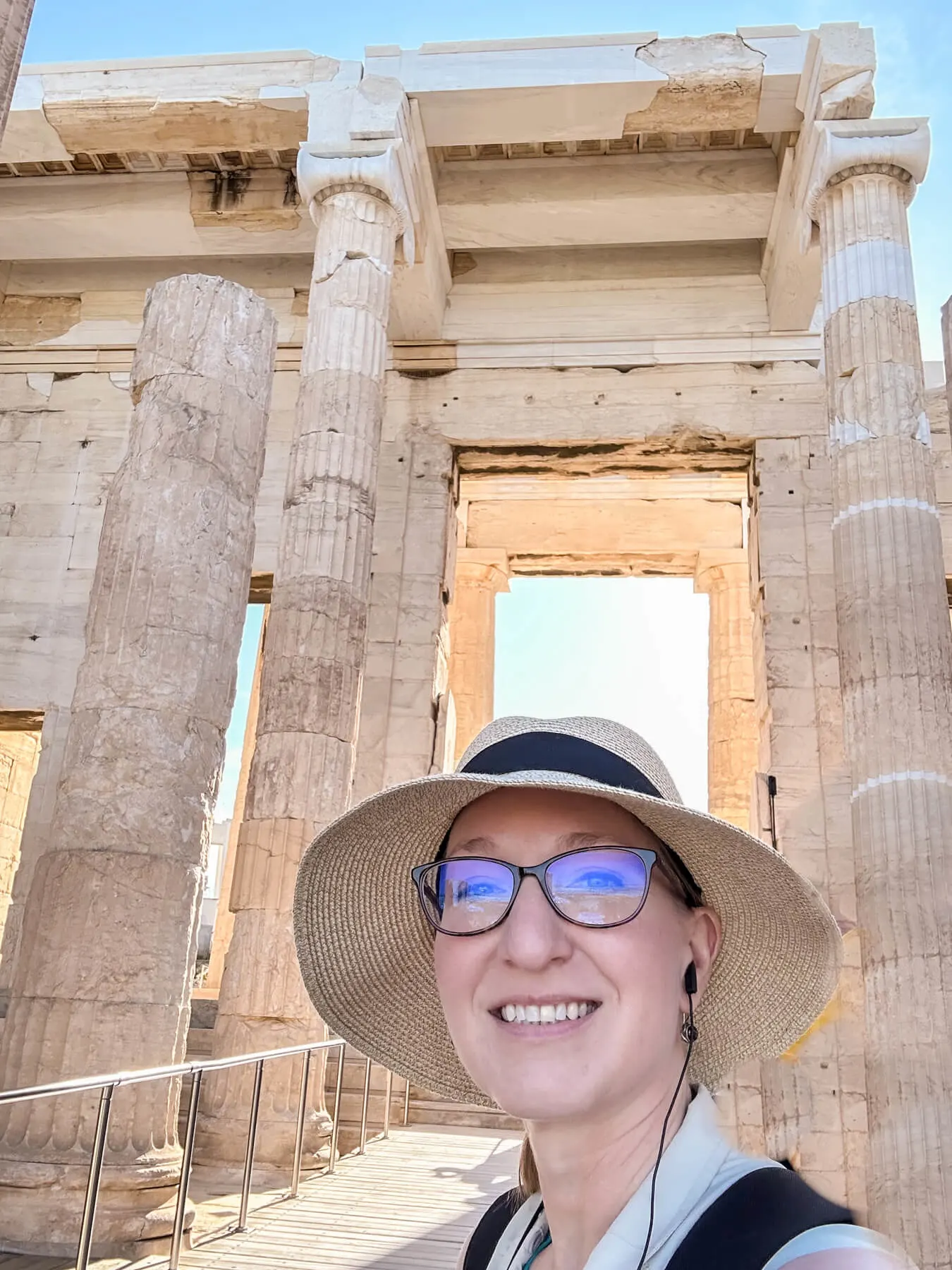 1. Early, skip-the-line Acropolis tickets – yes, please!
First and foremost, the ability to see the Parthenon before the crowds by using skip the line, first-entry tickets, and following the special itinerary was a game changer. As someone who typically dislikes large crowds, this was especially appreciated. To stand atop the Acropolis and take in the breathtaking views of the city without feeling rushed or crowded was a serene experience that I won't soon forget.
I was grateful to be there early because, make no mistake, the crowds came later, even with it being May and without several of the normal cruise ships in the harbor.
2. Local guide
Secondly, exploring the Acropolis with an expert local guide was a true treat. Our guide was incredibly knowledgeable and passionate about the structures we were seeing and provided fascinating historical context that I wouldn't have found on my own.
I also loved that she pointed out her primary school on the way and described how her teacher would take her students weekly up Acropolis Hill and conduct class at any one of the many ancient sites. How lucky was she to grow up there??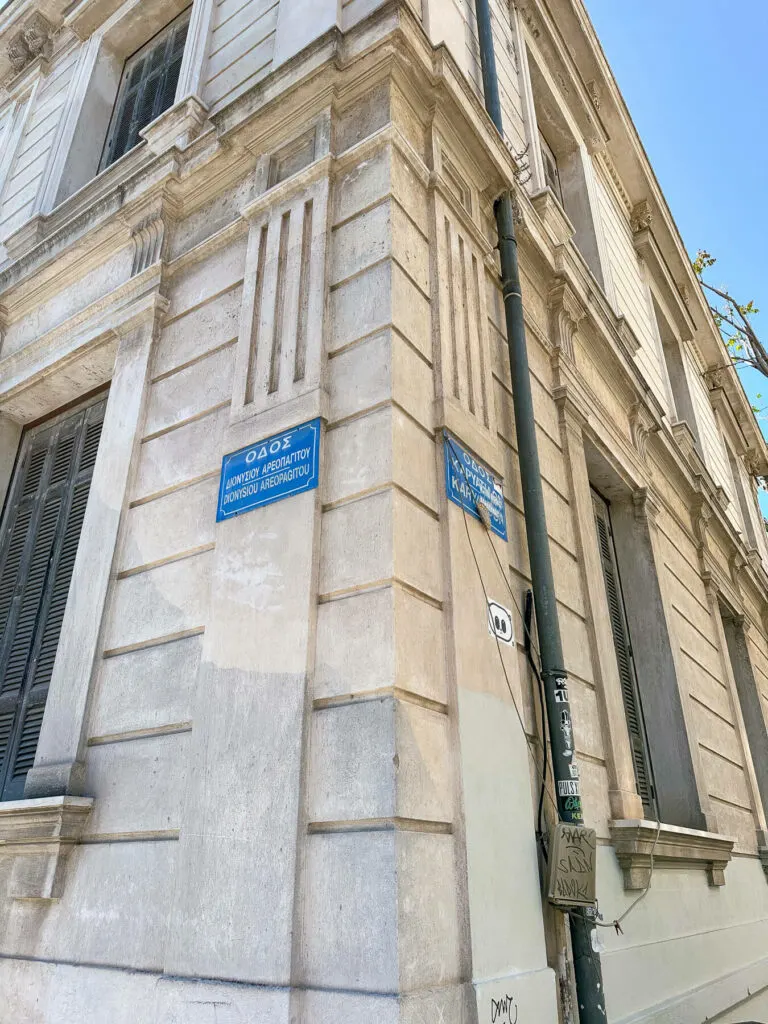 From the Monumental Gateway and Erechtheum to the Theater of Dionysus and Herodes Atticus, I felt like I was truly getting the most out of my visit to this iconic landmark.
3. Skip the line Acropolis Museum tickets
Lastly, the skip the line access to the New Acropolis Museum was a highlight in itself. Being able to see the original Parthenon Marbles up close and personal, as well as the Caryatids and underground excavations, was a dream come true for any history buff. And yes, history was one of my college majors, but that's another story in itself.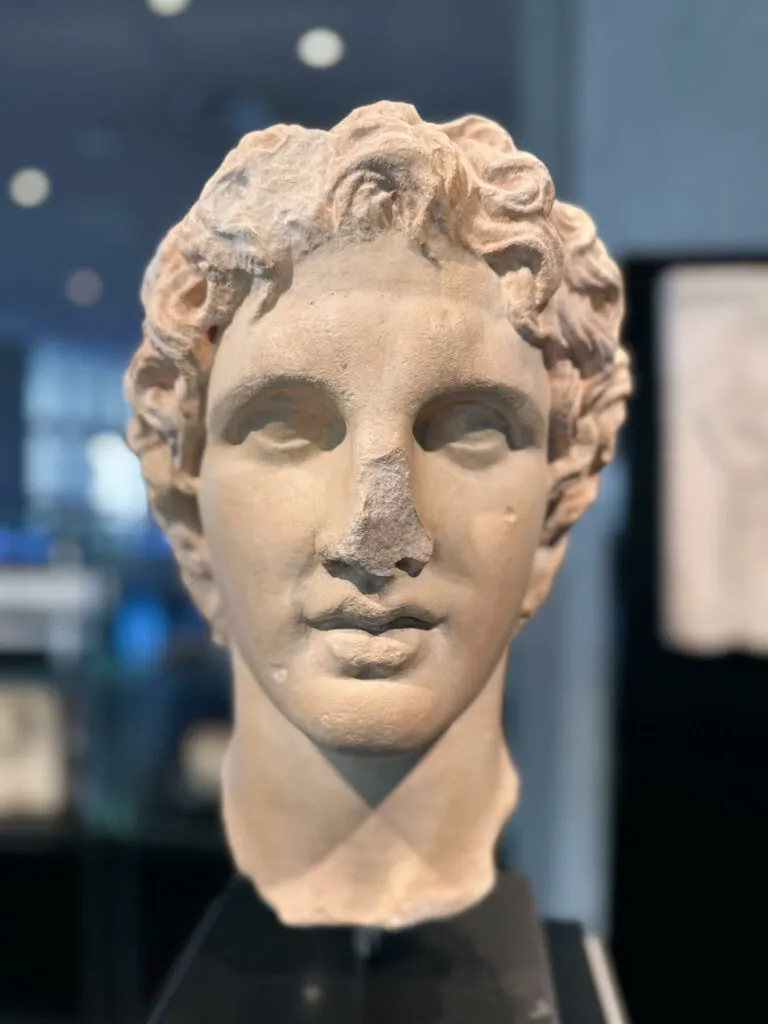 The museum building is a feat of modern architecture, with massive glass walls and an aesthetically pleasing design that perfectly pairs with its artifacts.
All of these factors combined made for an unforgettable experience at the Acropolis. And I'd be remiss not to mention that the all-inclusive tour tickets meant that I didn't have to worry about figuring out additional costs – everything was taken care of for me.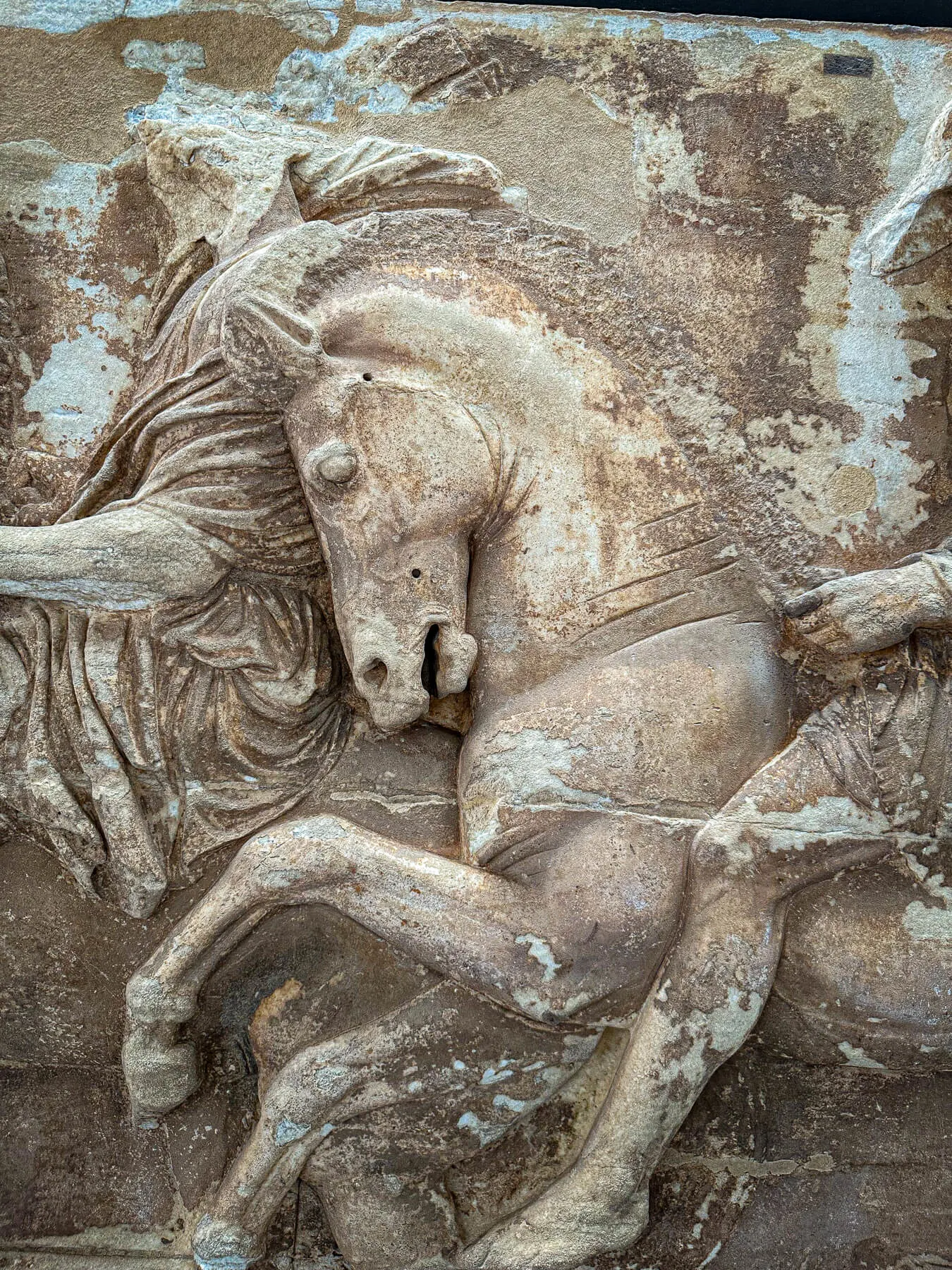 Key Acropolis sites
Here's a list of the sites on the tour or ones you should definitely visit if exploring on your own:
Acropolis
Parthenon
Erechtheum
Monumental Gateway
Temple of Athena Nike
Theater of Dionysus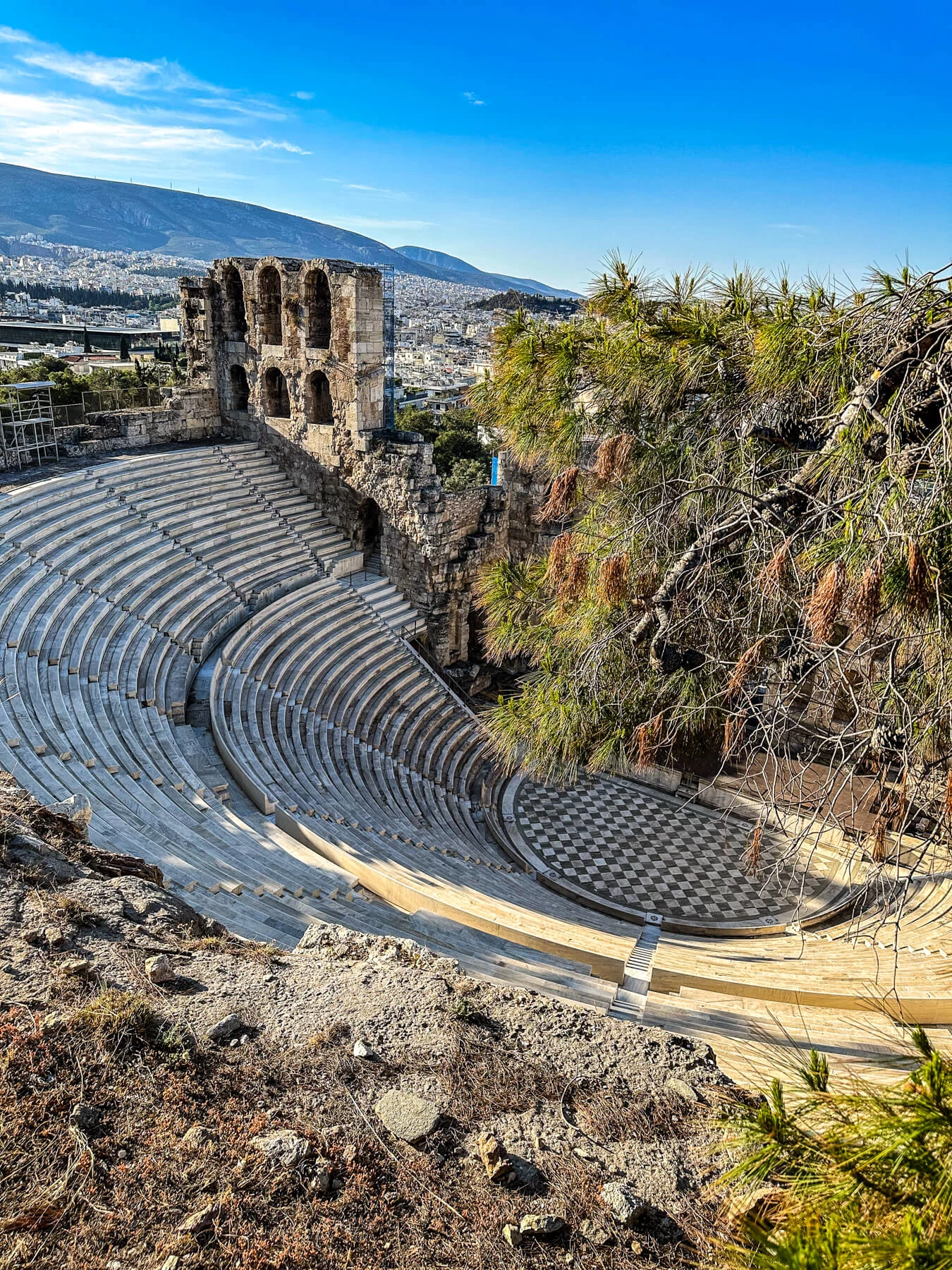 Theater of Herodes Atticus
New Acropolis Museum
Underground excavations
Parthenon Marbles
Caryatids
Finds from the slopes of the Acropolis
In summary, if you're looking for a truly pristine and special experience at the Acropolis, the Pristine Parthenon Walking Tour with Walks Tours is perfect when trying to get the most out of only one day in Athens. From skipping the crowds to exploring the structures and exhibits with an expert guide, I can't recommend this tour enough.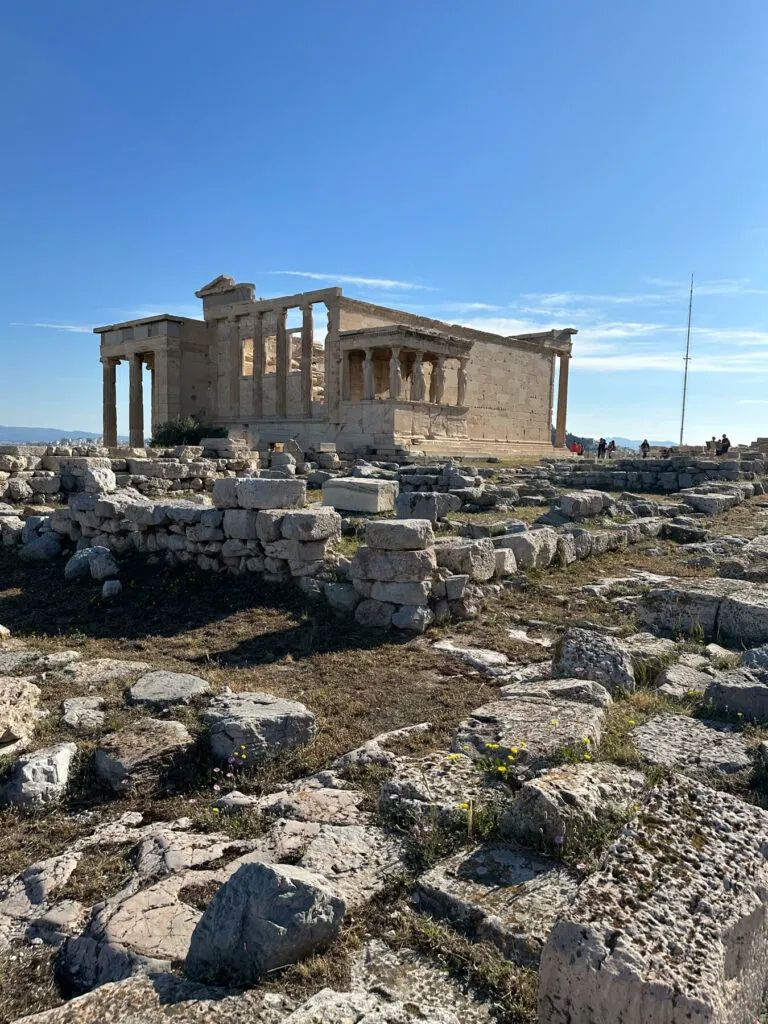 Walks Tours
There are longer tours you may wish to take, full day tours or others, but you may also want some time to explore on your own. You can browse the various Athens Walks Tours here.
I have to say, I'd really like to go back and try out their 4-hour Ultimate Athens Food Tour! Because, if you're like me, trying all the local foods and dishes is a huge part of learning about the culture and half the fun!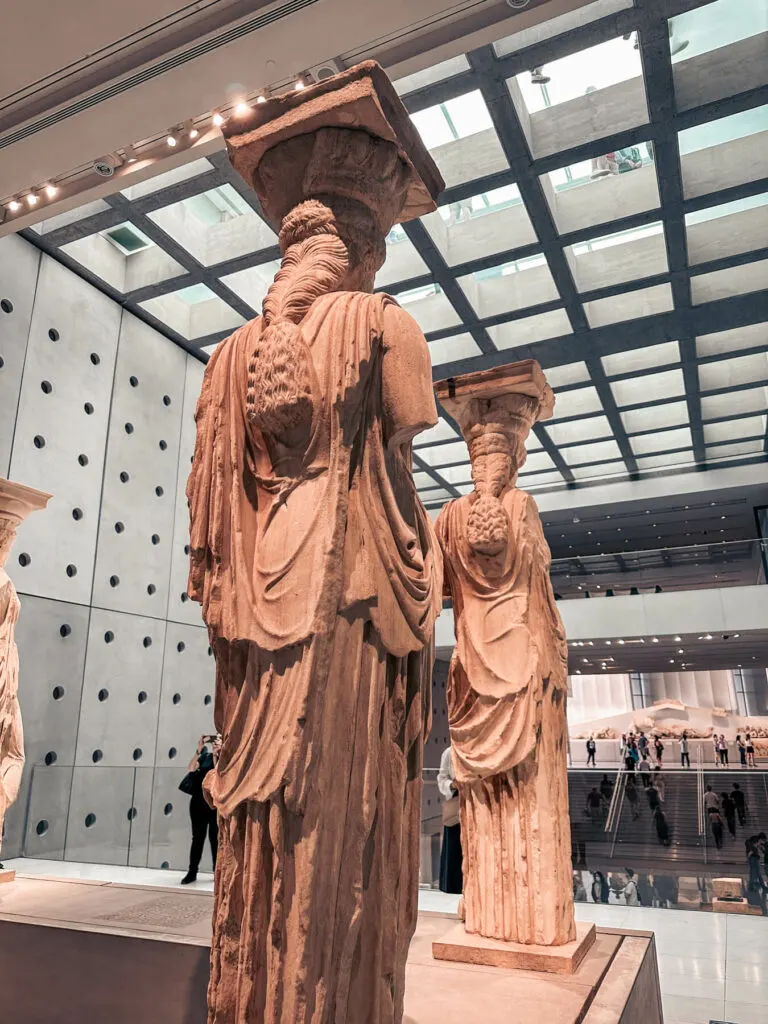 Stop by the Roman Agora
After your visit to the Acropolis, be sure to take a walk down to the Roman Agora. This ancient market and center of life during its heyday was an important gathering place for Athenians. The ruins are scattered around Plaka and it's especially interesting to see/imagine how everyday life looked centuries ago in ancient Greece.
Ancient Agora of Athens
The Ancient Agora of Athens, located northwest of the Acropolis, is within walking distance and also worth a visit. This was the political and commercial center of ancient Athens and it's fascinating to see what remains – from temples and shops to fountains and stoas (the ancient long narrow buildings with columns).
Be sure to check out the Temple of Hephaestus, one of the best-preserved temples in Greece, as well as the Stoa of Attalos, a reconstructed 2nd century BC building that houses the Museum of Agora Excavations.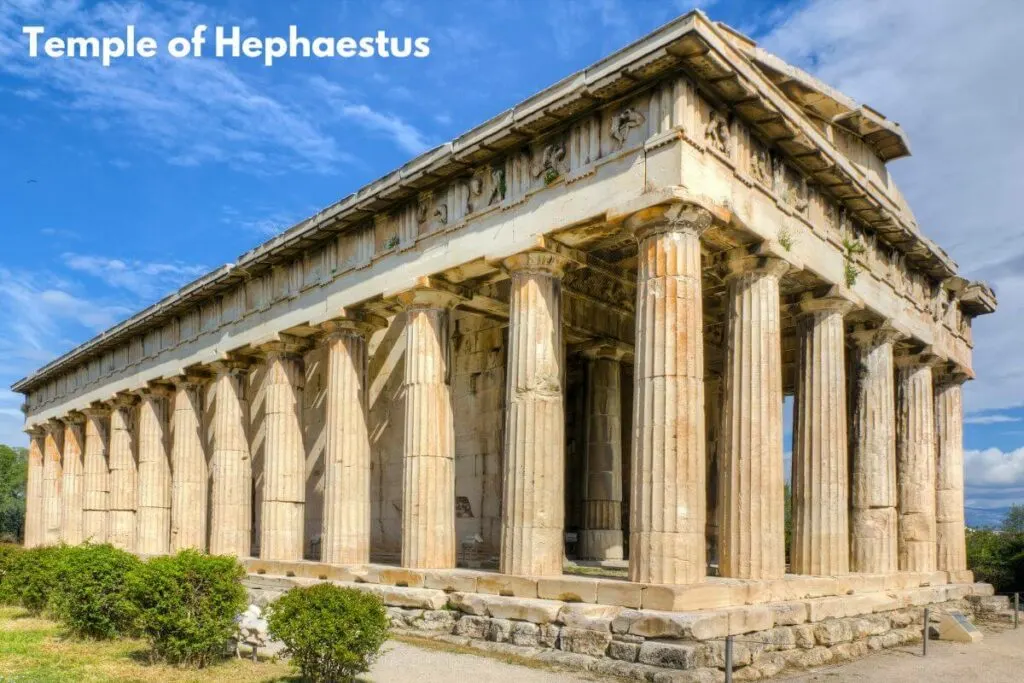 Temple of Olympian Zeus
On your way back, don't miss the Temple of Olympian Zeus. This former temple to the king of gods was eventually completed by Hadrian in 131 AD and is an impressive site. Although only 15 columns remain standing as ancient ruins today, you can still easily imagine what it must have looked like when glorious and complete.
🥘 Indulge in a Greek feast at a local taverna: restaurant recommendations
I have lots of other recommendations for things you can do to explore Athens with your day, but even if you don't get to everything else or want to take things slower, be sure to eat well! I always recommend you make a point to enjoy at least one traditional meal in a local restaurant, or in the case of Athens, a taverna.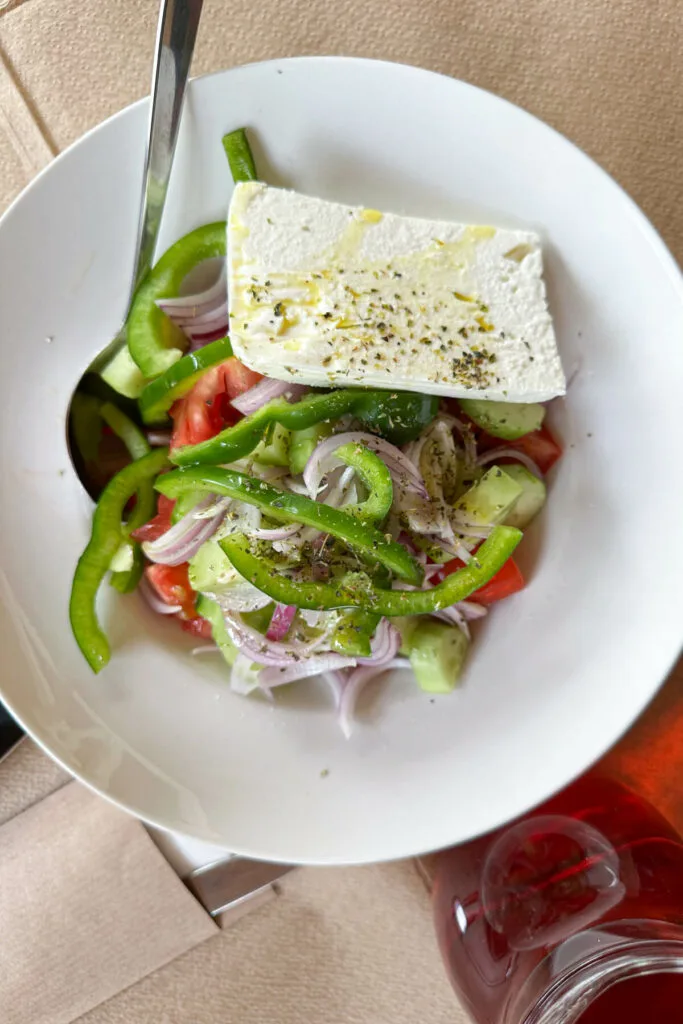 Athens is known for its rich cultural and historical significance, and not to forget its delectable cuisine! Traditional tavernas steeped in history and authenticity are the perfect way to experience the true taste of Athens. Here are 5 suggestions for traditional tavernas to visit while in Athens (or find your own gem and tell me about it!):
To Kafeneio
The charming Kafeneio Taverna in the heart of Plaka has a warm and inviting atmosphere that will transport you to a different era. The menu boasts traditional dishes with a modern twist, and the food is made with fresh, local ingredients. Try their delicious moussaka and lamb chops, and wash it down with a glass of local wine.
Ta Karamanlidika tou Fani
Enriched with history and tradition, the Ta Karamanlidika tou Fani Taverna located in the historic center of Athens provides the guests with a culinary experience like no other. The menu boasts of a variety of cold meat platters, cheeses, and traditional cured meats, all accompanied by a variety of sauces made from locally sourced ingredients.
Psaras
This family-run Psaras Taverna has been serving authentic Greek cuisine for over 100 years. Located near the picturesque area of Thissio, the menu offers an array of traditional Greek dishes, including their famous grilled fish, cooked to perfection.
Byzantino
If you want a traditional dining experience with a side of entertainment, Byzantino is the place for you. This taverna offers live music and dance performances every evening, while you savor their delicious grilled meats, fresh seafood, and traditional plates such as stuffed peppers and tomato keftedes.
Diporto Agoras
This hidden, non-touristy gem is located in the bustling central market of Athens. Diporto Agoras is more of a dining experience than a regular taverna, as it has an underground alley location that dates back to the early 20th century. The menu includes traditional Greek dishes cooked to perfection, such as meatballs in tomato sauce, moussaka, and stuffed vine leaves. The atmosphere is also unique, and you can see locals chatting away over their meals, adding to the overall authentic experience.
Whether you're looking for a cozy spot to sip on wine, or a lively atmosphere with live music, visit at least one of these tavernas in Athens to leave you with a lasting impression of Greek hospitality and cuisine.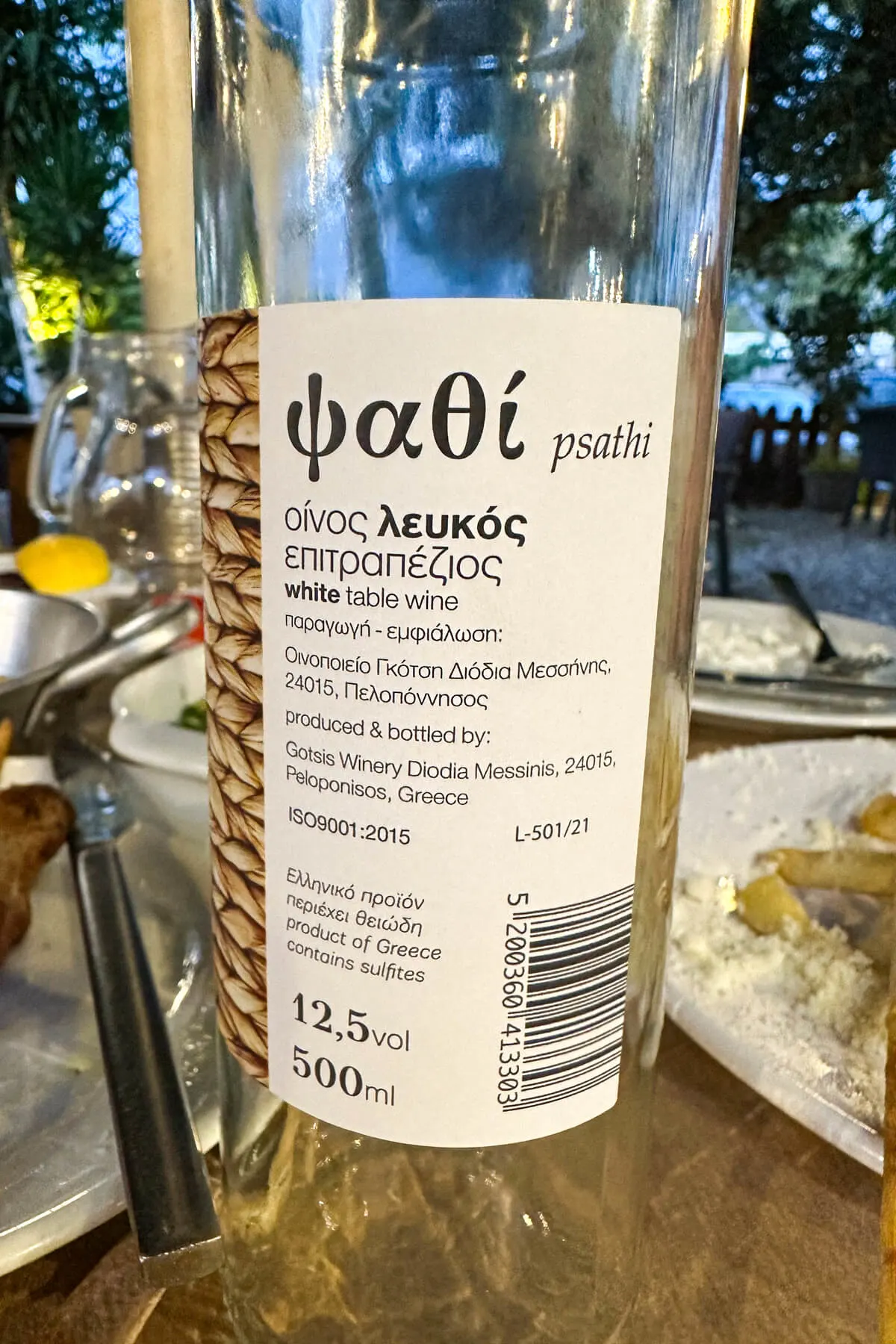 Afternoon
As you only have one day, pick and choose what most interests you! Here are some of my favorite options to include in a one day Athens itinerary.
Monastiraki Square in Athens
Monastiraki Square in Athens is a great place to spend the afternoon. Just a short walk from the Ancient Agora of Athens, or the Acropolis, this square is full of vendors selling souvenirs, handicrafts, and traditional Greek food. Stroll around the flea market, take pictures, and watch the world go by as you soak up the local atmosphere.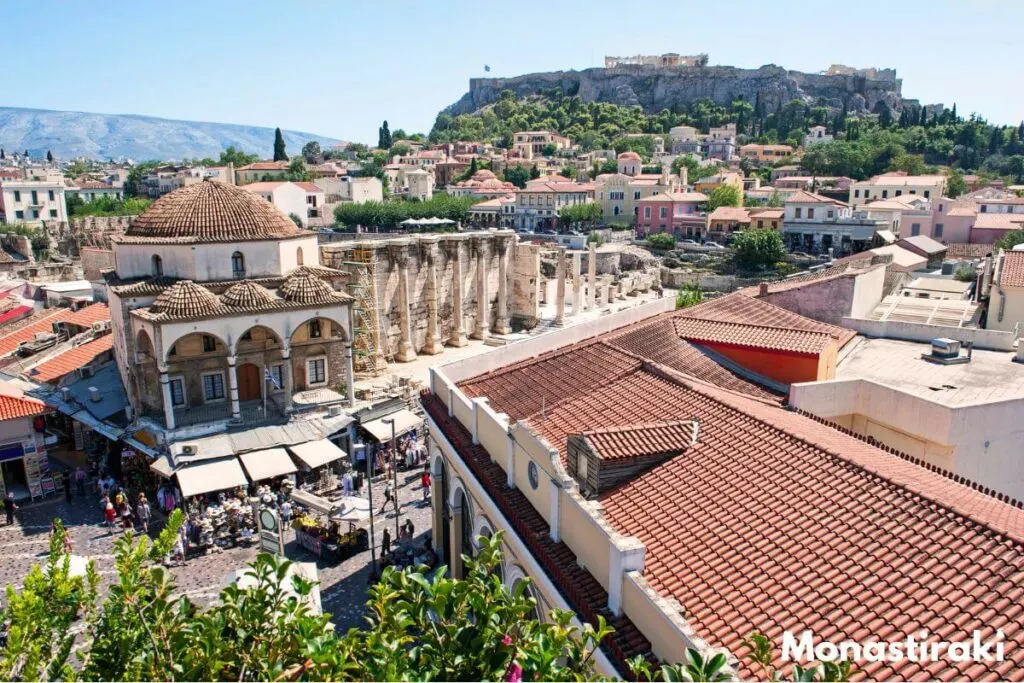 Check out the street art in Athens – Psirri neighborhood
The Psirri neighborhood in Athens is known for its vibrant street art. Just a couple of minutes walk north of Monastiraki, check out the work of local street artists, learn about their stories, and take some photos to capture your day while you walk toward Evripidou Street.
Browse the eclectic stores of Evripidou Street
For the shoppers, Evripidou Street is a lively area full of eclectic stores and small boutiques. From vintage finds to handmade items, you're sure to find something special just a 5-10 minute walk north of Monastiraki Square. And if shopping isn't your thing, have a snack or coffee at one of the many cafes located on this street.
Browse the Athens Central Markets
From Evripidou Street, it's only about a 3 minute walk to the Athens Central Market (Varvakios), the perfect place to visit if you want to get an authentic taste of traditional Athenian culture. From fresh fish and locally-sourced produce to unique souvenirs and handmade goods, the market has something for everyone.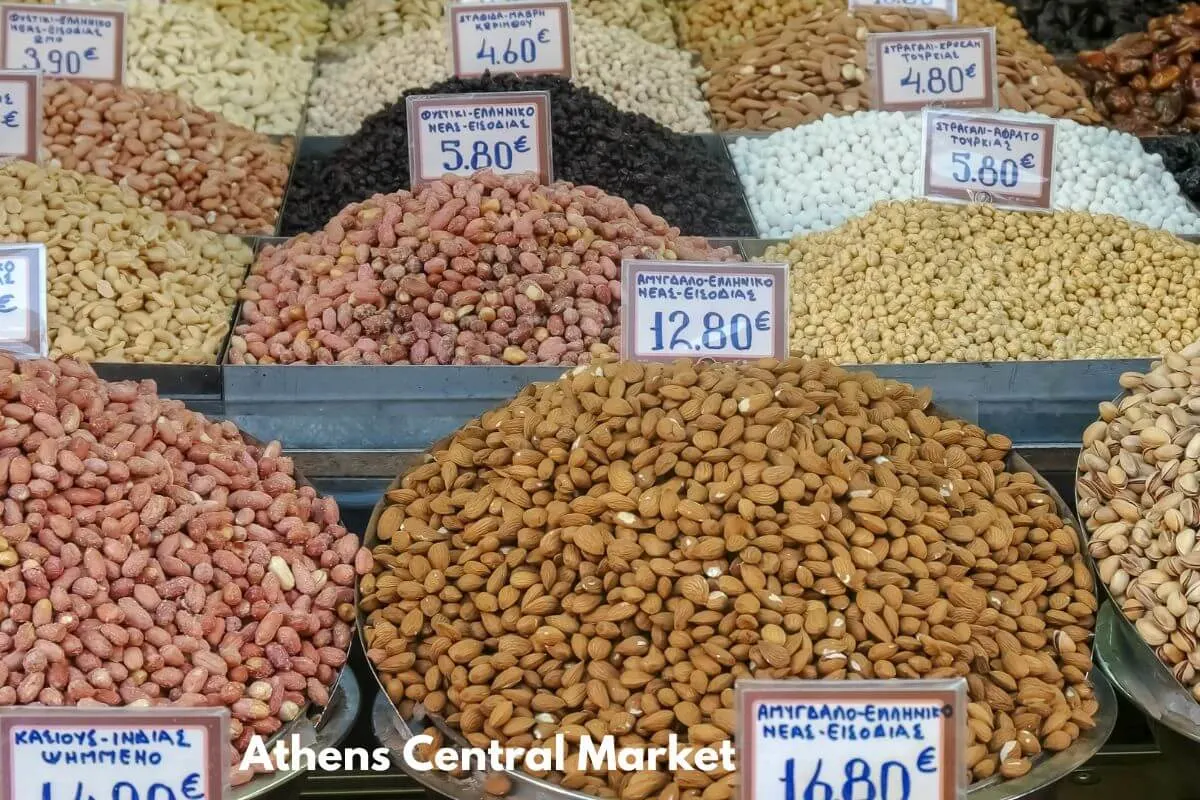 Visit the National Archaeological Museum
The National Archaeological Museum of Athens houses some of the most important archeological artifacts from Greece's past. Visit the museum to learn more about history, culture, and mythology. Generally, I would visit this museum only if you have more than one day, but it's up to you! If you would rather not walk around the squares and markets, then the museum is a good option instead.
Syntagma Square, the Greek Parliament Building, and the Evzones – An Athens must see
If you're looking to get a full view of Athens, then Syntagma Square is the place for you! This vibrant and bustling plaza is home to the Parliament building, several monuments and statues, and most notably, the Evzones. Every hour on the hour (except at night) the royal guard changes in an elaborate ceremony that's definitely worth seeing.
Another popular option: The Panathenaic Stadium
The Panathenaic Stadium is the home of the first modern Olympic Games in 1896. It's definitely worth a visit to see this iconic white marble stadium and take photos from different angles. This will also give you an insight into ancient Greek architecture, and make for some beautiful sightseeing.
Evening option one: A Greek bouzoukia
Experience the nightlife of Athens with a visit to a popular Greek bouzoukia club. Here you can expect live music, dancing, and singing until the early hours of the morning!
Or also, in downtown Athens or the city centre, you will find many rooftop bars giving you modern day Greece paired with the old as you have great views of the Acropolis. The popular Thission neighborhood also has tons of cafes, bars, and a thriving nightlife.
Evening option two: strolling through central Athens
As the sun sets, there's no better way to end your day than by strolling through central Athens. Make sure to wander down cobbled streets and explore all the hidden gems that the ancient city has to offer. After your day of exploration and adventure, end it all with a meal at one of the many tavernas in Athens. Enjoy a traditional Greek feast and get a taste of the local hospitality!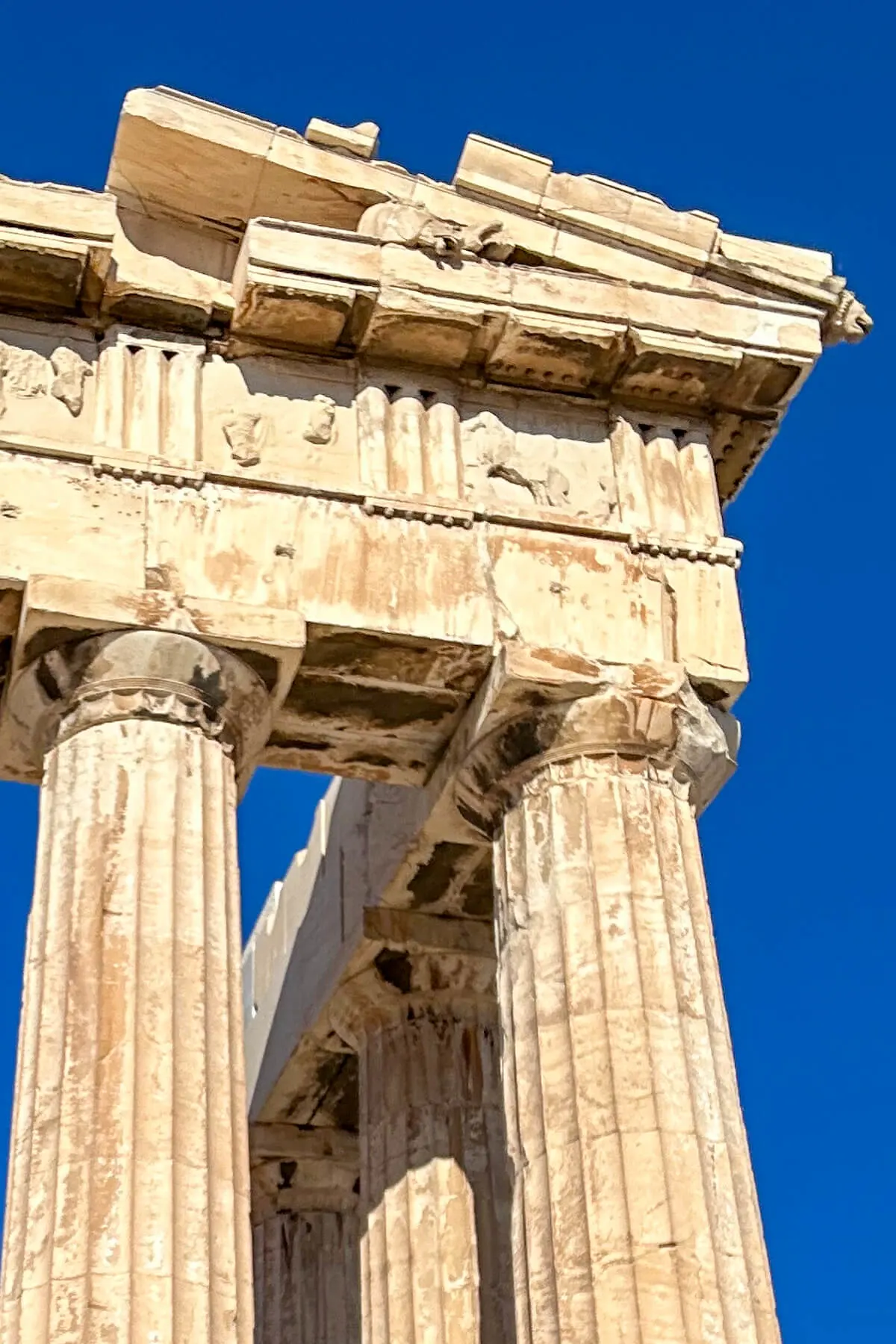 FAQS
What is the best month to visit Athens, Greece?
The best time to visit Athens is from April to May or September to October. During these months the weather is mild and the crowds are slightly smaller, making for a more enjoyable experience.
What is the best way to get around Athens?
The public transportation system in Athens is quite good, with buses, trams, and subway lines that can take you to the city center or from one side of the city to the other. Alternatively, there are plenty of taxis available as well, just have cash if you flag one down or book with Uber or another app to use a credit card.
What are the most significant cultural monuments in Athens?
The most significant cultural monuments in Athens include the Acropolis, the Parthenon, and the Temple of Olympian Zeus. Make sure to put these on your sightseeing list if you're visiting!
Are there any museums I should visit in Athens?
Absolutely! There are plenty of museums that are worth seeing when you're in Athens, such as the National Archaeological Museum of Athens, the Acropolis Museum, and the Benaki Toy Museum. Or check out some of the more offbeat museums like the Byzantine and Christian Museum, the Museum of Modern Art, or the Ilias Lalaounis Jewelry Museum.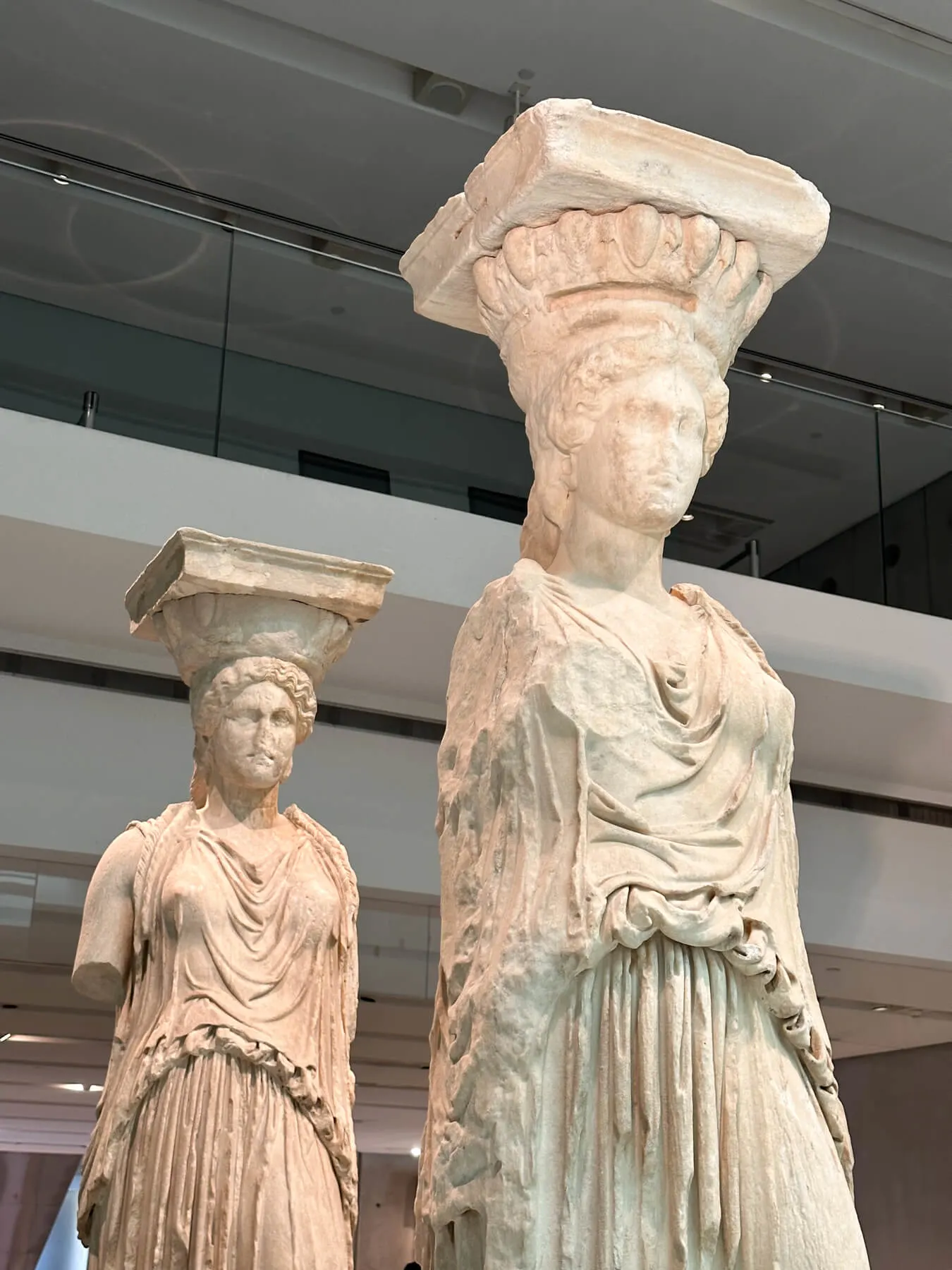 What kind of food should I try in Athens?
Greek cuisine is known for its delicious variety of dishes. Make sure to try some souvlaki, dolmades (stuffed grape leaves), moussaka (eggplant casserole), and oh the Greek salads!! YUM! It's also nice to go to a cafe after the taverna to get a cup of coffee or something sweet to finish off your meal!
One day in Athens: Where to stay?
If you're visiting Athens for only one day, you'll want to stay somewhere central so you can make the most of your time. There are plenty of hotels in the city center that are close to attractions like Syntagma Square and the Acropolis. Additionally, there are lots of Airbnb options available if you prefer a more local experience. I most recently had an awesome experience with the Acropolis Stay apartment!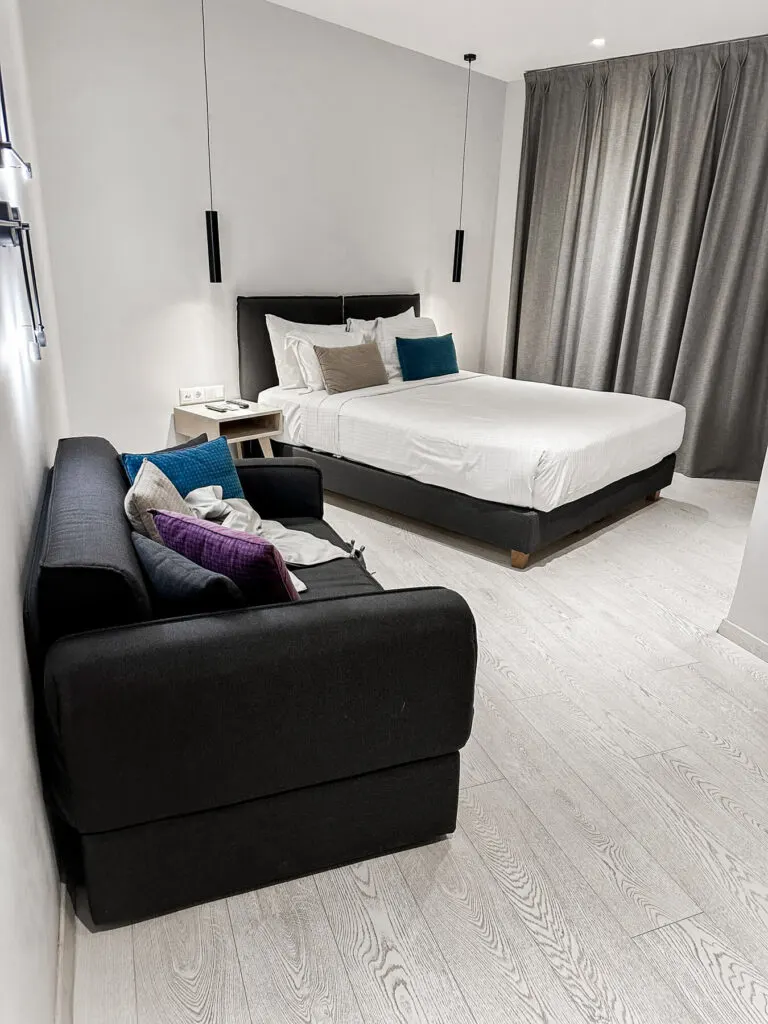 What's the best way to spend half a day in Athens?
If you only have HALF a day to spend in Athens, I would definitely do the Pristine Parthenon Walks Tour. It's three and a half hours and you will see the Acropolis and ancient sites around the Parthenon and end in the Acropolis Museum. From there, find a local taverna to enjoy before you leave the city!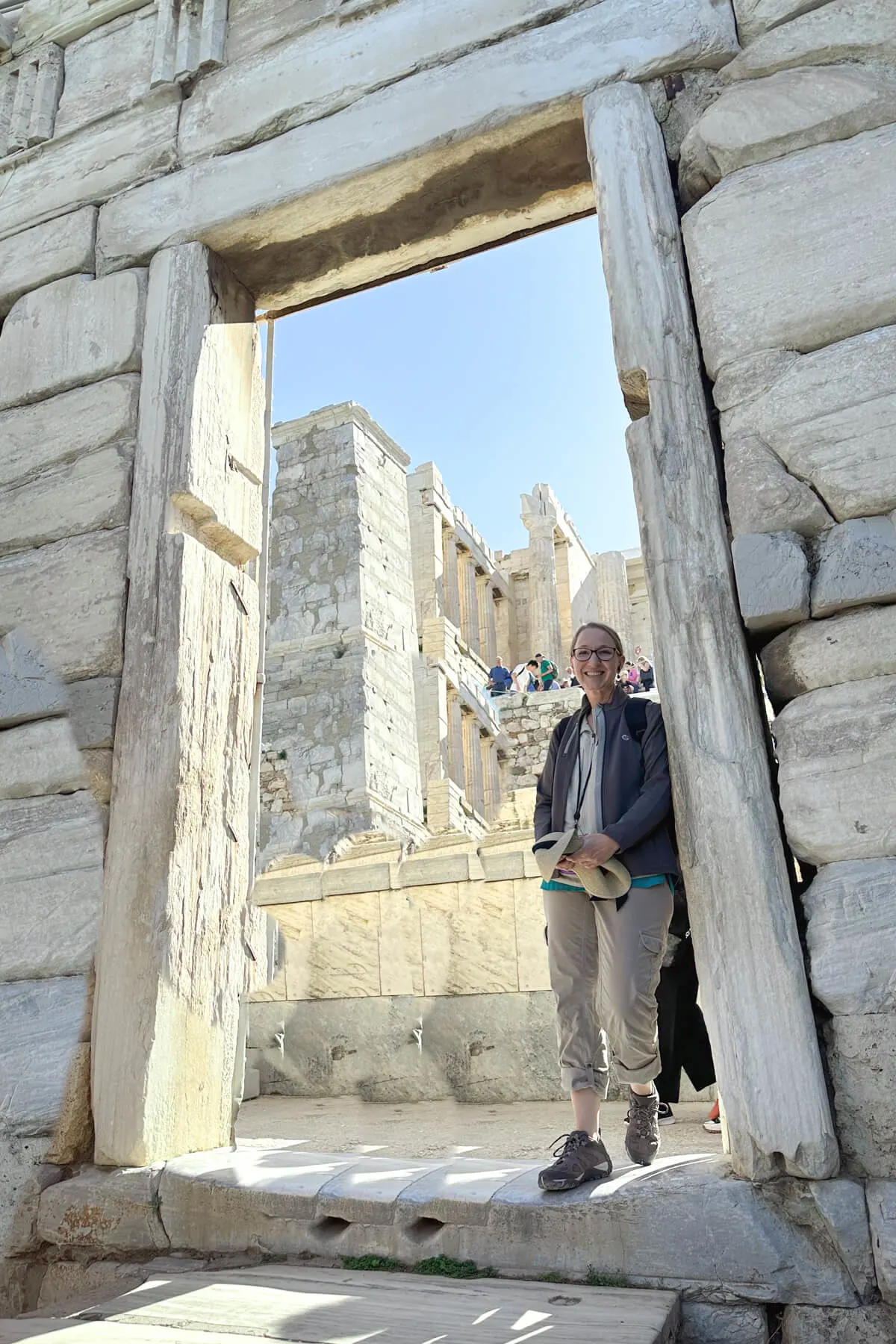 Conclusion: It's time to go to Greece!
It is so hard to decide exactly what to do in Athens in one day!
No matter what you decide to do in Athens during your stay, you're sure to have an unforgettable experience. With so many things to see and do in the city, it's easy to fall in love with the Greek culture and way of life.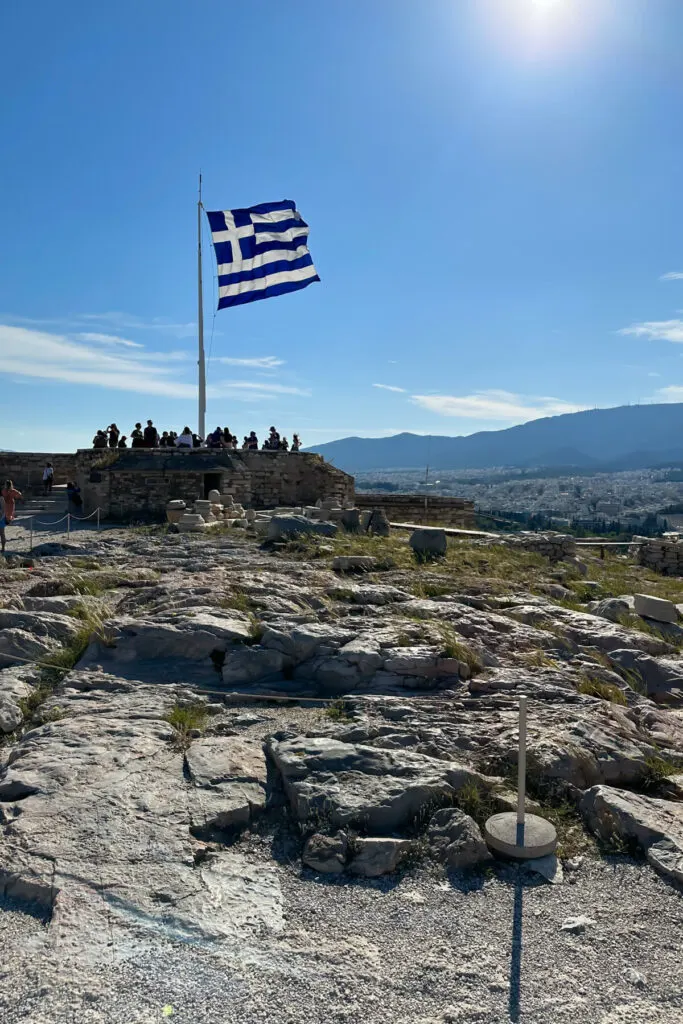 Whether you're just beginning your journey to the Greek Islands or are in Athens as a starting point to explore the Peloponnese, make sure to take some time to explore the city and experience all it has to offer! With its incredible ancient monuments and stunning views, Athens will be a journey you'll never forget.
Enjoy your stay in Greece and don't forget to make time for a little relaxation – it's just as important! Happy exploring!
Read more about Explorer Momma's travels in Greece!
Hiking Greece: Discover the Menalon Trail
Greek Cucumber Salad Recipe (Keto & Low Carb)
📌 Pin the article for later: