This post contains affiliate links. A Baby Giraffe at the Denver Zoo.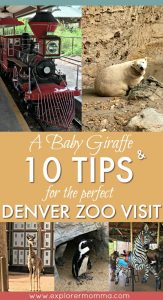 Are you planning a trip to the Denver Zoo or any other zoo for that matter? Is your little one begging to see that adorable new baby giraffe? My family loves the Denver Zoo, but it can get extremely crowded or overwhelming if you don't make a plan. Before you go keep in mind my tips for a perfect zoo visit.
1. Meet Dobby, the baby giraffe!
First of all, oh my cuteness! When you arrive at the Denver Zoo, grab your map and head in the direction of the giraffes. Amid the cries of, "So cute!", "Awww!", and "The sweetest ever!" you will see the most adorable baby giraffe named Dobby. Yes, Dobby – isn't that just the perfect name? I may be gushing a bit, but Dobby was a huge highlight in our recent visit to the zoo. I didn't have the giant-lensed camera like the gentleman just down a bit from us, but we still got some good pictures of the little guy.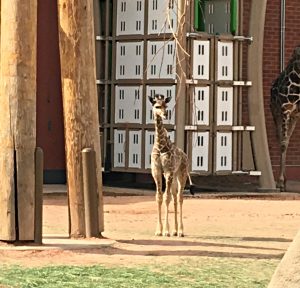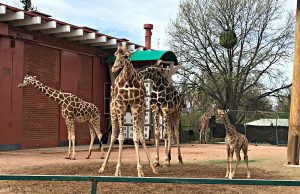 Dobby was born February 28, 2017, and we saw him April 18. He seemed comfortable in front of our small group and walked around by himself and amongst the other giraffes. Furthermore, I am certain that with a glint in his eye he winked and smiled just as we turned to walk away. Surprisingly, some of my own family do not believe this assertion! Therefore, I strongly suggest you go to the Denver Zoo and see for yourself!
2. Get a membership
Going to the zoo, the natural history museum, the aquarium, and others can be costly for a family. We absolutely love the zoo so even though we don't live in Denver I purchased a zoo membership. I ended up getting the individual and guest membership, but there are family memberships as well as several other different kinds. Compare the membership options here: Denver Zoo Memberships.
What do I like about a membership? For one, it saves me money. If we go to the zoo more than 2 times this year it pays for itself, and anything after that is a bonus. I have the satisfaction of suggesting going to Denver and visiting the zoo at little cost other than gas. Most memberships include 1 or more additional free guest passes, tickets to ride the train and carousel, and a discount on food and other purchases. Be sure to include to tally these in your comparisons if you're considering it.
Another thing I like is that this is an outdoor, educational activity for kids. If you've read much from me you'll know my son absolutely loves animals, and he is fascinated by their different ways of survival. The Denver Zoo is a huge place, and there is always a new animal for him to discover and learn some amazing fact about. He loves to tell me and other family members all about what he's learned. Of course, as a mom, this is a huge win for me too!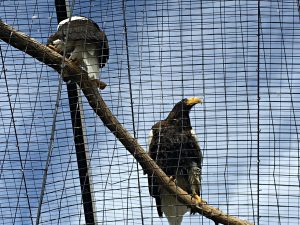 3. Visit the zoo on a weekday
This may be a no-brainer to some parents out there, but when should you visit the Denver Zoo? Well, before we went last week I double-checked their website to be sure it was not a free day or a special event day. For example, there were added advertised activities and shows for kids during Spring break. Did we go at that time? Accidentally, yes, but then we changed our plans and did something else because the crowds were so overwhelming.
If your family doesn't mind crowds definitely attend some of the special events, but my 4-year old gets stressed with a lot of people around and immediately wants to leave. He loudly lets us know of his unease, and it's not fun for anyone.
Conclusion? Visit the zoo on a weekday, maybe a Tuesday or Wednesday when there are no special holidays or events happening.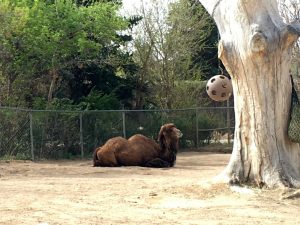 4. Pick the main things you want to see and plan out your route
The Denver Zoo is a huge place, and you will wear yourself out running back and forth to see the specific animals requested by the kids. "Mommy, I want to see the alligator, and the gorillas, then the elephants!"
These animals are far apart at the zoo so take a moment to look over your map and plan your basic route around. If the kids are worried about certain animals make a point to show them on the map and let them know when you'll see them. Your feet will thank you.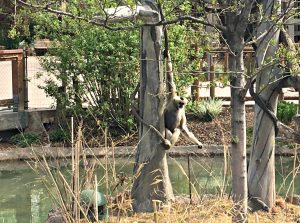 5. Plan out the shows you want to see beforehand
This goes along with planning your route. If you want to see any of the shows take a look at the sign as you enter for the daily show times. It's located just after the ticket taker or you can ask in the visitor center.
I highly recommend the sea lion show as it's one of our favorites!
In summer there are more show times than other seasons so don't assume times from past experience. If you don't want a screaming kid who's devastated they missed the elephant show, it's always good to double-check. Planning is good.
Read all about our awesome trip to the Denver Downtown Aquarium!
6. Denver Zoo activities
What can you do to make your visit more educational? My daughter especially likes to use a scavenger hunt page to find specific animals. Then it becomes a game to her and almost a race to find the animal with its new fun fact.
Another fun thing to do for older kids is to give them their own naturalist journal. Depending on your child you can give instructions or not. I tell my daughter to sketch and label the animals she sees and write one to three sentences describing interesting things about it. Possibilities include physical description, what the animal eats and how it gets it in the wild, how it moves around, how it protects itself, etc.
You can order a fun naturalist journal like one of these from Amazon. Click on the journal to take you to the Amazon site:
7. Make a search for new animals
Go see some of the lesser known animals. Tell your kids to imagine they are going to discover new animals and introduce that animal to the world! Next, you or one of the older kids can introduce the new-found animal to the group and give some facts about them.
For example, on our last trip I fell in love with the fossa. The fossa is a predator that lives in Madagascar, has the longest tail for grabbing onto trees, and a surprisingly small head. I was fascinated watching it walk around its habitat.
8. Take a stroller or wagon and bring your lunch
Even though my son doesn't use his stroller much anymore I still brought it to the zoo. As I've stated, it's a large place! If your child gets tired of walking they can ride in the stroller, and you have the added perk of a place to stow all your gear.
Also, to save money you can pack your lunch and stow it in the stroller with an ice pack. I like to pack a lunch and then just buy a snack for the kids later in the day as a treat. Or bring your own snacks too and with an already paid for membership you won't have to spend a thing!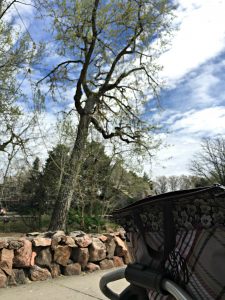 9. Ride the train and carousel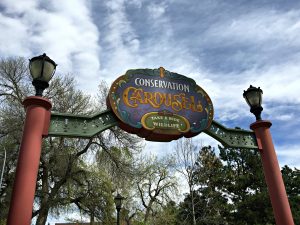 The train and carousel are must-dos for kids at the Denver Zoo. There are always huge smiles all around, and a nice variation in your zoo experience. I like to do these two rides in the later part of our visit when the kids are getting tired and need a change in activity.
Buy tickets or get the tickets from your membership at the little house in between the train and carousel beforehand. If it's busy and you go directly to the carousel you will waste a lot of time in line and then have to go buy tickets anyway.
Tip: If you'll be going often save time and money and buy a punch card. With the card you can go directly to the ride and not have to wait in line a the ticket house.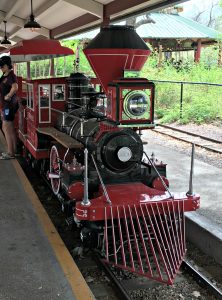 10. Check the weather report before you go
In summer it can get extremely hot so don't forget hats, sunglasses, sunscreen, and water for everyone. Conversely, if it's going to be cold or rain part of the day you can still have a great zoo experience if you plan the right clothing, umbrellas, and focus on the warm houses such as Tropical Discover (lovingly called the reptile house by my family) and Bird World. Always, just follow the Boy Scout motto and be prepared!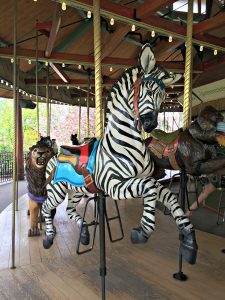 Exploring new places is always such fun, and often you don't have to go far for a great experience. We are so lucky to have the Denver Zoo fairly close by, and whenever we travel with kids we check out the zoos and museums wherever we are. If you have a young, curious zoologist or two in tow you can have a fabulous time with a little preparation.
What are some of your favorite zoos or places to see wildlife? Please put some of your ideas in the comments. I'd love any suggestions for places to take the little ones!