Protein-packed keto jambalaya is the perfect one-pot low carb meal to spice up your family dinner. Shrimp, andouille sausage, and chicken with veggies, Creole spices, and gluten-free cauliflower rice. Mmmmm!
Do you sometimes just crave something different? Maybe one child wants sausage, the other chicken, and you want shrimp? Well, have I got the perfect recipe for you!
Keto jambalaya is one of those recipes I just love because anyone will like it, keto or not. It's packed with 36 grams of protein per serving and is a one-pot meal of meat and veggies. You can even add more chicken bone broth to make it into a hearty stew if you like.
Admittedly, there can be some discussion on the appropriate spiciness, especially with kids around. However, the flavors will take you back to that glorious trip to New Orleans and leave you wanting a pecan praline for dessert. Jambalaya is a traditional rice dish of New Orleans, and it's getting a makeover with gluten-free cauliflower rice!
This post contains affiliate links, which means I receive a small percentage if you make a purchase after clicking on my links.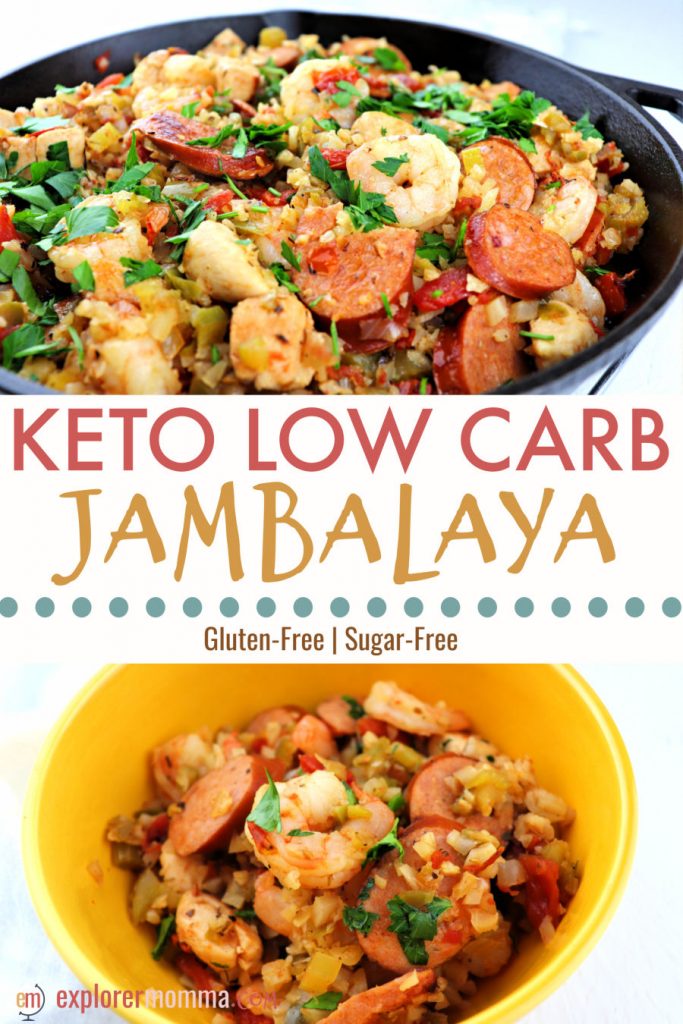 In a hurry?
Scroll down to the bottom for the printable recipe or PIN it here for later!
Life was just a tire swing. 'Jambalaya' was the only song I could sing. Blackberry pickin', eatin' fried chicken, And I never knew a thing about pain. Life was just a tire swing.
Traditional New Orleans Foods
Gumbo, crawfish étoufée, jambalaya, red beans and rice, barbeque shrimp, beignets, po-boys, bananas foster, pralines. Is your mouth watering yet? Mine definitely is.
Even more than the historic homes, the swamp tours, and the infamous Bourbon Street, my favorite thing about New Orleans is the food. In my opinion, any visit to the historic city should focus on eating well and good music.
The problem comes in when you are trying to be good and eat a keto diet. What can you do? So many of these amazing dishes are not exactly keto-friendly. Never fear! My little test kitchen is all about cajun fixins lately, and I'm all about making these traditional flavors into amazing keto dishes. Then you can make your own low carb versions at home when you're dreaming of your next trip to The Big Easy.
Shall we start with keto jambalaya?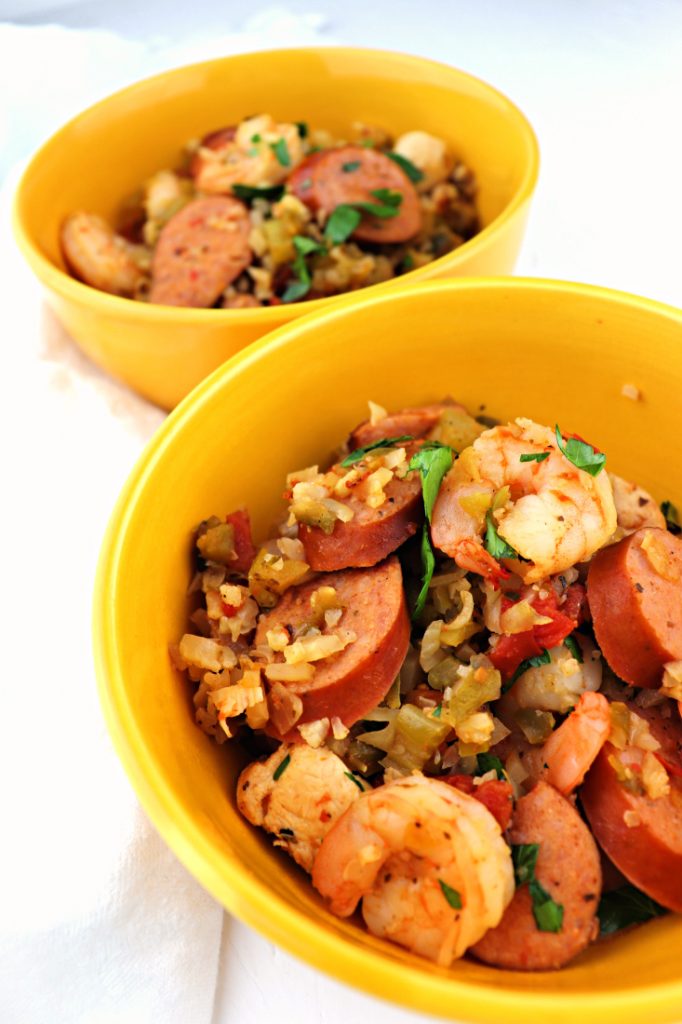 To make keto jambalaya you'll need: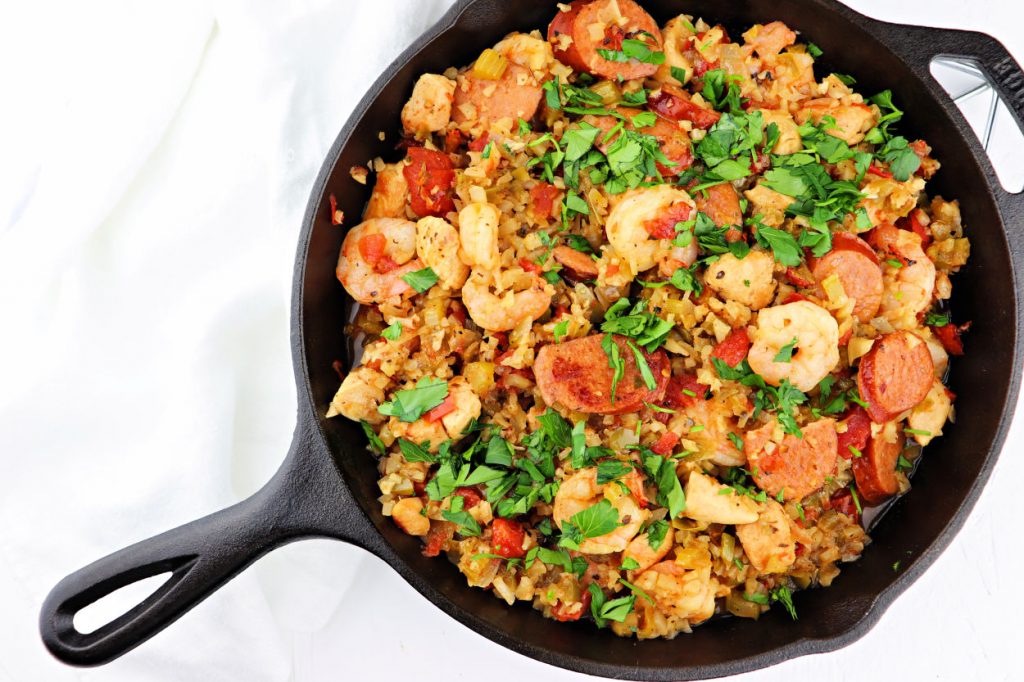 How to make keto jambalaya
First of all, as I always say, get out all your ingredients and kitchen utensils. Second, use a large skillet or Dutch oven and melt the three tablespoons of butter. I prefer a Dutch oven simply because I tend to make a mess when I cook, and the Dutch oven gives you more room to work with this large recipe.
The first thing to go into the pot is the meat. When the butter's melted, throw in the chicken pieces and round sausage slices. Now, stir it around with a spatula and cook it until it's browned and cooked through. Then remove it from the pan and set aside in an extra bowl or on a plate.
Next, it's time for the veggies! In the pot with the leftover butter and meat fat, put the celery, bell pepper, onion, garlic, salt, and black pepper to the pan to cook. It should take about 3-5 minutes or just until it's all tender. Then, pour in the chicken bone broth and fire-roasted tomatoes.
Once that's combined, go ahead and put in the other seasonings: Creole seasoning, thyme, cayenne pepper, bay leaf, and the jalapeño if using.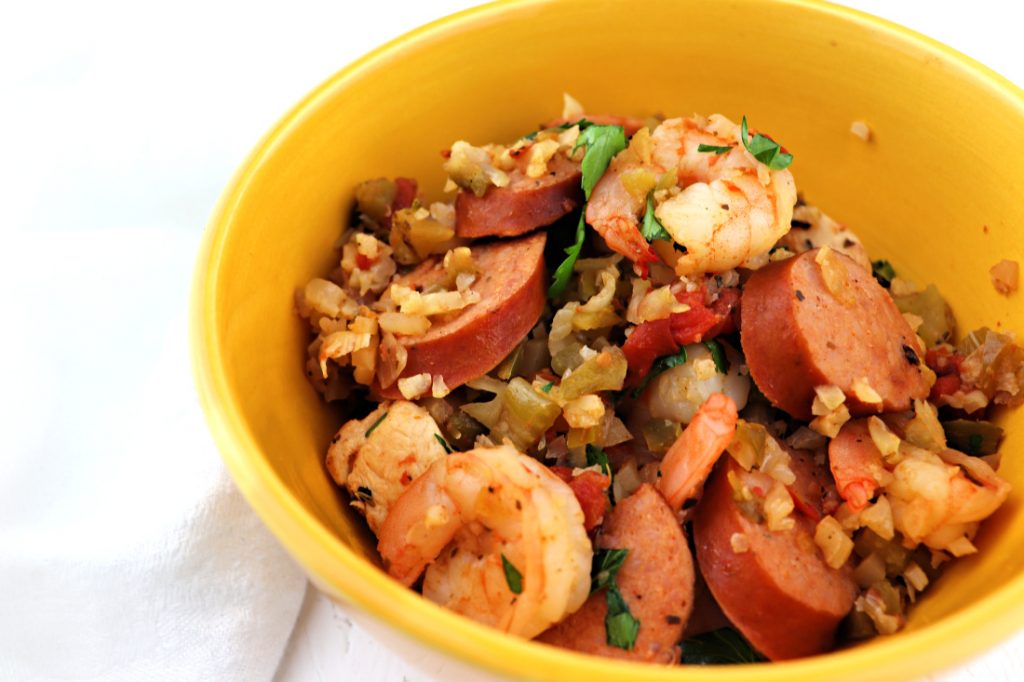 How spicy should jambalaya be?
I am the first one to admit I am a complete wimp when it comes to spice. The andouille sausage and cayenne pepper add plenty of spice for me. However, if you love the traditional southern spice and want to kick it up a notch, throw in a chopped jalapeño or two.
Now, return the chicken and sausage to the pan with the vegetables and other ingredients and simmer for about 10 minutes. Then add in the riced cauliflower and the shrimp. I usually use deveined, peeled, tail-off shrimp because it's easier to eat. On the other hand, you could leave the tail on to make it more impressive visually.
So then, cook it until the shrimp is pink, about 5-10 more minutes. Next, turn down the heat and simmer it to combine the flavors another 5-10 minutes. If needed, add more salt and pepper to your liking, sprinkle on some chopped Italian parsley and serve!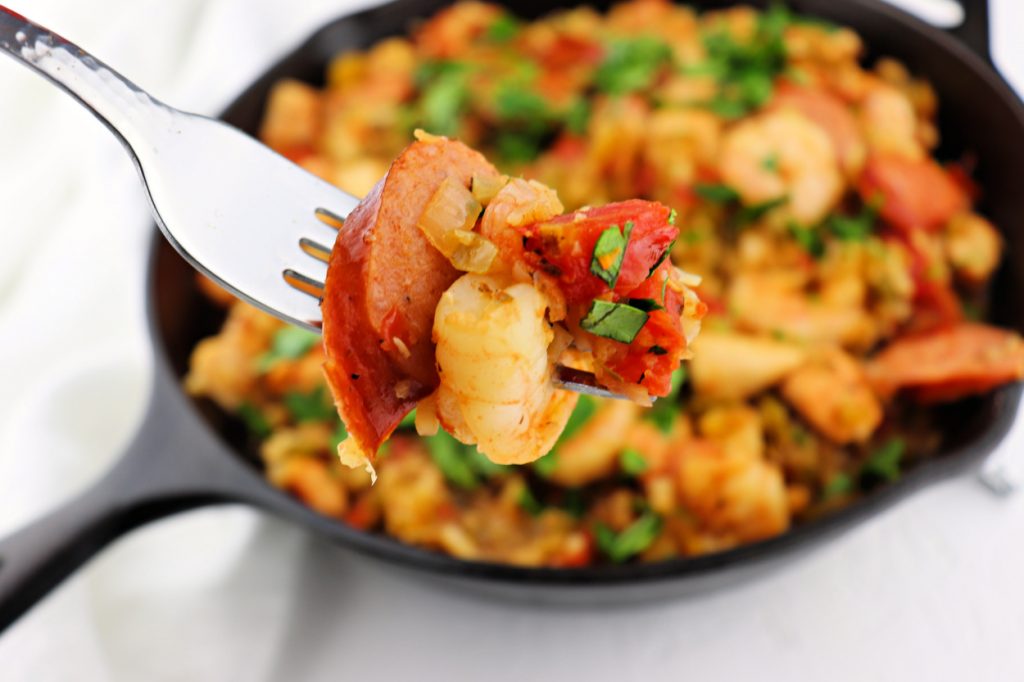 Variation: Keto jambalaya stew
Traditional jambalaya does not have a lot of liquid because the rice soaks it all up. However, I like a good soup or stew in winter and sometimes like to add more liquid. To make a stew, add 2 more cups of bone broth and simmer it to mix up all those delicious flavors.
If you want even more shrimp options for summer, try these amazing keto and low carb grilled lime cilantro shrimp skewers.
My life a jambalaya,
 —and the truth a changing stew

- Unknown
Louisiana food and travel
Have you been to Louisiana? If so, what are your favorite things to do in New Orleans? My son tells me he wants to feed alligators and go to a New Orleans Saint's game. My daughter wants to see the Spanish moss and southern mansions. I'll do all of the above and eat well! Give me your tips for things to do in New Orleans with kids below!
Pin the recipe here!: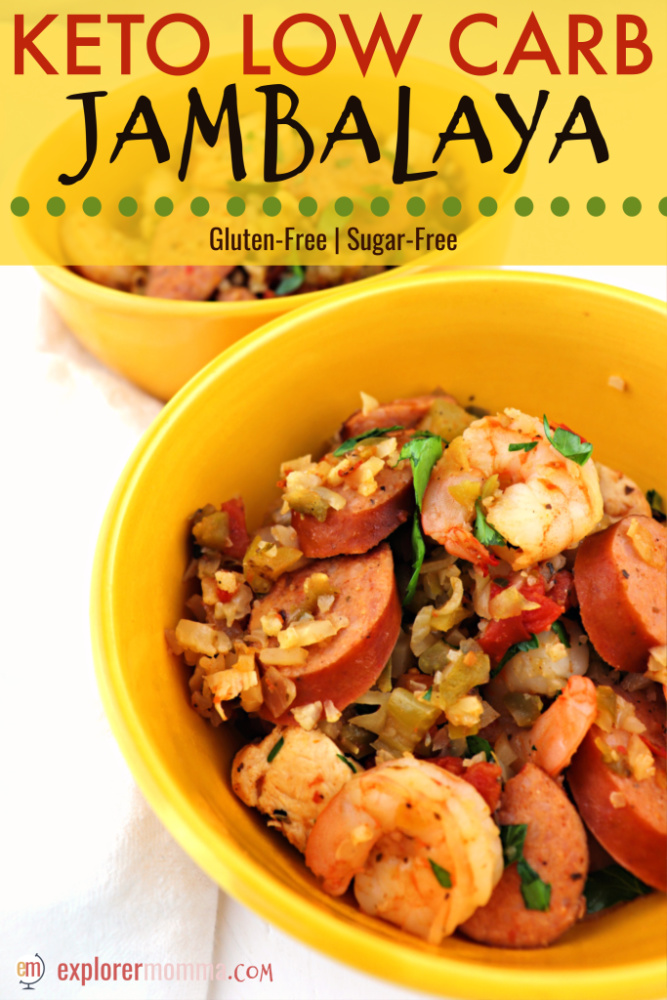 Tag me in your recipe pics on Instagram @explorermomma.
If you LOVE this recipe please consider giving it a five-star rating in the review area below! And maybe try these babies for dessert: Keto Cinnamon Pecan Cookies. Yum!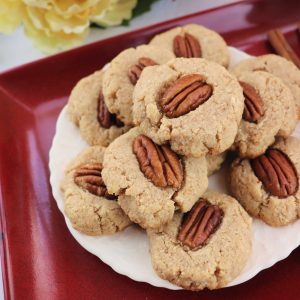 Want some more keto dinner options?
Or for more shrimp try Low Carb Bang Bang Shrimp from Dr. Davinah's Eats.
Printable Recipe
Keto Jambalaya
Imagine yourself down to Louisiana for an amazing keto jambalaya! All the spice, all the andouille sausage flavor, and all the fun for your tastebuds in a low carb one-pot meal.
Ingredients
3 tbsp butter
1 lb chicken breast, chopped into small chunks
1 lb andouille sausage, thinly sliced in rounds
1 cup chopped bell pepper
1/2 cup diced celery
1/4 cup chopped onion
1 tsp salt, (to taste)
1/2 tsp black pepper
2 cloves minced garlic
1 cup chicken bone broth, (2 if you prefer it more like soup)
1 14 oz. can fire-roasted tomatoes
2 tbsp Creole seasoning
1 tsp thyme, dried
1/4 tsp cayenne pepper
1 bay leaf
1 12 oz pkg riced cauliflower (or make your own)
1 lb deveined and peeled shrimp
1-2 chopped jalapeños (for extra spice), optional
Instructions
Melt the three tablespoons of butter in a large skillet or dutch oven. Cook the chicken and the sausage then remove from the pan and set aside.
Put the celery, bell pepper, onion, garlic, salt, and black pepper to the pan and cook for about 3-5 minutes or until tender.
Add in the chicken bone broth, fire-roasted tomatoes, Creole seasoning, thyme, cayenne pepper, bay leaf, and jalapeño if using.
Return the chicken and sausage to the pan and simmer about 10 minutes. Then add in the riced cauliflower and shrimp, and cook until the shrimp is cooked and pink, about 5-10 more minutes. Simmer to combine flavors another 5-10 minutes.
If needed, add more salt and pepper to taste. Serve!
Notes
Nutrition Facts
Servings 8.0 Amount Per Serving Calories 336 Total Fat 21 g Saturated Fat 8 g Monounsaturated Fat 1 g Polyunsaturated Fat 0 g Trans Fat 0 g Cholesterol 161 mg Sodium 2092 mg Potassium 164 mg Total Carbohydrate 6 g Dietary Fiber 1 g Sugars 2 g Protein 36 g
*Nutrition Facts per MyFitnessPal.com. For most accurate facts, calculate your own with the exact ingredients you use in the recipe.
Nutrition Information:
Yield:

8
Serving Size:

1 grams
Amount Per Serving:
Calories:

336
Unsaturated Fat:

0g
Nutrition Disclaimer
Please be aware I am not a medical specialist or nutritional professional. On this blog, I share recipes and what works for me. Please do not take anything on this blog as medical advice and always consult with your doctor before starting any diet or exercise program.
I use MyFitnessPal.com to calculate nutrition facts as a courtesy to my readers, and I remove erythritol from the final carb count and net carb count because does not affect my own blood glucose levels.
This is as accurate as possible, but it's best to independently calculate nutritional information on your own with the specific ingredients you use. I expressly disclaim any and all liability of any kind with respect to any act or omission wholly or in part in reliance on anything contained in this website.