Oh my goodness, friends! Do I have some fabulousness to share with you today! I know we're all busy with work, families, and life in general, but I've discovered the holy grail of simple, delicious, and healthy dinner solutions. Behold, 50 mouthwatering low carb dinner recipes that you can whip up in under an hour! Trust me, you're going to want to save this list because not only are these low carb meals so packed with flavor and satisfying to the whole family, but they're also designed to make you feel lighter and more energetic in no time.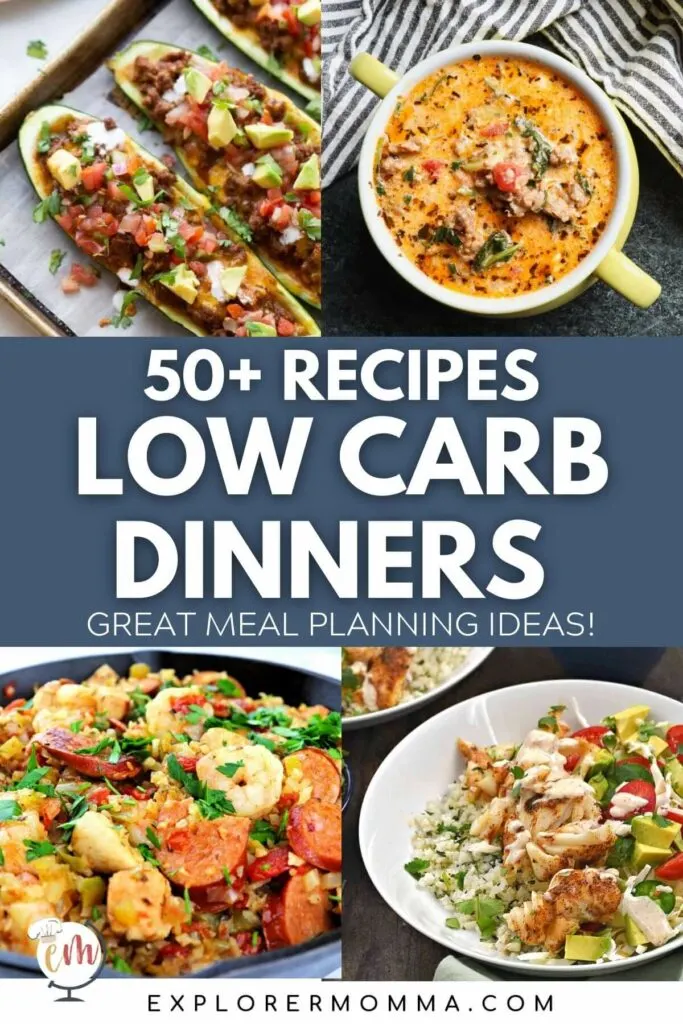 This post may include Amazon or other affiliate links. As an Amazon Associate, I earn from qualifying purchases.
Say goodbye to the low carb recipe over-induced food comas we've all come to dread after a hearty supper. So, gather around, lovely people, as I take you on a culinary journey filled with new tastes, fresh ingredients, and oh-so-delicious low carb recipes that will rock your taste buds without breaking a sweat in the kitchen!
Jump to:
50 Low Carb Dinner Recipes | Chicken Recipes | Beef Recipes | Fish, Shrimp, & Seafood Recipes | Pork & Sausage Recipes | Veggie Recipes | Top Tip | Wrap-up
🤔 How do I stop eating carbs?
I get this question all the time. How do you stop eating carbs? Or, aren't you starving all the time? and, Isn't life depressing without any carbs?
Well, you don't stop eating all carbs!
Right?! First of all, I'm not eliminating all carbs, just limiting the number of total carbs. Now, that number is definitely up to you, and if you have questions about your personal situation, I'd consult your doctor who knows you best. Not everything works for everyone as all of our bodies are different. However, personally, I feel better and have more energy especially when I limit the carbs, and cut out sugar and gluten. I'm also much less likely to binge on ice cream and desserts, and I do like my sweets.
🙋‍♀️ How many carbs should you have daily on a low carb diet?
Again, this is a question I'm asked often. As I said before, that number is up to you and your personal physician or nutritionist. So make an appointment to discuss your ideal numbers if you'd like.
I know people who are strict keto and stay 20 or less per day. Now personally, I can do that for a while, but it's not sustainable. My general goal is to stay under 50 carbs per day, all the time watching to be sure the carbs I do consume are good, fresh, whole foods. Quality is huge!
That's why it's huge to have an arsenal of impressive low carb dinner ideas.
👩‍🍳 How can I make meals low in carbs?
Let's get down to it! What kinds of meals are low in carbs?
Oh, honey! You won't believe the number of delicious low carb recipes you can whip up in no time. Truly.
To start off, there are a ton of fabulous veggie-centric dishes, with zucchini noodles or riced cauliflower. How about a mouthwatering Cobb salad filled with fresh greens, grilled chicken, avocados, and blue cheese?
You can even get creative with spaghetti squash as a healthy twist on traditional pasta. Seafood lovers can delight in shrimp scampi or pan-seared salmon with a zesty lemon-butter sauce.
Now, if you're more of a meat lover, there are countless options too! Consider making fajita lettuce wraps or eggplant rollatini with a scrumptious meat filling. Don't forget about breakfast options too, like a delightful smoked salmon and avocado omelet or a spinach and cheese frittata. Absolutely delicious!
There are endless possibilities, mes amis! The key is to focus on high-quality proteins, healthy fats, and a rainbow of nutritious veggies that are low in carbs but packed with flavor. Trust me; you won't even miss those pesky carbs with all these fantastic options!
🙋‍♂️ What can I have for dinner that's low carb?
Well, if the ideas above aren't enough, let me tell you about some more low carb dinner recipes that you can prepare in under an hour!
Think flavorful goat cheese and veggie stuffed chicken breasts, zesty lemon thyme pork chops with a side of roasted Brussels sprouts, or succulent roast beef with steamed broccoli.
For something on the lighter side, consider making a delicious tuna Nicoise salad or a Chinese-inspired lettuce wrap with ground turkey and a sweet and sour sauce.
The possibilities are endless; all you need to do is get creative in the kitchen.
🥳 50 low carb dinner recipes ready in under an hour!!
Give me specifics! Is that what you're saying? Okay, I hear you! I've compiled a list here following of some of the best low carb recipes you can make in under an hour. I've tried to go for variety and flavor, and I know you're going to love this selection.
🍗 Low Carb Recipes: Chicken
Winner, winner, chicken dinner! Here are some of the best low carb chicken recipes that you can make in under an hour.
🥩 Low Carb Recipes: Beef
🍤 Low Carb Recipes: Fish, Shrimp, and Seafood
🐖 Low Carb Recipes: Pork and Sausage
🦃 Low Carb Recipes: Turkey
Photo Credit: explorermomma.com
These mouth-watering keto turkey burgers, grilled to perfection or easily air-fried for a crisp finish, are bursting with flavor and bound to become your new go-to dinner favorite.
Photo Credit: neilshealthymeals.com
Stir fry turkey with sugar snap peas is a recipe you'll just love. It's healthy, low carb and quick and easy to prepare too. A perfect weeknight dinner!
Photo Credit: explorermomma.com
This delicious low-carb keto turkey meatloaf is a great way to enjoy comfort food while still staying healthy! Made with powdered pork rinds instead of bread crumbs, it's packed full of flavor and protein. This simple recipe is sure to be a hit with the whole family - why not give it a try tonight?
🥗 Low Carb Recipes: Veggies
💭 Top tip
As a mom of picky kids and with several specific diets in the family, I understand that cooking can be frustrating, especially when cooking for a crowd. That's why it helps to remember that any recipe is just a suggestion-you're free to change it up if you need to!
Whether you have a dietary restriction or simply want to substitute ingredients based on your family preferences, don't be afraid to make adjustments!
With the right tips and tricks, like using alternative flours or sweeteners and adjusting spices and herbs, you can easily create delicious meals that fit your lifestyle. You never know; those changes may even end up being the best part of the meal!
😋 From almond flour tortilla chips to turkey meatballs
We hope that this collection of amazing and quick low carb dinner ideas will help you make healthy, nutritious meals without sacrificing time or taste. With these foolproof recipes, and a bit of fresh parsley or some grated parmesan, you can quickly and easily make meals that are low in carbohydrates and high in flavor.
All of the recipes take less than an hour to prepare, making them perfect for busy weeknights and lazy weekends alike. Each easy recipe is full of fresh ingredients and satisfying flavors that your entire family will love. So don't be afraid to try something new – start cooking these delicious low carb dinner ideas today!
📌 Pin this list of low carb dinner ideas for later here: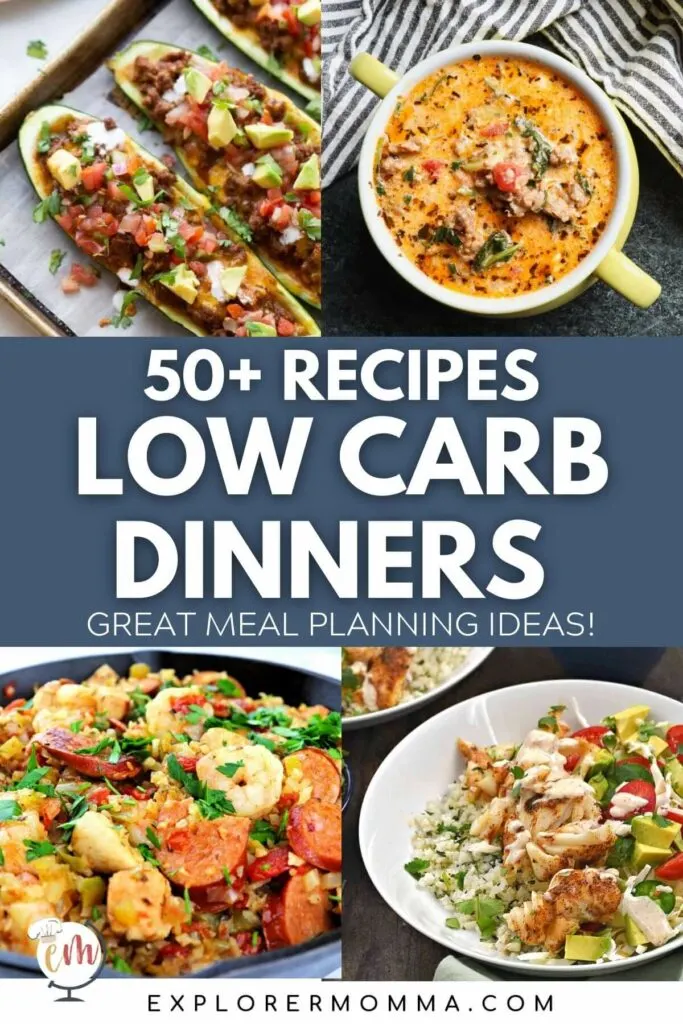 Tag me in your pics of these low carb recipes on Instagram @explorermomma.
Bon Appetit!
Happy cooking!
xoxo,
Lauren