Delicious and flavorful, keto turkey meatloaf is moist and perfect for a low carb family dinner. Traditional meatloaf in gluten-free form, popular with everyone, on a keto diet or not.
Did you grow up with a family meatloaf? I know some families that ate it once a month or even once a week without fail. Some years ago I started making a turkey meatloaf and absolutely loved it! It was popular with friends and family, and when I started on a keto diet I was determined to make it gluten-free and glorious.
Truly, meatloaf is one of those classic comfort foods. It's perfect for a winter evening or with a lemony green salad in summer. Moreover, you can bring the family together and enjoy a classic everyone will love, all while sticking to a keto diet.
This post contains affiliate links, which means I receive a small percentage if you make a purchase after clicking on my links.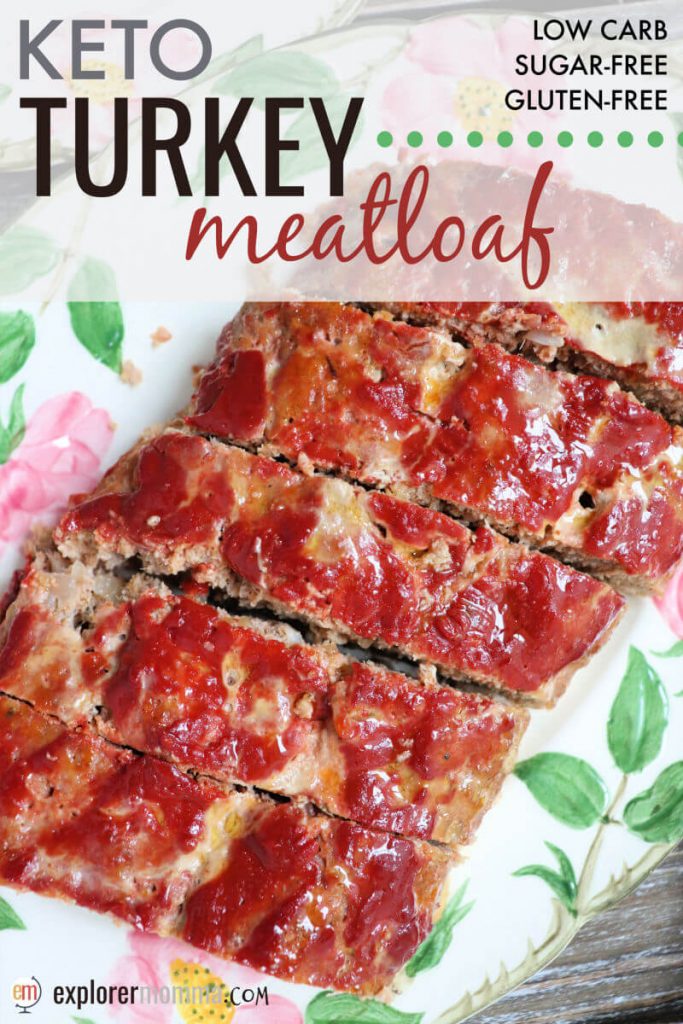 In a hurry?
While I think you'll love my super helpful tips and fun stories, I also realize we are sometimes pressed for time and just need a good recipe!
Scroll down to the bottom of the page for the printable recipe or PIN it here for later!
Best low carb substitutions for bread crumbs
If you've ever made a meatloaf, you'll know that most recipes contain bread crumbs. To make a gluten-free and low carb meatloaf I knew I was going to have to find a good replacement for the breadcrumbs. Also, that replacement still had to keep the loaf super moist.
There are quite a few options, such as almond flour and cauliflower rice to name a couple. However, the solution I ended up with as my favorite may not be what you expect.
Pork rinds.
Yes, pork rind crumbs.
Many keto dieters eat pork rinds as a snack so it may or may not surprise you to hear they work well in baking.
Pork rinds in a keto turkey meatloaf.
It's sort of like when Elizabeth Bennett says, "Shelves in the closet, a happy thought indeed."
Excuse my Pride and Prejudice reference, but some may be more excited by pork rinds in a meatloaf than others! I admit I find it a very happy thought, indeed, because it works!
How to make pork rind crumbs
First of all, find a good quality pork rind. Some are even flavored and can make the meatloaf even tastier, just be sure they don't add in something you're trying to avoid on keto.
Check the ingredients before you buy. That's sort of a rule I always live by.
There's a couple of ways you can do this. The simplest, easiest way I've found is to put the pork rinds in a gallon zipper bag. Then, take a rolling pin and whack it or roll over the pork rinds. Now, make sure to shake the bag then continue to repeat the process until the rinds are broken down into coarse crumbs.
Lastly, measure out the amount needed, and save the extra in an airtight container.
Alternatively, if you wish to get out a food processor, pork rinds can easily be pulverized to crumbs or even powder. Just pulse it a few times until the desired crumb size is achieved.
To make Keto Turkey Meatloaf you'll need: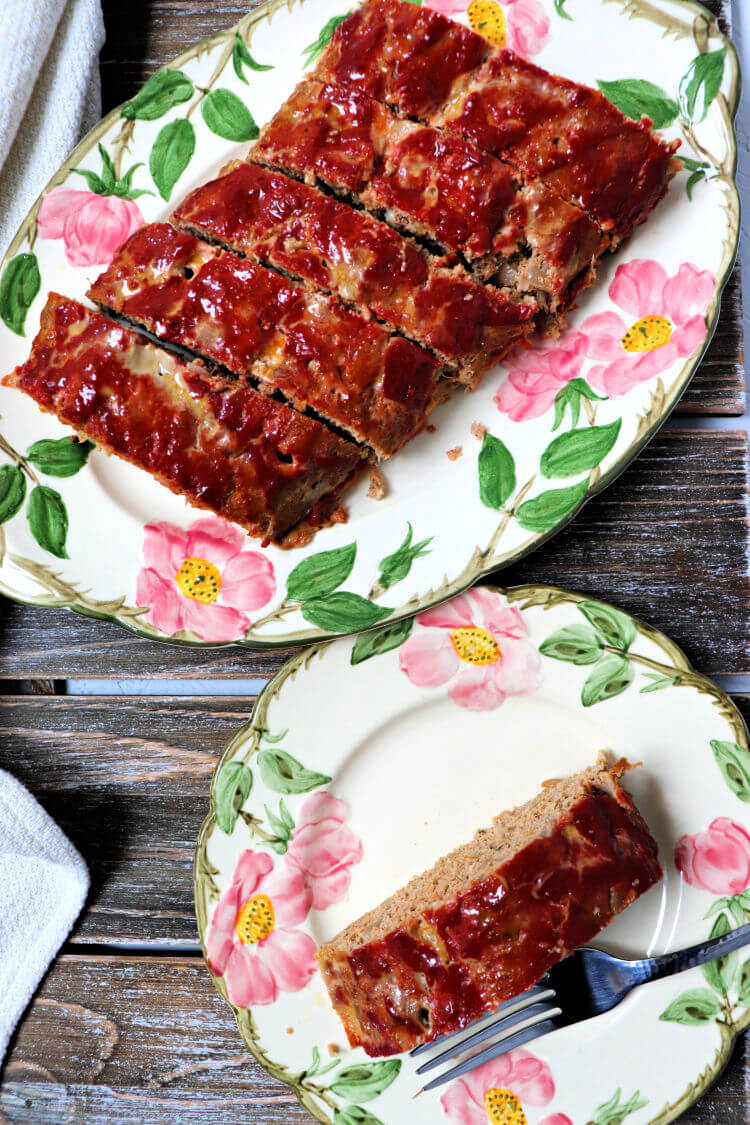 How to make a keto turkey meatloaf
To make a low carb turkey meatloaf, begin by getting out a baking sheet then preheat the oven to 325 degrees Fahrenheit.
Second, melt the butter in a skillet or sauté pan on medium heat and cook the chopped onions, salt, pepper, and thyme. It should take about 10 minutes until the onions are translucent.
Next, add in the garlic, vinegar, BBQ sauce, chicken bone broth, and tomato paste to the onion mixture. Combine it all well then set aside to let it cool.
Now take out a large bowl and mix the turkey, pork rind crumbs, and eggs together. You can use a spatula or generally I just use my hands as it feels like I get everything more evenly combined. A word of warning! Ground turkey just out of the fridge can be super cold so you may want to let it warm up to almost room temp so you don't freeze your hands. Or not. 😉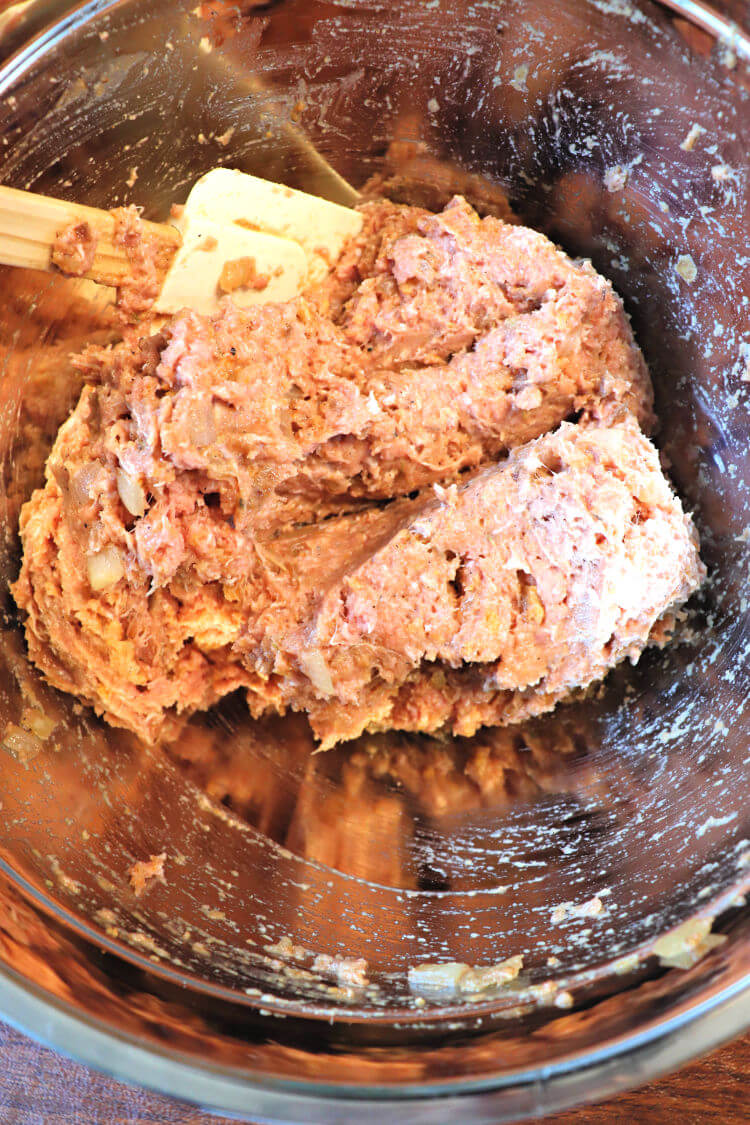 Then add in the cooled onion mixture so it's evenly dispersed throughout the meat. Once it's all completely combined, shape it into a rectangle loaf on an ungreased baking sheet.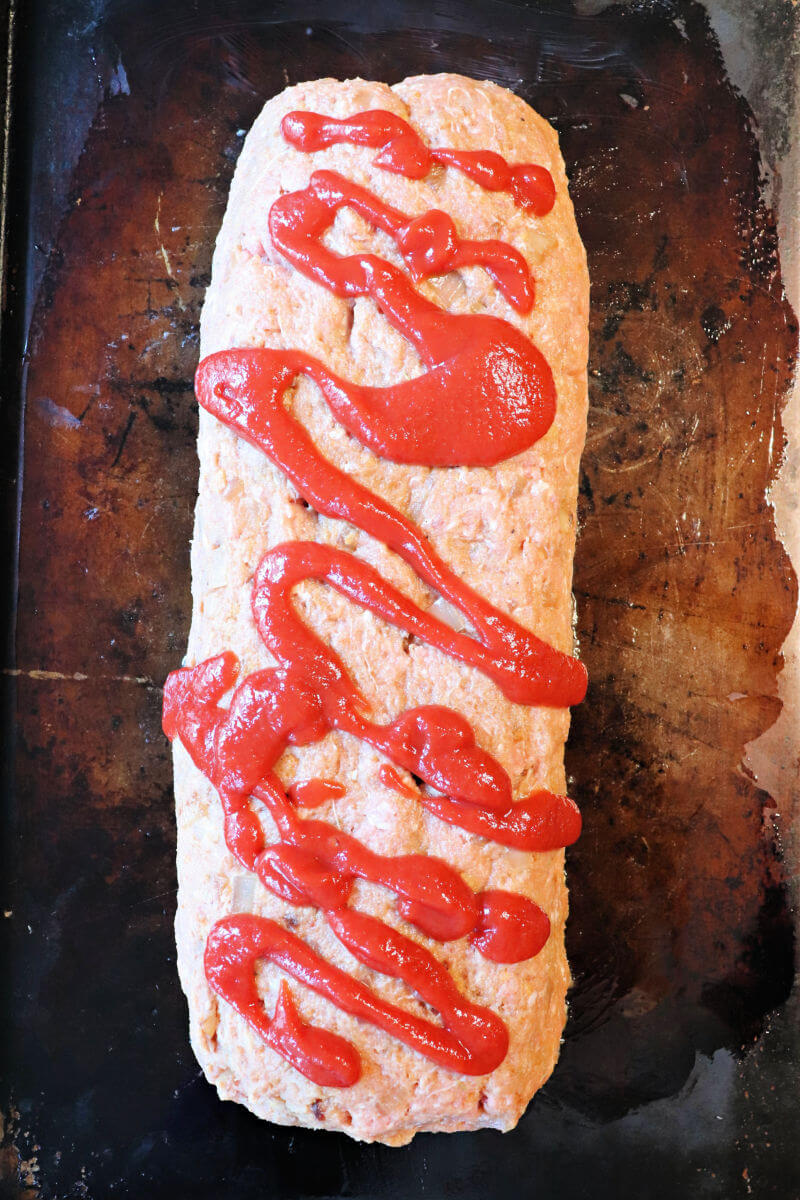 Lastly, before it's put in the oven, spread the ketchup on top evenly. It will bake for about 50 minutes to one hour, or until the internal temperature reaches 165 degrees.
Serve hot right out of the oven or at room temperature.
You may find some of the fat from the meat leaks out onto the baking dish. There is nothing to worry about when this happens, and it's expected. Simply cut the meatloaf into slices and transfer it to a serving platter or bakeware dish.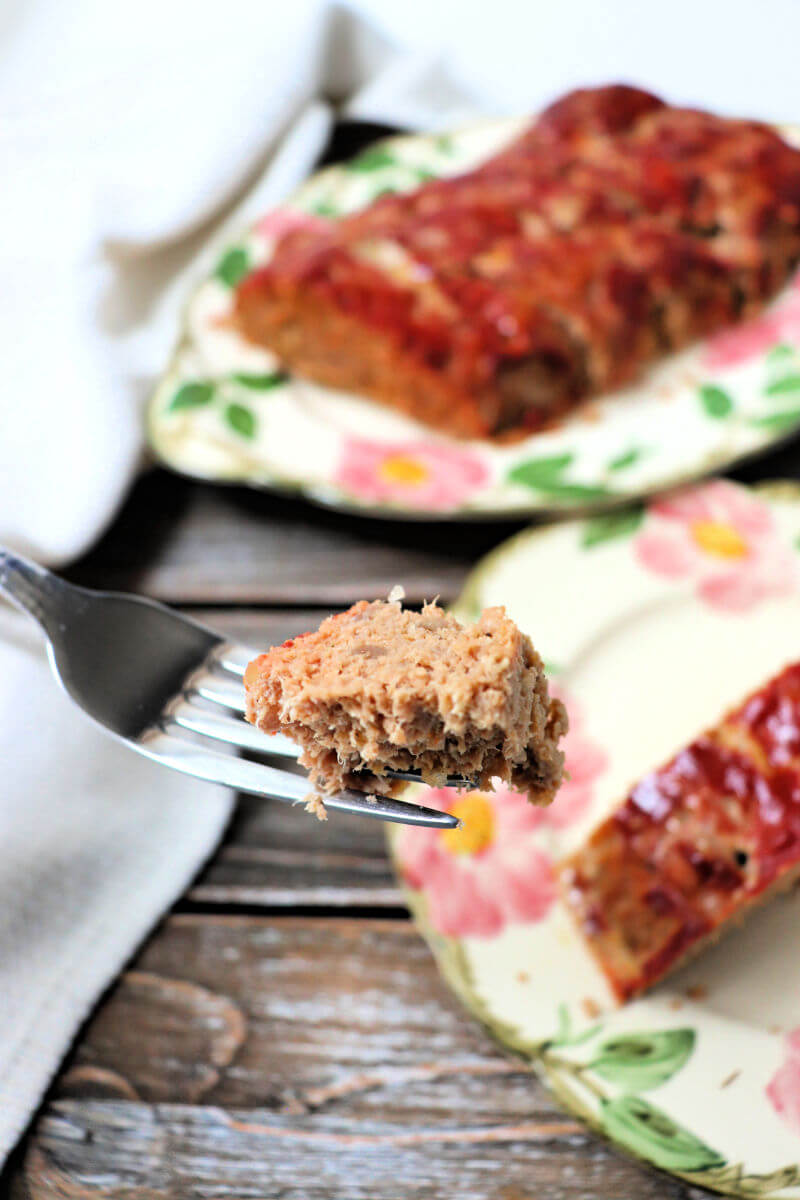 Enjoy with family or friends!
Best keto comfort foods
Meatloaf, mac and cheese, pizza - these tend to be my comfort foods. What about you and yours? What were your favorite foods growing up you'd love to see with a keto makeover? Maybe it's Aunt Betty's famous cheese and broccoli rice casserole or Cousin Fred's English toffee.
I'm always up for a challenge and trying out new recipes every day. I'd love to hear of your successes (or even non-success stories)! We all learn by trial and error, and it just gets better with each thing you learn. Leave a comment below!
Hopefully, you'll give this moist and delicious keto turkey meatloaf a go. Add some extra spice or chopped bacon if you want to kick it up a notch or leave it as-is for a kid-friendly family dinner recipe. I think you're going to love it!
Pin the recipe here!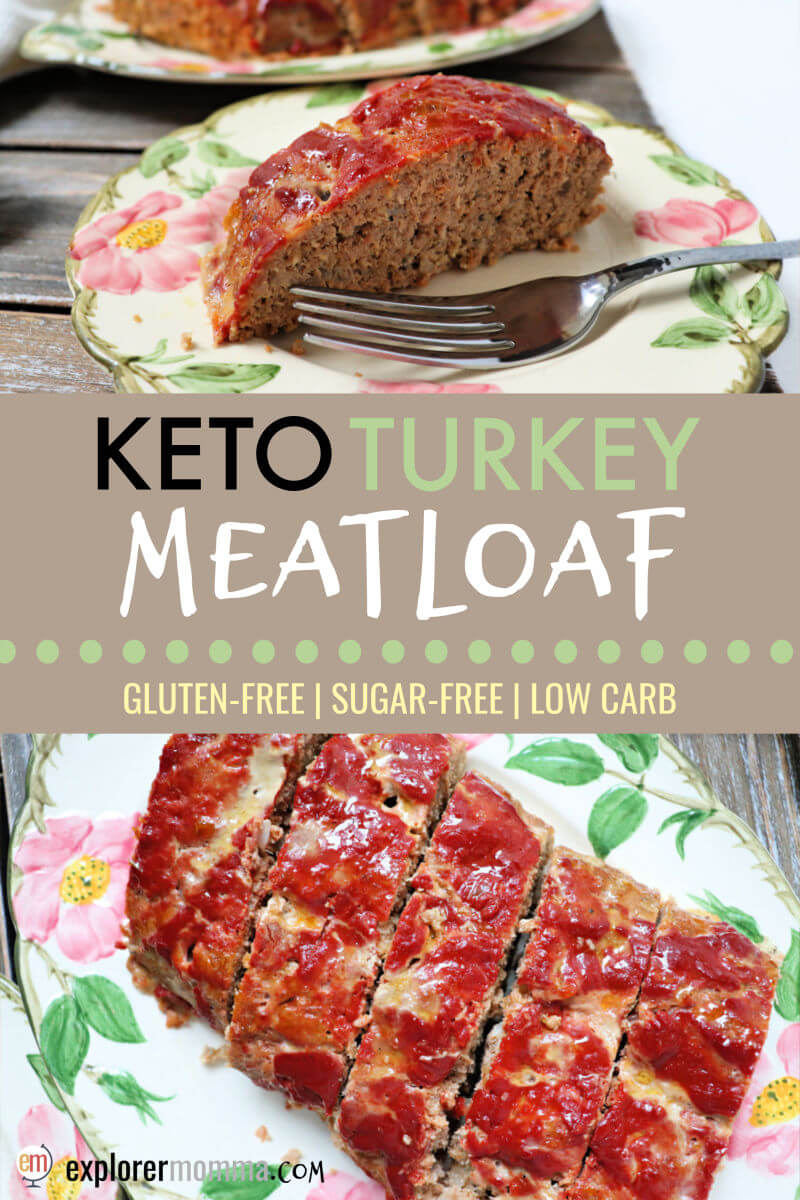 Tag me in your recipe pics on Instagram @explorermomma.
If you LOVE this recipe please consider giving it a five-star rating in the review area below!
Need a keto dessert?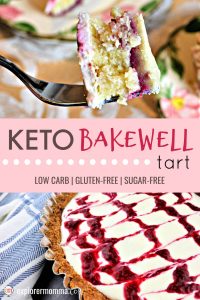 More Tasty Keto Dinner Recipes:
Or maybe you're more in a fish mood lately? Salmon is always a popular choice around here. Check out these tips for Grilled Salmon.
Printable Recipe
Keto Turkey Meatloaf
A delicious family-friendly, low carb, gluten-free turkey meatloaf dinner is sure to please even the pickiest eater!
Ingredients
1 cup chopped onion
1 tbsp butter
1 tsp sea salt
1/2 tsp black pepper
1/2 tsp dried thyme
1 tsp minced garlic
1 tsp balsamic vinegar
1 tbsp sugar-free BBQ sauce (or sugar-free ketchup)
1/3 cup chicken bone broth
1 tsp tomato paste
2 lbs ground turkey
3/4 cup pork rind crumbs
2 large eggs, beaten
1/3 cup sugar-free ketchup
Instructions
Get out a baking sheet and preheat the oven to 325 degrees Fahrenheit.
Melt the butter in a skillet or sauté pan on medium heat and cook the onions, salt, pepper, and thyme until translucent, about 10 minutes.
Add in the garlic, vinegar, BBQ sauce, chicken bone broth, and tomato paste. Mix well then set aside to let cool.
Take a large bowl and mix the turkey, pork rind crumbs, and eggs together. Then add in the cooled onion mixture. Once it's all completely combined, shape it into a rectangle loaf on an ungreased baking sheet.
Spread the ketchup on top and bake for 50 minutes to one hour, or until the internal temperature is 165 degrees. Serve hot or at room temperature.
Notes
Nutrition Facts
Servings 8.0Amount Per ServingCalories 340 Total Fat 19 g Saturated Fat 6 g Monounsaturated Fat 4 g Polyunsaturated Fat 3 g Trans Fat 0 g Cholesterol 151 mg Sodium 636 mg Potassium 322 mg Total Carbohydrate 4 g Dietary Fiber 3 g Sugars 2 g Protein 38 g Net Carbohydrate 1 g
Nutrition Information:
Yield:

8
Serving Size:

8 Servings
Amount Per Serving:
Calories:

340
*Nutrition Facts per MyFitnessPal.com. For most accurate facts, calculate your own with the exact ingredients you use in the recipe.
Nutrition Disclaimer
Please be aware I am not a medical specialist or nutritional professional. On this blog, I share recipes and what works for me. Please do not take anything on this blog as medical advice and always consult with your doctor before starting any diet or exercise program. I use MyFitnessPal.com to calculate nutrition facts as a courtesy to my readers, and I remove erythritol from the final carb count and net carb count because does not affect my own blood glucose levels.
This is as accurate as possible, but it's best to independently calculate nutritional information on your own with the specific ingredients you use. I expressly disclaim any and all liability of any kind with respect to any act or omission wholly or in part in reliance on anything contained in this website.