Creamy Keto Thai coconut soup is a delicate blend of amazing flavors: shrimp, ginger, lime, coconut milk, lemongrass, with the red curry spice on top. Delicious, dairy-free, gluten-free, and low carb, this refreshing recipe is perfect for a Lenten meal, spring, or anytime!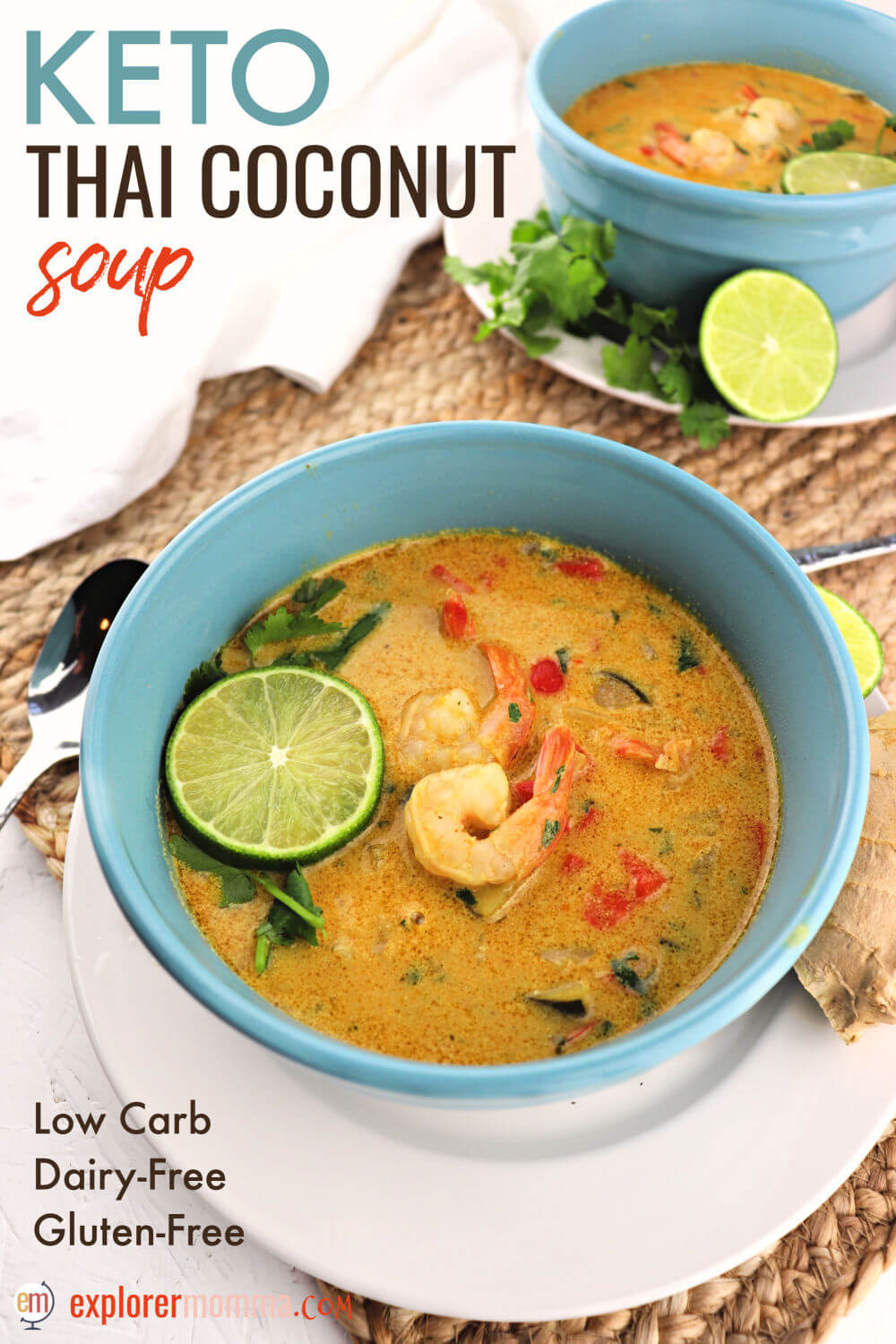 This post may include Amazon links. As an Amazon Associate I earn from qualifying purchases.
Lately, I've seen a lot of blog posts on Pinterest with gorgeous pictures and tales of experiences in Thailand. They all seem to scream, "Come! Come visit Thailand, Land of Smiles!"
So, of course, my heart says, "Yes, please let's go! I want to see these fantastic places and experience the food and culture!"
My brain says, "Unfortunately, now is now a good time to take off to Thailand, but why not make some Thai food?"
Why not indeed?
Jump to:
Scroll down to the bottom for the printable recipe or PIN it here for later!
Thai food ain't about simplicity. It's about the juggling of disparate elements to create a harmonious finish. Like a complex musical chord it's got to have a smooth surface but it doesn't matter what's happening underneath. Simplicity isn't the dictum here, at all. Some westerners think it's a jumble of flavors, but to a Thai that's important, it's the complexity they delight in.

– David Thompson, Thai Food
Keto Thai coconut soup
With a few substitutions here and there, it's very easy to eat delicious Thai food that's low carb at the same time.
My first experiences with Thai food were definitely memorable. I was a sophomore or junior in college, and a group of friends decided to check out a fairly new local Thai restaurant. In the middle of Texas.
I loved and still love trying new flavors and experiencing other cultures and was super-excited to give Thai food a go. Unfortunately, my Texas Thai food experience was not a pleasant one. In fact, it made me sick for the next two days.
Regrettably, this disaster of a meal put my love of Thai food on hold for a number of years. Do you have a similar food memory you can't shake? For years afterward, the smell of spicy coconut milk took me back to that experience, and not in a good way.
Thai flavors
Today, I love Thai food! It is truly an art of flavor blending and layering and a delight to the senses. When prepared well.
Which is why I now do my research on any Thai restaurant I plan to visit and often make my own versions of my favorites. It is fairly easy to modify recipes slightly to make them Keto or low carb and still retain the fabulous flavors.
I was once told, in Thai cooking, there are four flavors: sour, sweet, creamy and salty. The spice, or heat, is over those four flavors. The secret and magic of the perfect dish is the correct balance of flavors where each sits just right to make it practically divine.
A westerner may see a list of the ingredients and skeptically think, "Wow! That's certainly a melting pot of ingredients!"
When in fact, the lemongrass, ginger, lime, coconut milk, red curry, and all the others are precisely planned out.
The balance must be there for a true Thai dish. It's a different mix newer to my palate, and it's very enjoyable!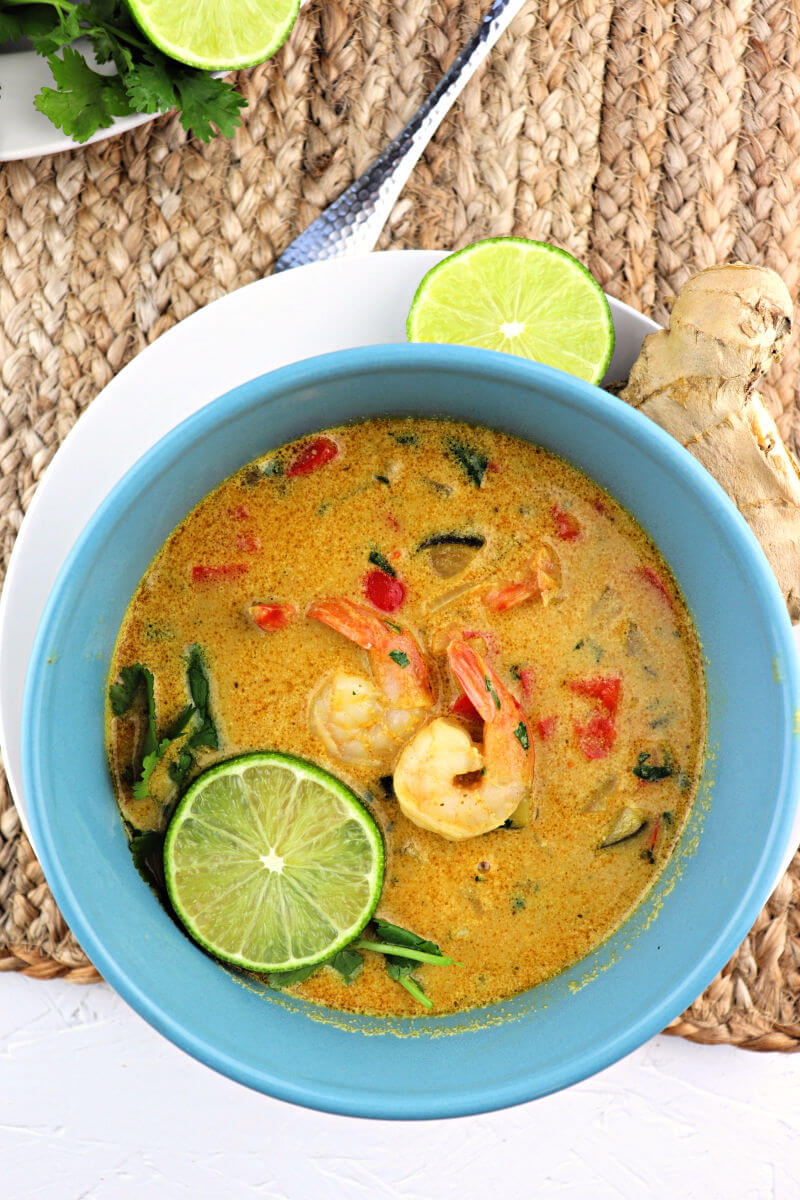 🍽 Equipment
To make this low carb Thai coconut soup you'll need: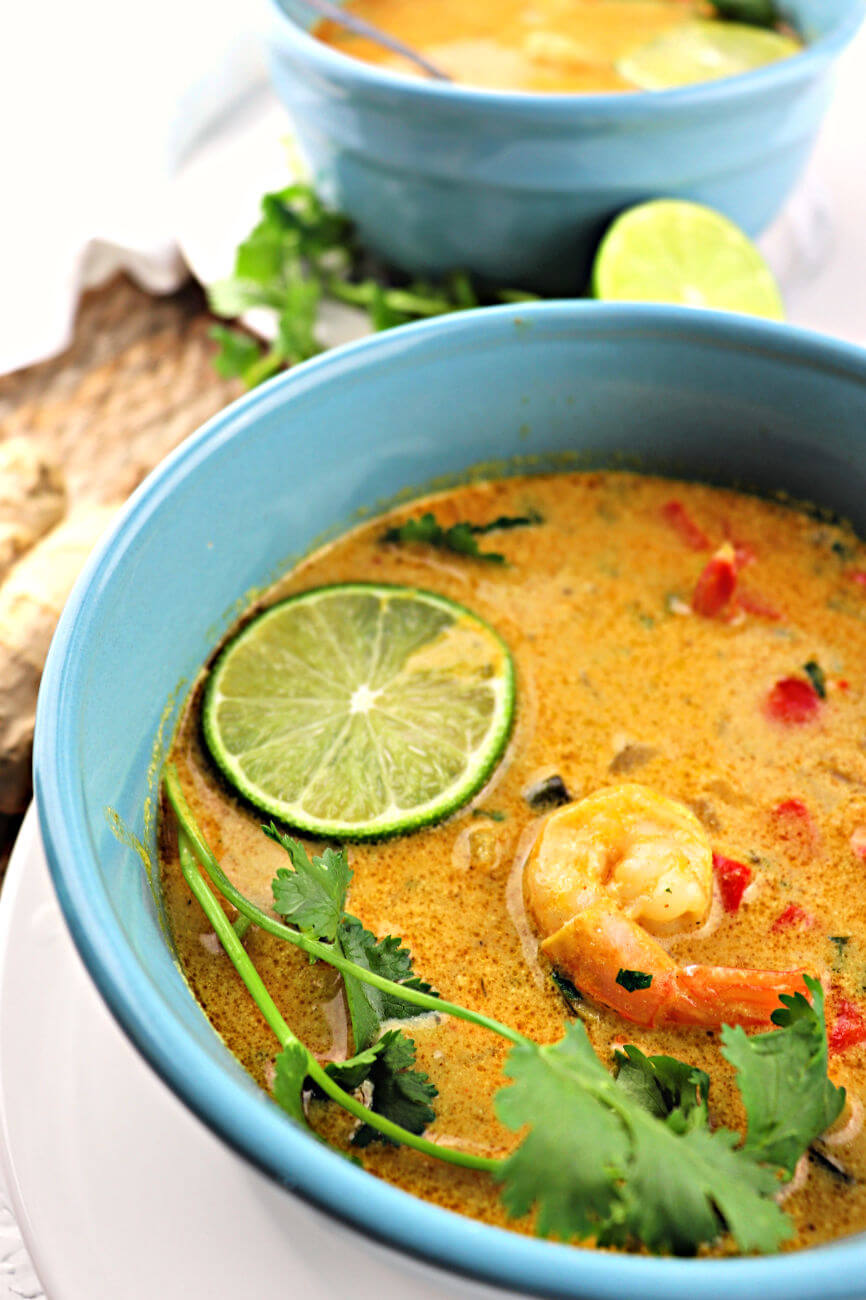 🥘 Ingredients
coconut oil (or avocado oil)
peeled medium shrimp
red bell pepper
onion
chopped zucchini, (or make as zoodles)
finely chopped lemongrass, (or 5 drops lemongrass essential oil)
garlic
fresh ginger
salt
red curry paste (or red curry powder)
unsweetened coconut milk
chicken bone broth, (or vegetable stock)
black pepper
lime, juiced
fresh cilantro
🔪 Instructions
How to make keto Thai coconut soup
First, take out a large soup pot or dutch oven and melt the coconut oil over medium-high heat. You can also use avocado oil instead if you don't have coconut oil.
Second, add the shrimp and stir it occasionally for 2-3 minutes until it turns pink. Sprinkle on salt to taste and then remove it to a bowl. Set it aside for now.
Then, back to the pot, add the onion, bell pepper, garlic, and zucchini. Stir it all occasionally until the vegetables become tender (4-5 minutes).
A note on the zucchini
I prefer to slice the zucchini and cut the rounds into fourths for my soup. However, you can cut them any size you want or even use a spiralizer to create noodles for your meal. I've done both and admit it's just easier for me to slice instead of spiralize.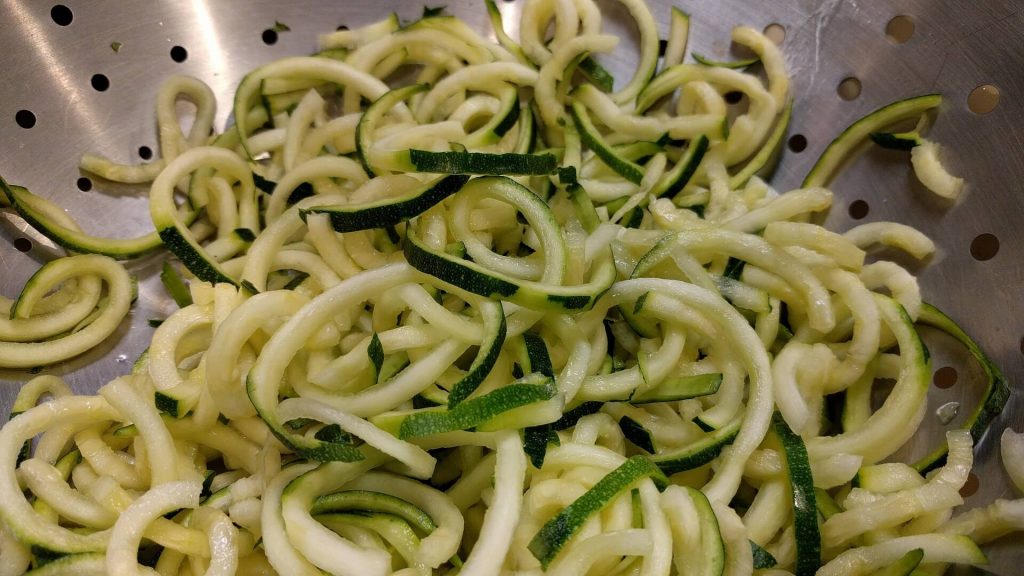 Next, add in the ginger and lemongrass and cook another minute.
Instead of actual lemongrass I often use 5 drops of quality lemongrass essential oil. If you do choose to use lemongrass essential oil, add it at the end instead of at this point. It cuts down on the carbs and is easy to keep in the cabinet!
Now, whisk in the curry paste, coconut milk, bone broth, and pepper.
Tip: If you'd like to make your own bone broth, check out this recipe for Bone Broth in an Instant Pot!
Slowly, bring it all to a boil and then reduce the heat and simmer until the soup thickens slightly. This can be for about 10 minutes or longer to allow the flavors to combine. I often like the soup the second day better because the flavors have more time to blend.
Lastly, stir in the shrimp, lime juice, and cilantro (and lemongrass oil if using). Season it with salt and pepper to taste.
Serve it up in bowls and to make it pretty, garnish with fresh lime wedges and cilantro.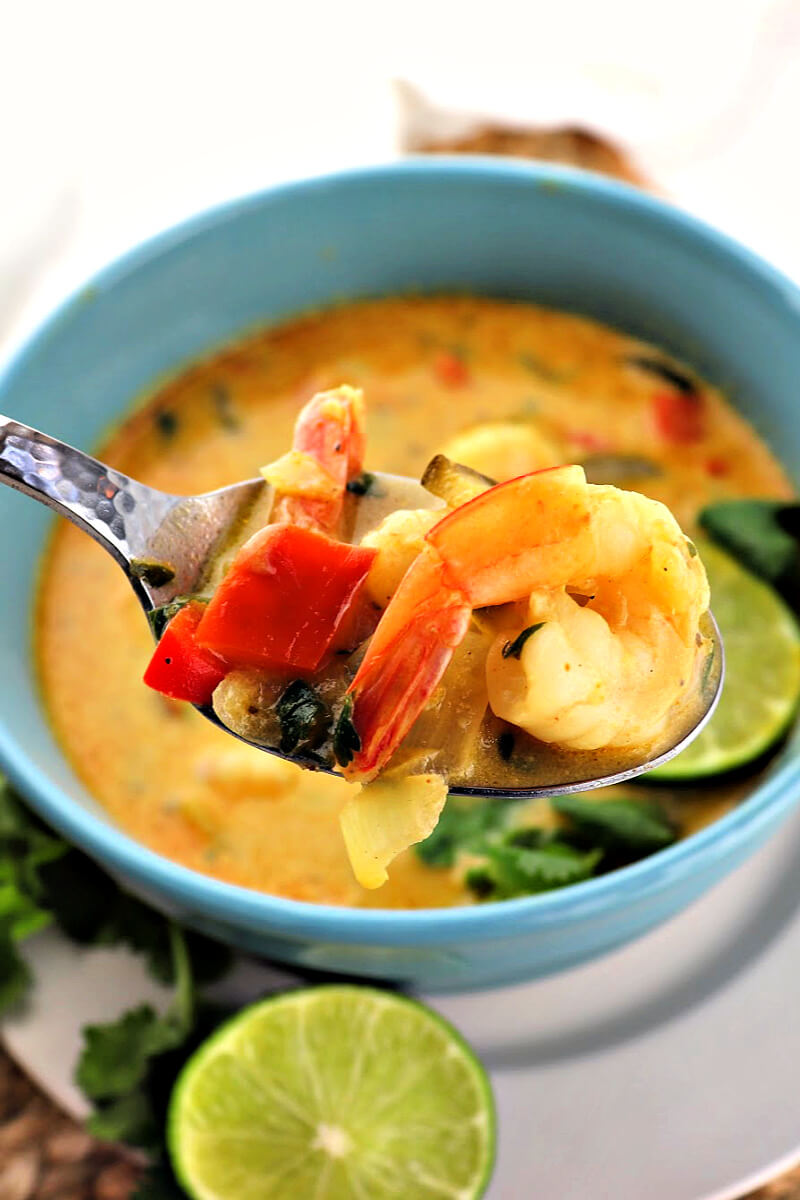 I landed in 1980 in Bangkok, and I stopped to eat ten times between the airport and the hotel. It was all lemongrass and ginger and chilies.

– Jean-Georges Vongerichten
Favorite international cuisine?
Spices, flavors, herbs, textures. I love my food. It's even better when you taste the fabulous dishes from around the world. Indian, Thai, Chinese, Mexican, Cajun, yum!
Wouldn't it be fabulous to travel from country to country to try their regional specialties? Oh yes, that would be delightful! However, I'm going to whip up some in my own kitchen. For example, try my Easy Keto Paella with Cauliflower Rice.
Then the smells, tastes, and textures will transport me easily on a world tour from my own home.
Currently, I'm off to eat a bowl of keto Thai coconut soup. For now at least. 🙂 Enjoy!
Pin the recipe here!: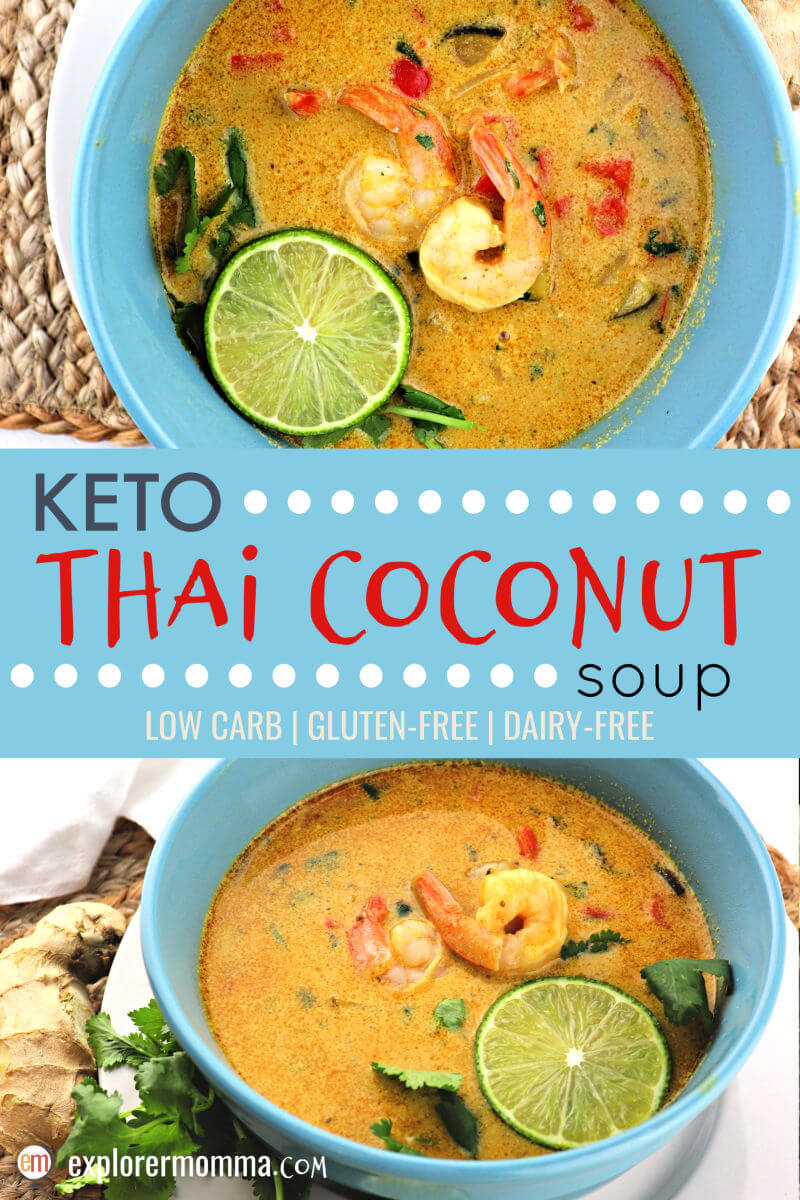 Tag me in your recipe pics on Instagram @explorermomma.
If you LOVE this recipe please consider giving it a five-star rating in the review area below!
🥣 More low carb soups
📖 Recipe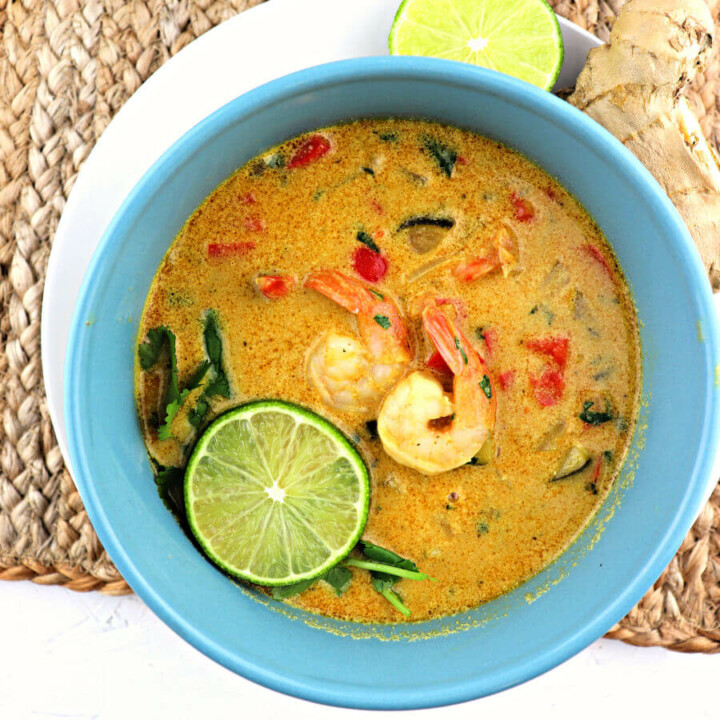 Keto Thai Coconut Soup
Fresh, spicy, and flavorful! Low carb Thai coconut soup is the perfect mix of coconut, lime, shrimp, cilantro, and red curry deliciousness! It's dairy-free, gluten-free and fabulous.
Ingredients
2 tbsp coconut oil, (or avocado oil)
1 lb peeled medium shrimp
1 diced red bell pepper
1/2 cup chopped onion
2 chopped zucchini (small), (or make as zoodles)
1 stalk lemongrass (finely chopped), (or 5 drops lemongrass essential oil)
2 cloves minced garlic
1 tsp finely chopped ginger
salt to taste
2 tbsp red curry paste, (or red curry powder)
2 13 oz cans unsweetened coconut milk
4 cups chicken bone broth, (or vegetable stock)
1/2 tsp black pepper
1 lime, juiced
2 tbsp fresh cilantro (more to garnish)
Instructions
In a large soup pot or dutch oven, melt the coconut oil over a medium-high heat. Add the shrimp, stirring occasionally for 2-3 minutes until pink. Salt to taste then remove to a bowl.
To the pot, add the onion, bell pepper, garlic, and zucchini. Stir occasionally until tender (4-5 minutes). Add in the ginger and lemongrass and cook another minute.
Whisk in the curry paste and then the coconut milk, stock, and pepper. Bring it all to a boil then reduce heat and simmer until the soup thickens slightly (about 10 minutes).
Stir in the shrimp, lime juice, and cilantro and season with salt and pepper to taste. Serve in bowls and garnish with fresh lime wedges and cilantro.
Notes
Nutrition Facts
Servings 6.0 Amount Per Serving Calories 359 Total Fat 26 g Saturated Fat 22 g Monounsaturated Fat 0 g Polyunsaturated Fat 0 g Trans Fat 0 g Cholesterol 116 mg Sodium 474 mg Potassium 381 mg Total Carbohydrate 6 g Dietary Fiber 1 g Sugars 4 g Protein 26 g Net Carbohydrate 5 g
Nutrition Information:
Yield:

6
Serving Size:

6 Servings
Amount Per Serving:
Calories:

359
*Nutrition Facts per MyFitnessPal.com. For most accurate facts, calculate your own with the exact ingredients you use in the recipe.
Nutrition Disclaimer
Please be aware I am not a medical specialist or nutritional professional. On this blog, I share recipes and what works for me. Please do not take anything on this blog as medical advice and always consult with your doctor before starting any diet or exercise program.
I use MyFitnessPal.com to calculate nutrition facts as a courtesy to my readers, and I remove erythritol from the final carb count and net carb count because does not affect my own blood glucose levels.
This is as accurate as possible, but it's best to independently calculate nutritional information on your own with the specific ingredients you use. I expressly disclaim any and all liability of any kind with respect to any act or omission wholly or in part in reliance on anything contained in this website.