Healthy low carb chicken mushroom soup is the perfect comforting soup for the winter cold and flu season or anytime! High in protein and a tasty gluten-free, low carb twist on an old favorite.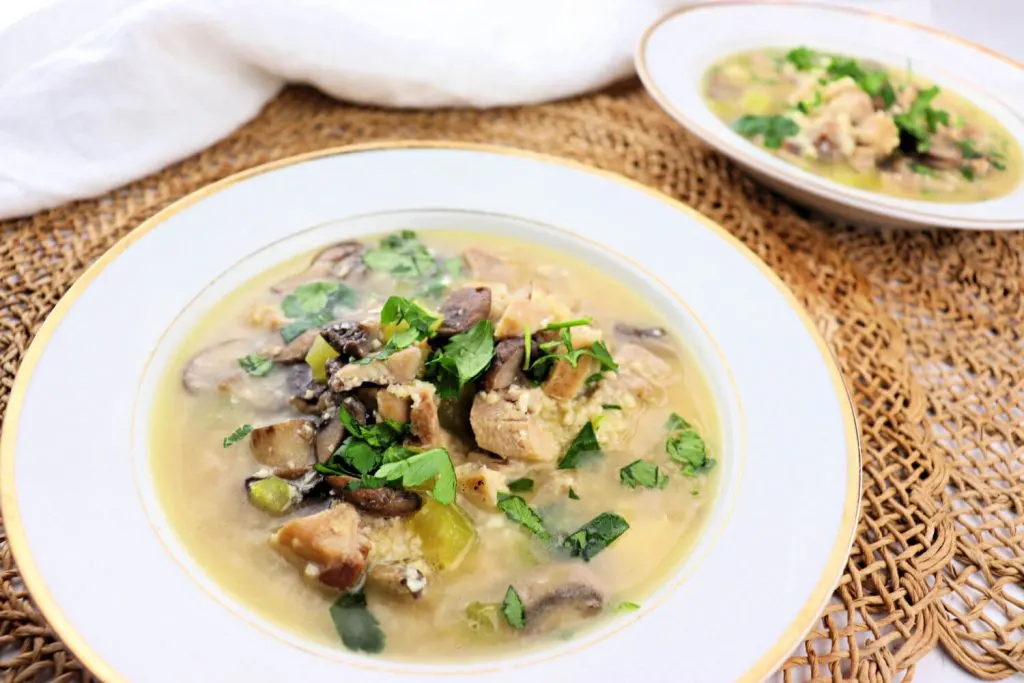 This winter so far has been a tough one. It seems like everyone lately has a cold or the flu or some weird sickness that makes you want to hide out in a dark room in bed. In fact, I heard actually 5 schools were closed today in our city due to a recent norovirus outbreak.
This post contains affiliate links, which means I receive a small percentage if you make a purchase after clicking on my links.
That tells me it's time to stay away from stores and crowds this weekend. I'll throw the kids in the shower when they get home from school and get all the germs off of them. Then it's time to set my Thieves essential oil diffusing and make some comforting soup. Especially so since the weekend's forecasted for snow and freezing temps!
The power of comfort soup
What soup to make, you ask? Well, my low carb chicken mushroom soup is reminiscent of a traditional chicken noodle soup. However, if you ask me it's even better!
Chicken, mushrooms, celery, cauliflower, bone broth, and cheese, this is packed with protein and good things. You can even make it dairy-free by leaving out the cheese and instead whisking in 3 beaten eggs!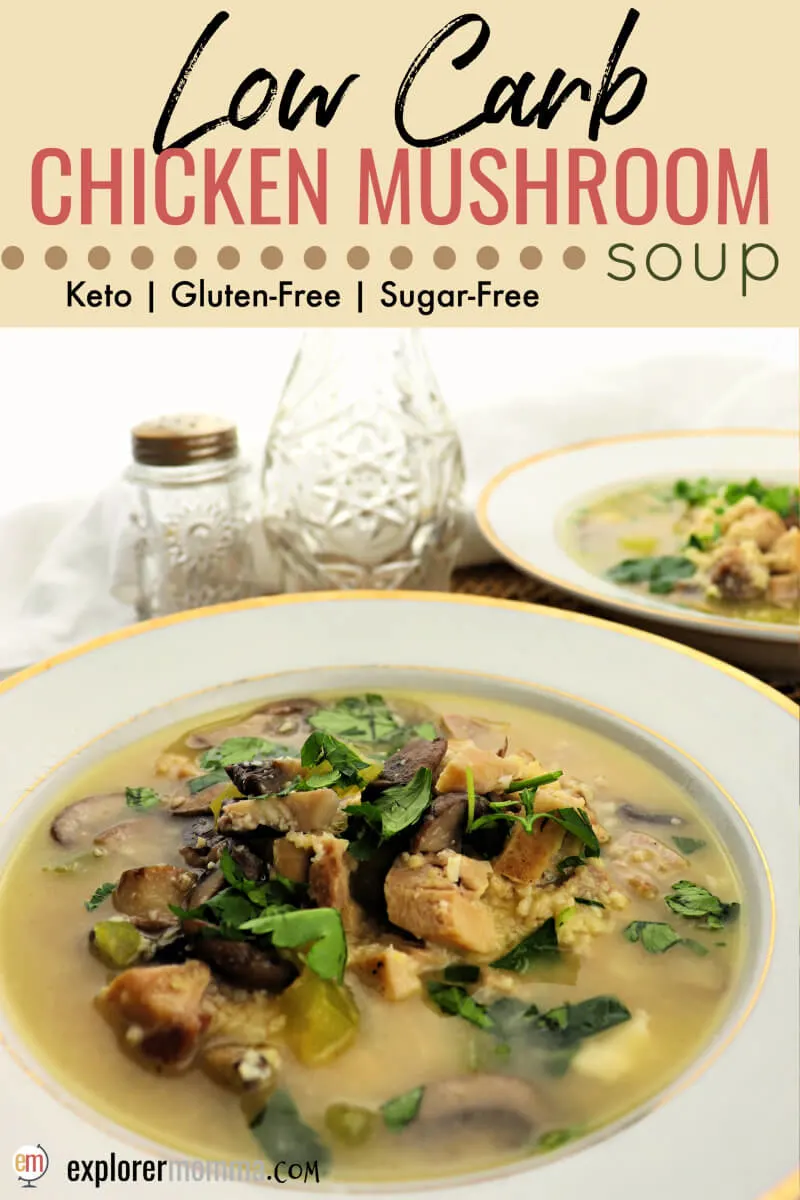 In a hurry?
Scroll down to the bottom for the printable recipe or PIN it here for later!
I live on good soup, not on fine words.
How to cook chicken thighs
Cooking chicken is pretty simple, right? Well, it can be! In order to get a perfectly cooked chicken thigh, there are a few points to keep in mind. This is how I like to cook chicken.
Traditional Method: How to cook chicken thighs in the oven
Baking chicken in the oven is my traditional go-to method. Usually, I don't like to boil the chicken as I feel like I get a better flavor baking it.
First, spray/coat the baking pan with coconut, avocado, or olive oil. Second, spread the chicken thighs evenly around the pan and salt and pepper them well on both sides. You can even add garlic powder or paprika if you like. Then, either spray or spoon oil on the chicken and rub it on gently.
Bake the chicken in a 350-degree oven for about 25-35 minutes, depending on the size. Once the internal temperature reaches 165 degrees take them out of the oven and tent them with foil for 5-10 minutes to keep in the juices.
Eat them, use them on a salad or in a soup! Enjoy!
How to cook chicken thighs in the Instant Pot
The Instant Pot is my second favorite way to cook chicken, although I usually only do it this way when I'm in a big hurry. They do turn out flavorful and juicy!
To begin, season the chicken on a meat or cutting board on both sides. When I say season I mean salt, pepper, and optional garlic powder and paprika or whatever you prefer.
Next, turn on the Instant Pot to high sauté, add a tablespoon of oil, and brown the chicken on all sides. Then take the chicken out and add a cup of water to the pot. Put an Instant Pot trivet in and place the chicken on top of it.
Now, seal the lid and turn the pot to high-pressure cook for 10 minutes. Do a 10-minute natural pressure release and then push the button on top for a quick release of what's remaining. The chicken should be ready!
🍽 Equipment
To make low carb chicken mushroom soup you'll need: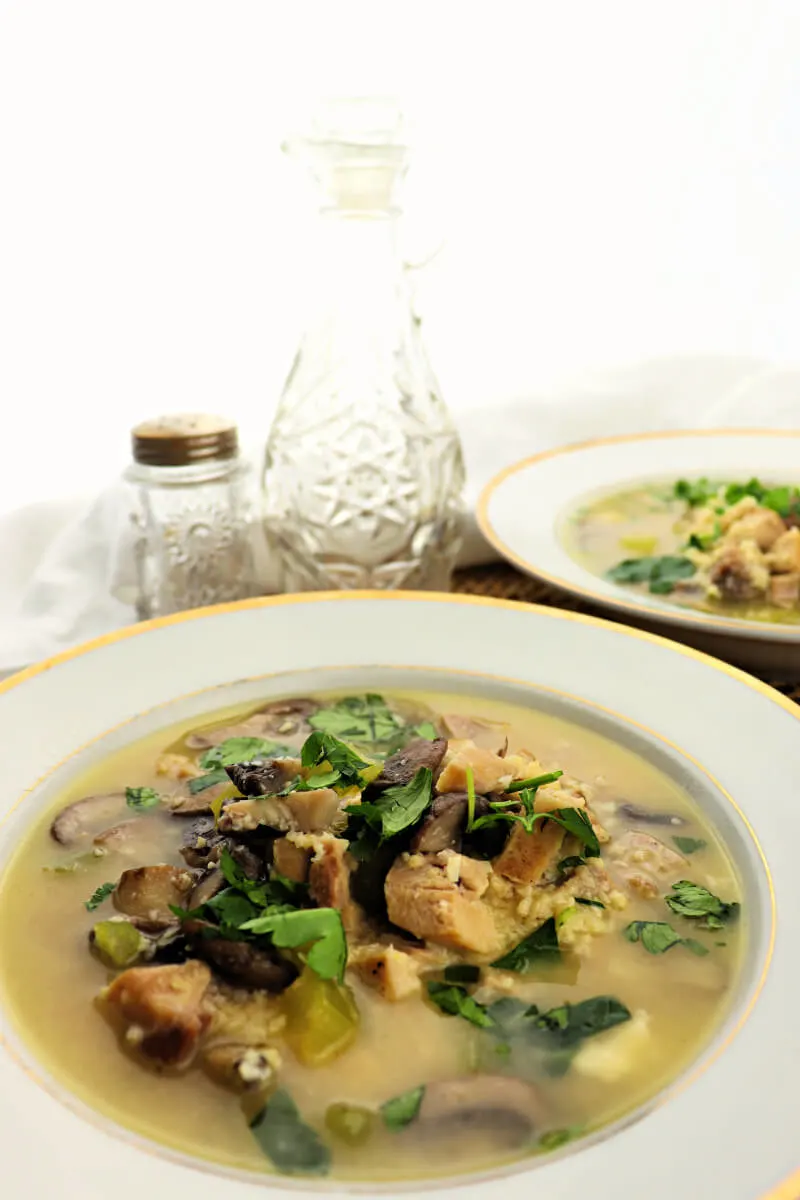 🔪 Instructions
How to make low carb chicken mushroom soup
How to make this lovely soup? Well, start by getting all your ingredients and utensils out and ready. First, melt butter or coconut oil in a large Dutch oven or stockpot. Second, add the mushrooms, celery, onion, and garlic and stir it around occasionally. Cook it for 4-5 minutes or until the mushrooms are cooked and the other vegetables are soft.
Once the veggies are ready, pour in the bone broth and water. You should have the cubed chicken from the directions above on how to cook perfect chicken thighs. However, as a super quick sub, you could chop up a rotisserie chicken from the grocery store.
So, add in the cooked chicken, cauliflower rice, and the bay leaf. Simmer it all for about 10 minutes and then whisk in the cheeses until melted and well-combined. Add salt and pepper to taste. Then, simmer it all for 10 more minutes, or more if time to get those flavors all fused together and glorious.
Last, stir it all well and serve in bowls topped with chopped parsley. Yum!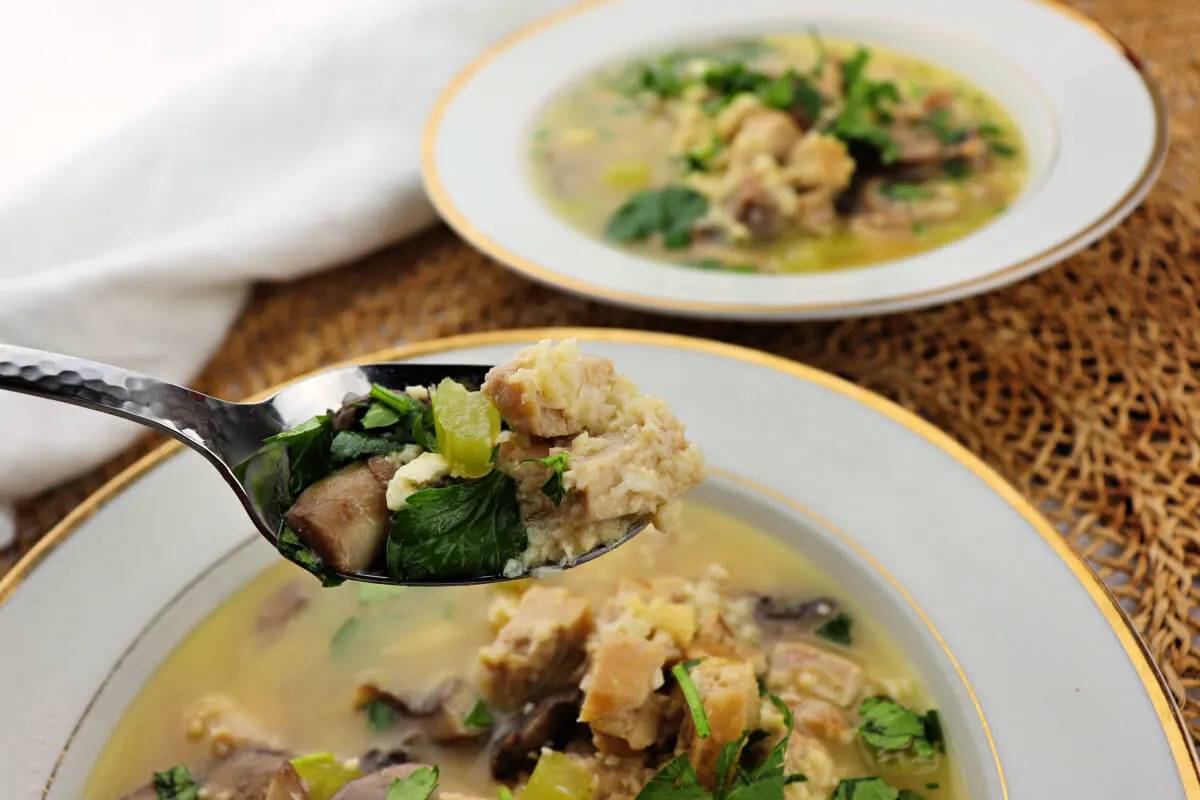 How to make a dairy-free low carb chicken mushroom soup
I've had some requests for dairy-free recipes lately so I thought I'd mention you can very easily make this a fabulous dairy-free soup!
There are only a couple of substitutions to make a healthy dairy-free low carb chicken mushroom soup.
Use coconut or avocado oil instead of butter.
Leave out the cheese and instead whisk together 3 eggs. I like to mix them with the cauliflower rice before adding it to the soup so the egg doesn't curdle and clump as it cooks. So, stir the beaten eggs with the cauliflower then add it all to the soup. Bring it to a simmer, continuously whisking until the egg is cooked through.
Voílà! There you have it. Super-easy, right?
To feel safe and warm on a cold wet night, all you really need is soup.
Do you love a good low carb soup?
So when the winds howl, and the snow is falling, what's your favorite low carb soup? Low carb chicken mushroom soup is perfect for after you've had that awful winter virus and are in recovery mode. Also, it's good for avoiding that unlucky virus!
We've been lucky enough to avoid major viruses this year, knock on wood. The kids have had normal colds, but they went away quickly. So here's to yummy, comforting foods and keeping our families healthy! Who's with me? Let's keep those germs at bay!
Pin the recipe here!: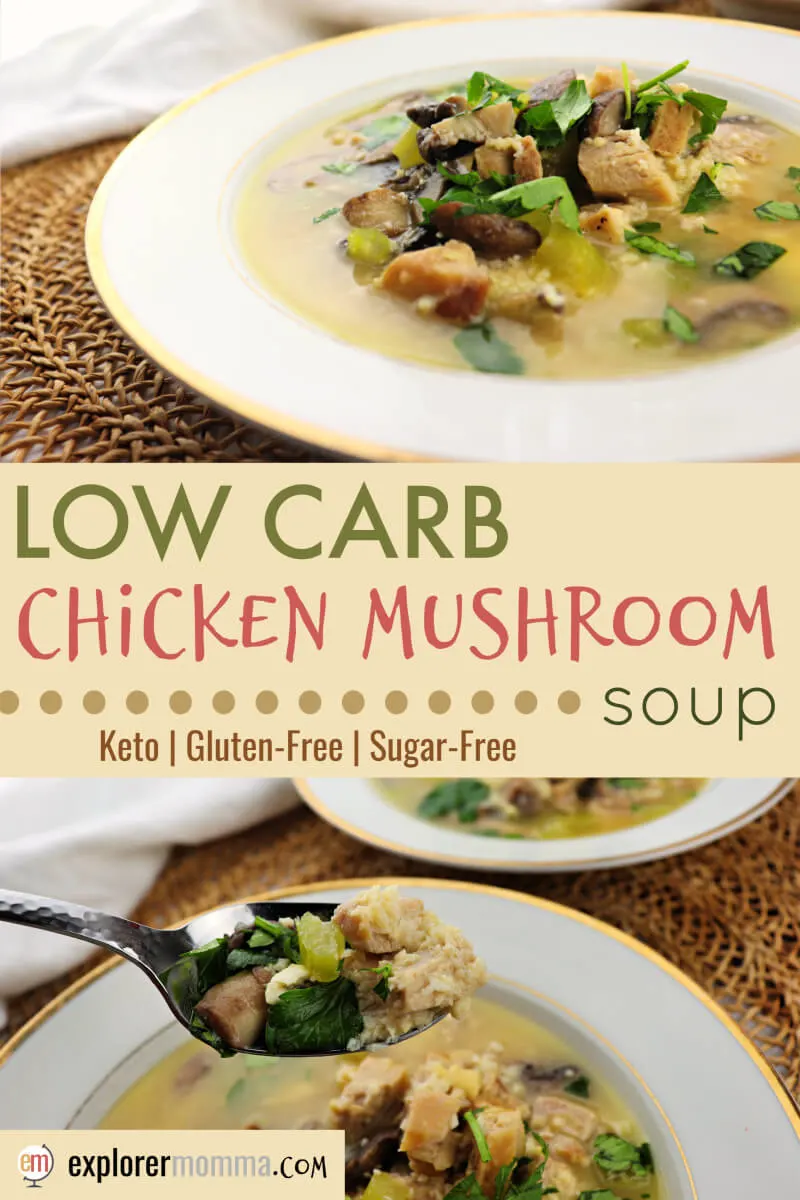 Tag me in your recipe pics on Instagram @explorermomma.
If you LOVE this recipe please consider giving it a five-star rating in the review area below!
🥣 Low carb soup recipes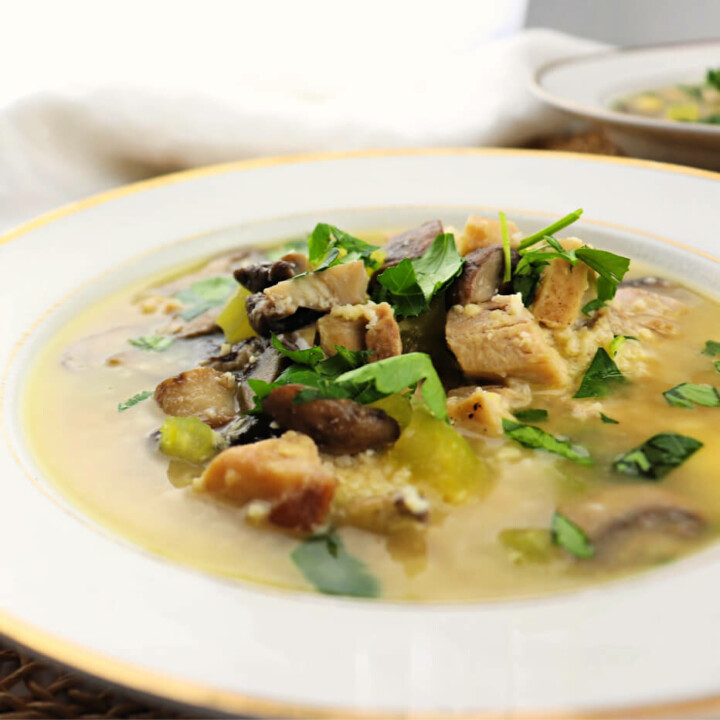 Low Carb Chicken Mushroom Soup
The ultimate healing comfort food, low carb chicken mushroom soup will become your go-to healthy dinner recipe. With bone broth, mushrooms, celery, chicken, and cheese, your stomach will smile.
Ingredients
2 tbsp butter (or coconut oil)
8 oz mushrooms
2 stalks chopped celery
1 clove minced garlic
1/4 cup chopped onion
32 oz chicken bone broth
2 cups water
1 bay leaf
1 lb chicken thighs, cooked and cubed
2 cups Monterrey Jack cheese
1/2 cup parmesan cheese
12 oz cauliflower rice
chopped parsley
salt (to taste)
pepper (to taste)
Instructions
Melt butter or coconut oil in a large Dutch oven or stockpot. Add the mushrooms, celery, onion, and garlic. Cook 4-5 minutes until mushrooms are cooked and other vegetables are soft.
Pour in the bone broth, water, and add in the cooked chicken, cauliflower rice, and bay leaf. Simmer for about 10 minutes then whisk in the cheeses until melted and well-combined. Add salt and pepper to taste.
Simmer for 10 more minutes (or more if time). Stir well and serve in bowls topped with chopped parsley.
Notes
Nutrition Facts
Servings 8.0 Amount Per Serving Calories 295 Total Fat 19 g Saturated Fat 10 g Monounsaturated Fat 2 g Polyunsaturated Fat 0 g Trans Fat 0 g Cholesterol 94 mg Sodium 551 mg Potassium 368 mg Total Carbohydrate 3 g Dietary Fiber 1 g Sugars 1 g Protein 29 g
Nutrition Information:
Yield:

8
Amount Per Serving:
Calories:

295
Unsaturated Fat:

0g
*Nutrition Facts per MyFitnessPal.com. For the most accurate facts, calculate your own with the exact ingredients you use in the recipe.
Nutrition Disclaimer
Please be aware I am not a medical specialist or nutritional professional. On this blog, I share recipes and what works for me. Please do not take anything on this blog as medical advice and always consult with your doctor before starting any diet or exercise program. I use MyFitnessPal.com to calculate nutrition facts as a courtesy to my readers, and I remove erythritol from the final carb count and net carb count because does not affect my own blood glucose levels.
This is as accurate as possible, but it's best to independently calculate nutritional information on your own with the specific ingredients you use. I expressly disclaim any and all liability of any kind with respect to any act or omission wholly or in part in reliance on anything contained in this website.