A delicious, creamy low carb comfort soup. Keto taco soup tastes like a taco in a bowl and is super quick and easy for a weeknight meal.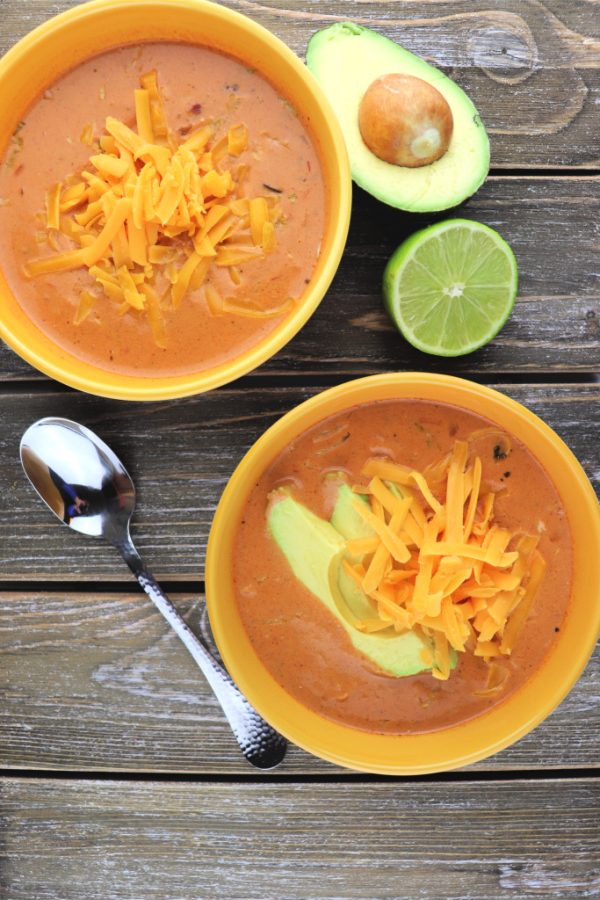 This post contains affiliate links, which means I receive a small percentage if you make a purchase after clicking on my links.
One of my absolute favorite things to make for dinner in winter for the family is soup. It's warm, cozy, comforting and super quick to heat up for a couple of nights in a row when running in from karate or basketball practice.
A good soup or stew is one of those homemade meals never the same out of a can, and it's also so important to be able to control the ingredients put into it.
Does your family have a taco Tuesday? If you are eating a keto lifestyle it's so easy to change that up to a taco salad (my favorite in summer) or this awesome taco soup in winter! My kids don't even miss the taco shells or tortillas!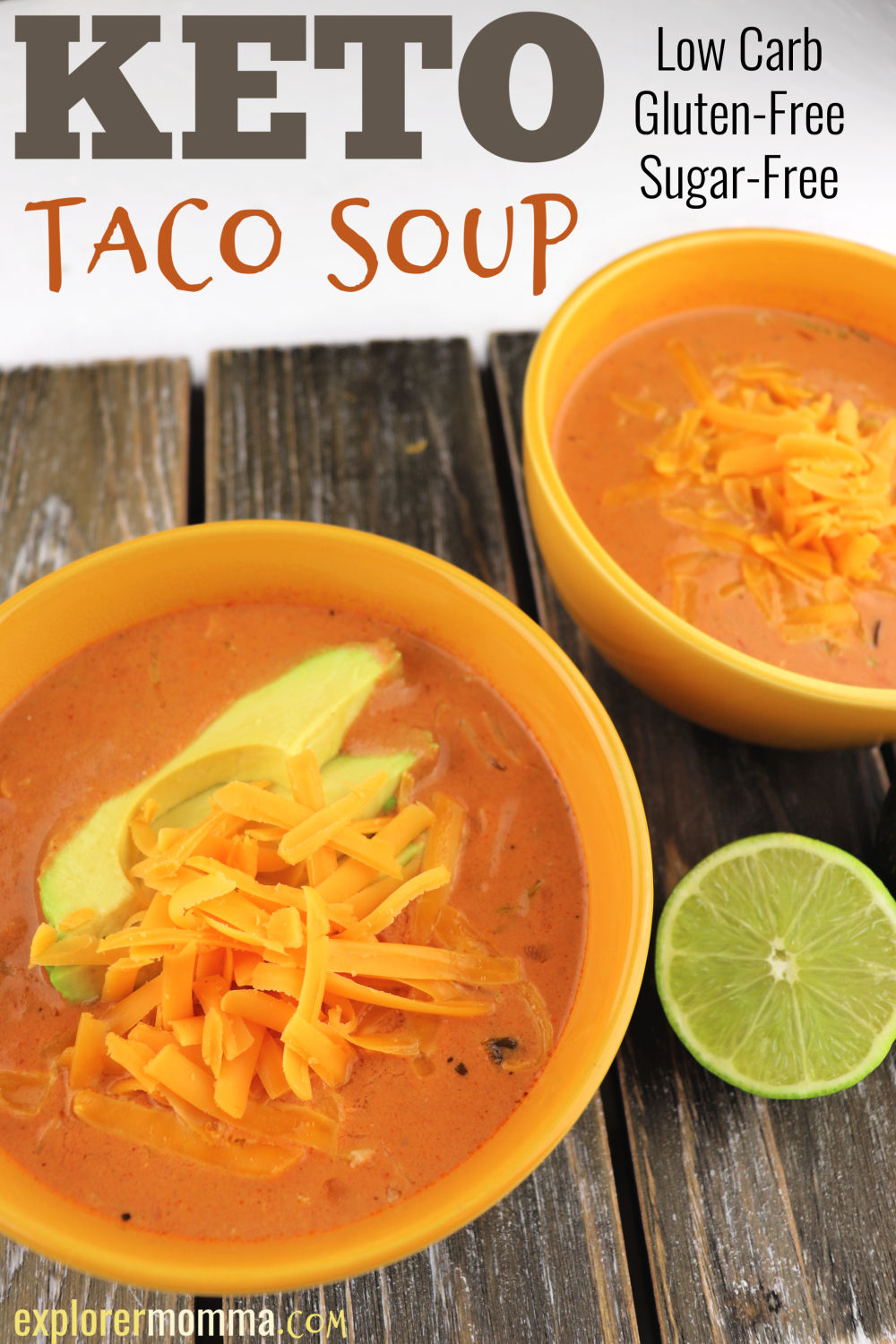 In a hurry?
Scroll down to the bottom for the printable recipe or PIN it here for later!
You cannot make everybody happy, you are not a taco.
To make this easy keto taco soup you'll need:
Why use bone broth in keto taco soup?
What is bone broth exactly you may ask, and how is it different than regular broth or stock?
Well, bone broth is essentially stock renamed. It's confusing because when you traditionally think of a broth it's the liquid boiled with the actual meat or vegetable and what results after a couple of hours.
With a stock, or what is now called bone broth, you boil bones for an extended period of time so that the collagen and cartilage break down to dissolve into the liquid. You really can't boil it too long, but I've seen recipes between 8 and 18 hours.
A really good bone broth will gel into a good meat Jello. Doesn't that sound appetizing?! I remember when I first joined the Peace Corps, one of my first meals at our training location in Georgia (the country, not the state) was a gelled meat square and a plate of cheese curds with sour cream on top. Being jet-lagged and not quite my usual adventurous self, you may imagine my reaction to that meal.
Now, however, it doesn't sound all that bad! In fact, I'm making the bone broth myself or buy it when I don't have the time. Bone broth is said to be good for hair, nails, skin and promotes a healthy gut. I use it in all my soups.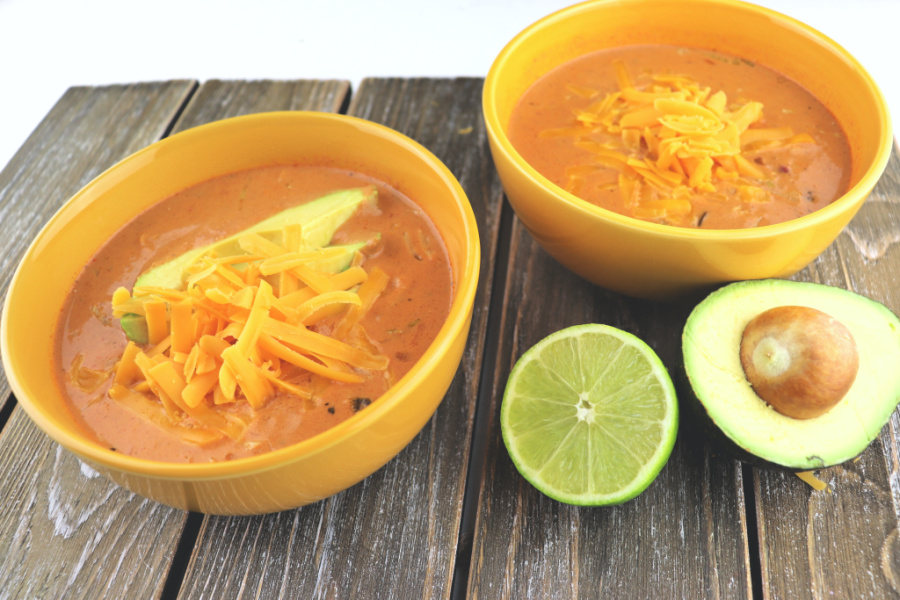 "Well," Claire said, "at least we have tacos. Everything goes better with tacos."
How to make easy keto taco soup
This keto taco soup came out of a taco craving and what was on-hand at the time. Now it's an easy family favorite, super simple to throw together for a couple of weeknight meals.
First, brown the ground beef and add in the 3 tbsp of taco seasoning. Second, stir it up to combine and cook for another couple of minutes. When choosing any meat, I try to get good quality, the healthiest possible for my family.
Good quality beef and meat products
If you frequent the meat counter at the grocery store, look for good grass-fed beef without hormones or antibiotics. There are also quite a few mail-order meat companies out there to make life more convenient.
The beauty of this is you can get it delivered directly to your door, and as I still have youngish kids I avoid going into stores if at all possible.
We use a company called ButcherBox and have had great luck with them for our meat. You can check out my blog post here about our first delivery. Also, if you purchase a ButcherBox through my link here, they will also throw in 2 pounds of Alaskan Wild Salmon for free! Yum.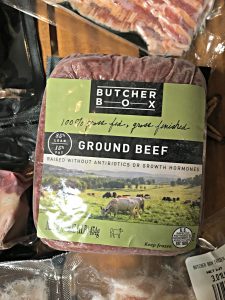 How to put the soup together
Now set aside the taco meat. Then pull out a dutch oven or soup pot and pour in the bone broth. On medium-high heat, warm the bone broth then whisk in the cream cheese.
Tip: When I'm running late and haven't set out the cream cheese to warm, I just throw the bone broth and cream cheese in a blender for thirty to forty seconds then pour it into the soup pot. Voilà! No lumps.
Next, add the meat to the pot, then the tomato sauce (or you can also used finely diced tomatoes for a chunkier soup), and the salsa. Make sure to you use homemade or a good-quality low carb tomato sauce and salsa. That way you can be sure there's no extra sugar added and keep the carb count down. The carb count can go up and down drastically with the kind of sauce and salsa you use.
Now heat it on medium-high until it's simmering then mix in the cabbage and cheddar cheese. Turn the heat down and continue to simmer for 15-20 minutes.
My secret ingredient: cabbage
What? Did you just say cabbage?! Why yes, yes I did. I've found very thinly sliced cabbage mimicks the lettuce on a taco and is perfect in this soup. It holds its shape and has a good texture. To make it even easier, look for the angel hair cut cabbage in a bag at the grocery store. Easy peasy.
Lastly, serve up the soup in bowls topped with optional cheddar cheese, cilantro, lime, and/or avocado. Yum!
Tacos are like what the voices of a hundred angels singing Bob Dylan while sitting on rainbows and playing banjos would taste like if that sound were edible.

– Isabel Quintero
Want more keto comfort recipes?
Try this easy creamy keto Italian sausage soup.
Or maybe some keto chicken enchilada bowls. Yum!
Comforting soup in winter
I love a good soup when it's cold outside. Do you know what? I also love how easy it is to re-heat for an even quicker hot meal. So, I challenge you.
Put a twist on taco Tuesday and try out this keto taco soup. I know you'll be glad you did.
Pin this recipe here!: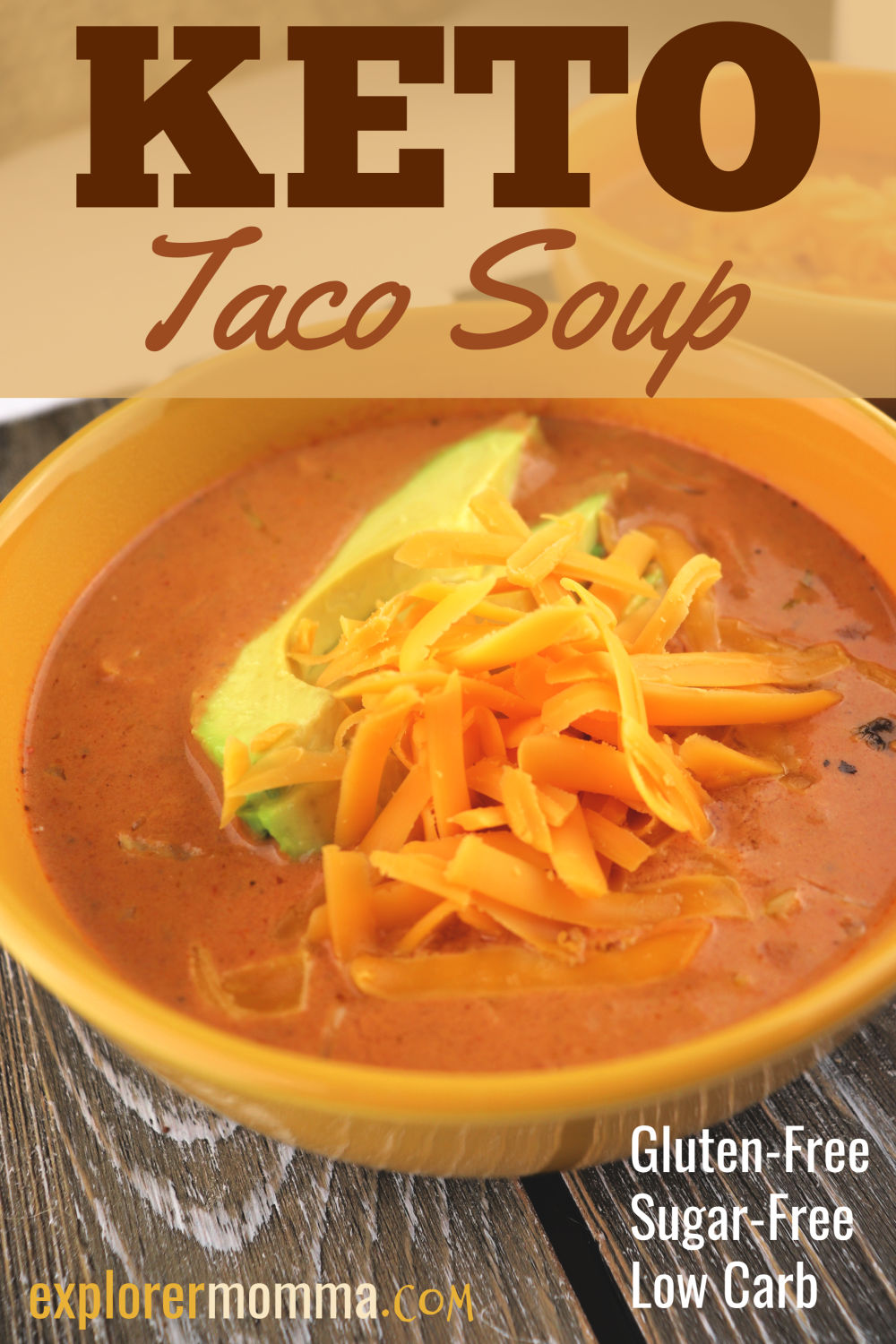 Tag me in your recipe pics on Instagram @explorermomma!
If you LOVE this recipe please consider giving it a five-star rating in the review area below.
Thank you!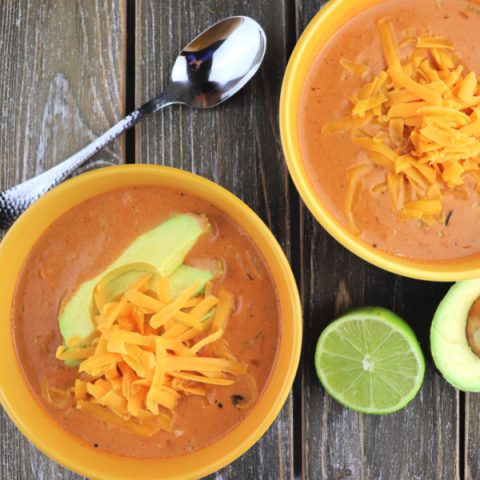 Keto Taco Soup
A taco in a warm spicy low carb bowl of soup. Keto taco soup is quick and comforting on a cold evening.
Ingredients
32 oz beef bone broth
8 oz cream cheese
14 oz tomato sauce
1 lb ground beef
3 tbsp taco seasoning, (sugar-free)
16 oz salsa
2 cups angel hair chopped cabbage
2 cups shredded cheddar cheese
cilantro, chopped
Instructions
Brown ground beef and add the 3 tbsp of taco seasoning. Stir to combine and cook for another 1-2 minutes. Set aside.
Take a dutch oven or soup pot and pour in the bone broth. Warm then whisk in the cream cheese (or blend in a blender and add to the pot).
Add the meat to the pot along with the tomato sauce and salsa. Heat until it's simmering then mix in the cabbage and cheddar cheese. Continue to simmer for 15-20 minutes.
Serve in bowls topped with optional cheddar cheese, cilantro, lime, and/or avocado.
Notes
Nutrition Facts
Servings 10.0 Calories 309 Total Fat 22 g Saturated Fat 12 g Monounsaturated Fat 4 gPolyunsaturated Fat 1 gTrans Fat 0 gCholesterol 77 mg Sodium 392 mg Potassium 188 mg Total Carbohydrate 6 g Dietary Fiber 1 g Sugars 3 g Protein 18 g
Nutrition Information:
Yield:

10
Amount Per Serving:
Calories:

309
Unsaturated Fat:

0g
*Nutrition Facts per MyFitnessPal.com. For the most accurate facts, calculate your own with the exact ingredients you use in the recipe.
Nutrition Disclaimer
Please be aware I am not a medical specialist or nutritional professional. On this blog, I share recipes and what works for me. Please do not take anything on this blog as medical advice and always consult with your doctor before starting any diet or exercise program.
I use MyFitnessPal.com to calculate nutrition facts as a courtesy to my readers, and I remove erythritol from the final carb count and net carb count because does not affect my own blood glucose levels.
This is as accurate as possible, but it's best to independently calculate nutritional information on your own with the specific ingredients you use. I expressly disclaim any and all liability of any kind with respect to any act or omission wholly or in part in reliance on anything contained in this website.