This page contains affiliate links. ButcherBox Unboxing
This time of year it seems like it's almost impossible to eat healthily. At the office, you have a Christmas goodie day with fudge, English toffee, cookies, and donuts. In addition, kids get more and more candy as bribes at school, parties are happening, and you keep getting cookies and chocolate pumpkin bread for gifts. Does that sound familiar? And who can say no!? It's truly a test of determination to pass on all that addictive sugar and yumminess.
Don't get me wrong, I'm all for celebrating and having my own share of traditional recipes. I LOVE all these things, BUT I am trying to limit the unnecessary sugar for myself and the kids this year. Also, it's gotten me thinking how I can encourage healthier choices for my family once all the holiday cheer and craziness passes.
One of my first steps on this path to healthier eating was to take a look at the meat the family eats. Granted, we don't eat a lot of meat, but with so many reports and scares out there about meat quality, it's something I've worried about. Also, I've been exploring ketogenic recipes (more on that later) that include a lot more meat than I'd been used to eating. Where can I get quality grass-fed beef and other quality meats without completely breaking the bank?
So as an experiment I succumbed to the Black Friday sale and ordered from an online mail order meat company called ButcherBox.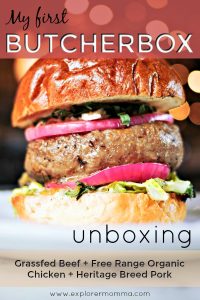 ButcherBox Unboxing
First of all, you choose your box. You can choose from grass-fed beef, free-range organic chicken, heritage breed pork or customize your own box. It's sent directly to your front doorstep, insulated and packed in dry ice to ensure frozen solid meat. Then thaw your meat as you need it, and enjoy!
Sounds super-convenient, right? Well, take a look at my ButcherBox unboxing video to see what you get.
Explorer Momma's ButcherBox Unboxing
In the video I say you'll get $10 off and free ribeyes if you buy your box through my link; however, ButcherBox has already updated the offer. Sorry for the change! Now you will get 2 pounds of FREE ground beef for life! That means in every box you'll be given 2 extra pounds of grass-fed ground beef for the lifetime of your membership. Pretty sweet deal.
Click here to check that out.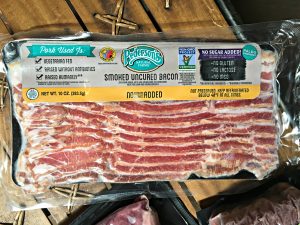 What's in a regular ButcherBox?
8-11 lbs of meat per box

Free from antibiotics and hormones

Sourced from farms committed to sustainable practices

Delivered to your doorstep on your schedule
What was in my ButcherBox Unboxing?
Free-range organic chicken breasts

Heritage breed pork chops

Smoked uncured, sugar-free bacon

Ground beef

Sirloin steaks

Ribeye steaks

Strip loin steaks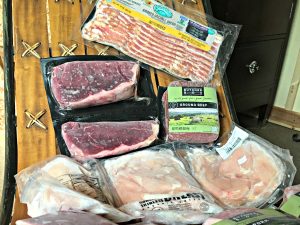 This is the list of items in my regular ButcherBox. I did not include the extra items I received as a result of the Black Friday sale.
Pros
On-line to your doorstep convenience
High-quality meat without any antibiotics or hormones
Great flavor. So far I've thawed and tried the ground beef, bacon, and strip loin steak, and I'm pleased with everything. I'm obviously not a meat expert, but the meat is juicy and flavorful.
On-line support with recipes and cooking tips
Comparable price to high-quality local store meat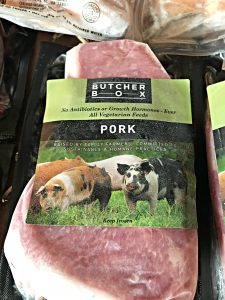 Cons
Is the box enough to last an entire month for your family?
If your family eats a lot of meat then probably not. However, for my family of four, it is plenty to last the month because we don't eat a lot of meat in general.
I haven't had this problem, but some folks online have reported the bags leaking as they thawed them in their fridges. I've thawed three items so far and have not run into this problem at all so can't really consider it a con. If you're worried, and I do this anyway, always thaw your meat on a plate in your fridge.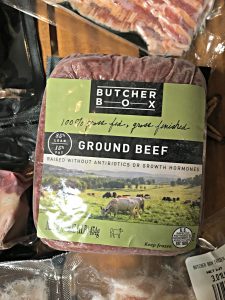 How do I get my Butcherbox?
If you want to try out your own ButcherBox, click on the link below. If you use my link you'll get $20 off your first ButcherBox as well as free bacon! Score!
Click here to order your own ButcherBox.
How will you be healthier in the New Year?
Like I said, this is my first step to healthier eating for my family in New Year. For myself, I'm already cutting out sugar and going low-carb with a ketogenic diet, but that doesn't always work for our entire family. I'll be exploring recipes, quality food, and fun ways to get the kids to be healthy, especially for the five-year-old who's become a stubborn goofy goose (his words) stuck in his ways!
Take care of yourself, and let's have an awesome New Year!
What are your goals for healthier eating in the New Year? Share them in the comments!
Simple, actionable tips to get your kids to eat more healthy. Click below to check it out!