It's time for a refreshing and protein-packed salad recipe to add to your keto or low carb meal plan! This mouth-watering curry keto chicken salad has the perfect balance of crunch and creaminess and is not only delicious but also highly nutritious. Loaded with juicy chicken, crisp veggies, and a bold mix of spices, every bite is a flavor explosion that will leave you craving more.
Plus, it's incredibly easy to put together, making it a convenient option for busy weeknights or as a lunch meal prep option. Trust me, once you try this curry keto chicken salad, it'll become a staple in your recipe collection. So, let's dive in and learn how to whip up this amazing salad!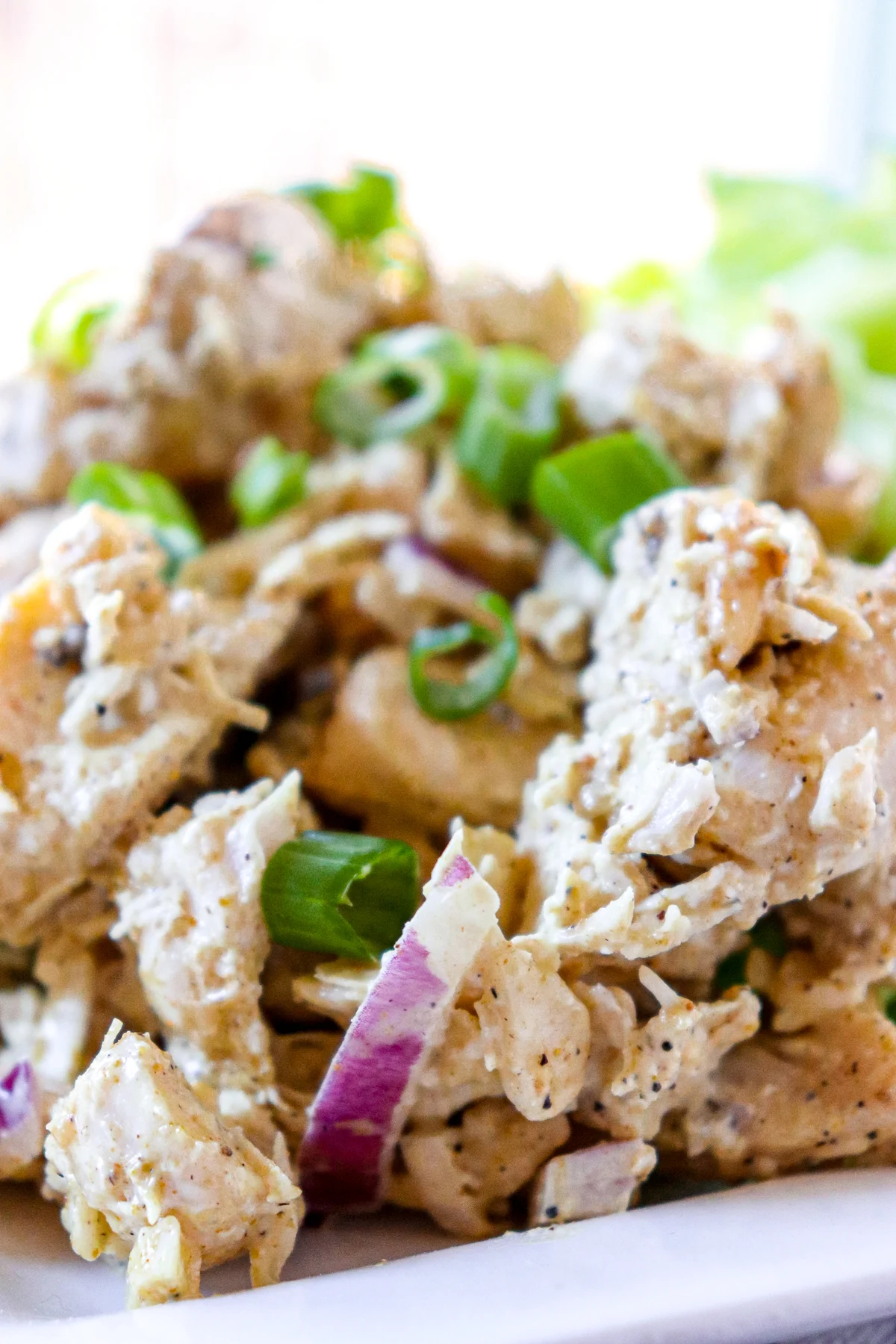 This post may include Amazon or other affiliate links. As an Amazon Associate, I earn from qualifying purchases.
My college days were all over the place and super busy, but there was one constant: my weekly curry chicken salad lunch. Every week, no matter what else was going on in my life, I could count on this easy dish to provide me with the nourishment and comfort I needed to get through the day! Well, most weeks. 😉
It all started when I stumbled across a recipe for curry chicken salad in one of my roommate's old cookbooks. The combination of crispy vegetables, juicy chicken, and flavorful curry powder was an instant hit—I could never get enough! Over time, I tweaked the ingredients to make it healthier and more keto-friendly. So today, I'm excited to share my updated version of this beloved classic with all of you!
This recipe is a must-try for anyone who is on a keto or low-carb diet. It's filled with nutritious ingredients like chicken breast, Greek yogurt, and almonds to provide you with the energy you need to power through your day. The curry powder adds a zingy kick of flavor that will satisfy your taste buds without overwhelming them. Give it a try, and you won't be disappointed!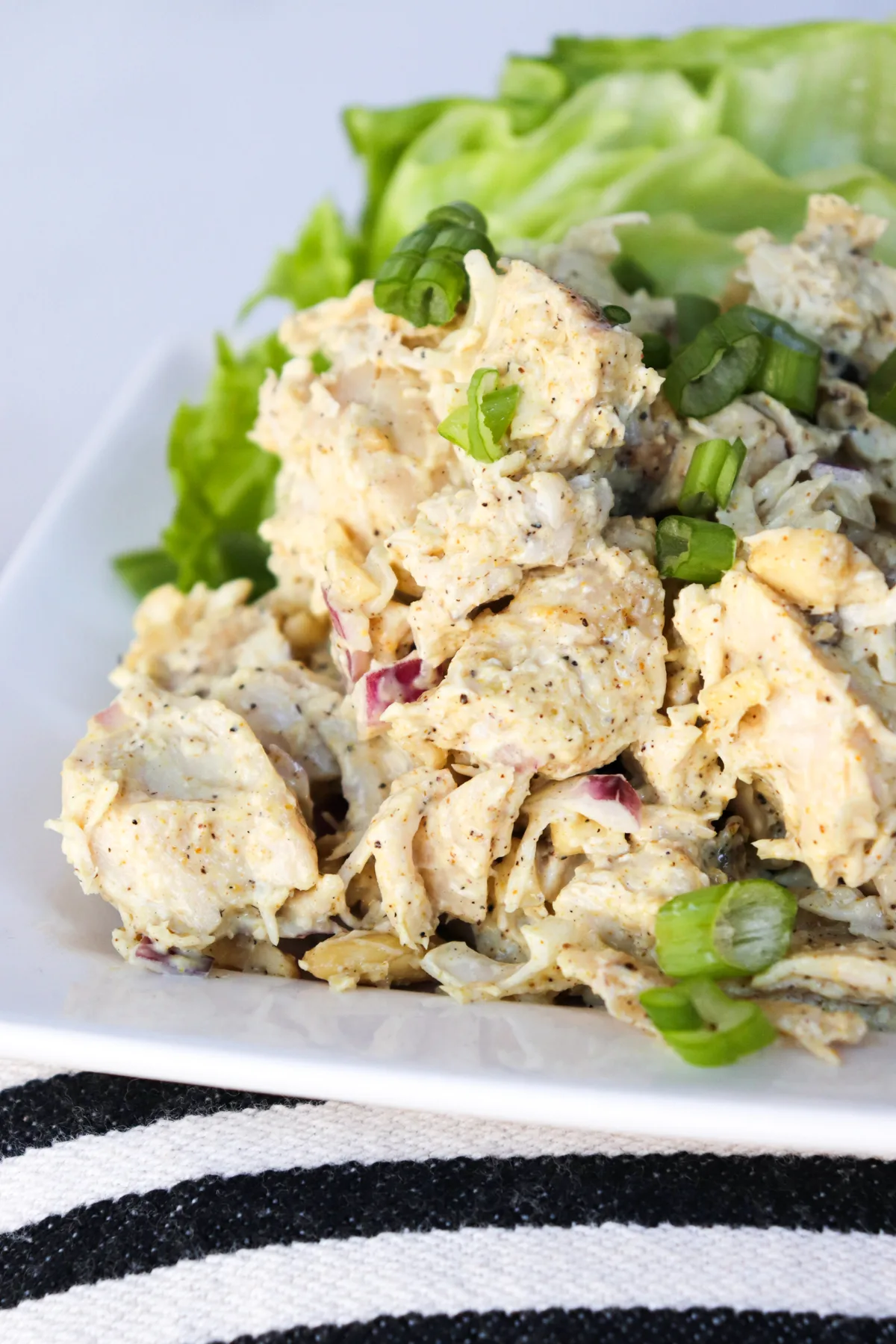 🤔 What is curry keto chicken salad?
Curry keto chicken salad is a healthy and flavorful salad made with juicy chicken, crisp vegetables, and a bold mix of spices. This protein-packed chicken salad provides the perfect balance of crunchy and creamy textures that will leave you wanting more.
It's an excellent option for adding variety to your keto or low-carb meal plan as it's packed with protein, healthy fats, and flavor! Plus, it's easy to make and great for meal prepping ahead of time.
🙋‍♀️ Is curry chicken salad keto?
Let's take a look at the macros. In this keto chicken salad recipe, one serving is one fourth of the recipe. Per serving it has 366 calories, 38 grams of protein, 21 grams of fat, and 3 gram net carbs.
These macros for low carb chicken salad are figured with MyFitnessPal, with the ingredients I use in the recipe. I always recommend figuring out your own with the exact ingredients and specific brands you use. It's very important to determine your own if you're keeping close track and want to be accurate.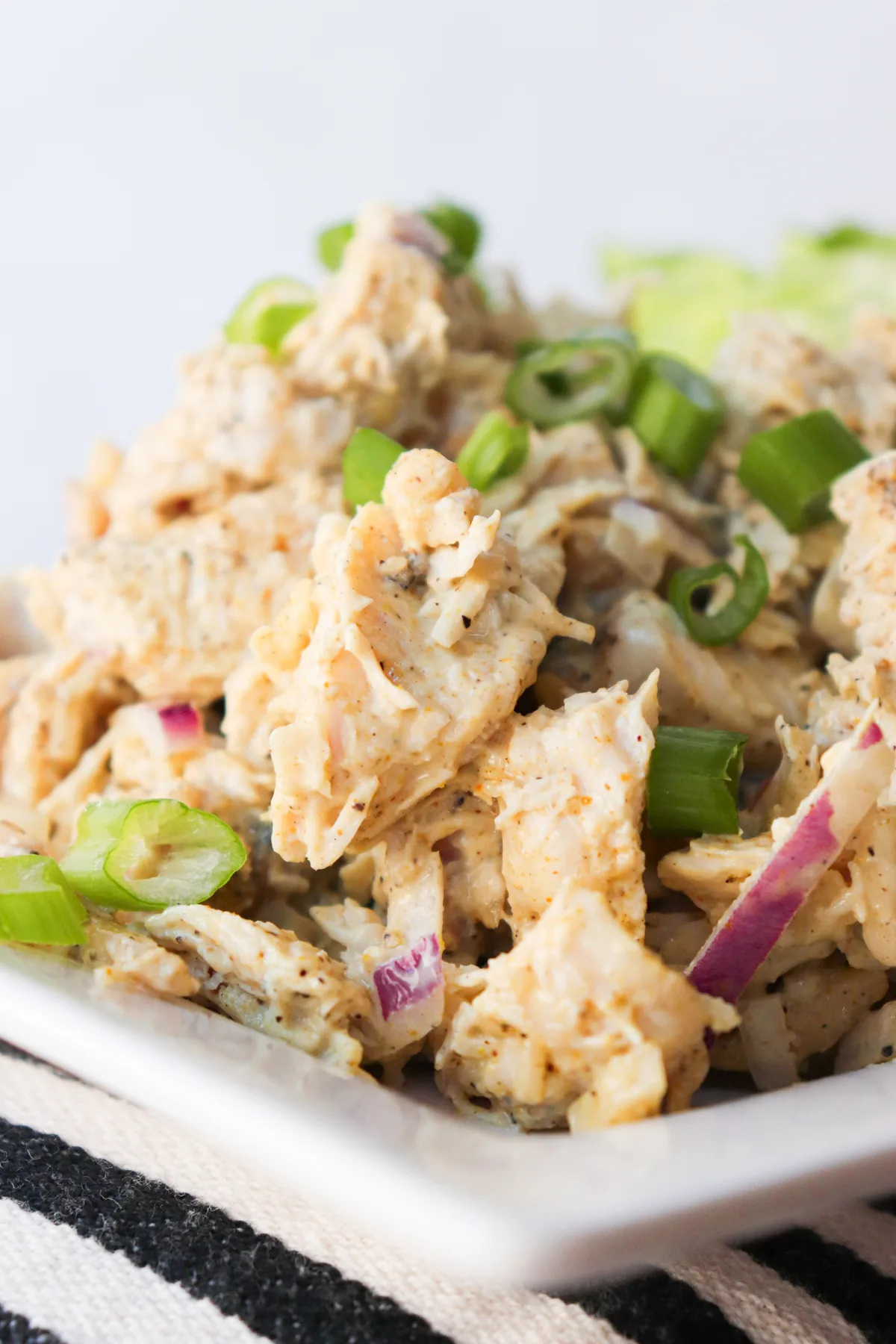 🍽 Equipment needed to make the keto chicken salad recipe
To make this curry keto chicken salad, you'll need a few basic kitchen tools. All you need is a cutting board, knife, measuring cups and spoons, large bowl for mixing, and anything you need to cook the chicken. That's it!
knife
serving plate or mason jar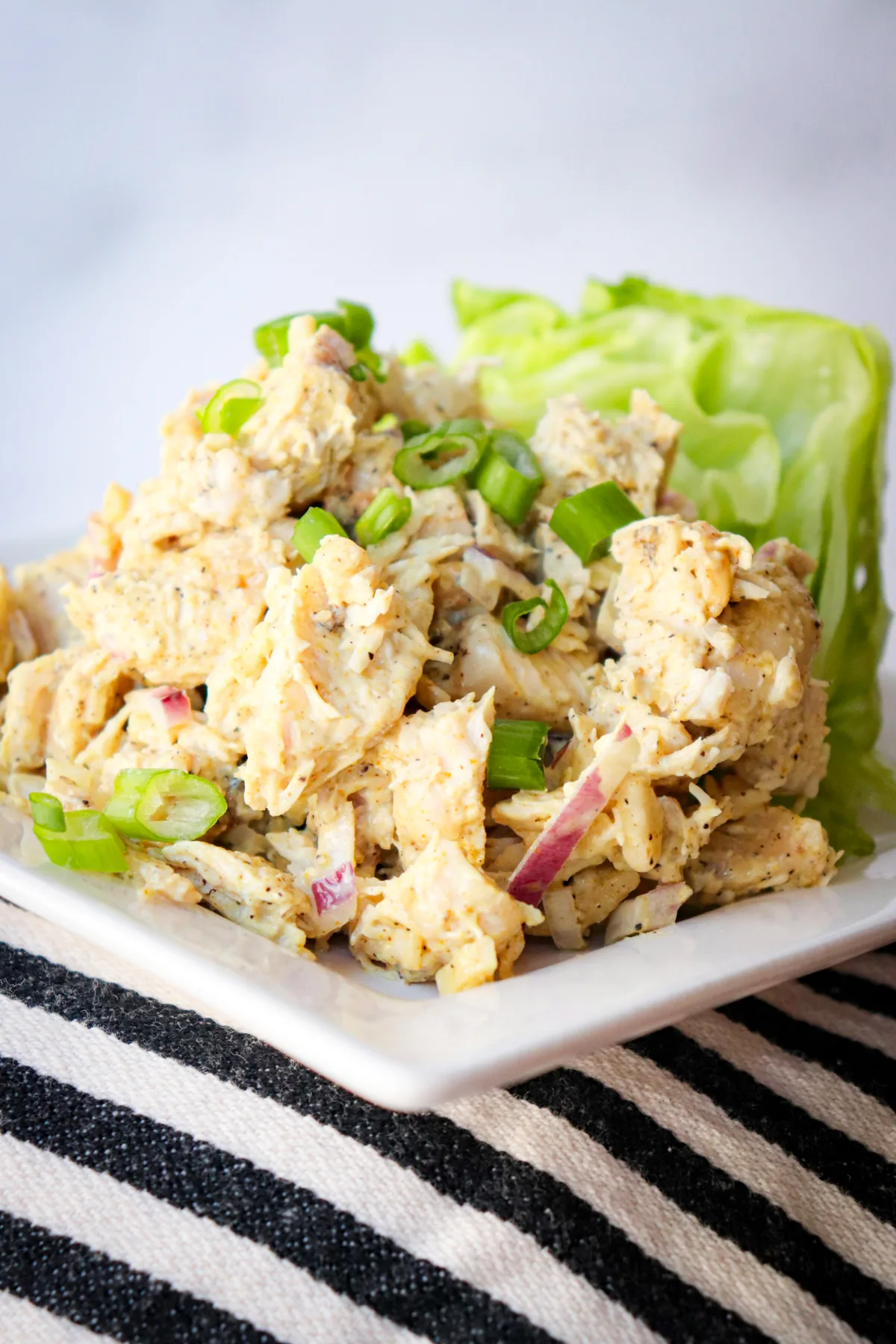 🥘 Ingredients in this low carb chicken salad recipe
Alrighty, let's talk about the ingredients in this delicious curry keto chicken salad! As a mom, I know how important it is to choose the right ingredients for a healthy, satisfying meal. So, here's what to look for when selecting each ingredient:
Cooked chicken breasts
Make sure to choose high-quality, lean chicken breast for this recipe. Look for chicken that is free-range and organic if possible, to ensure you're getting a healthier option that was raised without added chemicals or antibiotics.
You can also use a good quality rotisserie chicken or other shredded chicken. Or in a pinch, leftover chicken or even canned chicken are options.
Mayonnaise
If you're not making your own mayo, be sure to choose a brand that is sugar-free and made with healthy oils like avocado or olive oil. Some mayonnaise brands use unhealthy oils like soybean or canola, so read the label carefully.
Greek yogurt
Greek yogurt is a great substitute for sour cream or mayonnaise if you're looking for a healthier option. Look for plain, unsweetened yogurt with no additives or artificial sweeteners.
Lemon juice
Fresh lemon juice is best for this recipe, as it adds a bright and tangy flavor. You can also substitute freshly-squeezed lime juice if you prefer.
Curry powder
Curry powder is a blend of different spices, so look for a brand that uses high-quality, fresh ingredients. You can also make your own curry powder at home by toasting and grinding spices like turmeric, cumin, coriander, and cardamom.
Salt and pepper
Make sure to use high-quality sea salt and freshly ground black pepper for the best flavor and health benefits.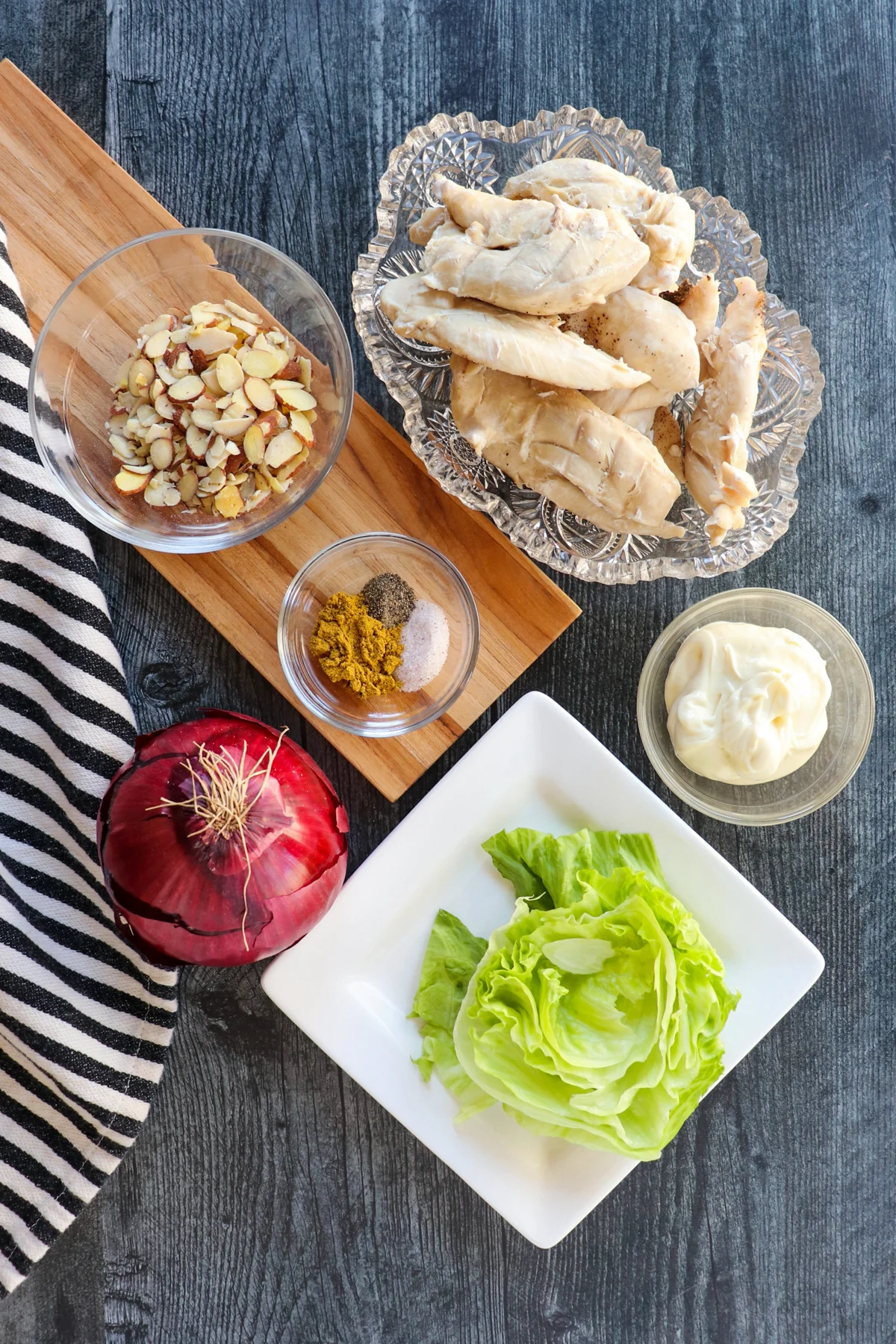 Red onion
Choose a firm, unblemished onion that feels heavy for its size. Red onions are rich in antioxidants and add a nice crunch to this salad.
Almonds
Sliced almonds or slivered almonds are a great source of healthy fats and protein, and add a nice crunch to this salad. Look for raw, unsalted almonds for the healthiest option.
Chicken bone broth
This ingredient is optional, but it adds a nice depth of flavor to the salad and will thin out the dressing if necessary. Choose a high-quality bone broth that is made with organic, grass-fed chicken bones for the best taste and health benefits.
Butter crunch lettuce
Butter lettuce has a nice buttery flavor and a crispy texture, making it the perfect choice for this salad. Look for fresh, organic lettuce for the best flavor and nutrient content.
Green onions (optional)
Sliced green onions add a nice flavor to the salad. Look for fresh, firm green onions with bright green tops and no wilting or browning.
So there you have it, folks! Follow these tips and you'll be sure to create a delicious and healthy curry keto chicken salad. Happy cooking!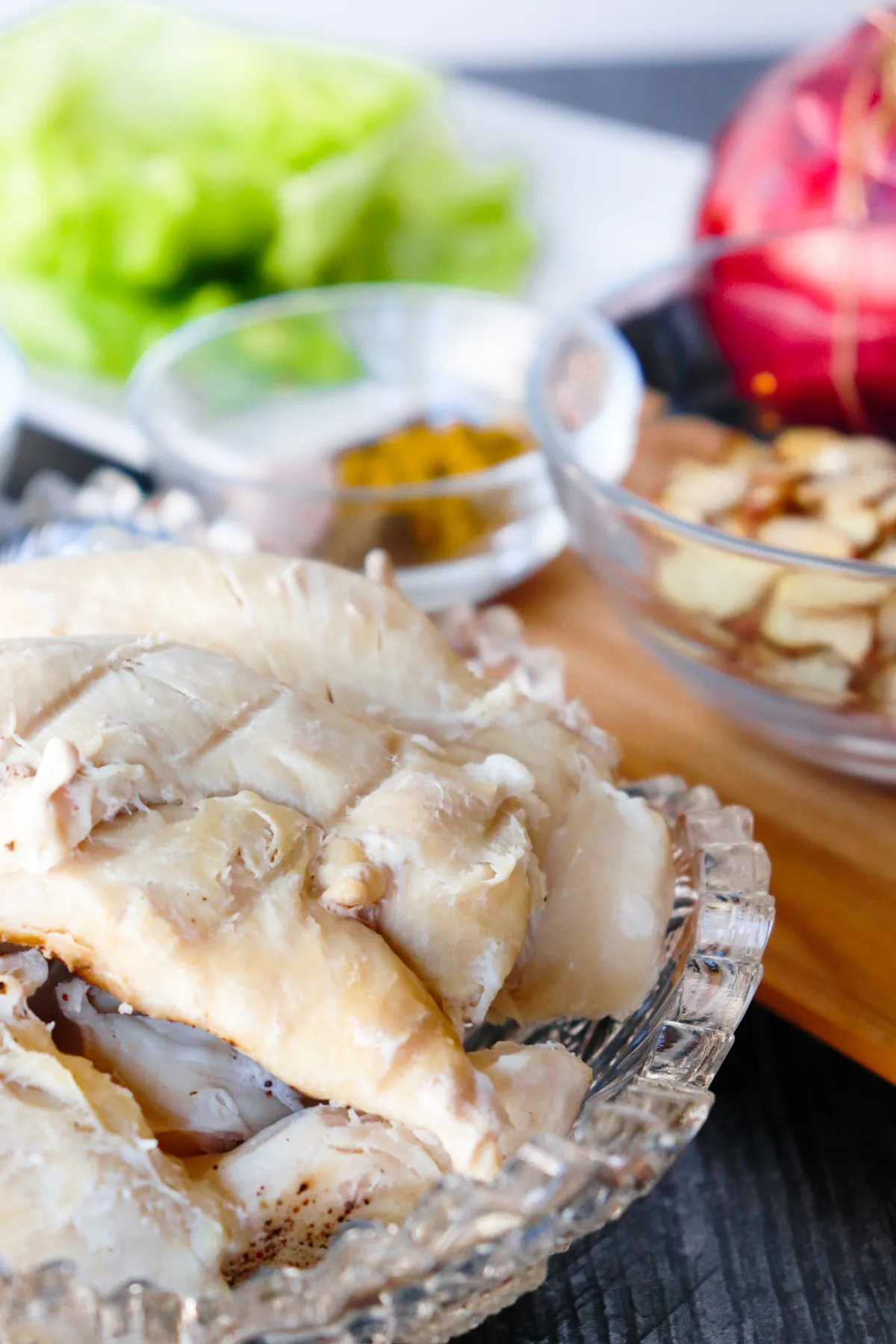 🔪 Instructions
Hey there! Today I'm going to share with you my favorite recipe for Curry Keto Chicken Salad. It's creamy, crunchy, and so delicious, you won't even believe it's healthy! So let's get started.
First, grab a medium to large mixing bowl and whisk together the mayonnaise, Greek yogurt, lemon juice, curry powder, salt, and black pepper. This yummy curry mixture is going to be the base of the salad dressing.
Now, add in some cubed chicken breast or chopped rotisserie chicken, and make sure it's coated well with the curry mixture. If the mixture seems a bit thick, don't worry, just add in one tablespoon of chicken bone broth or water to loosen it up a bit.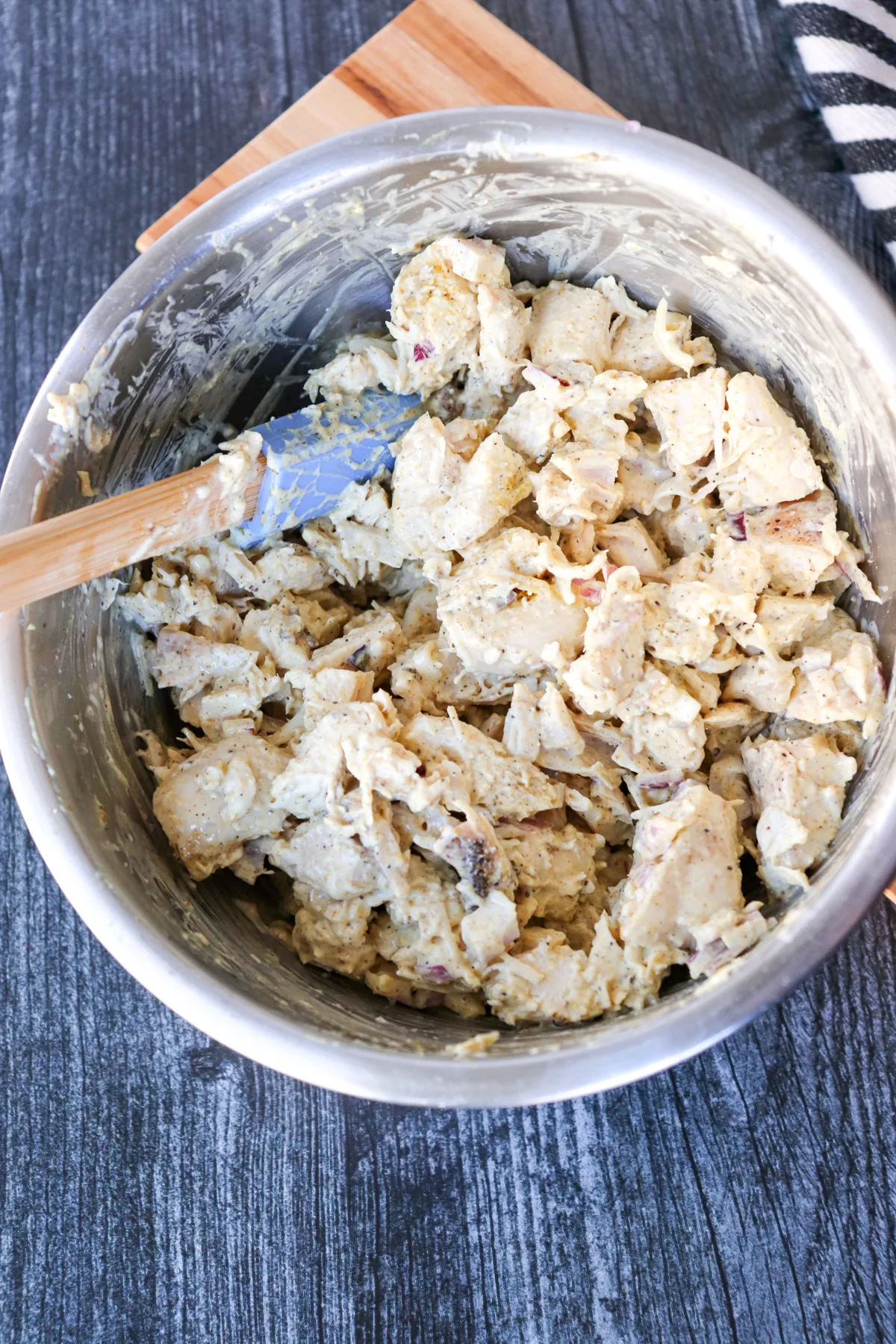 Next, we're going to add some amazing flavors and textures to our curry chicken salad recipe with some chopped red onions and almonds. Mix everything together until the onions and almonds are evenly distributed throughout the chicken mixture.
Cover the chicken salad bowl with some plastic wrap and let it refrigerate for at least 30 minutes up to 2 hours. This is the perfect time for the flavors to meld together and develop that amazing taste we all love.
👩‍🍳 How to serve chicken salad
When you're ready to serve, grab your favorite type of lettuce, I love butter crunch lettuce, and place it on a serving platter. Spoon the delicious curry keto chicken salad over the lettuce and garnish with some additional chopped almonds, red onions, or green onions if you desire. It looks so beautiful and tastes even better!
And there you have it! A healthy and delicious easy keto chicken salad recipe that's perfect as a main dish or as a side dish. It's so easy to make and your family and friends will love it. Don't forget to enjoy and savor every single bite!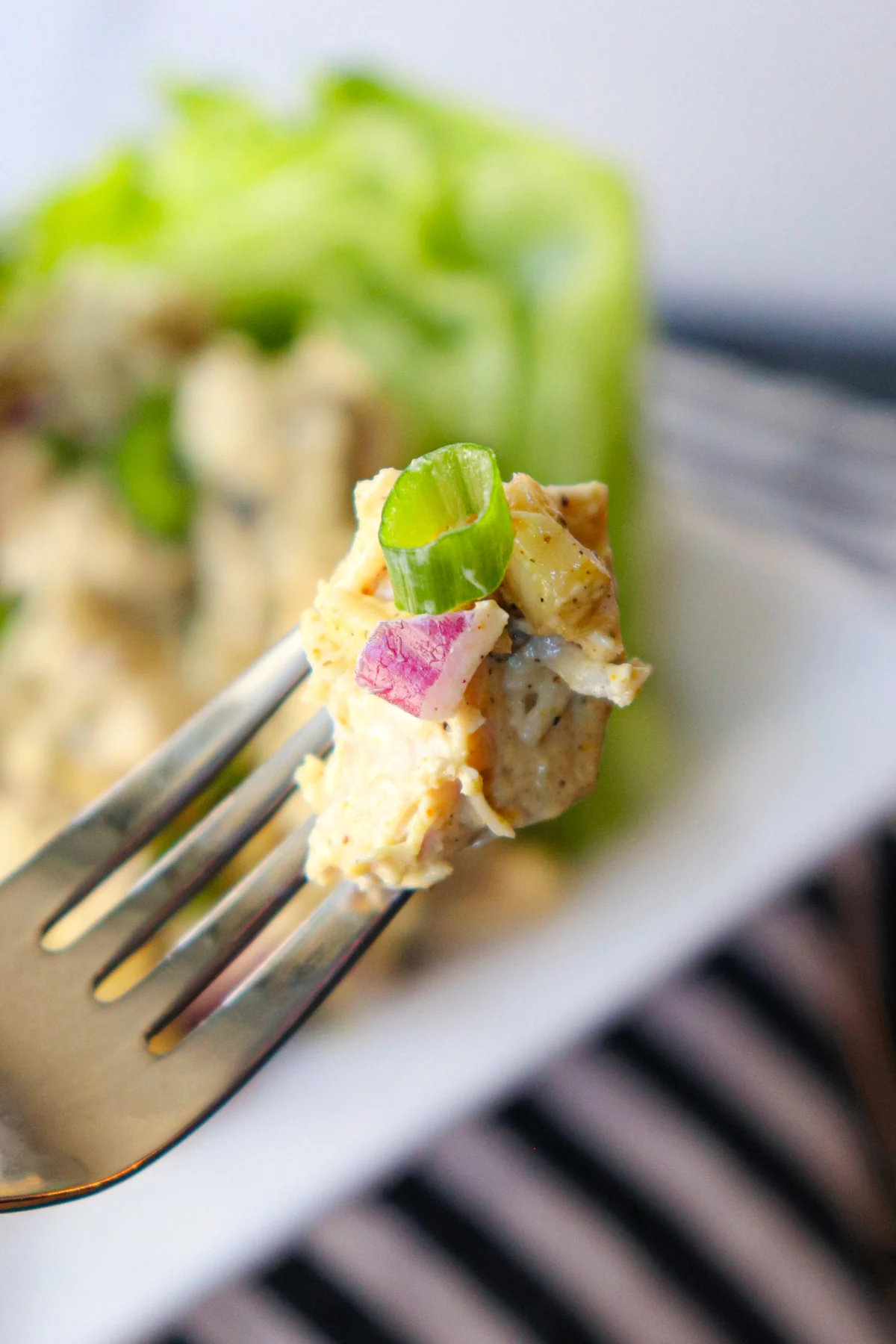 💭 Top tip
When picking your ingredients, make sure you opt for high quality and organic products. This will ensure the best flavor and the most nutritional benefits from your dish.
🥣 How to store keto chicken salad
Keto chicken salad will keep in the refrigerator for up to four days. Make sure you store it in an airtight container or covered bowl and enjoy within that time frame.
You can also freeze it for up to three months! Just thaw overnight in the refrigerator before serving and enjoy.
🌶 Spice up your keto routine with curry chicken salad
Now that you've learned how to make this absolutely scrumptious curry keto chicken salad, the possibilities are endless! Take it to work for lunch, pack it up for a picnic, or simply serve it as a light dinner. This dish is perfect for those looking to maintain a healthy lifestyle without sacrificing flavor.
The combination of creamy mayo, tangy Greek yogurt, and aromatic curry creates a taste explosion that will have your taste buds dancing. Plus, with the added protein from the chicken and healthy fats from the almonds, you can feel good about indulging in this dish. So next time you need to whip up a quick and delicious meal, remember this recipe and give it a try. I promise it won't disappoint!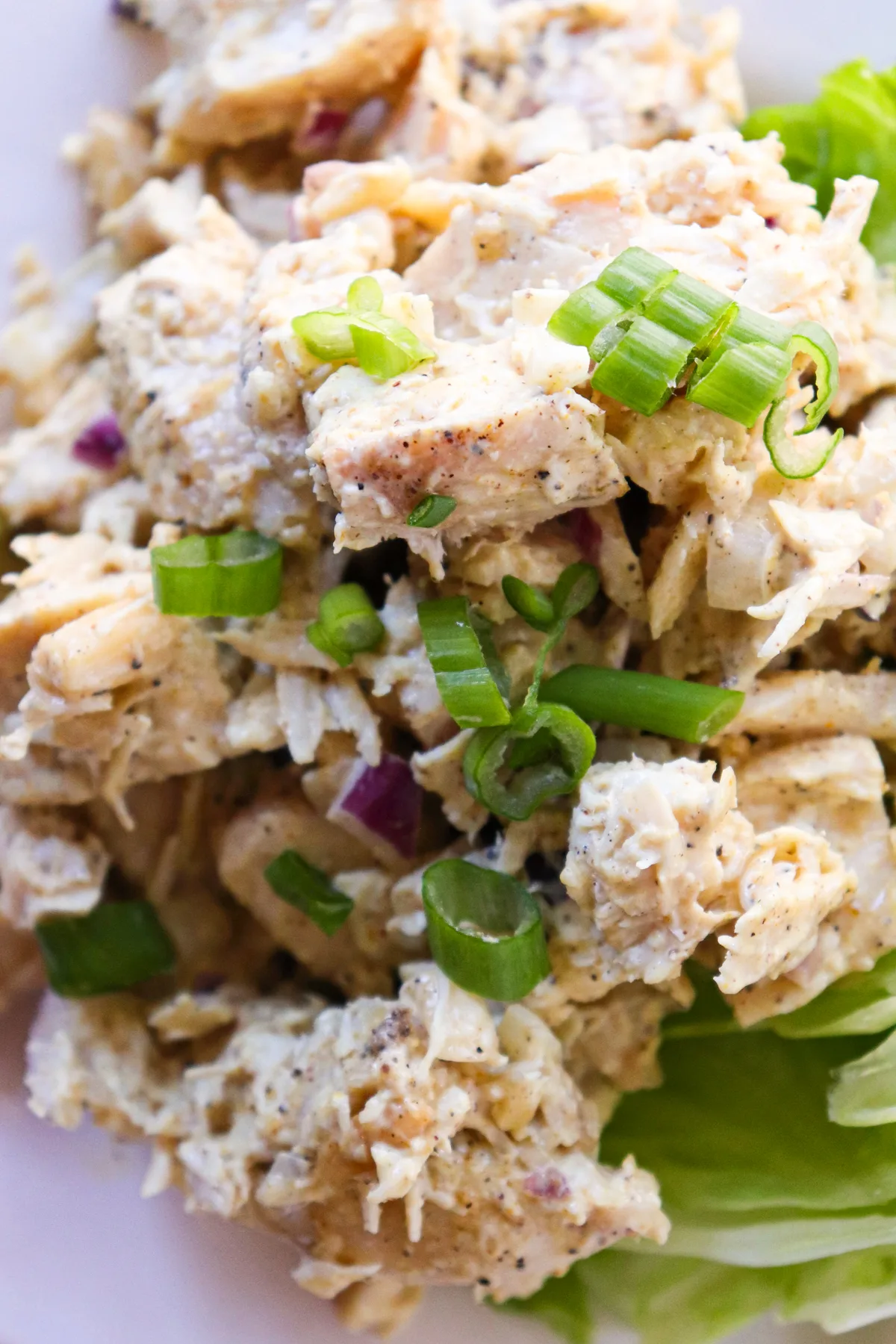 🧑‍🍳 Mix it up with other variations
Keto chicken salad isn't just limited to curry! Feel free to experiment with other flavors. Omit the curry for classic chicken salad, and try adding some finely chopped celery, fresh dill, olives, or even chopped walnuts for a delicious twist on this classic dish. Or, add some sliced chopped bacon for an extra punch of flavor.
Go for a Greek inspired chicken salad and omit the curry but added feta cheese and sliced cucumber and green onion.
The possibilities for delicious recipes are endless – from Dijon mustard to minced garlic and pickle juice, this easy chicken salad recipe will quickly become your favorite chicken salad for lettuce wraps or an easy meal prep lunch.
📋 Related keto diet recipes
📌 Pin the low carb recipe here: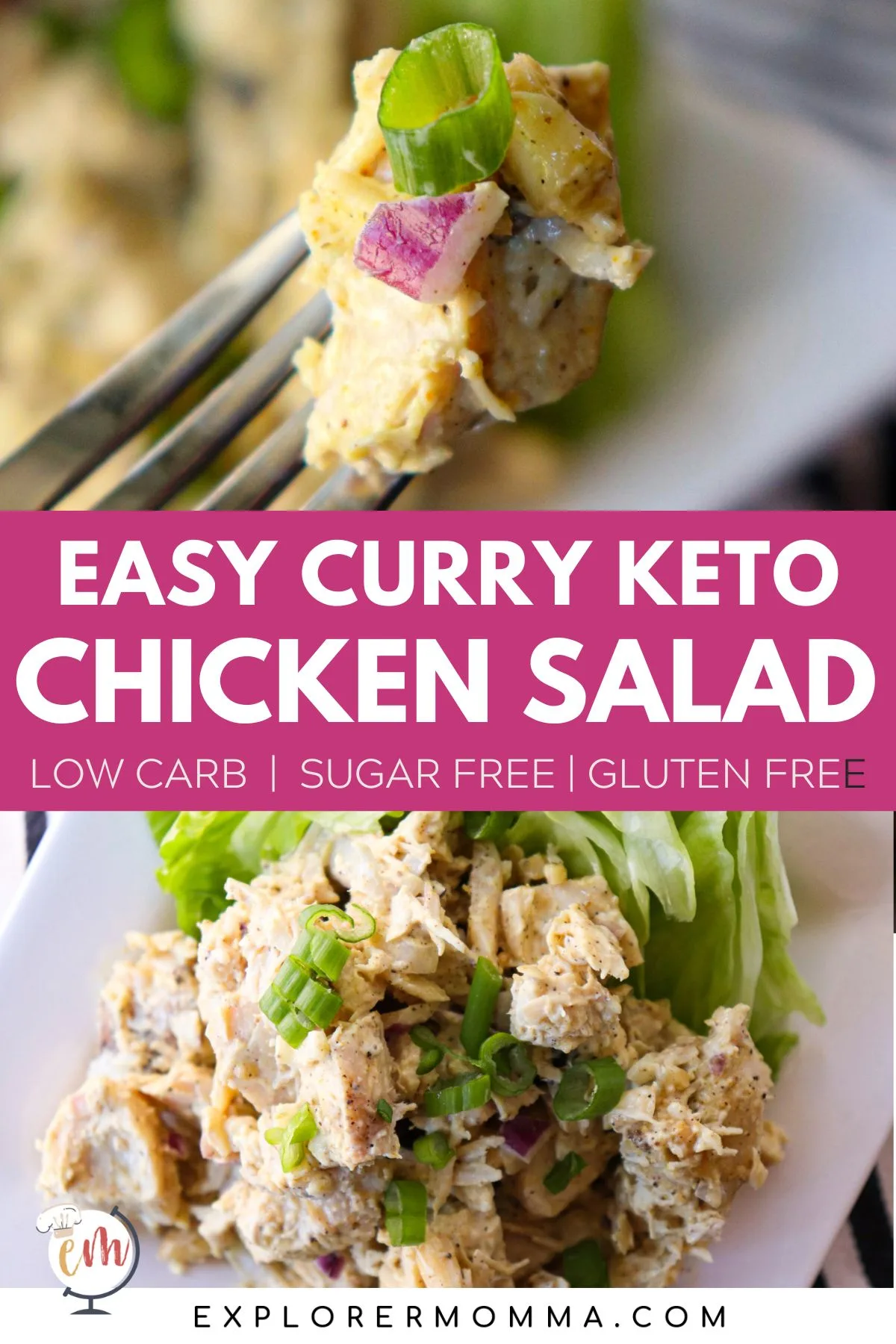 🖨 Printable recipe card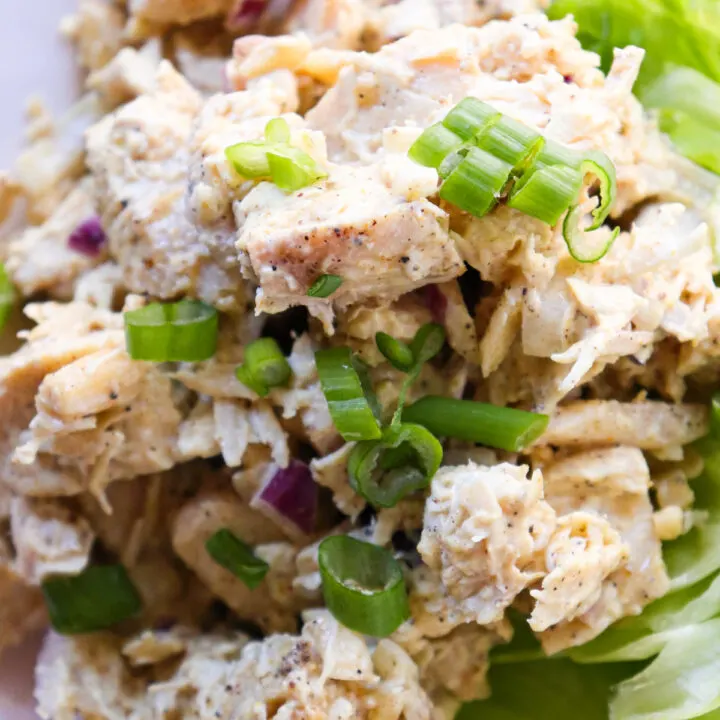 Curry Keto Chicken Salad
Curry Keto Chicken Salad is made with tender, juicy chicken, a zesty blend of spices, and crunchy toppings like slivered almonds and tangy red onions. Plus, it's packed with good-for-you ingredients like Greek yogurt and bone broth. Perfect for a quick and easy lunch or a light dinner, simply mix everything together and serve on a bed of butter crunch lettuce.
Ingredients
1 pound cooked chicken, cubed
1/4 cup mayonnaise (homemade or no sugar added)
1/4 cup Greek yogurt (or sour cream or mayo)
1 tablespoon fresh lemon juice
1-2 teaspoons curry powder (to taste, can depend on the curry powder)
1/2 teaspoon salt
1/4 teaspoon ground black pepper
1/4 cup chopped red onion
1/4 cup chopped or slivered almonds
1 tablespoon chicken bone broth (or water, optional)
butter crunch or other lettuce to serve
Instructions
Start by whisking together the mayonnaise, Greek yogurt, lemon juice, curry powder, salt, and black pepper in a medium-sized bowl.
Add the cubed chicken breast to the bowl and stir well to coat the chicken in the curry mixture. If the mixture seems too thick, add 1 tablespoon of chicken bone broth or water to loosen it up.
Add in the chopped red onions and almonds to the bowl and mix until well distributed throughout the chicken mixture.
Cover the bowl with plastic wrap and refrigerate for at least 30 minutes up to 2 hours to allow the flavors to meld. This step can also be done overnight for an even more intense flavor.
When ready to serve, wash and dry butter crunch lettuce or any other lettuce of your choice. Place the lettuce on a serving platter.
Spoon the curry keto chicken salad over the lettuce and garnish with additional chopped almonds and red onions if desired.
Serve and enjoy your healthy and delicious Curry Keto Chicken Salad!
Nutrition Information:
Yield:

4
Serving Size:

1/4 of recipe
Amount Per Serving:
Calories:

366
Total Fat:

21g
Carbohydrates:

5g
Net Carbohydrates:

3g
Fiber:

2g
Protein:

38g
*Nutrition Facts per MyFitnessPal. For the most accurate facts, calculate your own with the exact ingredients you use in the recipe.
Tag me in your recipe pics on Instagram @explorermomma.
If you LOVE low carb cuisine and this keto chicken salad recipe please consider giving it a five-star rating in the review area below!
Nutrition Disclaimer
Please be aware I am not a medical specialist or nutritional professional. On this blog, I share recipes and what works for me. Please do not take anything on this blog as medical advice and always consult with your doctor before starting any diet or exercise program.
I use MyFitnessPal com to calculate nutrition facts as a courtesy to my readers, and I remove erythritol from the final carb count and net carb count because does not affect my own blood glucose levels.
This is as accurate as possible, but it's best to independently calculate nutritional data on your own with the specific ingredients you use. I expressly disclaim any and all liability of any kind with respect to any act or omission wholly or in part in reliance on anything contained in this website.