Enjoy this traditional Georgian salad, spinach pkhali, on a keto diet as a low carb side dish. With spinach, garlic, spices, and nuts, it's packed with flavor and nutrients! Georgian spinach pkhali, or ispanakhis phkali, is the perfect low carb side dish to serve with grilled meat or even enjoy as a keto spinach dip.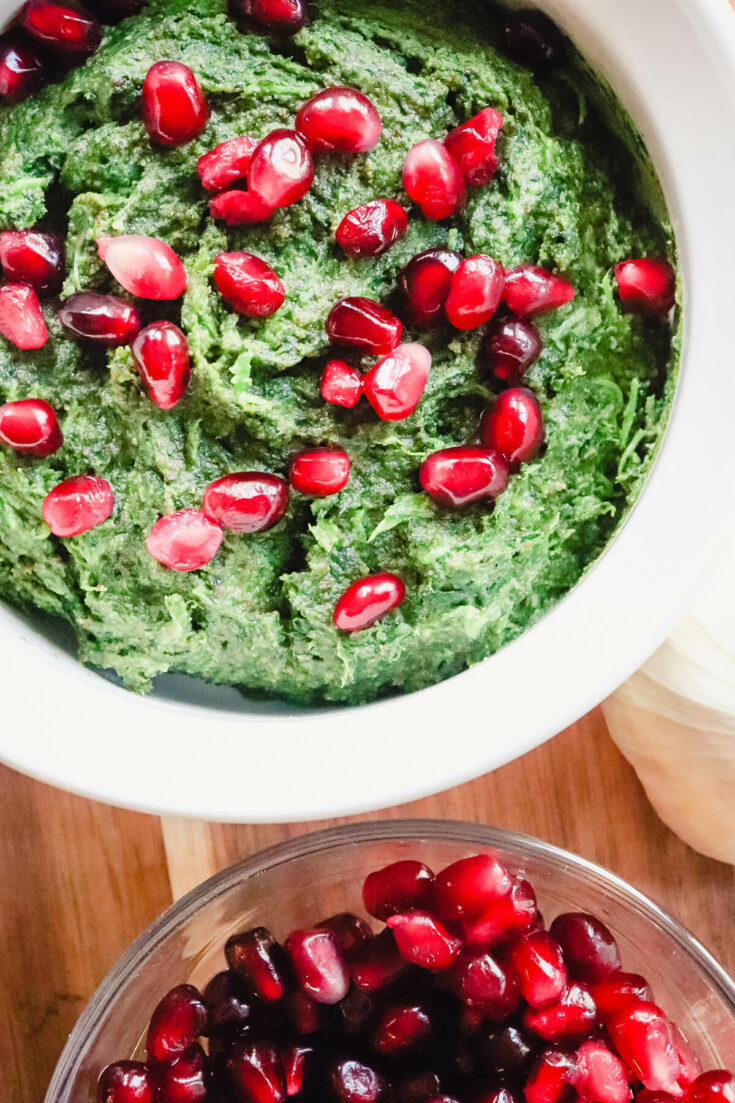 This post may include Amazon or other affiliate links. As an Amazon Associate, I earn from qualifying purchases.
Have you heard of the Georgian Salad Spinach Pkhali? It's a traditional dish from the Republic of Georgia, a low carb salad made with fresh spinach leaves and a mixture of ground walnuts or almonds, herbs, spices, and garlic. The ingredients are then mixed into a thick paste-like consistency and topped with pomegranate seeds.
I was trying to come up with the best way to describe Georgian spinach pkhali and came up with several new names for it. Some people call it a spinach pâté, it could be a smashed spinach salad, or low carb or keto spinach hummus!
All I know is that it works with a keto diet and is super delicious. A taste of it also takes me back to those memories of supras, the structured Georgian dinner party.
Yes, I have to say, Georgian food is awesome. This flavor powerhouse is distinctly Georgian, and it's a healthy, delicious, and traditional Georgian recipe perfect for the keto diet.
In a hurry?
While I think you'll love my super helpful tips and fun stories, I also realize we are sometimes pressed for time and just need a good recipe! Scroll down to the bottom of the page for the printable recipe or PIN it here for later!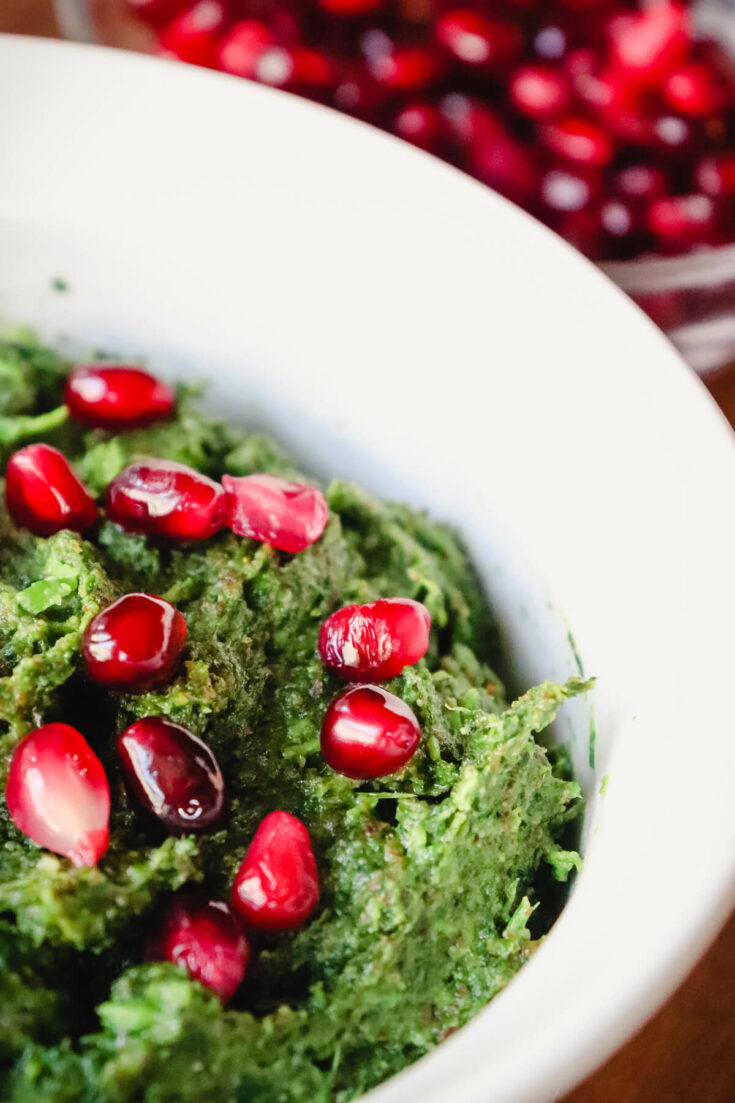 Is this Georgian salad keto?
"Pkhali" consists of pounded ground walnuts (or almonds) combined with garlic, herbs, and spices, then mixed with fresh spinach. The ingredients are either pounded in a mortar or chopped finely together in a food processor before they're added to the spinach leaves. The result? A fabulous low carb side dish to help you stay on your keto diet.
The recipe makes six servings with 134 calories each, 6 grams of protein, and 3 grams net carbs.
This recipe provides an easy way to recreate this delicious side dish in your own kitchen! There is so much flavor packed into every bite, and the texture is phenomenal alongside grilled meat. With a food processor, it's easy to make and requires few basic fresh ingredients. It's an awesome low carb addition to any cookout menu.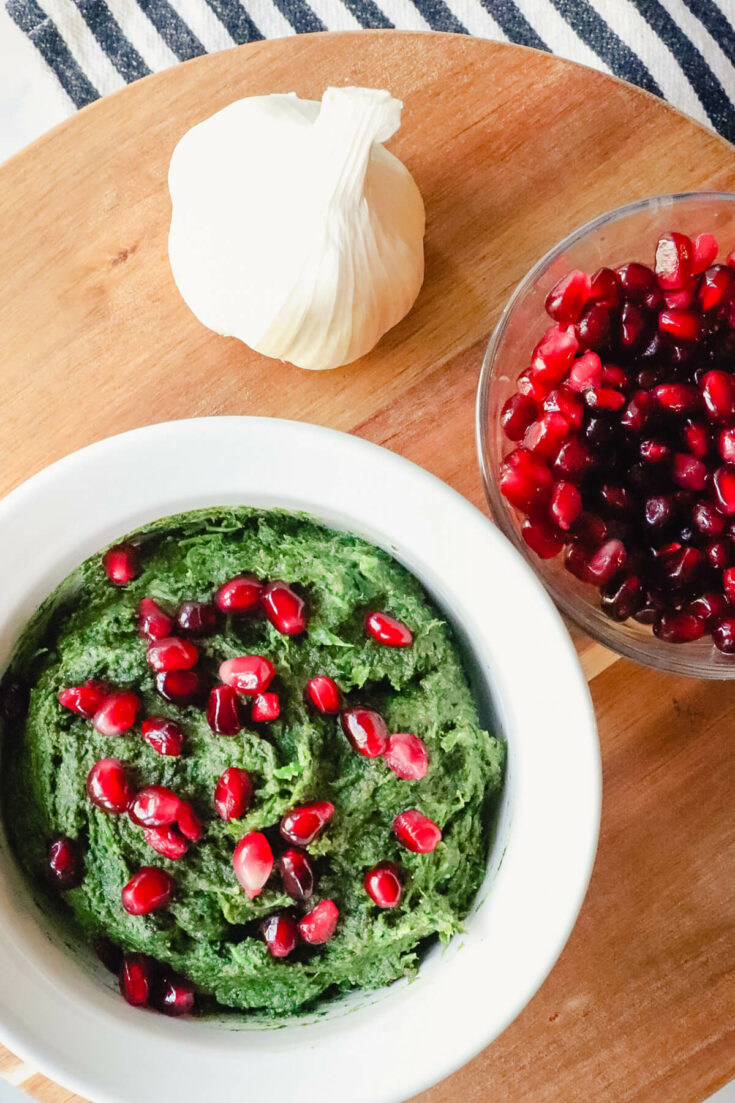 Why Georgian food?
The Republic of Georgia is one of the oldest nations in the world, and its people are incredibly proud of its history. Rightly so!
Georgia has a unique culture and history with many regional differences even within the country. As far as location goes, Georgia occupies much of the land between the Black Sea and the Caspian Sea. It borders Russia, Azerbaijan, Armenia, and Turkey.
Georgia contains a wide variety of climates from subtropical forests to semi-arid steppes, which makes for an incredible diversity of agriculture. Known for its wine production since ancient times, even now nearly every family house grows their own grapes and makes wine for the year.
Also, Georgians take incredible pride in welcoming guests and celebrating with friends. Perhaps we can attribute this to Georgia's long, storied history as a crossroads of cultures! The Georgian supra (dinner) table ceremony celebrates both formal events and casual get-togethers.
Georgia's refreshing cuisine reflects its rich cultural heritage. Georgians love traditional recipes rooted in the history of Georgia. Their recipes are filled with fresh vegetables, fruits, herbs, and spices. The fresher the better!
This Georgian salad, phkhali, is a delicious Georgian dish to give your next keto meal an authentic taste of Georgia! Personally, I eat it anytime as I just love the flavors and it's already low carb.
🍽 Equipment needed for Georgian salad – spinach pkhali
To make this Georgian food you'll need: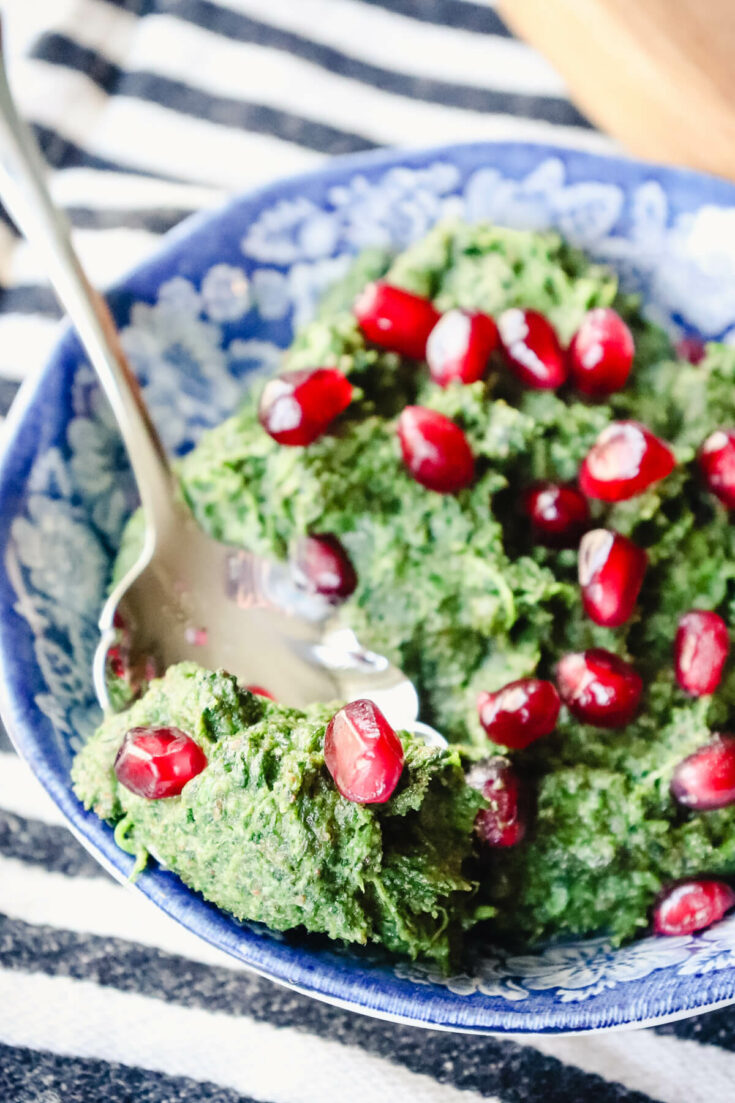 🥘 Ingredients in Georgian pkhali – keto spinach dip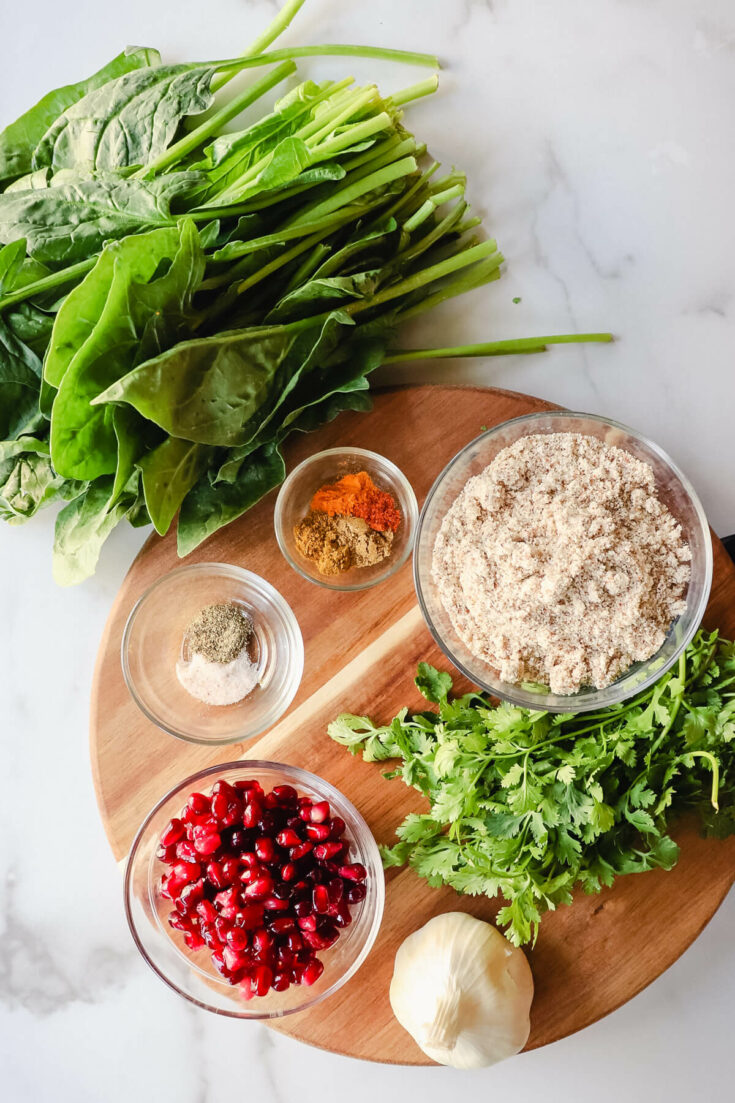 🔪 Instructions for low carb spinach hummus
Keto spinach hummus, dip, pâté, or well, Georgian spinach pkhali (ispanakhis pkhali) is a fabulous recipe to mix up your keto sides and flavors. I love that it's easy to make too, if you have pretty much any kind of a food processor.
First of all, when selecting the spinach leaves, make sure they are fresh and free of any damage such as yellowing or wilting. For this recipe, it requires about 24 ounces, which is about two big bunches. To make it even easier, you can always buy the prewashed, bagged spinach.
💭 Top tip – ispanakhis pkhali recipe
I've had some questions about frozen spinach. While I generally prefer to use fresh spinach, in a pinch frozen spinach will work also! Allow the spinach to thaw and squeeze out all the excess water using a colander or tea towel.
However, if you're using fresh, start off and bring a large pot of water to a boil. Lightly salt the water, and reduce it to a simmer. Then add in the spinach and cook for about a minute or until just wilted. Drain the spinach in a colander and set it aside to cool.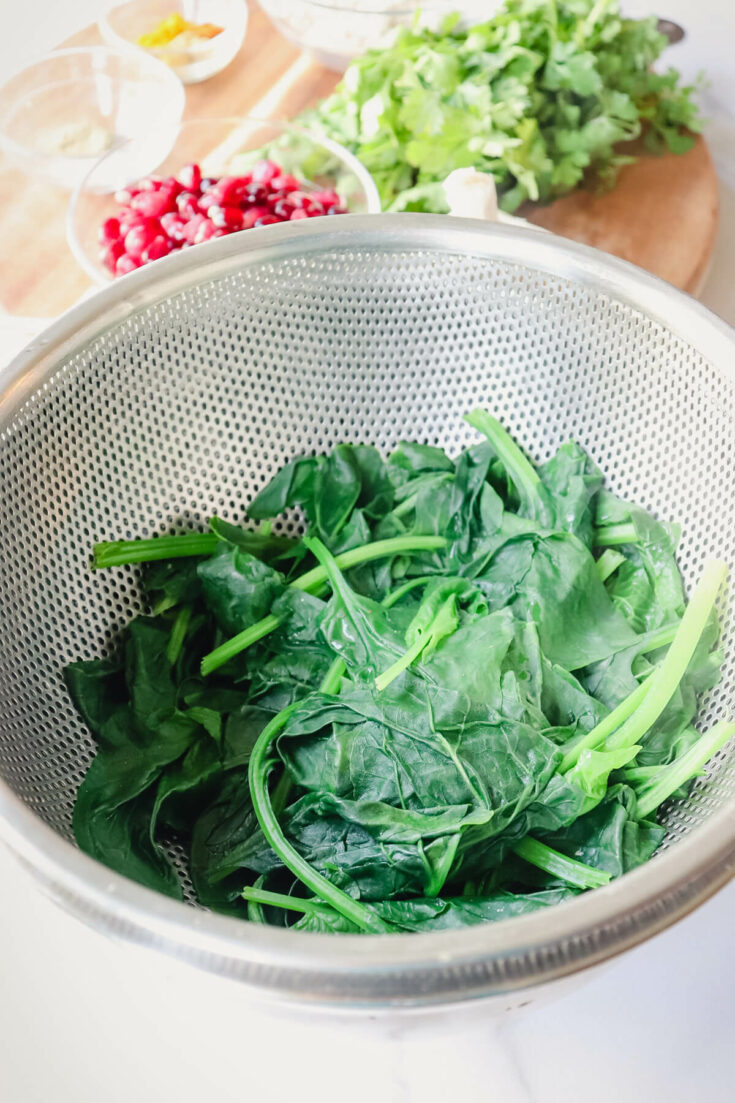 After that, get out the food processor and place the walnuts (or almonds) in its bowl. Pulse the nuts then process for about 3-5 minutes.
Next, add in the two teaspoons of olive oil and process into a paste, similar to a walnut (or almond) butter. Be sure to scrape down the sides to process evenly.
Now, add in the garlic, cilantro, vinegar, coriander, cayenne, blue fenugreek, turmeric, black pepper, and salt. Pulse it all together to combine.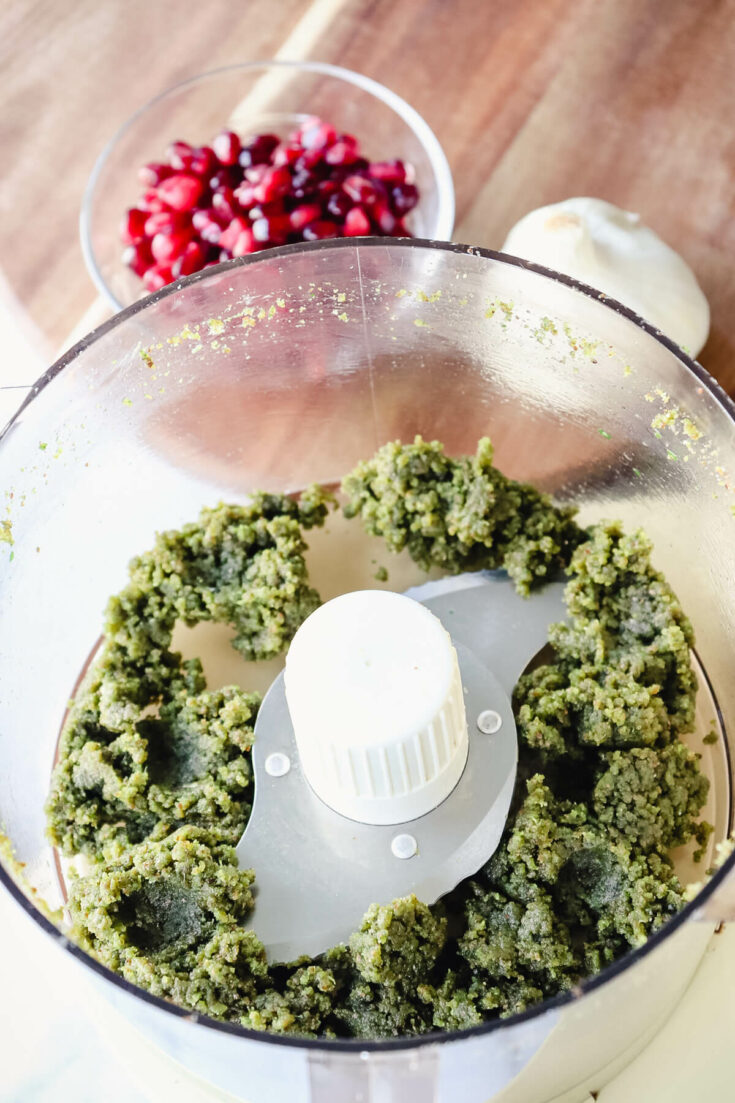 Then it's time to add the spinach! Squeeze out any remaining water from the spinach and place it in the food processor with the spice paste. Pulse to combine and until you reach the desired consistency.
Some Georgians prefer larger pieces of spinach leaves, others claim it's necessary to pulverize it into a paste. It's up to you!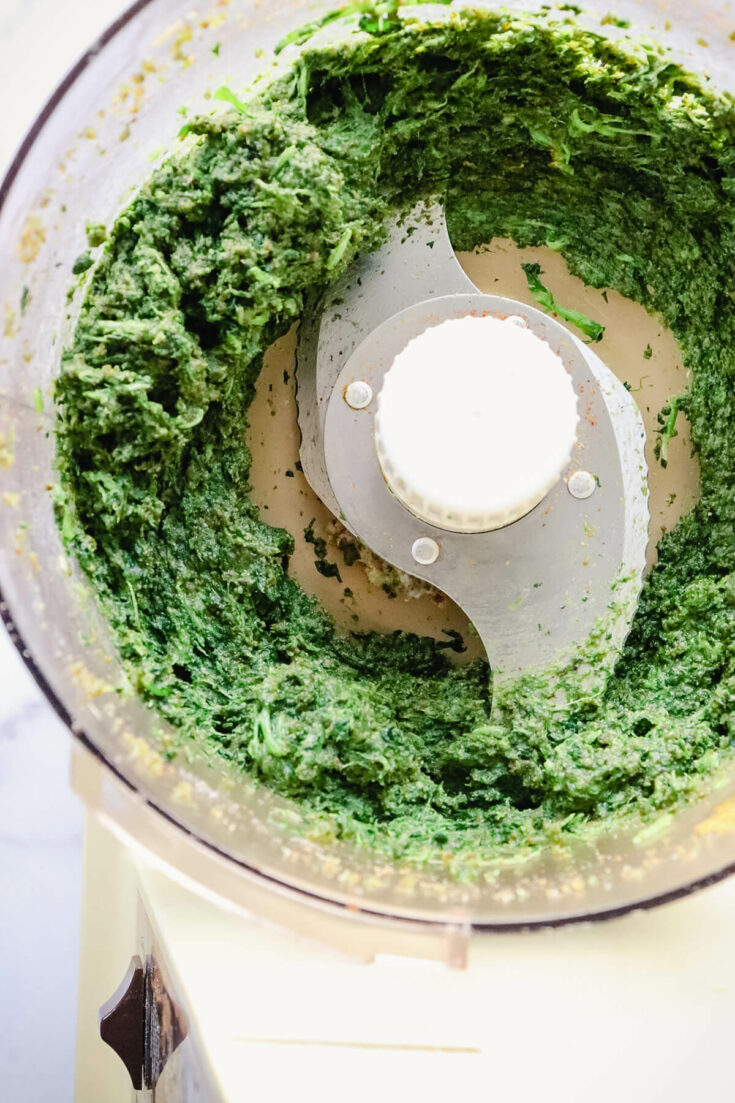 I like to make this Georgian salad the day before or at least a few hours before eating. This allows the flavors to blend together a bit more. Lastly, serve on a plate or bowl cold or at room temperature with pomegranate seeds sprinkled on top to garnish.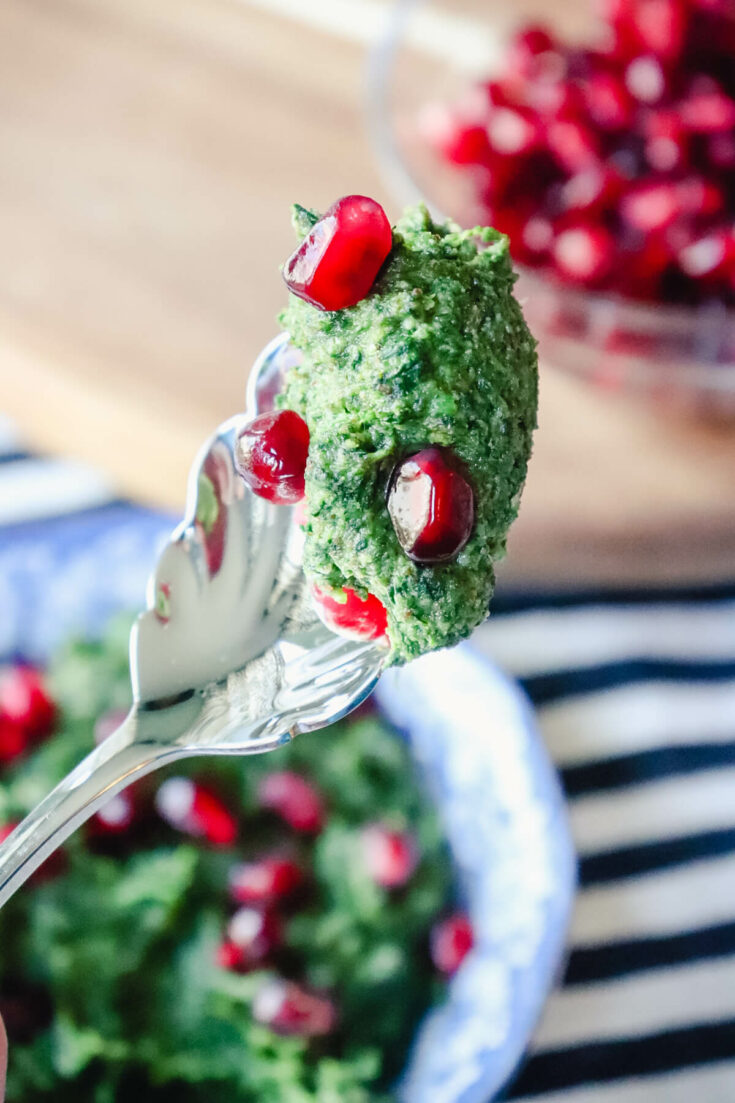 Georgian food and keto recipes
Many Georgian foods are super keto-friendly, and I love how they use whole fresh healthy ingredients. Georgians also love their bread and khachapuri – the traditional Georgian cheese bread. I love it too, but not the carbs! But don't worry! I have a go-to gluten-free khachapuri recipe I make often and will be posting soon. Yum.
Also, a while back I posted another of my favorite Georgian sides dishes, a great low carb option called Badrijani Nigvzit, or Georgian eggplant with walnuts. It's another fabulous keto side dish that uses fresh garden ingredients. Another bonus is that both of these salads are also dairy-free.
Is this your first experience with Georgian food? I absolutely love the rich culture and history of Georgia. I hope you not only get to try some of these Georgian recipes in your home but get to travel there one day as well!
Whether you're on a low carb diet or not, this dish is packed with flavor and offers something for everyone! It makes the perfect side to any meal. Give it a try today and let us know what you think in the comments below.
Pin the recipe here!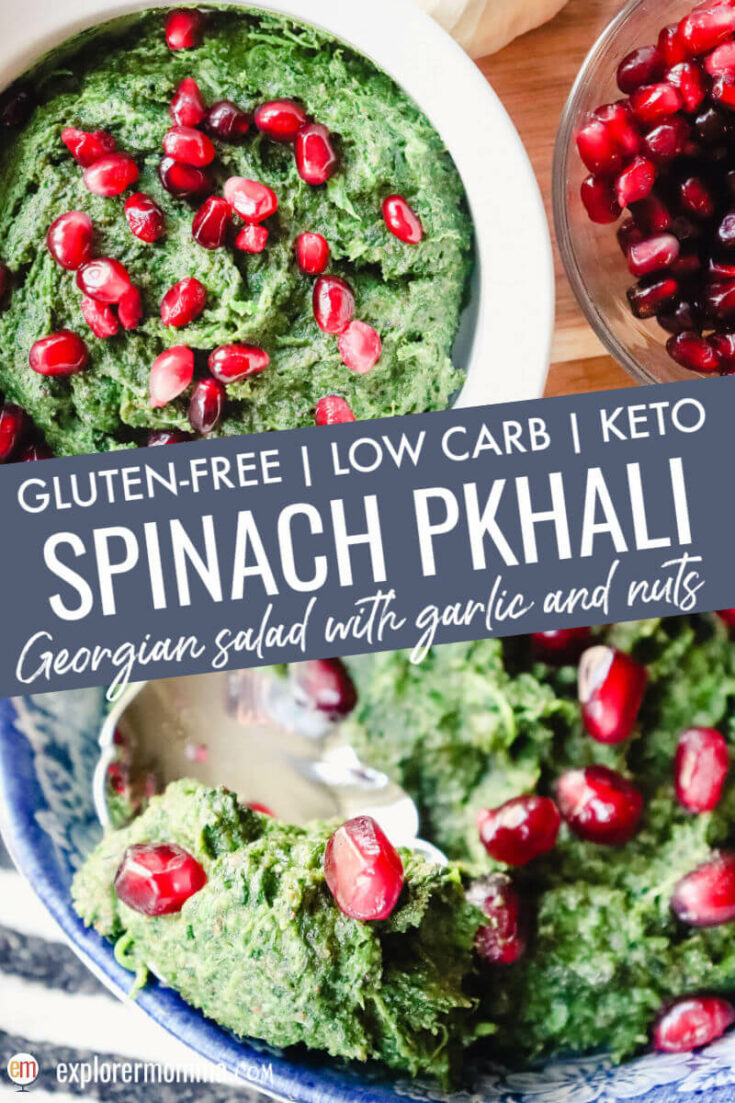 Tag me in your recipe pics on Instagram @explorermomma.
If you LOVE this recipe please consider giving it a five-star rating in the review area below!
🌍 What is Georgia known for?
Check out more articles from Explorer Momma about Georgia: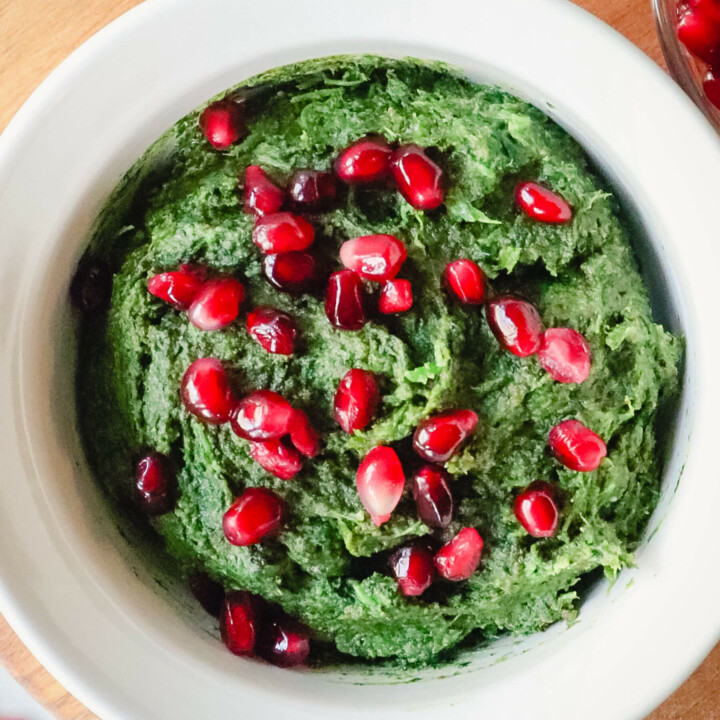 Georgian Salad - Spinach Pkhali
A bowl of Georgian salad Spinach Pkhali is the perfect side dish to a platter of grilled meat. The spice-filled salad is almost a dip and absolutely delicious with spinach, nuts, garlic, cilantro, and spices.
Instructions
Bring a large pot of water to a boil, lightly salt and reduce to a simmer. Add in the spinach and cook for 1-2 minutes or until wilted. Drain the spinach in a colander and set aside to cool.
Place the walnuts (or almonds) into a food processor and pulse then process for 3-5 minutes. Add in the two teaspoons of olive oil and process into a paste, similar to a walnut (or almond) butter. Scrape down the sides to process evenly.
Add the garlic, cilantro, vinegar, coriander, cayenne, blue fenugreek, turmeric, black pepper, and salt. Pulse to combine.
Squeeze any remaining water from the spinach and place it in the food processor with the spice paste. Pulse to combine and until the desired consistency is reached.
Serve on a plate or bowl with pomegranate seed sprinkled on top to garnish.
Recommended Products
As an Amazon Associate and member of other affiliate programs, I earn from qualifying purchases.
Nutrition Information:
Yield:

6
Amount Per Serving:
Calories:

134
Total Fat:

10g
Carbohydrates:

7g
Net Carbohydrates:

3g
Fiber:

4g
Protein:

6g
*Nutrition Facts per MyFitnessPal.com. For the most accurate facts, calculate your own with the exact ingredients you use in the recipe.
Nutrition Disclaimer
Please be aware I am not a medical specialist or nutritional professional. On this blog, I share recipes and what works for me. Please do not take anything on this blog as medical advice and always consult with your doctor before starting any diet or exercise program.
I use MyFitnessPal.com to calculate nutrition facts as a courtesy to my readers, and I remove erythritol from the final carb count and net carb count because does not affect my own blood glucose levels.
This is as accurate as possible, but it's best to independently calculate nutritional information on your own with the specific ingredients you use. I expressly disclaim any and all liability of any kind with respect to any act or omission wholly or in part in reliance on anything contained in this website.