First, let me tell you, Tbilisi is one of my favorite cities in the world. There are so many things to do in Tbilisi, Georgia, so much culture at the Silk Road crossroads, it's hard to narrow it down.
I have many memories as a Peace Corps volunteer coming into the capital from my home site. Now, this was over 10 years ago (I can barely believe it!), but around every corner, there are memories and smiles, and ahas!
As an Amazon Associate and member of other affiliate programs, I earn from qualifying purchases.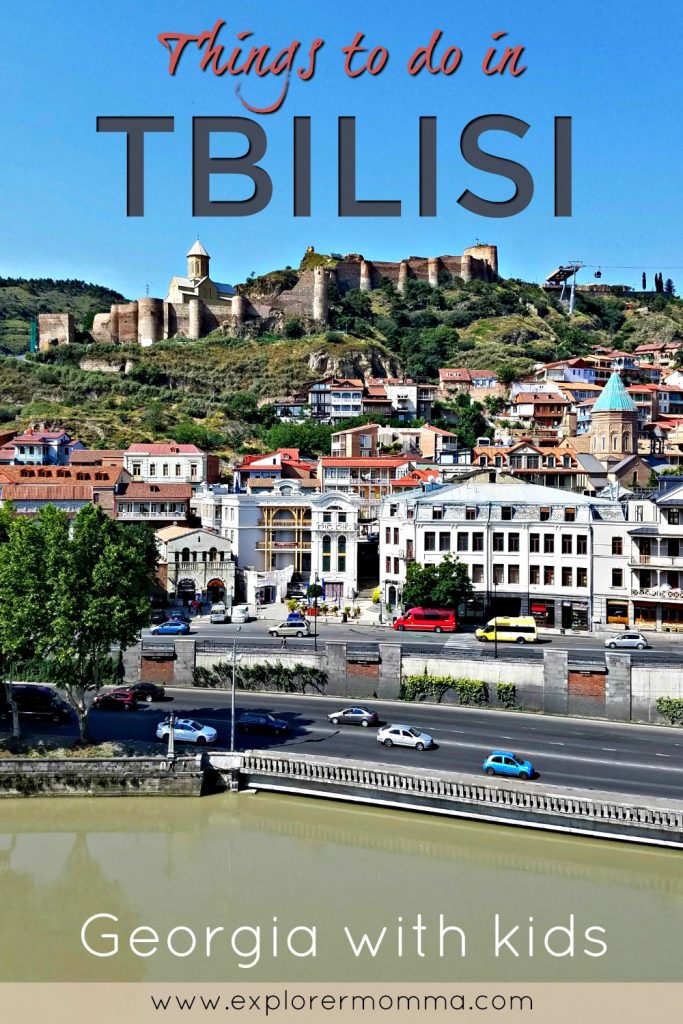 What to do in Tbilisi
Are you the type of traveler who searches out the familiar or the new and different? I admit I like a little of both. Therefore, if I see an English bookstore in Tbilisi, I say! Let's go! It's so much fun to see the culture differences and how things are presented.
If you've been in the country for a while and need a little of home, I love Prospero's Books and Caliban's Coffee House on Rustaveli Street. I've spent a LOT of time there, and even had an apartment just around the corner up the hill for a while. It's welcoming and you'll find locals and ex-pats alike.
Tbilisi's had many changes in the past ten years, and so many have made it an awesome destination for tourists. Of course, one of the main things I love about Georgia is the AMAZING hospitality of the people. So many people are incredibly friendly and ready to go out of their way to help you out.
Obviously, be careful, but if you even attempt some basic Georgian phrases you will be a prized welcome guest in someone's store, B&B, or home. You pretty much can't miss those eager to share the history, culture, and joy of their country.
Georgian language basics
Therefore, before we get on with our unforgettable things to do in Tbilisi as a family and with kids, let's practice together:
Say:
gamarjoba (gah-mar-joe-bah) This means hello!
me lareni var (may lahren-ee var) My name is Lauren.
Tip here: You'll want to insert your name instead of mine. 😉 In Georgian, you add an ee (long e) sound to the end of your name if it ends in a consonant sound, in this case. I'll not trouble you with a bunch of grammar right now.
sasiamovnoa (sah-see-ah-mohv-noh-ah) It's nice to meet you. (I love saying this word so had to add it in.)
didi madloba (dee-dee mahd-loh-bah) Thank you very much.
kargat (kar-gaht) Good-bye! (informal)
nakhvamdis (nahkh-vahm-dees) Good-bye!
Now say each 5 times fast. Kidding. However, practice makes perfect!
Do you want more Georgian phrases?
Click here to see my blog post and free printable on Georgian Language Phrases for Travelers. A mini Georgian dictionary or phrasebook, if you will.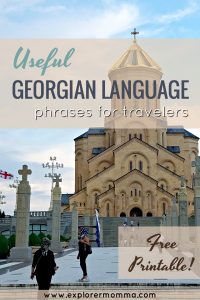 Amazing things to do in Tbilisi with kids
This past summer we brought both our kids to Georgia, and while traveling with kids is always more stressful than on your own, it was an amazing journey. Do you look at travel as education? I certainly do.
There's a ginormous (yes, ginormous) difference between pointing to a small green blob on the map and labeling it Georgia on an exam and visiting the country, interacting with the rich culture.
Where to stay in Georgia with kids: Airbnb
First, be aware there are certainly a wide variety of hotels in Tbilisi such as the Marriott, Radisson Blu, Holiday Inn, Rooms Hotel Tbilisi, Betsy's Hotel, and others.
You'll want to decide what kind of experience you're looking for. Do you want a traditional hotel, a B&B with an amazing Georgian breakfast, or maybe like we did, your own apartment through Airbnb.
I can't say enough good things about our experience with Airbnb in Georgia. We booked one in Tbilisi and in the west in Batumi when we were there, and had excellent accommodations and hosts.
Often, the Airbnb host will pick you up at the airport for no extra charge, give you a mini-tour of the city on the way, and even take you back to the airport for your return flight no matter the crazy time.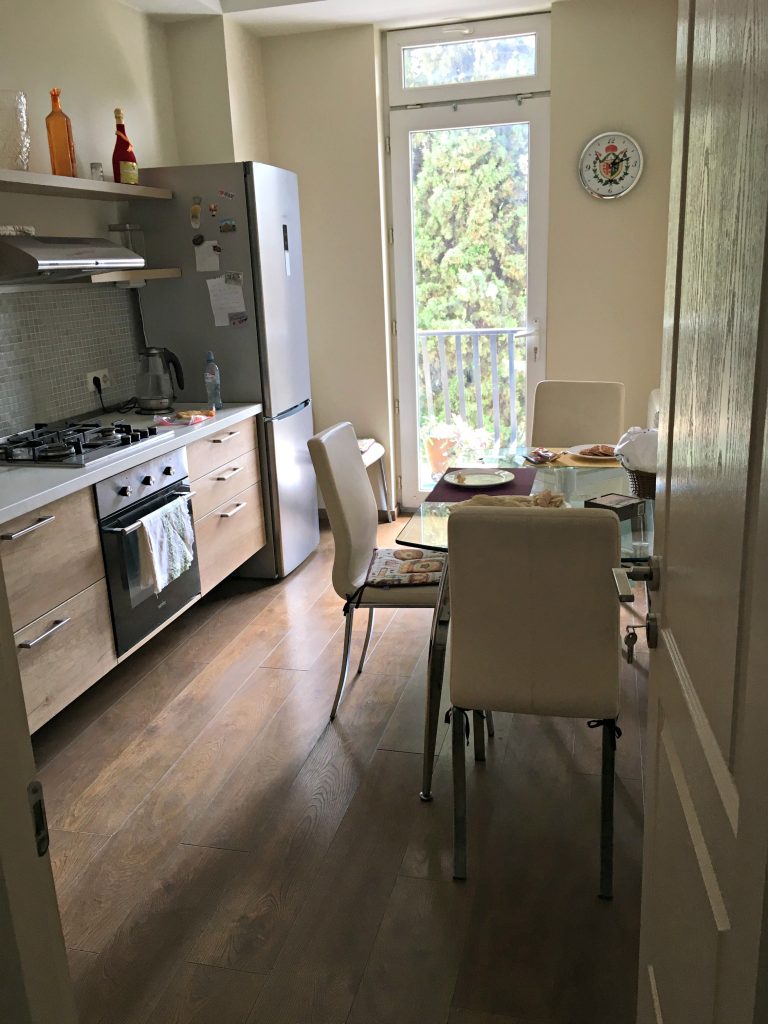 Another plus with Airbnb is, personally, I like to have my own kitchen when we travel, especially with the kids. That way they can get up and going slowly, eat breakfast, and enjoy ourselves without rushing off.
Also, as a mom with a kid with a food allergy, it is really nice to prepare some of our own meals and not have to ask about preparation and ingredients.
All that to say, an Airbnb apartment in Old Town within walking distance of many sites is a fabulous option when you're with kids. You may not consider it one of our official "things to do in Tbilisi", but where you stay is important.
As an Airbnb tip, when you're selecting your location, be sure it has many positive reviews and a history of people staying there.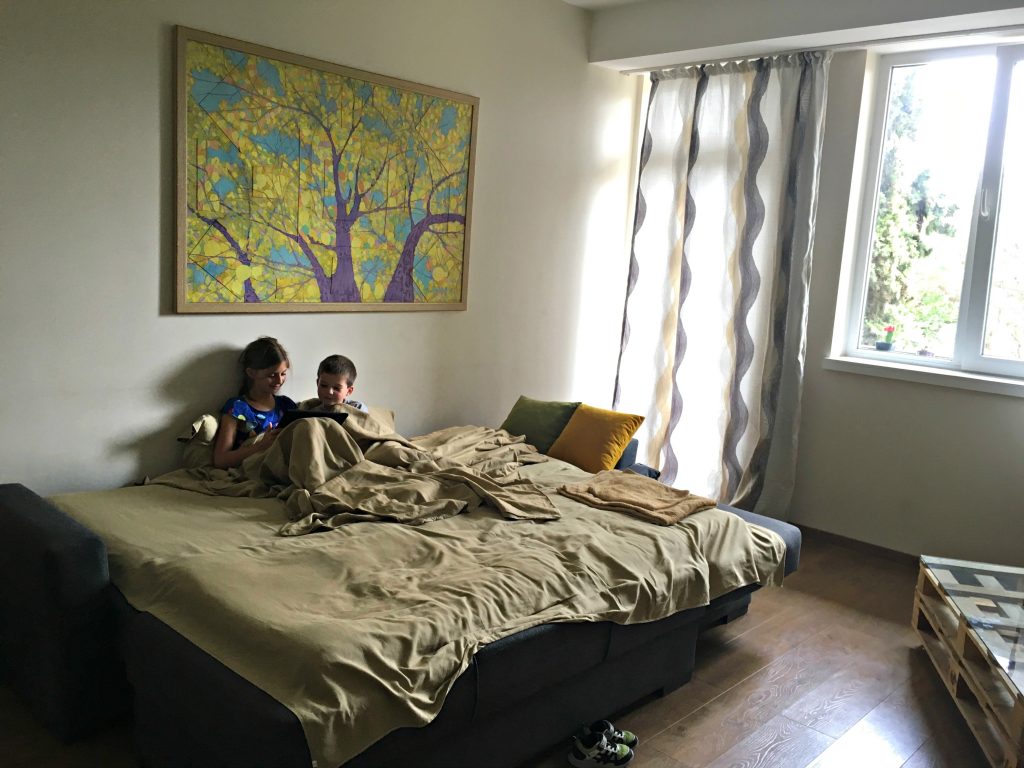 Things to do in Tbilisi for kids
1. Mtatsminda Amusement Park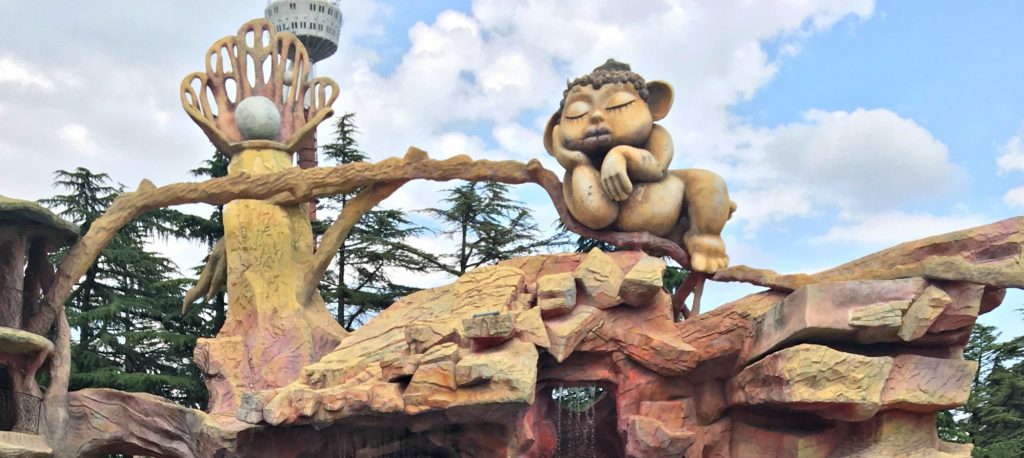 Mtatsminda. The amusement park here is new in the last few years and an awesome activity for kids if they're tired of visiting beautiful churches and touring Georgian museums. It's a very popular spot for locals with children, not only tourists.
If you look up the mountain to the Georgian Eiffel Tower (the Tbilisi TV Tower), you may see the Ferris wheel next to it. Yes, that's where the park is located, right up at the top. This is one of our favorite things to do in Georgia with kids.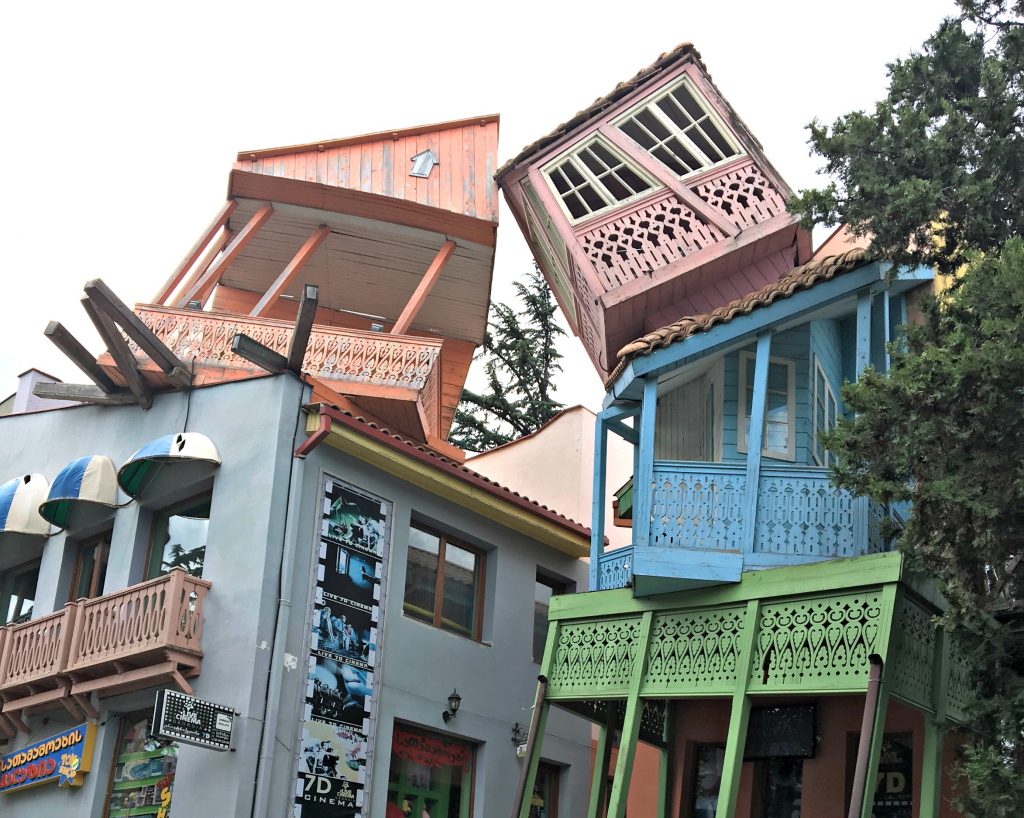 Luckily, you can get there pretty easily by taking the funicular from Old Town up to the top for some fabulous views of the city.
Or, if you have a child like mine who absolutely refuses to ride the funicular and has an attack of nerves and vertigo just looking at it, you can drive. Or rather, have a taxi or someone drive you up the winding road to the park entrance.
If you are lucky enough to take the funicular to the top you will experience some awesome views and find yourself at the top of the world.
First, take a while to enjoy the view of the city and pick out all the places you've visited with the kids. They love this!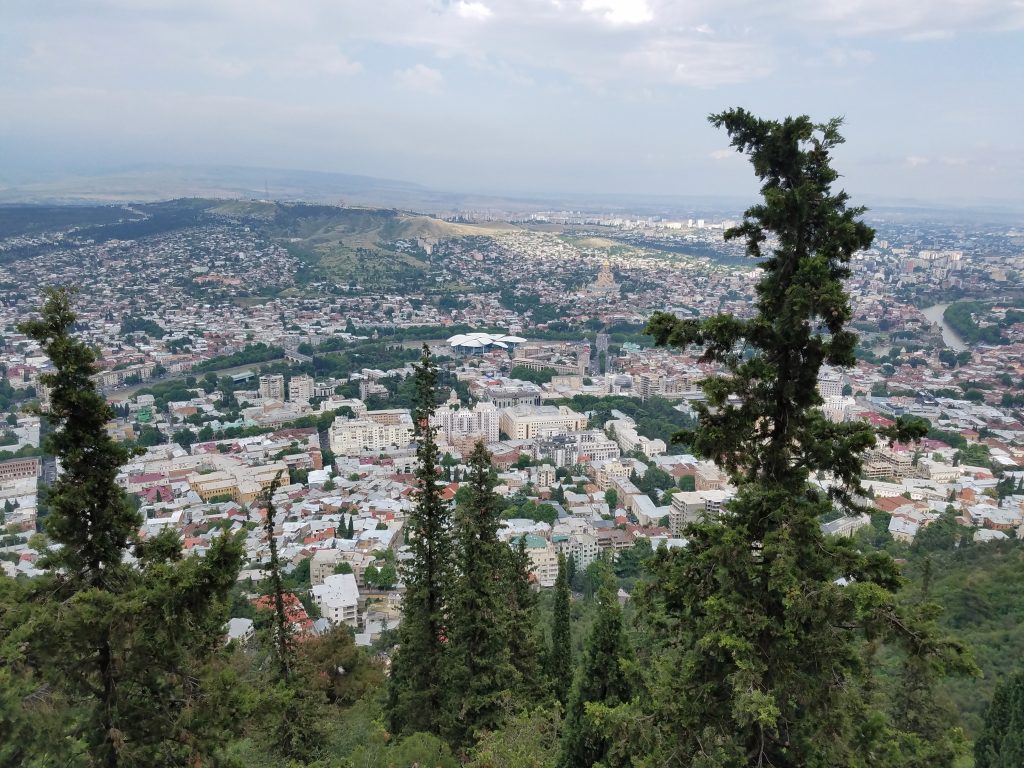 Next, turn around to find the beautiful white building, the fairly recently remodeled Funicular Restaurant. The three-story building was built from 1936-1938, and a long-time architectural landmark in the city.
Moreover, I have it on good authority from the random person we met outside that it was a favorite restaurant of Stalin's, the KGB, and featured in every single Soviet movie from the 60s-80s with a scene in Tbilisi. They've made it into a Tbilisi attraction for kids with games and rides all around.
2. The Peace Bridge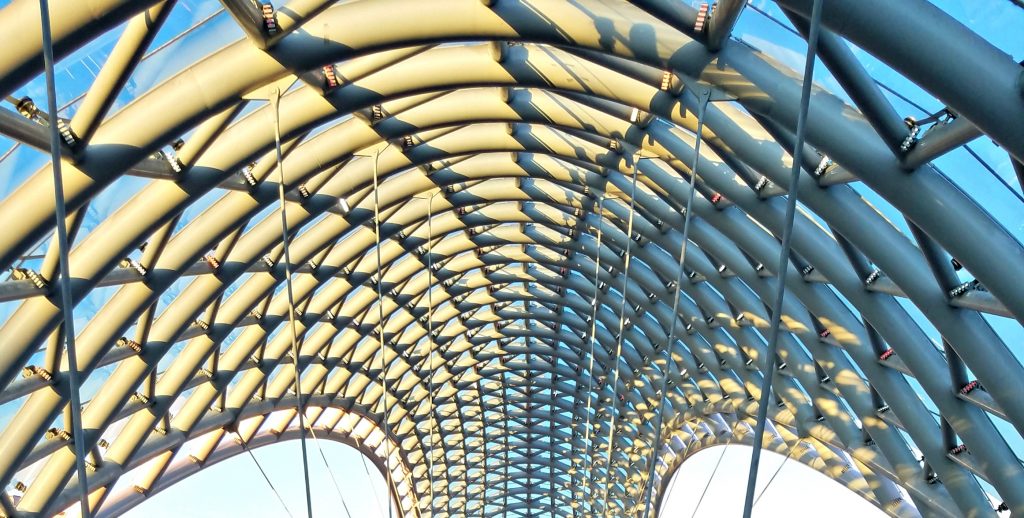 The Peace Bridge is a modern piece of architecture with a great pedestrian walkway. It's impressive to the kids and located near the Rike Park and Funicular entrance. On your checklist of things to do in Tbilisi, walk across and take a family photo!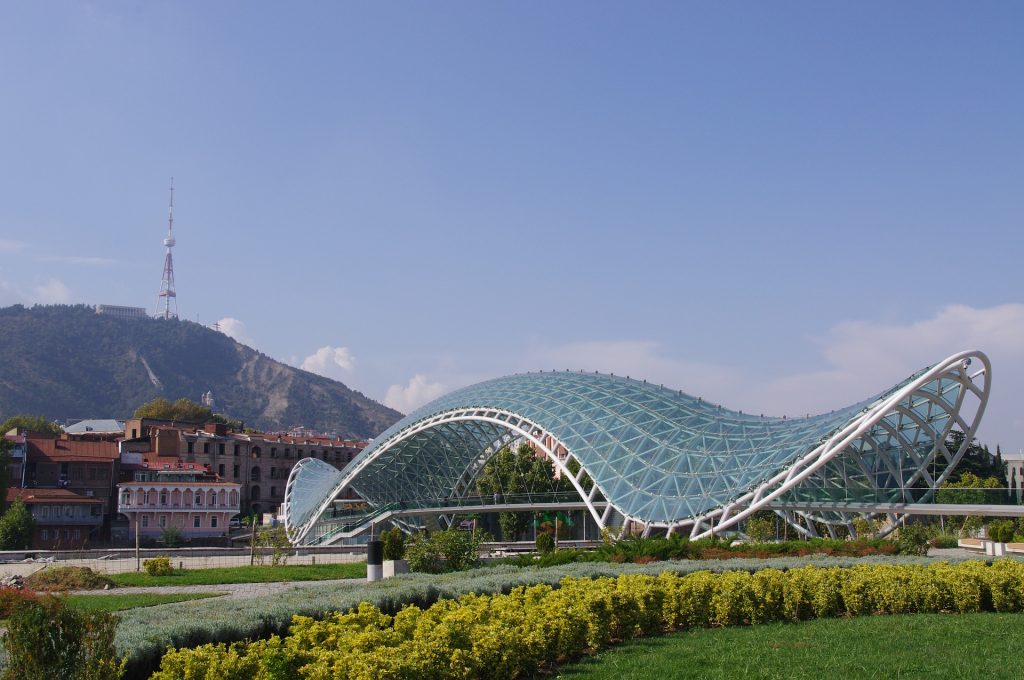 3. Rike Park (park area with play area, swings, giant chess board)
Rike Park is a fun place to walk around in the late afternoon with kids. When you think about what to do in Georgia with kids, this is a great place to visit. After you get your photo taken at the Peace Bridge, come on down to the park.
There's a nice playground area for kids with swings and a play structure and even a giant chessboard! Enjoy the early evening and play time before your evening Georgian meal.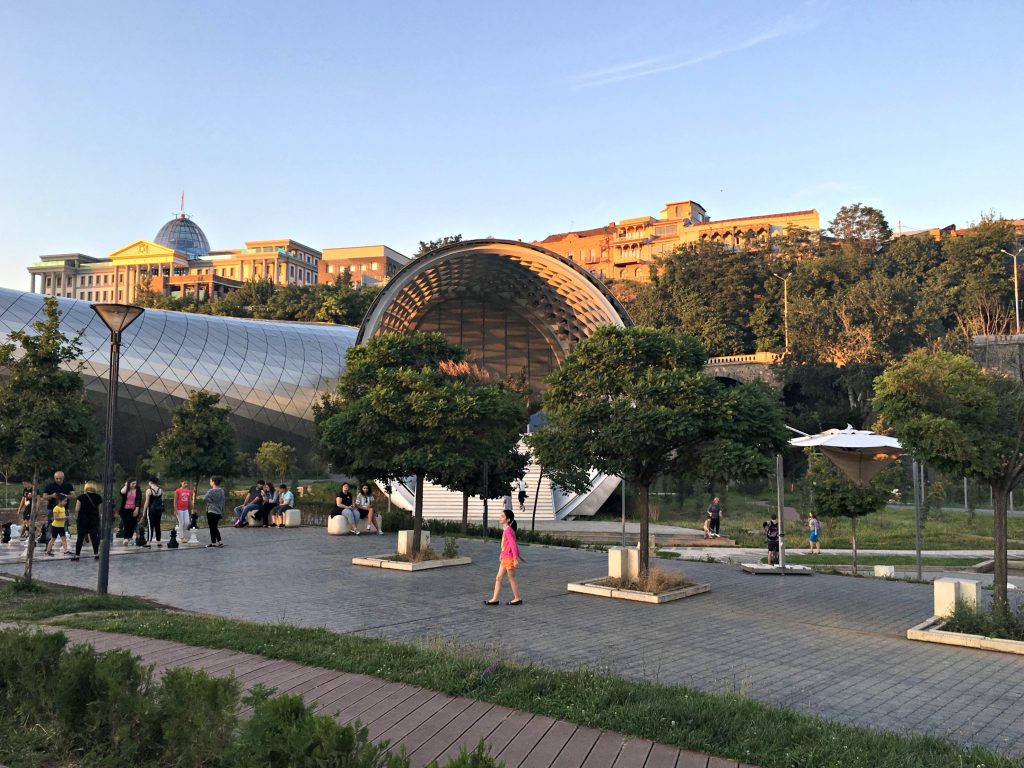 4. Old Town
Our Airbnb was located in a nice part of Old Town Tbilisi, and so much restoration has been done in the area recently! You'll have a home base for your family trip to Georgia in Old Town to explore the traditional Georgian architecture, tourist shops, cafes, and parks.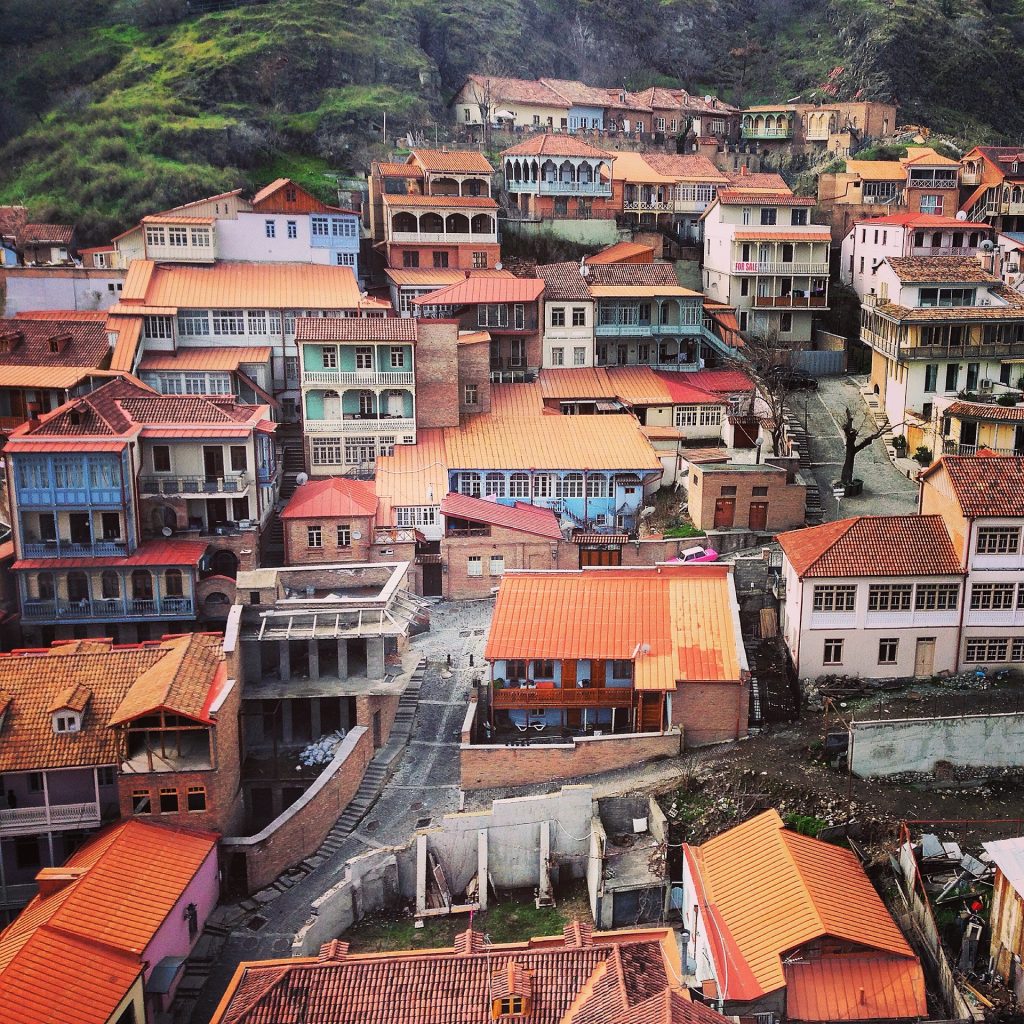 If you'd like, you can easily get a tour guide to take you around on a walking tour or by bus or car. There are so many things to do in Tbilisi. Moreover, awesome places to visit in Georgia with kids.
Ask your Airbnb host if they know of a local company or ask at a local hotel. If you don't speak the language and don't want to be miming most of your trip, this could be a good option. Although, more and more Georgians have been learning English and can help you out.
5. Metekhi Church and gardens
First and foremost, Metekhi Church holds a special place in my heart because it's the church where I was married. It's located picturesquely above the Mtkvari River with the great statue of King Vakhtang Gorgasali on horseback just in front.
The story is that King Vakhtang built a church and residence on the location originally, the buildings destroyed by the Mongols in the 1235 invasion. In the late 1200s, King Demitrius II built the church and over the years it was fortified and restored.
It's been a barracks, a jail, and in Soviet times when religion was banned, an attempt at a museum was made then a theater.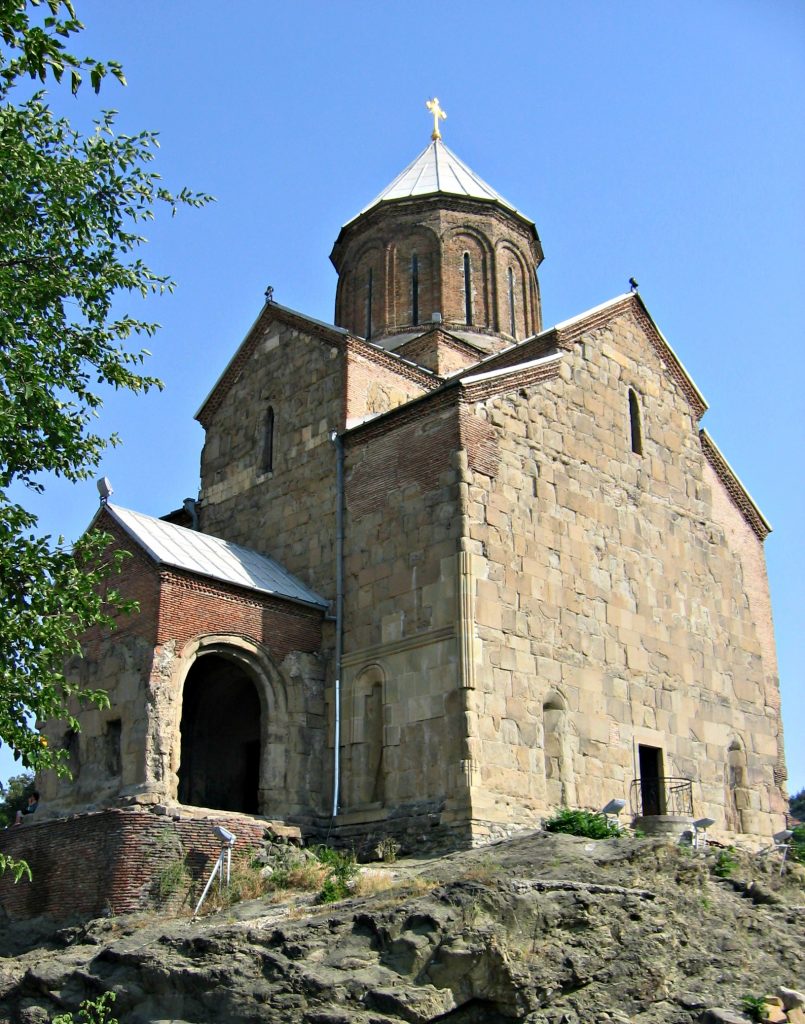 Thankfully it's been restored back to a church and today is a magnificent symbol and site of Tbilisi.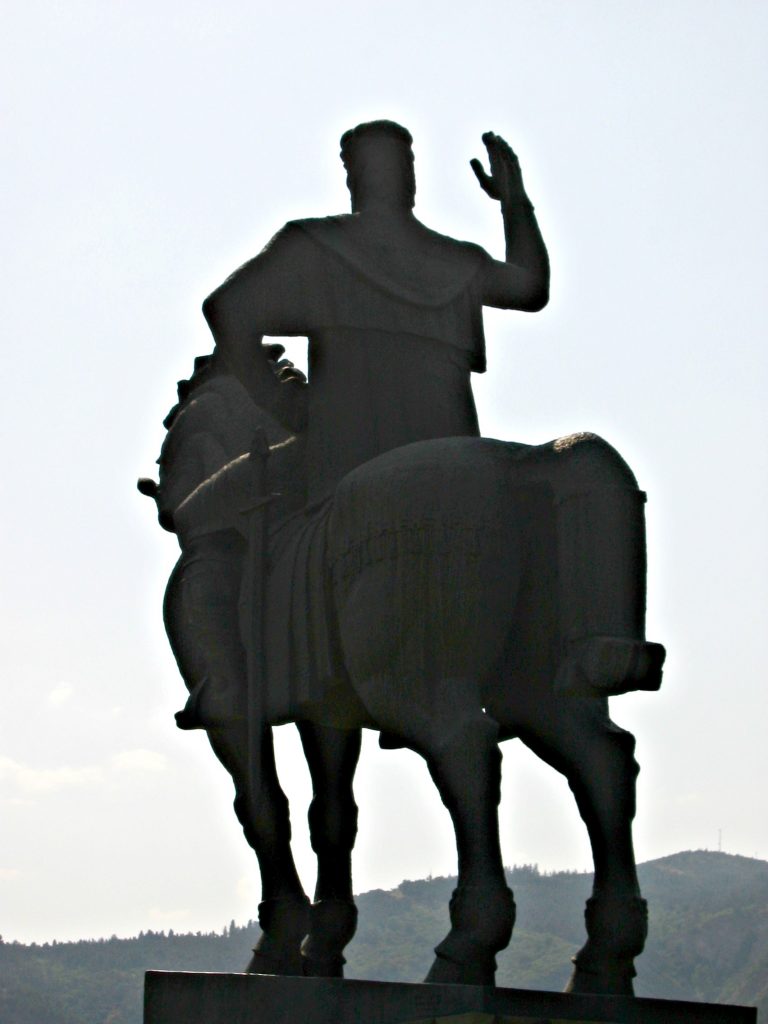 For Georgia kids, there's a nice little cafe just next door where you can grab an ice cream or a drink then wander around the church gardens. Say gamarjoba to friendly Father Tarieli if you pass him in the garden.
You'll see some amazing views of Old Tbilisi, and have a place to pray and meditate as long as the kids allow. If you go in the church women are expected to cover their heads with a scarf, and there's a box of shared scarves for guests in most churches (I much prefer my own!).
Don't be alarmed, but a kindly volunteer may chase you around with a scarf until you cover your head.
6. Narikala Fortress
From Metekhi you will be able to get a full view of Narikala Fortress in the distance. The kids will love exploring the old "castle" as you wander along the old wall and yard surrounding. This is the perfect Georgia for kids attraction to learn some history and be awed by the castle.
The Church of St. Nicolas was rebuilt recently in 1996-97 after the original was destroyed in a fire. This is another fabulous high point to take breathtaking photos of the city. You can hike up to it, which I've done before, however, with kids, I'd recommend taking a cable car up.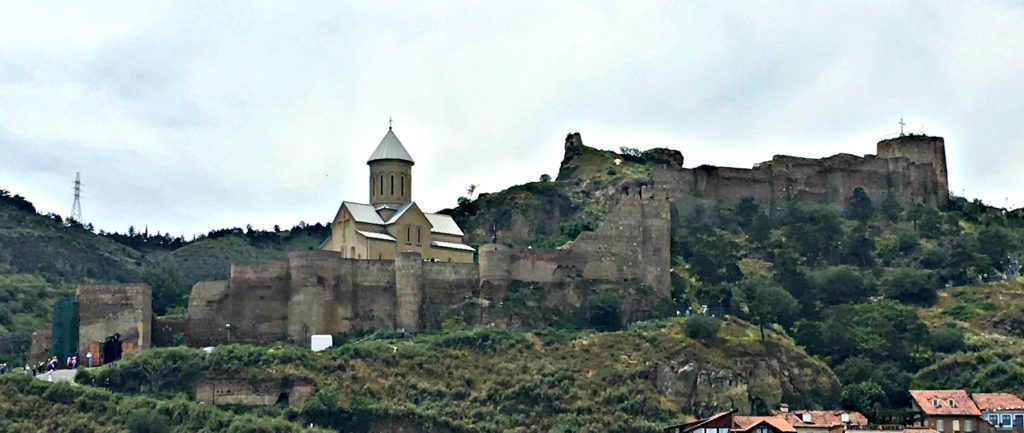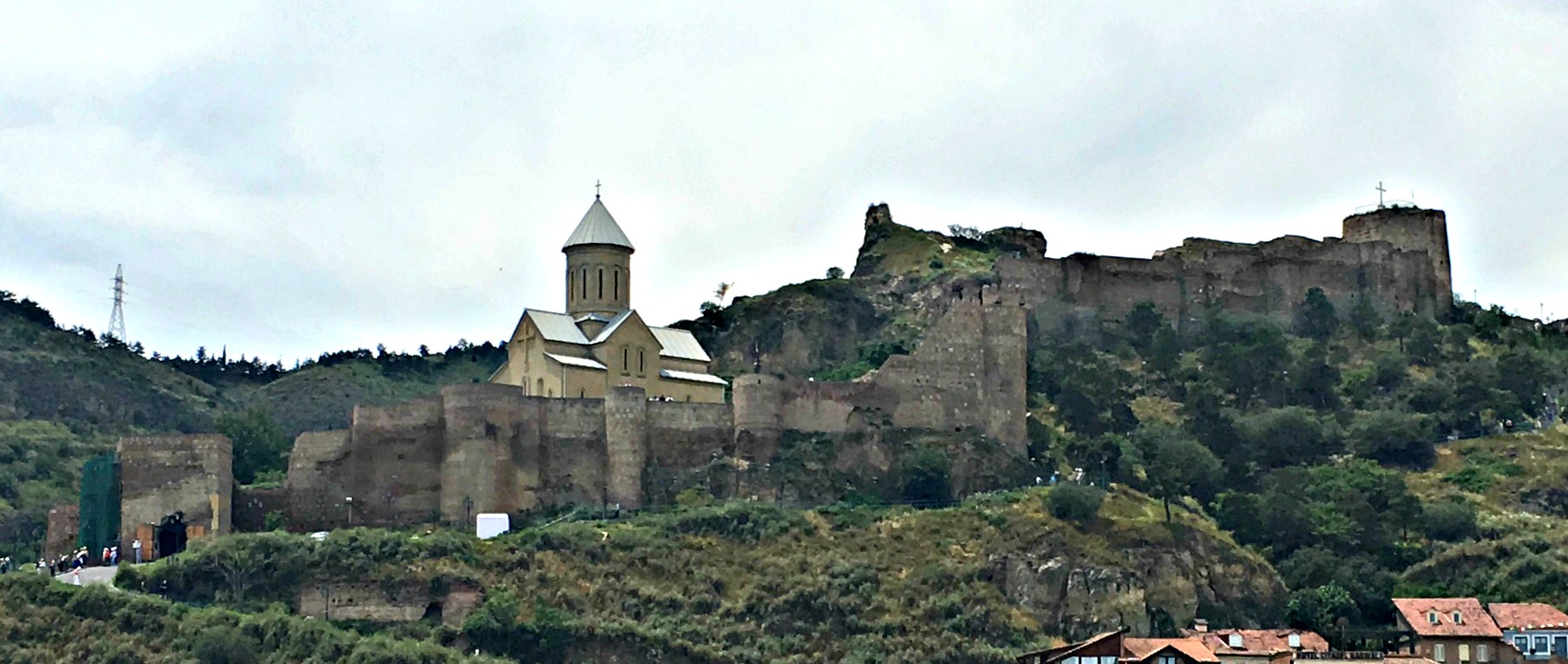 If you're super-lucky you may even get to see a local herd his flock of sheep through the fortress yard. Consequently, there may be squeals of delight, running about, and much discussion of the amazing sheep of the castle.
Let me tell you they are some pretty sure-footed sheep climbing up and down questionable rocky paths. Adventure with the kids and act out a story at the castle!
7. Sameba (Trinity) Cathedral
Sameba Cathedral, or Holy Trinity Cathedral, is the third tallest Orthodox Church in the world and one of the largest religious buildings. A mixture of traditional Georgian architectural styles, compared to other well-known churches in Georgia it feels new and shiny. Probably because it was built relatively recently, from 1995-2004. It's huge inside obviously, and the sheer space above and around is impressive.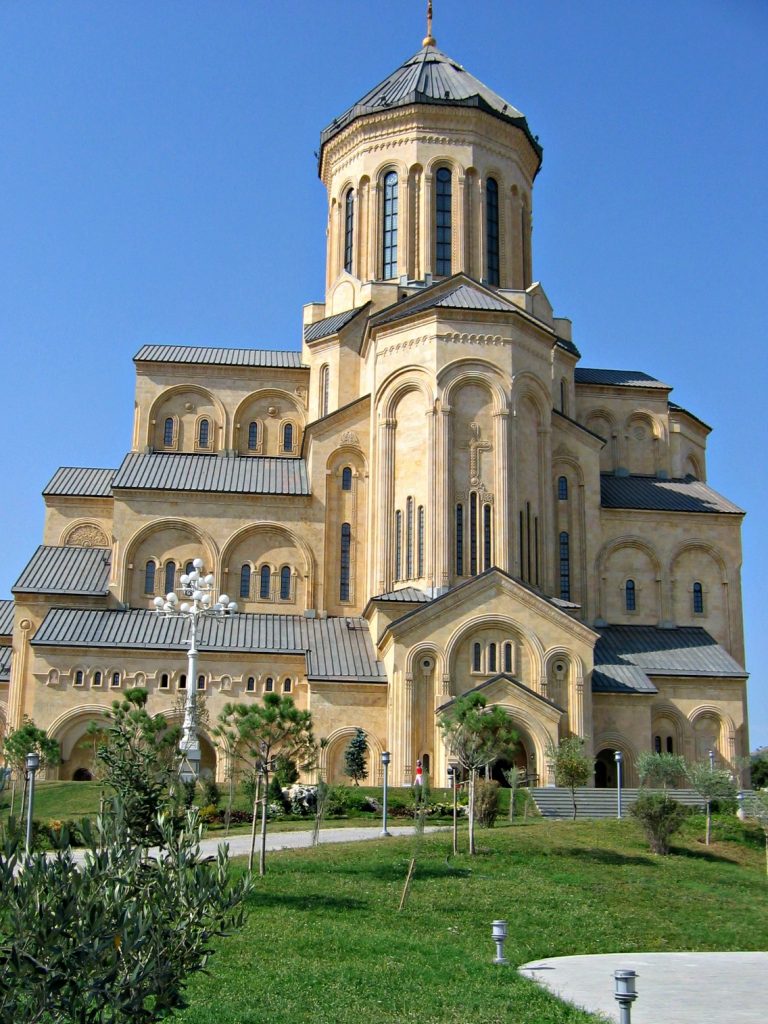 There's plenty of space outside to wander around, look at the unusual trees and flowers and let the kids run a bit. This is a must-see in Tbilisi and will be even more impressive to kids. It's really one of those fun things to do in Tbilisi with family. Just imagine being half your height and your eyes going up and up and up!
The Open Air Museum of Ethnography is just about the only way to get an education in 14 ethnographic zones in one location: Kartli, Samegrelo, Adjara, Abkhazia, Svaneti, Khevsureti, Kakheti, Meskheti, Javakheti, Guria, Imereti, Racha, Lechkhumi and Ossetia.
This is a fun thing to do in Tbilisi and perfect for kids to explore the houses and artifacts from all the different regions of Georgia. The museum is a fabulous experience even on a regular day; however, they also have awesome festivals and special Georgian folk exhibits so look at their website here as you plan your trip.
History and culture buffs, this is the place for you!
9. Rustaveli Avenue
Rustaveli Avenue is one of the main streets of Tbilisi, and on it, you'll pass by many Tbilisi sights. Just on this one street, you'll go by the monument of St. George, the Parliament building, Tbilisi's number 1 public school, Kashueti St. George Church (with a park behind), the Opera House, the Museum of Fine Arts.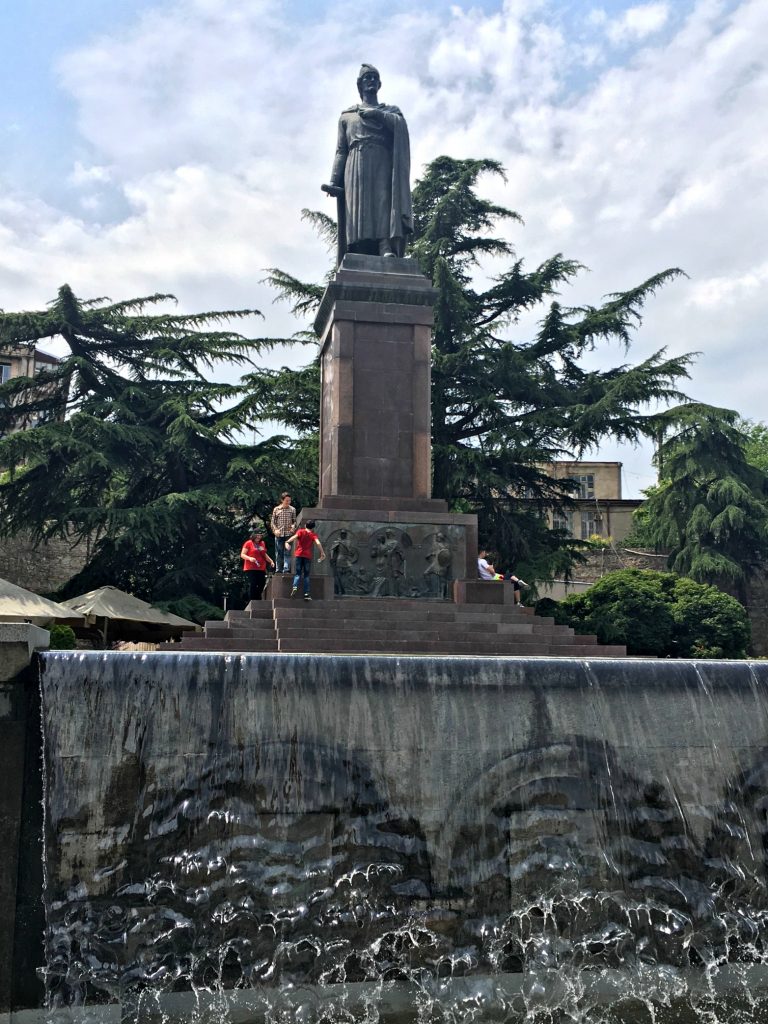 Parent tip: I know it sounds terrible and right now you adamantly claim you would never stop in such a place while traveling. However, after a day of walking and wandering around these amazing places, kids get tired. They refuse to do anything. This may not be on your top things to do in Tbilisi. However, you are tired and may wish to visit the Georgian McDonald's just next to the Rustaveli metro. Ahhhh! NEVER! You say – just wait.
Shota Rustaveli is arguably the most famous Georgian poet. There are universities named after him, almost every town in Georgia has a Rustaveli Street, and you'll see this statue of him with a fountain in front on Rustaveli Street in Tbilisi.
It's conveniently located just next to the Rustaveli metro stop, and the Rustaveli McDonald's. There are so many cool things to do in Tbilisi with Rustaveli in their name!
Shota Rustaveli was a medieval poet, the greatest of the Georgian Golden Age, and composed the epic poem The Knight in the Panther's Skin. Born in 1166, he served during the time of "King" Tamar the Great (female) and is revered by all Georgians. You might even find a copy of the poem from one of the street vendors near the statue.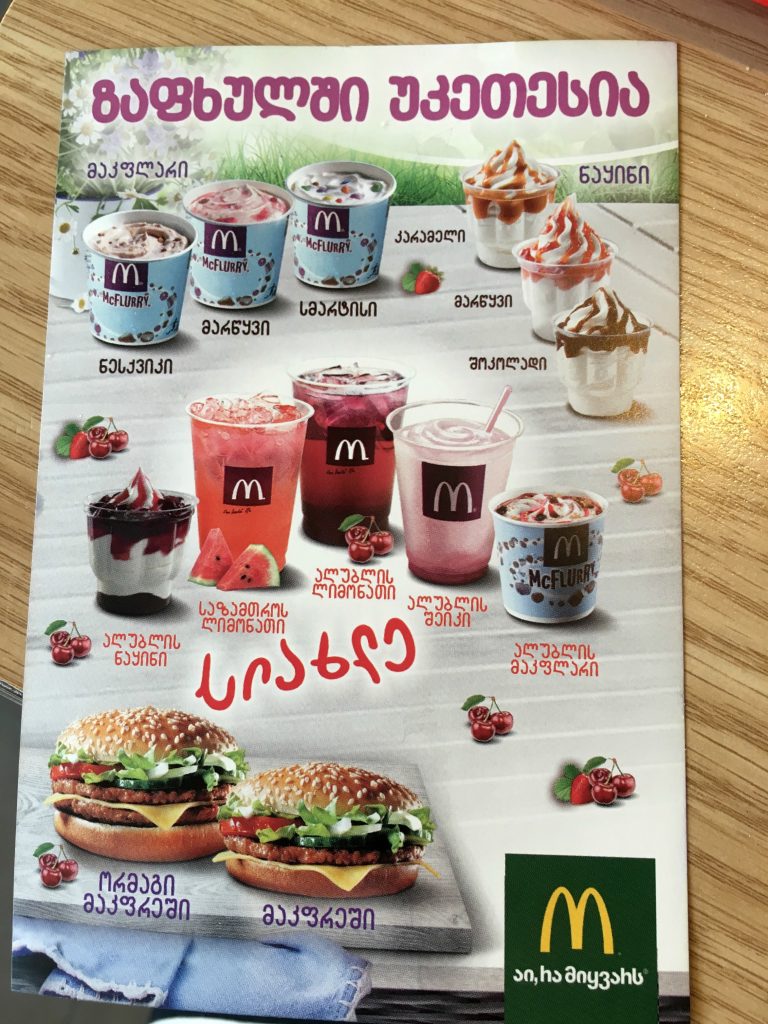 10. Dry Bridge
Are you still thinking, what to do in Tbilisi, Georgia? If you're looking for a souvenir to take home, you'll find paintings and souvenirs in Old Town shops (probably the most expensive place), outside souvenir and painting shops along Rustaveli Street just a bit north of the Rustaveli metro, or at the Dry Bridge.
The Dry Bridge is fun to visit and just look around at all the paintings, textiles, Georgian figures, anything you could want. I love to look at the paintings, but my daughter, of course, was on a mission to find the perfect Georgian hat, slippers, and doll. The four-year-old got tired after a while, but it's a great place to grab any necessary souvenirs.
Also, I'd suggest taking a taxi there and back as it's not the easiest place to walk to. Wave a hand to pull over a taxi and tell the driver: Mshrali khidi (mshrah-lee khee-dee), this means dry bridge. They should get the picture.
In addition, make sure you have your hotel or Airbnb address with you to tell or show your driver when you return!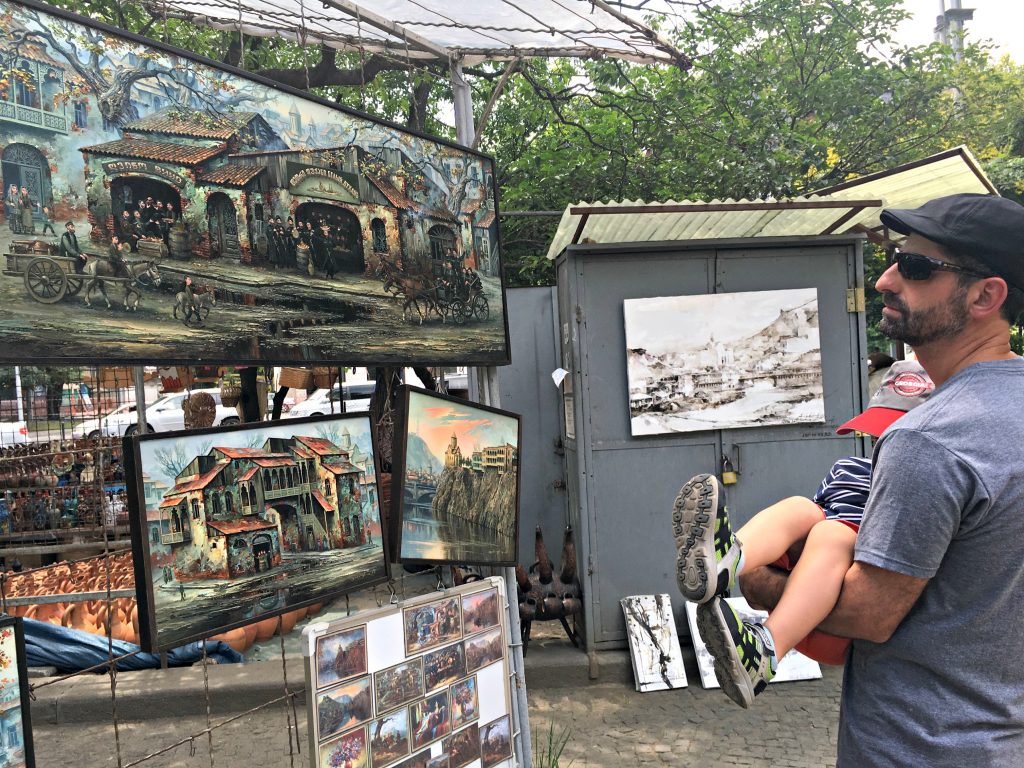 There's a sort of a flea market area on top of the bridge where you'll find people selling old dishes, Communist paraphernalia, binoculars, silverware, whathaveyou.
If you have room in your bags and enjoy flea markets and garage sales, it's a little paradise. Just be careful and haggle a bit as it's expected.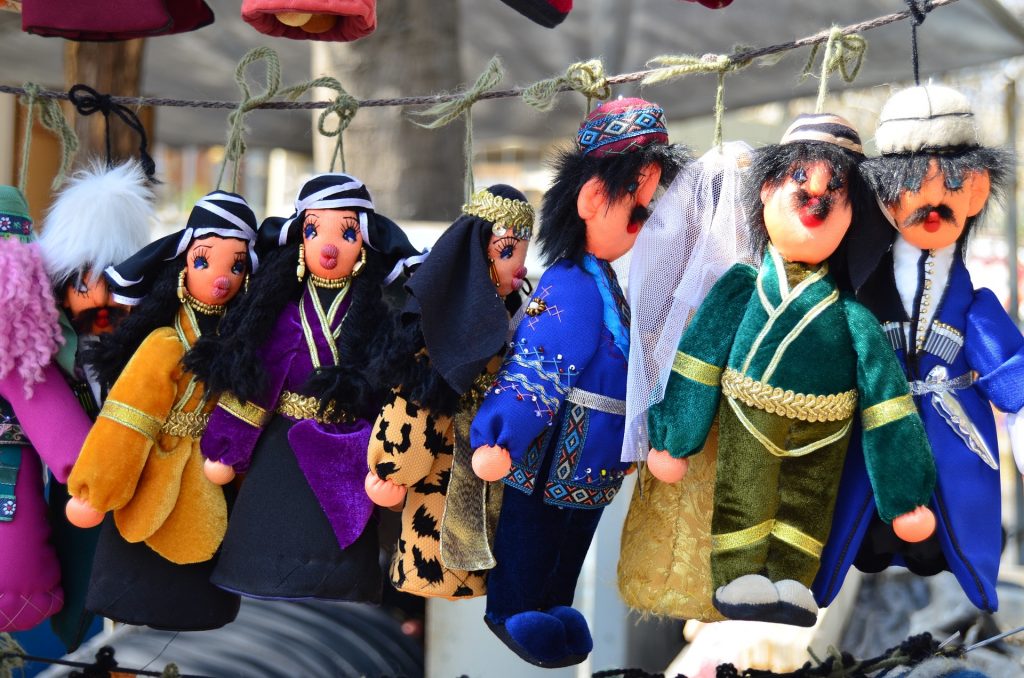 11. Eat Some Good Khinkali
This is a do not miss! This is at the top of my list for fun things for kids in Georgia although I have it at number 11. Definitely, seek out some traditional Georgian restaurants and try the local cuisine. It's AWESOME. I love almost everything, but make sure to order some good khinkali.
A true Georgian will tell you to pick it up the dumpling by the nib, carefully bite into the side, and drink the lovely warm broth out of the middle. DO NOT, I repeat DO NOT spill the juice on your plate (you will 😉 ) Only a wimp uses a fork!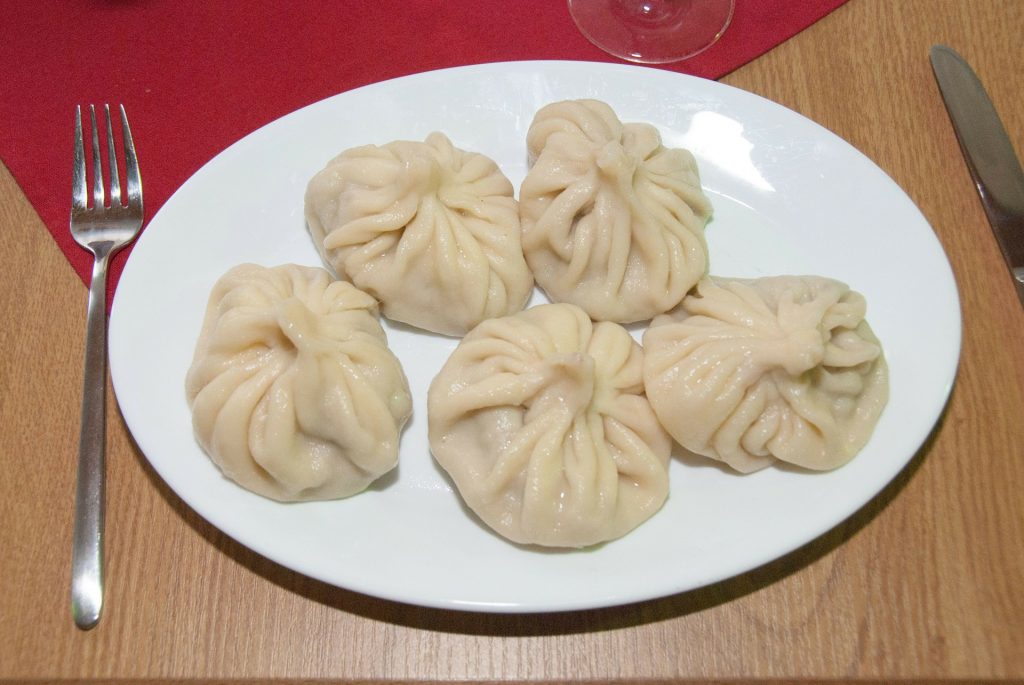 You order khinkali by the number, and they come out on a big plate family style in the center of the table. So if I say: Otsi khinkali gvinda, that means we want 20 khinkali. There are different kinds although most places will have pork or beef. Sometimes you can even get potato, mushroom, or cheese. Normally I don't embrace carbs, but I LOVE khinkali!
12. Sample the Churchkhela
Another Georgian food the kids will enjoy is called churchkhela. Basically, it's hazelnuts or walnuts strung on a string. They're then dipped in a grape juice, flour and corn flour boiled mixture, and set to dry.
Traditionally, churchkhela was made as a treat in the home and would last and not go bad for a long time. In World War II and probably even before, men were sent off to war with churchkhela as a sort of travel food. The early Georgian fruit and nut bars that are amazing and addictive.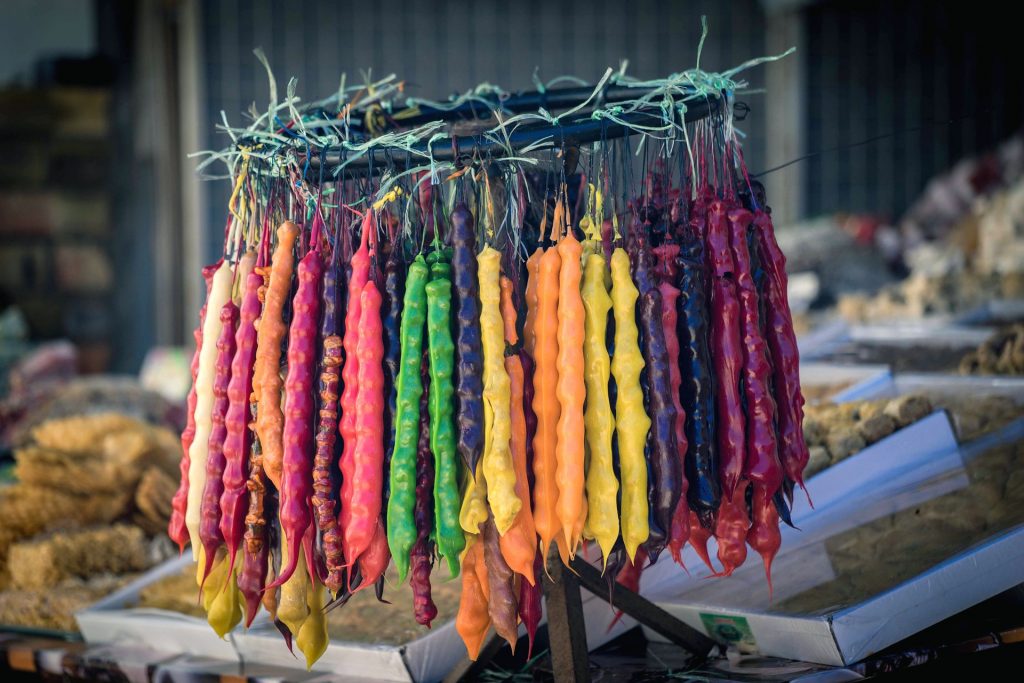 Allergy Warning: As we have a nut allergy in the family, we are always on guard at all times when traveling. In Georgia, you especially have to look out for walnuts because they are in sauces, salads, desserts, pretty much everything.
So are you planning a family trip to Tbilisi?
Lately, I've seen Tbilisi on National Geographic's top places to visit this year, as well as on many other lists. Georgians are open and hospitable, and it's a culture-filled trip. There are so many more things to do in Tbilisi also.
My kids absolutely loved exploring, as well as through the country to the Black Sea. All things considered, it's an education and experience not to be missed. Your taste buds will thank you!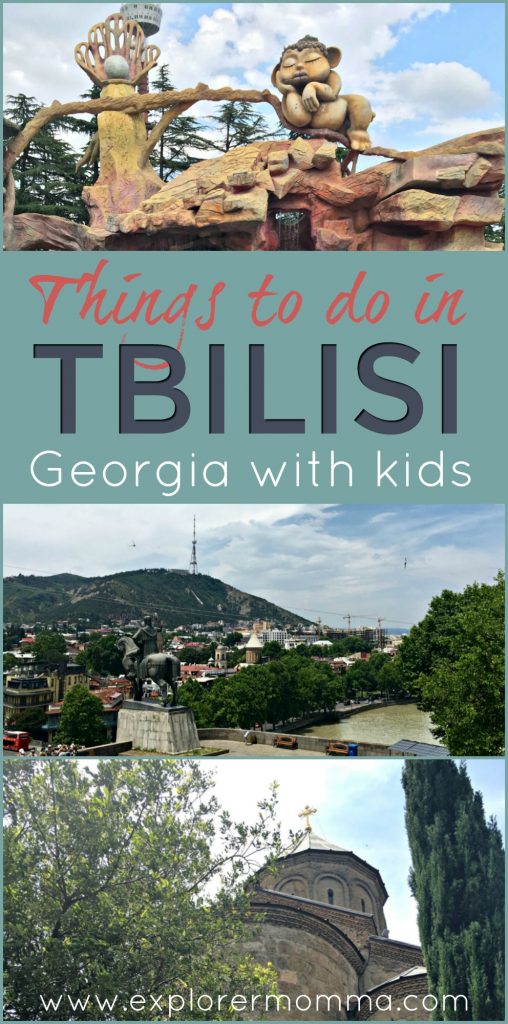 Other articles about Georgia: