Are you looking for an awesome beach vacation with a giant dose of culture and post-Soviet vibe thrown in? We just took an amazing trip to explore this up and coming city and had an amazing time! In the following you learn where exactly this surprise location is, but also our top 10 things to do in Batumi Georgia with kids.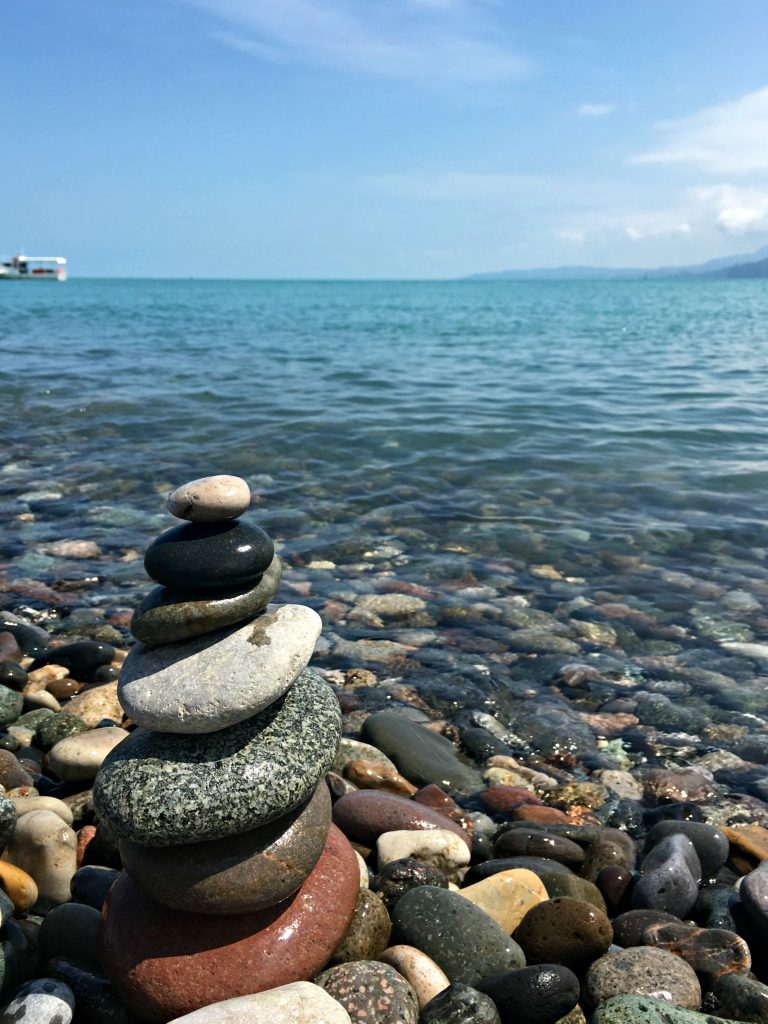 It's true we have connections to Georgia (the country, not the state) because my husband grew up there and has a bunch of family still living there. We wanted a fun place to take the kids, along with his mother and niece, for a family-bonding vacation everyone would enjoy.
Where is Batumi Georgia?
Batumi Georgia is a resort city on the Black Sea on the western side of Georgia. The Turkish border is only a few miles to the south, and you'll find tourists here from Ukraine, Russia, Turkey, and all over.
Batumi Georgia was the perfect spot for our vacation and has a lot to offer for kids. We had a clean fast train out from the capital and back, and a great flat experience with Airbnb. For Americans, the exchange rate was about 2.4 GEL or Georgian lari to the dollar so great for us, although not fabulous for native Georgians! We heard a ton of languages around, Russian, Azeri, Georgian, English. My mother-in-law got to relive some of her youth, and her grandchildren were introduced to her past. It was perfect.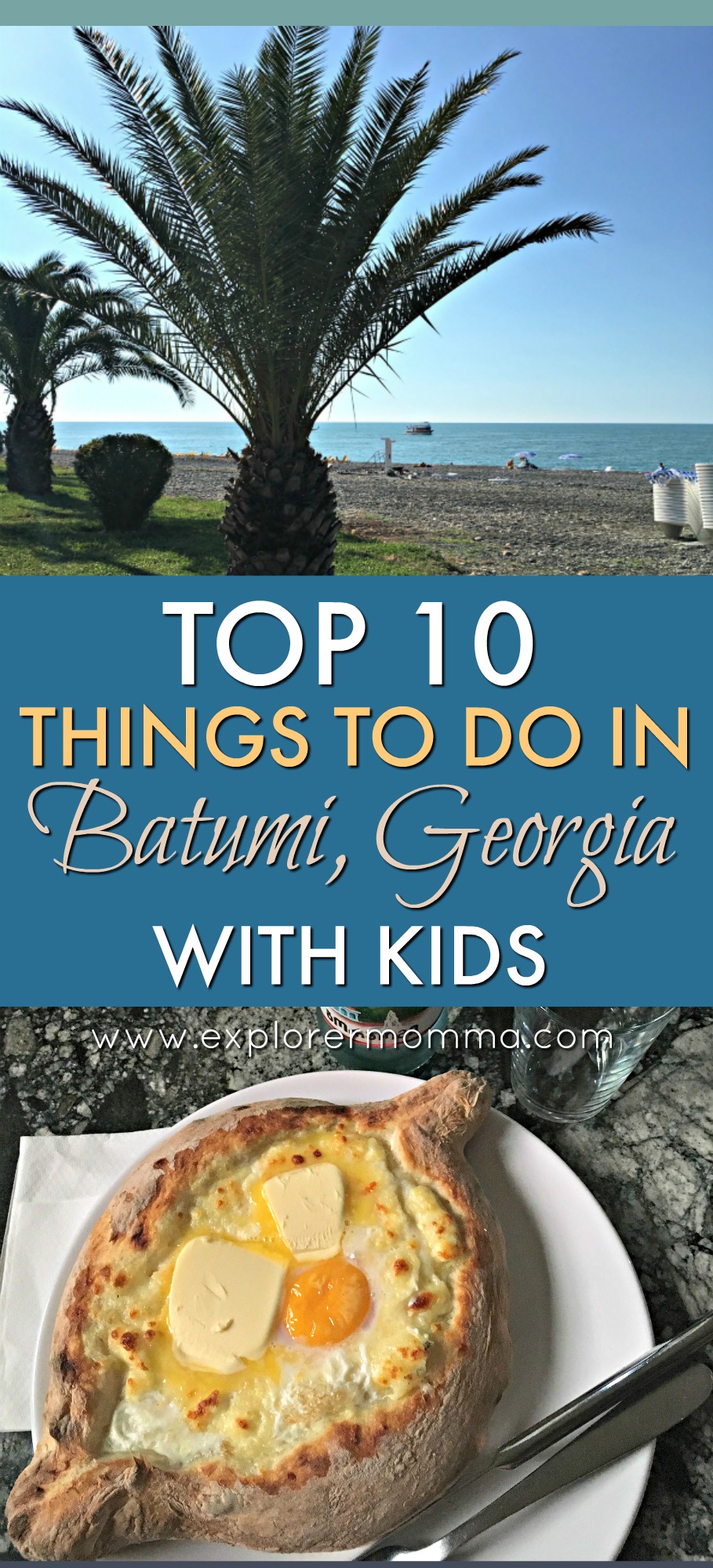 Our
Top 10 Things To Do in Batumi Georgia With Kids
Here we go!
1. The Batumi Boulevard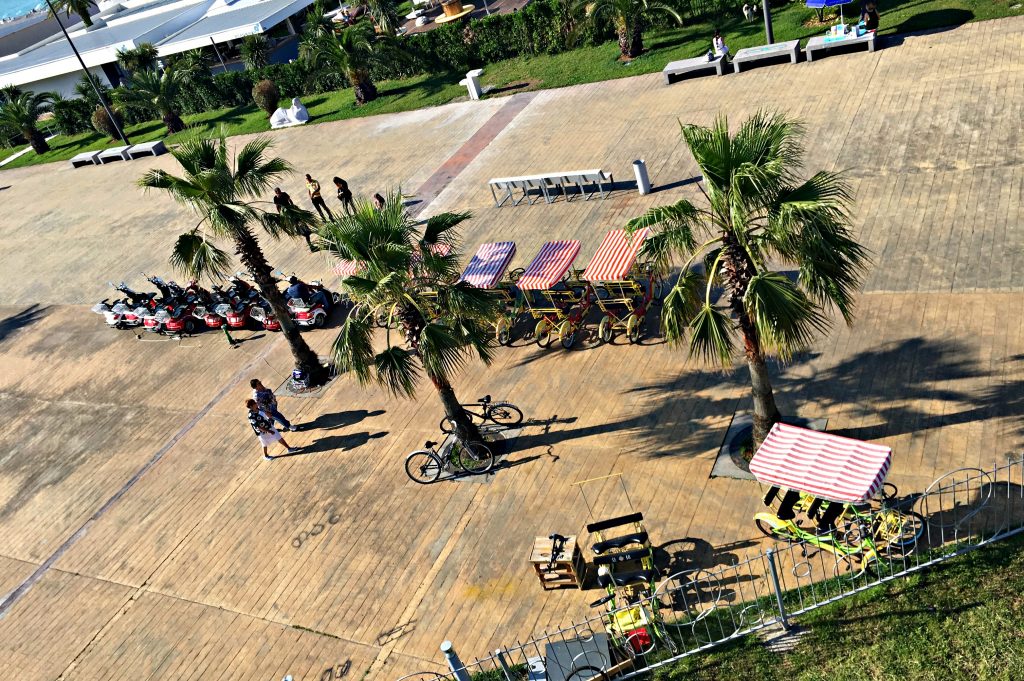 The Batumi Boulevard was a great place to go to walk, stare out at the sea, and let the kids run. So often on a vacation, kids need space to just get out and run around, and this is a scenic, calming place for Mom at the same time. The Boulevard runs North and South along the Black Sea so on one side you have a view of the sea,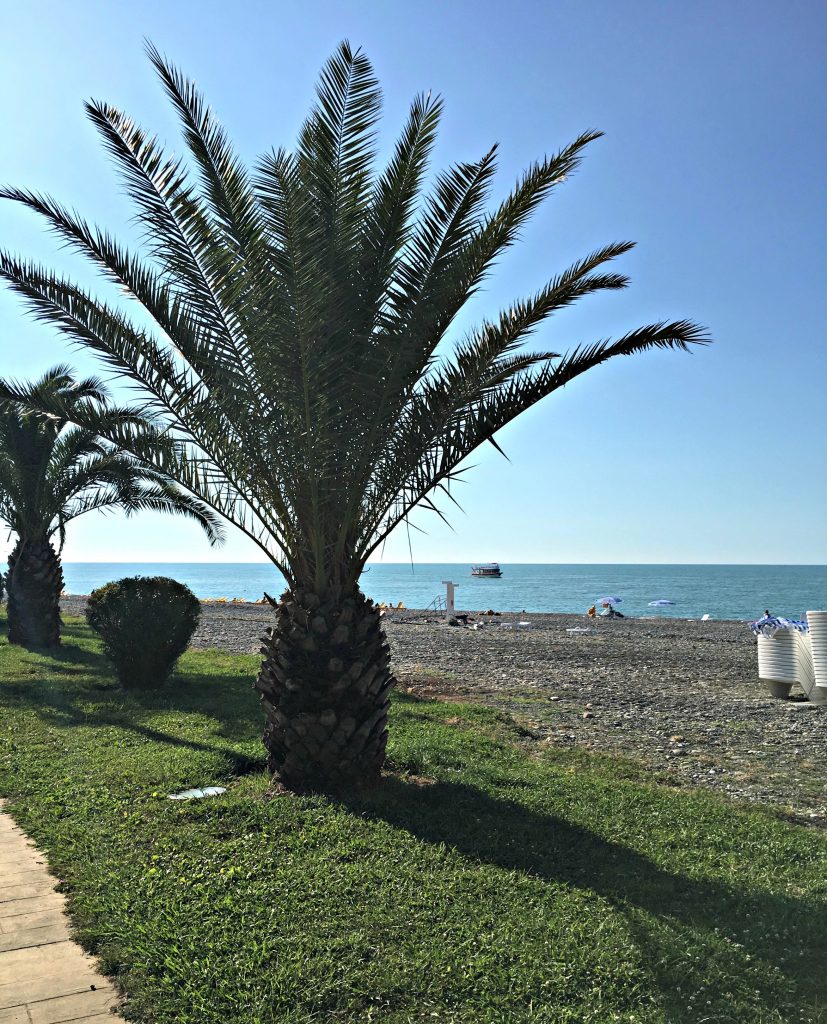 and on the other, you have restaurants, hotels, buildings, and art.
The Boulevard includes the larger walkway, and next to it the small red road for biking. Another awesome thing is that there are bikes (1 to 6 seaters) you can rent at several locations along the way. So, of course, the kids get tired, and if they're old enough you can just grab one of these 4 seaters and pedal your way down enjoying the view.
Warning: We saw a lot of foreign tourists biking with selfie sticks filming themselves as they pedaled. Beware of traffic and people not always paying attention!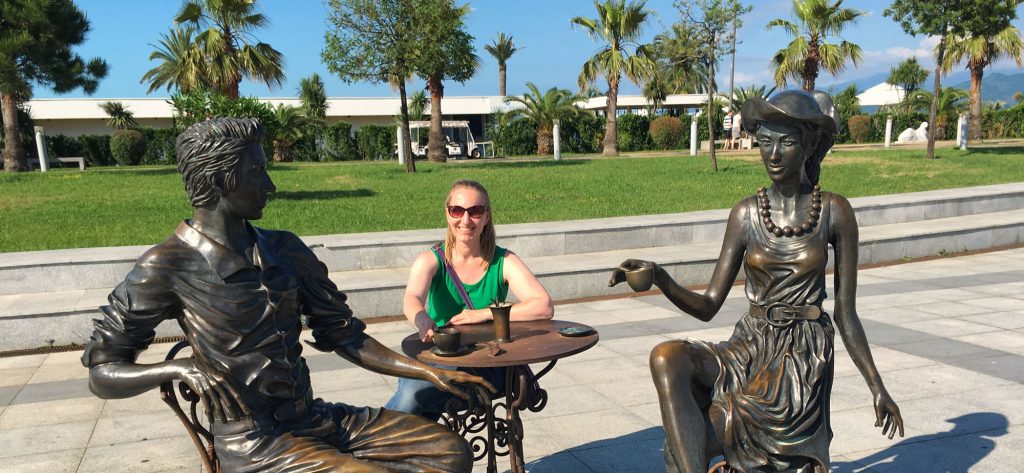 Highlights of Batumi Boulevard
While I enjoyed the sea view and palm trees, my son's favorite part was his chocolate ice cream cone. And admittedly yes, we got ice cream several times! The Boulevard has so much for all the senses. First, we just walked, ate some ice cream, and then used the random exercise equipment.
Then, we pondered the art sculptures, sat under a gazebo staring out at the sea, and listened to the traditional Georgian songs of the street musicians. The kids ran, laughed, ate more ice cream, then collapsed on benches because they were so tired and "could not go a step further". It's a great place.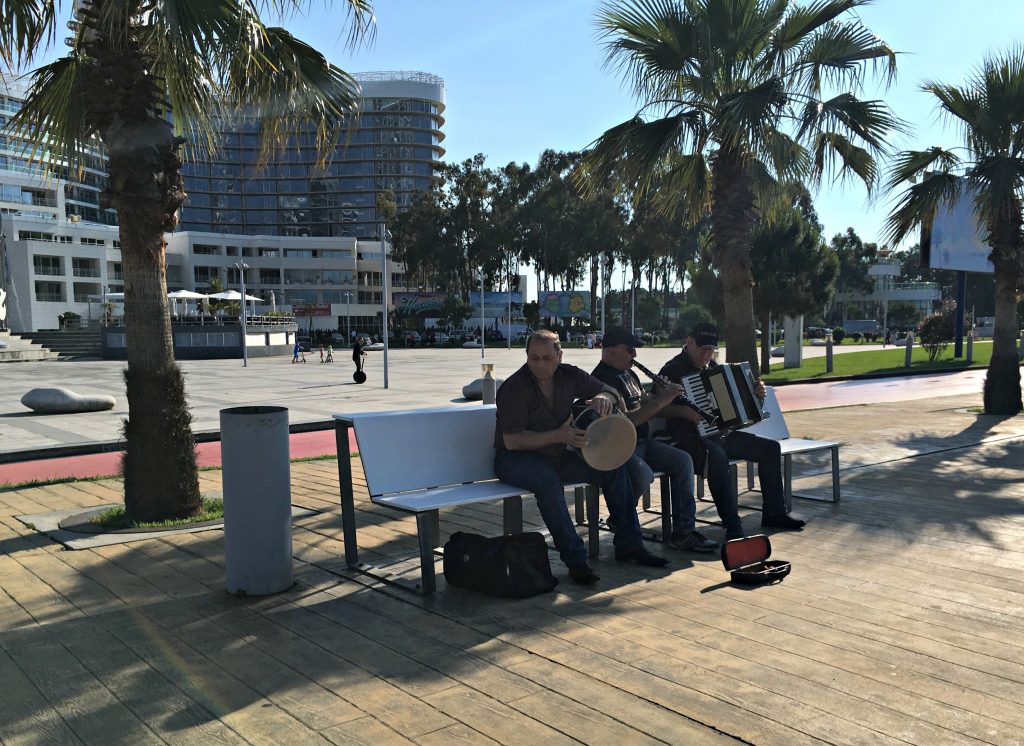 2. The Ferris Wheel (or in Georgian: "Eshmakis borbali" = the devil's wheel)

Who doesn't love a ferris wheel?! The ferris wheel is a fabulous way to get some great views of the city and the Black Sea and definitely makes our top 10 for Batumi with kids.
My daughter was initially scared to death of the thing because it looked so high. But actually, it goes around slowly, and the seats are in a circle with bars around them, not with your legs dangling. Also, it never truly stops so you get on and off as it continues to turn.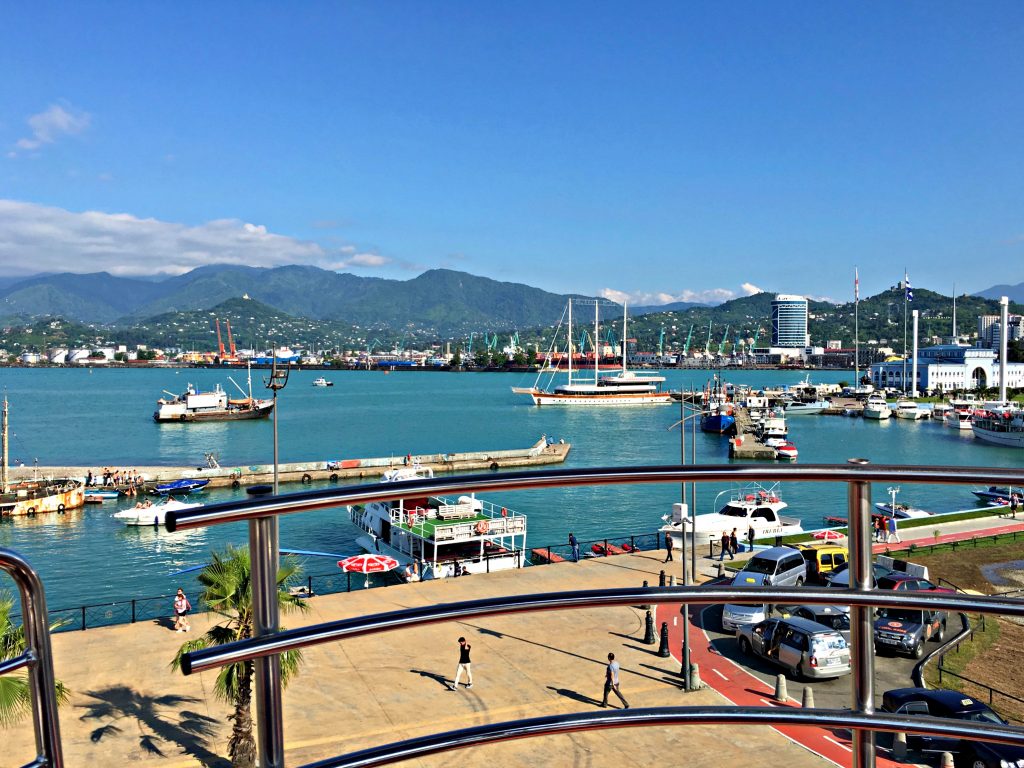 Go buy a ticket at the little ticket booth for 3 GEL a person. If you miss the ticket booth and try to buy some as you get on you'll just get yelled at in Russian (well that's me since I have blond hair and most Georgians assume I'm Russian) to go back to the ticket booth. Don't forget your camera, and enjoy the ride!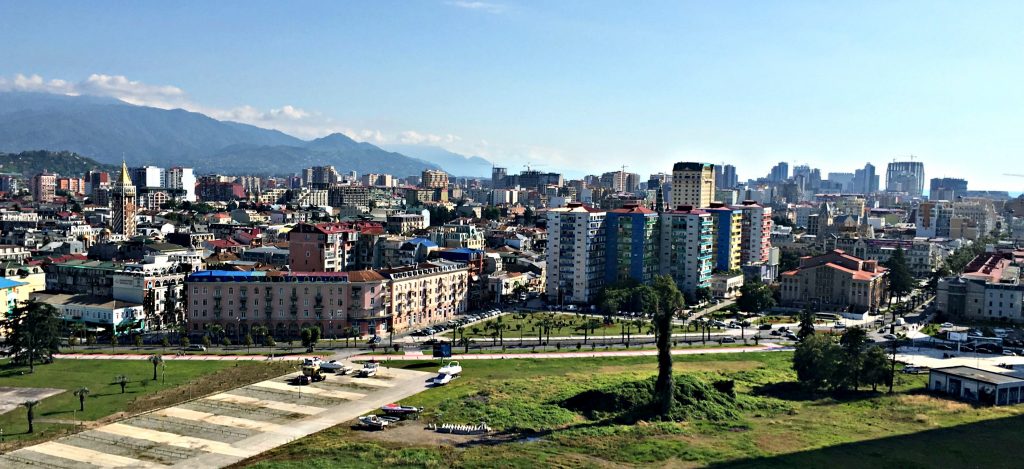 BONUS! Just next to the ferris wheel is the famous Ali and Nino statue that moves continuously to tell the story of the two individuals from the book of the same name. It's a good resting spot, AND there's a fairly clean public bathroom near it as well. It's 50 tetri and so worth it!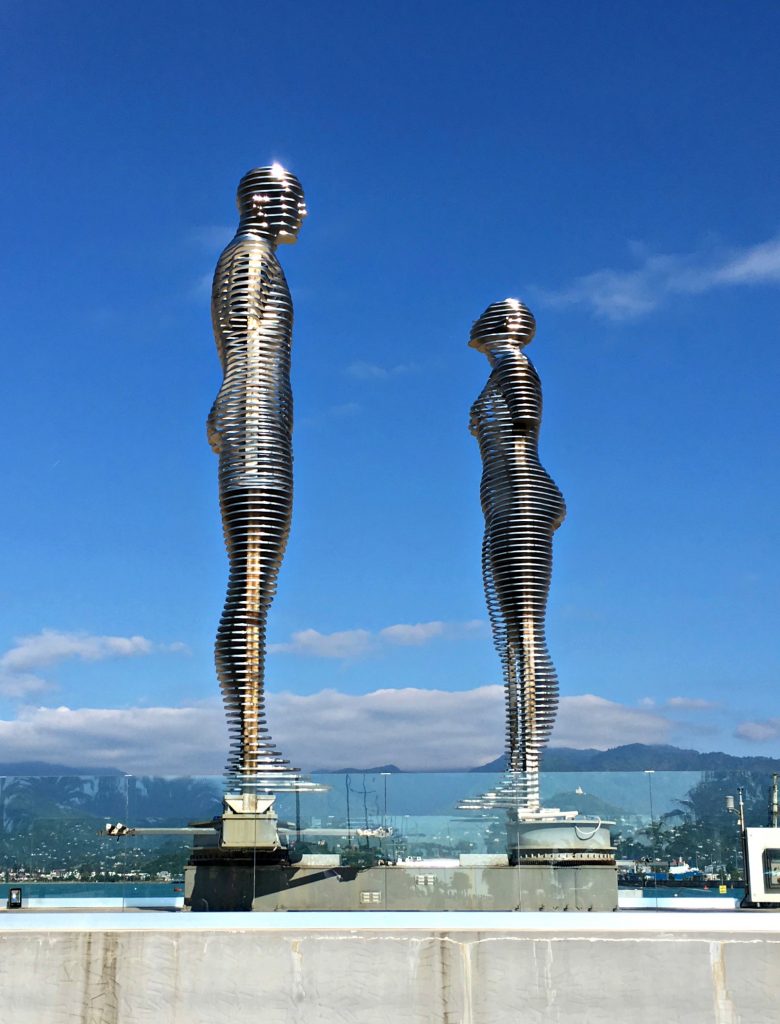 3. The
Dolphinarium in Batumi Georgia
I've been to many sea lion shows at zoos around the United States but never to a dolphin show. Doesn't just saying the word "Dolphinarium" sound like an unavoidable in Batumi Georgia if you're traveling with kids? Going into the show, I really didn't know what to expect but was pleasantly surprised.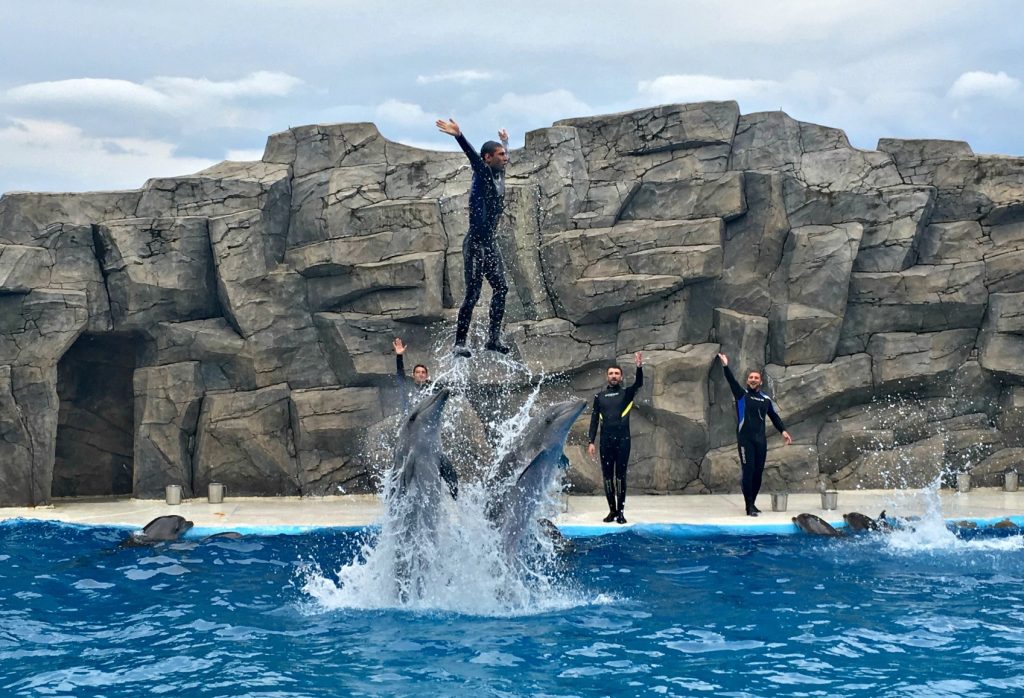 The Dolphin Show was fun and upbeat from beginning to end (it lasted about 45 minutes total with the dolphins performing). There was music throughout the entire show paired with each dance or trick of the dolphins.
Also, the announcer was pretty amazing going from Georgian to English to Russian pretty seamlessly, excited and engaged in the program. Everything was clean and professional, and you could tell the dolphin trainers loved working with their intelligent dolphin friends.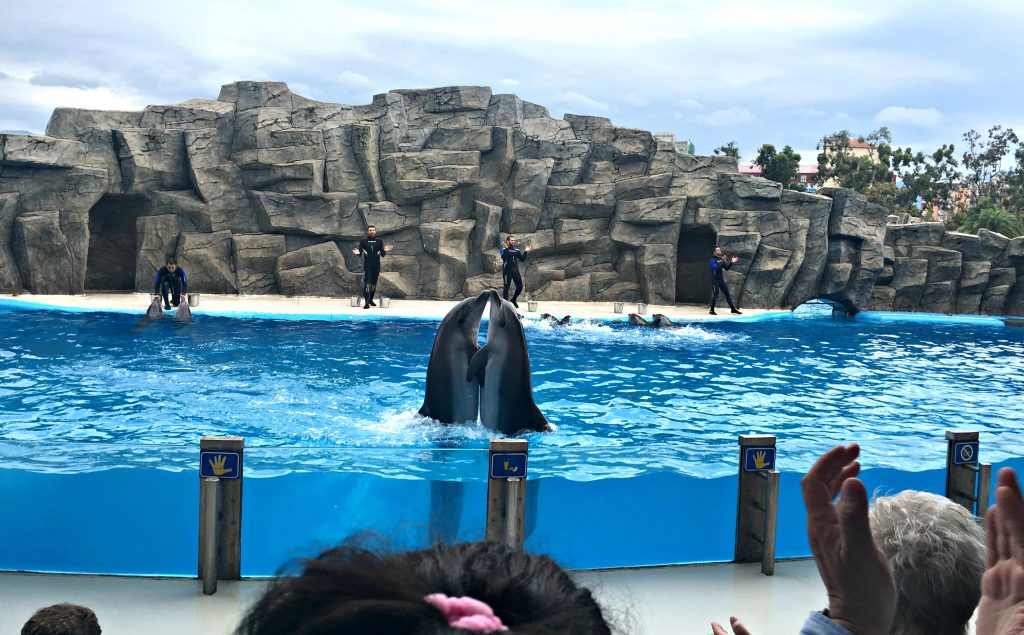 My entire family loved it, 4 up to 73-year-old, and there were smiles throughout. It was also a fun mix of locals and tourists as we sat by some Russians, but there was a local elementary class just up a balcony to our left. At 15 GEL a person (under 4 free) it was a great time. You should visit too!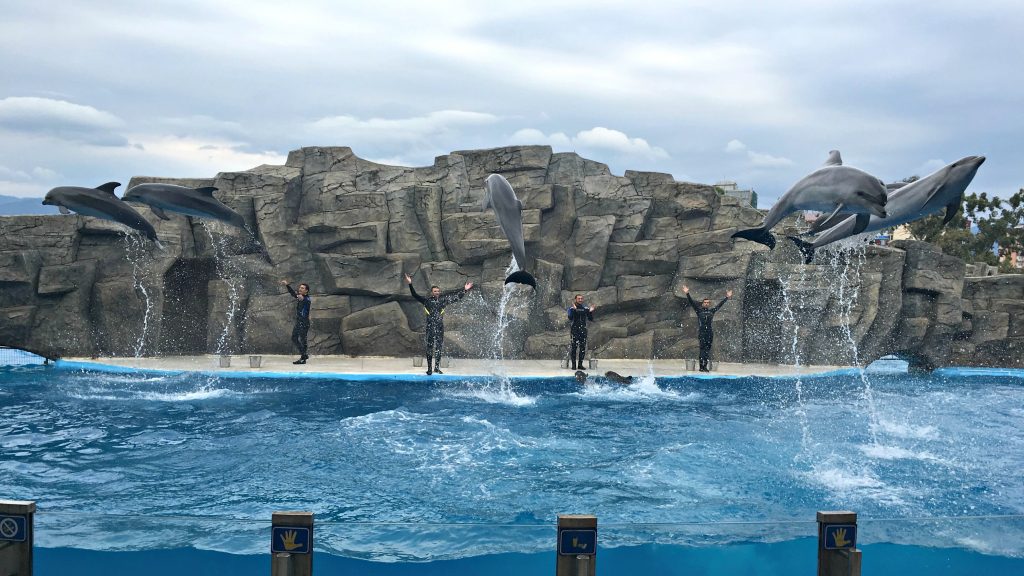 4. The Boulevard Beach (the northern section)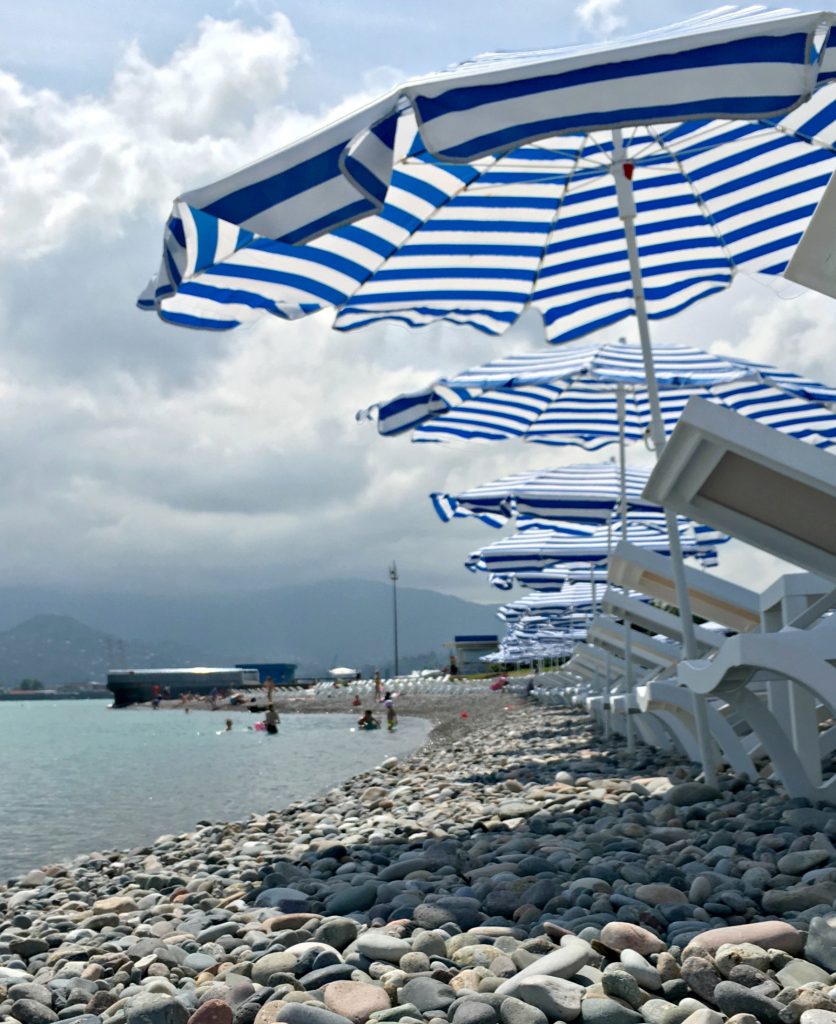 What's the first thing you notice? It's the rocks, right? Yes, it's a rock beach, and can be hard on the feet (so bring sandals!), but it's great for Batumi Georgia with kids! The kids play in the sand all the time, and beautiful, colored rocks are a novelty.
Both my kids made rock collections, towers, practiced skipping rocks and had a blast. The other thing that won the day? The sea life. There were little jellyfish everywhere and dolphins playing in the distance. We went from screams of fright to joy every two seconds. Loved it.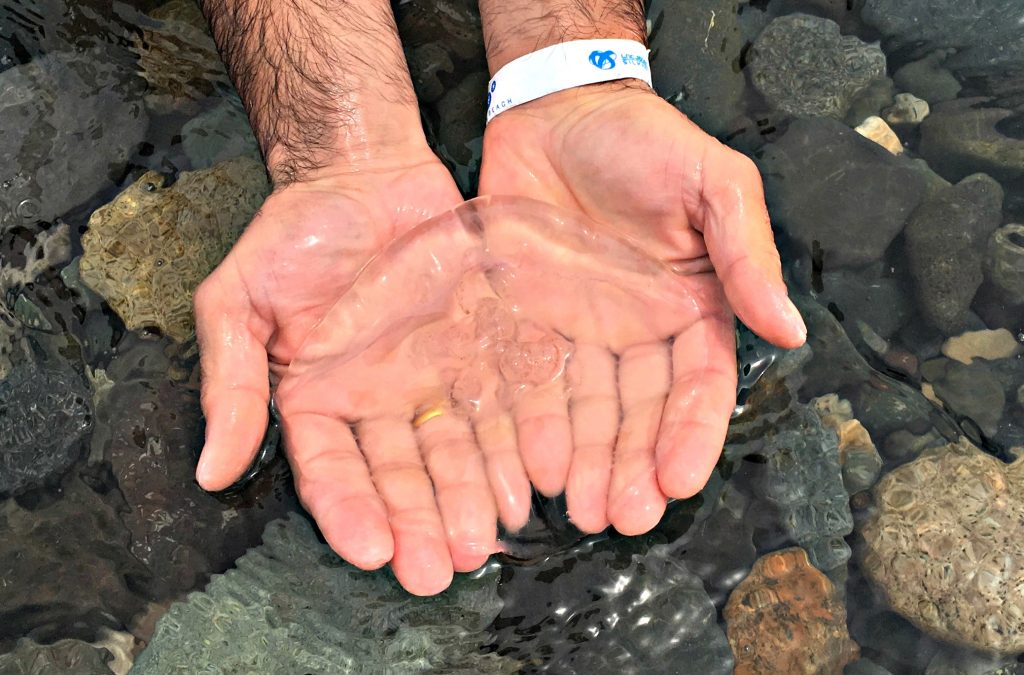 5. Europe Square
Europe Square is what it says and probably the most European-looking location in Georgia. It's fun for the adults to look around at the architecture, take pictures, and have a coffee. The kids loved the water jumping fountain in the middle and thought the statue of Medea with the Golden Fleece was "super-awesome".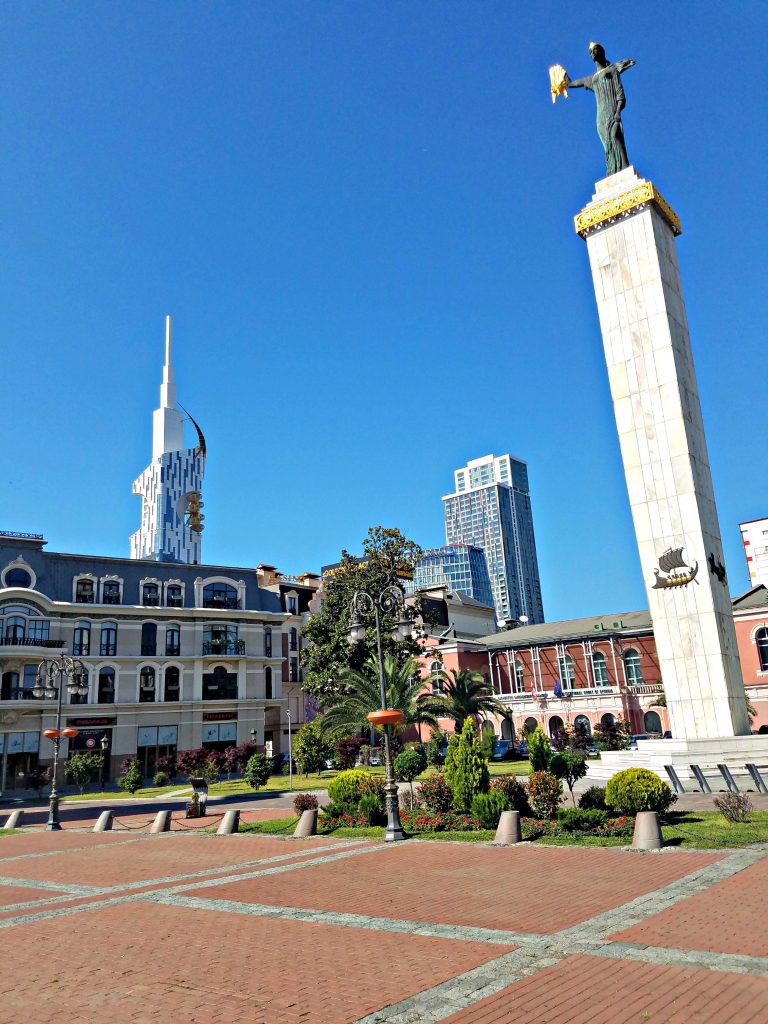 The Astronomical Clock was impressive, and the kids were in the mood to explore and thought it was pretty cool. There are also some well-tended plants, flowers, and of course palm trees to enjoy as you walk around. It won't take you too long to walk around but don't miss this square!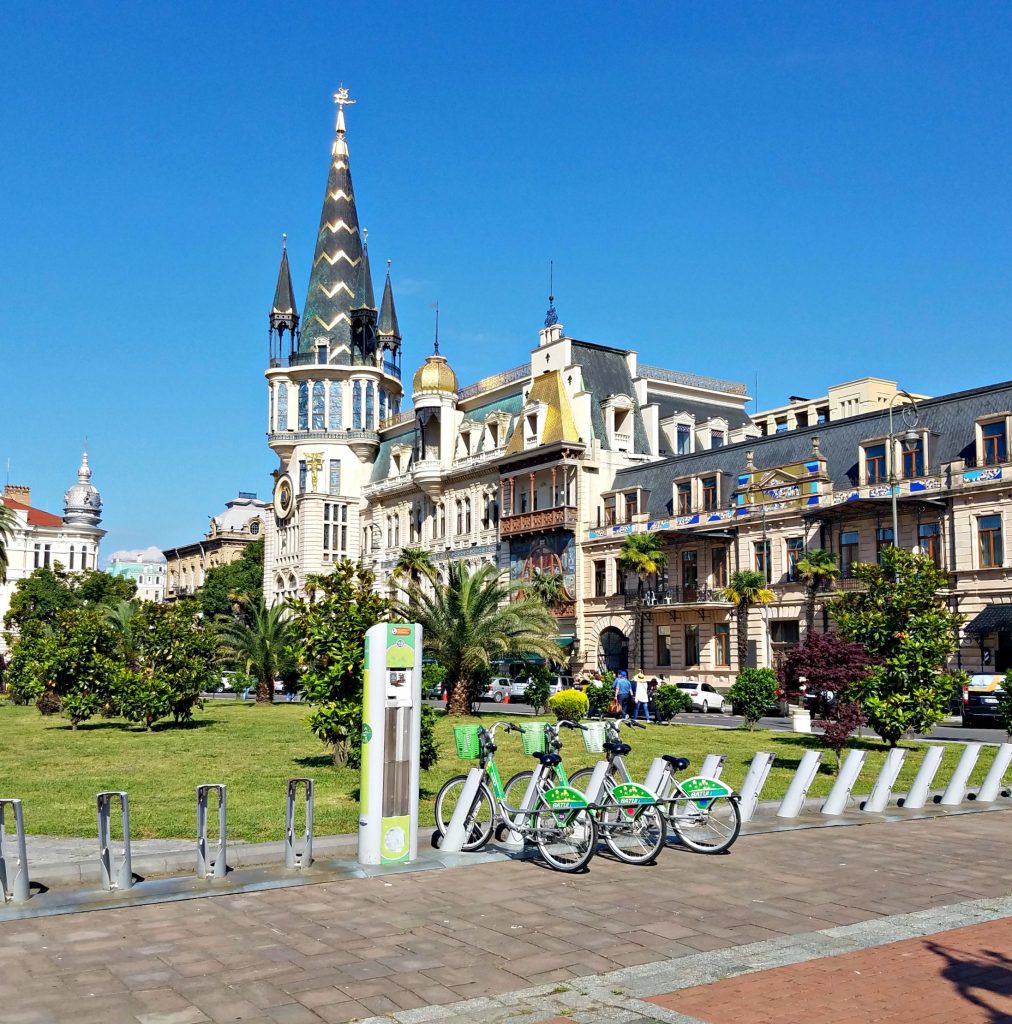 6. Sarpi Beach and Turkish border
There's just something about the beach and cafés at the border at Sarpi I love. It's about 15 km from Batumi, but you see a lot more Turkish influence in that short distance. We even heard the Muslim call to prayer from the Turkish side.
Again, we met with a multi-cultural mix of people (Georgians, Russians, Turks, Azeris), which was great for the kids to see and interact with. My daughter and niece played with some Russian girls for a while, and to me, that's a huge educational piece in friendship, understanding, and differences.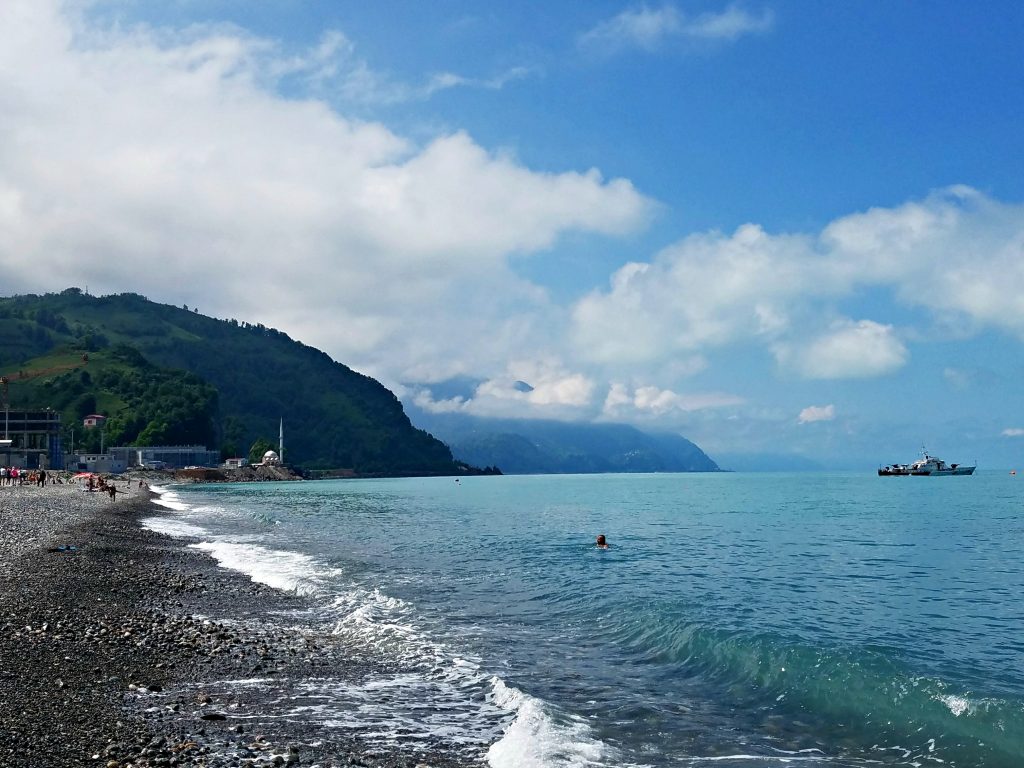 It's a little crazy right at the border, but you usually have the beach with only a few other tourists. It gets a lot busier in August and September, but since we were there in June we had a huge section of beach just to ourselves.
In addition, we stopped at a fun, open café-type area with lots of tables and umbrellas just before the border. We all got penovani khatchapuri (the cheese bread with puff pastry) and a drink. There are convenient pay toilets close by too, look for the WC sign. Pay toilets mean they're much cleaner, and it's not all that expensive. Also, did I mention it's gorgeous?? I love the views you get around this area of the beach.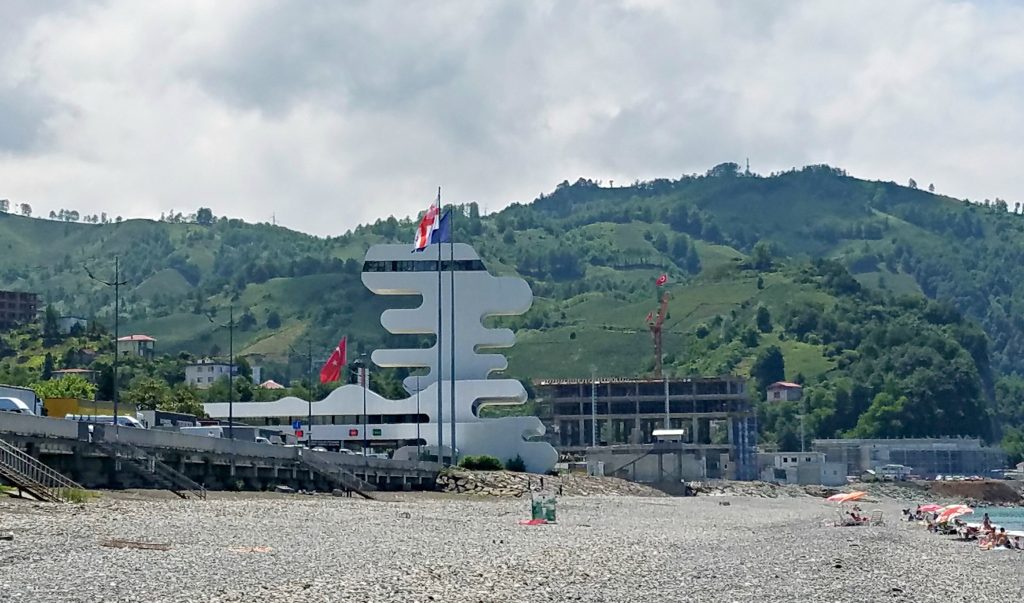 Here's the border crossing. Note the Georgian and Turkish flags.
7. The Alphabetic Tower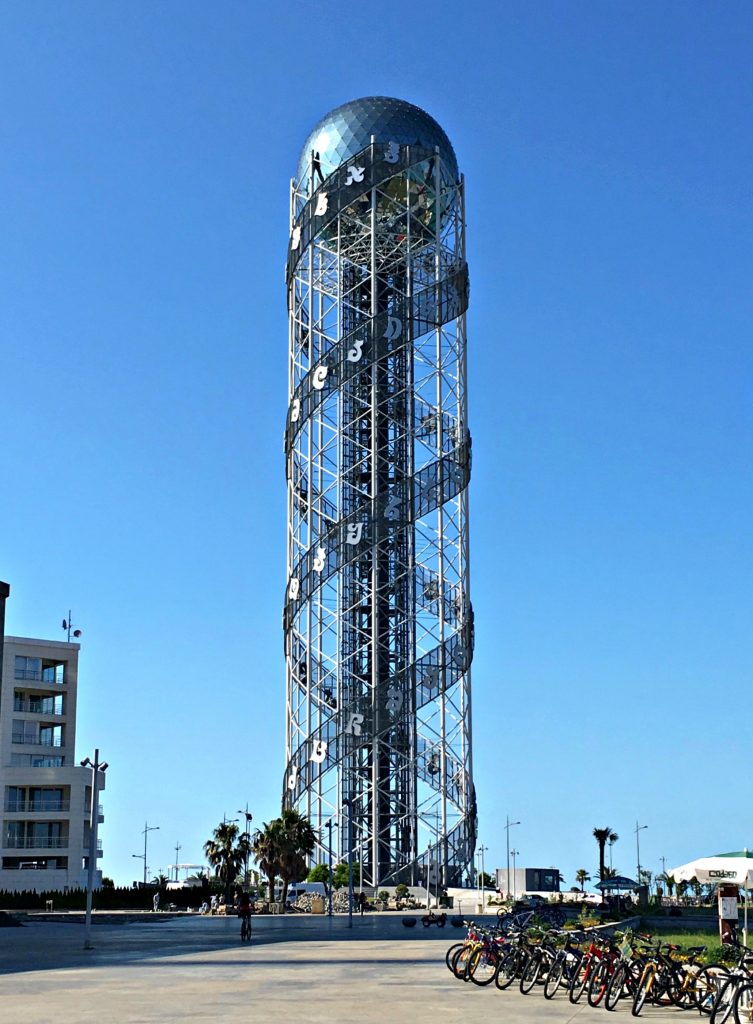 The Alphabetic Tower is located near the Ferris Wheel at the northern end of the Boulevard in Miracles Park. It's an impressive structure made to look like a DNA helix covered in the letters of the Georgian alphabet. Yes, the Georgian language has its own unique alphabet with 33 letters that are not Cyrillic or Latin, but Georgian.
You can ride up to the observation level or even eat at the restaurant, although we didn't do that at the time. You get some great views of the city through the glass. We enjoyed the outside more and the playful tone of the architecture.
8. The Gonio Fortress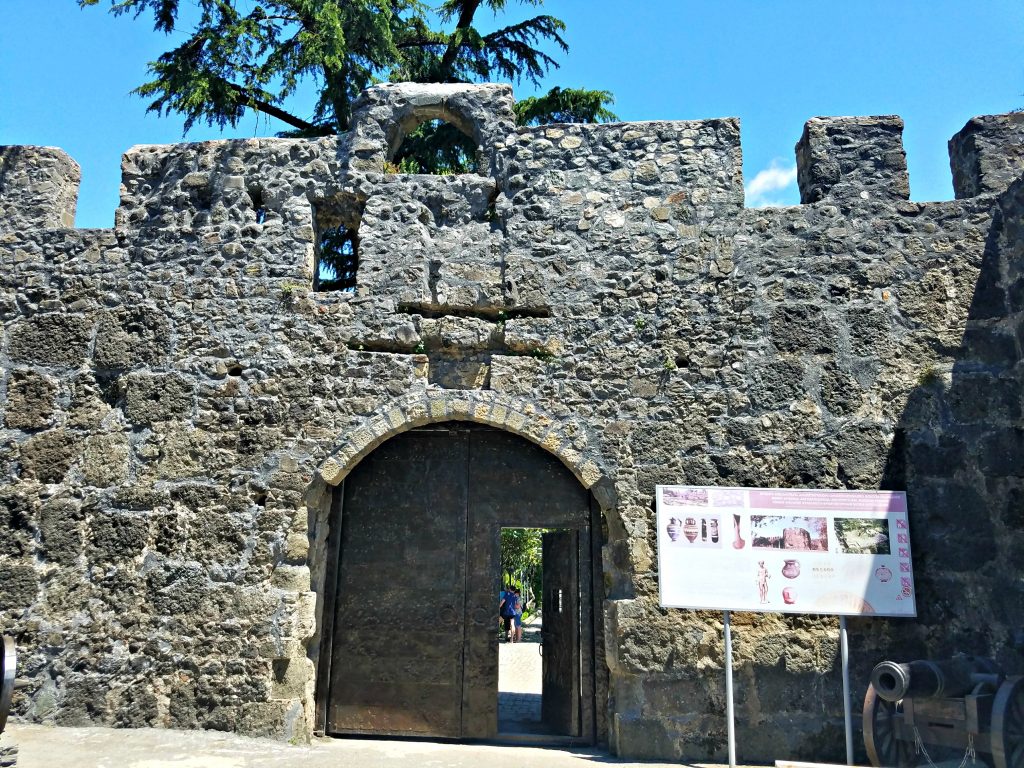 The Gonio Fortress is a Roman fortification within what was Colchis. You know, Jason and the Argonauts, the Golden Fleece and all that!? Awesomeness. It is also believed to be the resting place of the Apostle Matthew, although that has not been officially verified. History buffs, you need to visit this place.
If you're bringing kids make it a morning stop on your way to the beaches and border at Sarpi so you can rest on the beach in the afternoon. My kids basically said, "A castle! Cool!" It's a fun place to ponder the history and people who've been in this region of the world.
9. Batumi Georgia dancing fountains
First of all, we happened to stumble upon the dancing fountains during the day, after a small meltdown by the four-year-old. The fountains have some fun bridges that go over them near the spouting water. Kids from all around were running and laughing and trying to touch the water.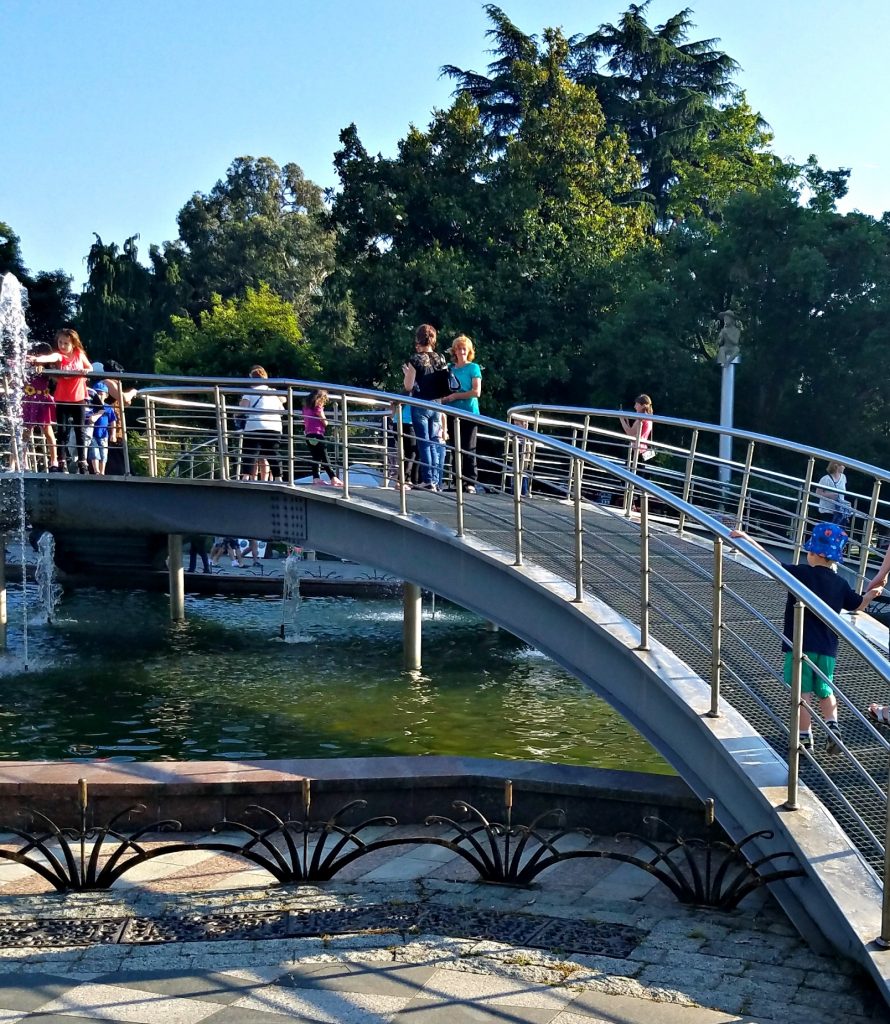 I didn't get great pictures, but the day fountain-chasing was a much-needed break. The night show is set to music and lights and is a fun evening when you're wandering about between the Boulevard and the city. This is a great pick when visiting Batumi with kids.
10. Laguna and Atcharuli khachapuri
Okay. So in the country of Georgia, I would say the most popular food people eat on a daily basis is khachapuri. Khachapuri is basically cheese bread, and there are many ways of preparing it in which the regions all over Georgia specialize.
Batumi is in Adjara, know for their Atcharuli khachapuri. Oh my yes. This is the kind you'll see looks like a bread boat filled with cheese, large pats of butter, and an egg broken in on top at the last minute. Just take a look.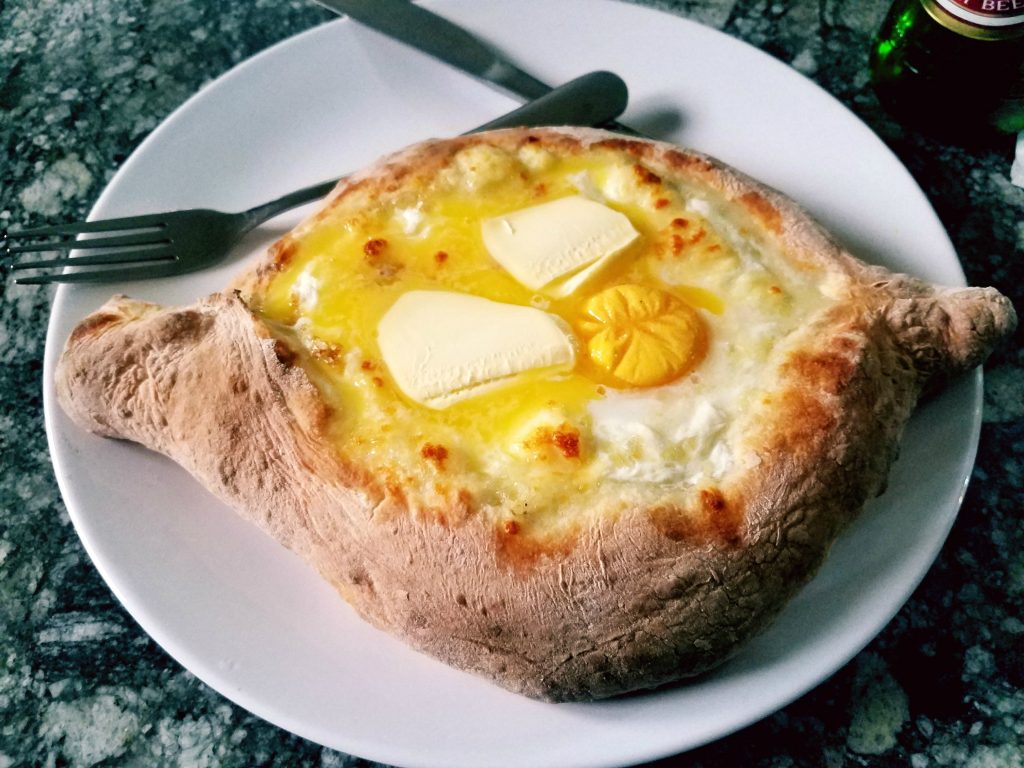 My family just sat staring at the things in awe for a moment, and then remembered proper Atcharuli khatchapuri protocol. First, your boat is brought out to you piping hot with the butter and egg just placed on top. Second, you take your fork and mix it all up inside the boat, pulling out the sides and middle bread even, and mixing it all up to cook the egg.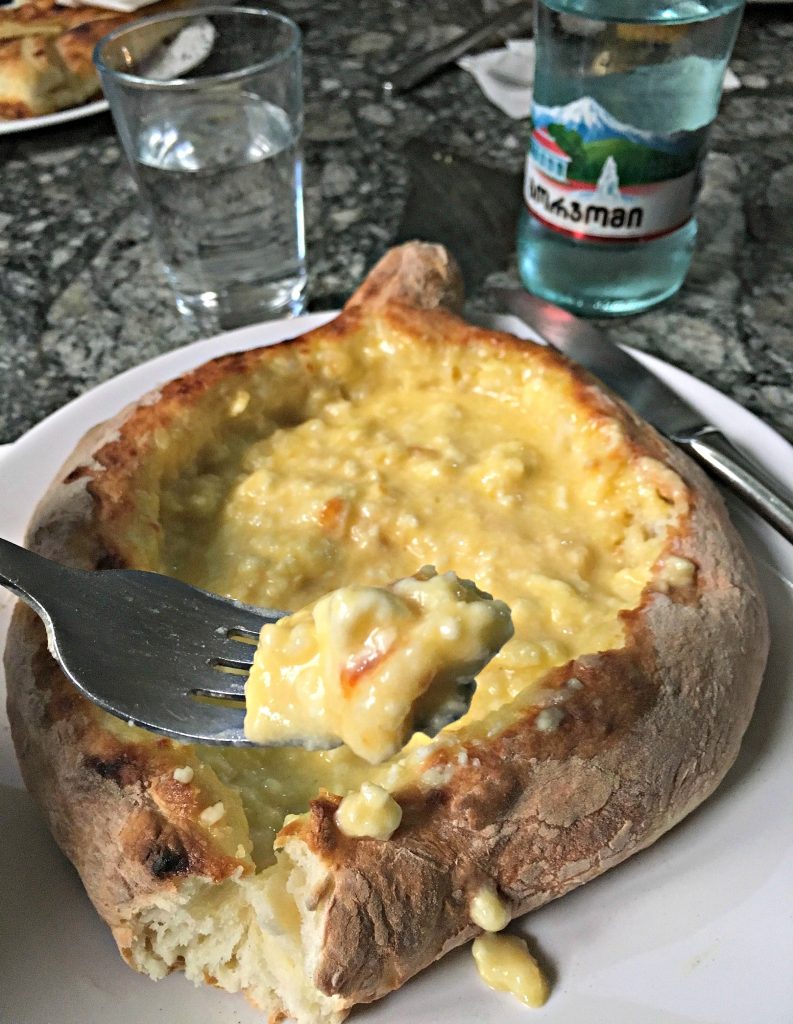 Next, dig in, breaking of the sides of bread and dipping them in the middle as you go. Last, beg for a Borjomi (Georgian sparkling mineral water traditionally used to settle stomachs).
I'm drooling just staring at the pictures. Let me tell you, the stuff is amazing. I only got about a third of mine down it was so filling, but my husband cleaned his plate!
We went to eat at a place called "Laguna", recommended to us both by locals and tourists as the BEST Atcharuli khatchapuri in Batumi, THEREFORE the world. I can definitely say it's the best I've ever had, and I've had it quite a few times. If you are in Batumi this is a MUST – GO, GO! get yourself a bread boat of this gooey, cheesy, buttery goodness.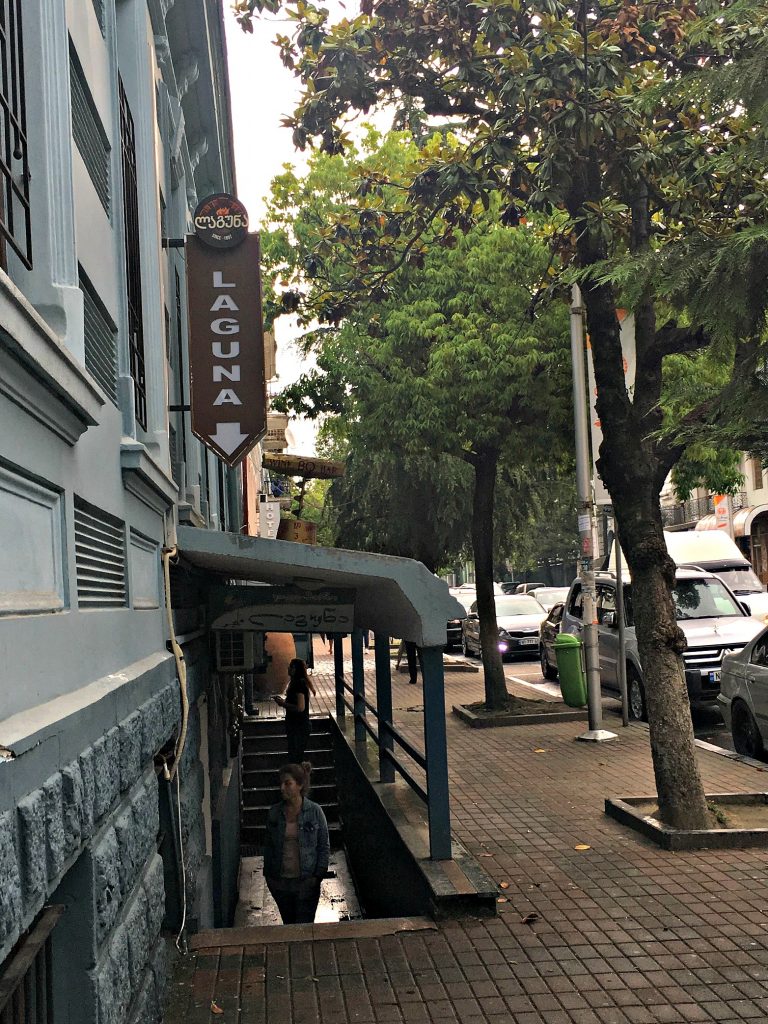 So many things to do in Batumi Georgia
This is longer than my normal post, but Batumi, Georgia is such a fun, different, amazing place to visit, it warrants more than the norm. There are so many other places around this city I could have included, but I tried to stick to those that were enjoyed most by my kids.
Several people told us to check out the Botanic Gardens, but I didn't include them in this list because the four-year-old is not a hiker who enjoys the ups and downs and meandering trails to see plants. It may be perfect for your visit though!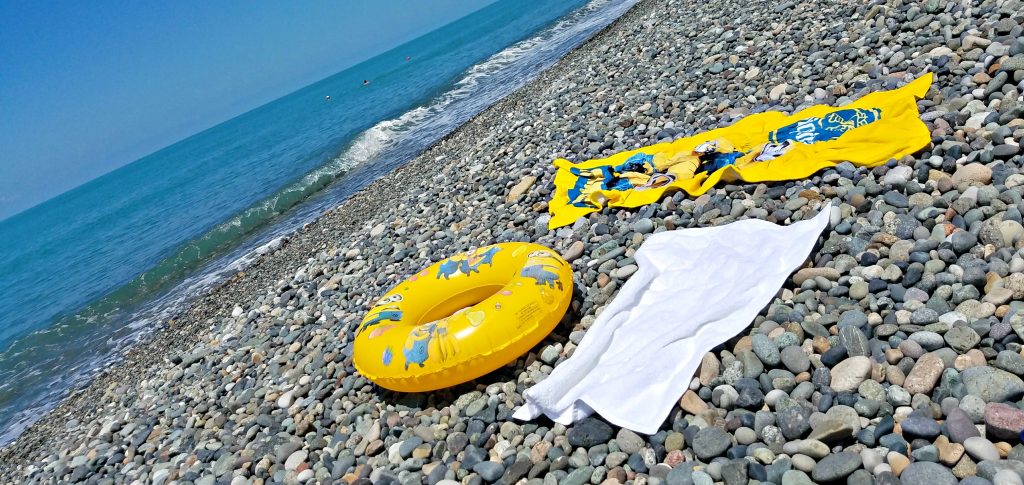 I have so many good memories of this place and fun times with the family. If you're heading to Batumi, Georgia with kids definitely look up some of these places before you go. Or, if you're traveling without kids look them up anyway! You won't regret it.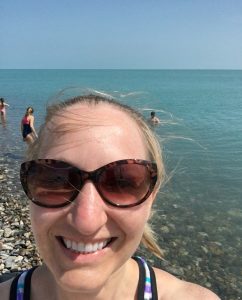 Aba hey! Kargat iqavi.
What are some of your most memorable travels as a kid?
I'd love to hear about them in the comments!