This post will give you useful Georgian language phrases for travelers. Download the Georgian phrases PDF, your own Georgian travel dictionary! In one place find basic Georgian phrases and useful Georgian phrases to get a richer picture of the people as you travel.
When you travel to other countries do you try to learn the basics in the native language? Even if it's just a few words as an introduction, I've found it paves the way for a richer, fuller visit. In addition, it helps to ingratiate you with the local people and gives you a whole other view of the place and culture.
I've had many people ask me how in the world I learned Georgian, even after living there for several years. How? I studied. I interacted with people all over the country (and that done with me being an introvert). Was it always comfortable? No, of course not, and language learning is never perfect, but little by little you begin to understand and feel a part. Georgian language phrases
This page contains affiliate links.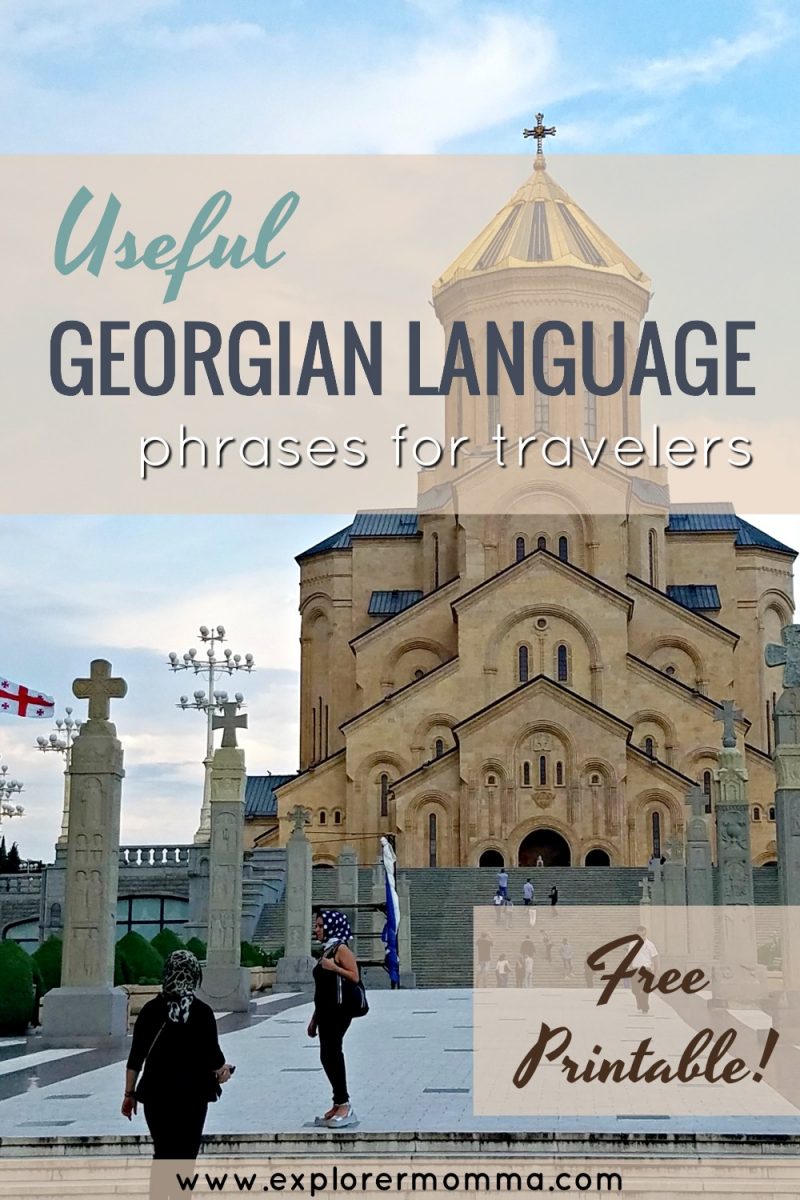 Luckily for you, if you're traveling to Tbilisi or any other part of Georgia soon, I've put together a handy printable list of useful Georgian language phrases for travelers.
Speaking foreign languages while traveling
I vividly remember the reaction of a woman I met in Baku, Azerbaijan when I attempted to speak to her in Azeri. This was a while ago now, but she was taking money for tickets or a tour at the Maiden Tower, an old Zoroastrian tower in Baku that's now a local history museum.
At first glance, she bore the no-nonsense, expressionless face I associate with former Soviet countries. They all feel Americans smile too much at strangers, as do many other countries. To me, she looked put out at having to be bothered with doing her job and giving out tickets.
Slowly, I stepped up and asked for the tickets in what I thought was correct Azeri. She did a little double-take and really looked at my face, and I was able to respond to whatever she asked me in return.
Her face lit up, smiled, and she yelled over to her friend that these girls were actually trying to speak Azeri and NOT Russian. At least I think she said something to that effect. We ended up getting more attention, and a bit of a special tour.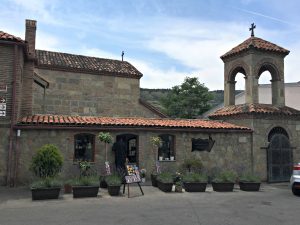 Why learn basic Georgian phrases?
Indeed, it's all about being polite and respectful when you go to someone else's country, to speak their language. Even if you don't get very far, or they speak English and cater to tourists, they will generally appreciate your attempt. Don't be afraid of not getting everything perfect either!
I do pretty well in Latin languages and Georgian; however, my German, Russian, Azeri, etc. are pretty horrendous. But don't fear! Most of the time they don't expect you to have perfect grammar and pronunciation. The point is to communicate and learn from your hosts.
Georgians are some of the most hospitable and welcoming people I've ever met. They take great pride in their hospitality and love to have guests. They, like the Azeri woman I mentioned, are super-excited when foreigners speak Georgian to them and not Russian or another language.
I first fell in love with the Georgian language through traditional Georgian music before I could speak a single word. Music so often communicates the history and passions of a place so I like to listen to what I can before and during my visit. Also, I encourage my kids to do the same thing and so makes travel a huge living lesson for us.
You can never understand one language until you understand at least two.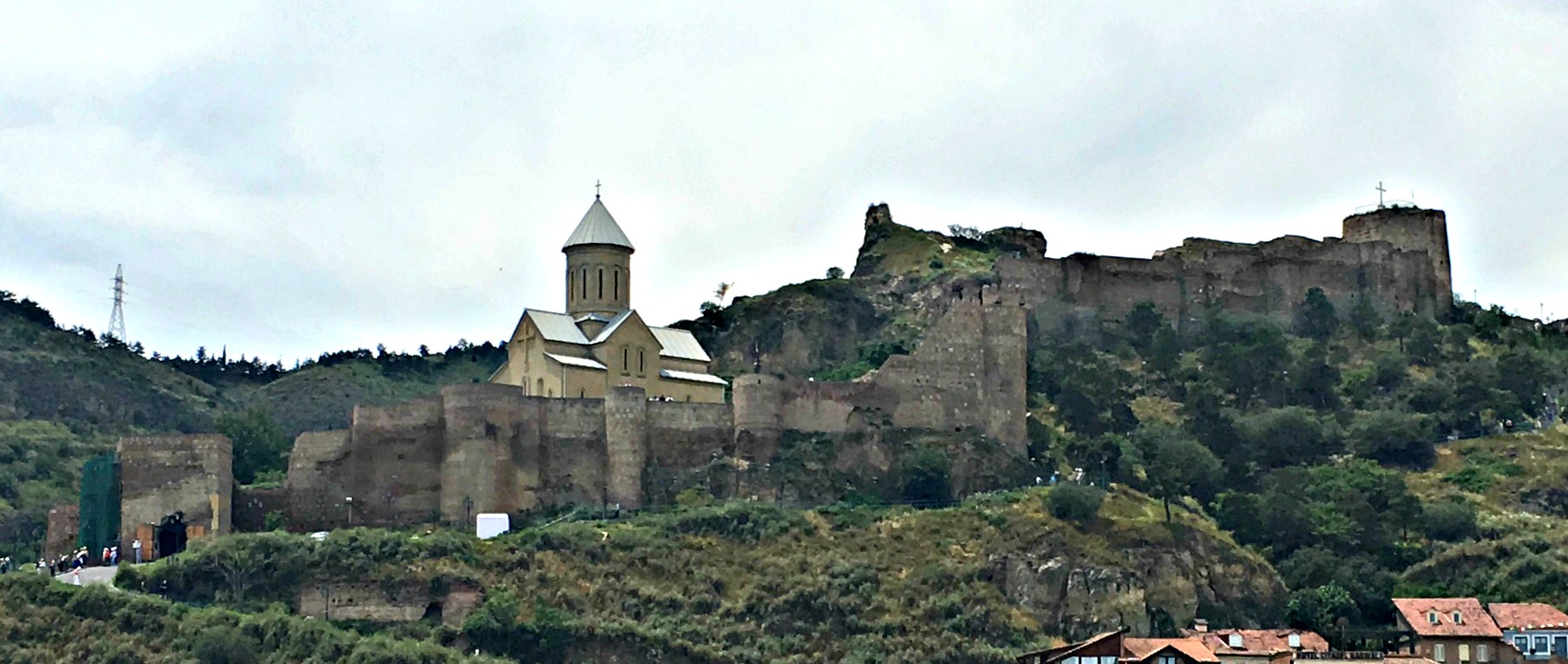 In my recent blog post, you can read all about awesome activities to do with kids in Tbilisi, Georgia. It's an amazing city and so much fun to explore!
Georgian language phrases
The Georgian language is a beautiful language rich in history. What's it related to? This is generally one of the first questions I get asked when speaking to someone about how I know it. Georgian is in its own family and branch, and therefore it's not Slavic, Latin, Germanic or others. In addition, it has its own alphabet with 33 letters always pronounced the same way when read, similar to Spanish. Right now I'm not going to go into the alphabet but for our purposes use Latin letters to make it easier for travelers to get some words out!
When you speak in Georgian, do not stress syllables as in English, but read through them with the same level of stress throughout, if that makes sense.
A few phrases in Georgian:
gamarjoba (gah-mar-joh-bah) This means hello!
me lareni var (may lahren-ee var) My name is Lauren.
Tip here: You'll want to insert your name instead of mine. In Georgian, you add an ee (long e) sound to the end of your name if it ends in a consonant sound, in this case. I'll not trouble you with a bunch of grammar right now.
sasiamovnoa (sah-see-ah-mohv-noh-ah) It's nice to meet you. (I love saying this word so had to add it in.)
didi madloba (dee-dee mahd-loh-bah) Thank you very much.
kargat (kar-gaht) Good-bye! (informal)
nakhvamdis (nahkh-vahm-dees) Good-bye!
Do you want some more? Get the free Georgian language PDF printable, and practice to your heart's content. Most Georgians are thrilled to help you with pronunciation and language so if you know someone who's Georgian enlist their help.
Sign up for Explorer Momma's newsletter and download your free Georgian language phrases for travelers printable below!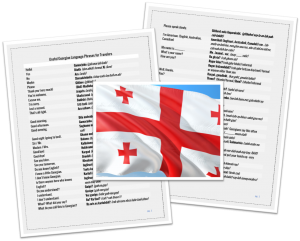 Are you traveling to Georgia soon? Impress the locals and embrace the culture. Prepare your Georgian language phrases before you visit, and enjoy your journey!
A different language is a different vision of life.

– Federico Fellini
Travel and Georgian basic phrases
Do you tremble with excitement when you learn a new word or piece of language? Well, maybe we won't go that far, but it's exciting! Just imagine how much you can learn about a culture with a few simple words, some good food and company, and a lot of observation.
I said it before, but let me stress again, don't worry about getting it perfect! We are communicating, and a couple of words are better than none to get a point across. Language is such an amazing part of a culture and helps form the identity of the people.
Good luck on your travels. I hope you enjoy learning a bit of Georgian today and have the opportunity to travel there someday!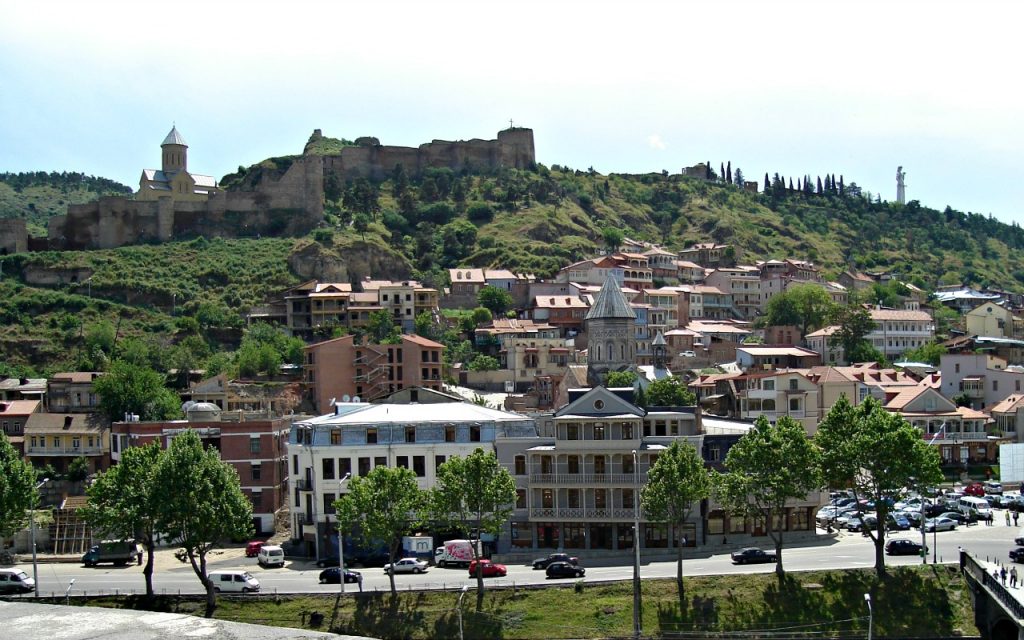 How do you say good-bye in Georgian?
nakh-vahm-dees!