Creamy, hot, spicy, cheesy green chili chicken yum! This low carb green chile chicken chowder will hit the spot for the perfect meal on your keto diet.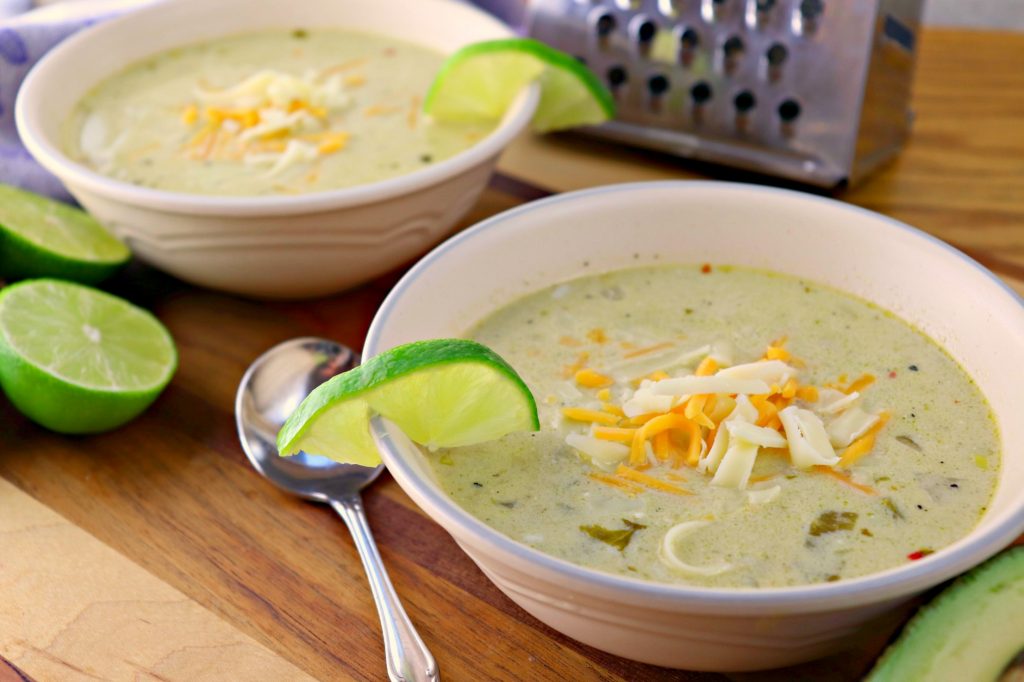 This post contains affiliate links, which means I receive a small percentage if you make a purchase after clicking on my links.
Do you love green chilis as much as I do? This recipe for low carb green chili chicken chowder holds a piece of my childhood and is awesome comfort food. It's perfect for fall, but then there's also that random rain/snow blustery spring day that soaks you to the bone and has you calling for the ultimate green chili warm goodness.
Because I grew up in Colorado, I associate fall with pumpkins, apples, spices, corn, and roasting green chilis. In autumn you won't often find a pumpkin farm or stand that doesn't also have a chili roaster nearby.
Therefore, everyone is always trying to outdo one another with the BEST green chili, pork green chili, green chili salsa, green chili chicken soup, etc.
At Thanksgiving in Colorado, you will find in many families it's not the turkey that's the most talked-about offering, but the green chili! Is Uncle Fred coming this year? He'd better be because he's in charge of the green chili!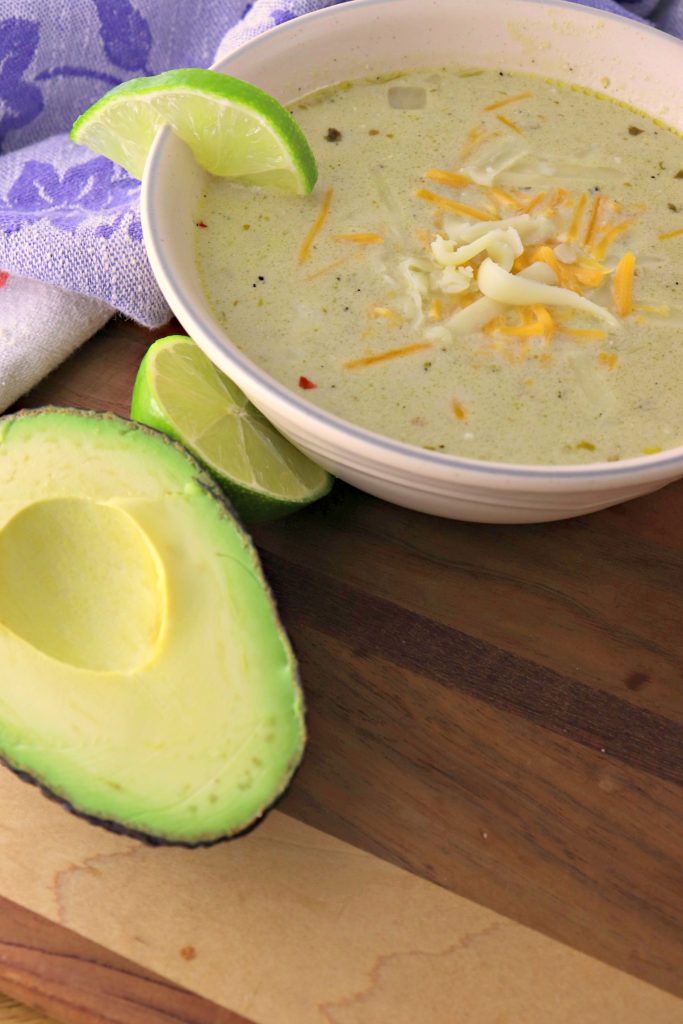 Of course, as one of my favorite comfort foods, I've created an ooey, gooey, cheesy green chili chicken chowder. This is a fabulous one pot meal, sure to please even the pickiest of families. The only thing you'll be arguing about is how hot to make it. I personally opt for a good medium, middle of the road because I like some heat, but not too much!
In a hurry?
Scroll down to the bottom for the printable recipe or PIN it here for later!
To make the chowder, you're going to need to gather your ingredients. What do you find? You're going to need one pound of cooked, diced chicken.
Actually, you can get your chicken several ways. Do you have chicken leftovers? Awesome, chop that stuff up and you're good to go.
Maybe you decided to avoid the whole raw chicken and cooking it at all. In that case, perhaps you went out and bought a rotisserie chicken. That's a super-easy way to get some great chicken for your chowder.
How to cook a chicken breast
But let's just say you happen to have on hand one pound of boneless, skinless chicken breasts (organic and free-range if possible!). How do you cook a chicken breast? It's really not all that difficult, and it's a skill everyone should learn.
To begin, get out a baking sheet, and coat the cooking area with olive oil. Take the chicken breasts out of the package and set them on top of the oil. Season each one liberally with salt and pepper on all sides, then drizzle a bit more olive oil over the top and rub it in.
Then place the pan in the oven at 350 degrees Fahrenheit for 30-40 minutes, or until the inside temperature reaches 165 degrees Fahrenheit.
Remove the pan and immediately cover the chicken breasts with aluminum foil to keep in the heat and juices. Let it rest for at least ten minutes before chopping it up for your green chili chicken chowder. Yum.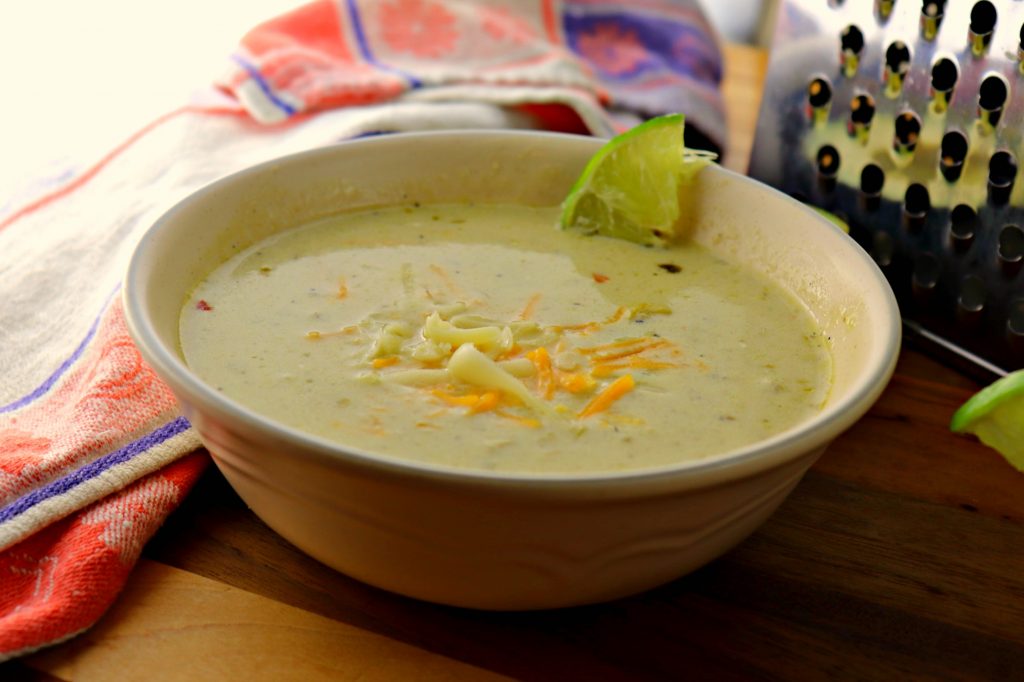 How to make a low carb green chili chicken chowder
Once you have all your ingredients assembled, including the cooked, cubed chicken, place the Dutch oven or soup pot on a medium-high heat. Put two tablespoons of butter in the pot to melt, then add the chopped onion.
Then, using a spatula or wooden spoon, stir the onion with the butter and cook for 4-5 minutes until it's soft and translucent. Add the garlic and cook for about a minute more.
Next, pour in 32 ounces of a good quality organic chicken bone broth such as Kettle & Fire Chicken Bone Broth. Once the broth is heated through but not yet boiling, cut in 8 ounces of full-fat cream cheese.
Whisk the mixture until the cream cheese is incorporated, and there are no more lumps. After that, put in the chopped green chilis, the salsa verde (green salsa), and stir to combine.
TIP: When buying a pre-made salsa verde be sure to purchase one without sugar.
Then, after the mixture is warmed through and simmering, measure and add in the two cups of Monterrey jack cheese. Whisk the cheese in also so it melts and combines with the other ingredients.
Now, all you have left is to add in the chicken and let the green chili chicken chowder simmer for a few minutes (at least 10).
Serve in soup bowls and garnish with more shredded Monterrey jack or cheddar cheese, lime with a squirt of lime juice, sliced avocado, and/or chopped fresh cilantro.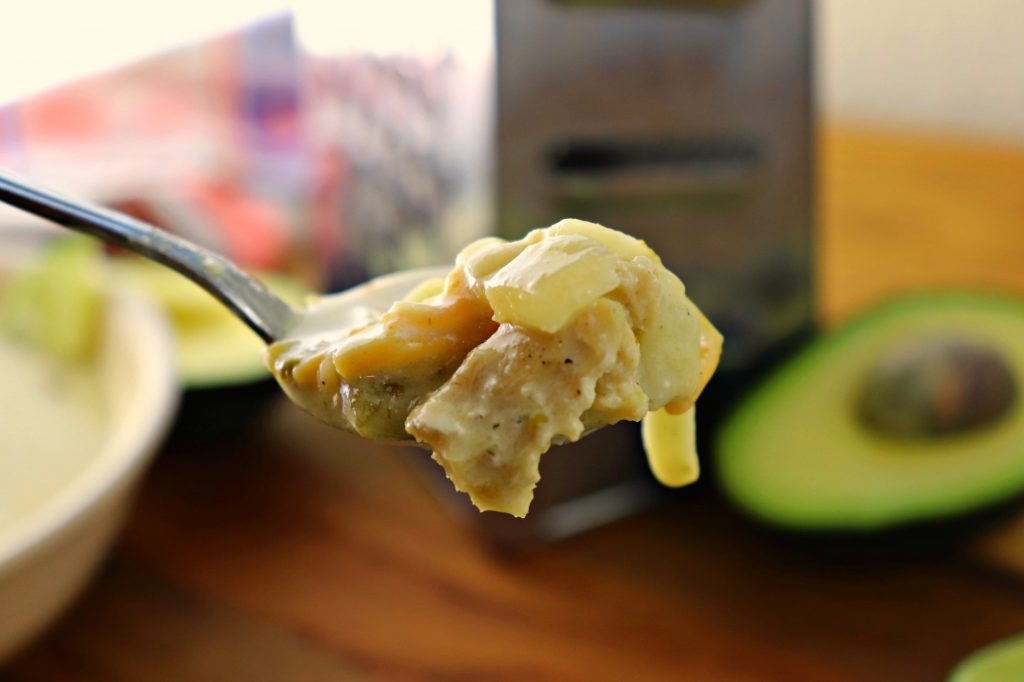 Invite some friends over and enjoy!
Invite some friends over or get the whole family to the table! This hearty low carb green chili chicken chowder makes a fabulous meal for the entire family with a definite kick to it.
The only thing you may argue about is how spicy to make it. I like it to be a good medium, but my kids like it mild, and the husband likes as much heat as you can get in there.
If you want to accommodate everyone, make a very mild chowder and offer spicy toppings like finely chopped jalapenos, spicy salsa, or even a pepper jack cheese. I personally like a bit of lime juice and chopped cilantro on top with the cheese, and you can also add some sliced avocado.
Try this one out, and let me know how it goes with your family or friends!
It's actually super-easy to throw together and a good, filling meal. Also, it's one of my favorites, and you'll love it too! Make it today, and your taste buds will thank you!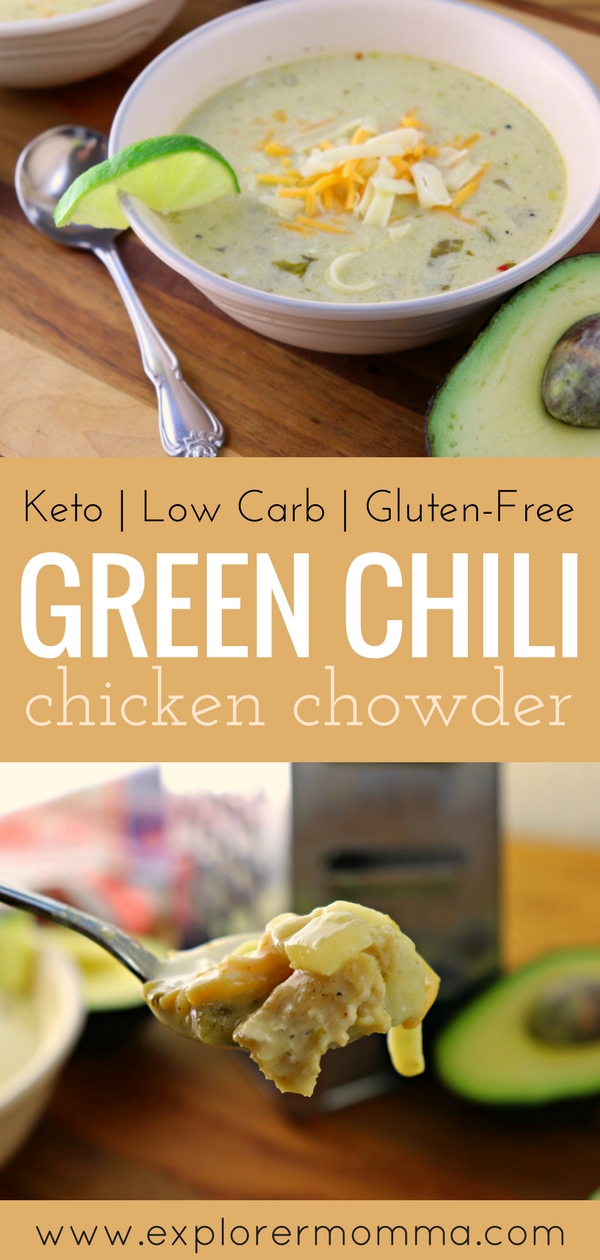 Want more low carb soup options? Try these!:
🍲 More in a chili mood?
Check out this awesome Keto Crockpot Chili – Low Carb Beef Chili recipe from The Health Creative! Also, try out the best Keto Chili With Bacon!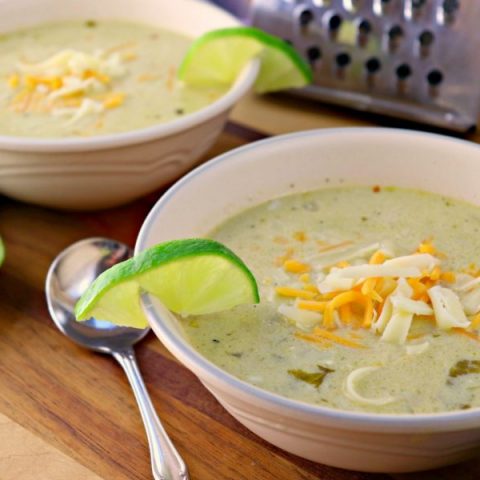 Green Chili Chicken Chowder
Creamy, hot, spicy, cheesy chicken chili yum!
Ingredients
2 tbsp butter
¼ cup onion, chopped
3 cloves garlic, minced
32 oz chicken bone broth
1 lb chicken, cooked and cubed
8 oz cream cheese, room temp
16 oz salsa verde (green salsa)
10 oz chili peppers, roasted and chopped (or from a can in a hurry)
2 cups Monterrey jack cheese, shredded
Instructions
Place the two tablespoons of butter in a Dutch oven or large soup pot on the stove over a medium-high heat to melt.
Cook the chopped onion in the butter for about 4-5 minutes or until softened.
Add the garlic and continue to stir over heat for a minute more.
Pour in the chicken bone broth and heat until nearly boiling but not quite.
Cut in the cream cheese and whisk until smooth.
Add the jar of salsa verde and the chopped green chilis.
Whisk in the 2 cups of Monterrey jack cheese. Continue to whisk over the heat until no lumps remain.
Add in the cubed chicken and let simmer for 10 minutes.
Serve in bowls topped with shredded cheese. (Monterrey jack, cheddar, or both!)
Optional toppings: avocado, lime juice, freshly chopped cilantro.
Notes
Nutrition Facts
Amount Per Serving Calories 381 Total Fat 24 g Saturated Fat 13 g Monounsaturated Fat 1 g Polyunsaturated Fat 1 g Trans Fat 0 g Cholesterol 117 mg Sodium 1249 mg Potassium 454 mg Total Carbohydrate 6 g Dietary Fiber 0 g Sugars 2 g Protein 32 g
Nutrition Information:
Yield:

8
Amount Per Serving:
Calories:

381
Unsaturated Fat:

0g
*Nutrition Facts per MyFitnessPal.com. For the most accurate facts, calculate your own with the exact ingredients you use in the recipe.
NUTRITION DISCLAIMER
Please be aware I am not a medical specialist or nutritional professional. On this blog, I share recipes and what works for me. Please do not take anything on this blog as medical advice and always consult with your doctor before starting any diet or exercise program.
I use MyFitnessPal.com to calculate nutrition facts as a courtesy to my readers, and I remove erythritol from the final carb count and net carb count because does not affect my own blood glucose levels.
This is as accurate as possible, but it's best to independently calculate nutritional information on your own with the specific ingredients you use. I expressly disclaim any and all liability of any kind with respect to any act or omission wholly or in part in reliance on anything contained in this website.