For anyone looking for a quick and delicious low carb dinner option, look no further than air fryer teriyaki salmon. This flavorful and healthy dish is easy to make, takes minimal prep time, and can be on the table in under thirty minutes! With the help of an air fryer, you can create golden-brown salmon full of robust teriyaki flavor.
All you need are a few simple ingredients to whip up this fabulous meal. Pair the succulent salmon with steamed vegetables or your favorite salad for a nourishing dinner that will delight the whole family!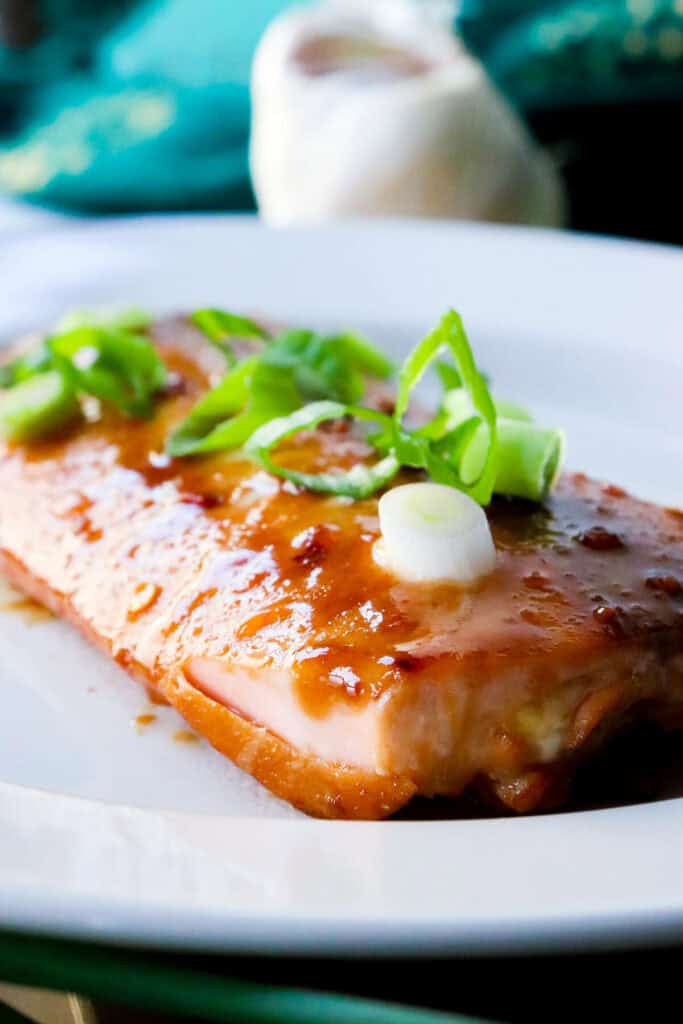 This post may include Amazon or other affiliate links. As an Amazon Associate, I earn from qualifying purchases.
My grandparents used to live in Homer, Alaska, and as a child, I had the chance to visit them there a couple of times. I adored the wild and rugged landscape, views of the ocean, and all the wildlife.
My dad especially loved the fresh salmon, king crab legs, and halibut my grandparents would catch or buy from the local fishermen. My grandma would cook it at home and make lots of different recipes with the fish we had.
One of my favorite ways to prepare salmon has always been with teriyaki glaze, and this air fryer teriyaki salmon recipe is inspired by those memories. The teriyaki sauce really brings out the flavor of the salmon, and cooking it in this way makes it so quick and easy and for a crispier texture.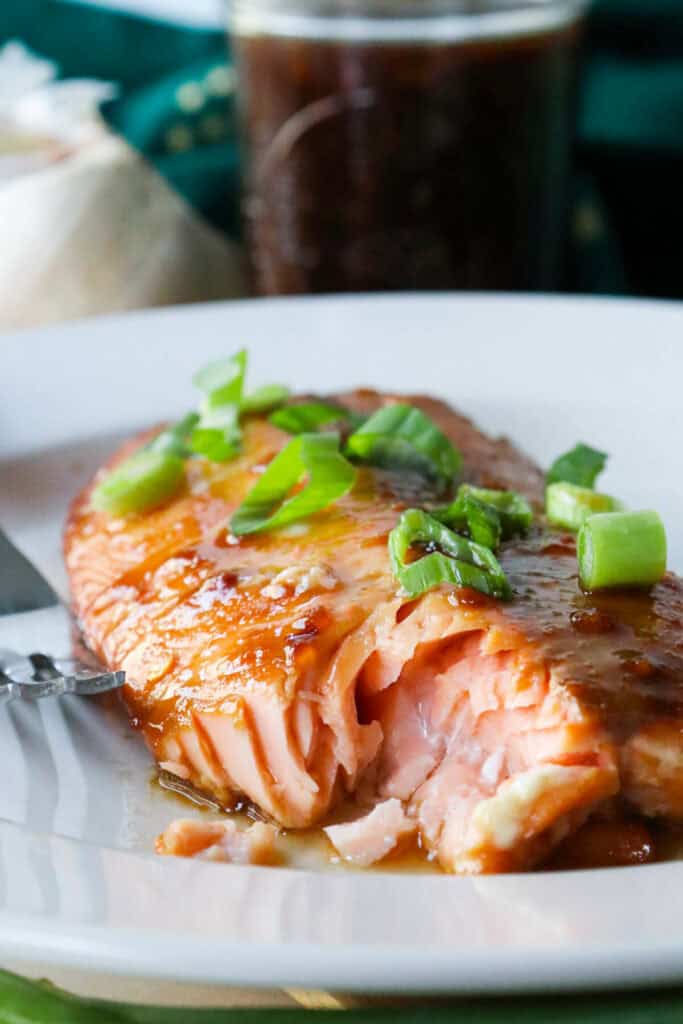 🍣 What is air fryer teriyaki salmon?
Air fryer teriyaki salmon is a quick and easy dinner recipe that uses an air fryer to cook the salmon. The salmon is first marinated in a homemade teriyaki sauce for about 30 minutes (or more!), then placed in an air fryer at 390℉ for 7-9 minutes or until cooked through. The end result is a tender and juicy salmon dish full of yummy teriyaki deliciousness.
🤔 Is teriyaki salmon low carb?
Yes, teriyaki salmon is a great low carb choice. The homemade teriyaki sauce used in this recipe has a sugar free sweetener that can be adjusted to suit your dietary needs – making it an ideal choice for keto or paleo diets. If you prefer to use a bottled teriyaki sauce or your own with sugar you can definitely make that choice.
📏 Nutritional information: macros
Let's take a look at the macros. In this recipe for air fryer teriyaki salmon, one serving is about 5 ounces of salmon, which I think is a good portion! One serving has 232 calories, 23 grams of protein, 9 grams of fat, and 1 gram of carbs per serving.
These macros for air fryer salmon teriyaki are figured with MyFitnessPal, with the ingredients I use in the recipe. I always recommend figuring out your own with the exact items/brands you use. It's especially important to determine your own if you're keeping close track and want to be accurate.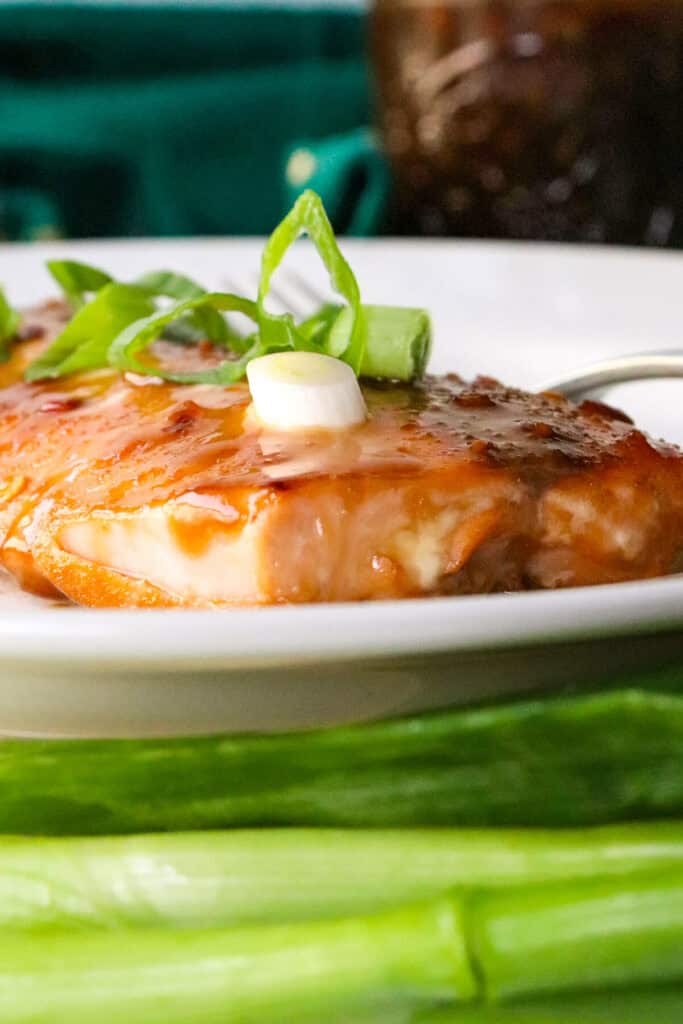 🍽 Equipment needed to make teriyaki salmon (air fryer)
knife
zipper bags
air fryer
👩‍🍳 Which air fryer is best?
For this recipe, I love using my Ninja Foodi air fryer that also doubles as a pressure cooker, slow cooker, and more! It makes cooking so much easier and faster, and it's a great size for my family.
🙋‍♀️ How do you choose the best air fryer?
When selecting an air fryer, the size and capacity are some of the most important factors to consider. Larger families may want to choose a larger model with more cooking space, while smaller households or singles may want something compact. You also want to make sure that it has adjustable settings so that you can cook your food at the right temperature and time.
My father recently got the Ninja more toaster oven style air fryer because he prefers those features, and it works great! Decide what features you want and go from there.
Additionally, I like to read reviews online and check out customer ratings before purchasing.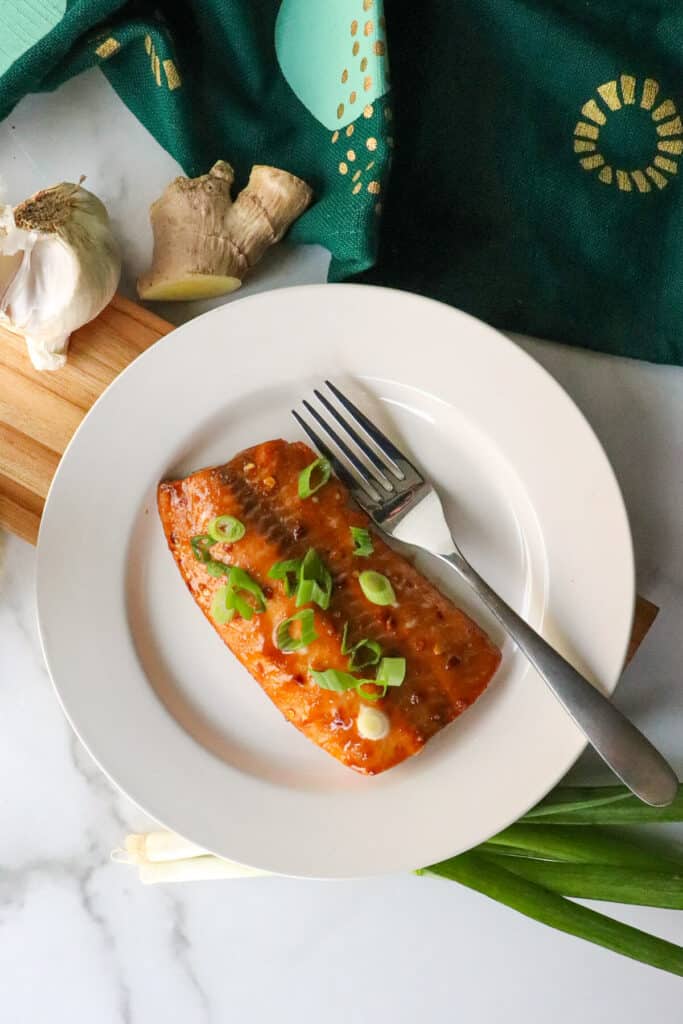 🥘 Ingredients in low carb air fried salmon teriyaki
Here's a list of ingredients for air fryer teriyaki salmon, as well as what to look for when selecting each one:
Salmon filets
I like to select wild caught salmon filets that are firm and bright in color. Look for filets free of brown spots and that smell fresh. Cut them into 2 inch portions or whatever size you desire. I often get mine from ButcherBox and appreciate the quality.
Flavorful homemade teriyaki sauce
You can make your own easy keto teriyaki sauce from scratch like I do, or purchase a bottled version. When buying store-bought teriyaki sauce, if you are following a low carb or keto diet, double check the label to make sure it is sugar free. If you are not worried about a low carb diet, choose the one that looks best to you.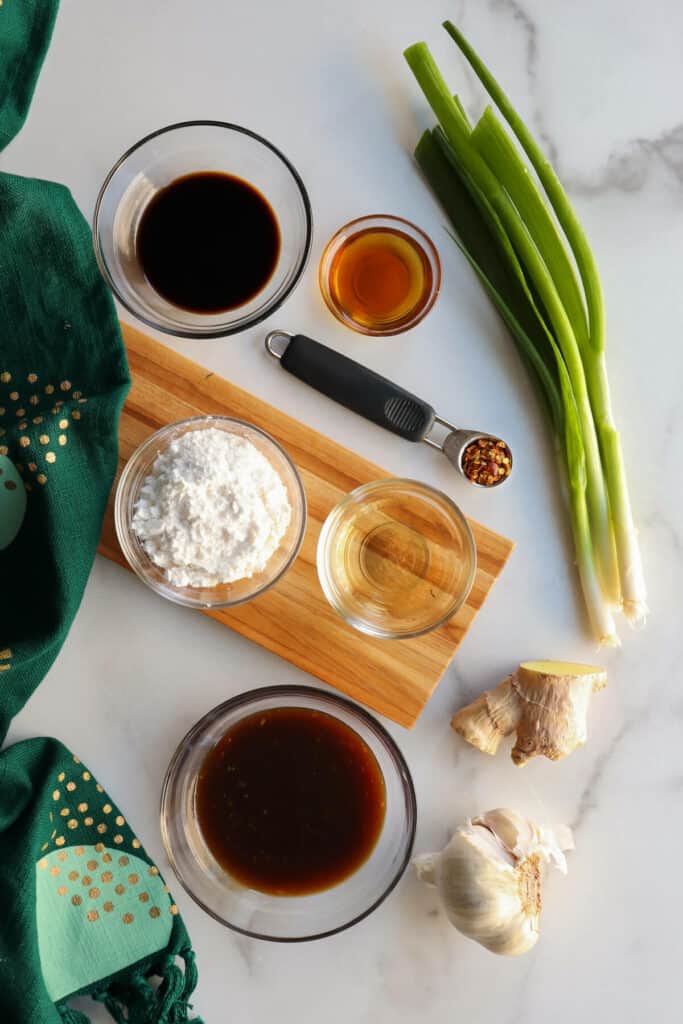 Garlic cloves
Garlic cloves are an essential component in this air fryer teriyaki salmon recipe, as they give it a delicious flavor. I like to use fresh garlic cloves but in a hurry, I will also use a teaspoon of garlic granules or garlic powder.
Tamari sauce (or coconut aminos)
Tamari is a type of soy sauce made without wheat so gluten free. It has a slightly sweeter taste than regular soy sauce. Coconut aminos are also great for this recipe and are sugar free.
Red pepper flakes
Select red pepper flakes that have a vibrant red color with no signs of moisture or discoloration on them. Red pepper flakes will bring an extra kick to your Teriyaki Salmon dish and are an excellent source of antioxidants and vitamins A and C.
Sesame oil
Opt for a sesame oil made from premium quality sesame seeds. It should be golden yellow to brown in color, with a strong nutty aroma, without any burned taste or odor. This oil will add depth of flavor to your teriyaki salmon recipe (air fryer).
Sweetener
Use either a keto friendly sweetener such as Swerve Confectioners or Brown Swerve, or if you wish select a sweetener like white sugar or honey depending on preference and dietary needs. The purpose of this ingredient is to balance the acidic flavors found in the other ingredients used for the marinade. It adds a bit of sweetness to the dish.
Grated ginger
Grated fresh ginger is a must for teriyaki salmon (air fryer). Select a fresh piece of ginger root with firm and smooth skin, avoiding any that looks dry or moldy. Now, if I don't happen to have ginger on hand, I will also sub a 1/2 teaspoon of dried ground ginger.
Green onion & sesame seeds
These ingredients are totally optional but add an additional layer of flavor and texture when sprinkled over top before serving! Using freshly chopped green onion adds a subtle onion flavor while sesame seeds lend a pleasant crunchy texture that pairs perfectly with the moistness of the saucy teriyaki salmon filets underneath!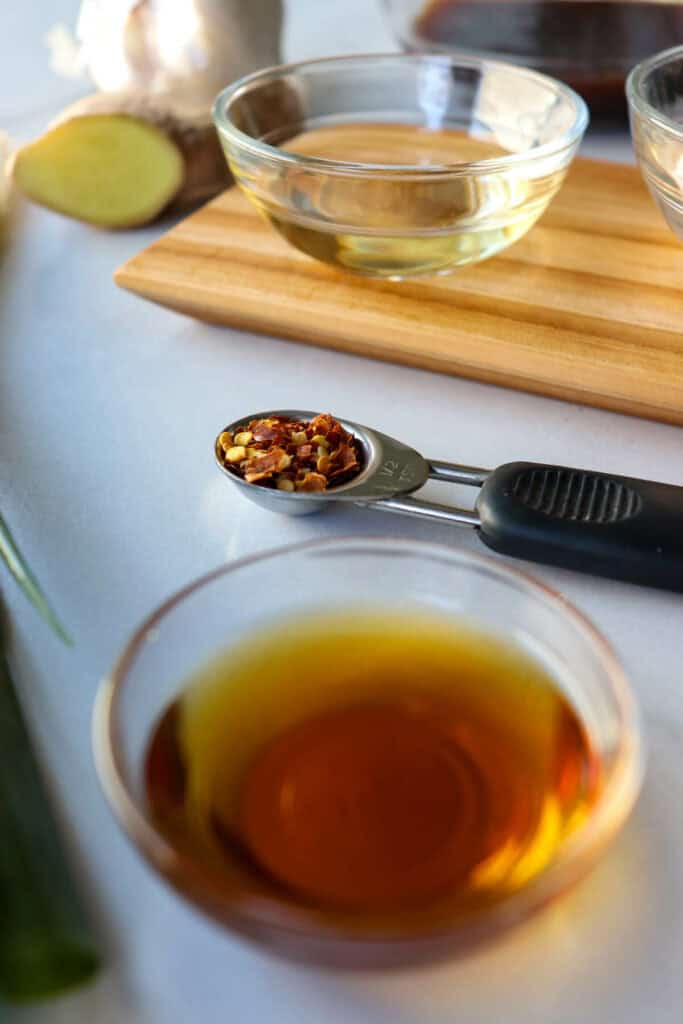 🔪 Instructions: How to cook teriyaki salmon in air fryer
This is a quick and easy dish to prepare and packed full of flavor.
First things first: preheat your air fryer to 390°F. Then mix together the homemade teriyaki marinade ingredients in a small bowl, including teriyaki sauce, red pepper flakes, rice vinegar, sesame oil, minced garlic cloves, tamari or coconut aminos, the sweetener of your choice, and some freshly grated ginger. This teriyaki salmon marinade also works well for other meats as well if you like.
Next up: take two pounds of fresh salmon filets and pat them dry with some paper towels before slicing them into 6 portions. Place the slices into a shallow dish or resealable plastic bag, pour over the teriyaki sauce marinade, and leave to marinate for at least 30 minutes – but you could leave it longer or overnight in the fridge if you have time. This will make the flavor more intense.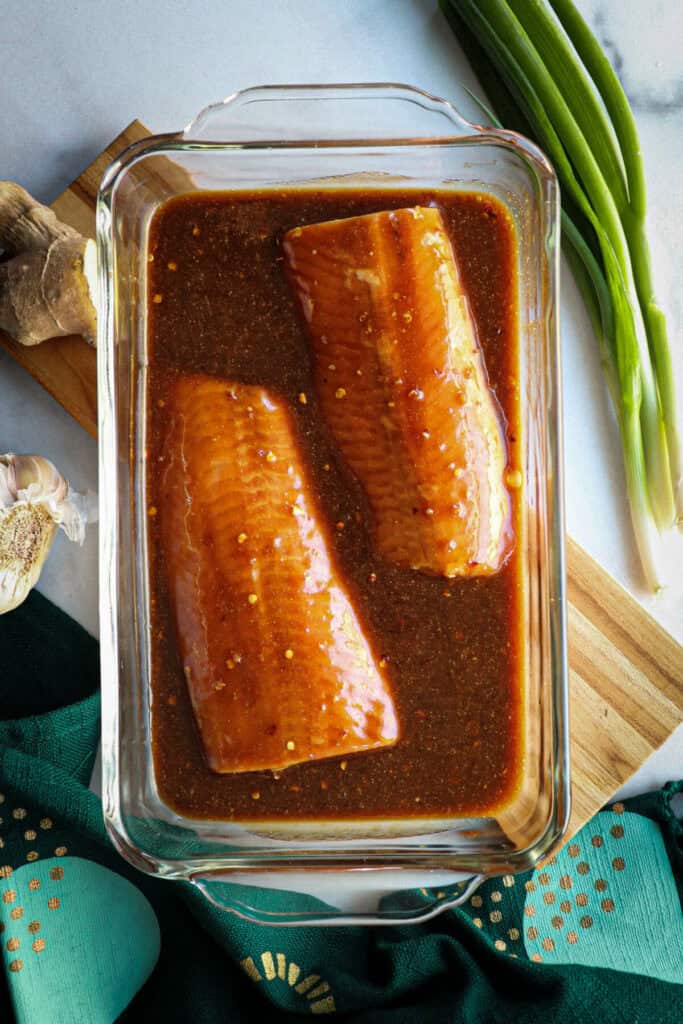 When it's time to cook the salmon, lightly grease the air fryer basket with avocado oil cooking spray or a light coating of oil. Then, lay out the fillets in the basket so they are not overlapping – we want those gorgeous golden edges on each piece of fish!
It's possible you will need to cook in batches. Depending on the size of your air fryer, cook what you can fit in at once.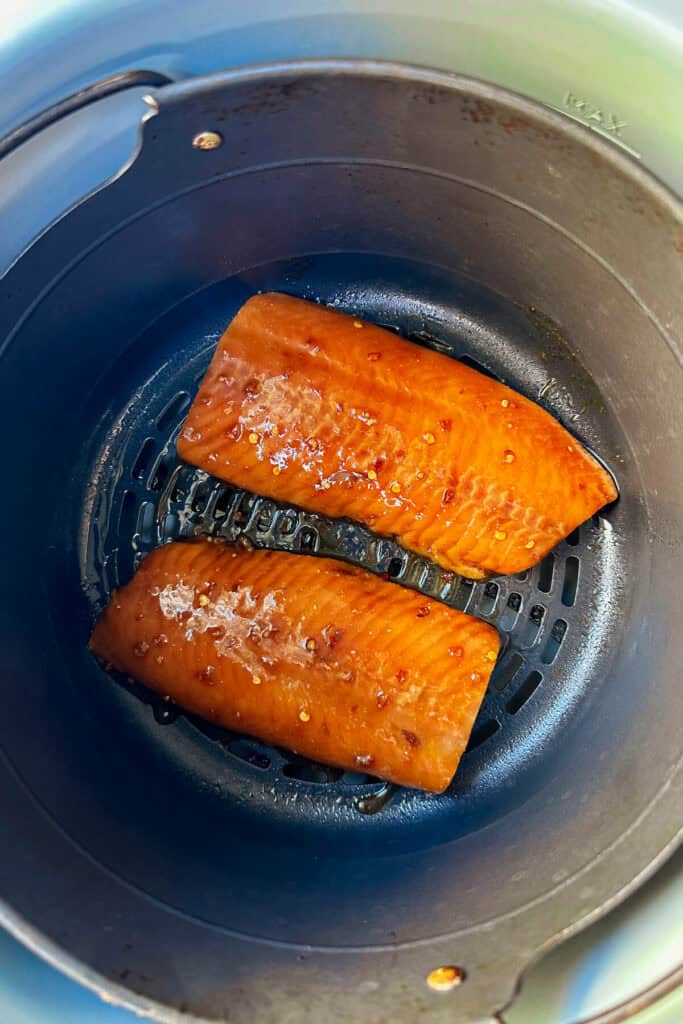 🙋‍♂️ How long should you cook salmon in the air fryer?
Now, place the salmon in the 390°F air fryer and cook for 7-10 minutes (depending on size) until done through, and the cooked salmon flakes easily when tested with a fork. When this happens, you will have perfectly cooked salmon.
When ready to serve, garnish with sliced green onions and toasted sesame seeds if desired to give an extra flavor boost! You can also top with some of the remaining teriyaki sauce (not used in the marinade). Serve the air fryer salmon with warm steamed broccoli or cauliflower rice or another side dish.
Serve hot and enjoy!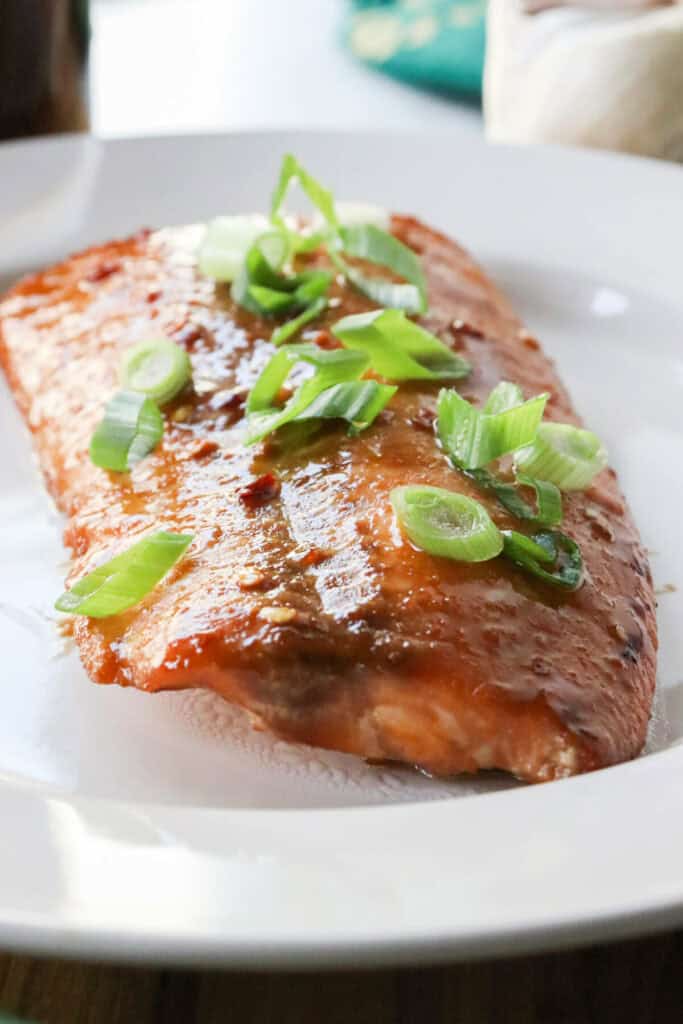 🙋 Can I make teriyaki salmon without an air fryer?
Yes, absolutely! You can make this teriyaki salmon in the oven. Preheat your oven to 400°F and line a baking sheet with parchment paper. Arrange the salmon fillets on top and bake for 12-15 minutes until cooked through and flaky.
Alternatively, cooking salmon is possible in a skillet over medium heat with a little oil. Cook for 4 minutes on each side until cooked.
🍲 Variations on teriyaki salmon, air fryer
Honey Mustard Salmon
Mix together honey (I use this keto friendly honey), Dijon mustard, and ground black pepper to create the marinade, and then coat the salmon filets with it before air frying them to perfection.
Crispy Skinned Salmon
Rub the fish pieces lightly with olive oil and season with herbs like rosemary or thyme before placing them into the air fryer basket.
BBQ Glazed Salmon
Make your own homemade BBQ or use bottled and brush this over each piece of fish prior to air frying until golden brown on top!
Lemon Dill Salmon
Create a delicious lemon dill marinade made up of fresh dill leaves mixed with extra virgin olive oil; then add slices of lemon rinds to the air fryer basket and place the salmon on top for a fragrant and flavorful dish.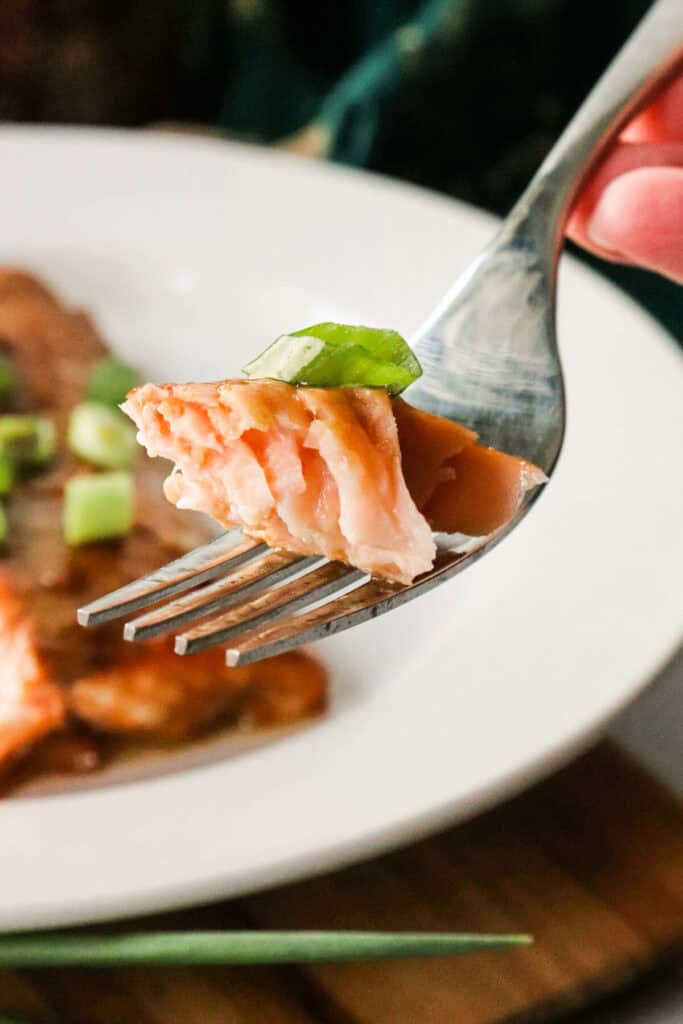 🧂 What is a good seasoning for salmon in the air fryer?
There are so many options for seasoning salmon in the air fryer. You could try using a store-bought spice blend, like garlic powder, paprika, and onion powder, or make your own combination of herbs and spices like rosemary, thyme, oregano, and cumin.
Additionally, you can add some sweetness to your salmon by using a sweet chili glaze or adding a brown sweetener to the marinade. Finally, you can also experiment with different acids, like soy sauce, Worcestershire sauce, vinegar, lemon juice, and even lime juice to give your salmon some extra flavor.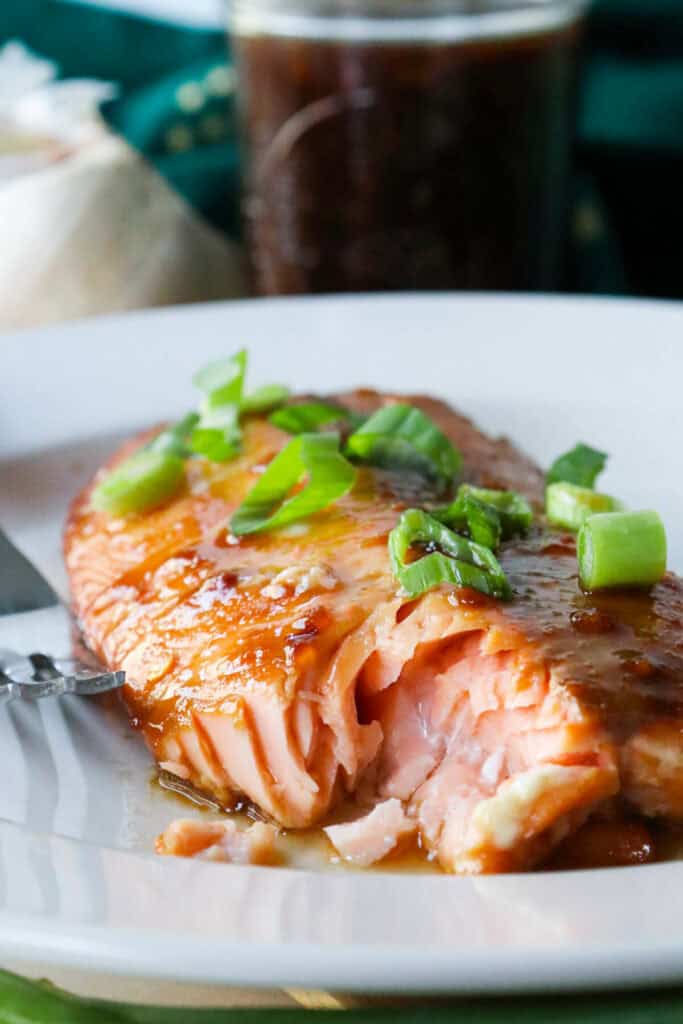 🥦 Side dishes for teriyaki salmon
There are so many delicious side dishes that pair perfectly with teriyaki salmon. Steamed cauliflower rice (or regular), roasted vegetables, or salad greens are all great options. I also love to throw a little teriyaki sauce on the steamed veggies. Here's a list of options:
Roasted asparagus
Broccoli salad
Cauliflower rice
Zucchini noodles
Sauteed spinach
Grilled artichokes
Garlic lime shrimp skewers
Roasted vegetables
Salad greens
💭 Top tip
If you want to make this recipe ahead of time, marinate the salmon in the fridge overnight for an even more intense flavor. Then cook straight from the fridge when you're ready.
🥣 How to store and reheat air fryer teriyaki salmon
It's best to store any leftovers in an airtight container or resealable plastic bag and place them in the fridge for up to 3 days. You can reheat them in the air fryer at 390°F for 5 minutes until hot. Alternatively, you can also reheat the salmon in the oven or microwave.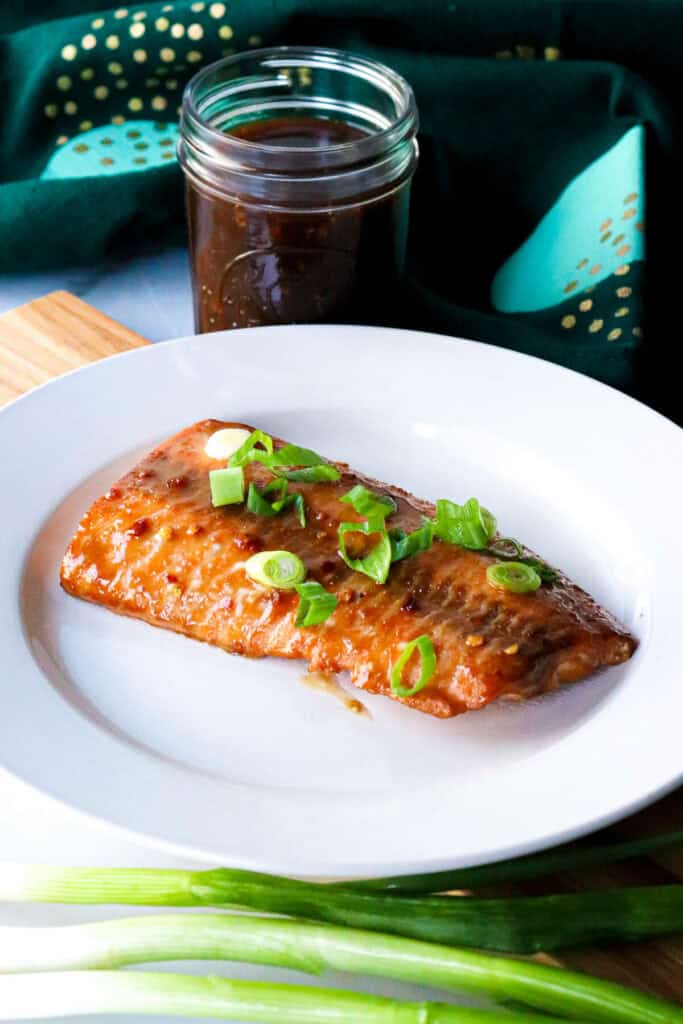 🧐 FAQs for air frying salmon
Do you have to flip salmon in air fryer?
No, you don't have to flip the salmon in the air fryer. The fish should cook evenly on both sides.
Does salmon go skin side down in air fryer?
Yes, salmon should be cooked salmon skin side down in the air fryer. This will help ensure that it gets nice and crispy and prevents it from sticking to the basket.
What temperature should salmon be in air fryer?
Personally, I think the ideal temperature to air fry salmon is 390°F. This will help to ensure that it cooks evenly and doesn't dry out. I prefer the thickest part of the salmon internal temperature to be cooked to 125 or 130 degrees, although the FDA officially advises 140 degrees F.
Can I use frozen salmon fillets?
Yes, you can use frozen salmon fillets in the air fryer. I prefer to thaw them out the night before cooking and place them in the teriyaki sauce marinade. However, if you are cooking straight from frozen, make sure to adjust the cooking time as needed and check for doneness in the thickest part of the fish before serving.
Is this recipe gluten free?
As long as you use gluten free ingredients, such as gluten free tamari instead of regular soy sauce, then yes, it is gluten free. It is also a good keto teriyaki salmon recipe.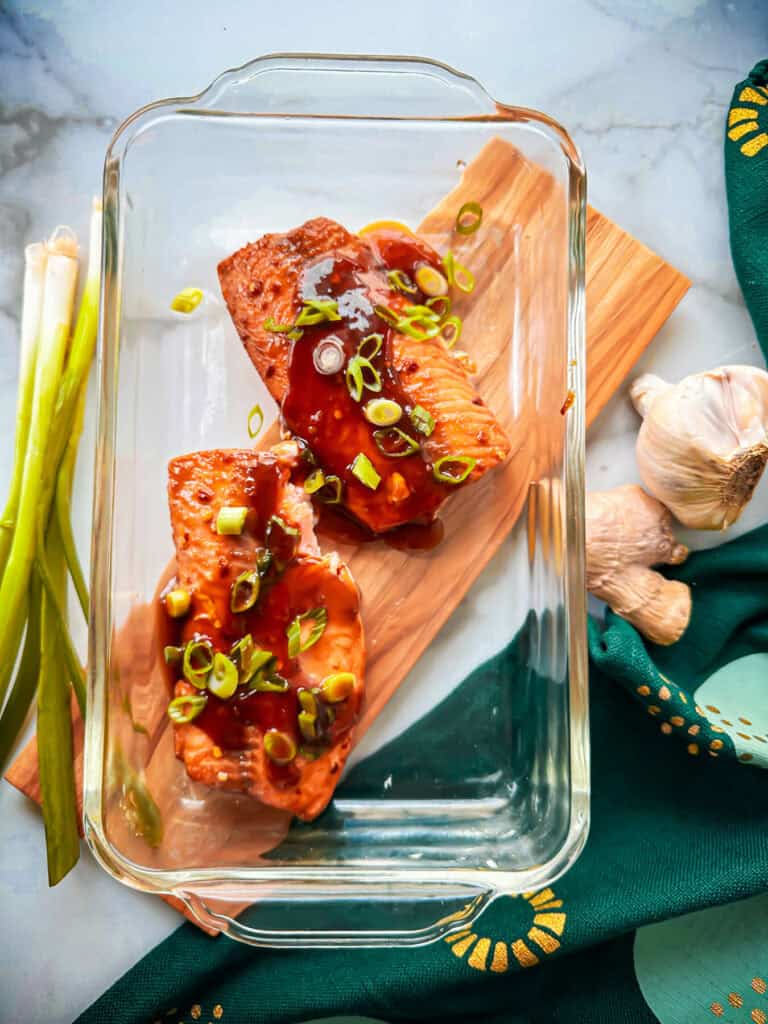 🎉 Quick and easy weeknight meal
This air fryer teriyaki salmon recipe is a must-try!
The teriyaki sauce marinade is a perfect blend of sweet and salty, while the red pepper flakes add just the right amount of spice. The fact that this recipe only takes about 30 minutes to make makes it perfect for busy families.
Not only is it delicious and easy to prepare, but it's also healthy. So why not give this amazing air fryer teriyaki salmon recipe a try and impress your friends and family with a healthy and delicious meal? You won't regret it!
📋 More air fryer recipes you'll love
📌 Pin the keto recipe here: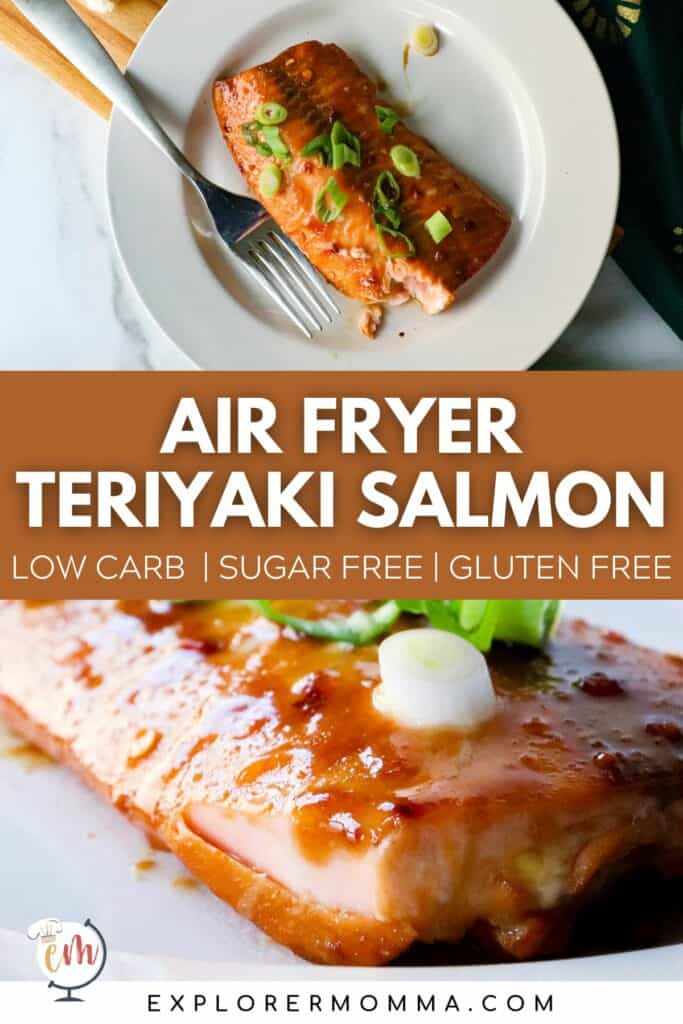 Printable recipe card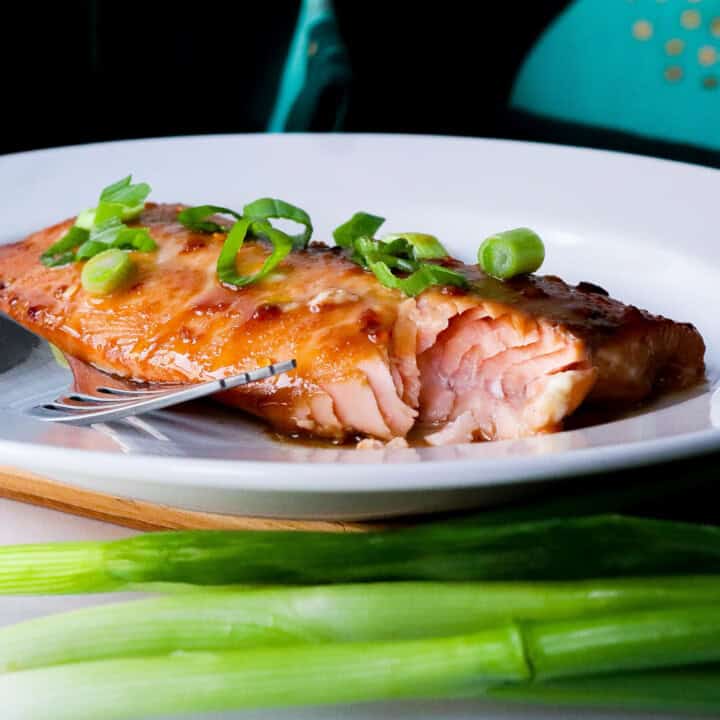 Air Fryer Teriyaki Salmon
Additional Time:
30 minutes
This easy air fryer teriyaki salmon dish is full of flavor and a great way to make a delicious, healthy meal. Marinate the salmon in the teriyaki sauce mixture to really bring out the flavor, then simply cook it in your air fryer until crisp and succulent! Serve with steamed vegetables or cauliflower rice and enjoy a nutritious dinner.
Ingredients
1/2 tsp red pepper flakes
1 tablespoon unseasoned rice vinegar (or apple cider vinegar)
1 tablespoon sesame oil
2 minced garlic cloves
2 tablespoons tamari sauce (or coconut aminos)
2 teaspoons grated ginger (or 1/2 tsp dried ground ginger)
Green onion (optional: for garnish)
Sesame seeds (optional: for garnish)
For the air fryer teriyaki salmon
Instructions
Preheat the air fryer to 390°F.
In a small bowl, whisk together the teriyaki sauce, red pepper flakes, rice vinegar, sesame oil, minced garlic cloves, tamari/coconut aminos, sweetener, and ginger until fully combined. Set aside.
Pat dry two pounds of salmon fillets with paper towels and slice them into 6 servings. Place the fillets in a shallow dish or resealable plastic bag. Pour teriyaki marinade over the salmon and allow to marinate for at least 20 minutes (up to overnight).
Once the fillets have finished marinating, lightly grease the air fryer basket with cooking spray or a light coating of oil. Place the salmon fillets into the basket of your air fryer in a single layer (ensuring they are not overlapping) and cook for 7-9 minutes or until cooked through and flakes easily with a fork.
When ready to serve, garnish with sliced green onions and sesame seeds if desired to give an extra flavor boost! Serve with warm steamed broccoli or cauliflower rice (if desired). Enjoy!
Recommended Products
As an Amazon Associate and member of other affiliate programs, I earn from qualifying purchases.
Nutrition Information:
Yield:

6
Serving Size:

5.3 ounces
Amount Per Serving:
Calories:

232
Total Fat:

9g
Carbohydrates:

1g
Fiber:

0g
Sugar:

0g
Protein:

23g
*Nutrition Facts per MyFitnessPal.com. For the most accurate facts, calculate your own with the exact ingredients you use in the recipe. Only half of the marinade was calculated in the nutrition facts as much is discarded after use.
Tag me in your recipe pics on Instagram @explorermomma.
If you LOVE low carb air fryer recipes and this one in particular, please consider giving it a five-star rating in the review area below!
Nutrition Disclaimer
Please be aware I am not a medical specialist or nutritional professional. On this blog, I share recipes and what works for me. Please do not take anything on this blog as medical advice and always consult with your doctor before starting any diet or exercise program.
I use MyFitnessPal dot com to calculate nutrition facts as a courtesy to my readers, and I remove erythritol from the final carb count and net carb count because does not affect my own blood glucose levels.
This is as accurate as possible, but it's best to independently calculate nutritional data on your own with the specific ingredients you use. I expressly disclaim any and all liability of any kind with respect to any act or omission wholly or in part in reliance on anything contained in this website.