Forget looking for sugar-free teriyaki sauce at the store and make your own! This delicious homemade keto teriyaki sauce is quick and easy to put together and is packed with traditional flavors of sweet garlic and ginger.
Pin it for later here: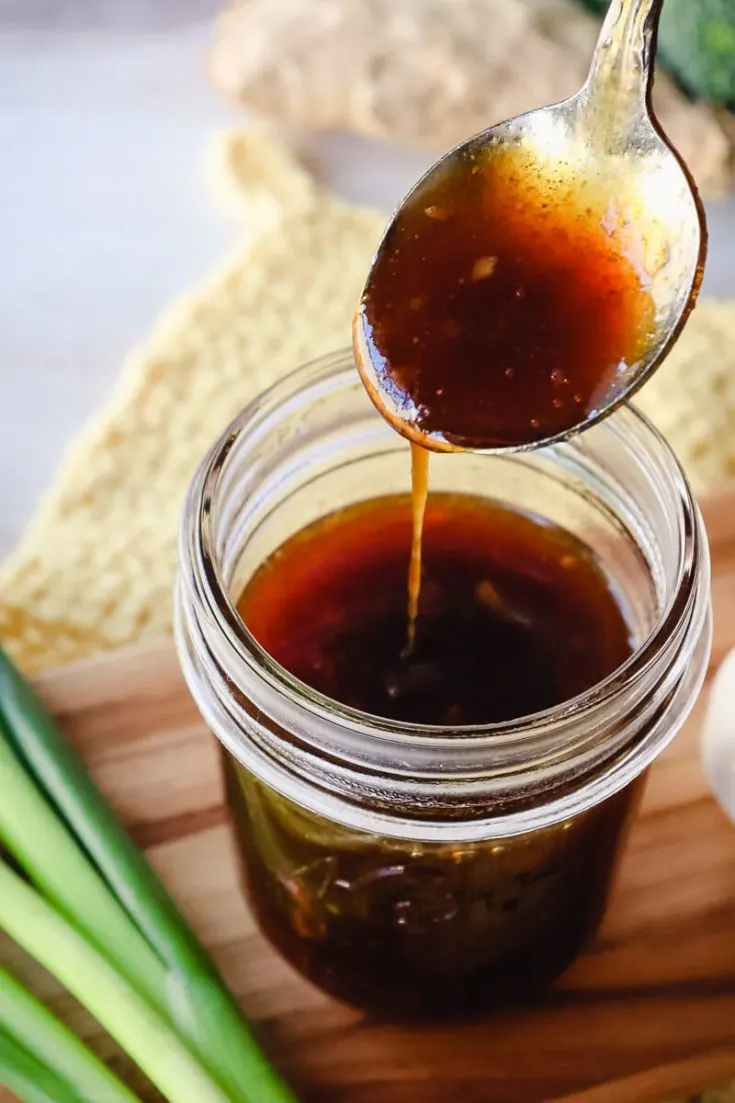 This post may include Amazon or other affiliate links. As an Amazon Associate, I earn from qualifying purchases.
In a hurry?
Scroll down to the bottom of the page for the recipe card with ingredient amounts and a printable recipe to make it NOW or save for later!
Is teriyaki sauce keto?
That's a good question. If you look at most bottled teriyaki sauces found at the store, you'll find they're not low carb or keto-friendly.
However, it really isn't very difficult to make your own and enjoy it as a marinade or sauce on all different meats or in recipes.
Personally, I've always loved the mix of sweet flavors, especially on chicken. Low carb teriyaki sauce could soon be in your fridge ready to give some flavor to your next meal!
Facts: In two tablespoons, keto teriyaki sauce has 1 carb, 1 gram of protein, and 1 gram of fat.
As opposed to the bottled store versions, I'd say this sugar-free teriyaki sauce is super-easy to incorporate into a keto diet. There are so many ways to use it also, on veggies, any meat you like, or as a marinade. Get creative.
Now, what do you need to make keto teriyaki sauce? Let's get started.
🍽 Equipment needed for low carb teriyaki sauce
First off, get out all the kitchen gadgets and equipment needed. I like it when things are close at hand and ready to go.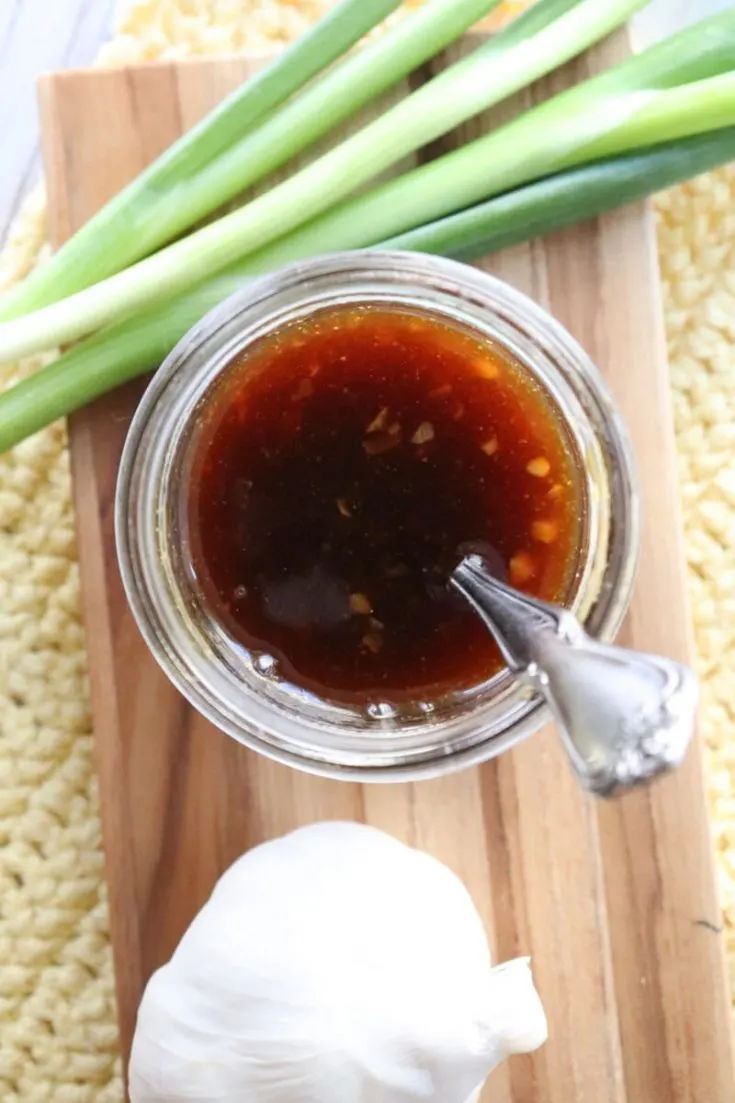 🥘 Ingredients in sugar-free teriyaki sauce
1 cup water
2 garlic cloves, minced
1/2 tsp ground ginger (1 tsp fresh ginger, minced)
1 tsp sesame oil (or can sub extra-virgin olive oil or avocado oil)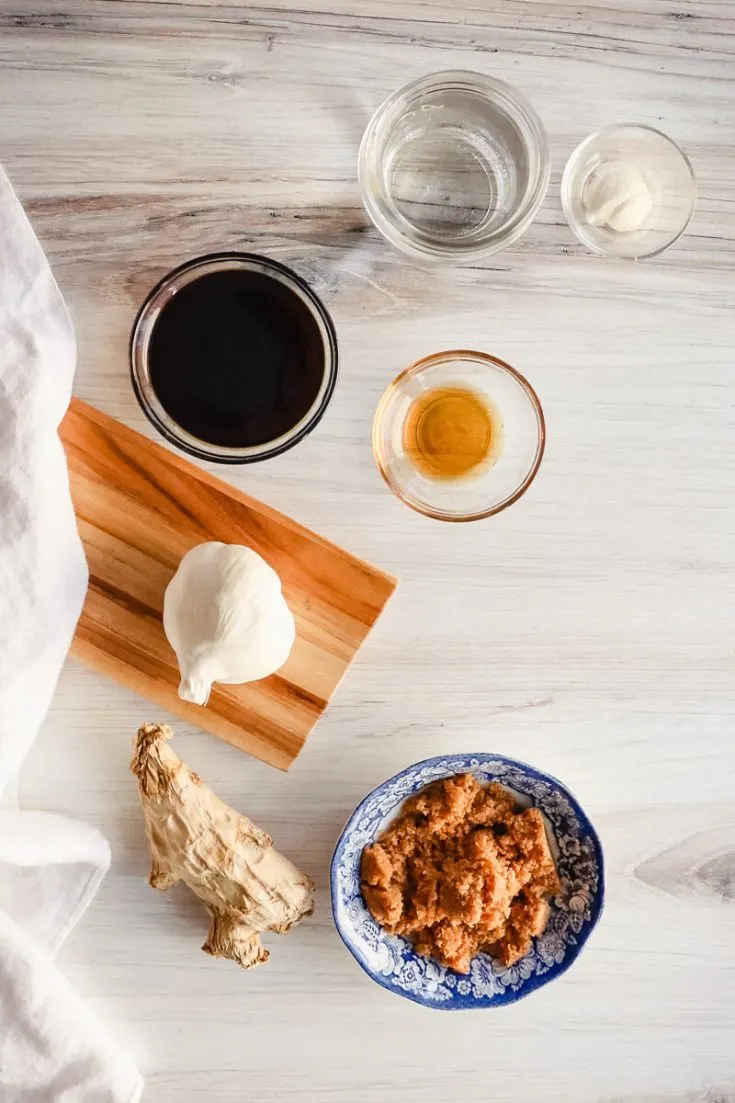 When selecting any ingredients, buy as fresh as you can, and organic if possible. Always read the labels in the grocery store. It's important to look out for added sugar or other ingredients that may add carbs as preservatives or who knows what.
Tamari sauce vs. soy sauce
Do you know the difference between tamari sauce and soy sauce?
They're both derived from fermented soybeans and have a rich salty umami flavor. Tamari is the Japanese version and does not incorporate grain in the process. It's a little thicker than soy sauce and since it's gluten-free, it's a better choice for a keto diet.
Soy sauce does have grain and is not therefore, gluten-free.
Another option to consider, one I use it often, is coconut aminos. Now, coconut aminos will add more carbs than tamari, but they do have that same flavor we love in teriyaki.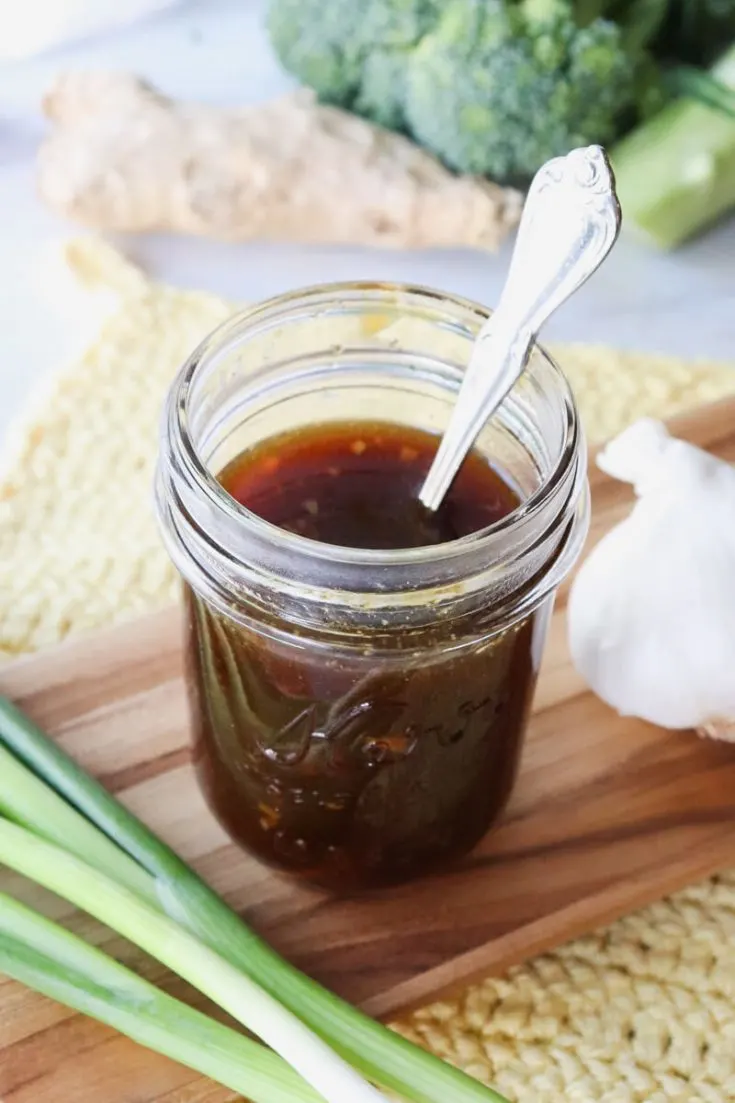 🔪 Instructions
First of all, pull out all the needed equipment and ingredients. Make sure everything is close at hand where you can get to it easily. This is a quick recipe and you want the ingredients to be ready.
How to make a keto teriyaki sauce recipe
To begin, in a medium saucepan whisk together one cup of water, the brown sweetener (or powdered if you don't have brown), tamari sauce, garlic, and ginger.
Then add the yacon syrup if you're using it, and set the mixture over medium heat.
💭 Top tip
Yacon syrup is a sweetener from the root of the yacon plant found in Peru. In this recipe, the syrup consistency would take the place of the honey found in many recipes. However, it's not absolutely necessary but does add a bit of nice flavor and texture.
Next, bring the mixture to a boil for about five minutes, stirring occasionally.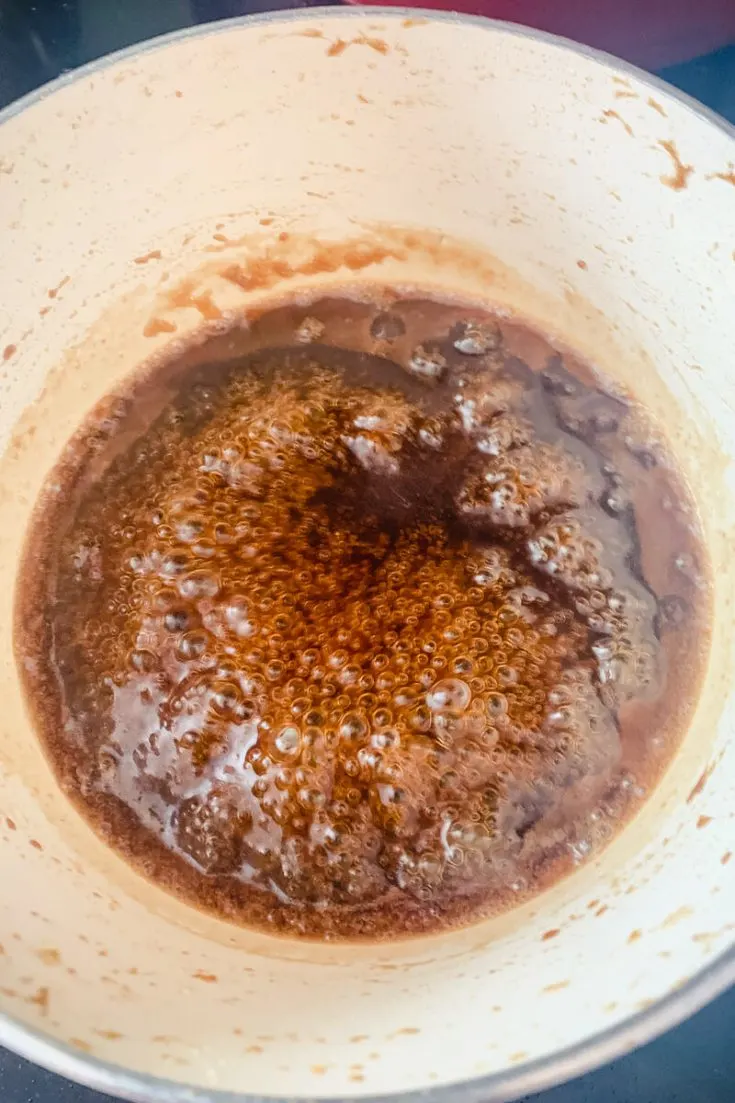 Then sprinkle over the xanthan gum and sesame oil. Whisk the xanthan gum in especially well so it does not clump.
After that, heat the sauce over medium until it thickens to your desired thickness, about five more minutes. It can be boiled longer if you wish, just watch to be sure it does not burn.
The sauce will also thicken as it cools.
Pour the low carb teriyaki sauce into a jar and let it cool.
A serving of keto teriyaki sauce is two tablespoons, and the recipe should make about three-fourths of a cup, or six servings.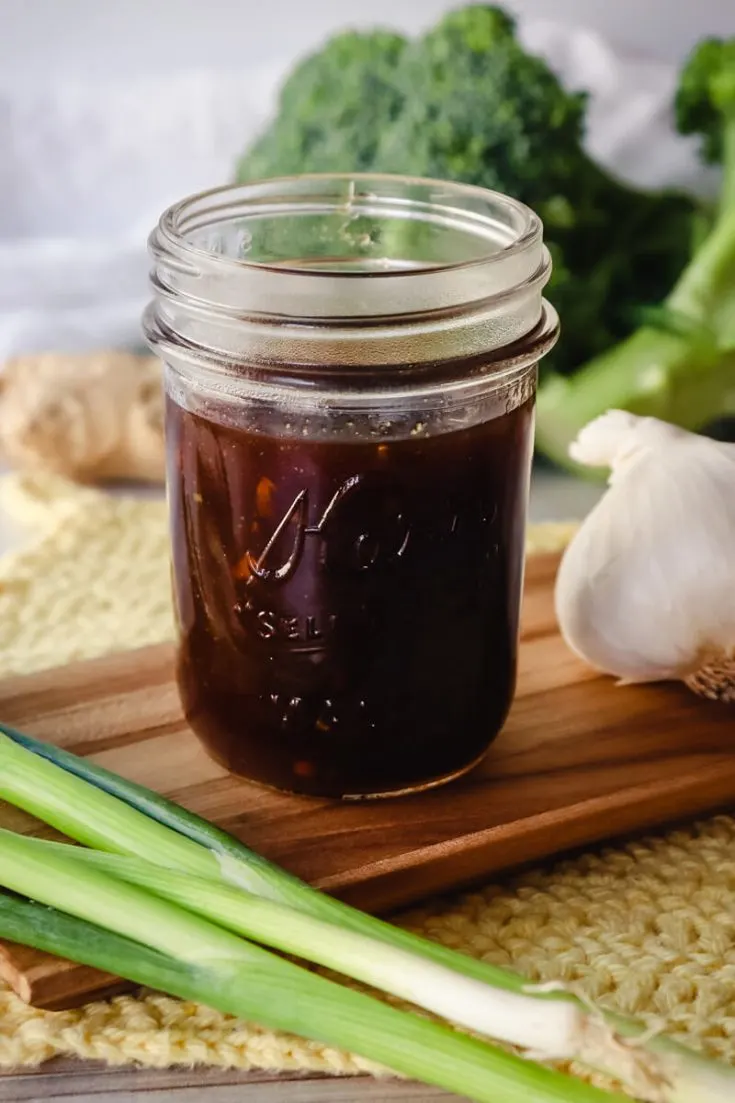 🥣 How to store no sugar teriyaki sauce
The keto teriyaki sauce can be stored in the refrigerator for up to a week. I like to use a glass, air-tight container like an 8 ounce mason jar.
Or, if you're doing some meal prepping, it can even be frozen in an air-tight freezer container. Just try to use it within a month for best flavor.
What does teriyaki mean?
As I mentioned before, teriyaki is a Japanese word. If you divide it in two, teri means luster, and yaki means to grill or broil. It really refers to the way to cook the meat or fish. However, here in the United States it's come to refer more to the glorious sauce.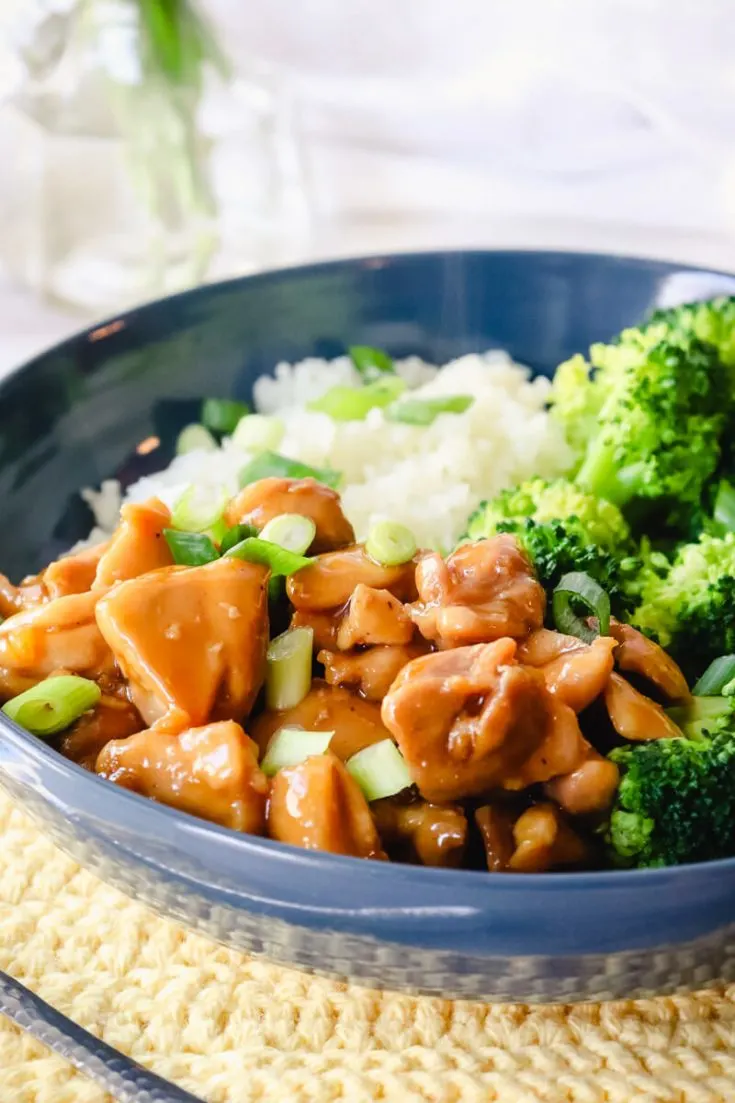 So make up a batch with some chicken or I also love it on salmon! What are your favorite ways to use teriyaki sauce? Enjoy.
Pin the recipe here: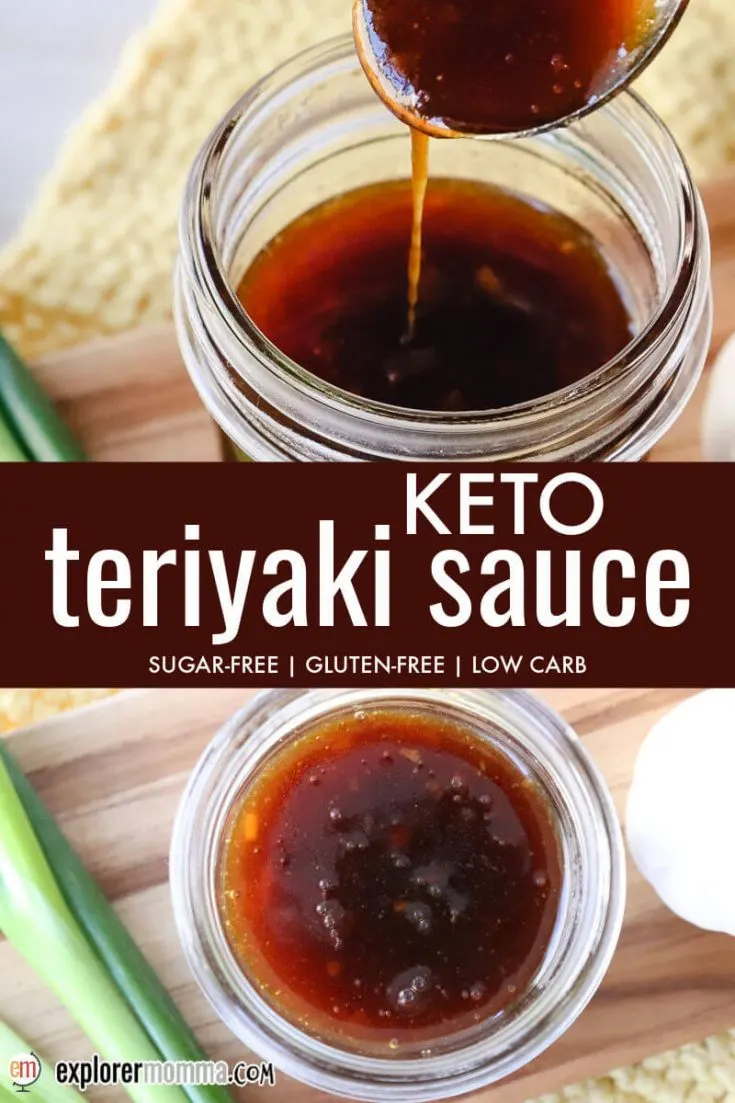 Tag me in your recipe pics on Instagram @explorermomma.
If you LOVE this recipe please consider giving it a five-star rating in the review area below!
🍲 More keto sauce recipes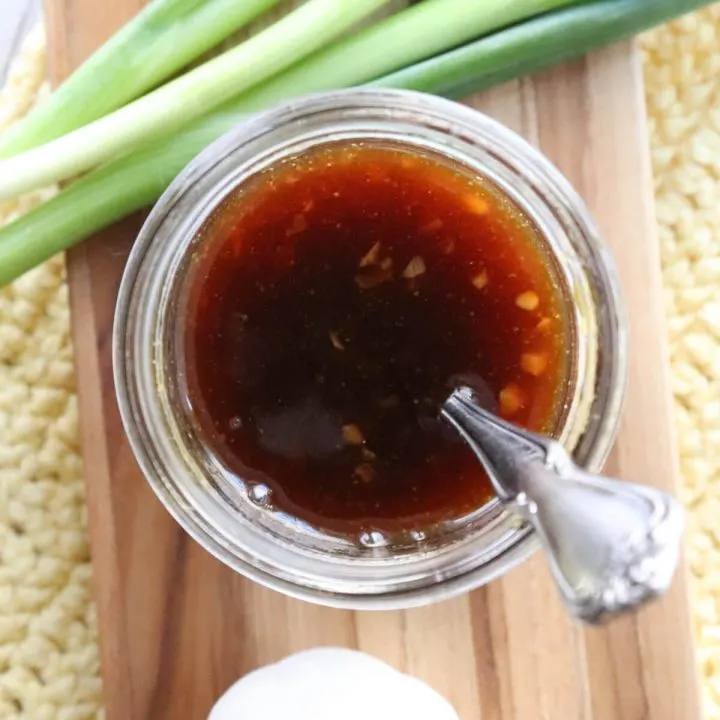 Keto Teriyaki Sauce
Traditional flavors of sweet garlic and ginger come together in this easy and sugar-free homemade Keto Teriyaki Sauce.
Ingredients
1 cup water
2 garlic cloves, minced
1/2 tsp ground ginger (1 tsp fresh ginger, minced)
1 tsp sesame oil
Instructions
In a medium saucepan, combine 1 cup water, brown sweetener, tamari sauce, garlic, ginger, and yacon syrup (if using) and set over medium heat.
Bring to a boil for about five minutes, then sprinkle over the xanthan gum and sesame oil, whisking continuously.
Heat the sauce until it thickens to your desired thickness, about five more minutes, or more if you wish. Jar and store in the refrigerator for up to a week, or use immediately.
Recommended Products
As an Amazon Associate and member of other affiliate programs, I earn from qualifying purchases.
Nutrition Information:
Yield:

6
Serving Size:

2 tbsp
Amount Per Serving:
Calories:

19
Total Fat:

1g
Carbohydrates:

1g
Fiber:

0g
Sugar:

0g
Protein:

1g
*Nutrition Facts per MyFitnessPal.com. For the most accurate facts, calculate your own with the exact ingredients you use in the recipe.
Nutrition Disclaimer
Please be aware I am not a medical specialist or nutritional professional. On this blog, I share recipes and what works for me. Please do not take anything on this blog as medical advice and always consult with your doctor before starting any diet or exercise program.
I use MyFitnessPal.com to calculate nutrition facts as a courtesy to my readers, and I remove erythritol from the final carb count and net carb count because does not affect my own blood glucose levels.
This is as accurate as possible, but it's best to independently calculate nutritional information on your own with the specific ingredients you use. I expressly disclaim any and all liability of any kind with respect to any act or omission wholly or in part in reliance on anything contained in this website.