Quick and easy keto pesto is bursting with flavor! Gluten-free pesto is perfect on your favorite low carb bread or in any recipe that calls for an Italian sauce. Packed with garlic and basil, it's kid-approved and delicious!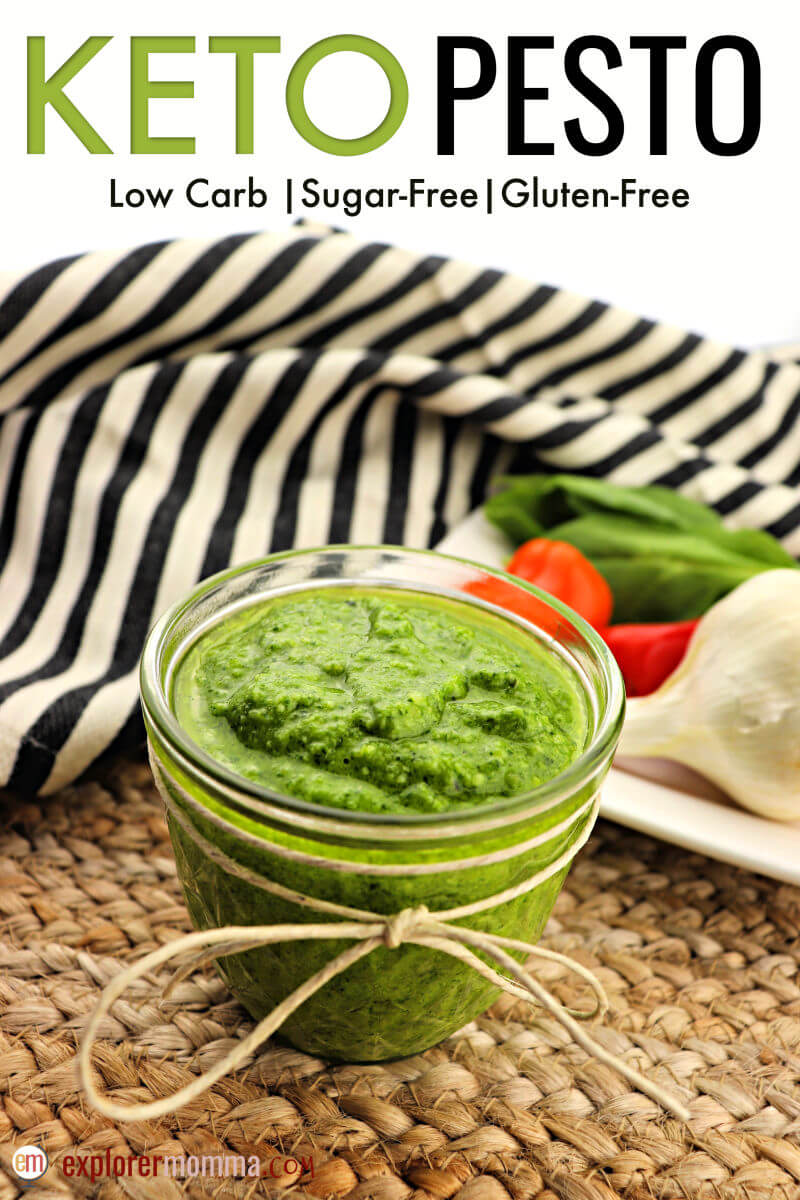 This post contains affiliate links, which means I receive a small percentage if you make a purchase after clicking on my links.
When was the first time you tried pesto? To be honest I can't actually remember as I was a picky child. However, I know I was in college when I truly fell in love with it.
[feast_advanced_jump_to]
Pasta with pesto became very popular around my shared house, and I was so excited to get my aunt's old food processor she was about to sell at a garage sale. Can I tell you a secret? Those older machines are sometimes the best. That same food processor she used for many years is still in my cabinet and runs well!
I'm not going to tell you exactly how many years it's been for me since I received it in college, but it's been quite a few!
In spite of the fact my diet is primarily keto and low carb, I still adore pesto! The powerful strength of the garlic and basil is just as fabulous as it was back then. I just dropped the pasta and use it on different dishes.
Keto pesto
While I think my super helpful tips and fun stories will benefit you, I also realize we are sometimes pressed for time and just need a good recipe! Scroll down to the bottom of the page for the printable recipe or PIN it here for later!
"Pesto madam."
"Yes, Floote, that! Brilliant. Full of garlic." To illustrate her point, she took another mouthful before continuing. "Seems they put garlic in positively everything here. Absolutely fantastic."

– Gail Carriger, Blameless
Pesto origins
Imagine yourself in a terracotta roof-tiled house on the side of a hill in 16th century Genoa. It's a summer sun-filled day in northern Italy, and the air is filled with the scent of basil. The garden is full, and the basil sways in the breeze filling the air with that magnificent aroma.
It's time to make a new sauce. Pesto!
Pesto is said to originate in Genoa in the 16th century. It's a simple sauce, but with a punch of flavors that blend together just right. Traditionally, it's made with basil, garlic, parmesan cheese, pine nuts, and olive oil.
Back then they wouldn't have had a food processor but used the indispensable mortar and pestle. Like this one here:

Therefore, for a truly authentic pesto it's nice to go back to original methods. It's not that much more difficult to grind a pesto sauce in the mortar and pestle. There are chefs like Mario Batali who claim it's the best or even the ONLY way to make a true pesto.
Don't worry, if you use a food processor like I do most of the time, I won't tell anyone.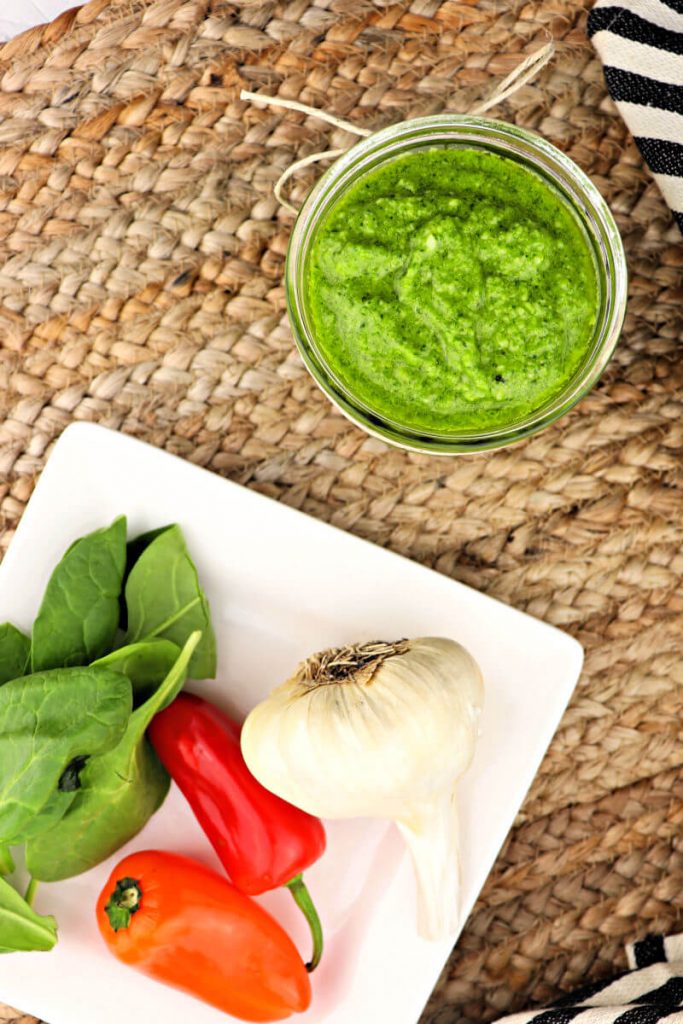 🥘 Ingredients
almonds or pine nuts (or other nut)
garlic
olive oil
parmesan cheese
lemon juice
basil
salt
pepper
🍽 Equipment
To make easy keto pesto you'll need: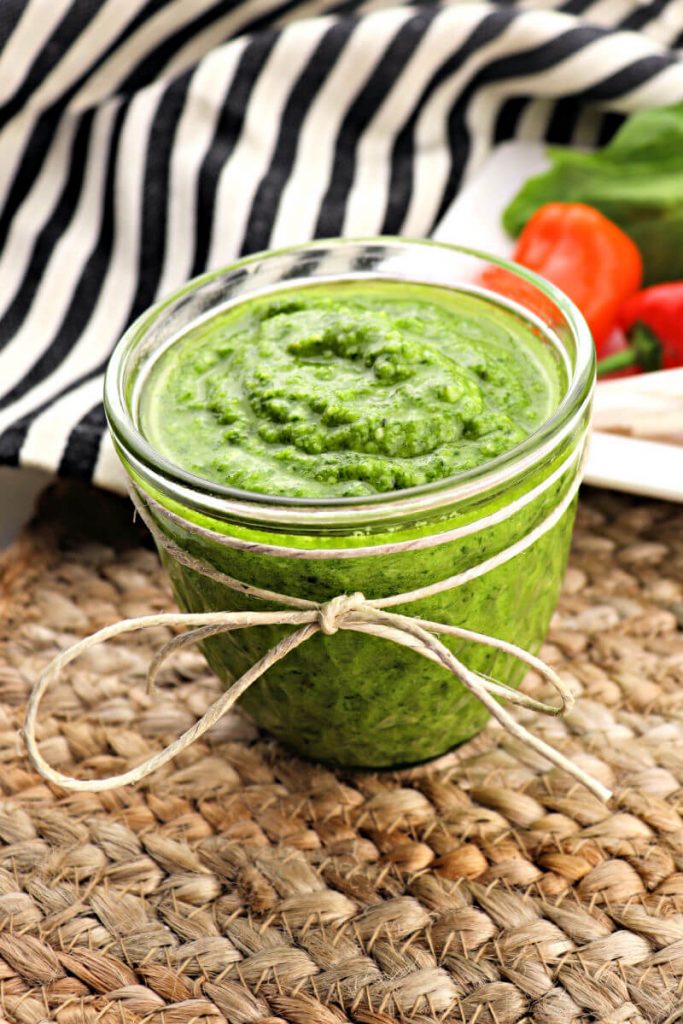 🔪 Instructions
How to make a quick keto pesto
This recipe is so simple and easy it hardly takes any time at all.
First, take out all the materials and ingredients. Plug in the food processor or brandish your pestle (the rounded stone tool to grind the pesto), and it's time to begin.
Second, throw all the ingredients but the basil, salt, and pepper into a food processor. Process on high for 30-40 seconds or until everything is evenly combined.
Alternatively, grind it in the mortar with the pestle until combined.
Next, add in the basil, salt, and pepper and continue to pulse and process (or grind) until the mixture reaches the desired consistency. To be perfectly honest, it depends on the person. Do you like to have small chunks of nut or parmesan in your pesto or would you prefer it perfectly smooth?
I like it with very small pieces and not completely puréed. However, it's your pesto! It's completely up to you.
When the machine is off, use a spatula to push down any large pieces on the sides. Process it another 20 seconds or until you've reached the perfect pesto.
E ecco! Delizioso!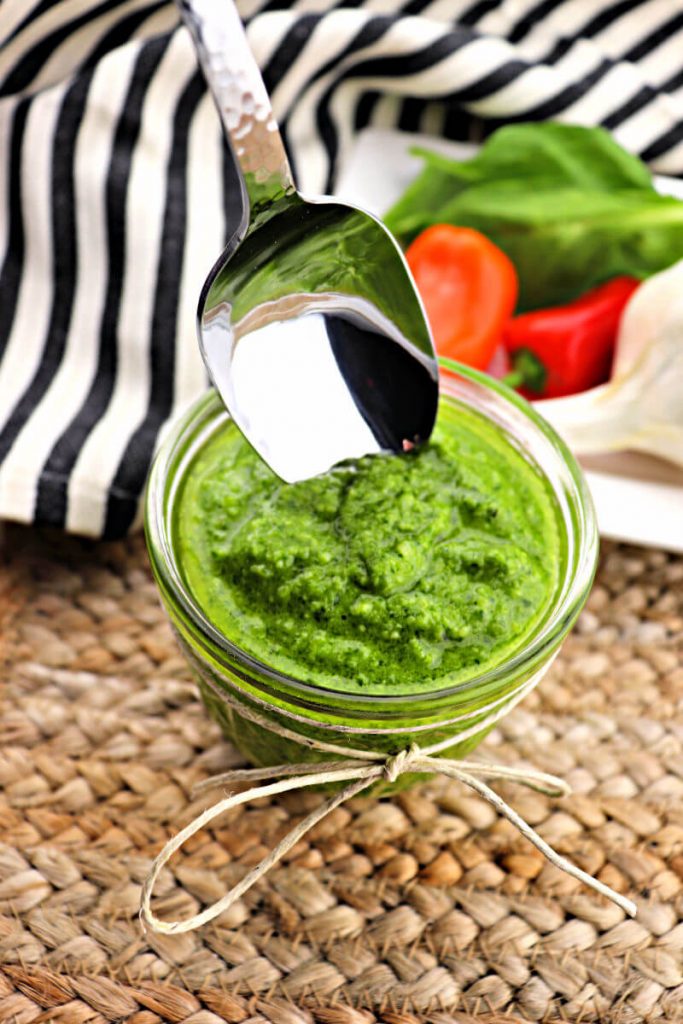 📋 Variations
Do you know why I love pesto so much? Well, number one it's flavor is out of this world! Yes, I have a thing for garlic and basil.
Secondly, the recipe is so incredibly versatile! It's so easy to switch out certain ingredients based on what you have on hand or to make it fit with a certain diet. I even switch it up to avoid different allergens.
For example. The child has a nut allergy to pine nuts, cashews, and walnuts, but she's okay with almonds. Instead of the traditional Italian pine nuts, I replace them with almonds.
Boom. Crisis averted, and we still get to enjoy those amazing flavors.
Another example: Eek! It's spring, and I'm out of all my frozen pesto I stored up using all the basil from the garden last year! Basil is super expensive to buy in larger quantities or I only have a little on-hand. While the flavor will be slightly different you can always substitute in spinach for the missing basil.
Third example: I'm out of olive oil or prefer avocado oil on my keto diet. Simple. Substitute avocado oil. Speaking of avocado oil, have you tried making your own keto mayonnaise?
Hint: Don't avoid or skimp on the garlic. Its flavor is pretty awesome, and hey, you'll ward off vampires.
Pesto is such a great standard. It's so simple to make and always tastes good.

– Tamra Davis
Why keto pesto?
There you've caught me. This is a pretty classic, traditional pesto recipe with optional changes here or there.
BUT it's such a flavorful sauce, and it fits perfectly into the keto parameters. It's low carb, high fat, and gluten-free. Did I mention it's delicious?!
Therefore, to recognize the fact these traditional ingredients and sauce are an AMAZING addition to your keto library of recipes, I've titled this one Easy Keto Pesto. And it's just that.
I hope you enjoy it on zoodles, your favorite keto bread, a white pesto zucchini lasagna (does that not sound like a fabulous summer garden recipe?!), or in my keto pesto pinwheels, a fabulous keto appetizer coming soon!
Buona fortuna, mangia, e sii felice!
Pin the recipe here!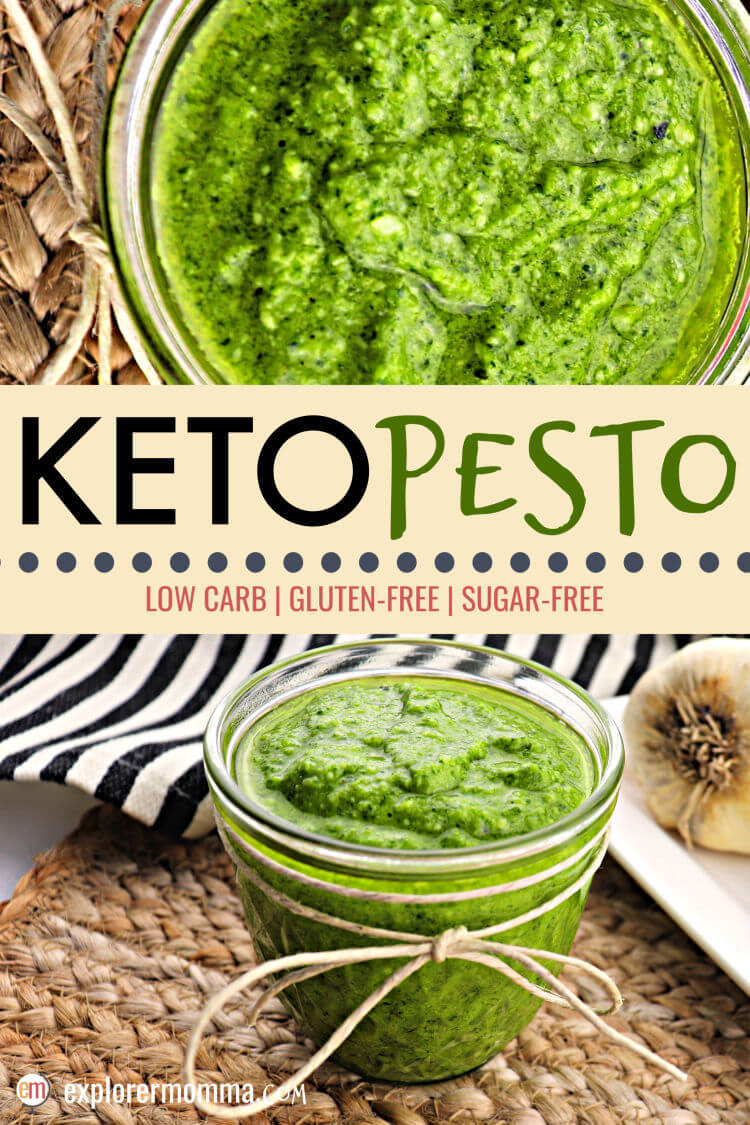 Tag me in your recipe pics on Instagram @explorermomma.
If you LOVE this recipe please consider giving it a five-star rating in the review area below!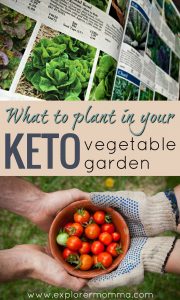 🥣 Related keto recipes
Or for a fabulous appetizer or snack for the big game, try this fabulous Cheesy Pickle Dip with keto-friendly crudité, so good!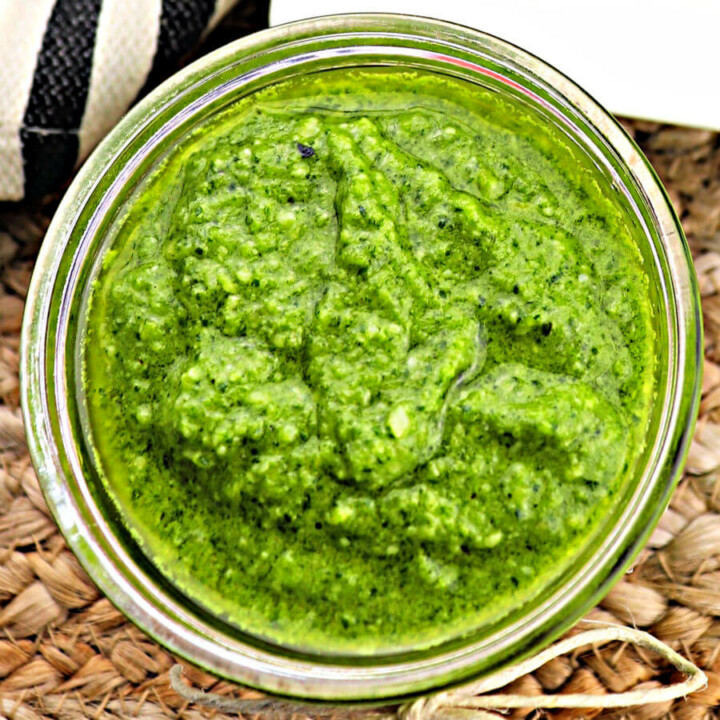 Keto Pesto
Easy bright and flavorful keto pesto will have your tastebuds singing of summer! The classic Italian flavors of basil and garlic in the perfect low carb summer sauce.
Ingredients
1/4 cup slivered almonds, (or pine nuts, walnuts, or preferred nut)
4 cloves garlic
3/4 cup olive oil, (or avocado oil)
1/2 cup parmesan cheese
1 tbsp lemon juice
2 1/2 cups basil
1/2 tsp salt
1/2 tsp pepper
Instructions
Place all ingredients but the basil, salt, and pepper in a food processor. Process on high for 30-40 seconds or until everything is evenly combined.
Add in the basil, salt, and pepper and continue to pulse and process until the mixture reaches the desired consistency. When the machine is off, use a spatula to push down any large pieces on the sides. Process another 20 seconds or until mixed well.
Notes
Nutrition Facts
Servings 14.0 Amount Per Serving: 2 tablespoons Calories 134 Total Fat 14 g Saturated Fat 2 g Monounsaturated Fat 8 g Polyunsaturated Fat 1 g Trans Fat 0 g Cholesterol 4 mg Sodium 146 mg Potassium 28 mg Total Carbohydrate 1 g Dietary Fiber 0 g Sugars 0 g Protein 2 g
*Nutrition Facts per MyFitnessPal.com. For most accurate facts, calculate your own with the exact ingredients you use in the recipe.
Nutrition Information:
Yield:

14
Amount Per Serving:
Calories:

134
Unsaturated Fat:

0g
Nutrition Disclaimer
Please be aware I am not a medical specialist or nutritional professional. On this blog, I share recipes and what works for me. Please do not take anything on this blog as medical advice and always consult with your doctor before starting any diet or exercise program. I use MyFitnessPal.com to calculate nutrition facts as a courtesy to my readers, and I remove erythritol from the final carb count and net carb count because does not affect my own blood glucose levels.
This is as accurate as possible, but it's best to independently calculate nutritional information on your own with the specific ingredients you use. I expressly disclaim any and all liability of any kind with respect to any act or omission wholly or in part in reliance on anything contained in this website.