Chiles Rellenos keto breakfast casserole is a delight to the tastebuds! Cheesy low carb, gluten-free, stuffed green chiles in a breakfast egg custard. Perfect for brunches, Mother's Day, any special occasion, or every day. Friends and family will be coming back for more green chili casserole!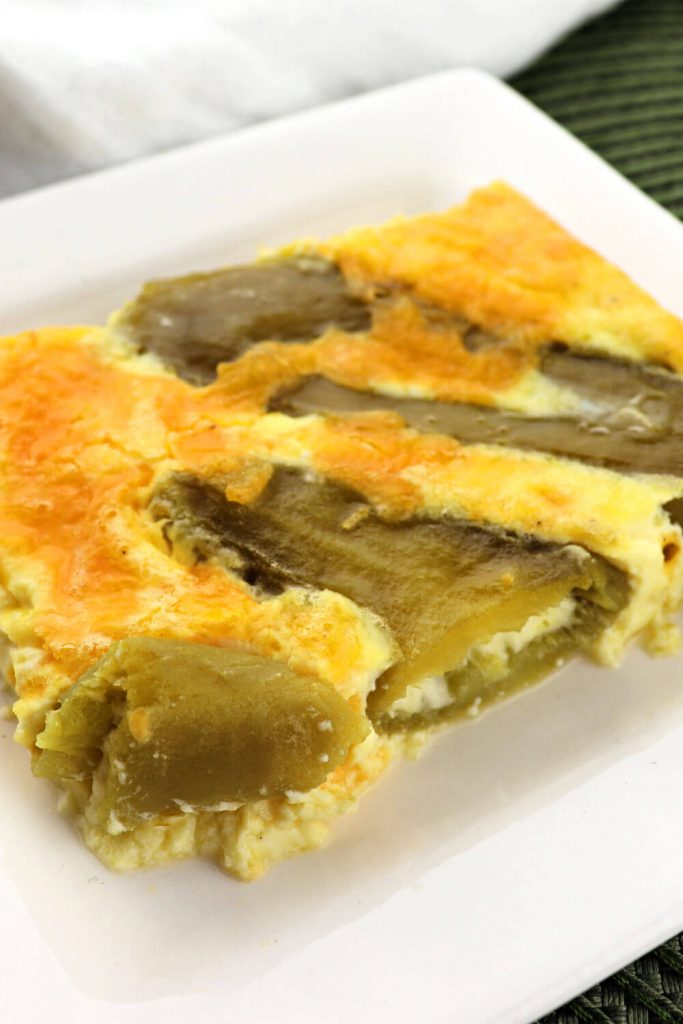 This post contains affiliate links, which means I receive a small percentage if you make a purchase after clicking on my links.
The inspiration for this fabulous keto breakfast casserole came from a good friend of mine. Let me take you back more than several years (let's not say exactly how many!). This was when I used to work/live in a cubicle with my computer for a large insurance company.
Yes, when you live in a cubicle it is like that classic old movie, Office Space, although maybe not quite to that extent! It's the friends and neighbors around your cube who get you by and encourage your everyday. They become your second family.
Well, we often had food days to celebrate birthdays, holidays, Friday, etc. One day a brilliant lady on my team brought in this amazing breakfast casserole. It was filled with Monterey Jack cheese, eggs, and green chiles. I'm not sure exactly what was in it, but I do remember thinking about it all morning and wondering how soon I could go get another piece!
That awesome green chile breakfast casserole is the inspiration for today's keto recipe! Thank you! You know who you are!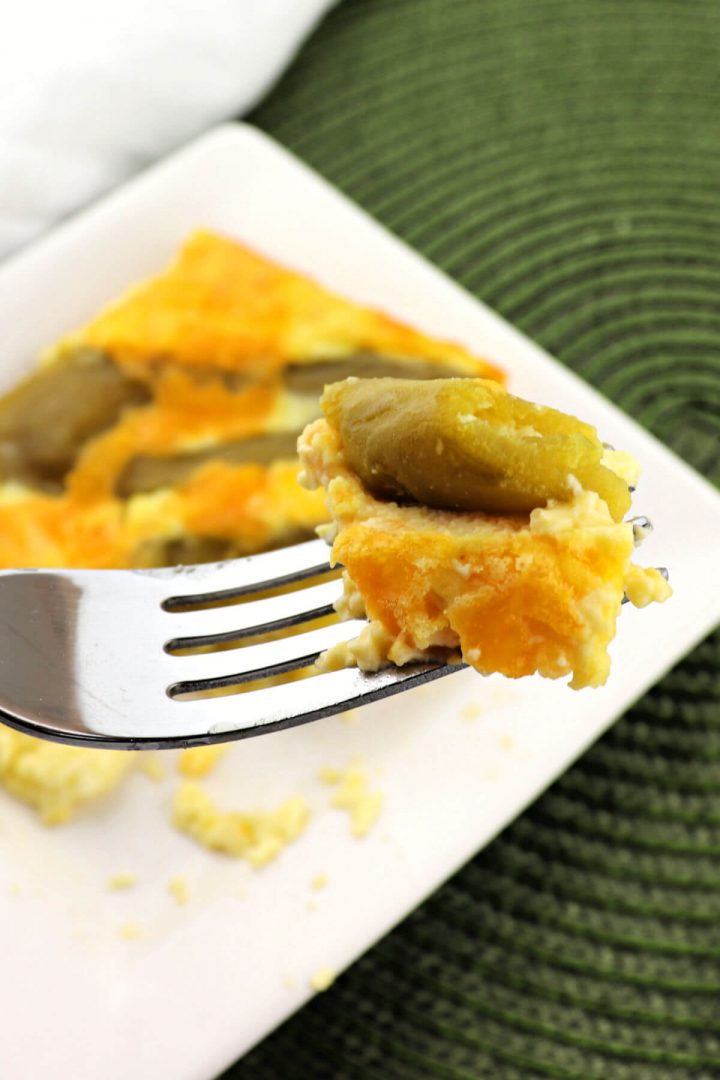 In a hurry?
Scroll down to the bottom for the printable recipe or PIN it here for later!
What are Hatch green chiles?
I'm so glad you asked! Although Hatch green chiles come from New Mexico, we here in Colorado seem to be crazy about them. Every fall, there are chiles roasting in front of local stores, pumpkin farms, and packaged roasted and peeled chiles appear in the grocery stores.
A true Hatch green chile is from the Hatch Valley in southern New Mexico. However, they've become so popular, they're now shipped all over New Mexico, Texas, California, Colorado, and beyond. They're similar to the Anaheim pepper, but the idea is sort of like a fine wine.
Hatch green chiles, true Hatch green chiles, are grown only in Hatch, New Mexico in the idyllic valley. It's like true Champagne on the hillside in the Champagne region of France. The wine or chile connoisseur will know the difference!
Where can I get Hatch green chiles
For my own purposes, I buy Hatch green chiles when I can. Ideally, we would all journey down to the yearly Hatch Valley Chile Festival and get fresh ones there. However, if that's not an option, in the fall they're sent up from New Mexico, and I can buy them at many a roadside shop. You can even order online or find them at a local grocery store!
When I have a craving for this amazing keto breakfast casserole out of season, like now, I compromise with a canned version. You can get canned whole green chiles at many grocery stores. Kroger has a canned store brand, and I've seen an Ortega brand can as well. Gasp in horror, but they will work in a pinch!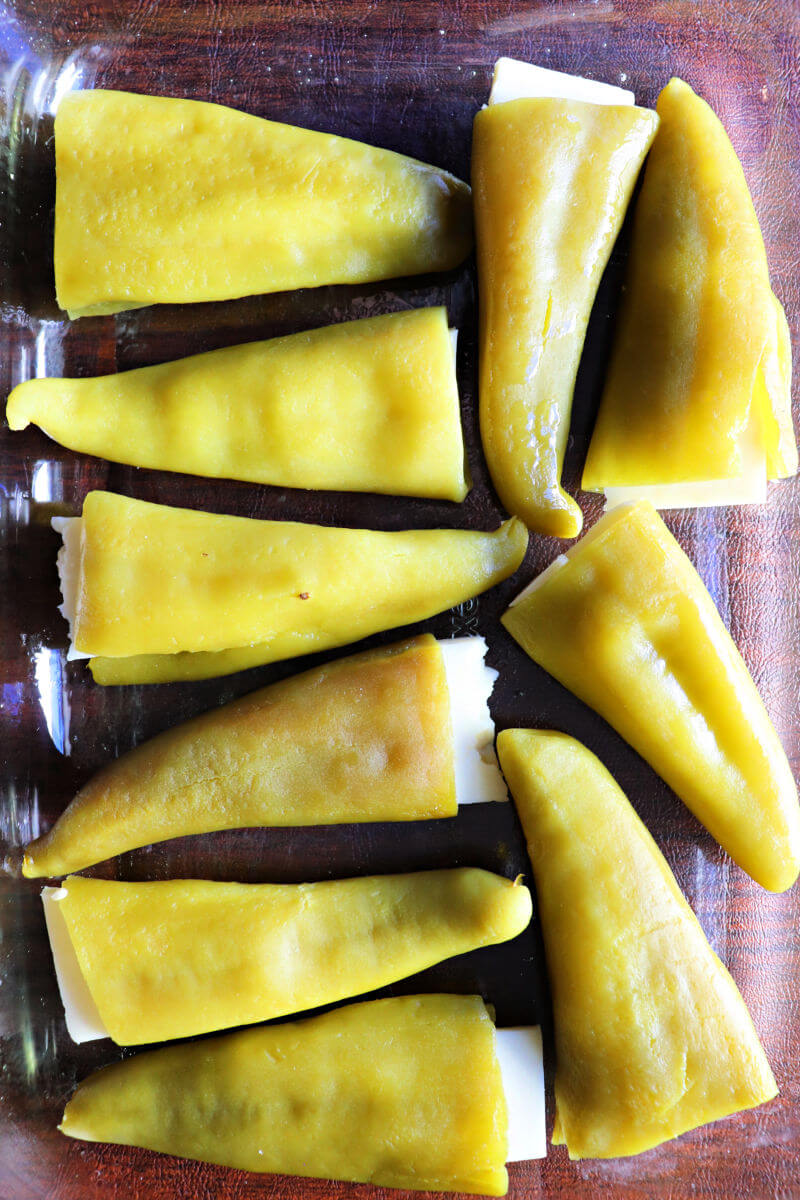 🍽 Equipment
To make Chiles Rellenos Keto Breakfast Casserole you'll need :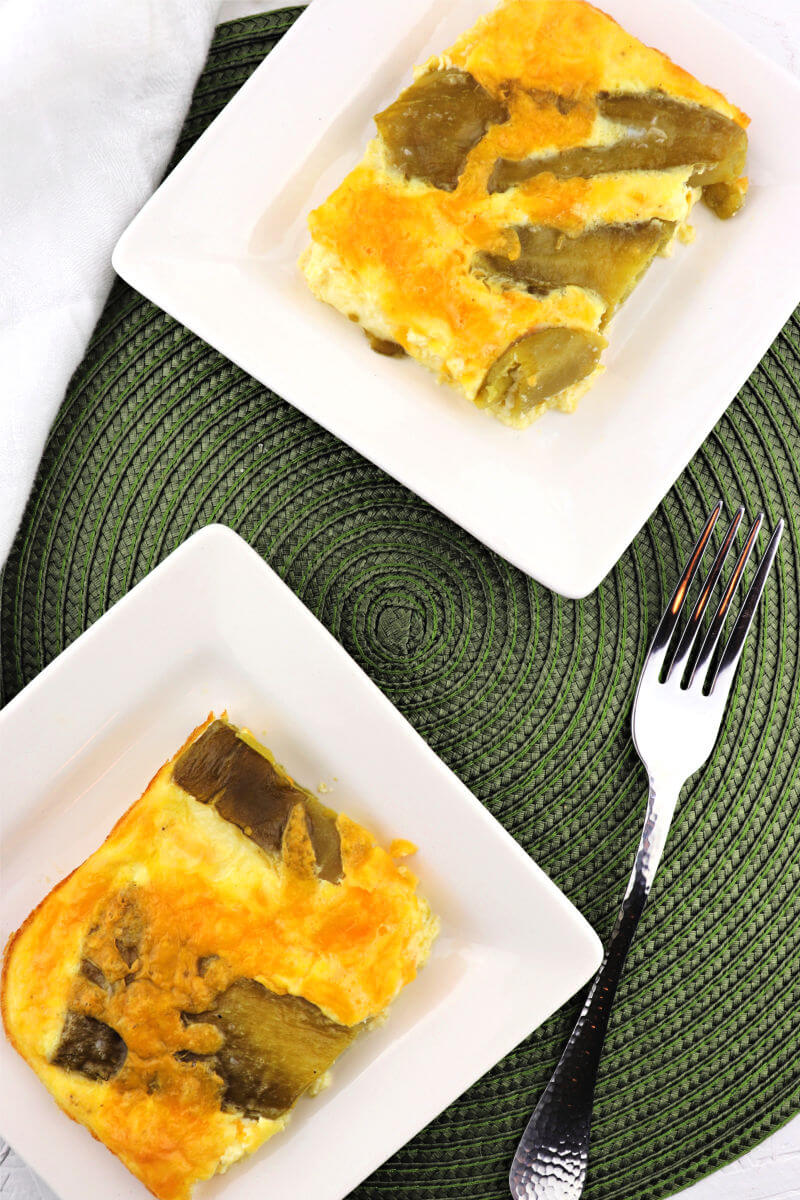 🔪 Instructions
How to make green chiles rellenos keto breakfast casserole
One of the main things I love about this dish is that once you have the ingredients together, it's so easy to make!
First, take out the 10 chiles you plan to use. If they're fresh, they should be roasted and the skin peeled off. If they're from a can, shake off the excess liquid. Second, spread the chiles out on a towel and pat them dry.
Third, is the fun part. Stuff a strip of Monterrey Jack cheese in each chile pepper and lay them side by side in a greased 9″ X 13″ inch baking dish. Trim the cheese into triangles so they fit into the chiles well. The more cheese the better in my opinion!
Next, sprinkle the stuffed chiles with the grated cheddar cheese.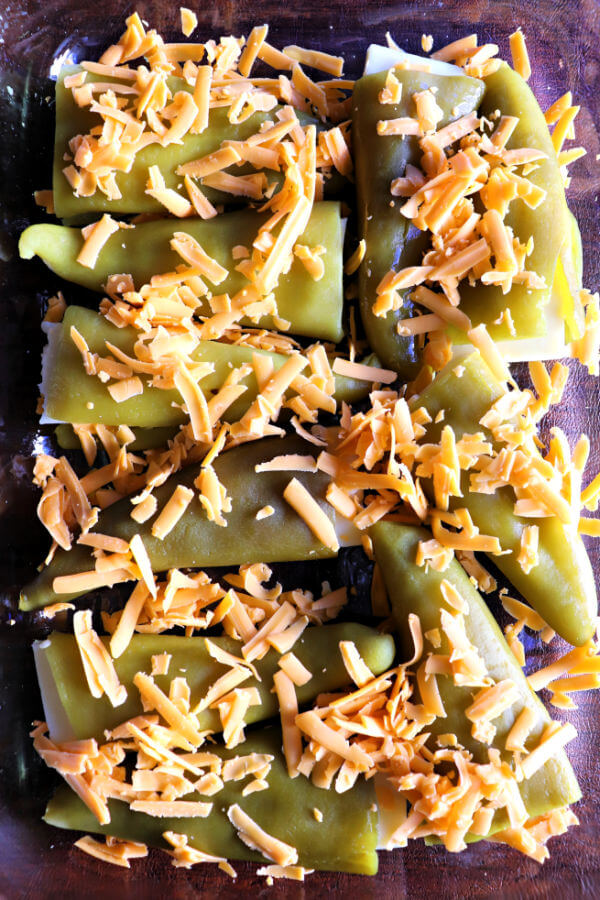 Then, in a large bowl, beat the eggs with a whisk or mixer. Now, add the heavy cream, almond milk, salt, pepper, and pepper sauce.
You can vary the red pepper sauce depending on the amount of spice in the dish. I don't want it overpowering but want to taste it a bit so use 2-3 good dashes. If you want more spice, add more of the sauce.
Now, whisk everything together until it's completely combined, and then gently pour it over the chiles and cheese.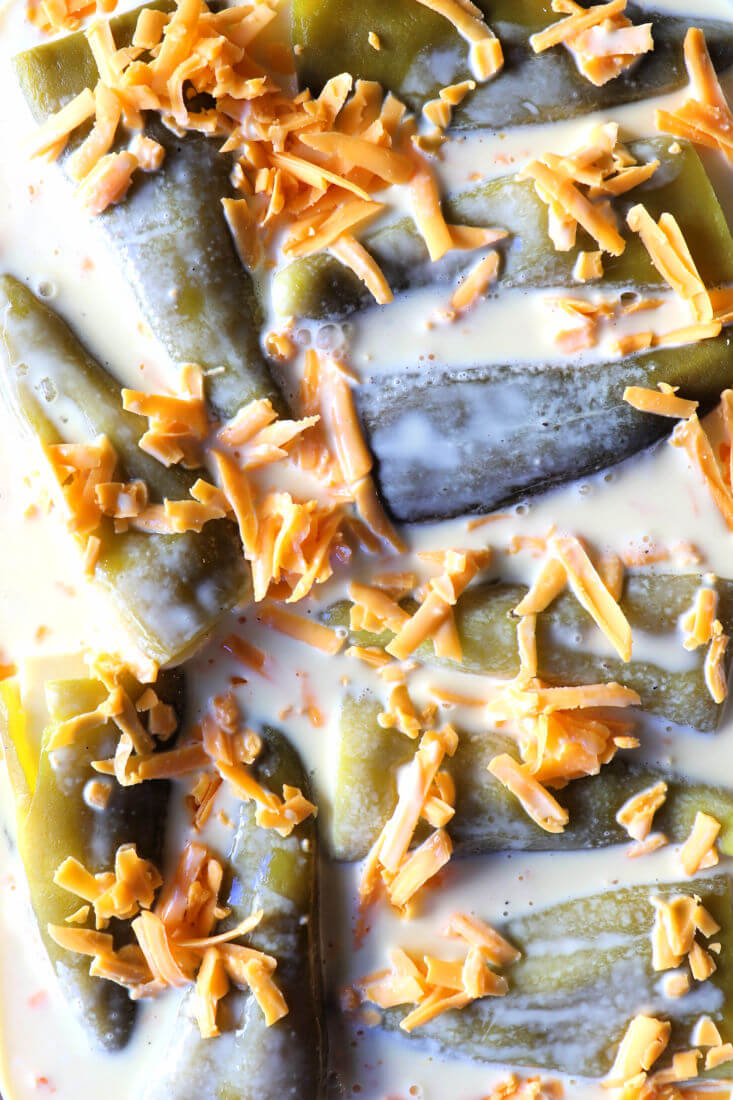 Lastly, all that's left is to bake at 350 degrees Fahrenheit for 45 minutes or until done. Serve it warm for the best flavor or refrigerate and reheat for up to a week. Enjoy!
What to serve for a Mother's Day brunch or special occasion
I love a breakfast casserole, especially a cheesy one with loads of flavor, for brunch. To me, any brunch just seems like a fun special occasion to eat yummy foods and visit with good friends and family.
Make it for brunch or ready to heat up for every day. Serve it up with a side of bacon, so easy for a crowd by baking bacon!
If you're on the run before work and school and want a good grab and go eggy breakfast, I also suggest these Scrambled Egg Muffins. I am all about prep work to make your busy days successful!
Do you try to find recipes that work with your own keto or low carb diet but that also are so amazing others won't know it falls into that category? This keto breakfast casserole is one of those recipes! Let me tell you with the green chiles and Monterey jack cheese, this is one of those dishes they will be coming back for more.
Are you ready for that first cheesy bite?
Pin the recipe here!: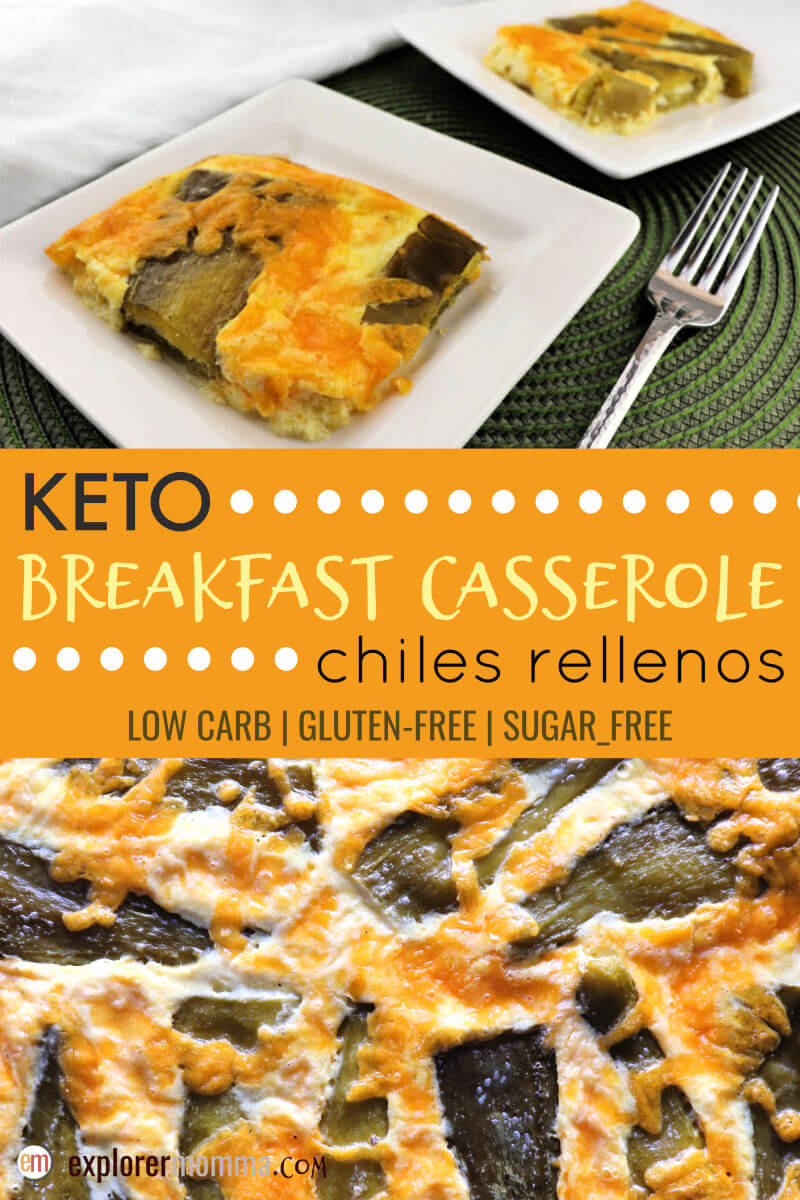 Tag me in your recipe pics on Instagram @explorermomma.
If you LOVE this recipe please consider giving it a five-star rating in the review area below!
Thank you!
🥣 More low carb breakfast recipes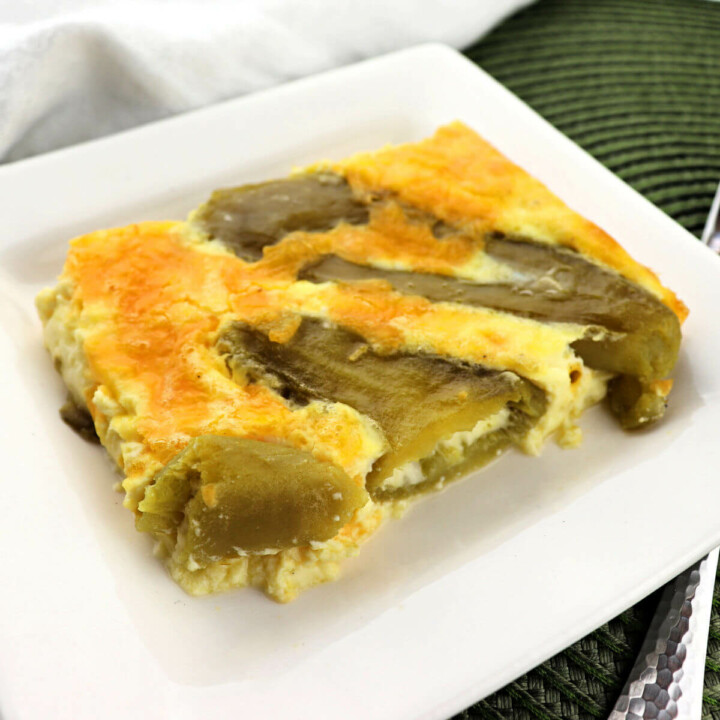 Keto Breakfast Casserole
Cheesy stuffed hatch green chile peppers in a decadent egg custard. Keto breakfast casserole is simple and delicious.
Ingredients
10 whole hatch green chiles, roasted and peeled, (or you can buy a 27 oz can)
1/2 pound Monterrey Jack cheese, cut into 10 strips to fit in the chiles
1 cup grated cheddar cheese
4 eggs
1/2 cup heavy cream
1/2 cup unsweetened almond milk
1/2 tsp salt
1/4 tsp pepper (or to taste)
2 dashes liquid hot pepper sauce
Instructions
Spread the chiles out on a towel and pat dry. Stuff a strip of Monterrey Jack cheese in each chile pepper and lay them side by side in a greased 9" X 13" inch baking dish. Sprinkle with cheddar cheese.
In a large bowl, beat the eggs with a whisk or mixer and add the heavy cream, almond milk, salt, pepper, and pepper sauce. Whisk it all together and then gently pour it over the chiles and cheese.
Bake at 350 degrees Fahrenheit for 45 minutes or until done.
Notes
Nutrition Facts
Servings 8.0 Amount Per Serving Calories 257 Total Fat 22 g Saturated Fat 12 g Monounsaturated Fat 3 g Polyunsaturated Fat 1 g Trans Fat 0 g Cholesterol 151 mg Sodium 623 mg Potassium 81 mg Total Carbohydrate 2 g Dietary Fiber 1 g Sugars 1 g Protein 14 g
Nutrition Information:
Yield:

8
Amount Per Serving:
Calories:

257
Unsaturated Fat:

0g
*Nutrition Facts per MyFitnessPal.com. For the most accurate facts, calculate your own with the exact ingredients you use in the recipe.
Nutrition Disclaimer
Please be aware I am not a medical specialist or nutritional professional. On this blog, I share recipes and what works for me. Please do not take anything on this blog as medical advice and always consult with your doctor before starting any diet or exercise program. I use MyFitnessPal.com to calculate nutrition facts as a courtesy to my readers, and I remove erythritol from the final carb count and net carb count because does not affect my own blood glucose levels.
This is as accurate as possible, but it's best to independently calculate nutritional information on your own with the specific ingredients you use. I expressly disclaim any and all liability of any kind with respect to any act or omission wholly or in part in reliance on anything contained in this website.