Dreamy orange creamsicle in a low carb breakfast. Keto shakes (or smoothies) with protein and MCT oil are perfect for an easy on-the-go meal to fill you up and keep on a keto diet.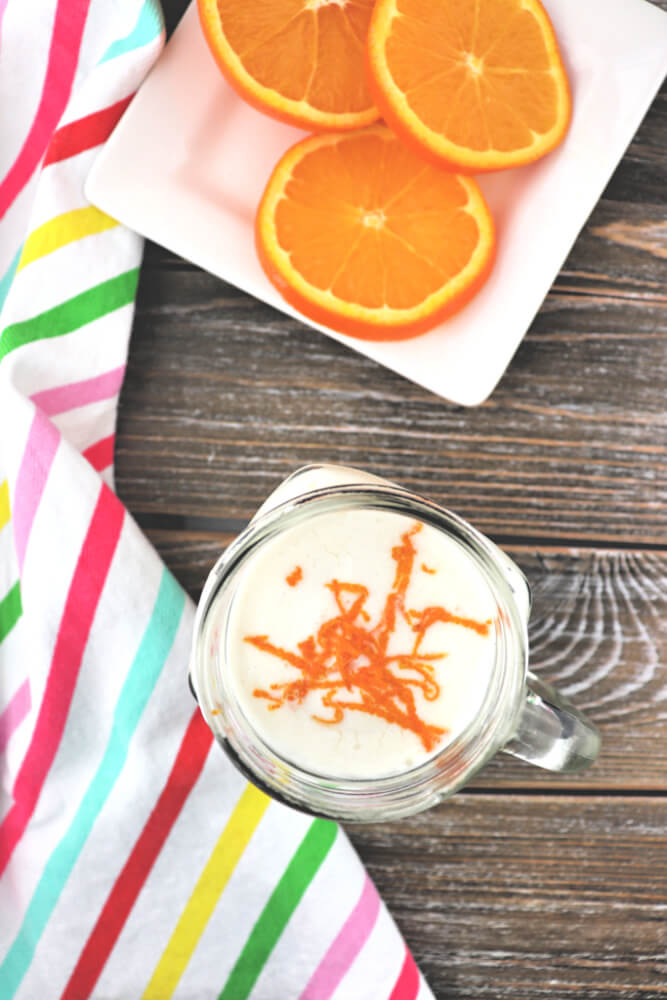 Do you remember the orange creamsicle of your childhood? I didn't have one often, but I definitely remember the ice cream and orange popsicle combination.
Sometimes flavors just send you back to a moment in childhood memory, and it definitely does with this one!
This post may include Amazon links or other affiliate links. As an Amazon Associate, I earn from qualifying purchases.
When I was in elementary school, our house had a giant (well it seemed giant at the time) spruce tree on the side. It was sort of in an odd spot next to a concrete wall. It was a driveway to some sort of parking spot in the back.
The tree had thinning branches near the concrete wall. I had a secret spot down there you couldn't see unless you pushed through the lower branches of the tree.
My dad helped me put an old wooden bench down in my tree room hideaway. It was the perfect place to plot adventures.
Orange creamsicle
Now, I was not allowed many extra snacks or sugar at that age, and I still remember one hot summer day. My neighbor Katie came over and by some odd chance or parental whim, we were allowed to buy orange creamsicles from the ice cream truck. Yes, the one that plays music down the street.
We grabbed our orange creamsicles and made a bee-line for the tree hideaway with needles for carpet. I think we were afraid someone might change their mind and we wouldn't be allowed the creamsicles after all.
Oh, did they taste good!
Now, I still love that orange cream flavor. However, now it does not involve chasing down the ice cream truck!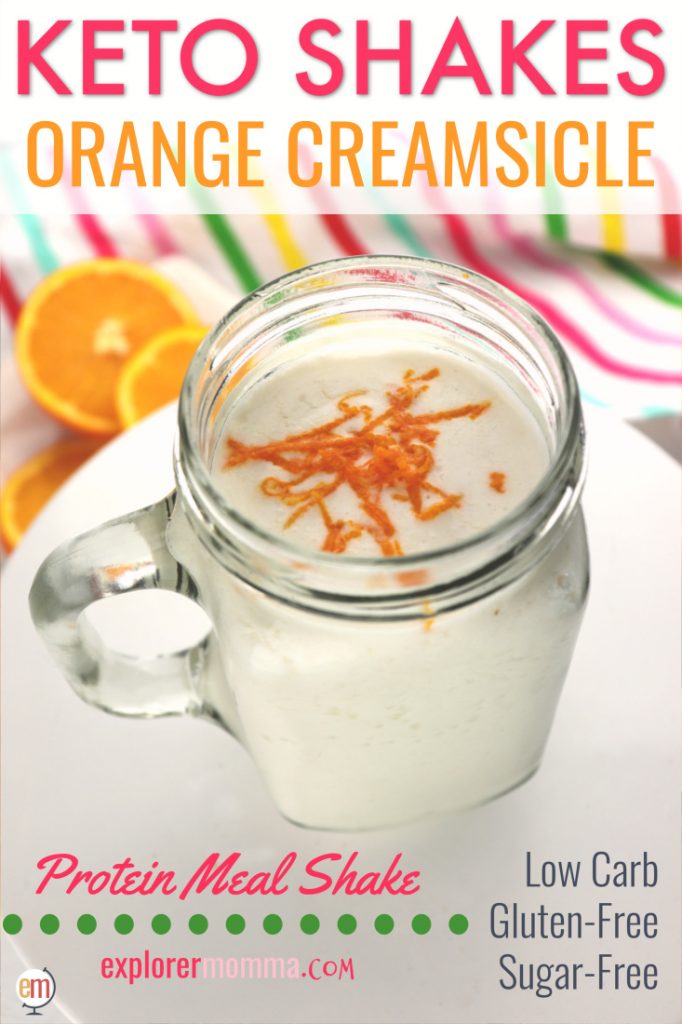 Scroll down to the bottom for the printable recipe or PIN it here for later!
Orange is the happiest color.

– Frank Sinatra
🥘 Ingredients for keto shakes
For a quick breakfast, I pretty much have two go-to meals. Oh, I mix things up and try new recipes, especially on the weekends, but there are two daily quick meals I know I can depend on.
One is bacon and eggs, which most keto dieters know and love. The other is a keto protein shake. I have the ingredients ready to go, toss them in, blend, and go. Easy peasy.
Most often, I use this orange creamsicle flavoring. However, sometimes I mix things up based on the season, as in a pumpkin spice breakfast smoothie, or do a chocolate version with cocoa. But what about the other ingredients?
According to WebMD, collagen is a protein that binds tissues together. Basically, it glues our skin together and supports it. It's rich in the amino acids proline and glycine, which one needs to maintain and repair tendons, bones, and joints. "As we get older, we break it down faster than we can replace it," says dermatologist Whitney Bowe, author of The Beauty of Dirty Skin: The Surprising Science of Looking and Feeling Radiant from the Inside Out.
There are many recent and ongoing studies that show how collagen:
promotes skin elasticity
holds bones and muscles together
protects organs
provides structure to joints and tendons
Collagen peptides are the molecular bonds between individual collagen strands broken down into peptides. Also, they are soluble in cold water, easily digestible, and ready to be absorbed by our bodies. Collagen peptides are much more easily digested and absorbed than regular gelatin.
Even without all that it's an excellent source of protein. To me, it just makes sense to incorporate it into my diet. Why not add in an extra serving of this vital protein?
My skin can use all the help it can get! I prefer to use an unflavored, grass-fed, non-gmo collagen peptide such as this one here.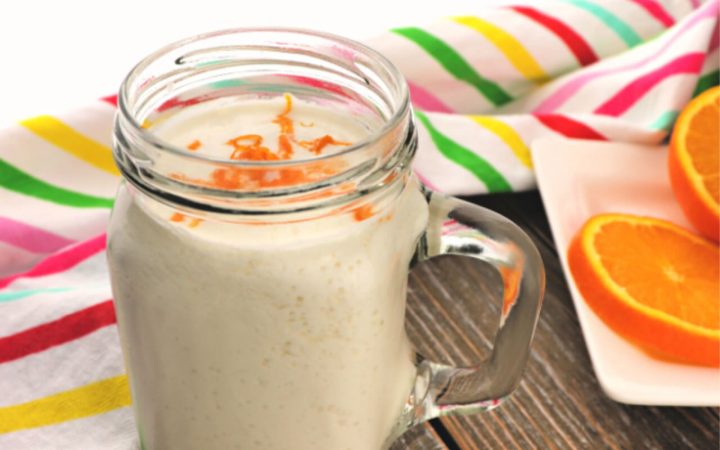 What is MCT oil?
If you've even looked at a keto diet, you've probably at least heard of MCT oil. I only use MCT oil from coconuts, although it is also made from palm oil. MCT stands for medium-chain triglycerides and refers to the way the carbon atoms are arranged in their chemical structure.
Doctors have prescribed them for many food absorption disorders such as celiac disease, liver disease, and other digestive issues. Moreover, MCT oils are high in saturated fatty acids and low in polyunsaturated fatty acids, which many consider to be good, healthy fats. Also, they are known to be anti-inflammatory with a variety of other health benefits.
I like it because it has a neutral flavor and works well in my smoothies. It really fills me up and prevents me from feeling hungry for a good amount of time. Look for an organic, non-GMO, coconut oil only MCT oil like this one here.
🍽 Equipment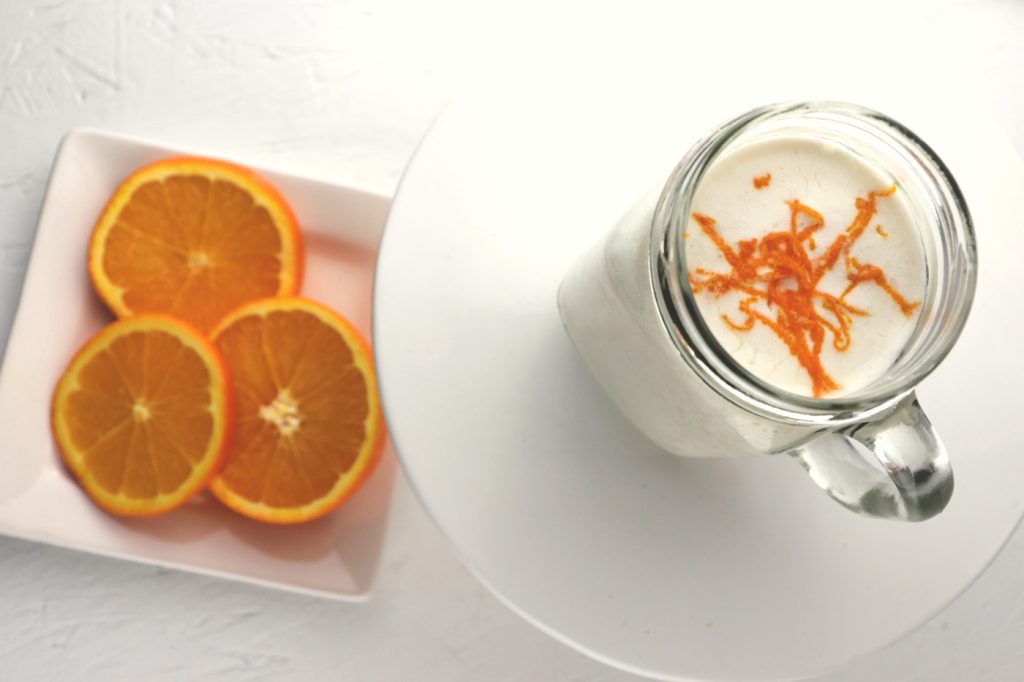 🔪 Instructions
How to make orange creamsicle keto shakes
Can I tell you one of the main reasons I love this recipe so much? It's super-quick and easy, and that's what I need in the mornings!
This keto protein shake recipe is so simple. Are you ready for this? Take all your ingredients out and put them in the blender. Next, blend it all up for 30-40 seconds or until smooth. Lastly, pour it into a glass and enjoy!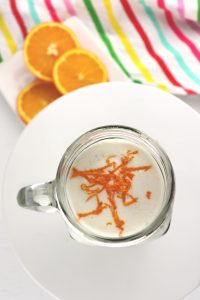 Sometimes I even put all the ingredients but the ice in the blender container the night before and stick it in the fridge. Then, all I need to do is pull it out in the morning, throw in some ice cubes and blend. If you put it in an insulated mug like this one, you can take it with you and drink it whenever you get hungry.
Note: I put orange zest on the shake in the pictures for color more than anything else and don't usually include zest. If you'd like to throw a little zest in the blender for a fresh orange flavor, feel free to do so.
Orange strengthens your emotional body, encouraging a general feeling of joy, well-being, and cheerfulness.

– Tae Yun Kim
What's your favorite quick keto breakfast?
Are you a bacon and eggs gal like me? During the week when I'm in a big hurry I also rely on a frozen keto muffin or keto shakes to get me going.
It's so easy to get in a rut so mix it up with different flavorings! Orange, maple, vanilla, chocolate, strawberry, you name it! There are so many options, I love it!
Pin the recipe here!: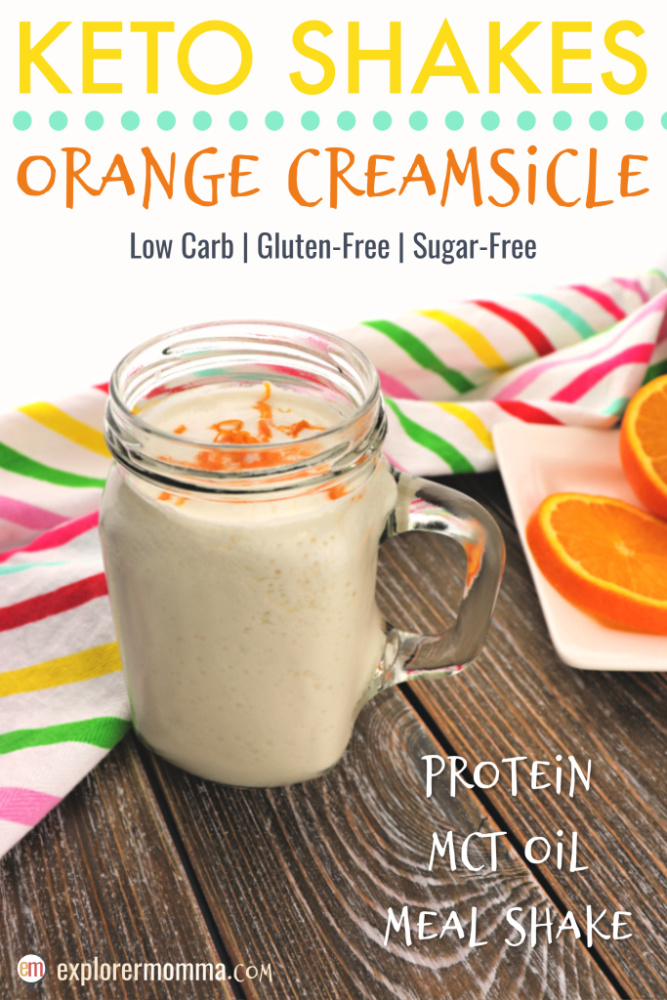 Tag me in your recipe pics on Instagram @explorermomma.
If you LOVE this recipe please consider giving it a five-star rating in the review area below!
A Keto Pumpkin Spice Breakfast Smoothie is sure to please!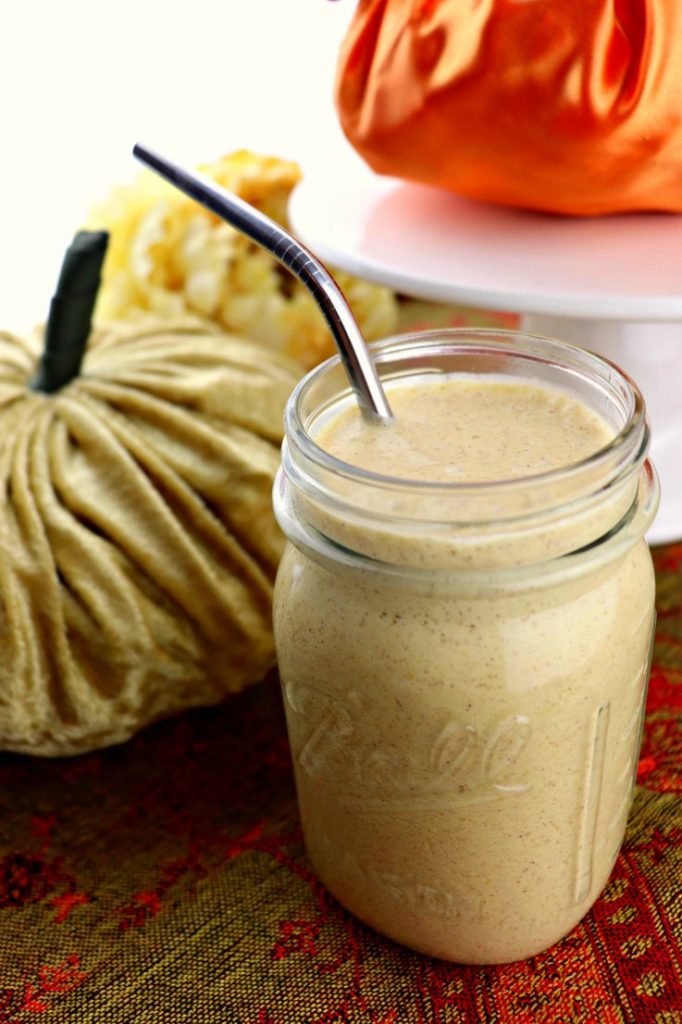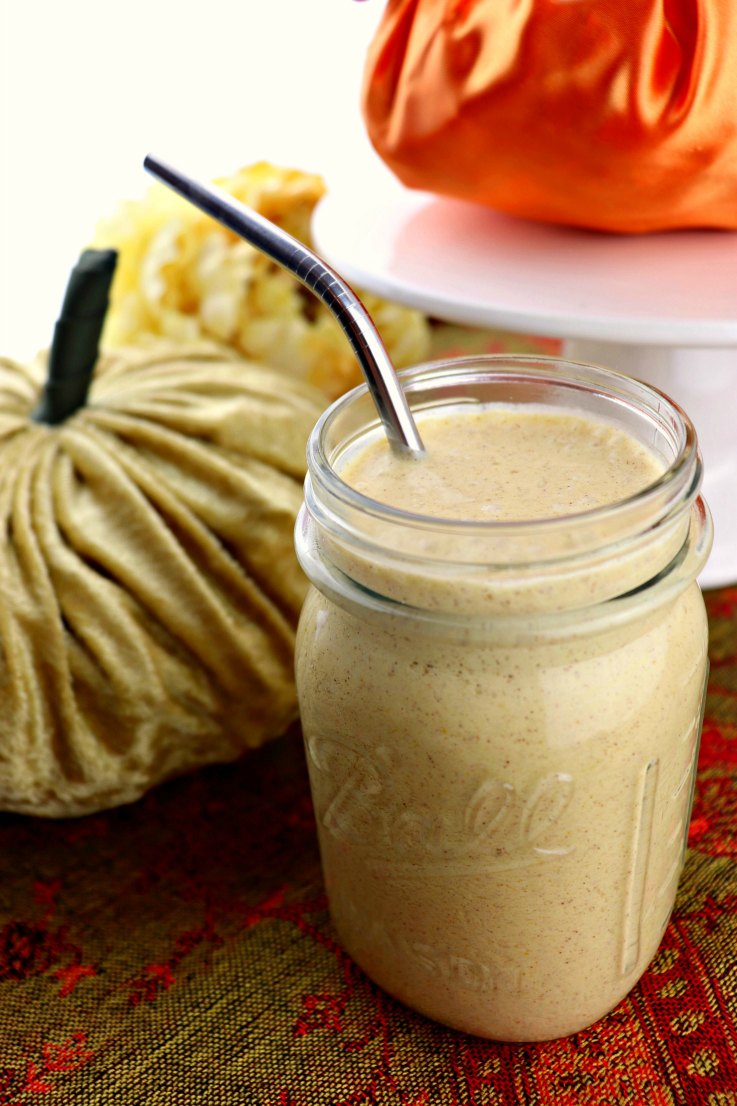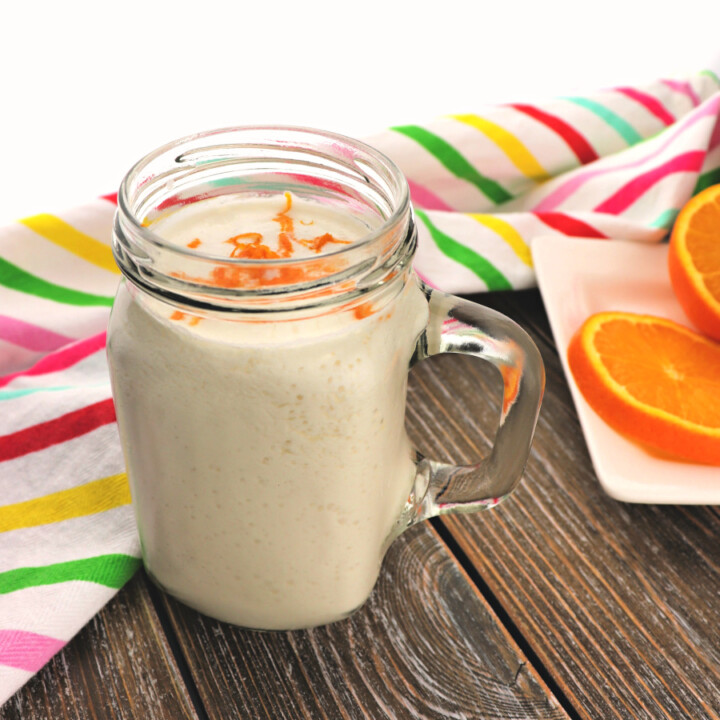 Orange Creamsicle Keto Shakes
Dreamy orange creamsicle in a low carb breakfast. Keto shakes with protein and MCT oil are perfect for an easy on-the-go meal to fill you up and keep on a keto diet.
Ingredients
1 oz cream cheese
1 cup unsweetened almond milk
1/2 tsp vanilla extract
1 scoop collagen peptides, (1 serving - optional)
1 tbsp sweetener, (Swerve Confectioner's)
1 tbsp MCT oil
1 tsp orange extract, (or 2-3 drops orange essential oil)
3 cubes ice
Instructions
Place all ingredients in a blender and blend for 30-40 seconds or until smooth.
Pour into a glass or insulated mug and enjoy!
Notes
Nutrition Facts
Servings 1.0 Amount Per Serving: 1 shake Calories 294 Total Fat 25 g Saturated Fat 19 g Monounsaturated Fat 2 g Polyunsaturated Fat 0 g Trans Fat 0 g Cholesterol 32 mg Sodium 351 mg Potassium 212 mg Total Carbohydrate 2 g Dietary Fiber 1 g Sugars 1 g Protein 13 g Net Carbohydrate 1 g
*Nutrition Facts per MyFitnessPal.com. For most accurate facts, calculate your own with the exact ingredients used in the recipe.
Nutrition Information:
Yield:

1
Amount Per Serving:
Calories:

294
Unsaturated Fat:

0g
*Nutrition facts per MyFitnessPal.com. For most accurate facts, calculate your own with the exact ingredients you use in the recipe.
Nutrition Disclaimer
Please be aware I am not a medical specialist or nutritional professional. On this blog, I share recipes and what works for me. Please do not take anything on this blog as medical advice and always consult with your doctor before starting any diet or exercise program. I use MyFitnessPal.com to calculate nutrition facts as a courtesy to my readers, and I remove erythritol from the final carb count and net carb count because does not affect my own blood glucose levels.
This is as accurate as possible, but it's best to independently calculate nutritional information on your own with the specific ingredients you use. I expressly disclaim any and all liability of any kind with respect to any act or omission wholly or in part in reliance on anything contained in this website.